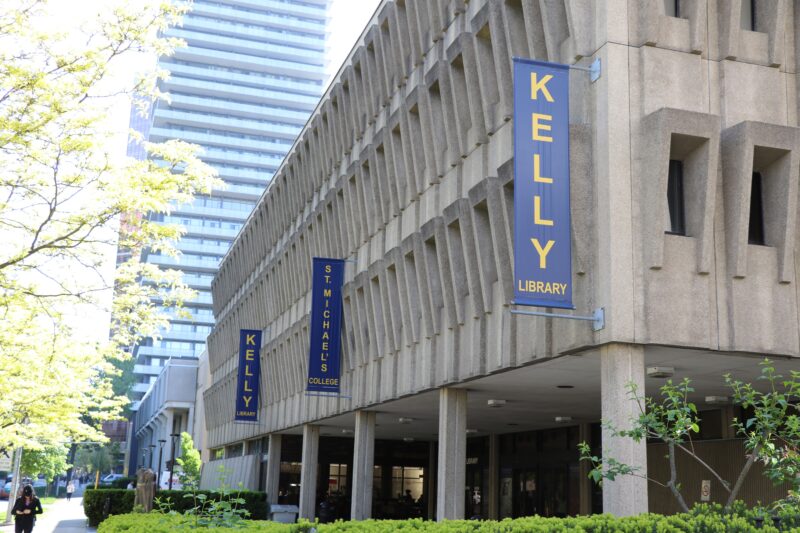 Sheril Hook, chief librarian at the John M. Kelly Library, tells the story of a University of Toronto professor calling her recently for help. The professor simply couldn't find the materials he was searching for—Syriac-Latin text editions for the Patrologia Orientalis series, as well as articles from Analecta Bollandiana. With just a little digging, she found them, digitized from the Pontifical Institute for Mediaeval Studies (PIMS) collection, which is housed at Kelly.
"U of T is one of the top research libraries in North America. I was confident I could find the materials," Hook says.
A library can be hard enough for an expert to navigate, so asking students to find resources remotely during physical distancing can be a challenge for those already stressed over papers, exams, and an uncertain summer.
In response, Hook and Noel McFerran, Kelly's Theology and Rare Books librarian, are hosting a virtual town hall on Wednesday, May 6 for students in the basic and advanced degree programs at the Faculty of Theology. The afternoon session is perfect timing for theology students enrolled in intersession courses. Eligible students have received an email with instruction on how to access the online gathering, and it will be recorded for anyone who cannot make the 3-4 p.m. time slot.
The librarians have three goals for the hour-long session, which will include a 15-minute presentation, as well as time for questions posted to the forum. First, they want to do a close look with students at the U of T catalogue, delving into some of the more advanced ways to search it to discover digitized materials.
"We'd like to show people how to find materials they didn't anticipate being online," Hook says.
Then, they will highlight materials that have been made temporarily available to students. While in this period of physical distancing due to COVID-19, for example, students can call on the HathiTrust Emergency Temporary Access Service.
The third thing McFerran wants to stress is that the Kelly librarians are constantly discovering new materials.
"Send us an email and ask us about availability," he says. "Just last week I had to say 'sorry, it's not available' to a request, but this week that material has been digitized, so I was able to help the student after all."
"This is a great new opportunity for learning," says Hook, who notes that Kelly Library plans to expand sessions in the fall semester to include undergraduate students as well. "It's important to feel comfortable in asking for help. If you can't find something, we will look for you, as we very likely have it."