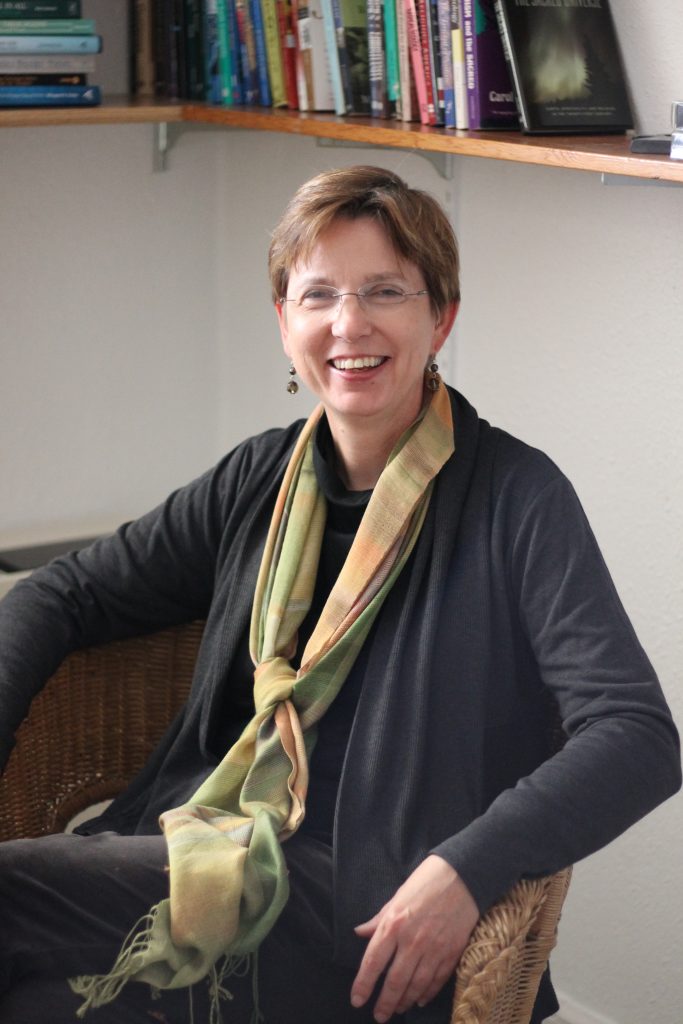 The new director of the Elliott Allen Institute for Theology and Ecology, Dr. Hilda Koster, sees the EAITE moving forward in the spirit of Laudato Si', with particular attention to the needs and concerns of women, minorities and Indigenous communities.
The Institute, celebrating its 30th anniversary this year, was created by Fr. Stephen Dunn to address growing interest in the intersection between faith and the natural world.
"It is a great honour to be appointed Director of the Elliott Allen Institute, which has played such a prominent role in the development of ecological theology in Canada, especially by way of its sustained attention for the work of the visionary theologian Thomas Berry," says Dr. Koster. "I am very grateful for the important work of the Institute's founder Fr. Stephen Dunn, C.P., and his successor Dr. Dennis O'Hara. It is a privilege to carry their legacy forward."
Strong leadership of the EAITE reflects the university's core values expressed in St. Michael's 180 strategic plan, says University President Dr. David Sylvester.
"We place great importance on our mandate to promote respectful dialogue on care for each other and for our common home. The work of the Institute helps to further St. Michael's core values, and Dr. Koster will be an invaluable addition," Dr. Sylvester says.
The Faculty of Theology is especially pleased to have found someone so well equipped to run a centre known around the world for its groundbreaking research and training, says Interim Dean Dr. John L. McLaughlin.
"Dr. Koster's appointment as Director of the Elliot Allen Institute is good news not only for St. Michael's but for anyone who cares about ecological theology as well as environmental and social justice," Dr. McLaughlin says. "Since the EAITE was founded by Fr. Stephen Dunn in 1991 it has been shining a light on the kinds of issues Pope Francis addressed in his 2015 encyclical Laudato Si': to recover our relationship with the natural world while also working for environmental justice."
The need to examine ecological concerns in a theological light has never been greater, Dr. Koster says.
"Historically Christianity has not paid much attention to humanity's relationship to the natural world but in light of climate change, overconsumption and species extinction this has become an essential area of theological reflection," she says.
"Studying Theology and Ecology allows students to make connections between their faith traditions with knowledge of and appreciation for the more-than-human world. Yet ecotheology also will allow students to think deep and hard about the spiritual and moral challenges that result from our human caused destruction of precious ecosystems, and the suffering this is causing to vulnerable human communities.
"The Elliott Allen Institute therefore takes its lead from Pope Francis' insight that 'a true ecological approach always becomes a social approach; it must integrate questions of justice in debates on the environment, so as to hear both the cry of the earth and the cry of the poor (Laudato Si', 49)'. We need educators, chaplains, social workers and scholars who have the competency to work with others to realize a more just and sustainable future for all, especially the poor."
Born in the Netherlands, Dr. Koster received her Bachelor of Arts and Master of Divinity degrees from the University of Groningen. After further study at Princeton Theological Seminary and the Candler School of Theology at Emory University in Atlanta, she earned her doctorate at the University of Chicago. She joined St. Michael's Faculty of Theology in July 2020, with teaching areas of ecotheology, feminist theology, and ethics. She assumes the directorship of the EAITE on July 1, 2021.
Describing the new Director as a "wonderful addition" to the Faculty, Rosemary Boissonneau, Dr. Koster's research assistant, says Dr. Koster "challenges her students to look deeper and investigate theologically the conceptual frameworks and structures of domination underlying the socio-ecological crises of our times. I am confident that under her directorship, the Elliott Allen Institute for Theology and Ecology will be reinvigorated to continue its legacy as a vital centre of ecotheological learning and research."
The EAITE is a collaborative teaching and research institute which offers a certificate of specialization in Theology and Ecology, as well as stand-alone Graduate Diploma in Theology and Ecology. Its interdisciplinary, collaborative nature brings a range of academic voices from the sciences and humanities into conversation on matters of the day.
The 10-course diploma is aimed at professionals and students who wish to integrate the study of environmental issues and theology in their professional careers, as well as for those who wish to study the theological and ethical dimension of environmental problems. It includes five foundational courses, one in-depth course, two ecology and theology-specifics courses, one experiential course, and one capstone course.
The newly revised certificate is open to anyone enrolled in any of the graduate programs at the Toronto School of Theology seeking to specialize in Theology and Ecology. Certificate requirements vary depending on the program being completed.
"The Elliott Allen Institute will continue to be a place for innovative theological education and scholarship, with attention to the voices of women, minorities and Indigenous communities," says Dr. Koster.
For more information on the Elliott Allen Institute's offerings, please contact Programs Coordinator Anthony De Feo or Dr. Koster directly.