An exciting mix of traditional favourites alongside new offerings promises to make St. Mike's Reunion 2023 a can't-miss occasion. From a garden party to celebrate the unveiling of the Dante Garden sculptures through to the official launch of the Alumnae Initiative for Women (AI4W), this year's reunion will highlight the best of St. Mike's.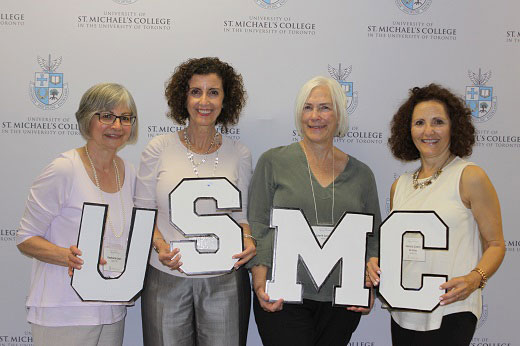 "We are thrilled to be welcoming back hundreds of alumni to campus and we know we have something for everyone," says Lisa Gleva, St. Mike's Executive Director, Advancement. "Our alumni play an invaluable role in making St. Mike's a very special place, and we know they are making a unique contribution to the world. We're glad to see you come back and we look forward to getting caught up."
While everyone is welcome at various events this reunion, which runs from Wednesday, May 31 through to Sunday, June 4th, there's a special spotlight on our honoured years, including a reception and dinner celebrating alumni classes ending in '3 and '8 and their guests on Friday, June 2. Earlier the same day, there will be a 50th anniversary Mass, as well as a brunch for the Class of 1973.
The AI4W initiative, which is designed to bring together and support St. Mike's alumnae, is marking its first official function at this year's reunion with authors –and alumnae – Natalie Jenner and Laura Rock Gaughan offering a talk entitled 'St. Mike's Women Talking About The Writer's Life'. This takes place on Saturday, May 3, dedicated as the Day of Learning.
Reunion festivities kick off with the USMC Alumni Association's Annual General Meeting at 7 p.m. on Wednesday, May 31, from 7-9 p.m. in Charbonnel Lounge. While this year marks a return to all events being held in person, the AGM can be accessed online for those registered.
If you're in the mood to shop, there will be select St. Mike's-branded items for sale in the John M. Kelly Library, with a pop-up shop happening at Mike's Café in Brennan Hall on Friday and Saturday.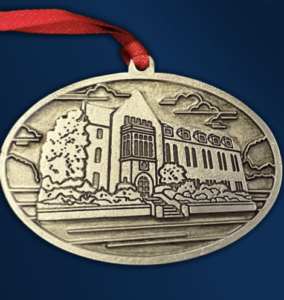 You'll also be able to vote on the second offering in the series of St. Mike's Christmas tree ornaments. The series was launched in 2022 with an ornament featuring Brennan Hall, and you can fill out a ballot in Kelly Library to help select the 2023 ornament. You can also buy one of the 2022 ornaments when you cast your ballot.
New this year is the Touchdown Space in the Dodig Family COOP,  one of our favourite open space where students at St. Mike's have gathered for decades. This year, stop by for snacks, catch up with friends, or post updates on the community message boards. 
A complete list of events – from a pub night to an alumni networking social — as well as registration details, is available on our reunion homepage, where you'll also find some great spring images of St. Mike's to upload as Zoom backgrounds.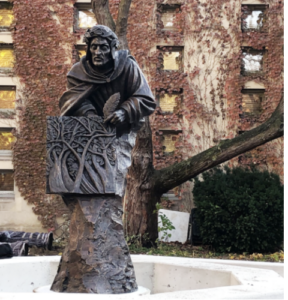 Rebecca Broderick, who serves as Advancement Officer, Alumni Engagement, urges people to register soon, because although extra seating has been arranged for some events, many are filling up quickly.
And, she notes, the invitation to visit campus is open to all, even if you aren't registered for a specific event. If visiting, you'll be able to get a first glimpse of the new Dante Garden, a fitting addition to campus given St. Mike's long affiliation with Dante studies and research. The sculpture garden, located on the southwest corner of campus, features works by noted Canadian artist Tim Schmalz, and it takes visitors on the poet's journey through Hell and Purgatory and finally to Heaven as detailed in the classic poem, The Divine Comedy.
"Spring is a great time to come visit our beautiful campus. You can make a day of it, meeting up with friends," Broderick says. "We're excited to see you!"