By Martyn Wendell Jones
Salman Rushdie's latest novel opens on the day of President Obama's inauguration in 2009, but America's first black president is not the focal point of the action. Rather, it's a character named Nero Golden, who moves into a glamorous house in a well-to-do neighborhood on that day with his sons. Mr. Golden, a man for whom "the only virtue worth caring about was loyalty," reinvents himself in a very American fashion while trying to escape a sordid past. "We turned away and went on with our lives," the narrator says of the man's arrival. "How wrong we were."
Rushdie read the opening chapter from his forthcoming book The Golden House before sitting down for an interview with Professor Ato Quayson, Director of the Centre for Diaspora and Transnational Studies at the University of Toronto. The event took place in the Canada Room in Brennan Hall, with a large audience of students, alumni and faculty on March 30.
Coming after Two Years, Eight Months, and Twenty-Eight Nights, Rushdie's novel about a war between unleashed supernatural entities in New York City, The Golden House will be a straightforwardly realist novel. However, the book is going to be released in a time "when the nature of our agreement about reality" is "in danger," Rushdie said.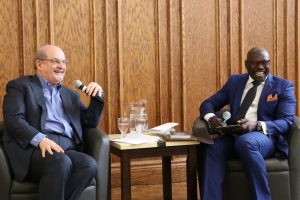 Professor Quayson opened their conversation by asking about the "status of fiction" in a world where "fact is more incredible than fiction," referring to the recent American election and the ensuing social instability. Rushdie said that fiction "exists in a different place than fact" because of the implicit understanding between a fiction writer and reader that the events and characters described are not real. By contrast, "When the president tweets, he is allegedly telling us the truth."
Rushdie's work often uses realistic characters and settings, Professor Quayson observed, that are overlaid with fantastical elements. He compared the effect to that of a palimpsest. Rushdie offered that he first encountered a similar effect in Dickens, but his own interest in layering came from a lost portrait of his own mother, which was painted over by a famous Indian artist and then lost.
Rushdie and Quayson's conversation also touched on Rushdie's way of hearing his characters, the "great lie" we tell ourselves about there being "such a thing as normal life," and Rushdie's trip to India in the early '80s to prepare for writing his Booker Prize-winning second novel, Midnight's Children. He characterized the idea of maintaining deep roots in multiple places as a kind of "fantasy," but "a useful one."
Quayson's last question was posed through a clip of the Beatles song "Blackbird." "How did you learn to take these broken wings and fly?" he asked after the music ended. The point of the song, Rushdie said, is that "everyone is wounded," so that the question of the song is "how do you deal with that?" The question is one every person needs to answer individually, the novelist said.
After the interview's conclusion, numerous St. Mike's students gathered around the novelist with books and smartphones in hand. They were hoping for autographs and selfies, and Rushdie graciously obliged them before leaving.
---
Marytn Wendell Jones is a writer in the Office of Communications at USMC