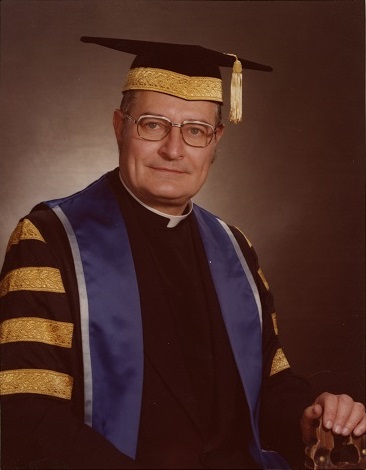 The University of St. Michael's College today remembers Fr. Peter Swan, CSB, who passed away on Nov. 15 after nearly a century of life. Fr. Swan served as president and vice-chancellor of St. Michael's from 1978 to 1984, overseeing the the opening of Alumni Hall and the adoption of the Memorandum of Agreement (1984) with the University of Toronto. Fr. Swan also sent a design for a new Coat of Arms to the College of Arms in London, England; the Queen approved the design for use on diplomas and other school-related documents in August of 1979, and it still adorns the wrought-iron gates of Elmsley Place.
Raised in an English expatriate family in Duncan, British Columbia, Fr. Swan was educated in a small private elementary school and at Duncan High School. Graduating from secondary school at age sixteen, Swan entered St. Michael's College in September 1935. After graduating with a BA from the University of Toronto in 1938, he joined the Basilians in 1939. He was ordained in 1943 and in 1946 he completed his Ph.D. in Philosophy at the University of Toronto. That year he was assigned to Assumption College and named an Associate Professor of Philosophy. In 1949, Swan became Registrar there; in 1958, Vice-President Academic. In 1961, Swan was appointed Superior and Principal of Thomas More College in Saskatoon, Saskatchewan, where he served for sixteen years prior to his appointment at St. Michael's.
In June of this year, Fr. Swan was presented with a medal in celebration of the 80th anniversary of his graduation from St. Michael's College. We join the Basilian Fathers in mourning the loss, honouring the work and celebrating the life of Fr. Swan.
Fr. Swan's funeral Mass will be celebrated on Friday, Nov. 30 at 10 a.m. in the Chapel of the Cardinal Flahiff Centre. Visitation is immediately before the Mass.