For St. Michael's student Kabba Gizaw, being named a University of Toronto Alumni Association Scholar is the pinnacle of what she labels her "boundless" university experience.
"It is a true honour to be recognized with this award," says Kabba, who graduates this year with a double major in Sociology and Ethics, Society, and Law, with a minor in African Studies.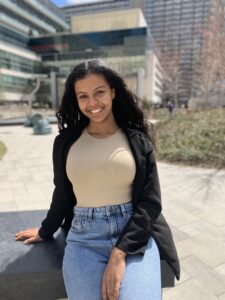 "From my family and friends to outstanding professors and faculty members, I sincerely appreciate everyone who has supported me throughout my journey at U of T," Kabba says. "This diverse community is what truly defines my university experience as boundless."
The designation, in recognition of Kabba being a finalist for the John H Moss Scholarship, includes an honorarium and a certificate for her extraordinary accomplishments and service.
When not in class or studying, Kabba served as an Equity and Initiatives Student Leader at U of T, attaining the level of senior leader in the program at the beginning of this academic year. In spite of a busy volunteer schedule on and off campus and holding down two jobs, she was consistently a Dean's List Scholar.
A member of St. Michael's Gilson Seminar in Faith and Ideas in her first year, she says the seminar's trip to Rome was one of the highlights of her time at St. Mike's.
"Being a part of the Gilson seminar and traveling to Rome was an incredible experience. I enhanced my academic abilities and my understanding of the continuity between faith and ideas, and I earned the privilege of being a part of the Gilson family." she explains.
Kabba cites Gilson Seminar founder and former St. Michael's Principal Randy Boyagoda of having been an important influence in her time in university.
"It was a privilege to be a student in Professor Boyagoda's seminars. His lectures brought course concepts to life by having students reflect on their life experience," she says, noting that, outside of the classroom, he was always ready to offer encouragement, attention, and support to students.
Kabba is now pondering several offers for the fall from multiple international universities, including a Master in Public Administration program from the London School of Economics in conjunction with Columbia University.
U of T's Awards of Excellence Program dates back to 1921 and is designed to honour those who demonstrate "a commitment to enhancing the university experience of their peers and leave a significant impact on the University through their efforts."