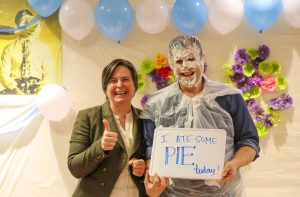 Congratulations to St. Mike's Student Philanthropy Council (SPC) and all the students and staff who took part in last week's Pie-a-Thon in Brennan Hall. Eleven students graciously volunteered to take a "cool whip" pie-in-the-face to raise money for homeless youth in Toronto. Inspired by the student spirit, Principal Randy Boyagoda and Campus Minister Angelo Minardi put their faces forward and by the end of the event, President Mulroney also joined in and was "pied" for charity.
Onlookers and participants alike were whipped up by the fun, and after all the cool whip and shaving cream-filled pie plates were thrown, more than $1,700 had been raised to support homeless youth in Toronto!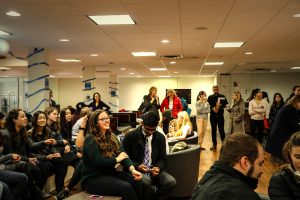 This was SPC's second annual Pie-A-Thon, and was organized in collaboration with Trek for Teens, a not-for-profit student run organization created to raise funds and awareness for homeless youth in local communities. Kudos and thanks to SPC Executive members Tyra Yah and Carmen Wong, Andrew Kiel (Development Officer, Student and Young Alumni Philanthropy), student volunteers, participants, and all the donors who contributed to this hugely successful event.
Please click here to view the full album of photos from the event.