Dr. David Sylvester is the 8th President and Vice-Chancellor of the University of St. Michael's College in the University of Toronto. A professor of medieval social and economic history, he holds an M.A. and a Ph.D. from Fordham University, New York City and has taught for three decades in universities in Canada and the United States.
---
Together in this Season of Gratitude and Hope
And for all this, nature is never spent;
There lives the dearest freshness deep down things;
And though the last lights off the black West went
Oh, morning, at the brown brink eastward, springs—
                                     (Hopkins, Grandeur of God)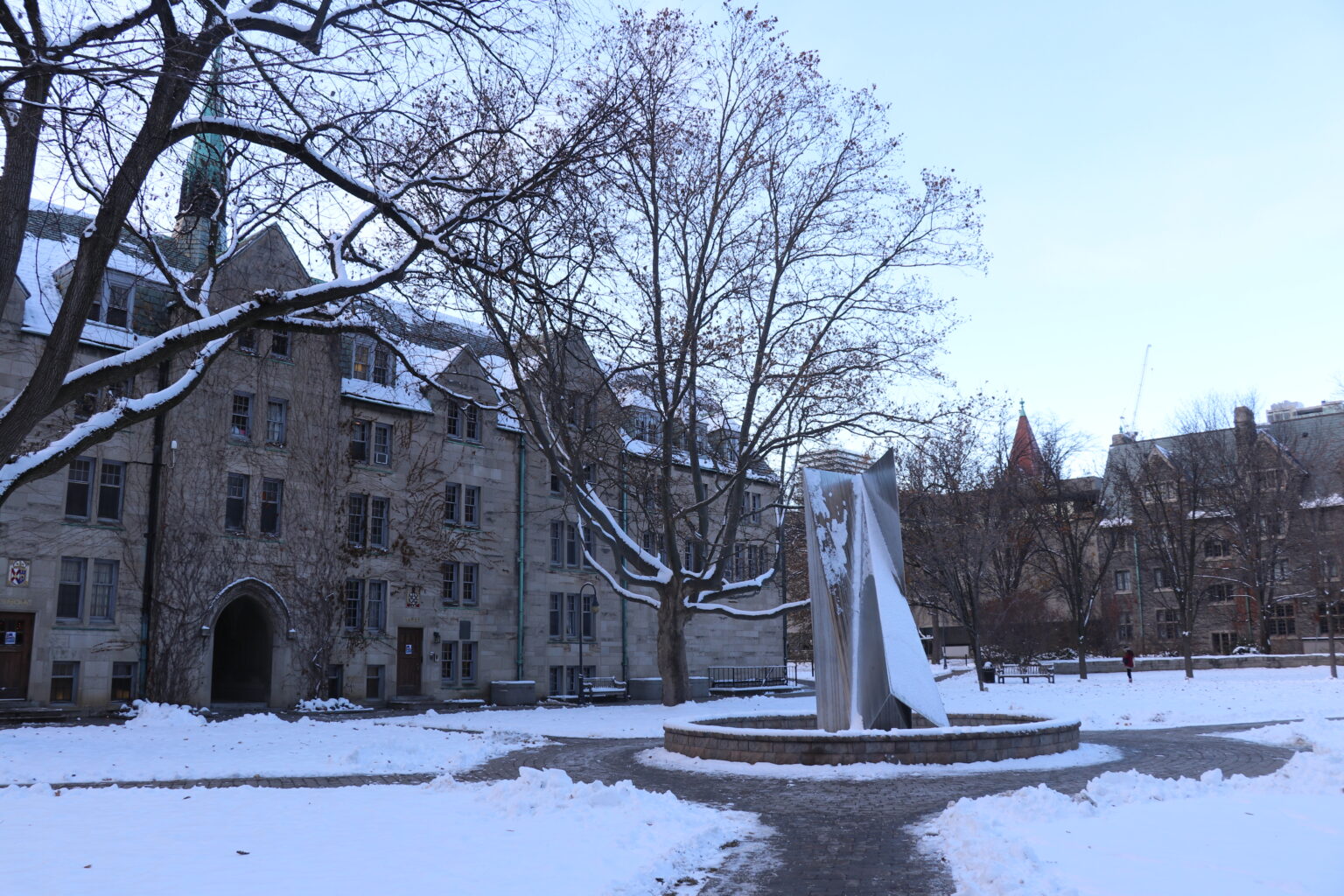 One of the beautiful things about being a part of the University of St. Michael's College is our attentiveness to the rhythms of life in community. Our pastoral urban campus, with its historic oak trees, colourful ivy and beautiful rock gardens, keeps us attentive to nature, and demands that we acknowledge the passage of seasons. The academic year is traditionally framed, of course, by all the necessary signposts of the academic year, such as move-in days, reading weeks, and midterm and final exams. But St. Michael's is also defined by the rich cultural and religious mosaic of our community, and we are invited throughout the year to celebrate the many important feast days that help our students, faculty and staff bring meaning to their work and studies: solemn and joyful holidays like Easter, Ramadan, Diwali, Rosh Hashanah, and Nowruz. Even as I write, friends and colleagues are preparing to light candles to mark Hanukkah.
So, here we are together now in Advent. For Christians, we wait and prepare to celebrate the birth of Christ, the light in the darkness, our hope for the world. For all of us, this is meant to be a time for completion, for rest and reflection with friends and family, and for preparations for new beginnings.
As I take stock of this past year, my thoughts are filled with gratitude. In this most remarkable year, in which all of us have experienced disruption, loss and sadness, I am continually amazed by the dedication, kindness and generosity of the people with whom I work. Their compassionate leadership and sacrifice have bolstered fellow students, professors, and colleagues alike. I see it every day in the bold actions and quiet kindnesses they take on. And I know that much more is done unseen.
The response to this pandemic from our students, faculty, staff, trustees, and alumni invites more than gratitude, however. It gives me great hope for the future of our community, and for our role in continuing to bring hope to others. Many challenges remain ahead of us, but the compassionate resilience of St. Michael's shines through and sustains us even in these darkest days of winter. I now approach each day understanding that our university serves as a light of hope in these difficult days, for each other, and for the society in which we live.
As we pause to celebrate the coming holidays, I wish each of you and your families, a happy and holy Christmas, and prayerful best wishes for a New Year marked by many new reasons to give thanks and to share in the hope that binds us all together.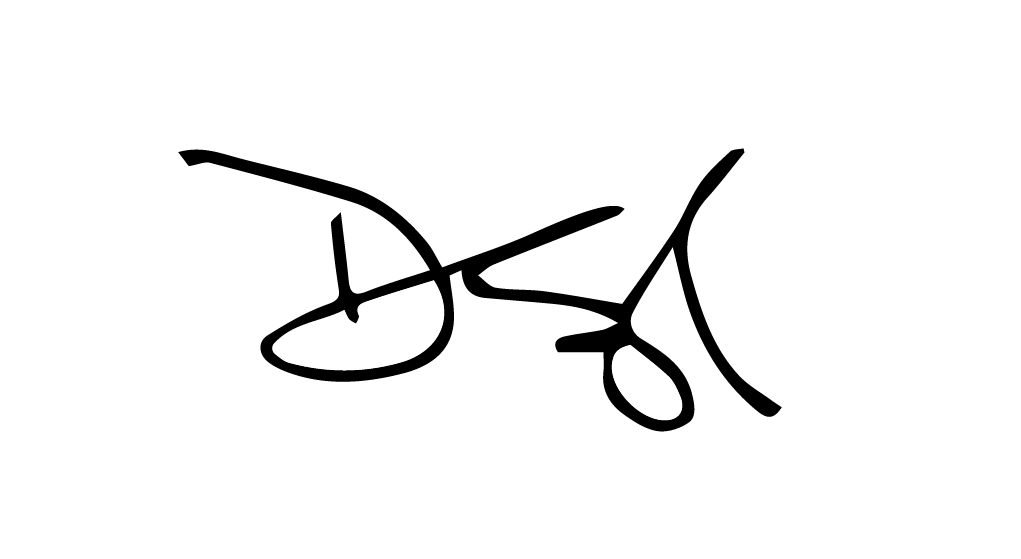 David
The SMC Troubadours perform physically distanced Christmas carols in this special InsightOut post.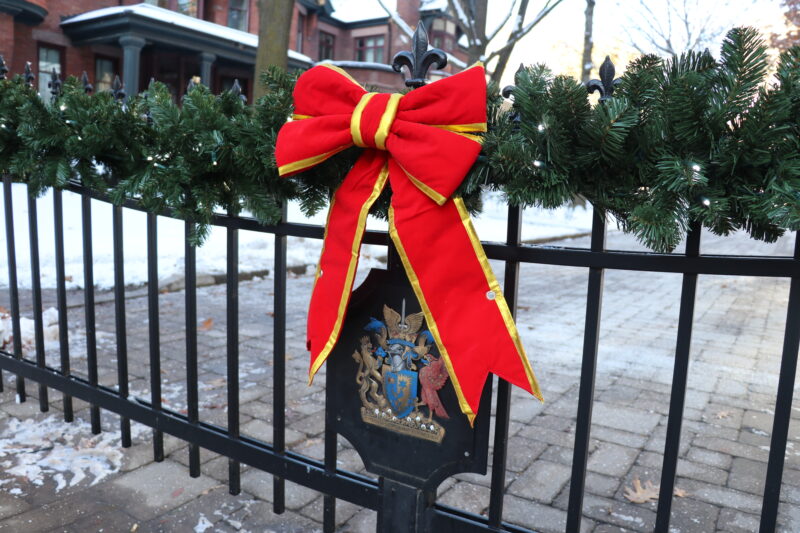 Not even a pandemic can stop Christmas from coming to St. Mike's.
While the campus is quiet and missing many of the traditional seasonal activities this year—the alumni Christmas tea and the Schola Cantorum Advent concert are two notable, sorely missed examples—our gorgeous Christmas lights will still illuminate the grounds to bring cheer both to those students in residence as well as to neighbours and passersby.
To ensure that help gets to those in need, the annual toy drive, which sees St. Michael's team up with the University of Toronto campus police and the Society of St. Vincent de Paul, is accepting donations online to buy gift cards for families so that parents can pick out the perfect items for their loved ones. Donations of gift cards are also being accepted at the security desk in Charbonnel Hall at 81 St. Mary St. Donations are being accepted up until Friday, December 4.
And in this season of giving, the University has been particularly touched by the generosity of the creative minds who came up with a way to compensate for the fact the annual golf tournament fundraiser was COVID-cancelled. Two golf tournament sponsors—Mackenzie Financial and CIBC, who are represented by event co-chairs Barry McInerney and David Scandiffio—made donations of $10,000 each this year instead of sponsorships. USMC matched these donations with proceeds from previous years' tournaments to create a $40,000 expendable fund, allocated care of the Registrar's office, to help students with exceptional needs related to COVID.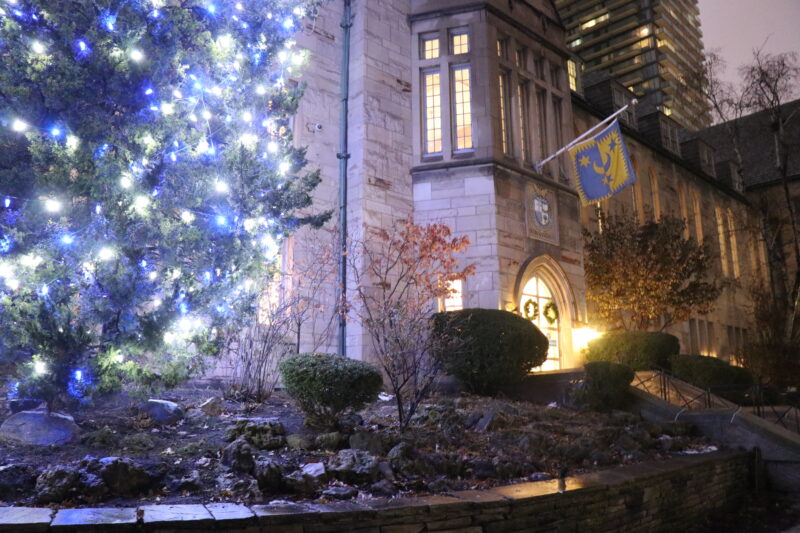 This approach parallels the Faculty of Theology fund created earlier this year, which was built from donations and matched by St. Michael's. Together, these gifts represent the continued loyalty of golf tournament sponsors and the commitment of alumni, faculty, staff and the university to helping students during this challenging time.
At a time when food banks and social service agencies are seeing soaring demand, the generosity is being spread widely. Another golf tournament sponsor, Mawer, donated $5,000 in lieu of sponsorsip. This, too, was matched with donations from previous years and augmented by other alumni gifts, creating a gift of $12,500 to support the Out of the Cold program at St. Basil's Church.
While an Advent Vespers service followed by dinner is one of the highlights of the Faculty of Theology's social calendar, Vespers will be observed online this December, with a social gathering to follow. And since there'll be no dinner cheque for the SLC to pick up this year, they're offering a great incentive to partygoers, promising to make a $15 donation to the Into the Cold program for each person who attends the online party.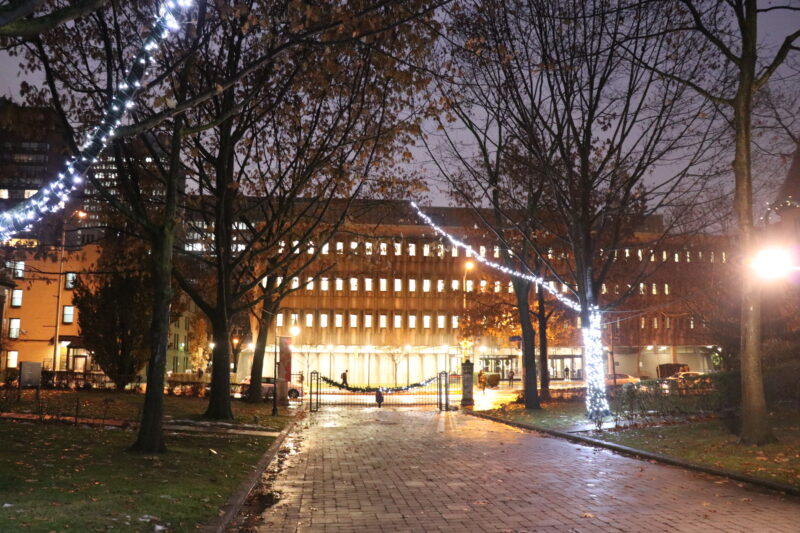 The undergrads also have online fun planned, with a Winter Festival from Dec. 4 to 6 featuring decorating Christmas ornaments with the commuter dons, a Kelly's Corner, and a family dinner all lined up.
And while most of us will find this a quieter, slower-paced Advent season, without the usual trips to the mall or holiday parties, there is no doubt we could all use some peace. With that in mind, St. Basil's is hoping to open the church for prayer from 7:30 to 8:30 a.m. and 12 to 1 p.m. Monday to Friday, 5 to 6 p.m. Saturdays, and 12 to 1 p.m. and 4:30 to 5:30 p.m. on Sundays. Capacity when the church is open is restricted to 10 people. During these prayer times, a priest is usually available to hear confessions, except for the 7:30 to 8:30 a.m. time periods.
COVID-19 may have changed this holiday season, but the heart of St. Mike's just continues to grow.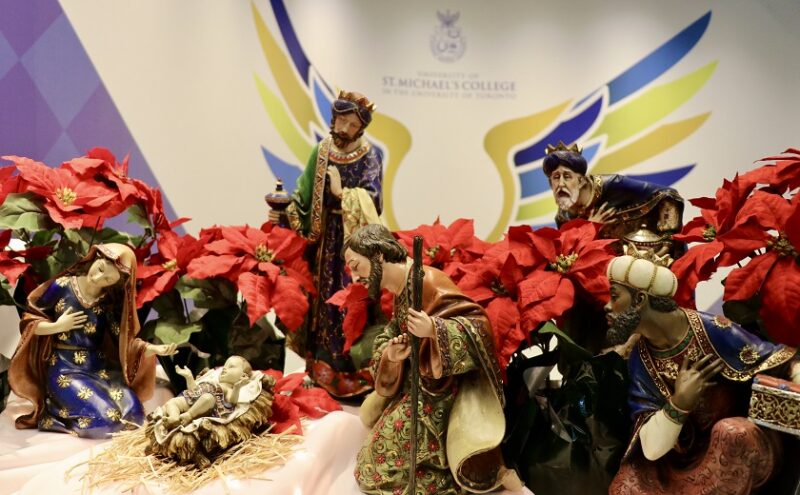 The sense of anticipation that comes with the season of Advent fits perfectly into the rhythm of campus life at St. Michael's. The beginning of the new Church year, with its focus on preparing for the coming of the Christ child, arrives as students look ahead in their lives. There are papers to finish and exams to write as the Fall semester winds down. There are travel plans to make and, especially for first-year students, a growing eagerness to head home to loved ones for the Christmas break. Meanwhile, professors are grading work and submitting marks while staff are tying up loose ends before heading home for the holidays. The mood at St. Mike's is very much one of expectation.
Underlining that feeling of anticipation are the various ways St. Mike's marks the Advent season and looks forward to Christmas. The lampposts of Elmsley Place are festooned with garlands of white lights, a festive response to the dark days of December. The altar at St. Basil's bears an Advent wreath, its one rose and three purple candles marking the passage of the four weeks preceding Christmas. And, in the lobby of Brennan Hall, a crèche set sits waiting, a vivid reminder of the days to come.
While the symbols of the season bear witness to the coming of Christmas, it's the activities on campus that are the most powerful reminders of the spirit of the season. Everywhere you look there are opportunities to donate to a worthy cause. Campus Ministry has boxes to collect toys and gift cards for the Society of St. Vincent de Paul, and guests attending the Dec. 5 Alumni Tea and Carolling party are invited to join in this campaign by bringing an unwrapped toy or gift to the event.
In the Faculty of Theology, boxes in the student lounge are filling up with donations of food and personal items for Society of Sharing, a member agency of Catholic Charities. Run by Master of Divinity grad Mariza Garcia, the agency makes up care packages at Christmas for isolated people in the downtown core.
During Advent, Faculty member Dr. Darren Dias steps outside his life as an academic to lead retreats for the broader community, while the entire Theology community looks forward to the annual Vespers and Advent Dinner, taking place on Friday, December 6. The evening is a chance for students and professors to take a step back from work to slow down, collect their thoughts in prayer, and then socialize together.
There's an open invitation for all to attend the Schola Cantorum's Advent concert in St. Basil's Church. This year's concert, which takes place Dec. 9 at 7:30, will include Palestrina's Missa Gabriel Archangelus and organ music by Frescobaldi, directed by Dr. Michael O'Connor, with Dr. John Paul Farahat on the organ. The event is free, with an optional collection for charity.
And of course there's just plain Christmas fun to be had before students scatter for the holidays. The tree in the Coop is now decorated, and on Dec. 3 and Dec. 4 the Canada Room will be the site of student Christmas dinners for both commuter and residence undergrads, with a round of carolling rolled in on Wednesday, Dec. 4 from 4 to 6 p.m.
Faculty and staff get in on the festivities on Thursday, December 12. Following Mass at St. Basil's, all are invited to attend the annual Christmas lunch and round of carols in Fr. Madden Hall, complete with a tree to decorate with more gift cards for St. Vincent de Paul.
St. Mike's is also launching a new initiative this year, a Holiday Community Social Lunch to be held on Wednesday, Dec. 18 in the Faculty Dining Room. The tasty three-course meal is designed to bring together in celebration members of the St. Mike's community with friends and neighbours from a wealth of traditions. Tickets for this event can be purchased in the Faculty Dining Room (located on the second floor of the Scollard Park entrance to Brennan Hall).