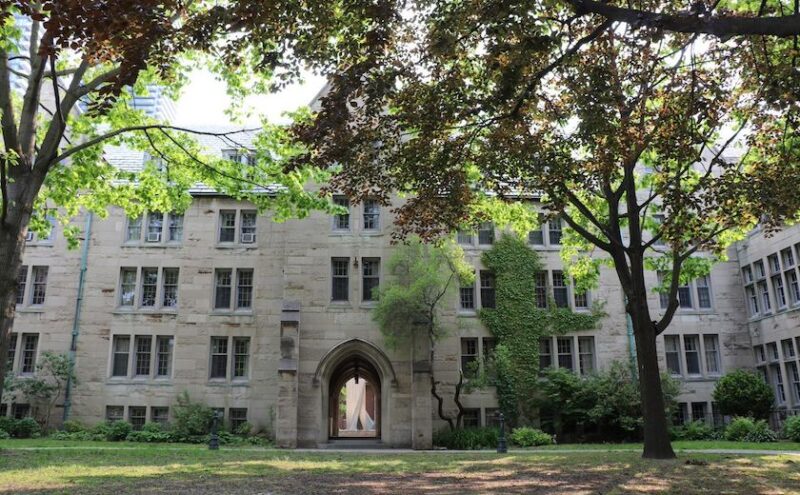 With increased cleaning requirements, physical distancing, and
safety measures
in place, SMC Residence currently has single room vacancies for the 2020-2021 academic year. Living on campus is a great way for students to meet new friends, enjoy downtown Toronto, and not have to worry about cooking meals or shopping for groceries.
If you are interested in joining St. Michael's residence community, please email
smc.residence@utoronto.ca
and include: (a) your full name, (b) student number and (c) put the word "Vacancy" in the subject line. Information about the SMC Residence, including fees, can be found on the
St. Michael's College Residence page
. Commonly asked questions regarding residence operations, rooms and room assignments, shared spaces and safety can be found on the
SMC Residence FAQs page
.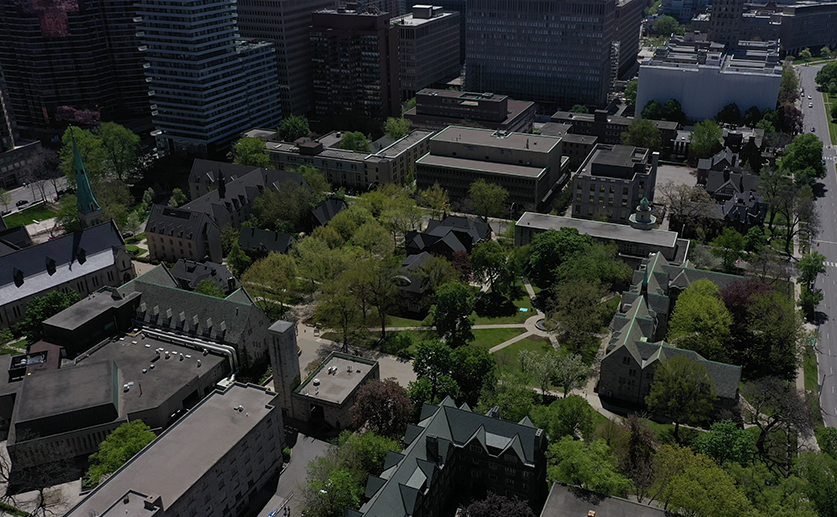 As the fall semester approaches, the University of St. Michael's College is implementing cutting-edge measures—including some from front-line health care settings—to keep the campus safe for community members and visitors.
"Safety is of foremost importance when considering reopening—not just for staff and students, but for everyone that has access to USMC," says Michael Chow, Director of Facilities and Services at St. Mike's. Following public health guidelines and the University of Toronto, Chow and his team have implemented measures ranging from extensive cleaning strategies to high-tech virus-killing devices. The measures fall into three main categories: facilities, administrative measures, and personal protective equipment (PPE).
Facilities
Visitors to campus will notice a variety of newly installed safety measures this fall, including Plexiglass shields at key points including the Porter's Desk, Registrar's Office, and other areas where queues could create challenges for physical distancing. Classrooms and common areas will have less furniture and reduced capacities in order to make it easier for an appropriate distance to be maintained, and signage and stickers will help direct pedestrian traffic to keep people moving efficiently and safely through indoor spaces.
HVAC equipment will receive increased–efficiency filters wherever possible, as well as a more rigorous filter replacement schedule to ensure clean air throughout campus buildings. Twenty-five free-standing hand-sanitizer stations have been installed next to building entrances, high-traffic areas and entrances to larger classrooms, and wipe or spray disinfectants will be available for students to quickly clean off a desk or chair before they use it, as well. All washrooms are now stocked with paper towels, and Legionella testing has identified no issues with water on campus.
Administrative
"I think the most important change is about our cleaning strategies, for both common spaces and student spaces," Chow says. In line with UofT's tri-campus cleaning protocols, St. Mike's will conduct enhanced cleaning throughout all building spaces and student areas while also adding "a dedicated team of cleaners to do disinfecting and increase cleaning in high-touch areas—a minimum of twice a day for high-touch surfaces." Routine cleaning during normal workday hours as well as on nights and weekends will be enhanced through the use of new cleaning agents, which have been upgraded to a dual-purpose cleaner that both cleans and disinfects.
Hard at work keeping campus safe since the pandemic began, the Facilities and Housekeeping teams is going into the fall semester with new, high-tech tools. Chow says that his team adopted some of these after first seeing them used in hospital and long-term-care settings—the front lines in the fight against the virus.
These tools include a stand–alone UV light system, which staff are using to disinfect all residence rooms before new students move into them in September. The portable UV system is also intended for use in classrooms. A hospital-grade portable disinfectant misting system will also be employed on an as-needed basis, helping to disinfect places that are hard to reach using normal cleaning methods.
PPE
All Facilities & Services staff members have worn either reusable or disposable masks during their work since the pandemic began, with many of those coming from a generous donation of 2000 masks by a St. Michael's student in May. Now, as some staff and faculty return to campus this fall, two reusable masks will be provided to every student and employee. St. Michael's will follow the University of Toronto and the City of Toronto in requiring non-medical masks or face coverings to be worn inside buildings that are normally publicly accessible.
Anyone without one will be able to receive a single-use mask at the Porter's Desk, ensuring that all outside visitors and contractors will also be able to have access to masks while on the USMC campus. Signage posted throughout campus will provide visitors and community members with reminders of proper mask usage as well as principles of handwashing, correct hand sanitizer usage, and other important safety principles.
Behind all the safety measures being implemented on campus, Chow says, are the members of the Facilities and Housekeeping teams, whose tireless efforts have kept students, employees, and visitors safe throughout the pandemic. As he wrote for InsightOut, "Behind the scenes—and often unnoticed—the F&H staff have faced the challenges of the pandemic as essential staff and turned them into opportunities as guardians for the university."
"I think we're doing something right," Chow says. While the safety measures will help keep the St. Michael's campus safe this fall, he notes, it's almost just as important to communicate the changes to the campus community "to put everyone's minds at ease.
"We're not just sending everyone back to the same university they left," he says.
---
Consult Fall 2020 for current updates on St. Michael's plans for the fall semester.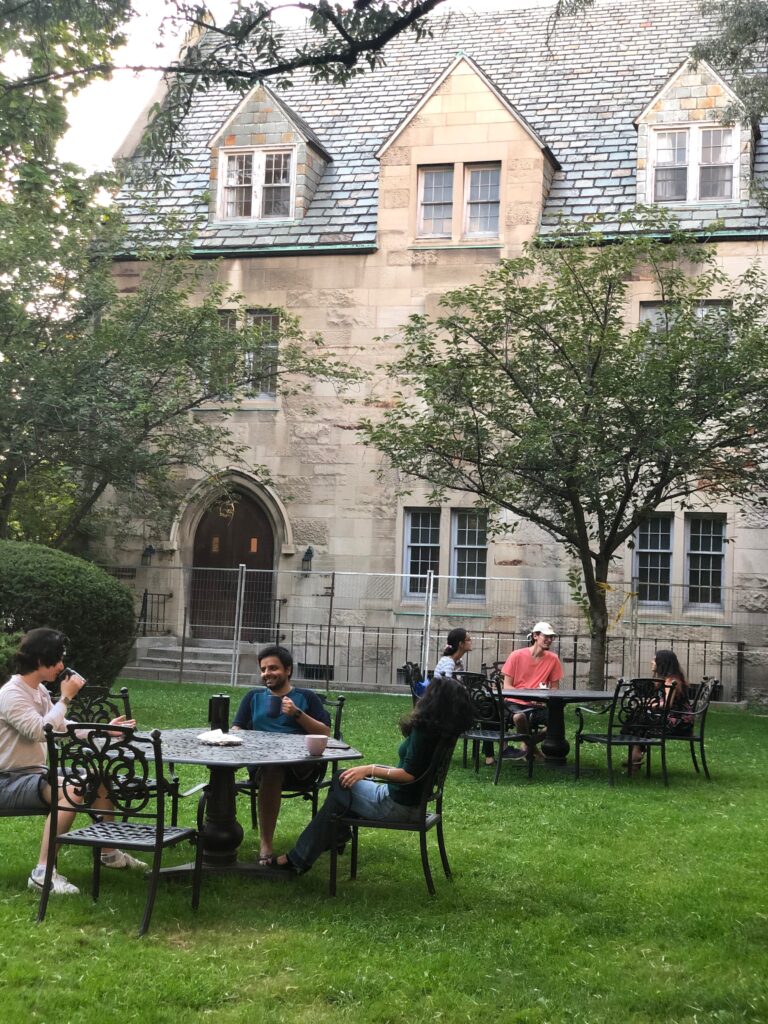 With 40 residents living on campus in the Historic Houses and Sorbara Hall this
summer
amid the pandemic
, Dean of Students Duane Rendle has
spent a great deal of time thinking
about
how to keep students on campus both safe and comfortable.
When the SMC Residence Summer Don team noticed
residence students
leaving
campus
to find available green space elsewhere downtown, they came to Rendle to propose a potential solution. He knew the team had found a perfect creative fix
.
"Often when our students would visit the quad, they would find all the available benches were occupied," Rendle says, because other Torontonians were also enjoying St. Mike's campus. In order to continue welcoming external members of the St. Michael's community while also making sure students in residence had a place of their own to use, Rendle and the Summer Don team worked with the Facilities and Services team to repurpose one corner of campus as a parkette available exclusively to students.
"The west end of Carr Hall is a beautifully manicured area that sees very little foot traffic," Rendle says, so it was easy to reimagine the space with tables and fencing. The students-only space allows for robust social distancing at the outdoor tables, making it an ideal space for students to spend time together in a safe manner. It's also become an ideal spot for al fresco meals, studying quietly, or simply relaxing in the sun.
Since its introduction, the space has seen regular use on sunny days, giving students in residence and members of the larger Toronto community equal opportunity to enjoy St. Mike's "oasis in the city."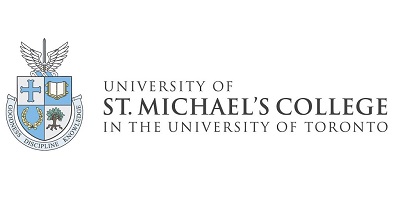 June 8, 2020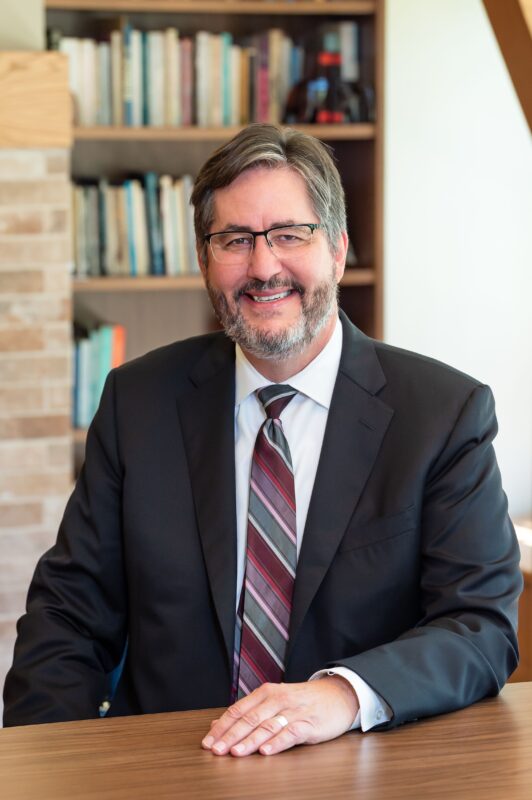 Dear members of the St. Michael's community,
I trust this message finds you in good health and holding up in these uncertain times. The 2019/2020 academic year has ended like no other, and I have watched our community respond with grace, courage and resilience to the challenges created by the COVID-19 pandemic. Once again, St. Michael's is showing that even in very difficult times, our strength and generosity marks us as an anchor of hope in our community.
Social media use of #allinthistogether has gathered traction as the world responds to COVID-19, but I am particularly struck by how, at St. Mike's, we really are in this together. Together, our students, faculty, alumni, and staff have worked to respond to these unique times, enabling classes to continue while ensuring the safety and security of campus, and the community. Students have been particularly resilient, and they have shown great understanding and patience in the face of a dramatically upended school year. As I look forward not only to the coming academic year but also to the future of St. Mike's, I am confident that the lessons learned in these challenging days will help strengthen this incredible place, a place with compassion and community at its very heart.
When it became clear in mid-March that we needed a drastic response to the looming health crisis, creative problem-solving swung into action across the University. Within days, faculty and staff began offering classes and advising remotely, and students rose to the challenge. Residence students were able to pack up and head home early. The library remained open online, even offering a town hall on research. With a dedicated skeleton staff on campus to ensure that our students who could not leave were safe and supported, colleagues began working remotely, and virtual meetings became the norm. For the first time in history even Collegium and Senate meetings moved online.
This period will forever be remembered as a time when the world faced challenges above and beyond the norm, and we offer our support to those who are suffering. For St. Mike's, the pandemic has forced us to sacrifice some much-loved traditions. We had to cancel spring reunion on campus and move to online anniversary activities, and the Class of 2020 missed out on an in-person, on-site convocation. As always, however, our community has responded with energy and hope. Whether it's our Student Life team working on a virtual orientation for the incoming class, staff in the Registrar's office taking additional time and care to respond to new and returning students' concerns, or one of our students arranging to donate thousands of masks to protect those still on campus, this community is motivated by a concern for others, and it has been deeply moving and inspiring to witness.
We were in the midst of our St. Mike's 180 planning when the pandemic hit. The pause in this project has allowed us time to reflect on our efforts to date and has affirmed what we already knew, that it is the strength of this community that is helping us weather this difficult storm and gives us hope for the future. We remain focused on our plans for renewal and I look forward to restarting conversations with you all about who we want to be as an institution and how we plan to achieve that. Obviously, we are stepping into a very different world, but St. Mike's is prepared and must take up the mantle of leadership and think of new ways to build hope for our university and society, through our academic and student life programs and through our alumni and community partnerships.
Looking ahead to the 2020-2021 academic year, much remains unknown and difficult decisions must be made in the face of ongoing uncertainty. The health and safety of our community continues to come first, as well as the ability to reopen and resume operations when we are able to do so safely. The university is also facing challenges with regard to reduced revenues, and must also ensure that it remains fiscally sustainable. In early April, we implemented a hiring freeze, along with temporary redeployments. More recently, faced with prolonged shutdowns of parts of our campus and operations the University has worked with the United Steelworkers so that employees in our Facilities and Services Department and Physical Plant Departments can self-identify if they are willing to take a temporary leave. Staff who are affected by this decision have already heard from us directly.
Despite the challenges we are facing as the result of the pandemic, we remain committed to our community and charting a path forward. We are doing everything we can to sustain our workforce and adapt as we move through this crisis. We have established an advisory group, focused on plans for the fall, and we will continue to follow advice from public health and government guidelines. The University of Toronto has recently announced a plan to support employees in working from home where possible until at least September. St. Michael's is part of this collaborative effort to achieve a gradual and safe reopening of the city's workplaces.
Fortunately, in addition to calling on the expertise of our in-house resources, we can also tap into the knowledge and best practices of organizations such as Universities Canada to help us continue to do what we do best as a centre of learning and faith committed to building the common good.
Our Collegium remains a strong sounding board and a source of advice, responding wisely and compassionately to the unique concerns raised by the pandemic. Last week, the USMC Senate discussed the impact of COVID-19 on our academic community. We head into the coming year in especially capable hands, with former St. Michael's Principal Dr. Mark McGowan returning as Interim Principal, as Prof. Randy Boyagoda becomes Vice-Dean, Undergraduate in the Faculty of Arts & Science at U of T. As well, Dr. John McLaughlin will again serve as Interim Dean of the Faculty of Theology as Dean James Ginther returns to the classroom following a leave. We are also very fortunate to have continued great student leadership, and I have already begun to work with Cianna Choo and the newly-elected executive of SMCSU.
While there is still so much we do not know about the course of this pandemic, rest assured that we will continue to communicate via email, social media and our website, stmikes.utoronto.ca, with important information about the 2020-2021 academic year and how and when the campus will reopen. Yes, we are in extraordinarily challenging times, but we are truly all in this together, and with your help St. Michael's serves as an anchor of hope, an engaged and compassionate community dedicated to serving the greater good.
I am proud to be a member of this remarkable community.
Gratefully,


David Sylvester, PhD
President and Vice-Chancellor
University of St. Michael's College
Move-out weekend traditionally sees the mass exodus of 550 residence students moving into apartments, heading to the airport, or being picked up by mom and dad. It's a day of frenetic activity that includes tearful goodbyes, warm hugs of welcome and long line-ups of cars on St. Mary and St. Joseph streets.
This year however, the mass exodus took place in mid-March after the prime minister announced that everyone who could go home, should go home. By the time late April rolled around, the SMC Residence only had about 90 students left, mainly from countries where international travel was either restricted or financially prohibitive. So what's happening with these student now?
"St. Mike's is committed to housing students through the summer who don't have anywhere else to go," says Dean of Students Duane Rendle, "including students who weren't previously living here, but who now find themselves without options." Some of the students who took advantage of Dean Rendle's offer included about a dozen women from Loretto College.
The Loretto College Residence is located just across the street from St. Mike's and provides accommodation to 120 women during the academic year. Although Loretto is an independent college with their own staff and governance structure, their Catholic identity and proximity to St. Mike's have earned them the moniker of "SMC's sister College." In mid-April, St. Mike's agreed to provide housing for any Loretto students who were unable to return home, which has in turn allowed Loretto to close down for the summer. "It just didn't make sense for Loretto to keep their entire building open to house such a small number of students. We were more than happy to have them to join us here at St. Mike's," explains Dean Rendle.
The small community of summer students who remain are being housed in either Sorbara Hall or the Historic Houses. All rooms in Sorbara have their own sink, which cuts down on the need to share common facilities, and the Historic Houses already have small populations, which helps to maintain social distancing. Chartwells, the College's food service provider, is still providing food service to students, albeit in a takeaway form. Residents can purchase a "Dine on Campus" plan consisting of either 50 or 100 meals depending on their length of stay.
If you are a St. Mike's student with a precarious housing situation, email smc.residence@utoronto.ca for more information on summer rates and availability.