Rachel Ottenbreit is a St. Mike's alumna and former staff member, and is currently studying theology at the Pontifical University of the Holy Cross in Rome.
---
Doubling Our Joys and Halving Our Sorrows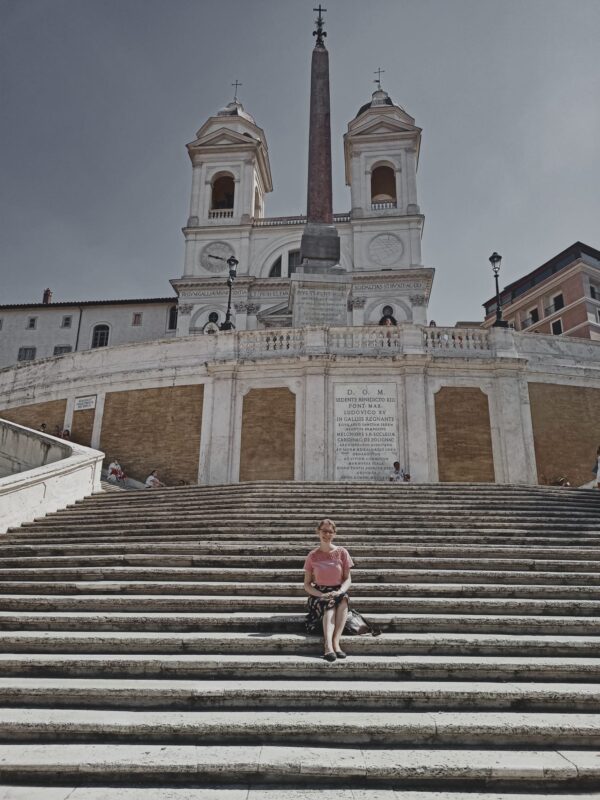 In Italy, the lockdown began in March. Things closed fast, and although it felt like a total shutdown from the beginning, every week brought new restrictions. Parks, schools, churches, and businesses were closed; travel, group meetings, and "playing" (not ironic quotes: that's the word the ordinance used) were banned; we could leave our houses only for emergencies, and then alone and with a paper justifying what we were doing on the street. Jane Austen might have said we were "in the middle before we knew we'd begun," and Shakespeare that "there are more kinds of lockdown and quarantine, Horatio…"
The consequences of these closures are so varied. Surprisingly there were unexpected joys. Yes, although dolphins may or may not have returned to the canals of Venice (reports vary and I didn't see it myself), those canals are definitely clearer and wildlife have been exploring our cleaner, quieter world. Joys erupted on a personal level too. I got to watch my aunt's wedding in June and one of my best friend's this last week. I couldn't have flown home for either, so those live streams were pure, unexpected gifts.
In Diary of a Country Priest, Georges Bernanos writes that soldiers at the front cannot desert: "A chest is a chest when you get to the trenches. And one less counts!" That is, in the trenches you can literally take hits for others. Once you're there, whoever you are, you do whatever you can do because whatever you can do makes a difference.
This is not to say that I've taken many hits myself. I've been very fortunate to live with other people, good friends, in the middle of this. We have good WiFi and a garden we can go to for fresh air and exercise. And our university bent over backwards for us (even couriering library books we requested, as long as that was possible).
But being restricted earlier and more severely than other countries, missing more than one family member who planned to visit this spring, helping people pack up and go or find ways to stay because they couldn't leave, and grieving with close friends, many of them, who've lost family members and can't go home…yes, while there were unexpected joys, there has also been an expected sorrow.
I started checking in with friends back home in their own trenches. Between the people I wrote to and those who, reciprocally discovering the same idea, wrote to me, throughout this time I've been in touch with more old friends than any time before. Though officially isolated, I knew I wasn't alone, and I hope they did too. This has been another joy.
For me, as for many believers around the world, it was incredibly difficult to go without religious services—in my case, Mass and Confession. But it's also been incredibly moving to see Pope Francis doing everything he can so that we Catholics, we anyone, aren't alone. He really shouts it from the rooftops: we are not alone and we need never be. To remember him walking through Rome's tragically empty streets praying for all those suffering, and giving his hopeful, consoling "to the city and to the world" blessing still calls forth thankful tears. That's the front line, and I'm so thankful that he's there.
All in all there are so many blessings. It has become much more obvious that we're in this, in life, together. We don't need a pandemic to take hits for each other. We can double our joys and halve our sorrows together. In the middle of this mess, that's something to be grateful for.
---
Read other InsightOut posts.
Julia Orsini is a member of the graduating class of 2020. On Tuesday, June 2, 2020, she was granted an Honours Bachelor of Arts degree with a Major in Political Science and Double Minor in English and Italian Culture and Communication. She will be pursuing a Master's Degree in Marketing at Schulich School of Business in September 2020.
---
Double Blue Forever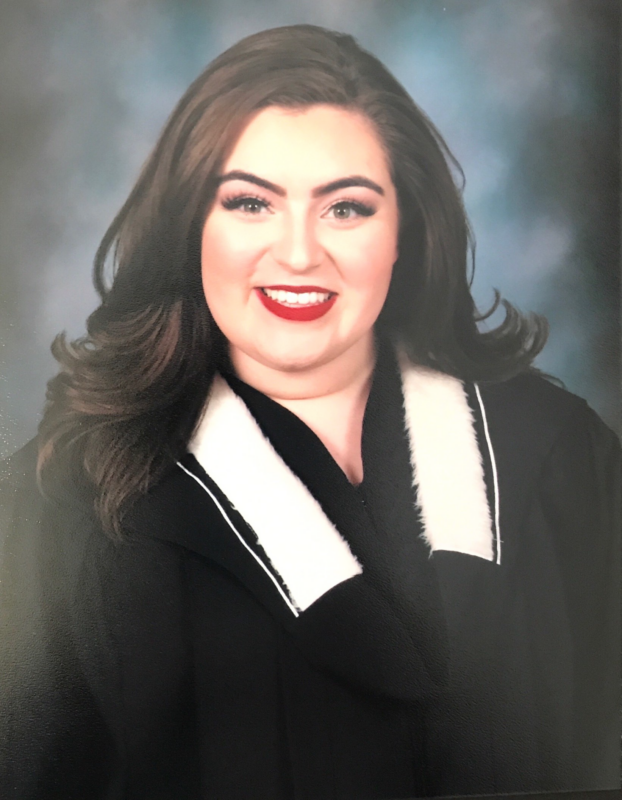 Coming from a long line of family members with double blue running deep in their veins, I was so excited to carry the torch in my academic journey and become a St. Michael's College student myself. By reflecting on my time working with USMC Orientation, teaching chants like Hoikity Choik and Bubbaloo, I couldn't help but remember learning them at a young age and wearing my dad's oversized SMC sweater. For decades, St. Mike's has influenced education through Basilian teachings to transform young enthusiastic student minds into great leaders, and the university welcomed me with open arms the fall of 2015 with opportunities to grow and develop.
At USMC we are always quick to discuss our tight-knit community. It is no wonder the place quickly became the home that I had been expecting on my arrival, and hence why it will be so difficult to leave now that I have graduated. I learned early on that your university experience will be whatever you put into it, and I knew being heavily involved in the USMC community from the start was integral to my five years here. As I prepare to leave the gates of USMC behind I am confident that my time and experiences here have helped me mature in ways I could have never imagined when I first stepped foot on campus. My time with the St. Michael's Troubadours Drama Society and The Mike are notable memories, including having the opportunity to find creative ways to connect the Young Alumni community as a work-study student at the Office of Alumni Affairs. The latter is now becoming reality for me as I become part of the Young Alumni Community myself.
Although our USMC Class of 2020 had the unconventional experience of graduating via a YouTube Convocation, I truly believe that everything happens for a reason and that God does not give you more than you can handle. I believe that the Class of 2020's unwavering determination to continue learning without a traditional university experience is a testament to our strength as a community capable of accomplishing greatness.
Despite not having the traditional convocation, the University of Toronto administration still managed to recreate the procession, which I watched as I gathered with my family at home on the couch. Instead of wearing fancy heels that bore the impact of walking across campus from USMC to Convocation Hall, I opted for comfy house slippers. Rather than trying to find my parents in the sea of people as I waited for my name to be called out, we screamed, celebrated and cried when my name appeared on our television screen, and we held each other tightly. It turns out our unprecedented virtual convocation allowed me to celebrate instantaneously with my family in a way that transcended distance, continents and time zones.
I am proud to be a St. Michael's student turned Young Alumni member, and share with the graduating class the optimism for a better and safer future as we continue to form new knowledge, skills and experiences to keep the world on turning.
---
Read other InsightOut posts.
Last year through our Grad Class Campaign, we asked all 2015 graduates to make a gift of $20.15 or any amount they could manage. This gift was used to help fund furniture in Kelly Library, and provide two student leadership awards to our graduating students. These awards were based on volunteerism in the local community, within U of T, and/or the St. Mike's community. The St. Mike's Young Alumni Committee (YAC) chose Jarvis Noronha and Anne Fard as the two recipients of these awards.
We would like to update you on our two winners below:
Jarvis Noronha
Jarvis is in his 2nd year of his Masters in Science under the Department of Nutritional Sciences, Faculty of Medicine, U of T.
This past year, he was the Community Outreach Coordinator with the Nutritional Sciences Graduate Students' Union. He worked with another graduate student to organize and conduct various community outreach and fundraising events.
The 2015 Grad Class Award has helped build Jarvis' professional and personal life, and has been a humbling and important reminder to continue making efforts to engage with his community beyond undergrad.
Jarvis is thankful to receive this award, as it helped reduce various financial burdens during his Masters. He has used the funds to help make small donations to various charity organizations as well.
Anne Fard
Anne is finishing off her Masters in Science under the Department of Nutritional Sciences, Faculty of Medicine, U of T.
She was accepted as a Research Analyst for Health Innovation as part of Bridging Research Innovation Globally in Health Technology (BRIGHT) International.
She was chosen as a Fellow for Kaya Collaborative, an organization that works with young leaders who partner with local companies to help develop and instigate lasting impact within various communities in the Philippines.
Anne is thankful to be a recipient of this award, as it helped her through her Masters, provided her with more confidence to pursue what is ahead, and also helped support her financially.
Graduated in June or November 2016? You can apply for the 2016 Grad Class Award HERE.