The University of St. Michael's College offers heartfelt congratulations to Sr. Anne Anderson, C.S.J., on being named this year's recipient of the Lifetime Achievement Award from the Catholic Health Alliance of Canada.
"Sr. Anne's dedication and contributions to both health care and higher education in Ontario have been boundless," says University President David Sylvester. "She has brought the same passion to health care that she has provided to St. Michael's in her lengthy career here. We remain grateful for her insights and energy."
Chair of the St. Joseph Health System Board of Directors, Sister Anne has been a past President of the Catholic Health Association of Ontario and member of the Board of Directors of the Catholic Health Association of Canada.
She was appointed President and Vice Chancellor of the University of St. Michael's College in Toronto in January 2009, having previously served there as Interim President as of July 2008, in addition to her duties as the Dean of the Faculty of Theology. Sister Anne has been a member of the Sisters of St. Joseph of Hamilton since 1958, and served the Congregation as General Councillor and General Treasurer from 1999-2009.
The Lifetime Achievement award was made at the CHAS annual conference, taking place virtually May 6 and 7. The alliance states that "Catholic Health Care in Canada has been blessed with a legacy of faithful leaders whose dedication throughout their careers has built the ministry and ultimately brought healing to persons and communities."
Sr. Anne, it notes, it notes, is one such leader, a person who has "inspired and mentored numerous others in Catholic health care and whose accomplishments, over the course of a career, have strengthened the ministry."
"Whether it's encouraging and supporting students or safeguarding—and advocating for—patient-focussed healthcare, Sr. Anne is a powerful ally. This honour is well deserved," says Faculty of Theology Interim Dean John L. McLaughlin.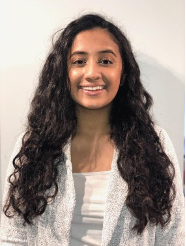 St. Michael's College student Nicole Machado (BSc'21) has been named a finalist for the inaugural McCall MacBain Scholarships, Canada's first comprehensive leadership-based scholarship for master's and professional studies.
The scholarship enables students to pursue a fully funded master's or professional degree at McGill University while connecting with mentors and participating in an intensive leadership development program.
Nicole will join 49 Canadian peers, including two other University of Toronto students, at virtual final interviews from March 11 to 13, 2021. She will participate in interviews with Canadian leaders from academia, business, government, and the social sector.
"We are thrilled to hear Nicole's news and we cheer her on as she moves forward in the McCall MacBain Scholarship process," says Dr. David Sylvester, President of the University of St. Michael's College. "Nicole's academic and volunteer experiences have all been directed toward the greater good. She is a great model of how St. Michael's students understand that education isn't only about books and exams but primarily about recognizing—and celebrating—the dignity and value of all."
Over 735 people applied for the McCall MacBain Scholarships, and 132 participated in regional interviews with local leaders in November before the 50 finalists were selected. Up to 20 McCall MacBain Scholars will be chosen after final interviews.
Finalists were chosen based on their character, community engagement, leadership potential, entrepreneurial spirit, academic strength, and intellectual curiosity.
Nicole volunteered at a local hospital for five years, more recently as a weekly visitor to support elderly patients, and helped prepare meals at a women's shelter. On campus, she mentored first-year students and organized social activities for students in drama clubs.
Nicole is set to earn her BSc in Pharmacology this year. She worked at an oncology lab and, as part of the Professional Experience Year program, conducted research on drug delivery and medical devices at the Massachusetts Institute of Technology. She is applying for master's programs in biological and biomedical engineering and in experimental medicine.
"There is no typical McCall MacBain Scholar," said Natasha Sawh, Dean of the McCall MacBain Scholarships. "We look for potential in students from all walks of life, with different academic and volunteer interests. What unites them is the inner drive to learn, lead, and make a positive impact in other people's lives."
Finalists who are not selected as McCall MacBain Scholars will be eligible for a $10,000 entrance award for their studies at McGill University. The scholarships are the result of the 2019 landmark gift of $200 million (Canadian), the single-largest gift in Canadian history at that time, by John and Marcy McCall MacBain. The McCall MacBain Scholarships will expand internationally over the next decade, with nearly 300 McCall MacBain Scholars selected by 2030.
Although the COVID-19 pandemic drew life on campus to an early close, St. Michael's students continued to enrich the community with their talents and service as their coursework and extra-curricular activities transitioned to online platforms.
This year's Student Life Leadership Awards recognize the outstanding extra-curricular contributions to the University and the St. Michael's community as a whole during a particularly challenging time.
New awards recognizing Service in Student Mental and Physical Wellbeing, Leadership in Community and Cultural Development, and Outstanding Contributions to Social Justice Initiatives were introduced in 2020 to highlight areas of distinct interest to St. Michael's students, staff and faculty.
Several awards recognize creative initiatives that are a vibrant part of campus life, including student publications and the arts. "The theatre is a space for people of all different experiences and backgrounds to come together and work to create something beautiful," says third-year student Emily Villani. As Artistic Director for SMC Troubadours, Villani oversaw and performed in theatrical productions, including a recent production of Guys and Dolls.
Other awards recognize the work of students to foster inclusion, social justice, and a deep sense of welcome. A major goal for Sonakshi Sharma, a third-year student and Executive member of the Indian Students' Society at U of T, is to help international students find more familiar and comfortable spaces in campus community—especially in the area of cultural representation. "I believe building such a community is important for students in order to have a comprehensive university experience," says Sharma.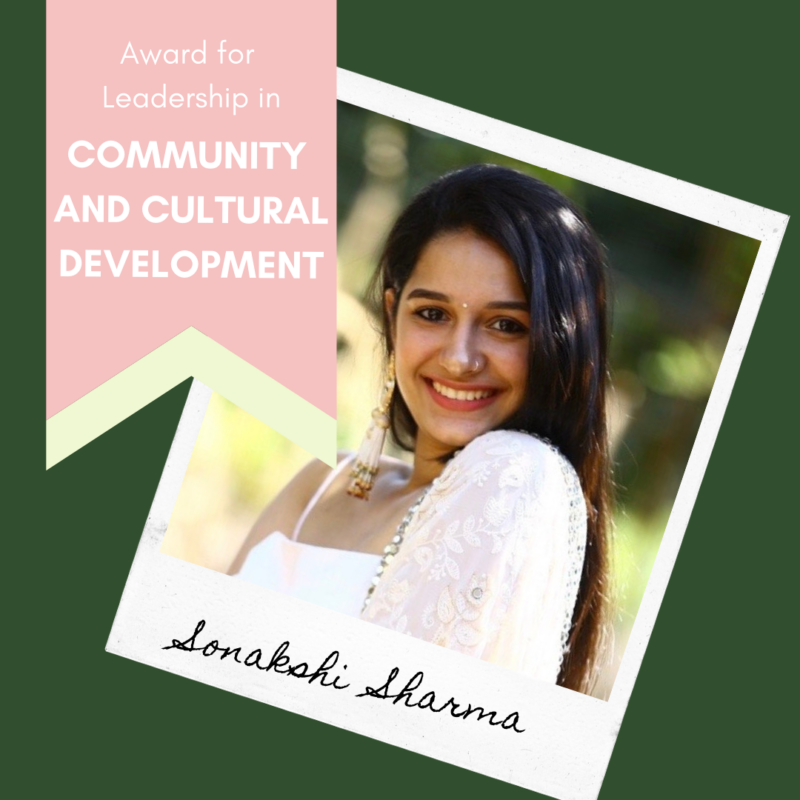 Athletics, a longstanding area of achievement and an important part of the education of the whole person at St. Michael's, is another area in which students are being recognized for leadership and service to their peers. "Intramurals are an incredible foundation for a social and athletic life on campus!" says Mika Embury, fourth-year student and recipient of the Mary H. Lee Award for Leadership in Women's Sports.
Student Life Associate Emma Graham describes the recipients as "leaders who actively encourage their peers to get involved, follow their dreams, and build up others." Their influence has helped other students at the college become active participants in community life outside the classroom. Each award is peer-nominated, which means that each recipient is being recognized not only by the College, but by fellow students who benefited from their service.
The full list of the 2020 Student Life Leadership Awards can be found below, with more details available on Facebook.
Award for Leadership in the Arts:

Emily Villani

Award for Leadership in Community and Cultural Development:

Sonakshi Sharma

Award for Outstanding Contribution to Social Justice Initiatives:

Adam Da Costa Gomes

Award for Excellence in Peer Mentorship:

Sam Gruppuso

Award for Outstanding Exhibition of College Spirit and Pride:

Simran Dhir

Award for Service in Student Mental and Physical Wellbeing:

Christeen Salik

Award for Leadership in Student Publications:

Ian Hauber

Award for Male Athlete of the Year:

Victor Wakelin

Sr. Kathleen Heffron Award for Female Athlete of the Year:

Elaine Pityn

Mary H. Lee Award for Leadership in Women's Sports:

Mika Embury

Kevin Fawcett Award for Freshman Athlete of the Year:

Eloïse Alarie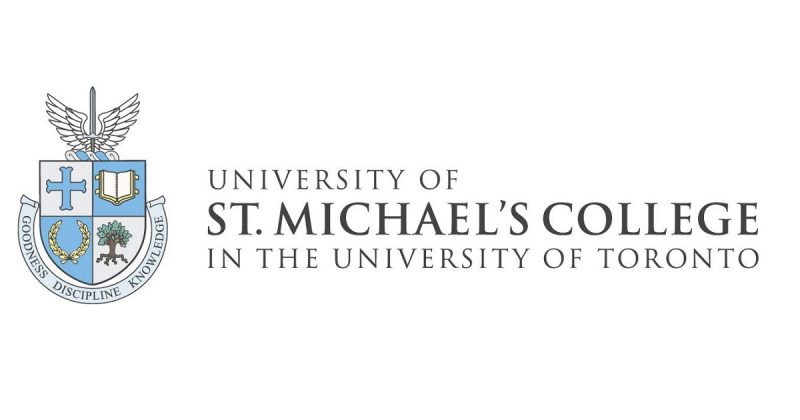 TORONTO, Oct. 23 – Four projects demonstrating the impact of business and governments' Social Responsibility and Sustainability practices on youth mental health, Truth and Reconciliation, municipal CSR engagement, and the real estate sector have earned nominations for the inaugural USMC President's Capstone Project Award for the Graduate Certificate in CSR/Sustainability.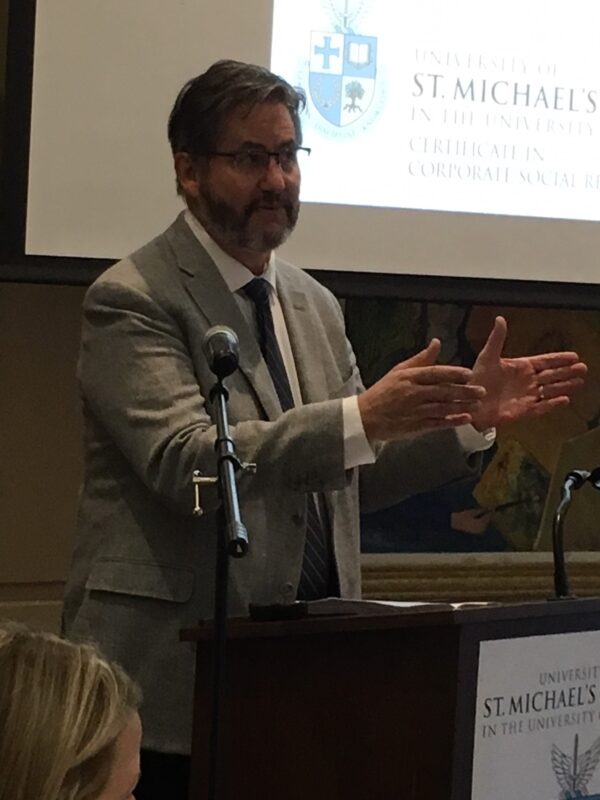 The nominated projects are:
"Stand Up! For Youth Mental Health: Will Community Investment Pay Off for Family Channel?" by Nikki Byrne
"Indigenous Impact Report" by Alexandra Biron
"Bringing to Life a CSR/Sustainability Conversation for the City of Mississauga" by Andrea McLeod
"A CSR Strategy for the Canadian Real Estate Association" by Sarah Thirnbeck
"The Corporate Social Responsibility program is a vital offering at the University of St. Michael's College, helping business and institutions focus on ways to become better – and more effective – global citizens, whether environmentally, socially, or economically," says St. Michael's President David Sylvester. "Program participants return to their workplaces as leaders engaged in social impact that benefits their employers and society. We want to celebrate these extraordinary changemakers with this new award."
Thirty participants are accepted annually to St. Michael's CSR program, which attracts students from across Canada and around the world from sectors as diverse as banking and manufacturing to education and NGOs. Participants meet on campus for three sessions over a 13-month period and connect online throughout the program, engaging in readings, webinars, videos, and shared reflections on ethical behaviours that create shared value that contributes to society's wellbeing. The summative capstone assignment sees participants work with a mentor from their field on a project to apply knowledge, skills and perspectives learned or honed during the program.
Projects considered for the President's Capstone Award must be distinguished in what they achieve or propose in one or more of the following criteria: 1) advancing social and/or environmental impact; 2) introducing innovative practices in social and environmental responsibility, sustainability, ESG and/or 3) significantly advancing social and environmental responsibility, sustainability and/or ESG to the creator's organization.
Nominated projects were judged by a panel which includes Kaz Flinn, Chair, St. Michael's advisory committee for the CSR program; Dr Stephen Scharper, associate professor at the School of the Environment and the Department for the Study of Religion at the University of Toronto; and Mary Ann Sayers, a graduate of the CSR program and senior business consultant at West Pine Consultants Inc. For more information, please see the Certificate in Corporate Social Responsibility/Sustainability Website.
About the University of St. Michael's College
The University of St. Michael's College (USMC), federated with the University of Toronto, is a Catholic institution of higher learning founded by the Congregation of St. Basil, whose motto, "Teach me goodness, discipline and knowledge," sets the tone for campus life.
A Business Advisory Committee ensures the CSR program is relevant and experiential. CSR/Sustainability Leaders representing a broad range of industries from insurance to mining, including: The Co-operators, BMO Financial, Scotia Bank (ret.), Vermillion Energy, Centerra Gold , ESG Ledger, Conference Board of Canada, and Rotman School of Management (University of Toronto) provide advice and input.
For More Information Contact
Kathryn A. Cooper, Program Manager, Certificate in Corporate Social Responsibility & Sustainability
Phone: (519) 855-9491
Website: https://www.csr-stmikes.ca/
The 20th annual Media Ecology Association Convention brought together hundreds of scholars for panels and presentations on ethical issues at the cutting edge of technological development and society today. Presented by St. Michael's, the intellectual home of media ecologist, critic and theorist Marshall McLuhan, the conference also provided an opportunity to recognize the achievements of scholars continuing the legacy of McLuhan's work.
With congratulations to all winners, here are the awards presented at the 2019 MEA Convention:
| | |
| --- | --- |
| The Walter J. Ong Award for Career Achievement in Scholarship | Werner Kelber |
| The Neil Postman Award for Career Achievement in Public Intellectual Activity | Nora Bateson |
* * *
| | |
| --- | --- |
| The Marshall McLuhan Award for Outstanding Book in the Field of Media Ecology | Mark A. McCutcheon for The Medium is the Monster: Canadian Adaptations of Frankenstein and the Discourse of Technology |
| The Walter Benjamin Award for Outstanding Article in the Field of Media Ecology | Nicholas Grodsky, Julia Hildebrand and Ernest Hakanen for "Screens as Human and Non-Human Artefacts: Expanding the McLuhans' Tetrad" |
| The Erving Goffman Award for Outstanding Scholarship in the Ecology of Social Interaction | Laura Tropp for Grandparents in a Digital Age: The Third Act |
| The Susanne K. Langer Award for Outstanding Scholarship in the Ecology of Symbolic Form | Eviatar Zerubavel for Taken for Granted: The Remarkable Power of the Unremarkable |
| The Dorothy Lee Award for Outstanding Scholarship in the Ecology of Culture | Shannon Mattern for Code and Clay, Data and Dirt: Five Thousand Years of Urban Media |
| The Lewis Mumford Award for Outstanding Scholarship in the Ecology of Technics | Antoine Bousquet for The Eye of War: Military Perception from the Telescope to the Drone |
| The Harold A. Innis Award for Outstanding Thesis or Dissertation in the Field of Media Ecology | Melinda L. Farrington for The Role for Rhetoric: Ong's Ramus Research as a Hermeneutic Opening for Mediated Communication |
| The John Culkin Award for Outstanding Praxis in the Field of Media Ecology | Julia Hildebrand and Barry Vacker, Curators, for Hot and Cool in the Media(s)cene: A McLuhan Style Art and Theory Project |
| The Louis Forsdale Award for Outstanding Educator in the Field of Media Ecology | Thomas Gencarelli |
| The Jacques Ellul Award for Outstanding Media Ecology Activism | Andrew McLuhan for The McLuhan Institute |
| The James W. Carey Award for Outstanding Media Ecology Journalism | Mathew Ingram |
| The Christine L. Nystrom Award for Career Achievement in Service to the Field of Media Ecology | Fernando Gutierrez Cortes |
| The Edmund S. Carpenter Award for Career Achievement in Editing in the Field of Media Ecology | Phil Rose |
* * *