James Roussain begins a new role at the John M. Kelly Library this January as the Interim Head of Public Services, a change from his position as Outreach and Instruction Archivist, which he has held since 2017. Prior to joining the University of St. Michael's College, James worked at Scotiabank, where he was involved in the maintenance and deployment of the corporate records management program. At the Kelly Library, James assists students with their research, exposes students to the treasures in the Kelly Library's Special Collections, and teaches in the college's Book and Media Studies program. James is a past president of the Archives Association of Ontario (AAO) and the Toronto Area Archivists'Group (TAAG). In his spare time, he is pursuing a Master of Education in Higher Education at the Ontario Institute for Studies in Education (OISE). He holds a Master of Information degree from the University of Toronto's Faculty of Information.
---
On Jellyfish, Loneliness, and Learning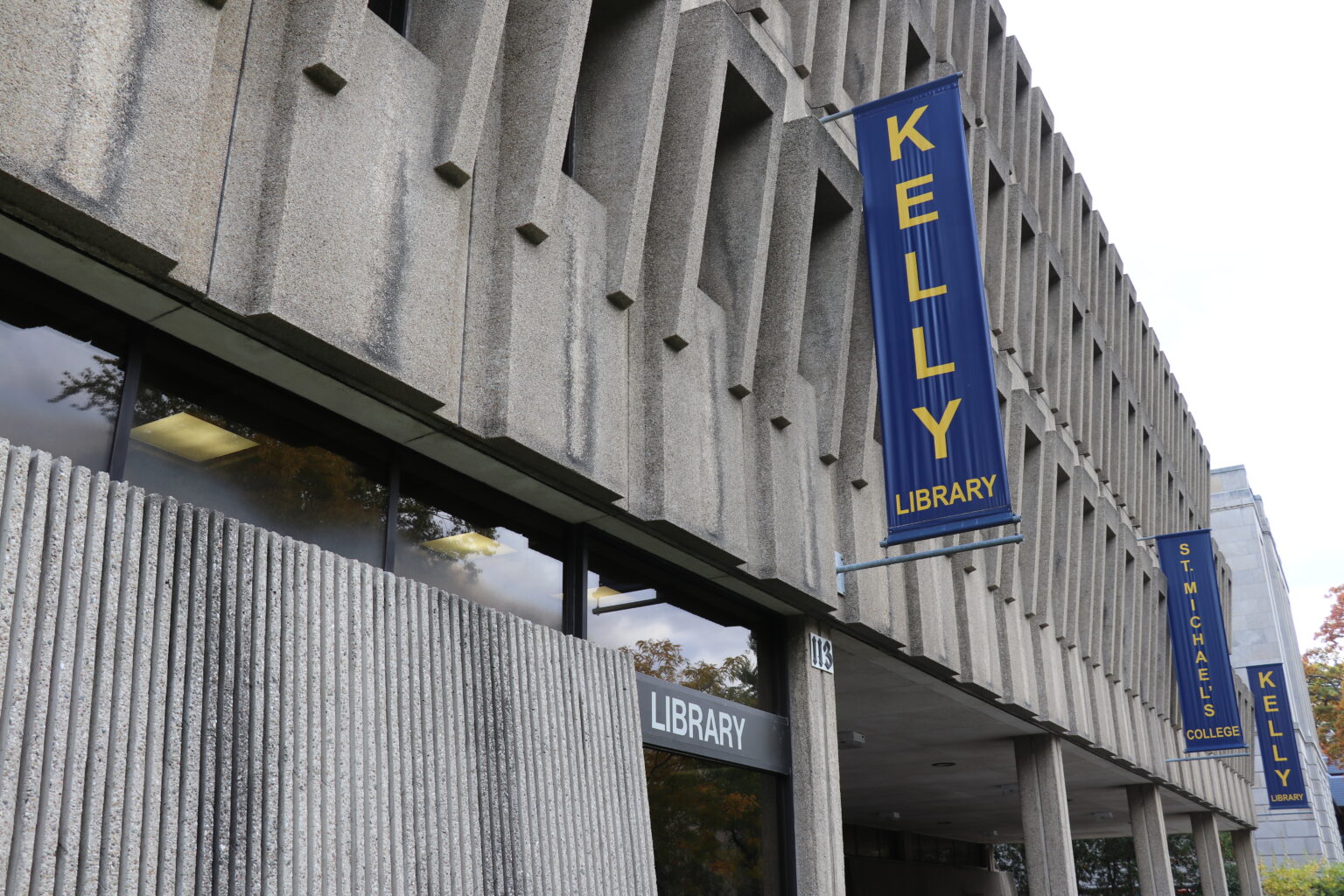 As the new semester gets under way in the coming days, it is important to take a step back and think about those we are working to support: our tireless and dedicated students. With our new reality of living apart and working remotely becoming just that—our current reality—we need to remember that these are indeed strange and stressful times not just for us but for our students, too. As a librarian at the Kelly Library, I am fortunate to work directly with students assisting them in their research, writing, or in navigating the complexities of the University of Toronto's immense library system. For many, the library is an intimidating space in the best of times. Compounded with the challenges of remote work and a lack of helping hands, finding resources and completing research has never been more challenging, especially so for many of our first-year students, for whom the academic library is an entirely new entity.
During the fall semester, the Kelly Library, in partnership with the Principal's Office, hosted twice-weekly Research and Writing Help Drop-In sessions, where students were able to join us—remotely—for one-on-one assignment help. With two writing instructors at my side, we would greet students and, using private break-out rooms, answer as many questions as possible over a two-hour period. What started off as a way to accommodate students who were unable to snag longer scheduled appointments grew into a window on our students' lived reality: too many due dates, a mess of assignments vying for their attention, and an overwhelming sense of isolation and, at times, loneliness. Logging in from their living rooms, kitchens, bedrooms, and sometimes an enviable patio, students shared with us their frustrations in working alone and, for many, navigating time zones and poor internet connections. This has not been an easy time.
As I helped students find articles, tidy up citations, or figure out the best keywords for their upcoming essay on, say, vestigial traits in jellyfish, I grew to realize two things. The first—and perhaps sacrilege to our faculty readers—is the trivial nature of our work during these incredibly challenging times. In more than one occasion I felt the need to reassure students that while, yes, your essay is important, so too is the need to care for yourself and reach out to others. This is not to say we must lessen academic rigour, but rather carry a realistic understanding of what is possible. The second thing I learned is how little I know not only about jellyfish but about every single topic brought to me during these drop-in sessions. The level of academic achievement on our campus is truly astounding. There has not yet been a case where working with a student on their research has not taught me something new, and for that I am thankful.
In looking ahead to the coming semester and the challenges it will surely bring to our students, especially those graduating into a world of social, political, and simply logistical unknowns, we need to work together to ensure empathy and perspective are at the front of our minds. The rise of mental health programs and services on campus—so well advocated for by our dedicated students on SMCSU—brings overdue awareness to the importance of creating community wherever possible. Week after week, soon after logging in, the same group of students would join our drop-in sessions. Some came for detailed questions on style and structure, while others came just to check in. We created community in the most unlikely of places: a Zoom call focused on academic research and writing help. Who knew? In our own unique way we forged a space where students could share their frustrations, get some help, and see a familiar face at the same time. It is easy to get caught up in administrative matters, the daily to-and-fro of emails and meetings, or the challenges of bureaucracy. Take a moment, as often as possible, to guard against these blinders and seek our community. Or, if so inclined, check in with our students and ask them how they are doing. What may be seen as a hollow "How're you?" during pre-COVID times may now carry more weight than you know.
While the library's stacks are closed for the time being, our dedicated staff remains available to help. We strive to place the student experience at the centre of our work and tailor our collections, services, and spaces to offer them an inclusive, welcoming, and supportive environment—both in a physical and virtual sense—where they can flourish during their time on campus. In my own role within the library, and my small role on the University of Toronto campus, I am proud to have the opportunity to work daily with our students and to learn alongside them.
---
Read other InsightOut posts.
Risa de Rege is a library technician at the Kelly Library. She has a B.A. in history, art, and medieval studies from the University of Toronto, and is currently a master's degree candidate at the Faculty of Information.
---
The Ups and Downs of a Paradigm Shift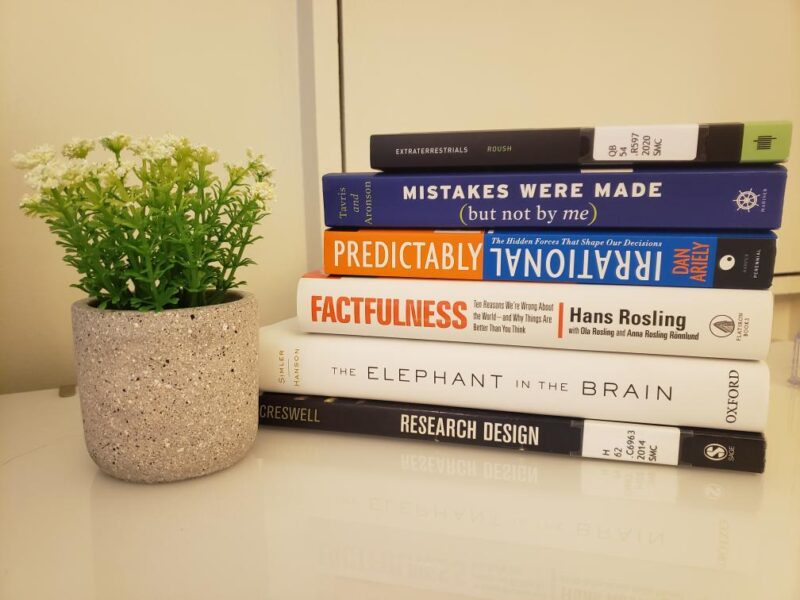 The past year, and the unwelcome pandemic that came with it, has brought a lot of change to my life. Usually I'm a person who is happy with things the way they are, but every now and then the paradigm shifts, so here I am. Since January I've started a new job here at St. Mike's, seen my hobbies completely change for the foreseeable future, and enrolled in a graduate program. Nothing is normal, and every day I feel the stress of a global disaster. But maybe the British were on to something with "keep calm and carry on."
I'm no stranger to libraries. I worked at Victoria College for several years at the circulation desk, and in 2018 joined USMC as a processing clerk in the technical services department. A few years ago I decided to make a career out of this experience, and recently finished my library technician diploma. In January I had the pleasure of joining Kelly's access and information team full-time—only for us to shut down about 10 weeks later. After a few months working solely from home (probably the longest I've gone without visiting campus since high school), I was back on-site to help with shifting in anticipation of an ongoing construction project. I then helped with curbside pickup and, more recently, re-opening for study space. Not exactly how I imagined my career really taking off, but sometimes that's just how it is.
Working from home offers more flexibility and no more time lost to commuting. I have a bit more time to myself, but nothing to do with it. Outside of work and school I spend most of my time singing opera, a hobby which for obvious reasons will not be coming back anytime soon. A trip to perform in England this summer was postponed to a healthier year, and I have many friends whose shows, if not whole seasons, were cancelled. I have been singing virtually, though. While unfortunately my local opera society has not ventured online, I've rejoined the Toronto Mendelssohn Choir, which is producing a virtual concert season, and I continue to sing with a community choir which has adapted marvellously. This all-ages, all-abilities group generally sings music written specifically for it by local composers. While singing together live on Zoom is basically impossible due to a host of technical issues, our current composer-in-residence is creating music specifically with this situation in mind. It's been fun to explore music this way, but it's not the same. It's really articulated to me that I sing not only for love of the art form but for love of the people I sing with.
One true advantage of COVID is that working from home means I can foster kittens. I've fostered adult cats for years and now have my own, a tabby named Autumn who I picked up the day after Kelly closed. But now, being home most of the time means I'm here to keep an eye on things (I love cats, but I don't trust them). I started taking in kittens in July, and I'm on my second pair now: two brothers who have a mild neurological condition that affects their balance and motor skills. Among all the stress of a global pandemic, a million dead, a looming election, an environmental crisis, etc., it is extremely grounding to take care of two sweet, vulnerable babies and know that I am giving them a second chance at a happy life. Sometimes all the good we can do is small, but that doesn't mean it doesn't make a difference.
Another thing I've started during COVID is my master's degree at the Faculty of Information. While I'm grateful that the Faculty committed to an entirely virtual semester early on, an entire graduate program quickly moving online is not without its difficulties. But I was eager enough to start that I didn't want to delay another year just on the off chance that in-person courses might return in the fall of 2021, and I don't regret it. It's nice not to have to worry about commuting any farther than across my bedroom to my computer desk. And while online classes are still pretty structured, there's a bit more flexibility to go at my own pace. I did my library technician diploma completely online, through Mohawk College, and it was an entirely different experience that I found very positive. Classes designed to be delivered online are very different from classes designed to be in-person that get thrown into Zoom. Everyone in academics has described this year as a "learning opportunity." What we learn from it remains to be seen.
The biggest downside is that communication is much harder and mostly relies on the strength of one's internet. With professors still encouraging group discussions as a major part of classes, I've found that a lot of my time is spent trying to hear someone over background noise or a bad connection. Due to either bandwidth or shyness, few people have their cameras on so it's been very difficult for me to feel like I'm getting to know anyone. If there's one thing COVID has taught me, it's how much I rely on casual social interactions: chatting before class starts; stopping by a former workplace to catch up; and the subtle body language and facial expressions that contribute so much to conversation. In some ways staying behind a computer is good for social anxiety; in other ways it's far worse.
Still, things have been okay. I want to do a thesis and I've been able to start refining my ideas and doing some preliminary research this term. I'm interested in fringe beliefs, like conspiracy theories, the paranormal, or pseudoscience, and why people believe in these things. While I'm pursuing this mainly out of personal interest, it's not hard to justify why understanding science resistance is pretty important in the current state of things. If we ever want to go back to learning in-person, we need to get more people on board with the latest epidemiology.
---
Read other InsightOut posts.
Noel McFerran has worked as a librarian at the University of St. Michael's College since 1998. His current position is Theology and Rare Books Librarian.
---
"Be Right Back!"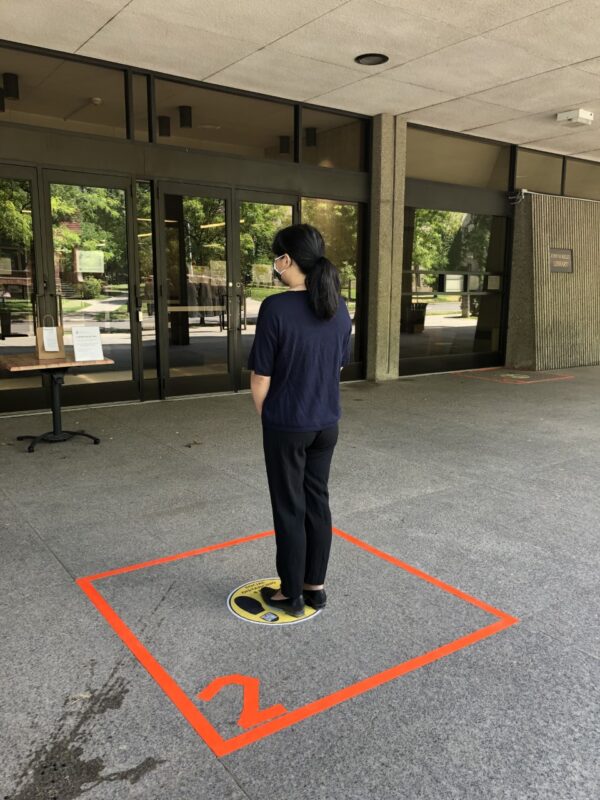 I spent last Wednesday morning in the Kelly Library providing curbside pickup service to faculty and students. As a librarian, it was exciting for me to see the library taking further steps to provide library materials to patrons while maintaining the health and safety of everybody involved.
Since mid-March I've been working from home, keeping very busy responding to emails from faculty and students about their course work and research. Wednesday was one of my first times back inside the Kelly Library. The most important thing was to be trained in how to function in my regular work environment during a pandemic. I thought that I knew all about social distancing, wearing masks, and sanitizing hands—but it's so much more important in a workplace where there are other staff using the same desk and equipment. Just like in the supermarket, we're maintaining a one-way route in the library in order to reduce face-to-face encounters between staff.
Every day the Kelly Library receives a computer-generated list of books and DVDs which patrons have requested through the UofT Library Catalogue. One staff person looks for these items on the shelves. Most items are where they are meant to be, but occasionally we have to search for something which has wandered from its regular home. Items then get checked out to patrons. Right now all items are signed out until September 18, 2020.
Another Kelly staff person, working from home, sends personalized emails to patrons telling them that their books are ready to pick up. Sometimes patrons respond with special requests (e.g. "Can a friend get my books for me?").
At present patrons can pick up their requested items at the Kelly Library anytime Monday to Friday between 9:00 a.m. and 4:00 p.m. The pick-ups ebb and flow. I filled the low periods with other library work to keep myself busy.
The first encounter between a library patron and staff is through a glass wall where the patron shows their library card. (I had real difficulty reading the card through the glass, so I might need to make an appointment for an eye exam!) You can't really hear people on the other side of the glass, so we have various printed signs which communicate the most frequent things (like "Be right back").
Staff retrieve the patron's bag of books and place it on a table outside the library under the overhang. Even then there is reduced interaction between staff and patrons. Smiling doesn't mean so much when you're wearing a mask, so I tried to wave in a friendly way.
The response from faculty and students to the Kelly Library's curbside pickup service has been very positive. My colleague Risa de Rege, who has worked many shifts in the past week tells me, "People have been very grateful that we're offering curbside pickups, and are also respectful of our space and policies." In the first week, 76 patrons submitted requests for 141 items. As more people learn about the service and how easy it is to use, that number is likely to increase. So far, though, we've been able to respond quickly to requests.
Nobody wants the COVID pandemic to go on any longer than it has to. But for the present and near-future, the Kelly Library is developing solutions to continue to provide library service to our faculty and students. I love being a part of that, knowing that my work contributes in a small way to the academic success of others.
---
Read other InsightOut posts.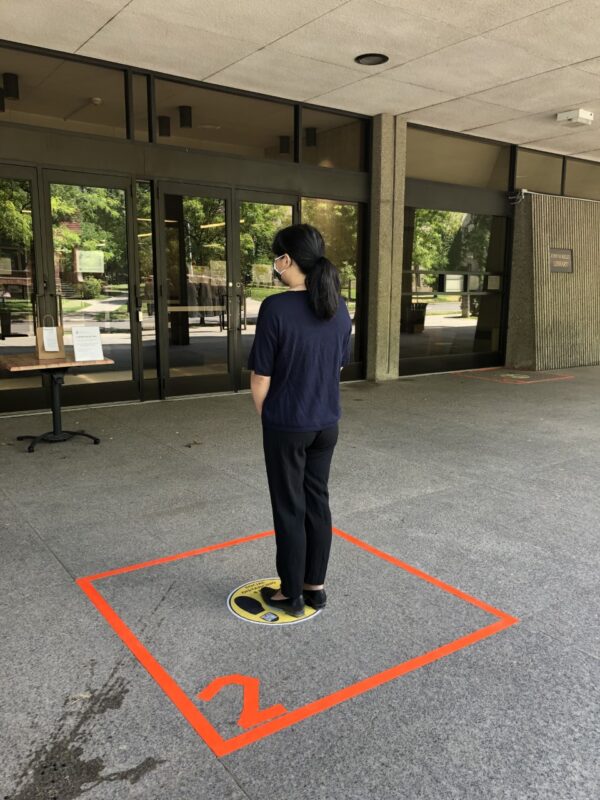 Kelly Library patrons can once again hold physical books from the collection in their hands through a new curbside pickup service.  
To support the community's access to materials while also following public health guidelines, library staff can now accept requests from any patron with a valid UTORid through the UTL catalogue for select physical items in the collection that are not held in the Hathitrust Digital Library. These items are then made available for pickup in a safe and appropriately distanced manner.
"Curbside pickup of materials is an exciting move toward reinstatement of our services and in our ongoing effort to support students and faculty," Chief Librarian Sheril Hook says. "As we launch and evolve the service, the health and safety of our community is a top priority, with safety precautions implemented at each step of the borrowing process, following guidelines outlined by the University of Toronto Libraries and Toronto's public health authorities."
After they receive a pickup notice from library staff, patrons can visit to pick up materials between 9 a.m. and 4 p.m. Monday to Friday in front of the library. Visitors using the service will queue in a waiting area and then proceed to approach the window near the book return slot under the awning of the library, and boxes marked with tape on the ground will indicate where patrons should wait in order to maintain a safe physical distance. The library will not be open to visitors indoors, and all pickups will be handled outside. Patrons who cannot come in person can place a note in the catalogue request for their friends or family members to pick up materials for them.
The service makes available materials that have otherwise been inaccessible to patrons in any format during the pandemic. In addition to the physical items now available for curbside pickup, patrons can request a PDF scan of a single book chapter or journal article from the library's circulating collection not available through Hathitrust. Physical items being lent out will be due back by August 31, 2020, although this date may be updated as plans continue to change during closures.
The Kelly Library has made available full instructions for using the service, including health and safety guidelines and FAQs.  
Jessica Barr is the University Archivist and Records Manager for the University of St. Michael's College. She is a graduate of the University of Toronto (New College 0T9, Faculty of Information 1T1), and spent much of her time as a student studying in the John M. Kelly College Library. Not much has changed, except her desk's location in the library.
---
Archiving St. Mike's in Quarantine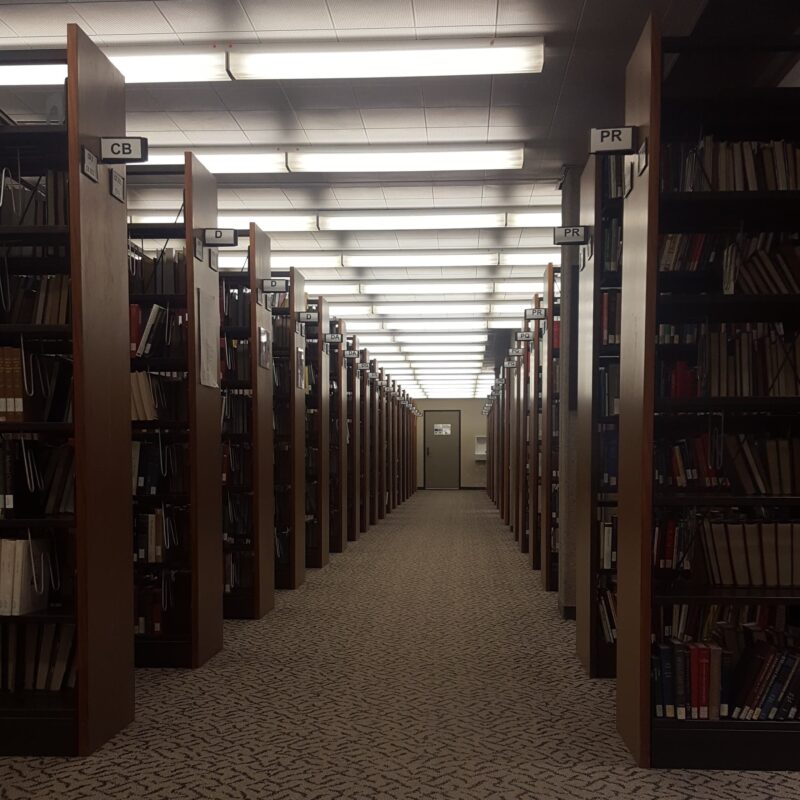 The University of St. Michael's College Archives is tucked in a corner of the third floor of the John M. Kelly Library. The Archives preserves the official records of the University, including records from the offices of the President, Principal, Faculty of Theology, Pontifical Institute of Mediaeval Studies, and Continuing Education program. We also have papers from faculty, records about some alumni, student publications, and an extensive collection of photographs. More recently, I've written a survey to capture the experiences of our community during the COVID-19 pandemic (but more on that later).
Much of my time includes hands-on work with the paper records that contain the history of St. Michael's College: I arrange transfers of records from donors, I make sure the archival materials are properly housed so they can withstand many of the tests of time (including damage from light, pests, or mould), and I create digital inventories with written descriptions of the materials so they can be accessed by researchers. I also respond to reference requests from researchers near and far—some are looking for information on alumni who attended St. Michael's, some are conducting academic research using papers written by faculty, and some are simply interested in our history as an academic institution.
Since mid-March, however, I have been working remotely, like many of my St. Michael's colleagues. So how do I archive materials without physical access to the archives? With the help of the IT departments at St. Mike's and the University of Toronto, I have been able to maintain access to my network drives and my digital records. These records include my digital inventories of the collections held in the archives and more than 1500 digitized photographs. This means I can continue to respond to many reference questions, including a recent query about the date the clock was added to the Elmsley Hall tower. (It was 2005, in case you are wondering.) I can also update inventories and spreadsheets to make them more accessible for future users, or upload them to the website; update policies and procedures; coordinate with colleagues on questions related to records management; finally clean up my hard drive; and convert already digitized materials to more usable file formats.
During this time of quarantine and pandemic, I have been wondering how the archives can preserve this point in history. I find myself asking: What do I wish we knew about the 1918 pandemic at St. Michael's? What was that period like for our students, staff, faculty, and alumni? We are able to gather some information from administrative records and yearbooks, but we don't have very many first-hand accounts. In response, I have been actively archiving the digital records created by the administration over the past three months, including public emails and the St. Michael's website. In an attempt to gather eyewitness accounts of the COVID-19 pandemic, I have also written a survey to send to our community, with the goal of capturing information about our thoughts, feelings, and experiences. In the future, researchers will be able to access these answers to learn what life was like for us during this particular moment.
We invite you to submit your own answers to the survey, and any photographs that capture this moment: https://stmikes.utoronto.ca/usmc-archives-and-covid-19/
I've copied examples of my own answers below:
Name: Jessica
What is your current location: My kitchen table, Pickering, Ontario
How are you connected to St. Michael's College? Staff
How have you, your family, and community been impacted by the COVID-19 pandemic? I have been working remotely since March 12th. A few immediate family members were temporarily laid off from work, but the rest have been working remotely. We have all, thankfully, remained healthy. Many of my neighbours have been home, so we see a lot more people on walks now.
Share your experience with teaching, learning, or working remotely: I was able to begin working remotely very early on, thanks to previously-set-up off-site network access, and troubleshooting with our IT teams. Transitioning to Zoom or Microsoft Teams meetings was a bit of a challenge, since not all colleagues immediately had access to a camera or microphone. After a couple of weeks, though, we all got into a "normal" swing of things. I have really enjoyed meeting the pets and children of colleagues via web meetings.
What about your routine has changed? My gym is closed, but is offering Zoom classes to keep active. I just noticed that my bus line to get to the GO station has been shut down due to lack of ridership, so that will be a challenge when we're cleared to physically go back into work. Beyond that, I've been reading a lot of cookbooks and testing out a lot of new recipes. Luckily, I have family nearby, so I can deliver some treats to nearby porches. I would normally have a day each month to visit with my father (who lives about six hours away), but we haven't been able to travel since February.
For more information about the University of St. Michael's College Archives, please check out this link: https://discoverarchives.library.utoronto.ca/index.php/university-of-st-michaels-college-archives
Please email me you have any questions for the archivist: usmc.archives@utoronto.ca
And, if you're interested in seeing digitized copies of historical St. Michael's yearbooks, you'll find some here: https://archive.org/details/usmichaelscollege
---
Read other InsightOut posts.
Silvia Vong is Head of Public Services at the John M. Kelly Library and oversees the Access and Information Services department. Her research interests include critical reflective practice in academic librarianship. Currently, Silvia is a doctoral student at OISE in the University of Toronto working on research related to equity, diversity, and inclusion issues in higher education.
---
A Critical Reflection on Virtual Libraries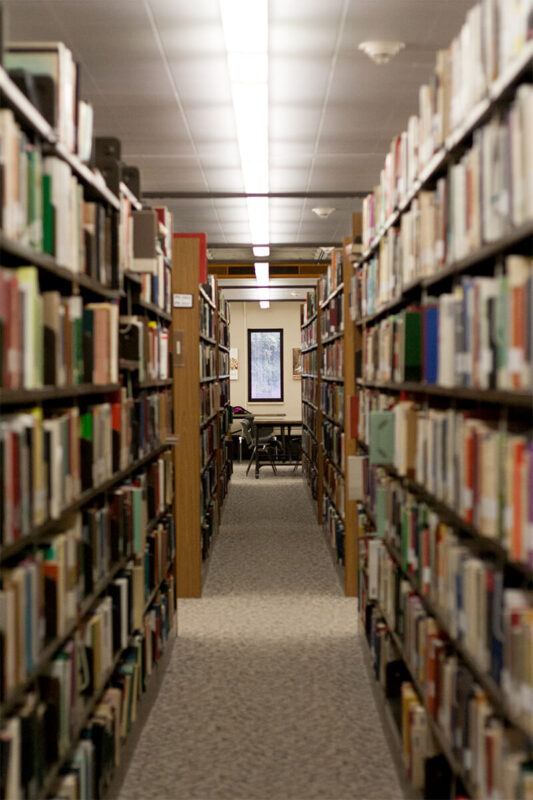 In my first year of the library and information science program at Western University, we were introduced to the idea of a code of ethics in librarianship. A code of ethics guides the values of a library professional and can manifest into actions such as advocating for open access or teaching critical thinking skills. Currently, the International Federation of Library Associations (IFLA) outlines six codes, and the one that holds the most weight for me is responsibilities towards individuals and society. This has led me to practice critical reflection in the classroom, and with our online library services.
While the coronavirus does not discriminate, people experiencing income inequalities, the digital divide, racism, and domestic violence have particularly suffered during this exceptional time. As the pandemic began, librarians began to critically reflect on access and service. Brookfield (1995) and Tripp (1993) offer insight into ways of critically reflecting, first by reviewing incidents and interactions, and then asking the following: What is the dominant view? How does this view silence other views? How does this dominant view ignore or serve dominant groups? How does it impact disadvantaged groups and what can we do to create a socially just structure to address this oppression?
In the first three weeks of the shutdown, I thought about how online access and research may inadvertently exclude some of our community members. Patrons may face financial stress during a pandemic and, in turn, not own laptops in good condition with proper software. Some patrons may not be home due to domestic violence, or be in places without Internet access. In addition, some of our patrons may not have the ability to access mental health services and other resources in the community that allow them to focus and succeed at learning. While e-books and online journals in some ways increase access, they can also create barriers to some of our community members. With social distancing restrictions in place, I struggled to find solutions that could help our marginalized community members.
As I continued to look for ways to be more inclusive, the University of Toronto was offering a session on COVID-19 through a diversity, equity, and inclusion lens. Income inequality and mental health were major themes of the presentation. However, the main takeaway was that under all the stress and anxiety that we all feel during this time, we need to remind ourselves to approach every decision-making process with empathy so that we can make socially just choices for our community.
My very inquisitive 4-year old daughter, Isabella, had overheard the webcast and peppered me with why, where, and how questions related to inequity and inequality in the university and the world. One evening, while munching away at her green beans with a furrowed brow, she paused suddenly, and her little face lit up. Isabella turned to me and said, "Mama, I know how we can make the world better. If we, and anyone with a little extra, could give it away…people with nothing would be safe from bad things." Oh my heart! My enlightened little one was absorbing my conversations and reflections on the ethical responsibility that we, as members of society, all have during this pandemic.
To put her idea to practice, Isabella and I identified a way to safely help others. We decided to donate to the Daily Bread Food Bank to give our "little extra" to someone in need. Isabella's reflective thoughts on the pandemic reminded me that while I could not make one big change to help others, I could still find several small ways to reach out and help our community.
---
Read other InsightOut posts.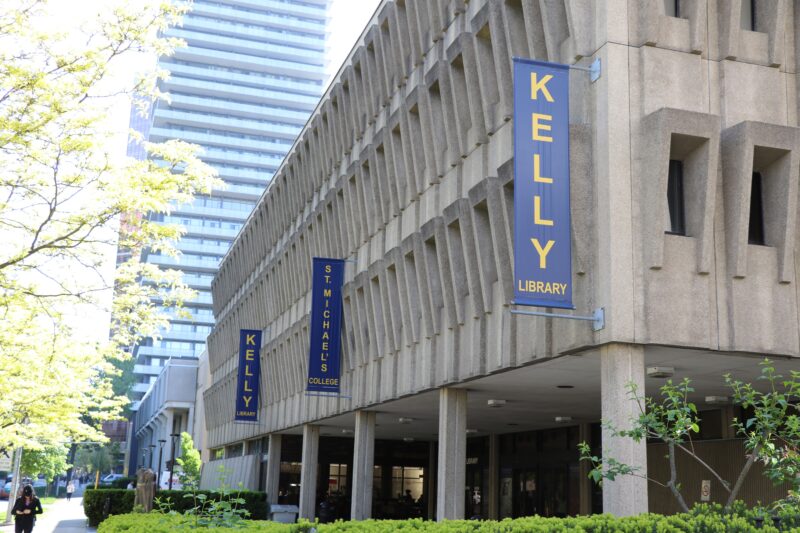 Sheril Hook, chief librarian at the John M. Kelly Library, tells the story of a University of Toronto professor calling her recently for help. The professor simply couldn't find the materials he was searching for—Syriac-Latin text editions for the Patrologia Orientalis series, as well as articles from Analecta Bollandiana. With just a little digging, she found them, digitized from the Pontifical Institute for Mediaeval Studies (PIMS) collection, which is housed at Kelly.
"U of T is one of the top research libraries in North America. I was confident I could find the materials," Hook says.
A library can be hard enough for an expert to navigate, so asking students to find resources remotely during physical distancing can be a challenge for those already stressed over papers, exams, and an uncertain summer.
In response, Hook and Noel McFerran, Kelly's Theology and Rare Books librarian, are hosting a virtual town hall on Wednesday, May 6 for students in the basic and advanced degree programs at the Faculty of Theology. The afternoon session is perfect timing for theology students enrolled in intersession courses. Eligible students have received an email with instruction on how to access the online gathering, and it will be recorded for anyone who cannot make the 3-4 p.m. time slot.
The librarians have three goals for the hour-long session, which will include a 15-minute presentation, as well as time for questions posted to the forum. First, they want to do a close look with students at the U of T catalogue, delving into some of the more advanced ways to search it to discover digitized materials.
"We'd like to show people how to find materials they didn't anticipate being online," Hook says.
Then, they will highlight materials that have been made temporarily available to students. While in this period of physical distancing due to COVID-19, for example, students can call on the HathiTrust Emergency Temporary Access Service.
The third thing McFerran wants to stress is that the Kelly librarians are constantly discovering new materials.
"Send us an email and ask us about availability," he says. "Just last week I had to say 'sorry, it's not available' to a request, but this week that material has been digitized, so I was able to help the student after all."
"This is a great new opportunity for learning," says Hook, who notes that Kelly Library plans to expand sessions in the fall semester to include undergraduate students as well. "It's important to feel comfortable in asking for help. If you can't find something, we will look for you, as we very likely have it."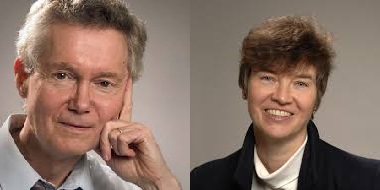 Dr. Margaret O'Gara was a doctoral candidate and Dr. Michael Vertin a professor of philosophy at St. Mike's when the two wed at St. Basil's Church in 1976. Over the course of 36 years of marriage not only did each become a legendary professor at the Faculty of Theology, with Dr. O'Gara known around the world for her work in ecumenism and Dr. Vertin for his expertise in Bernard Lonergan, but they amassed a remarkable – and sizeable – library.
Now in the process of downsizing following Dr. O'Gara's death in 2012, Dr. Vertin has donated an estimated 900 books from the couple's individual and shared collections to this year's Friends of the Kelly Library book sale. The sale runs Sept. 24 to 28 in Carr Hall (100 St. Joseph St.).
The works donated from the couple's library, carefully packed up by Dr. Vertin and delivered to volunteers in 40 bankers boxes, include books on everything from ecclesiology and ecumenism to scripture, patristics, and the philosophy of religion. Many of the items resided for years on simple pine book cases that Dr. O'Gara had built herself, an accomplishment, Dr. Vertin notes, that she felt quite pleased about.
When asked, Dr. Vertin notes there were some items he was unable to part with, including his 25-volume series on Lonergan, complete with its "red U of T Press binding."
The annual used book sale, organized by the Friends of the John. M. Kelly Library, is designed to raise funds for the library, with proceeds earmarked for such projects as physical improvements, technology upgrades, and adding to collections.
Along with the Vertin/O'Gara donation, this year's sale will feature a range of shopping options from first editions and art books through to academic works and pleasure reads.
By Martyn Wendell Jones
---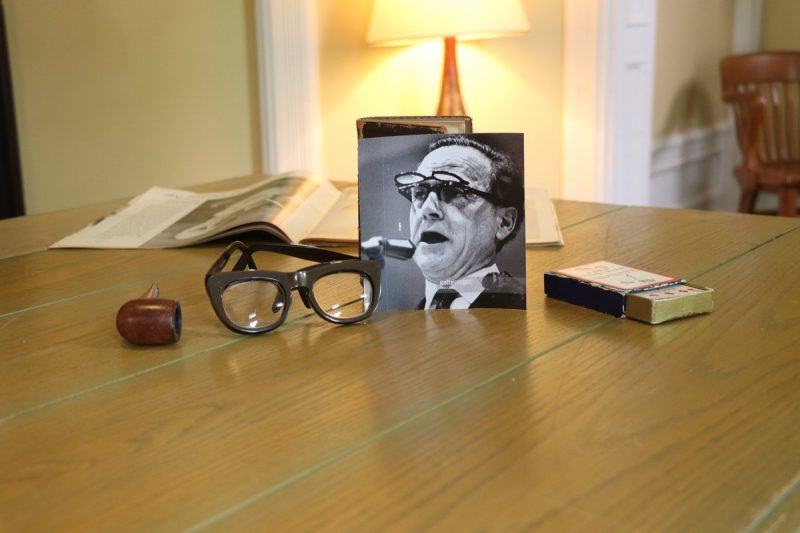 Visitors to 96 St. Joseph Street first heard a strangely familiar voice. Entering the historic house, they observed a seated figure in a grey suit holding a microphone in a stairwell at the back of the hallway. His expression remained focused as he described trends in the development of communications technology and their effects on audiences and consumers. Could it be that Marshall McLuhan had returned to St. Michael's? Thanks to a bit of ingenuity with a projector and a life-size foam-board cut-out, USMC Professor Paolo Granata had indeed brought back the great media scholar in the form of an animated silhouette—a reincarnation to which McLuhan may have given his wry and playful approval.
Professor Granata's installation provided ambiance for a recreation of McLuhan's office, one of five sites at USMC made available to the public over the weekend of May 26-27 as part of Doors Open Toronto, an annual citywide event now in its nineteenth year. The theme of Doors Open 2018—"Film: The Great Romance"—was a perfect fit for St. Mike's, the site of numerous film and television shoots over the years. One imagines it would have amused Professor McLuhan, as well.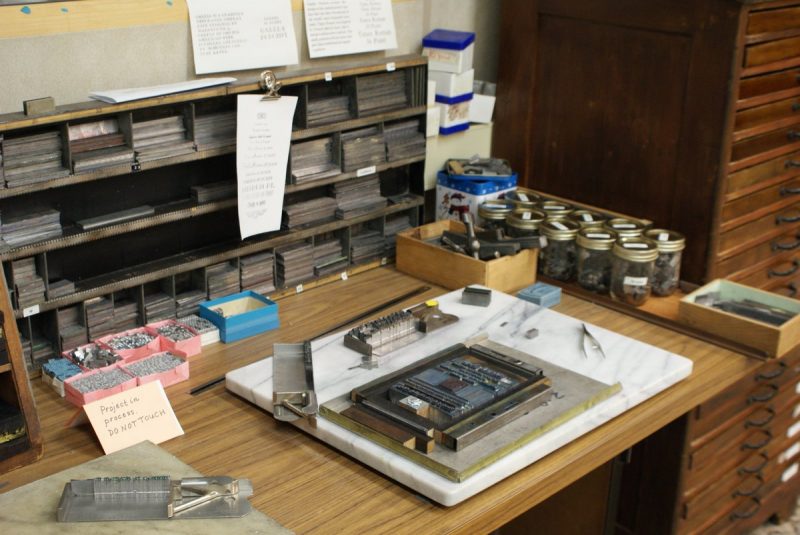 St. Michael's was the only federated college at the University of Toronto participating independently in Doors Open, which this year made over 130 different sites available to the public with no admission fee. St. Basil's Church was a natural first stop for those coming to campus from Bay Street. Visitors who entered the gate facing Queen's Park may instead have begun with the Shook Common Room in the Pontifical Institute of Mediaeval Studies, where ample sunlight throughout the weekend illuminated the stained glass panels commemorated Etienne Gilson, Jacques Maritain, and Fr. Henry Carr, CSB.
Professor Granata drew many visitors to campus with his recreation of McLuhan's office. The exhibit boasted a number of authentic artifacts from McLuhan's life, including a 1969 deck of cards emblazoned with gnomic phrases such as "Is there a life before death?" These "probes" served his larger aim of using play to inspire critical reflection on our shared media environment, a point Professor Granata emphasized during a lecture on McLuhan's unique genius that he delivered at 1 p.m. on Saturday and Sunday. Among his selection of memorable McLuhan quotations was a line on the importance of play for thinking: "At work man specializes; at play he uses all his faculties." A number of St. Mike's students from McLuhan's era attended the lecture and visited the office recreation to sign the guestbook.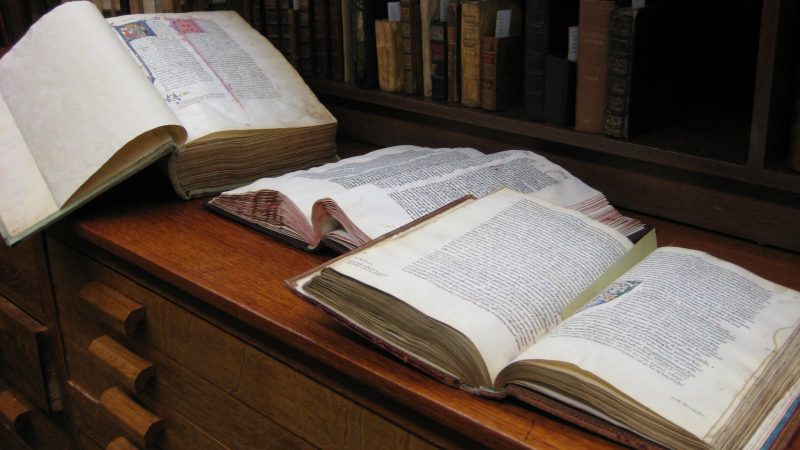 Across St. Joseph Street at the Kelly Library, visitors took advantage of two Doors Open offerings. Small tours of the library's Printing Studio departed every half hour from 10:30 a.m. onwards both days of the event; demonstrations of antique methods and devices (including the Jobber Press) proved so popular that guests began to sign up for Sunday tour slots on Saturday after Saturday's remaining slots had filled to capacity. Visitors to the library had one other tour option: At 2 and 2:45 p.m. each day, 10-person groups departed the ground floor for a look into the PIMS Library on the fourth floor. The non-circulating collection is renowned among scholars and researchers for its special holdings, including manuscripts that date back to the 10th century. Though access is normally restricted, blue-shirted volunteers were happy to arrange guests into an orderly queue for tours, making one more part of St. Michael's available to a larger public.
Those volunteers, who came from both the City of Toronto and the travel company Booking.com, stood at stations all around campus to hand out information and direct visitors to USMC's Doors Open sites as well as food stations and a St. Mike's merchandise tent. All told, hundreds of people walked the paving stones of Elmsley Place over the weekend. If Marshall McLuhan makes a virtual return for next year's Doors Open, perhaps St. Mike's will welcome thousands more.
---
Martyn Wendell Jones is a content specialist in the Office of Communications.