Andrew Selvam is currently the Acting Chaplaincy Teacher at St. Joseph CSS in Mississauga. He is also a science and religious studies teacher with the Dufferin-Peel Catholic District School Board. He is currently pursuing his Master of Religious Education degree at St. Michael's Faculty of Theology. He enjoys music, hanging out with friends and family, and travelling.
---
A Language of Love, Unity, and Joy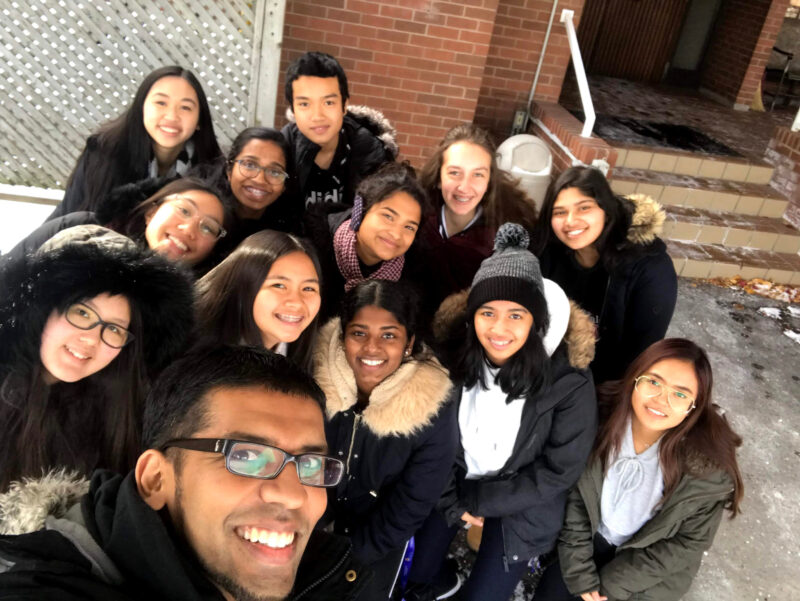 The day was March 12; I remember it clearly. I had just finished with our chaplaincy team meeting in the library when a student asked me if it was true…that they would be closing schools for three weeks because of COVID-19. I immediately went to my computer to confirm what I hoped wasn't true and, lo and behold, it was. We would be away from school for at least three weeks. Immediately the news cycle was flushed with what was becoming a worldwide pandemic and, as each given week passed, it seemed more and more likely that the school year would happen away from the school.
After March Break, it was a very slow waiting game. Retreats, social outreach programs, and student engagement activities would have to be put on hold. The way relational ministry would have to be delivered would look very much different. I had been reading all the emails from our school board offering all of the different platforms for learning, but I stood there for a moment and wondered "How do I connect with students?" From the beginning, it became a get-go of mine to make sure that, in as many ways as possible, I was going to make it feel as much as it could for students like we had never left. My first digital daily reflection went out on the feast day of the patron of our school, St. Joseph, more important than ever as the patron saint of families and the universal church. The Holy Spirit that I always felt travelling through a school would be called upon to help me figure out this new upper room. And that was just my motivation. I needed the Holy Spirit also to do the work of expanding this upper room, now neighbourhoods apart from each other and along a digital superhighway.
As each new day rolled out, each reflection and activity would focus more on refocusing our "new reality" into something positive, something to come alive through the Spirit. Meeting with students using videoconferencing applications made it as close to kids coming by the office as I could. Three-and-a-half months later, it has transformed into an opportunity for us to hear each other, talk about the struggles of the day, of the week and of the month, and offer support when needed. With the chaplaincy team back in full swing, I was ecstatic that, more than ever, kids were looking for ways to be engaged outside of the classroom. Each discussion we had and prayer we said felt like therapy for the mind and the soul, for the kids and for me.
But distance-learning causing frustrations wasn't the only thing on the minds of staff and students. The number of deaths of relatives of staff and students was on the rise, and I asked the Spirit to just give me the right words to say when I picked up the phone to offer my condolences and support in any way that I could. It also became apparent that many of our families had parents unable to work, raising the possibility of not being able to put food on the table. The St. Vincent de Paul society helped us out, as did our generous staff, to provide food and gift cards for our neediest families.
I have to say I had my reservations. I did not know what distance chaplaincy would look, but it has been more than enlightening. It has shifted me out of my comfort zone in a way only the Holy Spirit can, and moved me to find energy reserves I did not think I had. We had just celebrated Easter at the beginning of this pandemic, and we know that we are an Easter people called, as Christ did, to work to make anew. More than anything, though, we have been called to be a Pentecost people—gathered together, filled with our blessed gifts, so that people outside our Upper Room can hear us speak in a language that they could understand—a language of love, unity, and joy.
---
Read other InsightOut posts.