St. Michael's Profs Use Creativity to Remotely Engage Students
Dr. Paolo Granata is no stranger to the beguiling magic of digital media, and the transition to remote learning this year has brought out his own penchant for magic tricks, including one found in a video he created for students to give them a sense of what they'll experience this semester. (Spoiler alert – keep your eye on the apple at the end of the video!)
St. Mike's Book & Media Studies professors have a reputation for keeping students engaged, and their subject matter expertise gives them a deep understanding of the pedagogical advantages of teaching online.
Granata, a scholar of legendary St. Michael's media theorist Marshall McLuhan, refers to McLuhan's famous dictum when discussing the possibilities: "As the medium is the message, we do approach online course delivery as a medium, and try to find the uniqueness of that medium, to experiment with that medium, and eventually understand how it works, what are its intended and/or unintended implications," he says. These formal dimensions of online learning and remote teaching are things he explores with students in his classes, as well.
For Granata, accessibility is another area where remote teaching provides unexpected and unique benefits.
"Recorded lectures can be more accessible and, to some extent, more inclusive," he says, mentioning the benefit of closed captions and variable playback speeds. "Accessibility means also engaging students using different means such as the class chat," he says, and because he's also better able to customize the experience for individual students, "nobody is left behind."
Granata's remote teaching toolkit includes the ability to swap out the video source, making it possible to move from a standard lecture to a close view of a special text or physical artifact students might not have access to under normal conditions. This and other approaches open up a number of possibilities for St. Mike's courses he is teaching this year, including Media in Culture and Society, the McLuhan Seminar in Creativity and Technology and the Media Ethics Lab.
One question remains. How did prof Granata do his apple trick?
His reply: "The magic is in the eye of the beholder."
---
Consult Fall 2020 for current updates on St. Michael's plans for the fall semester. 
With the city as its classroom, a new Media Ethics Lab at the University of St. Michael's College will help students respond to the ethical issues being raised by rapidly emerging technologies and new communications practices.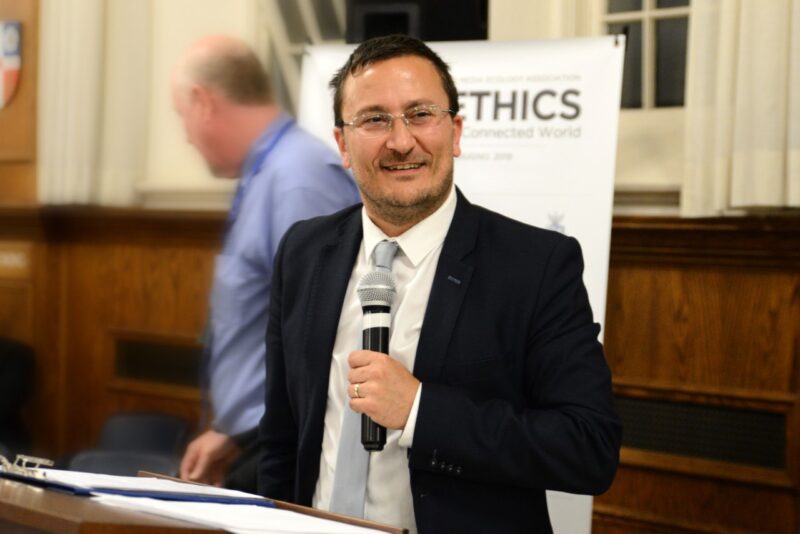 The project is spearheaded by Dr. Paolo Granata, an assistant professor in St. Michael's Book and Media Studies program. The lab springs naturally from an international conference Dr. Granata chaired earlier this year on the University of Toronto campus in his capacity as the vice-president of the Media Ecology Association (MEA). The conference, Media Ethics: Human Ecology in a Connected World, had a goal of exploring new ethical perspectives and frameworks to help build a digital ecosystem that will serve society in healthy and productive ways.
Popularized by Neil Postman, the phrase media ecology is based on the work of Marshall McLuhan. For those unfamiliar with the term, the MEA's website defines it as "the idea that technology and techniques, modes of information and codes of communication play a leading role in human affairs."
The Media Ethics Lab, explains Dr. Granata, is built upon open research, allowing a diverse, collaborative body of stakeholders, from students to media activists and organizations, to freely share information on academic programs and research initiatives to foster ethical thinking in research, learning, and civic engagement.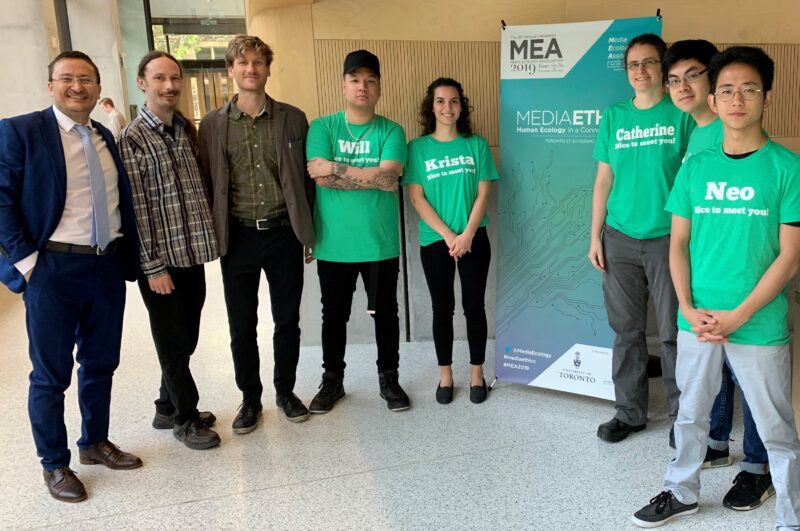 He views the virtual Media Ethics Lab as both an intellectual and social space where interested parties can gather to study and discuss the ways in which digital culture impacts today's society. He sees it as a sort of clearinghouse to help society stay ahead of the curve of emerging technologies and the ethical issues that can come with them.
For now, the lab will focus on three core areas: Digital Equity, or creating equitable, inclusive communities for all; the Digital City, focussed on designing people-centered information systems; and Digital Literacy, looking at helping communities develop skills to carry them forward into the 21st century.
"Private companies rule our digital world," says Dr. Granata. "If public policy is too slow, then the market will come first," regardless of the impact new technologies have on ethical issues relating to matters such as privacy or artificial intelligence.
"The Media Ethics Lab is being started not only as a research project but also as an opportunity for experiential learning," he adds, noting that some of the lab's funding comes from the Advancing Teaching & Learning in Arts and Science (ATLAS) program at the University of Toronto.
And this is where the "city as classroom" idea, another McLuhan concept, will come into play. Experiential learning, explains Dr. Granata, means stepping outside of the confines of the university and into the community.
"Everything we do must be able to support, foster and advance and open an inclusive society, as we must not only work towards a healthier digital world, but a more equitable planet" and that requires students getting involved in civic engagement to listening to what a broad range of people think.
He cites as an example a recent workshop students participated in at Mozilla Foundation in Toronto, a global non-profit dedicated to keeping the Internet a global public resource that is open and accessible to all. Students were invited to provide suggestions and proposals, an empowering experience that allowed them to test-drive their ideas, giving the theoretical a practical turn.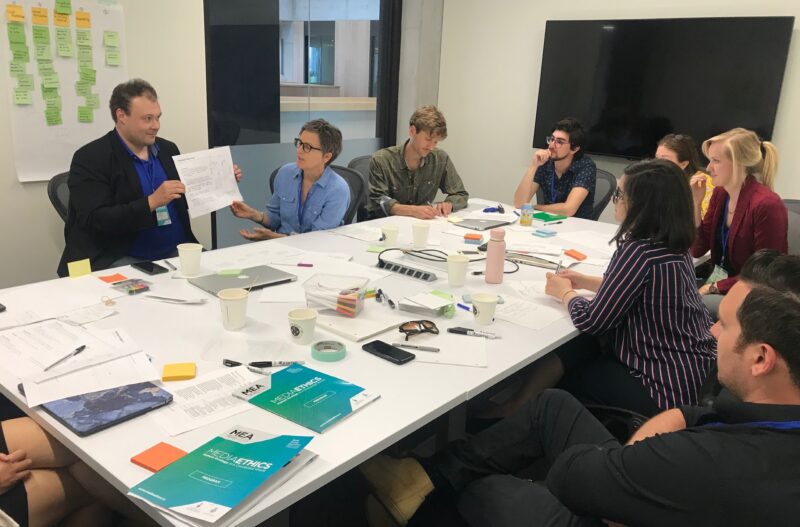 Another form of engagement via the Media Ethics Lab will be periodic charrette sessions, a type of intensive brainstorming meetings where various stakeholders gather for respectful discussion identifying both the benefits and challenges of the current digital media landscape, all with an eye to making improvements.
"We want to foster and support positive change. All of the Media Ethics Lab's efforts are also are done in support of the UN's sustainable development goals." Dr. Granata says.
Several students have already been involved, either in the conference end of this project, or now by on establishing the lab, including Kelsey Mcgillis, Alexandra Katz, and David Lee, all Book & Media Studies students at St. Mike's as well as Robert Bertuzzi, PhD candidate at Western University, and Simon Digby, recently graduated at British Columbia's Quest University.
Going forward, the lab will provide both training and mentorship to the students, encouraging them to participate in academic discussion and debate, necessary skills to carry forward if they are to help shape future policy or plan to teach.
Training and mentoring will be provided by Dr. Granata as amplification of his Media Ethics course. Some Book & Media students will serve as research assistants, conducting background reading in the field and participating in periodic discussions to come up with research questions and creating dossiers on their findings.
Working with Dr. Granata, they will post to the www.mediaethics.ca site, selecting both scholarly and non-scholarly publications, as well as a range of commentary to further the discussion. Students will engage in discovering funding opportunities and learn to draft grant proposals.
"The information environment is very much like the natural environment, and we need to take care of the information environment in much the same way we tend to ecological consciousness ," says Dr. Granata. "The Internet is polluted but it should be a place where people can go and grow. Discussions on media ethics can help restore health."
That care will require new thinking on how to stop corporate behaviour that is detrimental to society, he adds. Fines in response to privacy breaches, for example, simply don't work because they aren't large enough and, more importantly, don't change behaviour, he says.
"To move forward, we need a humanistic approach to redefine the interface of humans and technology. It's time to apply ethical thinking in the process of designing new technology."
The Media Ethics Lab is a step in the right direction.
20th Annual Media Ecology Association Convention brings ethical perspectives to bear on cutting-edge developments in technology and society
In a world of fake news, hyper-connectivity, and rapidly advancing means of communication, the humanistic and critical perspective of legendary St. Michael's professor Marshall McLuhan can feel almost prophetic. Next week, hundreds of scholars will converge on the St. Michael's campus to address many of the most important and challenging questions about media and society today – very much in the spirit of McLuhan himself.
From June 27 to 30, the University of St. Michael's College will open its doors to co-host the Media Ecology Association (MEA) for its 20th annual convention. This year's theme is "Media Ethics: Human Ecology in a Connected World," and the itinerary includes 80 sessions and events that feature 300 speakers from 30 countries.
This international conference takes place at a very important time, with elections on the horizon for Canada and the United States. As St. Michael's President David Sylvester notes, "Given St. Mike's long tradition of teaching and research infused with a focus on ethics and values, it's fitting that we, along with U of T's Faculty of Arts and Science, Faculty of Information, and the Centre for Ethics, have joined together with the MEA to inspire the next generation of media scholars."
Book & Media Studies Assistant Professor Paolo Granata, chair of this year's conference, has organized the event with an eye on a technological society developing so quickly that lawmakers and ethicists struggle to keep pace. Granata explores these ideas in his research and teaching, including the McLuhan Seminar in Creativity and Technology, an SMC One program which features a learning experience in Silicon Valley for first-year students. A number of Granata's students will also be on hand to participate in and support the proceedings while making connections with scholars in the field.
The conference will kick off on June 26 with a panel discussion on how the internet is affecting civil society, featuring St. Michael's alumnus and U of T Philosophy professor Mark Kingwell. Presented by the Toronto Reference Library and the McLuhan Salon Series, "The Social Cost of the Information Age" networking event is free and open to the public.
The formal opening of the convention on June 27 will include remarks from the Honourable Karina Gould, Minister of Democratic Institutions, whose involvement in the conference stems from her perception of the possibilities and risks inherent in digital life for the future of democracy.
"The Media Ethics conference provides an important space for Canadians to discuss how they use platforms, the information they are seeing on these platforms and the level of trust they have for these platforms," says Gould, "Democracy is rooted in the trust of the people in the process and in the legitimacy of the outcome."
On Friday, June 28, at 7:30 p.m. St. Michael's Faculty of Theology professor and Director of the Elliott Allen Institute for Theology and Ecology Dennis P. O'Hara will join documentary filmmaker Nora Bateson at the McLuhan Centre for a screening of An Ecology of Mind: A Daughter's Portrait of Gregory Bateson.
The Media Ethics conference will conclude on June 30 with a plenary session titled "The Future We Want." Thoughtfulness about the human side of media – a central piece of Marshall McLuhan's legacy – is an essential part of the St. Michael's story of humanistic scholarship, and inspires students and scholars alike to think creatively and optimistically in response to problems in the global village.
More information about this year's MEA Convention, including a link to a detailed itinerary, is available on the Media Ethics website.