Fr. Gustave Noel Ineza, OP, is a doctoral student at St. Michael's Faculty of Theology. Born and raised in Rwanda, he lived through the 1994 genocide against the Tutsi and went into exile for a month in what was then Zaire. His family left the refugee camps and returned to Rwanda after three members of his family developed cholera. He studied in the minor seminary and joined the Dominican Order in 2002. He studied Philosophy in Burundi, and Theology in South Africa (SJTI/Pietermaritzburg) and the UK (Blackfriars/Oxford). Ordained in 2014, he worked for Domuni (www.domuni.eu) and was a chaplain to university and high school students. In 2018, he came to Canada to pursue studies in Christian-Muslim dialogue. He is currently reading on post-colonial approaches to the taxonomies assigned to religious traditions (Muslims and Christians) by colonial powers in Rwanda.
---
The Other Sister
The COVID-19 pandemic has taught many to value more highly essential workers who are usually underpaid after long hours of vital work. Nurses are among the most praised as they daily risk contracting the virus while trying to offer a treatment to the sick. It is not the first time that nurses, women in particular, have risked their lives to save other people's lives during pandemics. Several pandemics affected the pre-modern world. Some of those who offered treatment to the sick were non-cloistered women religious whose identities have not been comprehensively studied. These women were part of bigger movements which flourished in the Middle Ages and Early Modern Times. 
In September 2020, I joined a team of academics as an assistant researcher to Dr. Alison More. Dr. More is the undergraduate Medieval Studies coordinator and the inaugural holder of the Comper Professorship in Medieval Studies at the University of St. Michael's College. She works on a joint project with Dr. Isabelle Cochelin (Department of History & Centre for Medieval Studies/UofT), and Dr. Isabel Harvey (Department of Humanistic Studies of the University of Venice Ca' Foscari). The project is called "The Other Sister" and its focus is "women who pursued forms of religious life outside of the cloister in medieval and early modern western Europe and New France." The other members of the project are Dr. Angela Carbone (University of Bari Aldo Moro) and Dr. Sylvie Duval (Università Cattolica in Milan), research assistants Laura Moncion, Emma Gabe, and Meghan Lescault (Centre for Medieval Studies or Department of History/UofT), and Camila Justino (USMC Book and Media and Mediaeval Studies).
The women studied are known by many names, including beguines, tertiaries, recluses, oblates, secular canonesses, lay sisters, pizzochere, bizzoche, beatas, and others. Their names and forms of life varied according to location. Our research group organizes thematic meetings which are the main venue for discussing current research, and recent books, chapters in books, articles, both published and forthcoming. As the COVID-19 pandemic has affected people's movements, presenters invited from different academic institutions around the world working on aspects of the project meet by Zoom each month. Although the situation has made it impossible for people to have actual face-to-face meetings, it has allowed those on different continents to virtually meet.
To date, the group has prepared and successfully conducted five thematic meetings. The first meeting was entitled Women Serving Enclosed Women (held on September 29, 2020), the second was on Working in Premodern Hospitals (October 27, 2020), the third's theme was Charity, Caregiving and Female Social Roles from the Middle Ages to the Early Modern Period (December 17, 2020), the fourth was on Naming The Other Sister: Tertiary, Lay, or Penitent? (February 8, 2021), and the fifth was held on Medieval and Early Modern Beguines, from Provence to Northern Europe (March 15, 2021). Details about those thematic meetings are found on the group's blog.
The attendance has recently been reaching about 40 participants, mainly professors, post-docs, and PhD students from around the globe, all interested in the subject. Our discussion inevitably yields new insights which cross the usual temporal and geographic boundaries.
The main group of the ten researchers attached to "The Other Sister" has working meetings where we prepare the rest of our activities: thematic meetings, workshops for larger audiences, a workshop for our members on using ArcGIS Software to create maps of the communities of non-cloistered religious women, the construction and development of a blog, etc. The blog is named "The Other Sister." It presents an overview of research and has space for recent updates and news of importance or interest to our community of scholars.
On a personal note, with this project I am learning about historical methodologies that do not aim at proving hidden agendas but analytically and objectively examine all possible data. Also, I have gained a new perspective as a student in Christian-Muslim relations. My usual methodology is historical and postcolonial. It investigates silenced and othered voices in my country's religious identity construction. I have learned much from "The Other Sister." Apart from the finesse in the communication of the members and the rigour in the historical research with its requirements for accuracy, I have come to appreciate the academic enthusiasm involved in understanding subjects that touch a given identity. I am also interested in understanding the power relationship between identity and those who write history: in our case, the image given to these non-cloistered, lay-religious women by predominantly male and clerical historians.
Our work values the religious zeal of women who were willing to live a life given to the poor, the sick, prayer, and teaching, often in the face of incomprehension and negative judgment from their society and the Church. Some were considered heretics or witches simply for wanting to live this life outside the walls of a cloister. A deconstruction of the meta-narrative on them that at times portrayed them as uncontrollable dangers to the Christian faith aims to restore their proper image. As the Church strives to include women in its decision-making bodies, it will surely be inspired by the findings of "The Other Sister" project, and the genius of the women working on it.
---
Read other InsightOut posts.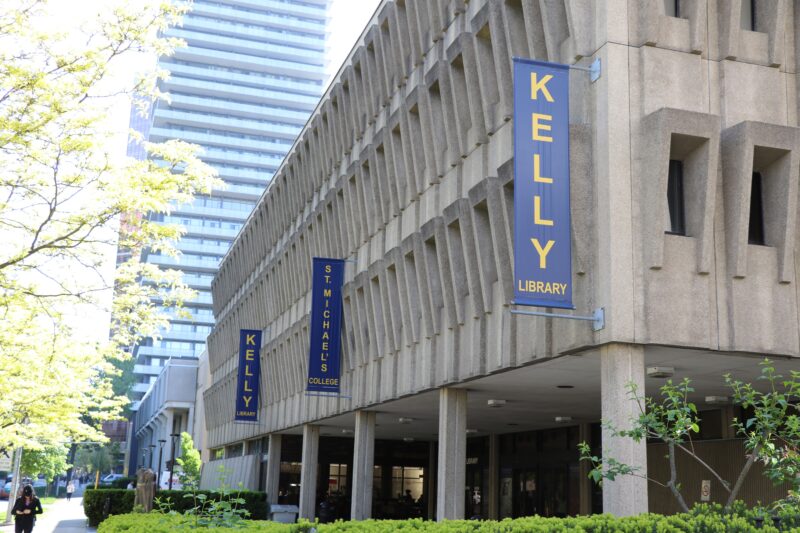 Sheril Hook, chief librarian at the John M. Kelly Library, tells the story of a University of Toronto professor calling her recently for help. The professor simply couldn't find the materials he was searching for—Syriac-Latin text editions for the Patrologia Orientalis series, as well as articles from Analecta Bollandiana. With just a little digging, she found them, digitized from the Pontifical Institute for Mediaeval Studies (PIMS) collection, which is housed at Kelly.
"U of T is one of the top research libraries in North America. I was confident I could find the materials," Hook says.
A library can be hard enough for an expert to navigate, so asking students to find resources remotely during physical distancing can be a challenge for those already stressed over papers, exams, and an uncertain summer.
In response, Hook and Noel McFerran, Kelly's Theology and Rare Books librarian, are hosting a virtual town hall on Wednesday, May 6 for students in the basic and advanced degree programs at the Faculty of Theology. The afternoon session is perfect timing for theology students enrolled in intersession courses. Eligible students have received an email with instruction on how to access the online gathering, and it will be recorded for anyone who cannot make the 3-4 p.m. time slot.
The librarians have three goals for the hour-long session, which will include a 15-minute presentation, as well as time for questions posted to the forum. First, they want to do a close look with students at the U of T catalogue, delving into some of the more advanced ways to search it to discover digitized materials.
"We'd like to show people how to find materials they didn't anticipate being online," Hook says.
Then, they will highlight materials that have been made temporarily available to students. While in this period of physical distancing due to COVID-19, for example, students can call on the HathiTrust Emergency Temporary Access Service.
The third thing McFerran wants to stress is that the Kelly librarians are constantly discovering new materials.
"Send us an email and ask us about availability," he says. "Just last week I had to say 'sorry, it's not available' to a request, but this week that material has been digitized, so I was able to help the student after all."
"This is a great new opportunity for learning," says Hook, who notes that Kelly Library plans to expand sessions in the fall semester to include undergraduate students as well. "It's important to feel comfortable in asking for help. If you can't find something, we will look for you, as we very likely have it."
Dr. Tamara Grdzelidze's career has taken her from the Geneva offices of the World Council of Churches to Rome, where she served as the Georgian ambassador to the Vatican from 2014-2018. Now, her latest travels have brought her to Toronto as the Aileen Driscoll Research Fellow in Ecumenical Theology at the University of St. Michael's College.
Midway through her year-long appointment, Dr. Grzelidze is delighted to be following in the footsteps of legendary St. Mike's professors and conducting research at a university known for its work in ecumenism — even though her arrival on campus this past January was something of a shock.
"Certainly I knew cold. I'd been to the Alps, for example, "she laughingly recalls. "But I didn't know what (a wind chill of) -32 felt like!"
Still, everything from conversations with Dennis Savoie, Canada's ambassador to the Holy See, to her work at the WCC helped convince her that St. Michael's was a logical place for her to further her work on ecumenism.
"I was familiar with some of the big names who taught at St. Mike's – Margaret O'Gara and Étienne Gilson, for example – and I knew U of T is a very good university," she says. "From my work with the World Council of Churches I knew that, ecumenically, (Canada) is very strong."
The project she is working on while at St. Mike's stems from concerns over the fallout for various Orthodox churches in the wake of the 2018 decision by the Russian Orthodox Church to sever ties to the Ecumenical Patriarchate of Constantinople, which historically has held a special place in the Eastern Orthodox world. The break came last October after Constantinople granted the Ukrainian Orthodox Church autocephaly, or permission to operate independently from Moscow.
"Having lived various places this is painful for me. Borders are not so precise," says Dr. Grdzelidze, who is organizing a conference to take place at St. Mike's in June, 2020, titled Boundaries of the Christian Faith in the 21st Century: Intersecting with Borders of Geography, Cuture and Theology. Earlier this year, for example, she delivered a paper, 'National Borders of the Orthodox Church,' at a conference in Romania.
"Ecumenism is not only about knowledge but about experience, just as theology is not just about patristics," she explains. "It is about seeing how people interact; it serves as a compass to understand others' beliefs, their passions."
In the coming Fall semester, Dr. Grdzelidze will teach The Ecumenical Theology: Division, Difference, Dialogue, a course that will examine some of the major themes related to the impact of inter-church dialogue and action on theological reflection.
Educated in Tbilisi State University in Georgia, St. Vladimir's Orthodox Theological Seminary in New York, and Oxford, Dr. Grdzelidze has taught around the world, including St. John's Theological College in Auckland, Trinity College Dublin, and the Angelicum in Rome.