The University Network for Investor Engagement (UNIE) initiative targets greenhouse gas emissions and climate risk at companies across the economy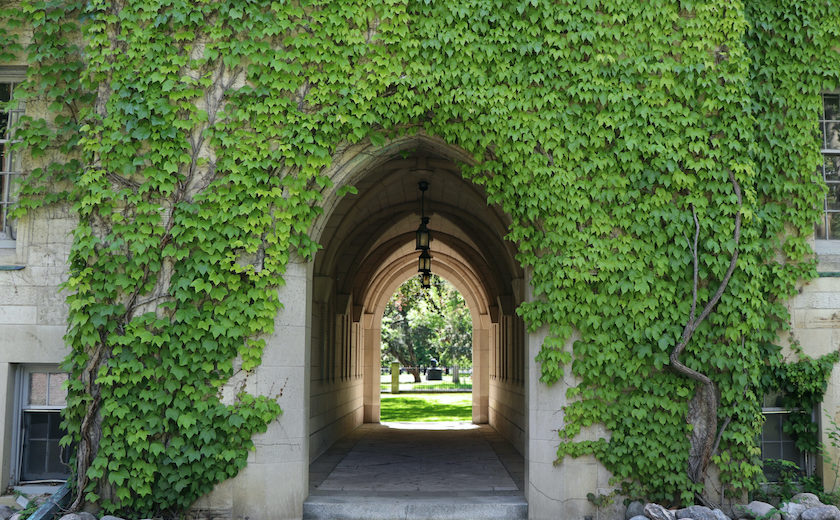 The University of St. Michael's College has joined a coalition of other Canadian universities to launch the University Network for Investor Engagement (UNIE), an initiative that will engage investee corporations on climate change risks.  
"We see supporting the UNIE initiative as an expression of care for our common home, which Pope Francis calls us to in Laudato si'," said St. Michael's President David Sylvester. "Pursuing financial resilience, strengthening community partnerships, and embedding social responsibility into all our operations is essential to St. Michael's mission as a Catholic university."
UNIE is being launched through the Shareholder Association for Research & Education (SHARE), a non-profit investor advocacy organization. St. Michael's first became involved with SHARE in January 2016 as a way to prioritize sustainability and climate justice through its investing strategy while building relationships with like-minded institutions. The first meetings of St. Michae's Environmental, Social, and Governance (ESG) committee took place the following year.
In concert with other universities engaging their investment portfolios, St. Michael's stands to make an impact in the areas of reducing greenhouse gas emissions and pursuing sustainable finance, responsible climate policy, and just transitions through the initiative.
"We believe that collectively, with other Canadian universities participating, we will have a stronger voice in areas of climate change that are important to our community," said Effie Slapnicar, St. Michael's Chief Administrative Officer. "As shareholders, we have the opportunity to use our position to influence corporate behavior, and together with our colleagues across Canada we want to use that influence to accelerate Canada's transition to a zero-carbon economy."
On behalf of the University Network for Investor Engagement (UNIE) initiative, SHARE will engage with North American public companies held in university endowment and pension portfolios to address pervasive risks associated with climate change. The UNIE initiative will focus on key sectors where advocacy can make the biggest difference, including finance, transportation, energy and utilities, and manufacturing.
In addition to St. Michael's, initial participants include Carleton University, Concordia University, McGill University, McMaster University, Mount Alison University, Université de Montreal, University of Toronto Asset Management, University of Victoria, and York University.
"These universities are showing leadership in addressing the climate crisis. Working together in one program amplifies each institution's voice and leverages their power to bring about change," said Kevin Thomas, Chief Executive Officer at SHARE.
The UNIE initiative is focused both on reducing greenhouse gas emissions and accelerating the transition to a low carbon economy.
"The actions taken by institutional investors today will play a crucial role in determining how society fares in the face of climate change," said Thomas.
Dr. Stephanie Rutherford is an alumna of St. Michael's College (BA 1997) and is now an Associate Professor in the School of the Environment at Trent University. Her work is interdisciplinary, focusing on the intersections among the environmental humanities, animal studies, and cultural geography. She is the author or co-editor of three books that consider these themes, the most recent of which is Historical Animal Geographies (2018). She is currently writing a new book on the history of wolves in Canada for McGill-Queen's University Press. You can learn more about her work here.
---
Letting Go of the Treadmill of Productivity; Or How to Finish a Book in a Pandemic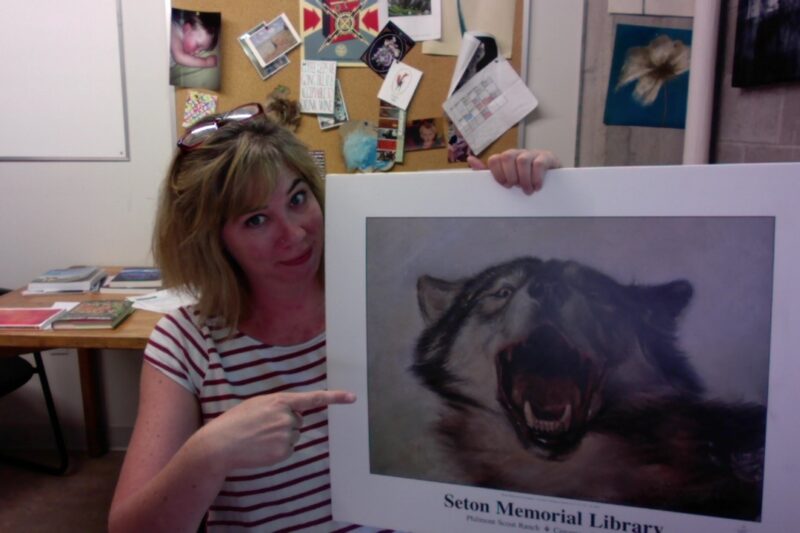 The book was already late when the pandemic hit. Of course, being late is nothing new to most academics; we are often scrambling to meet—and missing—writing deadlines. Teaching and administrative work often take precedence during the term; bite-sized articles seem more doable over big projects.
But this was a big project that needed finishing. I've been working on this book about wolves for about eight years now. Eight years is a long time for any project; it starts to feel like it's strangling you. The funding has elapsed. People keep asking when the book is going to be done. I started to be called the wolf lady, and not just behind my back. It was time to move on.
Last year I decided it was a good idea to seek a book contract to impose a deadline since I couldn't seem to meet my own. It seemed like a smart thing to do—adding pressure from an outside source—as if the reason I hadn't completed the book was out of slothfulness instead of being pulled in a variety of academic and administrative directions. It's the curse of academia: you are never doing enough, publishing enough, or reading enough. It's a feeling bred in PhD programs that lasts throughout your career, if you let it. Shame is not only the purview of my Irish aunties; it's also the handmaiden of neoliberal academic life.
So, I got my contract and I had a June 2020 deadline. Then the pandemic hit. My 9-year old started school from home and in many ways that became my full-time job and my actual job began happening in smaller chunks and much later at night.
Of course, this has been the reality for many parents, and the effects can be quite gendered. For instance, there have already been a fair number of stories about how women academics have slowed their research output while men have sped theirs up during COVID. Guiliana Viglione in a Nature article tells us women are starting fewer new projects. Diane Peters in University Affairs writes that women's research has been "squeezed" by the pandemic. I have received invitations to complete three surveys meant to measure my own gendered lack of productivity, which have only succeeded in making me feel that the authors of these surveys are much more productive than I am. My fabled life of the mind has been replaced by the life of "Mom, can I have a snack"? So it goes.
But I have discovered, amid a fair amount of frustration, that I can work in new ways to accommodate our present reality. They aren't ideal; right now, I often write in short chunks, bookended by swims and bike rides with the best kid I know. And I'm lucky. I don't have to do this while worrying about my job, or my partner's job. It also helps that I have the security of tenure. My research can be put on hold in ways that more precarious faculty could never consider. Neoliberal academia once again.
But I've realized something that feels significant in my own understanding of the kind of academic life I want to lead. If my project was new, this approach wouldn't be tenable. It seems those eight years of researching and pondering might, in this strange time, be an advantage rather than a liability. Put differently, maybe it pays a little to be late (don't tell my mom) and engage in a kind slow scholarship, one that allows for a capacious openness to the kinds of ideas that might sometimes be missed when the treadmill of academic production has to be so very fast. At the very least it allows you to dig deep. In this way of thinking, instead of too long, eight years might seem like just about the right time, at least for me and at least with this project. The pandemic graced me with the ability to let go of the shame that goes with an obsessive emphasis on academic productivity, and embrace being present for myself and my family, as well as my work. In doing so, I learned to love those wolves again, which is really how this whole project started.
It turns out that letting go of that shame was perhaps just what I need to do. Just before writing this short reflection, I completed the draft of the book, late again but done this time. It feels great; it's time for someone else to worry about it. So now I'm going to go enjoy another swim with my kid, because as Rabbi Harold Kushner famously noted "No one ever said on their deathbed 'I wish I'd spent more time at the office'."
---
Read other InsightOut posts.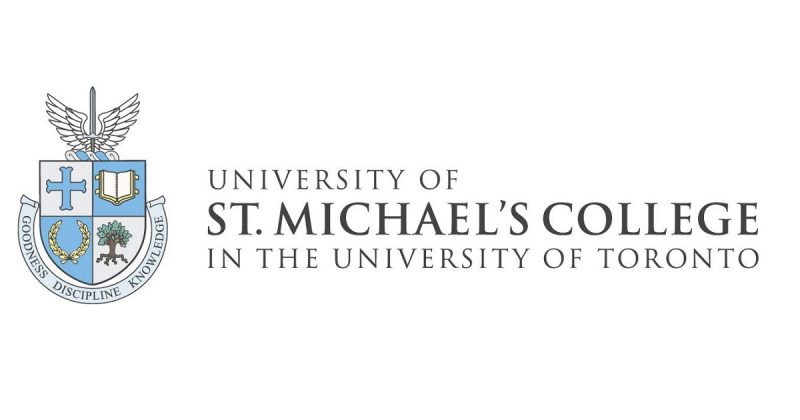 TORONTO, Oct. 23 – Four projects demonstrating the impact of business and governments' Social Responsibility and Sustainability practices on youth mental health, Truth and Reconciliation, municipal CSR engagement, and the real estate sector have earned nominations for the inaugural USMC President's Capstone Project Award for the Graduate Certificate in CSR/Sustainability.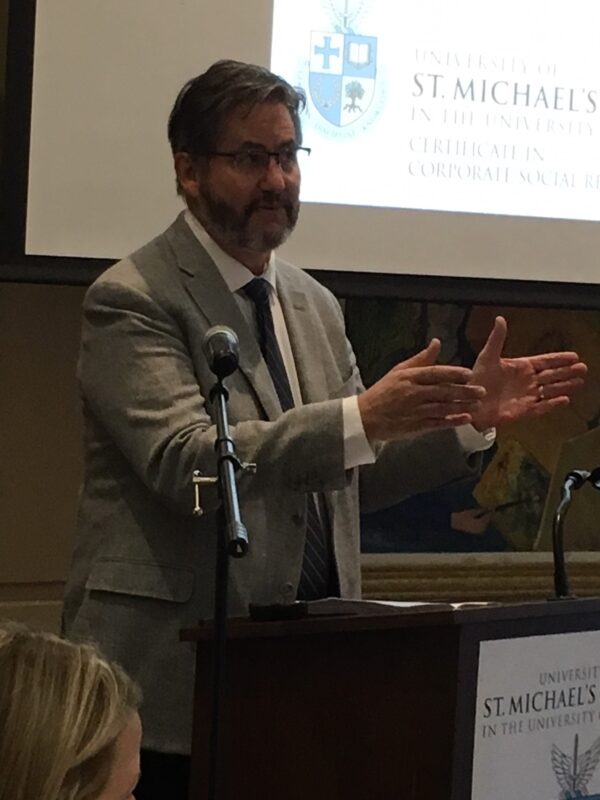 The nominated projects are:
"Stand Up! For Youth Mental Health: Will Community Investment Pay Off for Family Channel?" by Nikki Byrne
"Indigenous Impact Report" by Alexandra Biron
"Bringing to Life a CSR/Sustainability Conversation for the City of Mississauga" by Andrea McLeod
"A CSR Strategy for the Canadian Real Estate Association" by Sarah Thirnbeck
"The Corporate Social Responsibility program is a vital offering at the University of St. Michael's College, helping business and institutions focus on ways to become better – and more effective – global citizens, whether environmentally, socially, or economically," says St. Michael's President David Sylvester. "Program participants return to their workplaces as leaders engaged in social impact that benefits their employers and society. We want to celebrate these extraordinary changemakers with this new award."
Thirty participants are accepted annually to St. Michael's CSR program, which attracts students from across Canada and around the world from sectors as diverse as banking and manufacturing to education and NGOs. Participants meet on campus for three sessions over a 13-month period and connect online throughout the program, engaging in readings, webinars, videos, and shared reflections on ethical behaviours that create shared value that contributes to society's wellbeing. The summative capstone assignment sees participants work with a mentor from their field on a project to apply knowledge, skills and perspectives learned or honed during the program.
Projects considered for the President's Capstone Award must be distinguished in what they achieve or propose in one or more of the following criteria: 1) advancing social and/or environmental impact; 2) introducing innovative practices in social and environmental responsibility, sustainability, ESG and/or 3) significantly advancing social and environmental responsibility, sustainability and/or ESG to the creator's organization.
Nominated projects were judged by a panel which includes Kaz Flinn, Chair, St. Michael's advisory committee for the CSR program; Dr Stephen Scharper, associate professor at the School of the Environment and the Department for the Study of Religion at the University of Toronto; and Mary Ann Sayers, a graduate of the CSR program and senior business consultant at West Pine Consultants Inc. For more information, please see the Certificate in Corporate Social Responsibility/Sustainability Website.
About the University of St. Michael's College
The University of St. Michael's College (USMC), federated with the University of Toronto, is a Catholic institution of higher learning founded by the Congregation of St. Basil, whose motto, "Teach me goodness, discipline and knowledge," sets the tone for campus life.
A Business Advisory Committee ensures the CSR program is relevant and experiential. CSR/Sustainability Leaders representing a broad range of industries from insurance to mining, including: The Co-operators, BMO Financial, Scotia Bank (ret.), Vermillion Energy, Centerra Gold , ESG Ledger, Conference Board of Canada, and Rotman School of Management (University of Toronto) provide advice and input.
For More Information Contact
Kathryn A. Cooper, Program Manager, Certificate in Corporate Social Responsibility & Sustainability
Phone: (519) 855-9491
Website: https://www.csr-stmikes.ca/
Sustainability, Social Responsibility and related ESG job opportunities are on the rise. Millennials and Gen Z  want purpose in their lives. And sustainability and social responsibility is transitioning to be strategically embedded in organizations. New skills and practices are in critical demand for today's CSR & Sustainability jobs.
Companies are Embedding Purpose, Responsibility, Sustainability
According to a May 29, 2019 Gallup report, Millennials want meaning in their work. They want to work for organizations with a mission and purpose. The emphasis for this generation has switched from paycheck to purpose — and so must organizational culture, products and services. Meanwhile the Next Generation CSR/Sustainability Jobs and Competency Development studies conducted by University of St. Michael's College, Strandberg Consulting and The Conference Board of Canada's Corporate Responsibility and Sustainability Institute indicate that Sustainability and Social Responsibility practices are actively transitioning. A survey of 156 CSR/Sustainability Professionals across North America indicated that:
68% are developing a medium to long term sustainability/CSR strategy, including goals and targets.
68% are improving their company's value chain & external operating environment thru external collaborations and tackling impacts that they can influence.
50% are working with stakeholder collaborations on shared value initiatives.
46% are embedding sustainability at the enterprise level & into functional, business unit & departmental level strategies and mandates.
41% are developing customer engagement tools & initiatives to improve customer sustainability performance and add value to business segments.
38% are advancing innovation to address sustainability barriers.
Apply Now – Graduate Certificate in CSR & Sustainability Delivers Critical Embedding Skills and Practices 
The Graduate Certificate in CSR & Sustainability delivers the new skills and practices that are in critical demand for today's jobs. In this "work as you learn" program, active practitioners and thought leaders guide participants through:
One-on-one mentoring, with a subject matter expert, throughout the  13 months of the program;
An Action Learning Project related to your company or professional development;
Gap assessments, critical thinking and application of embedding practices for CSR/Sustainability; and
Practical, real world application of CSR and Sustainability change management frameworks through ExperienceChange™ Simulation.
Apply now to the 2019/2020 Cohort of the Graduate Certificate in CSR & Sustainability to gain the skills you need.
Join participants from Sysco, The Body Shop, Aviso, BMO Financial Group, Concordia University, Red Cross and Nature Conservancy, Foundation for Atlanta Veterans Education & Research and many more. Become part of a Community of Practice in CSR/Sustainability for professional development, sharing and networking.
Check out the program schedule, past graduates, testimonials and latest news. Module 1 will be held in Toronto, Canada, October 23-25, 2019.  Module 2 and 3 will be held May, 2020 and November, 2020 respectively.
The second intake Application Deadline is June 30th, 2019.
About the University of St. Michael's College Corporate Social Responsibility Program
The University of St. Michael's College (USMC), federated within the University of Toronto, offers a transformational CSR/Sustainability program that creates space for people of shared values to explore, interact, develop and grow. It empowers a community of changemakers to develop the skills and support needed to impact a thriving global future.
The CSR/Sustainability Education Council continuously ensures that this program is relevant and experiential.  CSR/Sustainability Leaders from a broad range of industries from insurance to mining,  including: The Co-operators, BMO Financial,  Scotia Bank (ret.),  Vermillion Energy, Centerra Gold , ESG Ledger, Conference Board of Canada,  and Rotman School of Management (University of Toronto) provide advice and input.
For More Information Contact
Kathryn A. Cooper, Program Manager, Certificate in Corporate Social Responsibility & Sustainability
Phone: (519) 855-9491
Website: https://www.csr-stmikes.ca/
Gifted Educator and Founder of the first program providing executive education in the field of Corporate Social Responsibility recognized by University of St. Michael's College alumni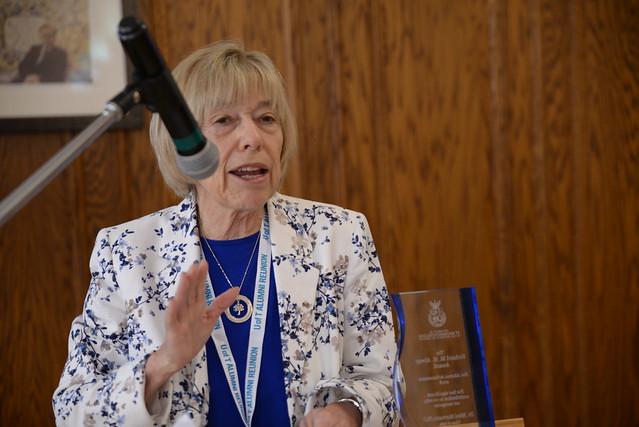 Dr. Mimi Marrocco (Class of 1969) has received the 2019 Alway Award, an honour in recognition of her decades of service and important contributions to the life and reputation of the College. As her former students and colleagues attest, her work—especially in the area of Continuing Education—has influenced the lives of thousands of people.
Former University of St. Michael's College President Sr. Anne Anderson, CSJ said Dr. Marrocco "gifted USMC with her passion for Continuing Education." That passion, Sr. Anne said, yielded "innovative, cutting-edge programs across a broad spectrum of interests," including "our internationally known Certificate in Corporate Social Responsibility."
Over 300 participants from across Canada and over 20 countries have gone through the CSR program, and over 250 alumni from the program hold positions as VP, Director, or Manager in CSR and Sustainability capacities.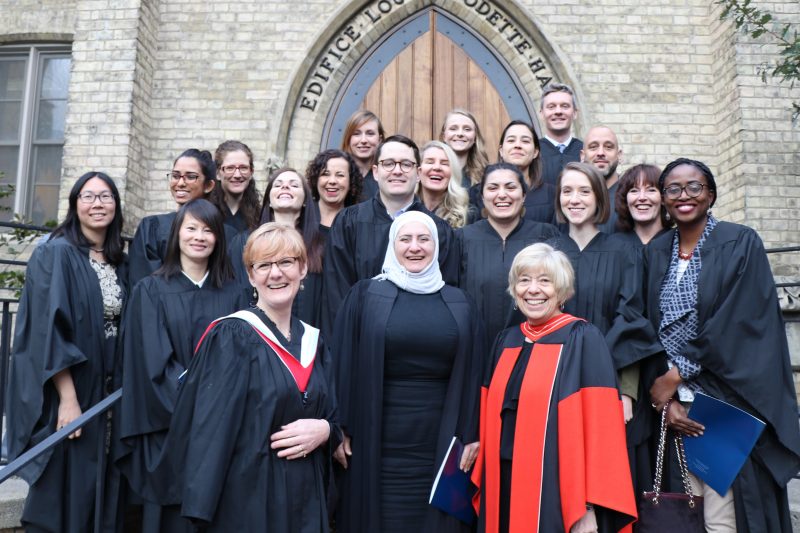 "Mimi is the heart and soul of the CSR Certificate Program," CSR Program Manager Kathryn Cooper said. She described Dr. Marrocco's contribution to the field in Canada as decisive: "Dr. Marrocco developed an innovative collaboration with the Conference Board of Canada to launch in 2002 the first program providing executive education in the field of Corporate Social Responsibility. This program created the platform for the very first developments of the body of knowledge, best practices, mentorship and action learning projects in business for Corporate Social Responsibility."
As the first recognized, professional University Credential in Canada related to CSR, the St. Michael's program Dr. Marrocco founded has also created a network of alumni and mentors in the field. Program participants receive mentorship support for 13 months, which helps them achieve first-time success in implementing the CSR/Sustainability projects they undertake during the program. To date, participants have implemented over 200 action-learning projects at their companies and organizations, including numerous CSR, Sustainability and Community Investment strategies.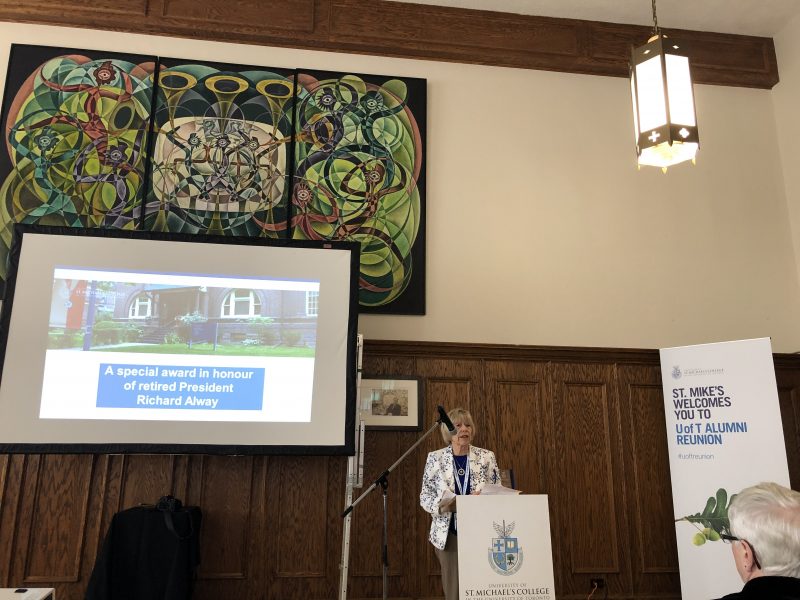 Dr. Marrocco's former students describe her as a dynamic leader whose talent for teaching is matched by her care for them. "Mimi is so lovely and insightful," said one, while another said that Dr. Marrocco "has been instrumental in helping me to open my mind to different perspectives."
After earning a BA from St. Mike's, Dr. Marrocco received an MA in 1970 and a PhD in 1978, both from the U of T, where she later taught as a member of the English Department. Dr. Marrocco worked for over a quarter century as Director of Continuing Education at St. Michael's, and served as faculty leader for the CSR Certificate program.
An industry leader as well as an educator, Dr. Marrocco has served on academic and community boards, including stints as president of both the Ontario Council for Lifelong Learning and the Canadian Association of University Continuing Education.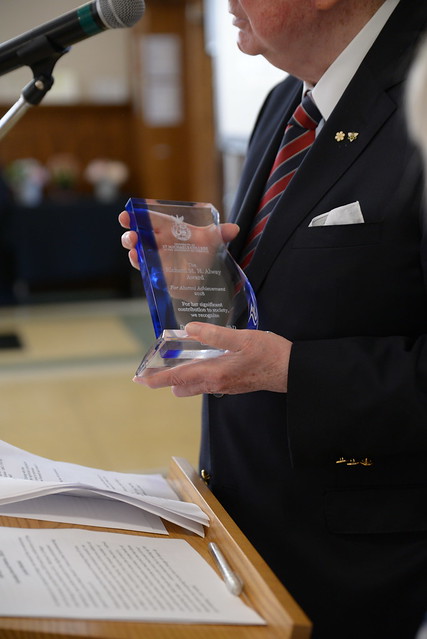 She has served in many roles for Catholic educational and charitable institutions, and she continues to serve in board and/or committee member roles with organizations such as the Arts and Letters Club or Toronto, the Toronto Hunt Club, and the Advisory Committee of the Canadian Business Ethics Research Network at York University.
Named for past St. Michael's President Dr. Richard Alway, a member of the USMC Class of 1962 and our first lay president, the Alway Award is given in recognition of alumni whose significant contributions to society bring esteem to them and to the College.
For her pioneering work in the field of Continuing Education in Canada, for her support of the mission of the University of St. Michael's College, for the way she has helped shape the lives of her students, and for her many other achievements, St. Michael's is proud to call Dr. Mimi Marrocco one of its own. The Alway Award is a small token of the College's gratitude for her life and work.