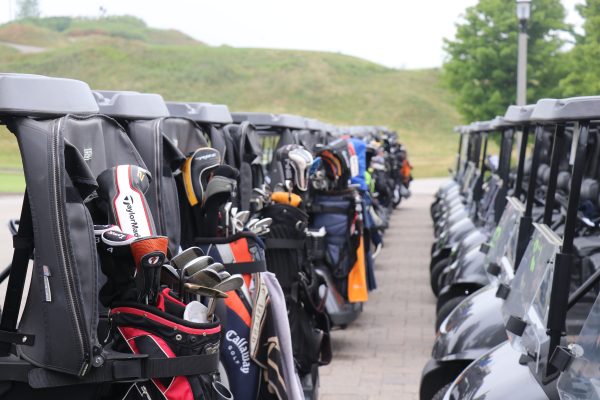 A beautiful day on the Eagles Nest golf course opened with a hearty breakfast for 2018 USMC Golf Classic participants on Wednesday, July 25. President David Sylvester greeted golfers upon their arrival and played a round himself in a foursome with alumni John McGrath, 6T3, Jerome McGrath, 0T5 and Kevin Fawcett, 0T8. Divided into 16 teams, over 60 St. Michael's alumni and friends turned out for a day of golf and fellowship in support of the school.
Participants throughout the day praised the charms and challenges of the course. When asked at the first tee how their game was going so far, one smiling foursome suggested, "The course is winning."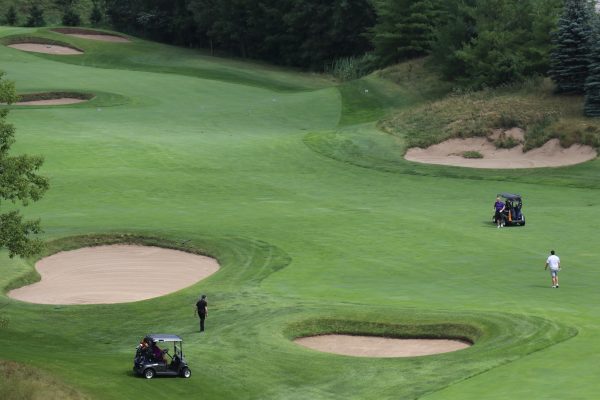 One team, however, overcame the course to win this year's tournament, and that team happened to include USMC's Registrar and Director of Student Services Giancarlo Mazzanti, 8T4, who played with Rob Moffat and Steven Smirnis from Middlefield Group. They each received a Google Home device, and their names will be affixed to the trophy in an engraved plaque commemorating this year's event. In second place came Jonathan Flegg, Terry Krinsky and Paul Crossdale from CI Institutional Asset Management, who also went home with prizes.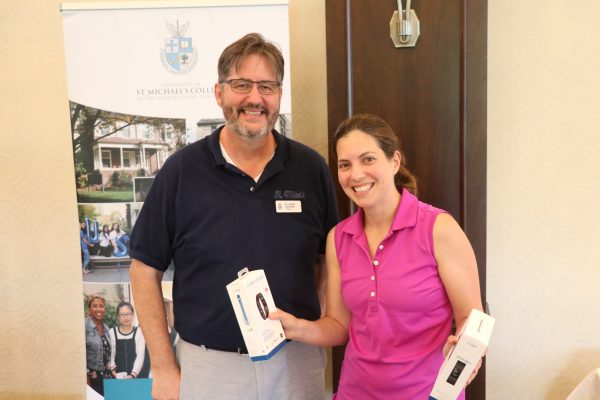 Before the awards presentation—which featured the winning and runner-up teams as well as raffle winners, silent-auction winners and men's and women's awards for Longest Drive and Closest to the Pin—St. Michael's President David Sylvester offered remarks about the institution that the Golf Classic supports. The philosophy of education at St. Michael's involves, he said, "putting students at the centre of everything we do," and developing those students into "complete people." "Investing in our students' experience and success is a key priority as we build on St. Mike's rich history of excellence," he said.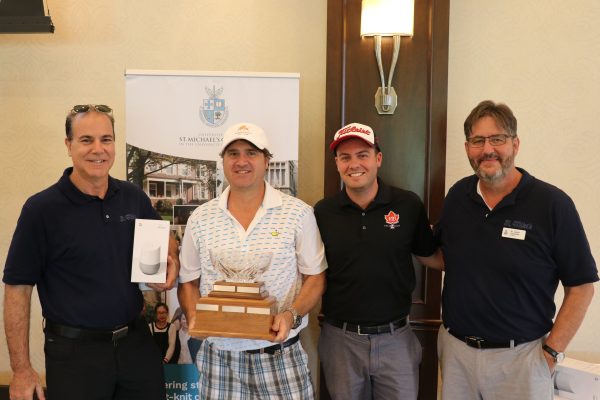 "This annual event, which has raised more than $2.5 million since its inception, is an outstanding example of the St. Mike's spirit and commitment to student success." To golfers in the audience who hail from other schools, Dr. Sylvester offered thanks for their support. "Welcome to the family," he said.
All told, participants and sponsors raised $76,500 during the 2018 Golf Classic, and these proceeds support scholarships and bursaries, enhancements to the Kelly Library and student counseling and wellness services. Special thanks go out to Golf Classic co-chairs Jim McGovern, 8T5, Barry McInerney, 8T5 and David Scandiffio, 9T4, and to all our participants for their investments in the lives of our students.
Next July, St. Michael's will return to Eagles Nest for the 20th annual Golf Classic. Stay tuned for details!