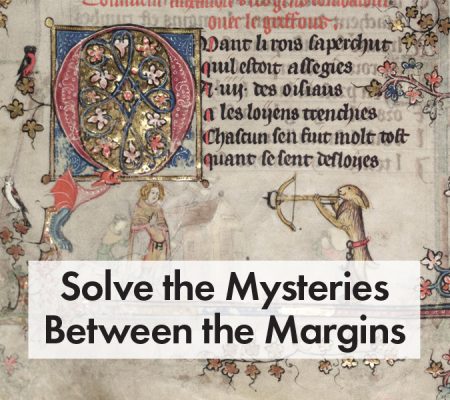 The Boyle Seminar brings first-year students to the intersection of Celtic and mediaeval cultures. The Seminar, inspired by the work of Fr. Leonard Boyle, an internationally-renowned scholar of manuscripts and long-time figure on St. Michael's College campus, invites students to investigate layers of history, analyze mediaeval books, and take language instruction in Latin or Irish.
Through lectures, seminars, language instruction, workshops, and guest speakers, students will study texts and their stories in their own times and over the centuries.
The course is taught by University of St. Michael's College Assistant Professor Alison More.
In May 2022, students in the Boyle Seminar will be invited to travel to Ireland Prof. More for an out-of-course international learning experience.
Travel scholarships will be awarded to successful applicants who are registered at St. Michael's College.
Scholarships will be awarded to successful applicants.
What is the course?

SMC165H1, the Boyle Seminar in Scripts and Stories, is a half-course worth 0.5 credits. It will be offered in Fall 2022. The course consists of lectures, seminar discussions, language instruction, workshops, and distinguished guest speakers. You will engage with language and material culture and learn how to investigate historical questions and make claims backed by documentary evidence. Through books and textual cultures, you will examine the intellectual, cultural, and spiritual contributions that the Celtic-speaking peoples made to mediaeval Europe.

What will I be reading?

The course will draw on rare books and mediaeval manuscripts from the John M. Kelly Library and Pontifical Institute of Mediaeval Studies' extensive collections. Irish and Latin language instruction will include reading, lessons in grammar and syntax, and oral and listening activities.

Some of the other material you'll be reading could include selections from:

• Christopher de Hamel's Scribes and Illuminators, a book about the production of manuscripts and the lives of individual artisans

• Thomas Cahill's How the Irish Saved Civilization, the story of Ireland from the fall of Rome to the rise of mediaeval Europe

• Leonard Boyle's Integral Paleography, a collection of articles about different approaches to mediaeval writing and how scholars identify authors

What about Ireland—what's the trip? Are there fees?

Interested students will have the opportunity to travel to Ireland with Professor Alison More in late May 2023.

The trip is an out-of-course international learning experience and is not for credit. In advance of the trip, you will receive more detailed information as well as safety training and other preparation.

All students admitted to the Boyle Seminar in Scripts and Stories are responsible for their own airfare and incidentals. The cost of room, board and programming are partially covered by an ancillary fee for this course that is applied to your student account during registration for this course. The fee amount is $1,500.

If you are registered as St. Michael's College student and you are accepted into the Boyle Seminar, you are eligible to receive a $1,000 travel scholarship.

Please note that trip dates are subject to change. The University of St. Michael's College follows the guidance of government health authorities and the Faculty of Arts and Science when arranging student travel.

Why should I apply?

The Boyle Seminar introduces you to university-level studies on a small scale, with students who share your interest in texts and contexts, language and thought, and historical legacies. You'll learn to work across disciplines, form stories from fragments, and evaluate historical narratives. As a member of the very first class you will inspire future generations, forge lifelong friendships, and help create exciting new ways for St. Michael's to flourish as the centre of Catholic intellectual life at the University of Toronto.
Courses
Apply