New
To Book an Appointment
To book an appointment, please visit our online bookings page
Appointments will take place in the Kelly Library, on the main floor in the Learning Commons. Our offices are next to the computer stations, on the right. We are happy to allow more than one writing appointment per person per week but, unfortunately, no more than one booking per person per day.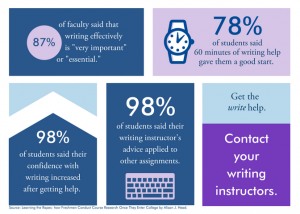 Cancellation Policy
If you need to cancel an appointment, please do as soon as possible, but at least 24 hours in advance. This will allow other students to get an appointment with an instructor sooner. Repeatedly failing to cancel appointments within the required time or failing to show up for scheduled appointments may result in you being blocked from booking further sessions.
Drop-In Writing Help @ the Kelly Library
Later this term the Writing Centre will be offering drop-in group writing help. Please check the times and locations here on the USMC events page.
Writing Instructors
Iris Brooke (Director)
Esther Atkinson
Samantha Cutrara
Xiangying Huo
Penny Saeedi
What we do
Academic Writing
The Writing Centre offers a tutorial service on an individual appointment basis. Each student receives help from a writing instructor. The session may last up to 30 minutes.
The Writing Centre provides instruction in and objective criticism of your written course assignments in any discipline. Instructors advise on such matters as focus, organization, argumentation, documentation, grammar and style. Their aim is to help you improve your ability to write clearly, coherently, logically and persuasively. They will help you gain your own skills in writing, revising and editing. They will work with you on any kind of writing assignment (such as essays, book reviews, reports, including science reports) at any stage of development, from conceptualization to final draft, as well as graduate school and scholarship applications.
However, instructors are not there to do your proofreading. Please make sure to schedule your appointment well in advance of the due date to leave time to make revisions after the consultation. Our instructors regularly offer drop-in hours, group writing sessions and writing workshops. Please check the website for upcoming sessions.
Who Can Use the Writing Centre?
Arts and Science students who are enrolled in SMC courses (for work from their SMC courses only) and all students who are registered at St. Michael's College (for work from any of their courses).
What you should do
Appointments do fill up, so book well in advance.
Please respect our policy of allowing only one 30-minute writing-help booking per day. This rule helps make sure writing instruction is available to as many students as possible.
Bring in your assignment sheet and other relevant course material. Please bring both a printed hardcopy of your work and an electronic version on a laptop, tablet, or USB key.
You are welcome to come back regularly to work on a sequence of skills and a variety of assignments.
When we are open
Fall 2017: Monday September 18th through Friday December 15th (closed Monday October 9th for Thanksgiving).
Additional Resources
For other resources see the University of Toronto writing website: www.writing.utoronto.ca