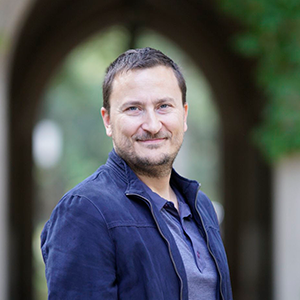 Book & Media Studies Associate Professor and Program Coordinator

Paolo Granata is an Associate Professor in Book and Media Studies at St. Michael's College in the University of Toronto. As an educator, an innovator, and a cross-disciplinary media scholar – nurtured by the century-old tradition of his Alma Mater, the University of Bologna – his research and teaching interests lie broadly in the areas of media ecology, media ethics, semiotics, print culture, and visual studies.
Over the last 20 years of his academic career in research, teaching, and public engagement, Professor Granata has held positions at the University of Bologna, the Academy of Fine Arts in Bologna and Turin, and most recently at the University of Toronto, with affiliation in the Department of Italian Studies, the School of Cities, and the Schwartz Reisman Institute for Technology and Society. Since 2011, he has been a Marshall McLuhan Centenary Fellow at the Faculty of Information and since 2019 a Senior Fellow at Massey College, Toronto.
Prof. Granata authored four books – Arte in Rete (2001), Arte, Estetica e Nuovi Media (2009), Mediabilia (2012), and Ecologia dei Media (2015, forthcoming in English as Media Ecology: An Introduction, 2022) – more than 50 publications – essays, articles, book-chapters, and policy reports – in Italian, English, French, and Spanish, and a board game, The MediuM.
From 2015 to 2017, in his capacity as Visiting Professor at the Faculty of Information at the University of Toronto, he was Program Curator at the McLuhan Centre for Culture and Technology, University of Toronto. As a cultural strategist and an advocate of sustainable development, in 2017 his research and consultancy activity led to the designation of Toronto as a UNESCO Creative City of Media Arts.
Serving since 2018 as a board member of the Executive Committee at the Canadian Commission for UNESCO, his advocacy efforts are focused on digital equity and digital sustainability, to explore the potential that information and communication technologies hold for enacting positive social change. He is also the Chair of the #CultureForSDGs initiative (forthcoming October 2022), sponsored by the Canadian Commission for UNESCO.
Professor Granata is passionate about safeguarding human rights in the digital sphere. As such, in 2019, he founded the Media Ethics Lab, a research hub that studies the ways that digital media practices and emerging technologies are marked by ethical issues and decisive political, societal, and cultural questions. In 2020, in response to the global pandemic, the Media Ethics Lab has been partnering with the City of Toronto on a research project to map Toronto's digital divide and to advance ConnectTO, a City-driven collaborative program that aims to increase digital equity and access to affordable internet in Toronto.
At the University of Toronto, he also leads The Toronto School Initiative and the 3D Gutenberg Lab. Professor Granata speaks regularly on the future of education. His aim is to raise public awareness about the role that Universities should play in the 21st century: to provide an environment of social cohesion; to create the conditions for sustainable development; and to strength participation in cultural life.
Twitter: @paologranata | Linkedin