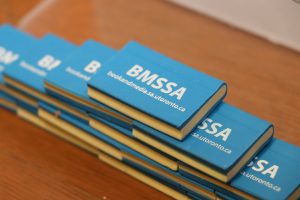 The Book and Media Studies program is an interdisciplinary and historical investigation of the role of printing, books, reading, and electronic and digital media in cultures past and present. Its topics include: manuscript and book production, internet publishing, book illustrations, advertising, censorship, reading and entertainment alongside the development of mass media—the advent of radio and the emergence of television, global telecommunications, social media, and the internet.
The new Arts & Science Internship Program (ASIP) stream is available to students entering their second year of study in Fall 2021 and enrolled in the Book and Media Studies Major.
The program prepares students for vocations in journalism, publishing, editing, communications and graduate programs in information and library science. The program also introduces them to topics in the Book History and Print Culture Graduate program at the University of Toronto.