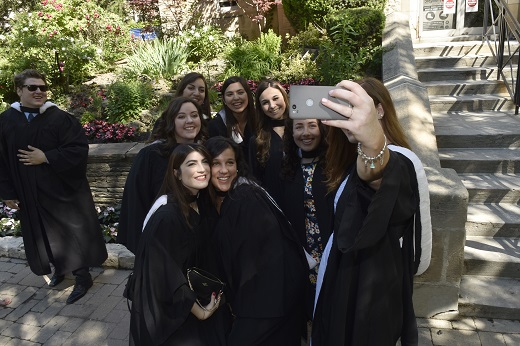 Cool light fell through the trees bordering Elmsley Place on the morning of June 15 as several dozen students gathered in front of Brennan Hall in graduation gowns and hoods. Blessed with the same pleasant weather of last year's ceremony, Spring Convocation 2018 began gently for its many participants.
"It's pretty surreal," 2018 graduand Emerson said. "I don't think it hit me until this morning. I work right across from [King's] College Circle so I've been seeing graduates walk across the field every day, and when I woke up this morning I'm like, 'oh, that's [going to] be me now.'"
The neuroscience major continued: "Standing right here, I just remember gathering here with my frosh group in first year, and it's pretty cool standing here again."
"We started with first year orientation… and now we're back where it started," fellow graduand Angelo said. "It feels pretty surreal; it started to sink in just now as I put the gown on, actually."
The procession formed into a line behind Dean of Students Duane Rendle. He led the students and a small group of similarly robed staff and faculty south from the entrance to Brennan, east on St. Joseph Street, and back north again to St. Basil's, setting in motion a busy day of events and activities.
Following Mass in St. Basil's, students, parents, faculty and staff gathered on the north patio of Brennan Hall for a celebratory BBQ. Graduands posed with props in front of a St. Michael's photo backdrop as their families reached out, phones in hand, to record pictures and video. The sense of community and intense friendship that has grown with the graduating class created an atmosphere of laughter and celebration. Asked what single thing he anticipates carrying with him beyond St. Michael's, commuter don Angelo said, "I would definitely say the community, hands down."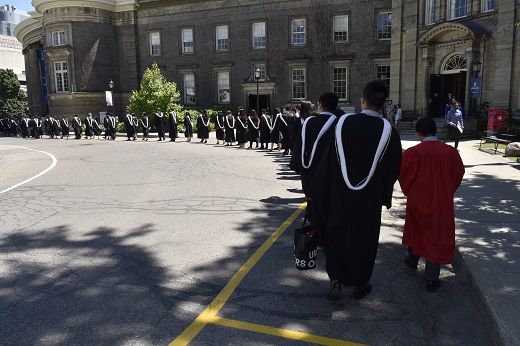 "I definitely feel that I've made some lifelong friends here and I'm really excited to see how these friendships grow over the years," he continued. Life science double-major Katie agreed. "The community, the people that we're graduating with—it's so special."
In the afternoon, the full USMC Class of 2018 gathered at Howard Ferguson Dining Hall for their procession around King's College Circle into Convocation Hall. A four-piece band played covers of pop songs (Drake's hit "Hotline Bling" among them) as graduands entered the room, soon to be joined by the Chancellor's Procession.
Many families watched the proceedings in a shaded enclosure on the grass outside Convocation Hall. "I bring you greetings on behalf of our Chancellor, Cardinal Collins, and on behalf of the University of St. Michael's College," outgoing President David Mulroney said near the beginning of the ceremony, his face visible in duplicate between the different projector screens. He described the gift of the land upon which St. Michael's was built in the 19th century, and the work of John Elmsley in helping to establish St. Michael's and St. Basil's. "In congratulating you today," the outgoing president said, "I ask you to spare a thought for John Elmsley, someone who dared to be different, who followed his conscience, and who never stopped giving his gift of service to this university, this city and this country."
Author and St. Michael's alumnus Charles Foran delivered this year's commencement address, emphasizing the importance of "[starting] a practice of thinking as regularly as you can about our shared predicament." Fiction provides a natural and easy means of "[dwelling] inside the lives and minds of others, and [learning] how they think and dream, hope and pray." In a politically and culturally fraught time, the sort of empathy that great fiction cultivates can help us to deal with the challenges of being in close and frequently difficult proximity, especially in a packed cosmopolitan city like Toronto. He concluded: "Being mindful of [our shared predicament], keen to do whatever small things you can to contest it, constitutes a good, honourable way to live. Even better, it is certain to make your soul sing."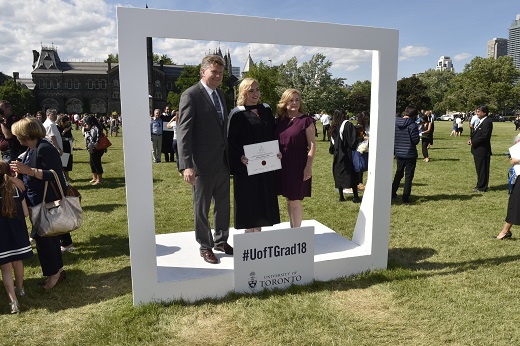 Degrees conferred, the former graduands recessed onto King's College Circle and into the arms of the family and friends who waited for them there. T-shirts and other merchandise with the school's new script logo were available, and graduates each received gift bags that contained, among other items, a card deck printed with explanations for specialized terms and important moments in the history of book-printing—a fitting souvenir from the College that sponsors the Book and Media Studies program. (USMC professor Paolo Granata designed the deck for use in his classes.)
Near the end of the day, students and families gathered in the St. Michael's Quad for the USMC Awards Presentation. Principal Randy Boyagoda presented honours ranging from the Governor General's Silver Medal Nomination to the College Gold Medals and a variety of named prizes and awards. The Class of 2018 leaves St. Michael's having accomplished many things.
Even so, the theme of Spring Convocation 2018 remains the sense of abiding community to which so many students gave voice before the day's itinerary began. Those students are now part of a much larger family of alumni, one that stretches across the world. Psychology major Julia captured the warmth of the St. Michael's community that first welcomed her four years before: "whenever I walk onto campus, it feels like home, just because the people here become like family."