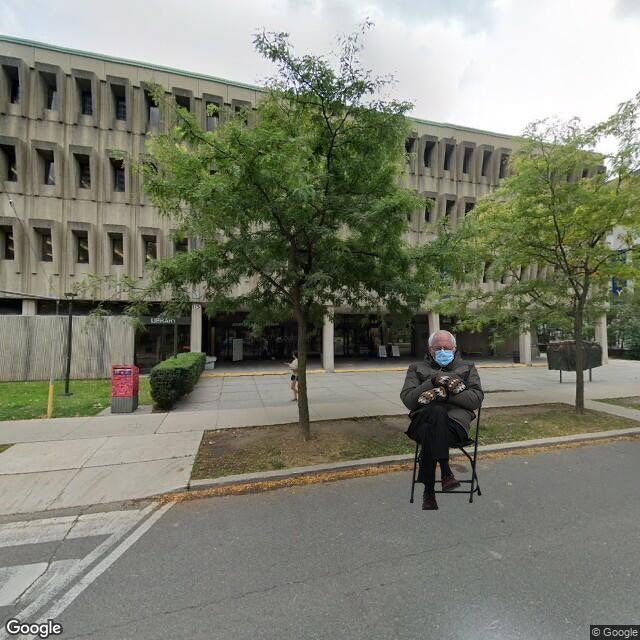 Although Ontario's stay-at-home order has required the first floor of the John M. Kelly Library to be closed to outside visitors, its curbside pickup service continues to provide students, faculty and staff a way to access books in the collection. Other services continue to be offered in an online format.
To support the community's access to materials while also following public health guidelines, Kelly Curbside Pickup runs Monday to Wednesday from 10 a.m. to 4 p.m. Patrons with a valid UTORid will be able to submit a request through the UTL catalogue for any physical items in the collection not already available through the Hathitrust Digital Library. When the materials are ready for collection, patrons will receive a pickup notice by email.
Visitors using the service will queue in a waiting area and then proceed to approach the window near the book return slot under the awning of the library, and boxes marked with tape on the ground will indicate where patrons should wait in order to maintain a safe physical distance. All pickups will be handled outside. Patrons who cannot come in person can place a note in the catalogue request for their friends or family members to pick up materials for them.
As the winter semester continues, students can also request research assistance and writing help, with a variety of services available through one-on-one appointments conducted online. Due dates for all UofT library materials have been extended to April 30, 2021, although books can still be returned through the library book-drop at both the Kelly Library and Robarts.
The Kelly Library has made available full instructions for using the curbside pickup service, including health and safety guidelines and FAQs.
Noel McFerran has worked as a librarian at the University of St. Michael's College since 1998. His current position is Theology and Rare Books Librarian.
---
"Be Right Back!"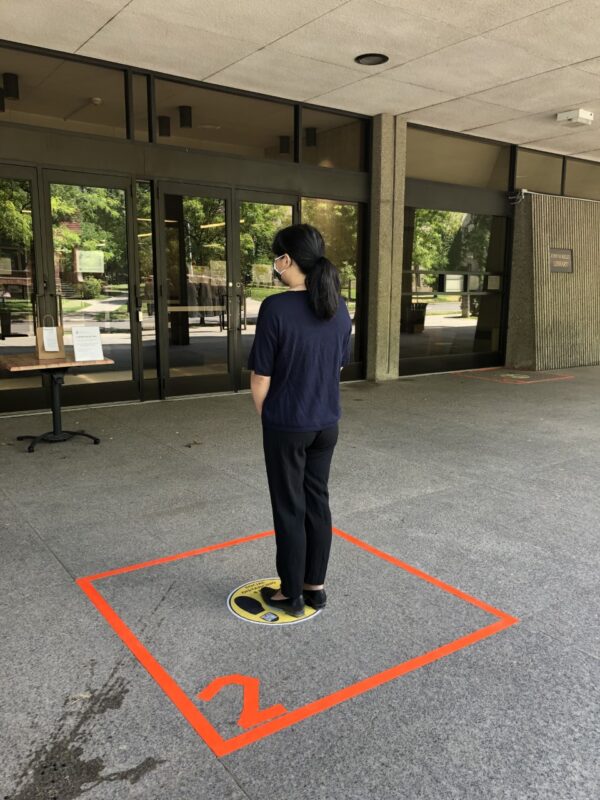 I spent last Wednesday morning in the Kelly Library providing curbside pickup service to faculty and students. As a librarian, it was exciting for me to see the library taking further steps to provide library materials to patrons while maintaining the health and safety of everybody involved.
Since mid-March I've been working from home, keeping very busy responding to emails from faculty and students about their course work and research. Wednesday was one of my first times back inside the Kelly Library. The most important thing was to be trained in how to function in my regular work environment during a pandemic. I thought that I knew all about social distancing, wearing masks, and sanitizing hands—but it's so much more important in a workplace where there are other staff using the same desk and equipment. Just like in the supermarket, we're maintaining a one-way route in the library in order to reduce face-to-face encounters between staff.
Every day the Kelly Library receives a computer-generated list of books and DVDs which patrons have requested through the UofT Library Catalogue. One staff person looks for these items on the shelves. Most items are where they are meant to be, but occasionally we have to search for something which has wandered from its regular home. Items then get checked out to patrons. Right now all items are signed out until September 18, 2020.
Another Kelly staff person, working from home, sends personalized emails to patrons telling them that their books are ready to pick up. Sometimes patrons respond with special requests (e.g. "Can a friend get my books for me?").
At present patrons can pick up their requested items at the Kelly Library anytime Monday to Friday between 9:00 a.m. and 4:00 p.m. The pick-ups ebb and flow. I filled the low periods with other library work to keep myself busy.
The first encounter between a library patron and staff is through a glass wall where the patron shows their library card. (I had real difficulty reading the card through the glass, so I might need to make an appointment for an eye exam!) You can't really hear people on the other side of the glass, so we have various printed signs which communicate the most frequent things (like "Be right back").
Staff retrieve the patron's bag of books and place it on a table outside the library under the overhang. Even then there is reduced interaction between staff and patrons. Smiling doesn't mean so much when you're wearing a mask, so I tried to wave in a friendly way.
The response from faculty and students to the Kelly Library's curbside pickup service has been very positive. My colleague Risa de Rege, who has worked many shifts in the past week tells me, "People have been very grateful that we're offering curbside pickups, and are also respectful of our space and policies." In the first week, 76 patrons submitted requests for 141 items. As more people learn about the service and how easy it is to use, that number is likely to increase. So far, though, we've been able to respond quickly to requests.
Nobody wants the COVID pandemic to go on any longer than it has to. But for the present and near-future, the Kelly Library is developing solutions to continue to provide library service to our faculty and students. I love being a part of that, knowing that my work contributes in a small way to the academic success of others.
---
Read other InsightOut posts.