Chiara Greco is a fourth-year student studying Philosophy and English at St. Mike's College. Since her second year she has been involved with student journalism and harbours a deep passion for the field. She is currently the Editor in Chief of The Mike, our official student newspaper.
---
The Importance of Student Journalism to Campus Life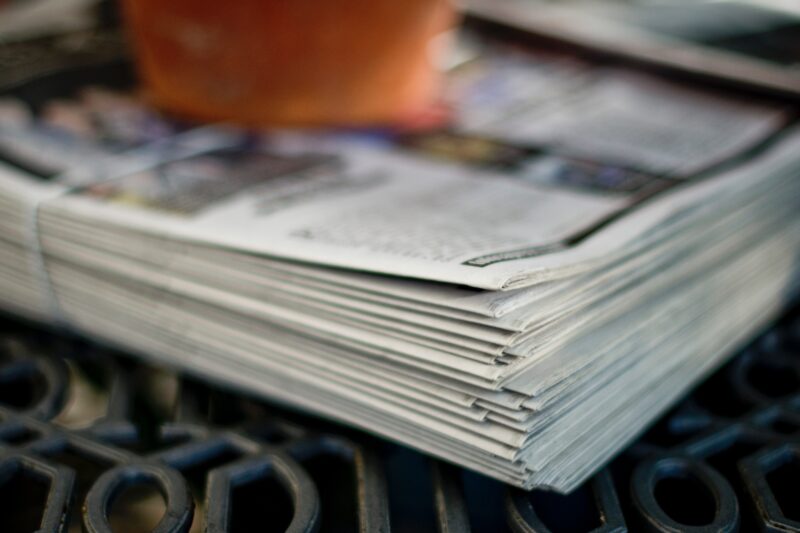 When I reflect on the importance of student journalism, especially in a time when we have been struck with a global pandemic, my immediate reaction is to create a defence of the field. To rake up all the reasons in my head why student journalism is important and worthwhile. While I can't be sure where this response came from, I am sure that many people question the choice of being a student journalist—of the added stress without perhaps the large reward or payoff, or even exposure, that professional journalists get in breaking stories. While I've been told the career path I have chosen may be a "dying field" I've still prospered through my experience and, if anything, this global pandemic has shown me exactly why student journalism is so important.
In a time of social distancing the importance of staying connected through stories, media, and news is so pertinent. Our current global crisis has unveiled the dependence we all have on media and news to connect us. I'll be the first to admit that virtual living—and learning, for that matter—can be very impersonal, and presents a challenge to most. But the job of student journalists is to bridge this gap between virtual life and 'normal' life for students across the university community. Student journalism is a pillar of university life on campus, and with our new-found virtual world, student journalists are those who will form the path towards online community. Stories are the basis of life, the overarching connection we all have to each other, and it is through journalism that these stories get communicated.
While my experience will not speak for everyone, I understand the importance of representing the masses, of being a voice to and for the unheard, and of cultivating a personal experience through our shared stories. Student newspapers like The Mike are an avenue in which this cultivation takes place—and, frankly, it's hard to imagine university life without student newspapers or the journalists who staff them.
My time at St. Michael's College has been defined by my involvement with The Mike, starting at the beginning of my second year. From working on the news team to becoming the Editor in Chief, I've understood that student journalists have a nuanced responsibility to their peers. We have a responsibility not only to hold our school accountable but also to be a reliable source of student life and news. Integrity, facts, and accountability summarize the three pillars which have come to define my experience of student journalism, and they will continue to guide me through my role with student publications.
Over the summer as I prepared for my role as Editor-in-Chief I faced many challenges in reinventing the paper as an online periodical. The future of The Mike fell into my hands, and while it may have seemed like a large task to take on, especially with the challenges of the pandemic, I was privileged to represent the St. Mike's community. As I transitioned into my role I began to prepare for things none of my predecessors had to ready for—how to run a printed student newspaper during a global pandemic. With no precedent, changing the course of The Mike meant I had to evaluate the immense role student newspapers have within the university community. To put it simply, without student newspapers one of the most crucial aspects of student life would be taken away. In this way, The Mike's achievements and success translate directly into St. Mike's overall successes and achievements.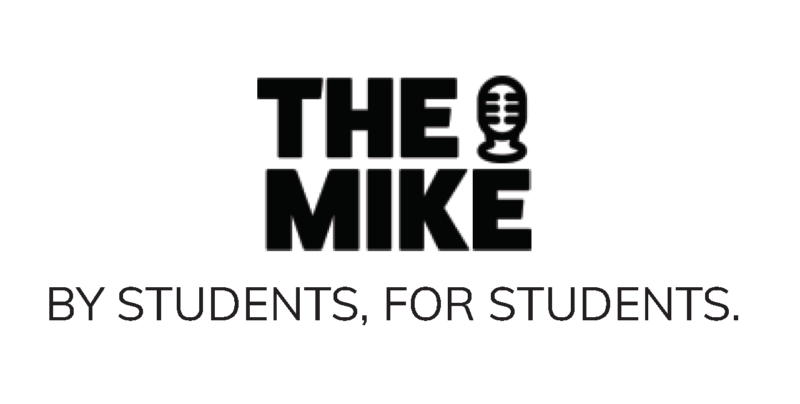 For as long as can be remembered The Mike has delivered students with a print version of the paper across campus newsstands. But the newspaper has been forced to make some hard decisions, such as forgoing our printed paper for now. But since The Mike's inception our intake of news as students has changed drastically. While an online publication may take away the feeling of holding a physical copy of your work, we now rely more than ever on online avenues to give us news and connection, so The Mike's online home has gone through a complete 180. We've changed our website and delivery to allow more students to access and stay up to date with our publication and newsletters.
It is the duty of student journalists to deliver their colleagues' voices on campus. The importance of cultivating a community across borders is exactly why student journalism is so valuable, because without it the distance between us would be far exacerbated. Student journalists, like professionals in the field, need to become experts on our own community. We need to become a voice for those students who may otherwise not be represented on campus. But this wide range of representation is only accomplished if students contribute their voices. The more voices published in The Mike, the more the diverse and accurate the representation of our community. So while a printed copy of the paper would be an ultimate goal, we have to remember the importance of accessibility and inclusivity when representing the student community. In a time of social distance, it only makes sense for student journalists to present student life as such.
While this pandemic has taught me many things, both good and bad, navigating my role as a student journalist and Editor in Chief of The Mike will perhaps be one of my biggest takeaways. Student journalism is at the heart of every university and college campus. It's what connects us all.
---
Read other InsightOut posts.
From shared hobbies and interests to causes and activism, the more than 20 clubs at St. Michael's bring together students from across campus, neighbourhoods, and divisions to enrich the larger community. The annual SMCSU clubs fair and BBQ helps new students get a sense for just how many ways they can get involved in life at St. Michael's, both supporting and being supported by their university home. Clubs are also a place many students form the friendships that they carry with them after graduation, and develop skills and experience that are directly applicable to their future careers.
"Clubs at St. Michael's are an essential part of student life, and one of many ways students find opportunities to grow in their talents and passions outside the classroom at St. Mike's," says Student Life Associate Emma Graham. "They're also a bedrock of community life here for both residential and commuter students."
One of the newest St. Mike's clubs is Clean SMC, an organization that strives to "educate and empower students to take action against environmental issues through the support of green initiatives and sustainability," says club president and SMC student Juliano Baggieri. "[We] collaborate with St. Michael's College and students to make environmentally friendly projects come to life."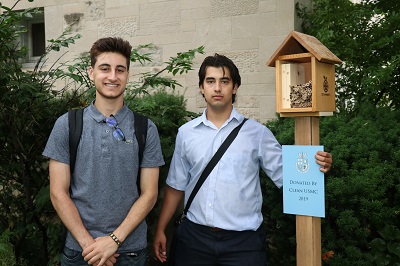 One of the recent collaborations between Clean SMC and St. Michael's resulted in the installation of a "bee box" on campus next to Carr Hall. Donated by Clean SMC and coordinated and installed by the St. Michael's Facilities team, the unit will provide a home to friendly, non-stinging pollinators that will help to brighten the many species of flowering plants that thrive on 11-acre St. Michael's campus.
Baggieri believes that the growing interest in sustainability and the environment will attract even more new members and help the club achieve its three primary goals of "building awareness, increasing community involvement in sustainable activities and developing environmentally friendly projects."
Other organizations directly support the work of the University's four sponsored academic programs: Christianity and Culture, Mediaeval Studies, Celtic Studies, and Book and Media Studies.
Christianity and Culture Social Club co-presidents Maryrose Doucette and Lara Connell work to create deeper connections between students and professors in the program by hosting regular social events where students and professors mingle over refreshments and coffee.
"These clubs exist so that students can make the most of their university experience and genuinely enjoy a community of like-minded people outside of the classroom," Doucette says.
Other student clubs support the larger St. Michael's community by offering real-life experience that encourages students to share their gifts beyond the classroom.
"Reporting fresh, relevant stories that are both for students and by students" is the mandate of student paper The Mike, where generations of St. Michael's students have developed their journalistic chops since the founding of the paper in 1947. Fourth-year SMC student Isabel Armiento oversees The Mike as this year's Editor-in-Chief. This fall, she hopes to "bring together a larger network of St. Mike's students and emphasize all facets of the newspaper," noting that there are major opportunities for artistic and creative students to contribute their talents at every stage of the editorial process.
Many clubs also foster the development of creative gifts. Co-Executive Producers of SMC Troubadours Kaitlyn Wang and Simran Dhir are soliciting suggestions for musicals and student-written plays to showcase student talent at St. Mike's.
"Students don't need to have any previous experiences of the dramatic arts," Wang and Dhir say. All levels are welcome in auditions for shows the club is putting on as part of the 2019–2020 season. This year's diverse lineup includes "a student-written play, an alumni-written play, a musical, [and] a stand-up comedy show."
Clubs at St. Michael's are funded by the St. Michael's College Student Union, which puts on the annual clubs fair and BBQ. Cianna Choo, SMCSU's VP of Academics and the organizer of this year's fair, says "clubs provide a creative outlet for students to explore interests outside of their programs." She notes that in addition to helping the St. Michael's community to flourish, club involvement helps students develop essential skills for the workplace in a context of collaboration.
The St. Michael's community is richer for the variety of student organizations that create community, put on events, and further the extracurricular education of students at the college. More information on ways to get involved on campus is available on the St. Mike's website.