Amenities
All houses/floors are single-sex and have:
Internet access
TV with cable in common rooms
Shared washrooms
Laundry facilities
All residence rooms come furnished with:
Single bed (including a standard twin mattress)
Dresser
Closet
Shelving
Desk & chair
Landline phone
Secure key card access
Garbage bins
Cable TV wiring*
* monthly service must be purchased through Rogers
Please note that residence rooms do not come equipped with bedding; this is something that students must bring themselves. Residence Linens offers convenient and reliable ordering and delivery of residence essentials. If you would like to place an order for bedding or other essentials and have it delivered for the 2017-2018 Academic Year move-in day, please see the Residence Linens 2017.
SMC Residence Buildings
Sorbara Hall
Sorbara Hall opened in September 2001 and houses undergraduate students. In addition to the furnishings listed above, rooms come equipped with a personal sink and air conditioning. Sorbara has a mix of single and double rooms with the average room size being 11′ x 14′. Sorbara is the newest residence on St. Mike's campus.
Elmsley Hall
Elmsley Hall opened in 1957 and primarily houses freshmen residents with some rooms reserved for upper year students. Most rooms in Elmsley are doubles and all rooms are 17.5′ x 10′ in size. Also housed here is a 24-hour study room, the campus mailroom, and the 24-hour security desk.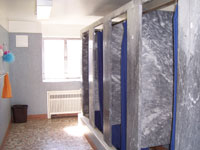 Queen's Park Building: Teefy, Fisher & More Houses
The Queen's Park Building opened in 1936 and is built on the model of Oxford and Cambridge. It is divided into three undergraduate houses: Teefy, Fisher & More House. Teefy and Fisher house female students while More houses male students. Most rooms in Queen's Park are doubles with size varying considerably according to location and occupancy of the room.
Historic Houses
House 96
House 2
Houses 6 & 8
Located on Toronto's first sub-division, these Victorian houses were built between 1890-1910 as private homes at the turn of the century but were gradually acquired by St. Michael's for College use. House 2 and 96 are relatively small, holding about 18 residents each, while house 6&8 is larger and holds about 36. House 96 and 6&8 are male houses, while House 2 is a female house. In addition to the furnishings listed above, rooms are equipped with air conditioning. There is a mix of singles and doubles with size varying considerably according to individual buildings and occupancy of the room. Both freshmen and upper years live in the Historic Houses.
Fun Fact: House 2 was home to former Canadian Prime Minister Paul Martin during his time at St. Mike's, while House 96 was home to the offices of world-renowned philosopher Marshall McLuhan.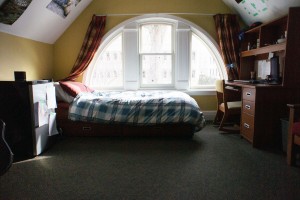 Brennan Hall
Situated in Brennan Hall, two floors above the Canada Room, this residence houses twelve students and one Don. The floor offers a quiet and tranquil environment for upper year students who are academically driven. All female students have en-suite bathrooms, while male students share a washroom. Unlike other residence buildings, some rooms have double beds and a small walk in closet.
Rooms in Upper Brennan do not come equipped with landline phones, however, a communal phone can be found at the South end of the floor. Please note that Upper Brennan has Wi-Fi internet access only – there is no wired/Ethernet connection available.