Richard Carter has been a reference librarian at the St. Mike's John M. Kelly Library since 2004. He grew up in Ottawa and loves walking, reading, helping students, and being a dad.
---
On Walks, Good Books, and Libraries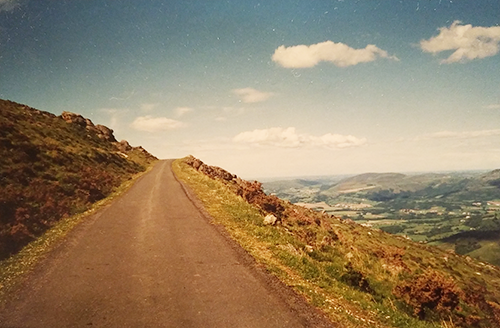 What is it cruising past you with an annoying motorized purr, unzipping from behind your ear the entire afternoon? A bee, I'll wager.
Sometimes, it swerves to a mapped azalea preening by a hedgerow; sometimes it weaves in complicated ever-widening arcs, scenting pollen; other times, aflush, it hovers in such a tizzy over a satellite dish of petals that it hardly knows what to do except keep buzzing. Finally, it settles on a stamen. Then lifts a moment later to an adjacent splash of colour.
Nothing is forced. The bee has simply burst out of the hive into a bright world to explore widely, up close. It is how I have always thought walking, reading, and thinking should be—and research too: unhurried, whimsical, open-minded, observant.
*
Laurie Lee was an English writer best known for his autobiography Cider with Rosie, but it was the enraptured prose of his sequel—in which he hiked across Spain on foot—that sent me tramping. Laurie Lee went to Spain and walked for months; I set out on a three-day ramble outside Ottawa. It was not very exciting, but it was, at the same time, marvellous. I camped in backyards; I passed bristling cornfields; I busted a tentpole in a thunderstorm; I crossed the 417 highway and felt the contemptuous delight of youth. I lived on apples, water, bread, beans, and cheese. Then I walked home.
Three years later, I met Lee by chance at a village cricket match in Gloucestershire. In a lawn chair, under a broad-brimmed sun-hat, he leaned forward with a kindly grin. He was wise-cracking and curious and full of questions. I told him I liked the rhythm of his sentences. "I try," he quipped. Then he asked me where "my people" were from.
"Well," I said, "my grandmother is from Wales."
"Wales?" He said, surprised. He looked me over. "You look more like a Viking to me—you've a lot to answer for!"
Not long before, in London, I'd bought a gigantic map of Spain—one of those maps so detailed you can flatten it out on the floor, and when you kneel up close you sense you could fall right into it. Soon after, I grabbed a backpack and tent and jumped on a ferry to Spain.
*
What happens when you walk or read? You enter something else. Part of what you enter is your thoughts, because you are the only subject of your life, the one who does the reading and the walking, but soon you get the feeling that, when you walk, you are walking through something both within and beyond yourself; and that when you read, you are encountering something outside your experience and knowledge: you are lost in the happiest way a human being can be lost.
In the woods, Nature takes you in. Your only job is to step gamely forward, deeply breathe, and look. And the only place I can think of at all akin to the woods is a library.
My first memory of a library was a book of Greek mythology. Lanky, dog-eared, bandaged with tape, it snoozed with several others at the bottom of an elementary school bookshelf. Cracked open, the book featured full-sized, vivid, colour prints, and an incense-like smell. An image of Persephone haunted me most—happily skipping through a meadow one moment, then falling through a crack down to Hades the next. I fell with her and feared and hated the Underworld; but in falling I also felt empathy for Demeter, her mother, who wandered the surface, agitated with grief.
With any good book you plunge like Persephone headlong into the unknown, and it is being held there awhile, braced against a wild experience or a multi-faceted thought, that you equip yourself to shoulder your pack and strike back to the surface.
In the 1990s, as an undergraduate, I began to realize I was doomed to work in a library. Back then I shelved books at the Carleton University MacOdrum Library. I loved the rows and rows of stacks; they were like a forest. Vast ranges fanned out everywhere, crammed with craggy print titles, oversized behemoths, and musty bound journals. You could pick a book up, and put it down; crouch down low and inspect another, flipping through acid-browned pages; tug the spine of a new one back so it fell in your palm like fruit. I loved the breadth of the Library of Congress classification system; the microfilm reels; the close-packed sheafs of microfiche; and the kingdom of government documents that followed a mysterious order called CODOC.
I got to know and love every floor: the grim black volumes of Sociological Abstracts, the tidy narrow issues of Foreign Policy, the crumbling Canadian Geological Survey; the Statesman's Yearbook, House of Commons Debates, the Reader's Guide to Literature. I knew where to find T.S. Eliot criticism, or music scores, almost instinctively: the books themselves were like the bark of trees, shrubs, or the plumage of a birds.
In the wild, you sense a space that sprawls around you; in a library, you sense that too, but vertically. Just as a creaking sequoia hints of an age beyond your own, a library is silent but constantly achatter: past and present voices interweave in a living throng of thoughts, disputes, and stories.
At the John M. Kelly Library, I still roam bookshelf ranges whenever I can. But much more often I forage in catalogues, ebooks, websites, and databases. Together, students and I swat virtual branches, wade through virtual swamps, and sometimes feel lucky after a rocky climb to glimpse a virtual view.
*
Thinking seems to me best undertaken with idleness, so that the mind can adjust to off-putting ideas, implications, connections, and consequences. Idleness, yes, and boredom: I don't mean the lazy type but the patient kind—an appreciation of slowness as soil for understanding. Yet students are pushed to consume vast wads of text and other media; profs must sweat to publish enough to meet their tenure requirements.
New shoots in the wild feel no such pressure: they unfurl when they are ready, and why is the world any worse off for the wait?
Your blood right now is bustling through your body, drumming an urgent unrepentant metaphor for life. Wherever you are—in thought, in book, on foot—a forest stands and threatens with its welcome: birds call, squirrels start or scuttle, oak or book spines creak or crack, and the footpath meanders into mystery. I believe it, even at home, with COVID prowling the streets, and spring unzipping campus with relief in every leaf.
---
Read other InsightOut posts.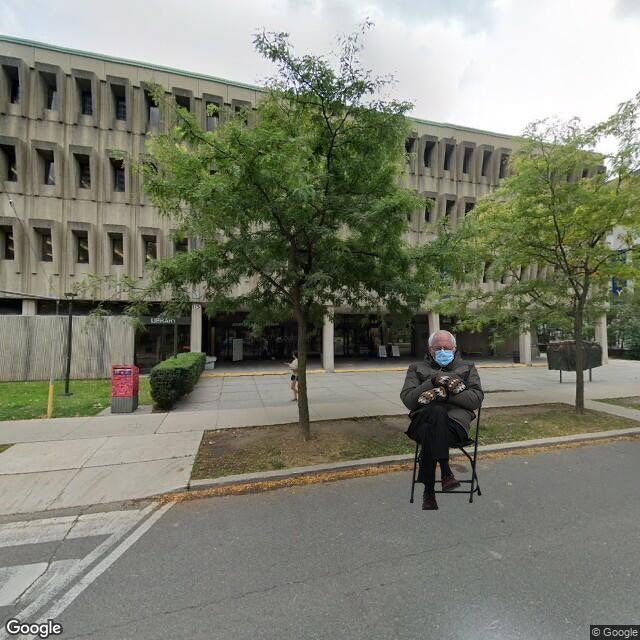 Although Ontario's stay-at-home order has required the first floor of the John M. Kelly Library to be closed to outside visitors, its curbside pickup service continues to provide students, faculty and staff a way to access books in the collection. Other services continue to be offered in an online format.
To support the community's access to materials while also following public health guidelines, Kelly Curbside Pickup runs Monday to Wednesday from 10 a.m. to 4 p.m. Patrons with a valid UTORid will be able to submit a request through the UTL catalogue for any physical items in the collection not already available through the Hathitrust Digital Library. When the materials are ready for collection, patrons will receive a pickup notice by email.
Visitors using the service will queue in a waiting area and then proceed to approach the window near the book return slot under the awning of the library, and boxes marked with tape on the ground will indicate where patrons should wait in order to maintain a safe physical distance. All pickups will be handled outside. Patrons who cannot come in person can place a note in the catalogue request for their friends or family members to pick up materials for them.
As the winter semester continues, students can also request research assistance and writing help, with a variety of services available through one-on-one appointments conducted online. Due dates for all UofT library materials have been extended to April 30, 2021, although books can still be returned through the library book-drop at both the Kelly Library and Robarts.
The Kelly Library has made available full instructions for using the curbside pickup service, including health and safety guidelines and FAQs.
James Roussain begins a new role at the John M. Kelly Library this January as the Interim Head of Public Services, a change from his position as Outreach and Instruction Archivist, which he has held since 2017. Prior to joining the University of St. Michael's College, James worked at Scotiabank, where he was involved in the maintenance and deployment of the corporate records management program. At the Kelly Library, James assists students with their research, exposes students to the treasures in the Kelly Library's Special Collections, and teaches in the college's Book and Media Studies program. James is a past president of the Archives Association of Ontario (AAO) and the Toronto Area Archivists'Group (TAAG). In his spare time, he is pursuing a Master of Education in Higher Education at the Ontario Institute for Studies in Education (OISE). He holds a Master of Information degree from the University of Toronto's Faculty of Information.
---
On Jellyfish, Loneliness, and Learning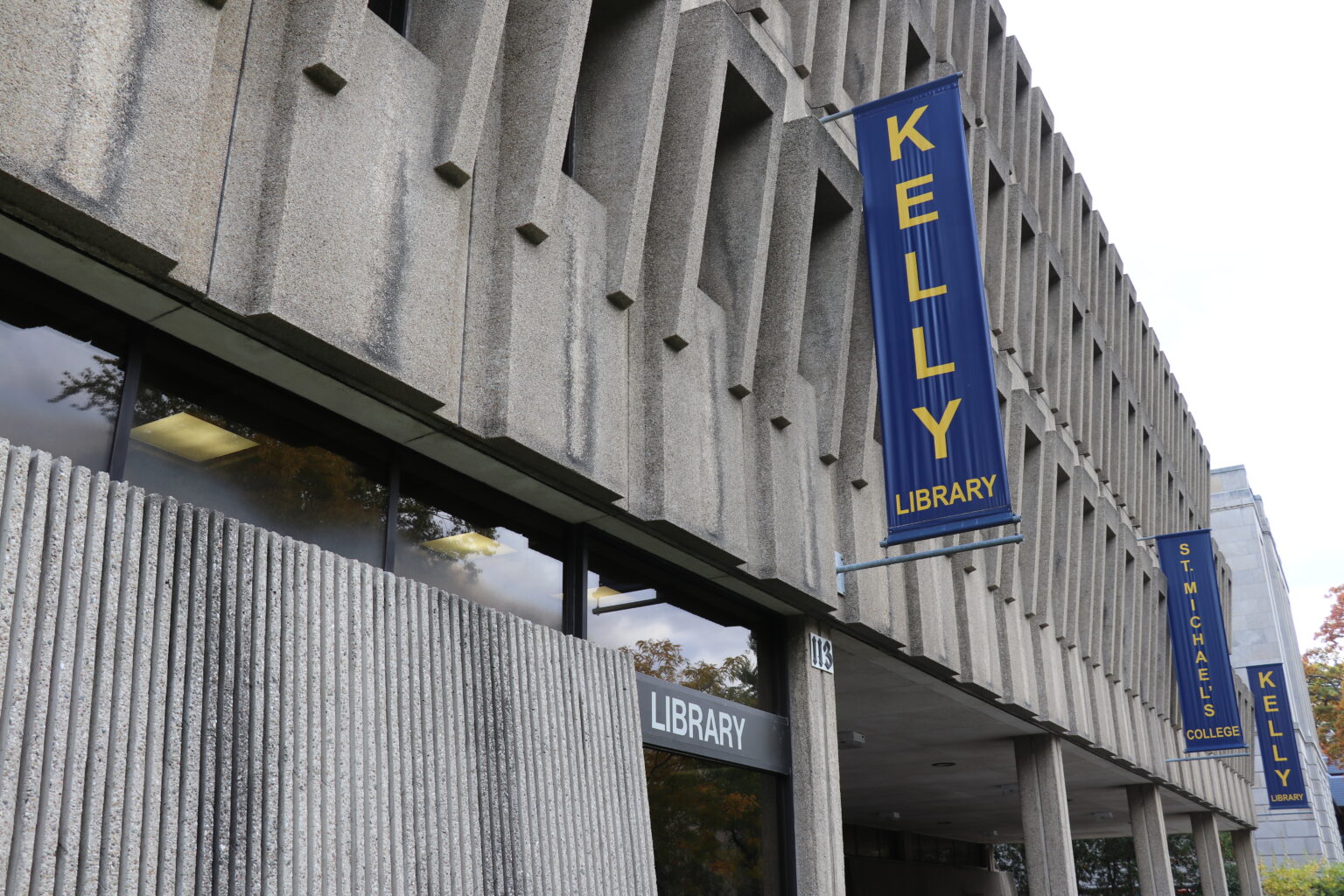 As the new semester gets under way in the coming days, it is important to take a step back and think about those we are working to support: our tireless and dedicated students. With our new reality of living apart and working remotely becoming just that—our current reality—we need to remember that these are indeed strange and stressful times not just for us but for our students, too. As a librarian at the Kelly Library, I am fortunate to work directly with students assisting them in their research, writing, or in navigating the complexities of the University of Toronto's immense library system. For many, the library is an intimidating space in the best of times. Compounded with the challenges of remote work and a lack of helping hands, finding resources and completing research has never been more challenging, especially so for many of our first-year students, for whom the academic library is an entirely new entity.
During the fall semester, the Kelly Library, in partnership with the Principal's Office, hosted twice-weekly Research and Writing Help Drop-In sessions, where students were able to join us—remotely—for one-on-one assignment help. With two writing instructors at my side, we would greet students and, using private break-out rooms, answer as many questions as possible over a two-hour period. What started off as a way to accommodate students who were unable to snag longer scheduled appointments grew into a window on our students' lived reality: too many due dates, a mess of assignments vying for their attention, and an overwhelming sense of isolation and, at times, loneliness. Logging in from their living rooms, kitchens, bedrooms, and sometimes an enviable patio, students shared with us their frustrations in working alone and, for many, navigating time zones and poor internet connections. This has not been an easy time.
As I helped students find articles, tidy up citations, or figure out the best keywords for their upcoming essay on, say, vestigial traits in jellyfish, I grew to realize two things. The first—and perhaps sacrilege to our faculty readers—is the trivial nature of our work during these incredibly challenging times. In more than one occasion I felt the need to reassure students that while, yes, your essay is important, so too is the need to care for yourself and reach out to others. This is not to say we must lessen academic rigour, but rather carry a realistic understanding of what is possible. The second thing I learned is how little I know not only about jellyfish but about every single topic brought to me during these drop-in sessions. The level of academic achievement on our campus is truly astounding. There has not yet been a case where working with a student on their research has not taught me something new, and for that I am thankful.
In looking ahead to the coming semester and the challenges it will surely bring to our students, especially those graduating into a world of social, political, and simply logistical unknowns, we need to work together to ensure empathy and perspective are at the front of our minds. The rise of mental health programs and services on campus—so well advocated for by our dedicated students on SMCSU—brings overdue awareness to the importance of creating community wherever possible. Week after week, soon after logging in, the same group of students would join our drop-in sessions. Some came for detailed questions on style and structure, while others came just to check in. We created community in the most unlikely of places: a Zoom call focused on academic research and writing help. Who knew? In our own unique way we forged a space where students could share their frustrations, get some help, and see a familiar face at the same time. It is easy to get caught up in administrative matters, the daily to-and-fro of emails and meetings, or the challenges of bureaucracy. Take a moment, as often as possible, to guard against these blinders and seek our community. Or, if so inclined, check in with our students and ask them how they are doing. What may be seen as a hollow "How're you?" during pre-COVID times may now carry more weight than you know.
While the library's stacks are closed for the time being, our dedicated staff remains available to help. We strive to place the student experience at the centre of our work and tailor our collections, services, and spaces to offer them an inclusive, welcoming, and supportive environment—both in a physical and virtual sense—where they can flourish during their time on campus. In my own role within the library, and my small role on the University of Toronto campus, I am proud to have the opportunity to work daily with our students and to learn alongside them.
---
Read other InsightOut posts.
Simon Patrick Rogers is the special collections archivist at the John M. Kelly Library. He earned his Master's degree in Information Studies (archival stream) from the University of Toronto in 2008 with an additional specialization in Book History and Print Culture. He has extensive experience processing, arranging, and appraising archival materials and is also active as a faculty instructor for the Book and Media Studies program at the University of St. Michael's College. He currently serves on the University's Collegium. He has published numerous articles on diverse topics including archives, municipal history and architecture, music, literature and the field of monetary appraisal.
---
A Busy Fall for Kelly
It has been a busy fall in the Kelly Library's archives and special collections, at the end of a long, tumultuous year full of upheaval and trial. In spite of the closure of the rare book reading room to researchers, we have been active behind the scenes with some exciting new acquisitions to the collections.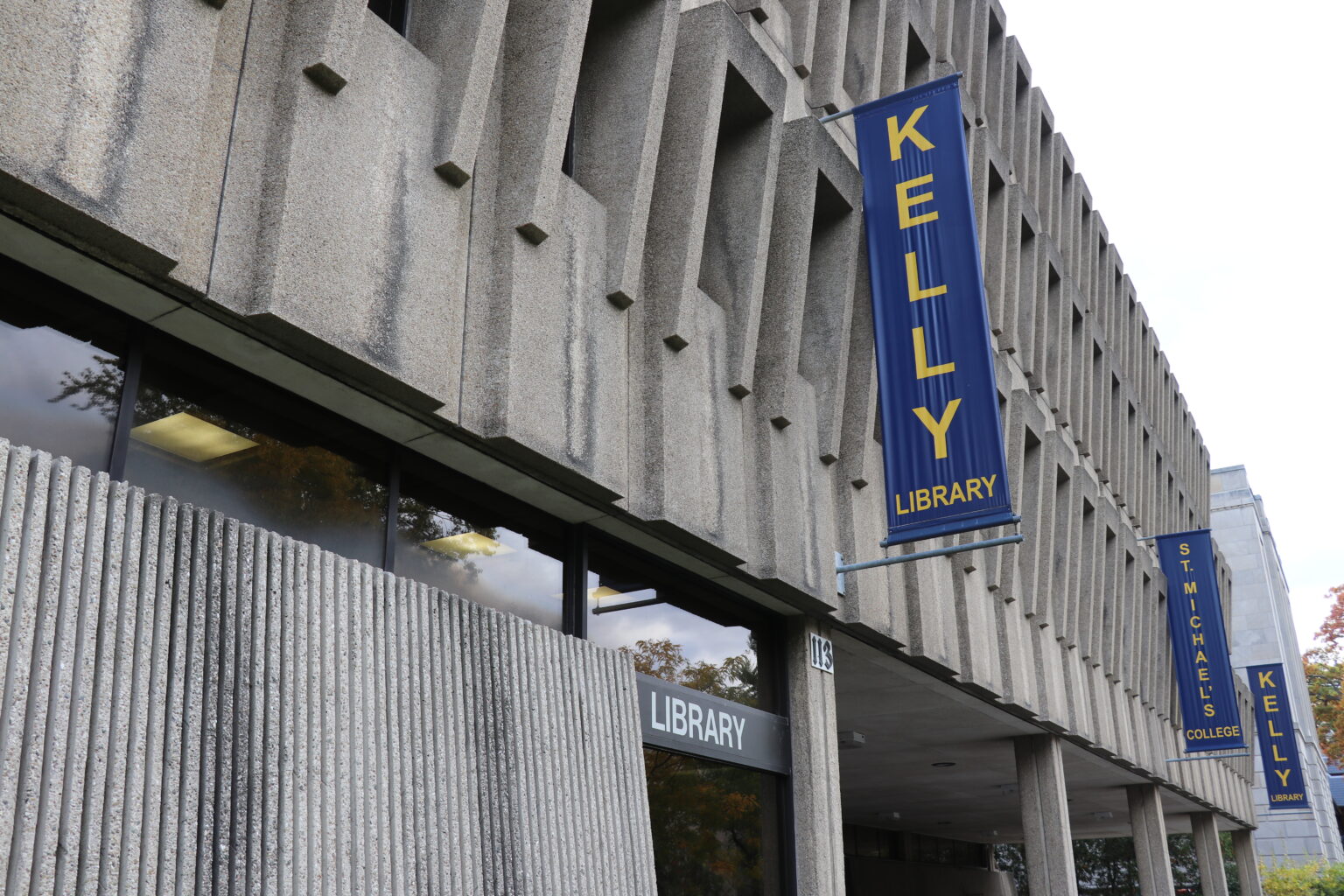 A major accomplishment for us was receiving a wonderful donation of photographs for the Henri Nouwen Collection from San Francisco-based photographer Kevin F. Dwyer, a gift which includes some of the best photographs taken of Nouwen just before his death. A formal announcement of the acquisition, complete with a look at some of the photos, will come in January, 2021.
In other Nouwen news, we have hired a new processing archivist to work on the backlog of Nouwen materials, and especially to focus on important collections of letters and materials collected posthumously in the archives. The successful candidate for this position, Teresa Wong, started on December 1st and joins us most recently from the completion of a prestigious internship at the Getty Institute in California. The position was made possible by a generous donation from Henri's brother Laurent Nouwen, and the Henri Nouwen Society. We are very excited to begin work on these important collections and to make available for the first time new collections to researchers online through the discover archives database and Collections UofT portals.
I am also delighted to announce the recent acquisition of the administrative archives of the Canadian Alternative Investment Cooperative and Foundation. This important organization in the history of social justice in Canada began in 1984 and recently finalized its dissolution. The archive will provide researchers new insights into Catholic social movements in Canada inspired by responses to Apartheid and to the Second Vatican Council of the 1960s. The co-op's mandate was to work with registered charities, non-profits, and co-ops to promote alternate economic structures leading to long-term structural change in underprivileged and marginalized communities. They managed loans and financing for a whole range of social enterprises across Canada, including many thriving and firmly established cooperative businesses still in operation. These papers will complement our other social justice collections, such as the L'Arche Canada and L'Arche Daybreak collections, and the papers of the Catholic New Times journal.
There are some further donations in the works, too, that I look forward to announcing in 2021. It has been exciting to build our collections and work with the donors to understand the histories and backgrounds of these new archives.
As we concentrate on working from home, I have been able to do some more direct research work with patrons, especially with providing access to already-digitized materials. Unfortunately, many of the archival collections are not yet digitized. Sometimes this is because of access restrictions or copyrights, but other times materials could be made more digitally available. We have been assembling the equipment to build a digital preservation studio in the Kelly and building the in-house capacity to digitize and preserve those items that can be digitized. We already have the equipment to digitize many of the most common kinds of media we find in our collections, such as photographs, textual records, legacy material on floppy disks, and other born-digital collections, as well as all kinds of audio and video formats. It is exciting to be a part of this process, especially now as we see more and more materials coming into archives that require some kind of digital preservation just to access their contents. It can be a little like detective work to even figure out the software formats of legacy media, and the process of digitization can also be a little like conservation work, as materials are cleaned or restored where damage to the original media format has taken place over time.
Personally I miss the office. A lot of my work is very dependent on having physical access to the collections and, like many of my colleagues, I am feeling the long haul of logging so many computer hours and interacting virtually through video meetings. I also miss the camaraderie of the office space and the kinds of connection that I can make through chatting and small talk with my fellow librarians over my daily pilgrimages to the coffee maker or the staff dining hall.
It has not been all bad, however. I am more mindful and appreciative of life at home and am blessed to have had this extra time with my wife and son. We did some garden projects this spring and summer and enjoyed the harvest. We went camping when we could. I bought a really nice hand-cranked coffee grinder and do a virtual exercise class in the mornings with a great trainer in Ottawa. In some ways this attention to the routines of domesticity is very much like archival work. I hope we can all maintain some appreciation for simple pleasures as we look forward to life after COVID.
---
Read other InsightOut posts.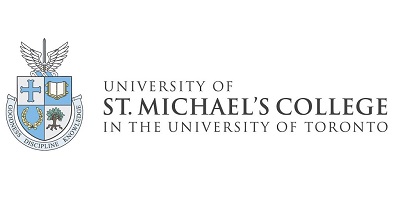 November 2, 2020
A generous gift from the Henri Nouwen Legacy Trust to the University of St. Michael's College will help make the work of the beloved spiritual writer more accessible to researchers and readers around the world.
The funding will support a 12-month contract for an archivist to process the Henri J. M. Nouwen holdings in the Archival and Manuscript Collection housed in the university's John M. Kelly Library. A search to fill the position is now under way.
Working with library staff, the archivist will handle the preservation, arrangement, and description of various materials, as well as promote their existence and add them to web-based finding guides. The position holder will also digitize materials so that the wealth of books, letters, promotional and related materials in the collection will be easier to access.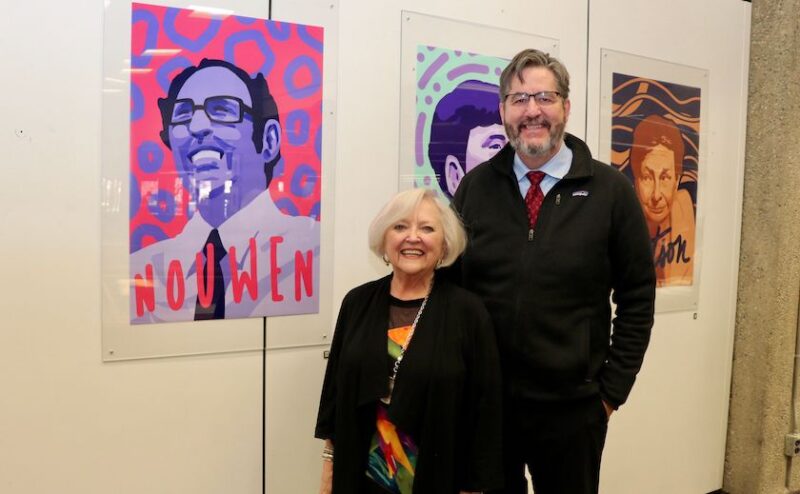 "We have always been grateful for our partnership with St. Michael's, and this position will help open up Henri to a whole new generation," says Karen Pascal, who is the Executive Director of the Toronto-based Henri Nouwen Society. "Henri's writings touched people's hearts, and demonstrated that vulnerability is part of leadership. As St. Mike's works to create new leaders, this is a perfect fit."
University President and Vice-Chancellor David Sylvester is delighted for the continued partnership the funding acknowledges between the society and St. Michael's.
"The University recognizes and appreciates that this gift builds on the Nouwen Society's longstanding support of the collection, and we share the commitment to ensuring the collection is preserved and made available to scholars, students and the wider community," he says. "We look forward to welcoming the new archivist, and to continuing the conversation about other possible partnerships."
More than 100 researchers accessed the popular collection last year, and John M. Kelly Library Archivist Simon Rogers notes that the funding from the Nouwen Legacy Trust will help to increase the discoverability of its materials. It may become possible "to surface previously unprocessed materials including photographs, audio-visual archival materials, personal correspondence and oral history recordings," he says.
"We are excited that we are going to be able to give focused attention to these materials, allowing broader engagement for the larger Nouwen community," Rogers says, adding that the library archive anticipates new materials, including letters and photos, to be added to the collection soon.
A priest, pastor, professor and writer, Henri Nouwen was born in Holland in 1932. A prolific author, he produced dozens of books of spiritual reflections during his life, with more than seven million copies of his works sold. His writings were varied, reflecting on everything from Rembrandt's depiction of The Prodigal Son through to Thomas Merton, the topic of aging, and a sabbatical year Nouwen spent living at a Trappist monastery in upstate New York. His vast career saw him teach at Harvard and Yale's divinity schools and live with communities on the margins of society. He spent his final years at L'Arche Daybreak, a community for people with developmental disabilities, just north of Toronto. He died in 1996.
Sr. Susan Mosteller, C.S.J., who served as executrix of Nouwen's estate, donated the archival material to the Kelly Library in January, 2000, and the archives were officially opened later that year. With a mandate to collect, preserve, and support archival material on Nouwen, the archives hold more than 16,000 letters, various sound and video recordings, a complete set of his published books—including translations—and a comprehensive collection of articles published by Nouwen between 1957 and 1996.
"Henri died before the explosion of the Internet," says Pascal. "He was a prolific letter writer and felt letters were part of his ministry. He wrote to all sorts of people. Accessing more of these letters, for example—and making them available to researchers—will teach us so much about him, because there's still so much to learn."
Risa de Rege is a library technician at the Kelly Library. She has a B.A. in history, art, and medieval studies from the University of Toronto, and is currently a master's degree candidate at the Faculty of Information.
---
The Ups and Downs of a Paradigm Shift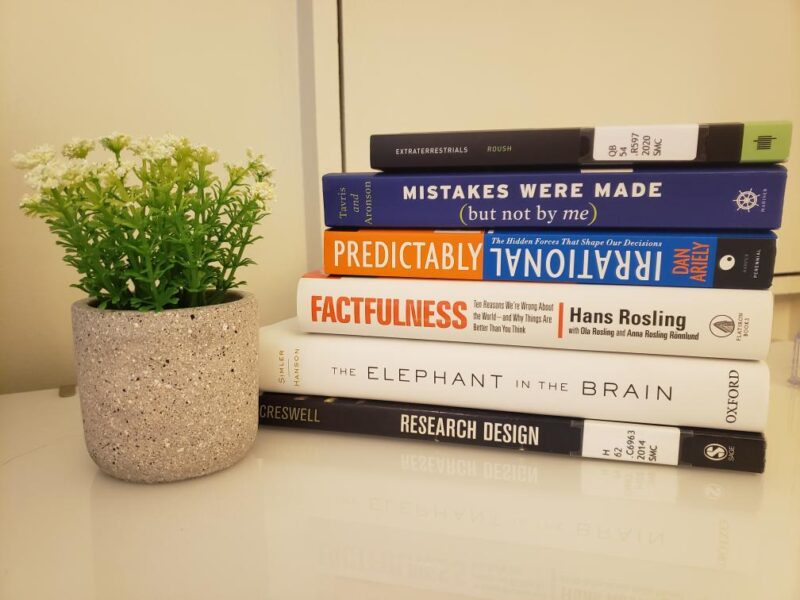 The past year, and the unwelcome pandemic that came with it, has brought a lot of change to my life. Usually I'm a person who is happy with things the way they are, but every now and then the paradigm shifts, so here I am. Since January I've started a new job here at St. Mike's, seen my hobbies completely change for the foreseeable future, and enrolled in a graduate program. Nothing is normal, and every day I feel the stress of a global disaster. But maybe the British were on to something with "keep calm and carry on."
I'm no stranger to libraries. I worked at Victoria College for several years at the circulation desk, and in 2018 joined USMC as a processing clerk in the technical services department. A few years ago I decided to make a career out of this experience, and recently finished my library technician diploma. In January I had the pleasure of joining Kelly's access and information team full-time—only for us to shut down about 10 weeks later. After a few months working solely from home (probably the longest I've gone without visiting campus since high school), I was back on-site to help with shifting in anticipation of an ongoing construction project. I then helped with curbside pickup and, more recently, re-opening for study space. Not exactly how I imagined my career really taking off, but sometimes that's just how it is.
Working from home offers more flexibility and no more time lost to commuting. I have a bit more time to myself, but nothing to do with it. Outside of work and school I spend most of my time singing opera, a hobby which for obvious reasons will not be coming back anytime soon. A trip to perform in England this summer was postponed to a healthier year, and I have many friends whose shows, if not whole seasons, were cancelled. I have been singing virtually, though. While unfortunately my local opera society has not ventured online, I've rejoined the Toronto Mendelssohn Choir, which is producing a virtual concert season, and I continue to sing with a community choir which has adapted marvellously. This all-ages, all-abilities group generally sings music written specifically for it by local composers. While singing together live on Zoom is basically impossible due to a host of technical issues, our current composer-in-residence is creating music specifically with this situation in mind. It's been fun to explore music this way, but it's not the same. It's really articulated to me that I sing not only for love of the art form but for love of the people I sing with.
One true advantage of COVID is that working from home means I can foster kittens. I've fostered adult cats for years and now have my own, a tabby named Autumn who I picked up the day after Kelly closed. But now, being home most of the time means I'm here to keep an eye on things (I love cats, but I don't trust them). I started taking in kittens in July, and I'm on my second pair now: two brothers who have a mild neurological condition that affects their balance and motor skills. Among all the stress of a global pandemic, a million dead, a looming election, an environmental crisis, etc., it is extremely grounding to take care of two sweet, vulnerable babies and know that I am giving them a second chance at a happy life. Sometimes all the good we can do is small, but that doesn't mean it doesn't make a difference.
Another thing I've started during COVID is my master's degree at the Faculty of Information. While I'm grateful that the Faculty committed to an entirely virtual semester early on, an entire graduate program quickly moving online is not without its difficulties. But I was eager enough to start that I didn't want to delay another year just on the off chance that in-person courses might return in the fall of 2021, and I don't regret it. It's nice not to have to worry about commuting any farther than across my bedroom to my computer desk. And while online classes are still pretty structured, there's a bit more flexibility to go at my own pace. I did my library technician diploma completely online, through Mohawk College, and it was an entirely different experience that I found very positive. Classes designed to be delivered online are very different from classes designed to be in-person that get thrown into Zoom. Everyone in academics has described this year as a "learning opportunity." What we learn from it remains to be seen.
The biggest downside is that communication is much harder and mostly relies on the strength of one's internet. With professors still encouraging group discussions as a major part of classes, I've found that a lot of my time is spent trying to hear someone over background noise or a bad connection. Due to either bandwidth or shyness, few people have their cameras on so it's been very difficult for me to feel like I'm getting to know anyone. If there's one thing COVID has taught me, it's how much I rely on casual social interactions: chatting before class starts; stopping by a former workplace to catch up; and the subtle body language and facial expressions that contribute so much to conversation. In some ways staying behind a computer is good for social anxiety; in other ways it's far worse.
Still, things have been okay. I want to do a thesis and I've been able to start refining my ideas and doing some preliminary research this term. I'm interested in fringe beliefs, like conspiracy theories, the paranormal, or pseudoscience, and why people believe in these things. While I'm pursuing this mainly out of personal interest, it's not hard to justify why understanding science resistance is pretty important in the current state of things. If we ever want to go back to learning in-person, we need to get more people on board with the latest epidemiology.
---
Read other InsightOut posts.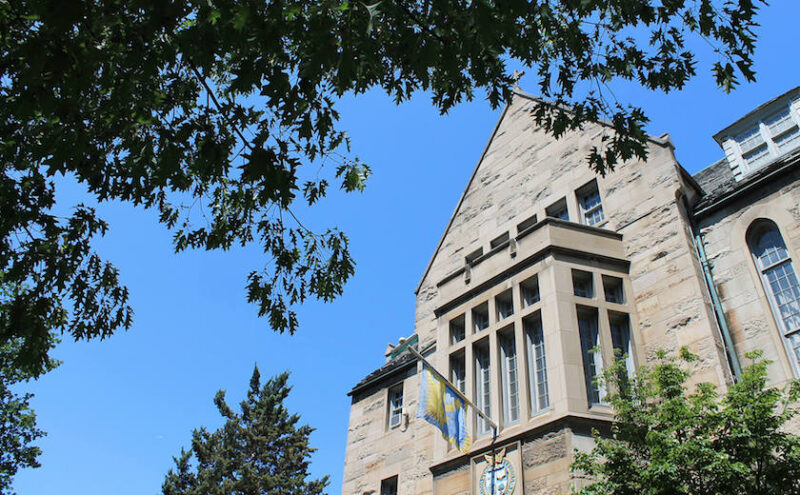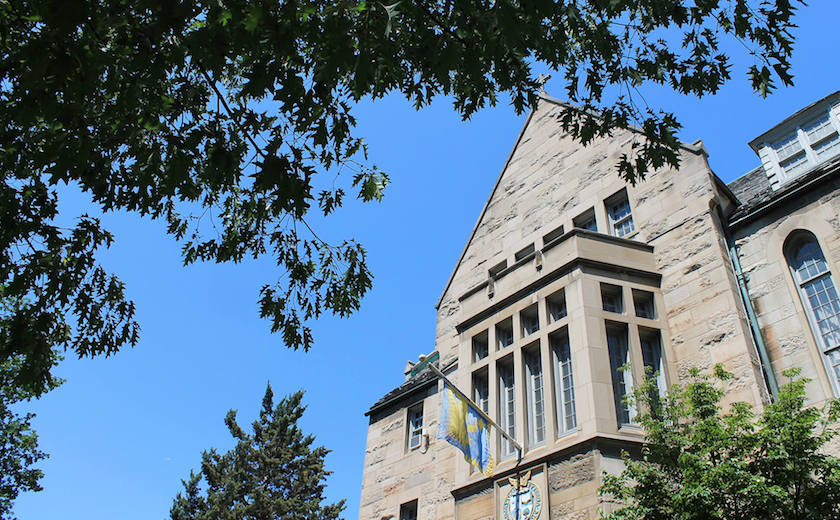 St. Michael's unique community owes much to the people who have worked at the College and contributed to its culture over many years. Employees who this year celebrate work anniversaries ranging from 5 to 30 years were honoured by the College with service awards.
Many of those honoured this year belong to Facilities & Services and the physical plant, including Steve Craig (10 years), Isabel Louro (15 years), and Irene Wiseman (15 years). These departments were among the few that remained largely on campus over the summer to provide essential services, focusing on health and safety.
Members of the Office of the Principal and the Registrar's Office include Jean Talman and Guillermo Mejia (both 30 years), representing decades of faithful service to St. Michael's students in sorting out everything from questions about program requirements to the logistics of convocation. Given the Office of the Registrar's fast transition to remote service delivery in response to COVID, it remains possible for even a veteran of 30 years in the department to experience something new at work.
The list of honorees also includes admired professors such as Christianity and Culture's Michael O'Connor (15 years), esteemed members of the Kelly Library such as Remi Pulwer (15 years), and staff and faculty from still other departments whose work continues to strengthen the bonds of St. Michael's community even in a time of physical isolation.
In addition to these figures who continue to serve, St. Michael's also honours two members of the community who have concluded their work for the school. Fr. Peter Galadza retired from his position as Director of the Sheptytsky Institute of Eastern Christian Studies this summer. In addition to decades of teaching and research at the institute, he oversaw its transition to St. Michael's from St. Paul's in Ottawa. Debra Matthews in the Office of the President concluded her career at St. Michael's this year as well after providing direct support to three presidents during her tenure. She has retired in order to spend time with another community: that of her children and grandchildren. St. Michael's wishes both Fr. Peter and Debra all the best in their next chapters.
Noel McFerran has worked as a librarian at the University of St. Michael's College since 1998. His current position is Theology and Rare Books Librarian.
---
"Be Right Back!"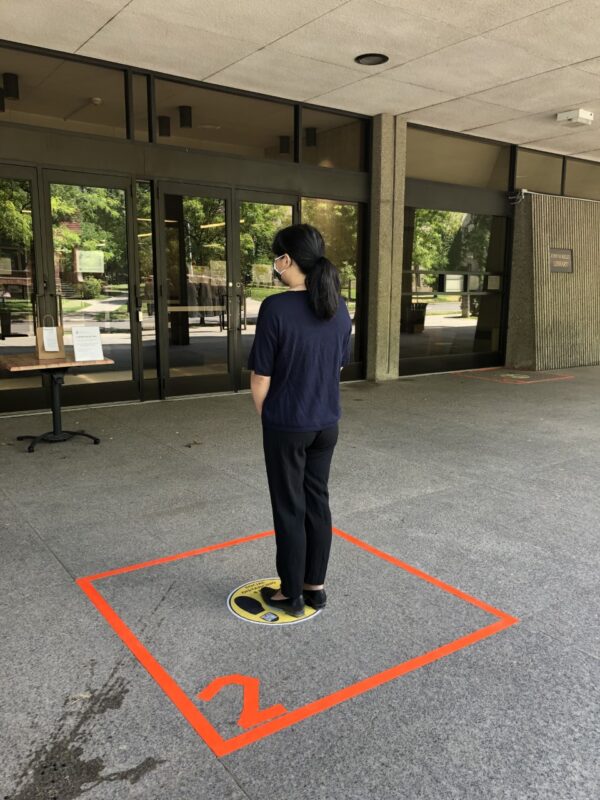 I spent last Wednesday morning in the Kelly Library providing curbside pickup service to faculty and students. As a librarian, it was exciting for me to see the library taking further steps to provide library materials to patrons while maintaining the health and safety of everybody involved.
Since mid-March I've been working from home, keeping very busy responding to emails from faculty and students about their course work and research. Wednesday was one of my first times back inside the Kelly Library. The most important thing was to be trained in how to function in my regular work environment during a pandemic. I thought that I knew all about social distancing, wearing masks, and sanitizing hands—but it's so much more important in a workplace where there are other staff using the same desk and equipment. Just like in the supermarket, we're maintaining a one-way route in the library in order to reduce face-to-face encounters between staff.
Every day the Kelly Library receives a computer-generated list of books and DVDs which patrons have requested through the UofT Library Catalogue. One staff person looks for these items on the shelves. Most items are where they are meant to be, but occasionally we have to search for something which has wandered from its regular home. Items then get checked out to patrons. Right now all items are signed out until September 18, 2020.
Another Kelly staff person, working from home, sends personalized emails to patrons telling them that their books are ready to pick up. Sometimes patrons respond with special requests (e.g. "Can a friend get my books for me?").
At present patrons can pick up their requested items at the Kelly Library anytime Monday to Friday between 9:00 a.m. and 4:00 p.m. The pick-ups ebb and flow. I filled the low periods with other library work to keep myself busy.
The first encounter between a library patron and staff is through a glass wall where the patron shows their library card. (I had real difficulty reading the card through the glass, so I might need to make an appointment for an eye exam!) You can't really hear people on the other side of the glass, so we have various printed signs which communicate the most frequent things (like "Be right back").
Staff retrieve the patron's bag of books and place it on a table outside the library under the overhang. Even then there is reduced interaction between staff and patrons. Smiling doesn't mean so much when you're wearing a mask, so I tried to wave in a friendly way.
The response from faculty and students to the Kelly Library's curbside pickup service has been very positive. My colleague Risa de Rege, who has worked many shifts in the past week tells me, "People have been very grateful that we're offering curbside pickups, and are also respectful of our space and policies." In the first week, 76 patrons submitted requests for 141 items. As more people learn about the service and how easy it is to use, that number is likely to increase. So far, though, we've been able to respond quickly to requests.
Nobody wants the COVID pandemic to go on any longer than it has to. But for the present and near-future, the Kelly Library is developing solutions to continue to provide library service to our faculty and students. I love being a part of that, knowing that my work contributes in a small way to the academic success of others.
---
Read other InsightOut posts.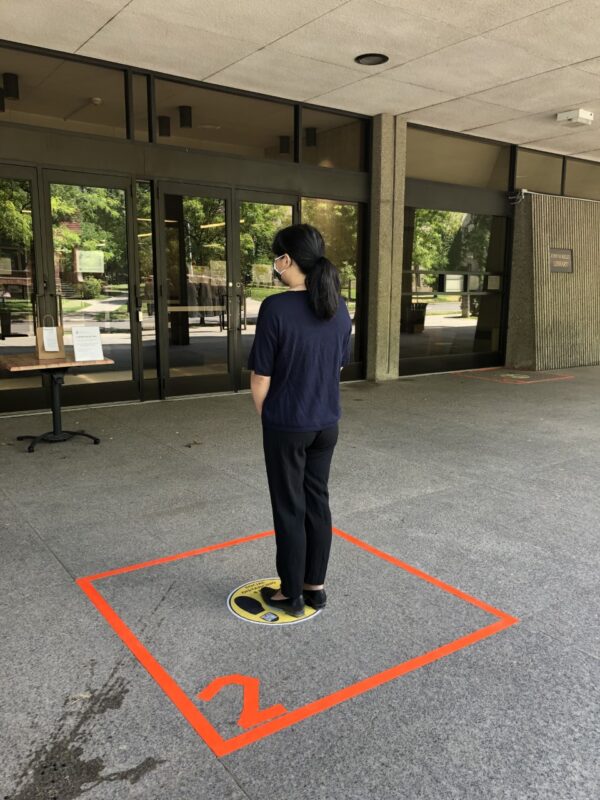 Kelly Library patrons can once again hold physical books from the collection in their hands through a new curbside pickup service.  
To support the community's access to materials while also following public health guidelines, library staff can now accept requests from any patron with a valid UTORid through the UTL catalogue for select physical items in the collection that are not held in the Hathitrust Digital Library. These items are then made available for pickup in a safe and appropriately distanced manner.
"Curbside pickup of materials is an exciting move toward reinstatement of our services and in our ongoing effort to support students and faculty," Chief Librarian Sheril Hook says. "As we launch and evolve the service, the health and safety of our community is a top priority, with safety precautions implemented at each step of the borrowing process, following guidelines outlined by the University of Toronto Libraries and Toronto's public health authorities."
After they receive a pickup notice from library staff, patrons can visit to pick up materials between 9 a.m. and 4 p.m. Monday to Friday in front of the library. Visitors using the service will queue in a waiting area and then proceed to approach the window near the book return slot under the awning of the library, and boxes marked with tape on the ground will indicate where patrons should wait in order to maintain a safe physical distance. The library will not be open to visitors indoors, and all pickups will be handled outside. Patrons who cannot come in person can place a note in the catalogue request for their friends or family members to pick up materials for them.
The service makes available materials that have otherwise been inaccessible to patrons in any format during the pandemic. In addition to the physical items now available for curbside pickup, patrons can request a PDF scan of a single book chapter or journal article from the library's circulating collection not available through Hathitrust. Physical items being lent out will be due back by August 31, 2020, although this date may be updated as plans continue to change during closures.
The Kelly Library has made available full instructions for using the service, including health and safety guidelines and FAQs.  
Jessica Barr is the University Archivist and Records Manager for the University of St. Michael's College. She is a graduate of the University of Toronto (New College 0T9, Faculty of Information 1T1), and spent much of her time as a student studying in the John M. Kelly College Library. Not much has changed, except her desk's location in the library.
---
Archiving St. Mike's in Quarantine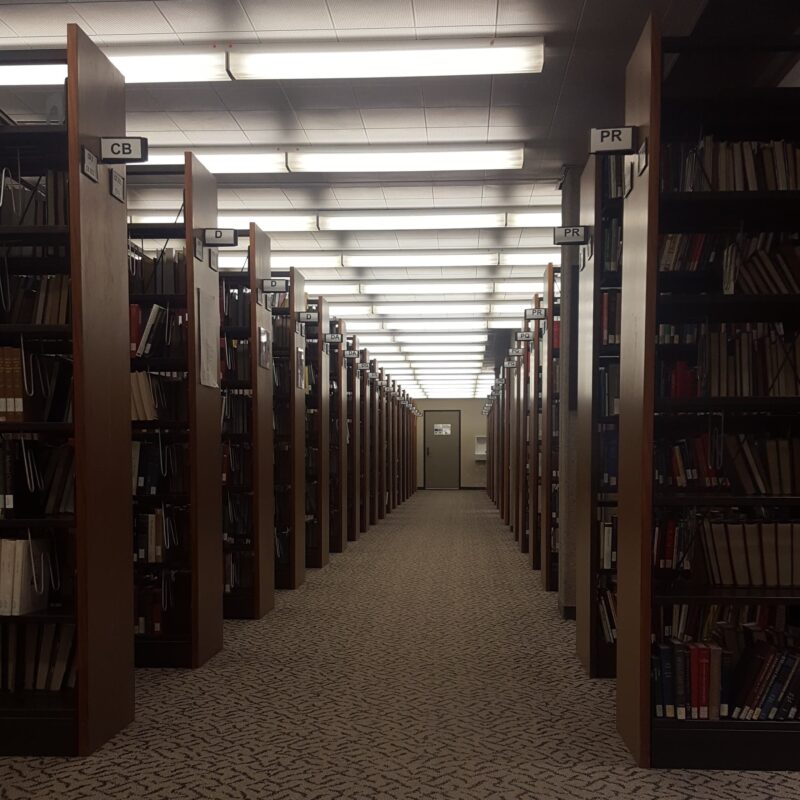 The University of St. Michael's College Archives is tucked in a corner of the third floor of the John M. Kelly Library. The Archives preserves the official records of the University, including records from the offices of the President, Principal, Faculty of Theology, Pontifical Institute of Mediaeval Studies, and Continuing Education program. We also have papers from faculty, records about some alumni, student publications, and an extensive collection of photographs. More recently, I've written a survey to capture the experiences of our community during the COVID-19 pandemic (but more on that later).
Much of my time includes hands-on work with the paper records that contain the history of St. Michael's College: I arrange transfers of records from donors, I make sure the archival materials are properly housed so they can withstand many of the tests of time (including damage from light, pests, or mould), and I create digital inventories with written descriptions of the materials so they can be accessed by researchers. I also respond to reference requests from researchers near and far—some are looking for information on alumni who attended St. Michael's, some are conducting academic research using papers written by faculty, and some are simply interested in our history as an academic institution.
Since mid-March, however, I have been working remotely, like many of my St. Michael's colleagues. So how do I archive materials without physical access to the archives? With the help of the IT departments at St. Mike's and the University of Toronto, I have been able to maintain access to my network drives and my digital records. These records include my digital inventories of the collections held in the archives and more than 1500 digitized photographs. This means I can continue to respond to many reference questions, including a recent query about the date the clock was added to the Elmsley Hall tower. (It was 2005, in case you are wondering.) I can also update inventories and spreadsheets to make them more accessible for future users, or upload them to the website; update policies and procedures; coordinate with colleagues on questions related to records management; finally clean up my hard drive; and convert already digitized materials to more usable file formats.
During this time of quarantine and pandemic, I have been wondering how the archives can preserve this point in history. I find myself asking: What do I wish we knew about the 1918 pandemic at St. Michael's? What was that period like for our students, staff, faculty, and alumni? We are able to gather some information from administrative records and yearbooks, but we don't have very many first-hand accounts. In response, I have been actively archiving the digital records created by the administration over the past three months, including public emails and the St. Michael's website. In an attempt to gather eyewitness accounts of the COVID-19 pandemic, I have also written a survey to send to our community, with the goal of capturing information about our thoughts, feelings, and experiences. In the future, researchers will be able to access these answers to learn what life was like for us during this particular moment.
We invite you to submit your own answers to the survey, and any photographs that capture this moment: https://stmikes.utoronto.ca/usmc-archives-and-covid-19/
I've copied examples of my own answers below:
Name: Jessica
What is your current location: My kitchen table, Pickering, Ontario
How are you connected to St. Michael's College? Staff
How have you, your family, and community been impacted by the COVID-19 pandemic? I have been working remotely since March 12th. A few immediate family members were temporarily laid off from work, but the rest have been working remotely. We have all, thankfully, remained healthy. Many of my neighbours have been home, so we see a lot more people on walks now.
Share your experience with teaching, learning, or working remotely: I was able to begin working remotely very early on, thanks to previously-set-up off-site network access, and troubleshooting with our IT teams. Transitioning to Zoom or Microsoft Teams meetings was a bit of a challenge, since not all colleagues immediately had access to a camera or microphone. After a couple of weeks, though, we all got into a "normal" swing of things. I have really enjoyed meeting the pets and children of colleagues via web meetings.
What about your routine has changed? My gym is closed, but is offering Zoom classes to keep active. I just noticed that my bus line to get to the GO station has been shut down due to lack of ridership, so that will be a challenge when we're cleared to physically go back into work. Beyond that, I've been reading a lot of cookbooks and testing out a lot of new recipes. Luckily, I have family nearby, so I can deliver some treats to nearby porches. I would normally have a day each month to visit with my father (who lives about six hours away), but we haven't been able to travel since February.
For more information about the University of St. Michael's College Archives, please check out this link: https://discoverarchives.library.utoronto.ca/index.php/university-of-st-michaels-college-archives
Please email me you have any questions for the archivist: usmc.archives@utoronto.ca
And, if you're interested in seeing digitized copies of historical St. Michael's yearbooks, you'll find some here: https://archive.org/details/usmichaelscollege
---
Read other InsightOut posts.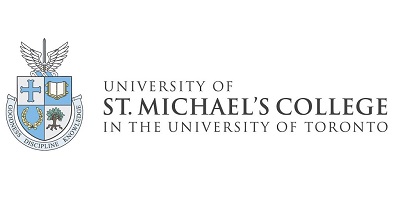 June 8, 2020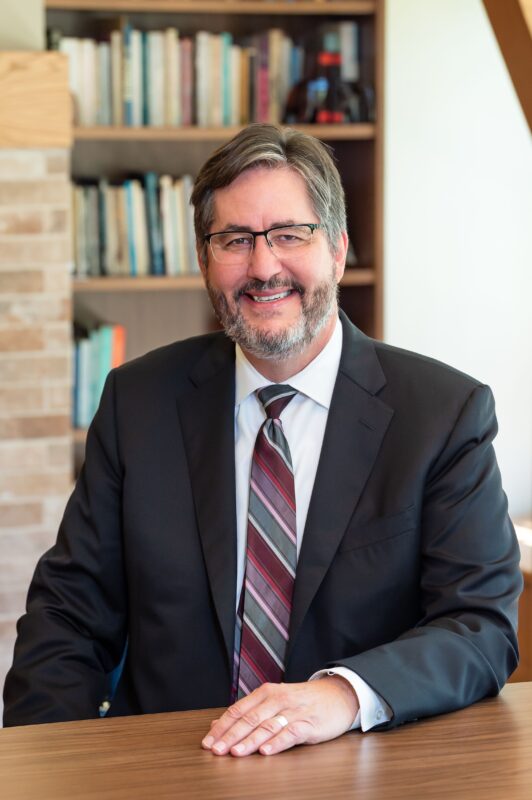 Dear members of the St. Michael's community,
I trust this message finds you in good health and holding up in these uncertain times. The 2019/2020 academic year has ended like no other, and I have watched our community respond with grace, courage and resilience to the challenges created by the COVID-19 pandemic. Once again, St. Michael's is showing that even in very difficult times, our strength and generosity marks us as an anchor of hope in our community.
Social media use of #allinthistogether has gathered traction as the world responds to COVID-19, but I am particularly struck by how, at St. Mike's, we really are in this together. Together, our students, faculty, alumni, and staff have worked to respond to these unique times, enabling classes to continue while ensuring the safety and security of campus, and the community. Students have been particularly resilient, and they have shown great understanding and patience in the face of a dramatically upended school year. As I look forward not only to the coming academic year but also to the future of St. Mike's, I am confident that the lessons learned in these challenging days will help strengthen this incredible place, a place with compassion and community at its very heart.
When it became clear in mid-March that we needed a drastic response to the looming health crisis, creative problem-solving swung into action across the University. Within days, faculty and staff began offering classes and advising remotely, and students rose to the challenge. Residence students were able to pack up and head home early. The library remained open online, even offering a town hall on research. With a dedicated skeleton staff on campus to ensure that our students who could not leave were safe and supported, colleagues began working remotely, and virtual meetings became the norm. For the first time in history even Collegium and Senate meetings moved online.
This period will forever be remembered as a time when the world faced challenges above and beyond the norm, and we offer our support to those who are suffering. For St. Mike's, the pandemic has forced us to sacrifice some much-loved traditions. We had to cancel spring reunion on campus and move to online anniversary activities, and the Class of 2020 missed out on an in-person, on-site convocation. As always, however, our community has responded with energy and hope. Whether it's our Student Life team working on a virtual orientation for the incoming class, staff in the Registrar's office taking additional time and care to respond to new and returning students' concerns, or one of our students arranging to donate thousands of masks to protect those still on campus, this community is motivated by a concern for others, and it has been deeply moving and inspiring to witness.
We were in the midst of our St. Mike's 180 planning when the pandemic hit. The pause in this project has allowed us time to reflect on our efforts to date and has affirmed what we already knew, that it is the strength of this community that is helping us weather this difficult storm and gives us hope for the future. We remain focused on our plans for renewal and I look forward to restarting conversations with you all about who we want to be as an institution and how we plan to achieve that. Obviously, we are stepping into a very different world, but St. Mike's is prepared and must take up the mantle of leadership and think of new ways to build hope for our university and society, through our academic and student life programs and through our alumni and community partnerships.
Looking ahead to the 2020-2021 academic year, much remains unknown and difficult decisions must be made in the face of ongoing uncertainty. The health and safety of our community continues to come first, as well as the ability to reopen and resume operations when we are able to do so safely. The university is also facing challenges with regard to reduced revenues, and must also ensure that it remains fiscally sustainable. In early April, we implemented a hiring freeze, along with temporary redeployments. More recently, faced with prolonged shutdowns of parts of our campus and operations the University has worked with the United Steelworkers so that employees in our Facilities and Services Department and Physical Plant Departments can self-identify if they are willing to take a temporary leave. Staff who are affected by this decision have already heard from us directly.
Despite the challenges we are facing as the result of the pandemic, we remain committed to our community and charting a path forward. We are doing everything we can to sustain our workforce and adapt as we move through this crisis. We have established an advisory group, focused on plans for the fall, and we will continue to follow advice from public health and government guidelines. The University of Toronto has recently announced a plan to support employees in working from home where possible until at least September. St. Michael's is part of this collaborative effort to achieve a gradual and safe reopening of the city's workplaces.
Fortunately, in addition to calling on the expertise of our in-house resources, we can also tap into the knowledge and best practices of organizations such as Universities Canada to help us continue to do what we do best as a centre of learning and faith committed to building the common good.
Our Collegium remains a strong sounding board and a source of advice, responding wisely and compassionately to the unique concerns raised by the pandemic. Last week, the USMC Senate discussed the impact of COVID-19 on our academic community. We head into the coming year in especially capable hands, with former St. Michael's Principal Dr. Mark McGowan returning as Interim Principal, as Prof. Randy Boyagoda becomes Vice-Dean, Undergraduate in the Faculty of Arts & Science at U of T. As well, Dr. John McLaughlin will again serve as Interim Dean of the Faculty of Theology as Dean James Ginther returns to the classroom following a leave. We are also very fortunate to have continued great student leadership, and I have already begun to work with Cianna Choo and the newly-elected executive of SMCSU.
While there is still so much we do not know about the course of this pandemic, rest assured that we will continue to communicate via email, social media and our website, stmikes.utoronto.ca, with important information about the 2020-2021 academic year and how and when the campus will reopen. Yes, we are in extraordinarily challenging times, but we are truly all in this together, and with your help St. Michael's serves as an anchor of hope, an engaged and compassionate community dedicated to serving the greater good.
I am proud to be a member of this remarkable community.
Gratefully,


David Sylvester, PhD
President and Vice-Chancellor
University of St. Michael's College
Silvia Vong is Head of Public Services at the John M. Kelly Library and oversees the Access and Information Services department. Her research interests include critical reflective practice in academic librarianship. Currently, Silvia is a doctoral student at OISE in the University of Toronto working on research related to equity, diversity, and inclusion issues in higher education.
---
A Critical Reflection on Virtual Libraries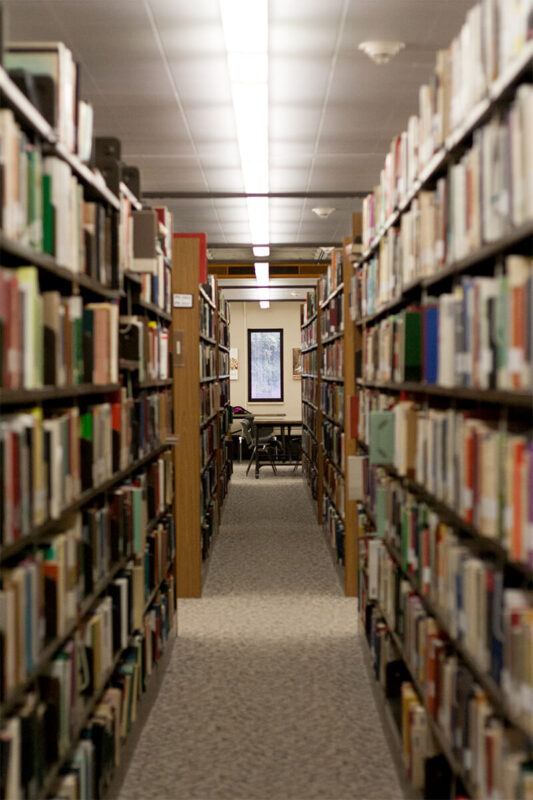 In my first year of the library and information science program at Western University, we were introduced to the idea of a code of ethics in librarianship. A code of ethics guides the values of a library professional and can manifest into actions such as advocating for open access or teaching critical thinking skills. Currently, the International Federation of Library Associations (IFLA) outlines six codes, and the one that holds the most weight for me is responsibilities towards individuals and society. This has led me to practice critical reflection in the classroom, and with our online library services.
While the coronavirus does not discriminate, people experiencing income inequalities, the digital divide, racism, and domestic violence have particularly suffered during this exceptional time. As the pandemic began, librarians began to critically reflect on access and service. Brookfield (1995) and Tripp (1993) offer insight into ways of critically reflecting, first by reviewing incidents and interactions, and then asking the following: What is the dominant view? How does this view silence other views? How does this dominant view ignore or serve dominant groups? How does it impact disadvantaged groups and what can we do to create a socially just structure to address this oppression?
In the first three weeks of the shutdown, I thought about how online access and research may inadvertently exclude some of our community members. Patrons may face financial stress during a pandemic and, in turn, not own laptops in good condition with proper software. Some patrons may not be home due to domestic violence, or be in places without Internet access. In addition, some of our patrons may not have the ability to access mental health services and other resources in the community that allow them to focus and succeed at learning. While e-books and online journals in some ways increase access, they can also create barriers to some of our community members. With social distancing restrictions in place, I struggled to find solutions that could help our marginalized community members.
As I continued to look for ways to be more inclusive, the University of Toronto was offering a session on COVID-19 through a diversity, equity, and inclusion lens. Income inequality and mental health were major themes of the presentation. However, the main takeaway was that under all the stress and anxiety that we all feel during this time, we need to remind ourselves to approach every decision-making process with empathy so that we can make socially just choices for our community.
My very inquisitive 4-year old daughter, Isabella, had overheard the webcast and peppered me with why, where, and how questions related to inequity and inequality in the university and the world. One evening, while munching away at her green beans with a furrowed brow, she paused suddenly, and her little face lit up. Isabella turned to me and said, "Mama, I know how we can make the world better. If we, and anyone with a little extra, could give it away…people with nothing would be safe from bad things." Oh my heart! My enlightened little one was absorbing my conversations and reflections on the ethical responsibility that we, as members of society, all have during this pandemic.
To put her idea to practice, Isabella and I identified a way to safely help others. We decided to donate to the Daily Bread Food Bank to give our "little extra" to someone in need. Isabella's reflective thoughts on the pandemic reminded me that while I could not make one big change to help others, I could still find several small ways to reach out and help our community.
---
Read other InsightOut posts.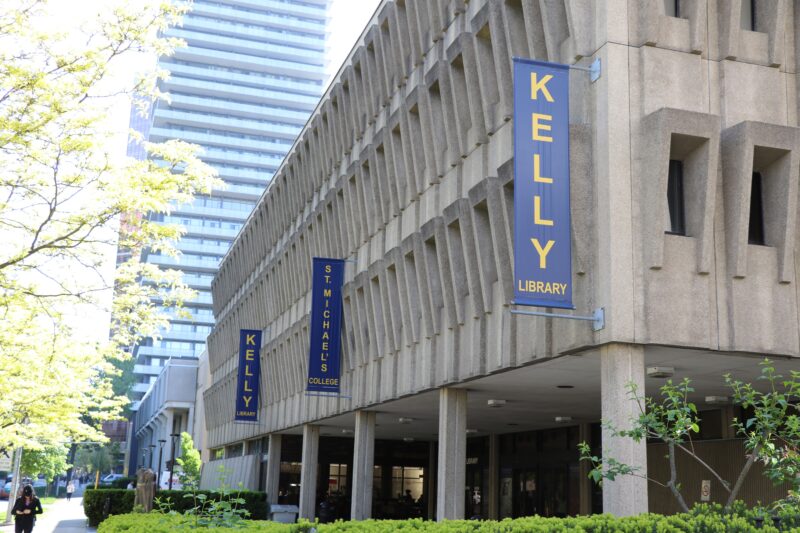 Sheril Hook, chief librarian at the John M. Kelly Library, tells the story of a University of Toronto professor calling her recently for help. The professor simply couldn't find the materials he was searching for—Syriac-Latin text editions for the Patrologia Orientalis series, as well as articles from Analecta Bollandiana. With just a little digging, she found them, digitized from the Pontifical Institute for Mediaeval Studies (PIMS) collection, which is housed at Kelly.
"U of T is one of the top research libraries in North America. I was confident I could find the materials," Hook says.
A library can be hard enough for an expert to navigate, so asking students to find resources remotely during physical distancing can be a challenge for those already stressed over papers, exams, and an uncertain summer.
In response, Hook and Noel McFerran, Kelly's Theology and Rare Books librarian, are hosting a virtual town hall on Wednesday, May 6 for students in the basic and advanced degree programs at the Faculty of Theology. The afternoon session is perfect timing for theology students enrolled in intersession courses. Eligible students have received an email with instruction on how to access the online gathering, and it will be recorded for anyone who cannot make the 3-4 p.m. time slot.
The librarians have three goals for the hour-long session, which will include a 15-minute presentation, as well as time for questions posted to the forum. First, they want to do a close look with students at the U of T catalogue, delving into some of the more advanced ways to search it to discover digitized materials.
"We'd like to show people how to find materials they didn't anticipate being online," Hook says.
Then, they will highlight materials that have been made temporarily available to students. While in this period of physical distancing due to COVID-19, for example, students can call on the HathiTrust Emergency Temporary Access Service.
The third thing McFerran wants to stress is that the Kelly librarians are constantly discovering new materials.
"Send us an email and ask us about availability," he says. "Just last week I had to say 'sorry, it's not available' to a request, but this week that material has been digitized, so I was able to help the student after all."
"This is a great new opportunity for learning," says Hook, who notes that Kelly Library plans to expand sessions in the fall semester to include undergraduate students as well. "It's important to feel comfortable in asking for help. If you can't find something, we will look for you, as we very likely have it."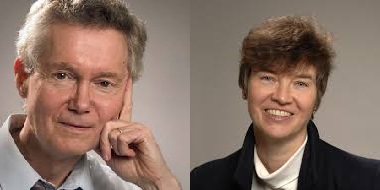 Dr. Margaret O'Gara was a doctoral candidate and Dr. Michael Vertin a professor of philosophy at St. Mike's when the two wed at St. Basil's Church in 1976. Over the course of 36 years of marriage not only did each become a legendary professor at the Faculty of Theology, with Dr. O'Gara known around the world for her work in ecumenism and Dr. Vertin for his expertise in Bernard Lonergan, but they amassed a remarkable – and sizeable – library.
Now in the process of downsizing following Dr. O'Gara's death in 2012, Dr. Vertin has donated an estimated 900 books from the couple's individual and shared collections to this year's Friends of the Kelly Library book sale. The sale runs Sept. 24 to 28 in Carr Hall (100 St. Joseph St.).
The works donated from the couple's library, carefully packed up by Dr. Vertin and delivered to volunteers in 40 bankers boxes, include books on everything from ecclesiology and ecumenism to scripture, patristics, and the philosophy of religion. Many of the items resided for years on simple pine book cases that Dr. O'Gara had built herself, an accomplishment, Dr. Vertin notes, that she felt quite pleased about.
When asked, Dr. Vertin notes there were some items he was unable to part with, including his 25-volume series on Lonergan, complete with its "red U of T Press binding."
The annual used book sale, organized by the Friends of the John. M. Kelly Library, is designed to raise funds for the library, with proceeds earmarked for such projects as physical improvements, technology upgrades, and adding to collections.
Along with the Vertin/O'Gara donation, this year's sale will feature a range of shopping options from first editions and art books through to academic works and pleasure reads.
By Catherine Mulroney
Catholic Social Teaching is often labelled the Church's best kept secret.  The faithful, it seems, are sometimes surprised to discover the extraordinary wealth of instruction the Church has to offer on what it means to be human, including an elaboration of our individual rights, as well as of our responsibilities to ourselves and others.
A new exhibit at the John M. Kelly Library, however, demonstrates that Catholic Social Teaching has long resided at the heart of the academic and social life at the University of St. Michael's College.
The exhibit, entitled Love Your Neighbour as Yourself: Catholic Social Teaching in Toronto, is jointly sponsored by the library and the Faculty of Theology, with contributions from the Sisters of St. Joseph of Toronto, the Loretto Sisters, the Basilian Fathers, and the Archdiocese of Toronto.
Love Your Neighbour opens on Thursday, March 22, 2018 with a free lecture by Archbishop Paul-André Durocher of Gatineau, Quebec, a talk entitled Echo Chamber or Megaphone? The Church in Canada and the Prophetic Voice of Pope Francis. The talk is generously sponsored by the Royackers Lecture Series of Regis College. A reception will follow in the library, allowing guests time to visit the display.
The idea for the exhibit, which will be open to the public until June 8, originated with Chief Librarian Sheril Hook, who had been reading on the topic and wanted to learn more, explains Theology Dean Dr. James Ginther, who was quick to support the idea.
Rather than approaching the exhibit from strictly a historical view, however, the Dean and the Chief Librarian were keen to demonstrate that Catholic Social Teaching is a living, evolving tradition.
"We wanted to have this display reveal what is means to truly live out Catholic Social Teaching," he says.
Kelly Library Archivist James Roussain, who is curating the exhibition, has been delighted to work with St. Mike's founding communities in telling the story of how Catholic Social Teaching has been woven through their lives, and how they, in turn, have integrated it into life on campus as well as the broader world.
"We've chosen to illustrate the seven themes (of Catholic Social Teaching) through examples, with the communities telling their own stories," he explains.
These stories are supported by some of the riches from the John M. Kelly Library Special Collections, including early editions of Rerum Novarum, the 1891 encyclical written by Pope Leo XIII on the rights of workers. While Catholic Social Teaching has its roots in Scripture, Rerum Novarum is the document identified as the first of the modern encyclicals and letters explaining what Catholic Social Teaching is all about.
"Catholic Social Teaching existed long before Rerum Novarum, but this document crystalizes thinking on labour and lays the groundwork for future encyclicals," Dean Ginther explains.
The exhibit also includes Henri Nouwen's handwritten draft for L'Arche and the World, an early copy of the the charter for the community of L'Arche, the international network of homes for people with disabilities, as well as a 1976 letter from Cesar Chavez, American civil rights activist and co-founder of the United Farm Workers to Sr. Mary Alban Bouchard, CSJ, offering encouragement in her non-violent protests.
Also on display are numerous other photographs and items illustrating the St. Michael's community's commitment to justice and dignity for all.
"This is by no means an exhaustive exhibit.  I did not set out to create a time capsule, but wanted to reflect the strong sense of community, built on shared values, that informs life at St. Mike's, " Roussain says.
In keeping with the theme of the exhibit, cash donations will be accepted at the reception for The Daily Bread Food Bank, whose first Executive Director was Sr. Marie Tremblay, CSJ.
Love Your Neighbour as Yourself: Catholic Social Teaching in Toronto opens March 22 and runs through to June 8, 2018. It is located on the ground floor of the John M. Kelly Library, 113 St. Joseph St., Toronto. 
To RSVP for Archbishop Durocher's lecture, which takes place on Thursday, March 22 at 7 p.m. in Rm. 100 in Alumni Hall,   please click here
Hello everyone,
I am pleased to announce that Kayla Gregg joined the Access and Information Services team on August 1st as a library technician.
Kayla holds a BA from Carleton University with a major in history and a Library and Information Technician Diploma from Algonquin College.  She was a store manager with Follett Higher Education Group at the Sheridan College Bookstore providing event co-ordination, planning marketing strategies, and engaging with customers.  She also held various positions at Algonquin College including the Circulation department as well as government positions with the Treasury Board Secretariat and Canada Revenue Agency.
Please join me in welcoming Kayla to the John M. Kelly Library!
Silvia Vong, MLIS, MEd
Head of Public Services
John M. Kelly Library
Dear members of the USMC community,
Please join me in welcoming Sarah Stiller as the Kelly Library's new Library Technician, beginning May 1, 2017. Please see below for her biography.
Sheril Hook
Chief Librarian
—–
Sarah graduated with a Library and Information Technician diploma from Seneca College in 2015, where she received the Dan Alchuk award for personal growth. She joined the Kelly library in 2015 as a Public Services Technician shortly after.
Before coming to St. Mike's, Sarah had placements at the Toronto Reference Library and the Earl Haig Secondary School Library. Prior to beginning her studies at Seneca, she worked at the Owen Sound & North Grey Union Public Library for several years, including additional volunteer work as a reading buddy, helping children improve their reading skills and organizing activities and games for the library's youngest patrons.
Dear members of the USMC community,
I am very pleased to announce that Silvia Vong, our Collaborative Learning Librarian since 2012, has been appointed our new Head of Public Services starting May 1, 2017.
In her new role, Silvia will be managing both the library facilities and our circulation services.  Drawing on her deep knowledge in the field of information literacy and library services, she will also bring renewed energy, attention, and innovation to our public-services programming for the whole USMC community, including the development of new scholarly and research events, outreach and promotion of library services and resources to St. Mike's students and faculty.
For more information on her background and experience, please see Silvia's bio below.
Sheril
Sheril Hook
Chief Librarian, John M. Kelly Library
University of St. Michael's College
—–
Silvia graduated with a Bachelor of Arts (Honours) degree in Art History and Geography from Queen's University. She pursued a Master of Library and Information Science degree at the University of Western Ontario and has a Master of Education degree from York University. Her primary research interest is around the undergraduate learning experience.
As our Collaborative Learning Librarian, Silvia worked closely with the Book and Media Studies program, including teaching classes and research support. Before joining the Kelly in 2012, Silvia's experience included reference, liaison, and e-learning work at York University, Brock University, and the University of Guelph-Humber.
Contact Information:
Silvia Vong
Head of Public Services
John M. Kelly Library
113 St. Joseph Street
silvia.vong@utoronto.ca
+1-416-926-1300 ext.3092
Evan Boudreau of the Catholic Register visited the John M. Kelly Library's new conservation studio on March 9 for a private tour, guided by Sheril Hook, chief librarian, Noel McFerran, theology and rare books librarian, and James Roussain, archivist.  Evan's March 16 article is a lovely introduction to our new facility and the work we will be able to do to repair and preserve the Kelly's collections for the present and future use of our students, faculty, and visiting researchers.
Read the full article here.
The John M. Kelly Library is very proud to congratulate Manda Vrkljan for winning a scholarship and having her poster accepted for this year's Association of College Research Libraries' (ACRL) conference (March 22-25 in Baltimore).
Manda is a vital member of our Public Services department and is pursuing a Master of Information at the University of Toronto. USMC Chief Librarian, Sheril Hook, describes Manda as "an exemplar employee, who is creative in meeting the needs of the users of the library and the greater community. Manda has never shied from volunteering her time for various fundraising initiatives to support the College and meets new learning opportunities with enthusiasm. Simply put, Manda's reputation at USMC is excellent."
The scholarship for the Support Staff category was one of 168 awarded out of a pool of 385 competitive applications. It covers the conference registration fee and comes with a travel stipend of $350 USD.
Manda's poster proposal, "Breaking Down Silos: Using Stakeholder Analysis to Improve Communication among Library Departments," grew out of her lead role in our engaging and challenging, staff- and department-wide strategic planning exercises. Her poster will describe the development of a stakeholder matrix to visualize each of our departments' level of interest across all departmental activities, which helped staff develop a greater appreciation for the impact their decisions had on other departments and encourages collaboration. Only 35% of proposed sessions were accepted by ACRL.
We at the Kelly look forward to the innovative ideas Manda will bring back to our library from this international conference!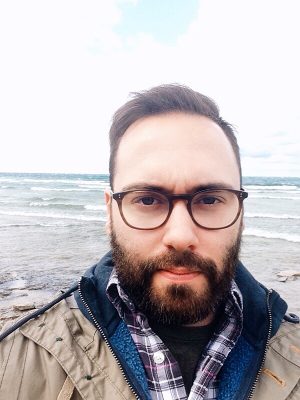 Dear members of the USMC community,
Please join me in welcoming James Roussain as the Kelly Library's new Archivist—Outreach and Instruction, beginning January 9, 2017. Please see below for his biography.
Sheril
Sheril Hook
Chief Librarian, John M. Kelly Library
University of St. Michael's College
________________________________________
Following his graduation with an MI from the Faculty of Information at the University of Toronto, James worked as an Archives and Corporate Records Archivist for the Scotiabank Records and Information Management Office. There he was a primary contact for ensuring business units met their archival responsibilities, to which end he developed education initiatives and conducted training sessions in addition to his development and processing responsibilities.
Prior to his work in the banking sector, James worked with academic archives at both the University of Toronto Archives and the Trinity College Archives. This engendered in him an interest in personal manuscripts and he looks forward to furthering this interest while working with the Kelly's collections.
In addition to a long history of volunteer work with the Association of Canadian Archivists, spanning his student days to the present, James is currently serving as the president of the Toronto Area Archivists' Group (aao-archivists.ca/taag).
Contact Information:
James Roussain
Archivist—Outreach and Instruction
John M. Kelly Library
113 St. Joseph Street
james.roussain@utoronto.ca
416-926-1300 ext. 3322