Mike Czobit is the director of the Office of the Principal, and the coordinator of SMC One. Before joining St. Michael's in 2017, he was an editor and writer at World Vision Canada.
---
There Will Be Cake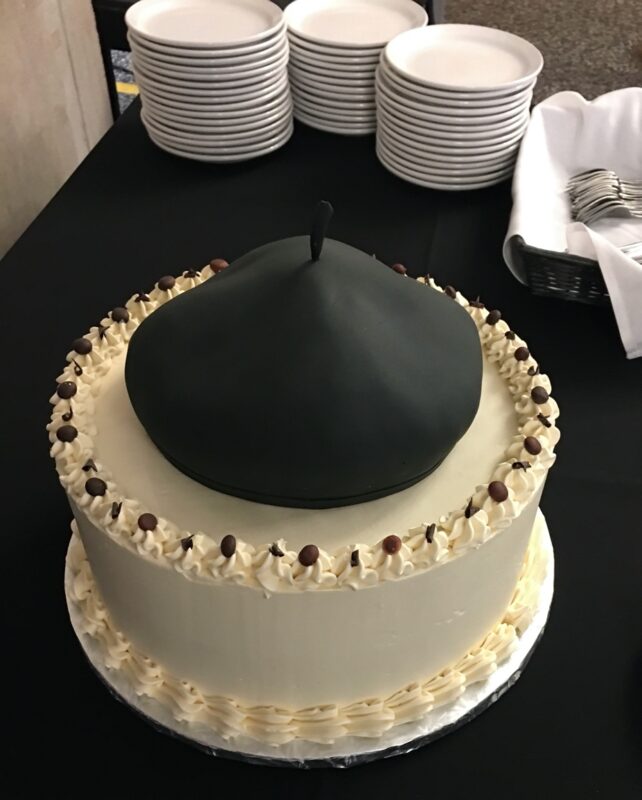 Every year, before the Gilson Seminar in Faith and Ideas meets for its first lecture in September, we have an opening reception and something we call the "Beret'ing In." To the tune of Prince's "Raspberry Beret," each incoming Gilson Seminar student approaches the lectern in Charbonnel Lounge and receives a black beret, officially joining the seminar. After every student has been beret'ed in, cake is served—a special kind of cake: raspberry beret cake.
This tradition is a night of fun and introductions before the hard work of the Gilson Seminar begins. The course, which is split into two half-term classes over the course of the year, is one of three first-year seminars offered by St. Michael's College as part of our SMC One program. The other two seminars are the McLuhan Seminar in Creativity and Technology and the Boyle Seminar in Scripts and Stories.
These seminars are among the most popular first-year courses at the University of Toronto, owing to a number of factors. For example, each is taught by a member of our talented St. Michael's faculty in a small class setting that fosters fascinating discussions and close friendships with fellow classmates, and each features an international learning experience. In the Boyle Seminar, students are invited to travel to Dublin after the April exam period. A trip to Silicon Valley takes place during reading week for the McLuhan Seminar. And the Gilson Seminar's second half-course has its destination in its title: The Gilson Seminar in Faith and Rome.
For most people, international travel these days has been ruled out for health and safety reasons, and for the impracticality of visiting a country when it likely requires a quarantine upon arrival. But, back in February, before the present conditions of international travel took hold, there still was the possibility to go to Rome or Dublin. In fact, that was the plan for both the Gilson and Boyle classes (the McLuhan Seminar had traveled to Silicon Valley last November, before anyone here had really heard of the virus).
In the Principal's Office, we are responsible for organizing all three SMC One trips. Throughout January and February, we proceeded as usual, preparing students by holding Safety Abroad workshops, requesting traveler information, and making airfare arrangements. We worked with our partners in Dublin and Rome to finalize details for each trip, and in the case of Rome, arranged for tickets for the Pope's Wednesday Audience. Everything was proceeding as it had every year, except, as everyone knows now, this wouldn't be a normal year.
By late February, my office was paying particular attention to reports of COVID-19 cases emerging worldwide. When the first few cases surfaced in northern Italy, we were concerned but hopeful that the country would get control of the virus. Reflecting on that now makes me realize how little we all knew and how naïve my optimism was. Day by day, in early March, the number of infected patients rose. Not just in Europe, but also at home. These developments worried our SMC One students, who began asking my office questions about the safety of our planned trips. At the time, we honestly didn't know what the virus would mean, but we assured our students that safety would be paramount and that the trips could be postponed. Then, on March 12 that happened. The University decided that due to safety concerns, all student travel would be postponed until further notice. This was the right decision.
After we unwound the arrangements for the planned trips, my office had a different task to attend to, which was to start recruiting for next year's SMC One seminars. When we promote these classes, we do the opposite of shying away from discussing their travel components. But during this recruitment period, getting on a plane to go somewhere far away seemed like the least desirable thing to do. At the same time, the 2020–21 SMC One seminars were months away and the situation in March would change—and, to be optimistic, be much, much better.
We pushed forward with our recruitment effort, inviting incoming U of T students to apply for a spot in our seminars. We expected that we would struggle to fill the classes. We expected that SMC One would have lost its popularity. What happened was something different.
When the application window closed on June 15, we had received the highest number of applications for SMC One in the three years their present format has existed. In fact, we doubled the total number of applications over our previous best. Our incoming students were not deterred by news reports of the virus or of how international travel will never be the same. They reacted to the closing of borders with a greater desire to see them open again. What they want, and what classes such as SMC One will provide, is a return to better times when a desire to explore and experience life and culture in different parts of the world can enrich a university education.
As the new academic year begins, we have begun planning for our SMC One classes. Different this year is that all three will take place in the Winter term, with the hope that all will be able to be in-person or have a larger in-person component than is safe in the Fall term. It is too early to know what international travel will look like in 2021, but we're hopeful that conditions will improve.
Every year, the Gilson Seminar begins with berets and cakes. We hope to see this tradition resume in this coming year's Gilson class. And when the cake is finally served, it will have the double meaning: welcoming a new class to St. Michael's College and also celebrating how far we've come through difficult times. When we began our recruitment effort for SMC One in the spring, we were pessimistic about our prospects of filling these classes. Our students showed we should have felt otherwise.
---
Read other InsightOut posts.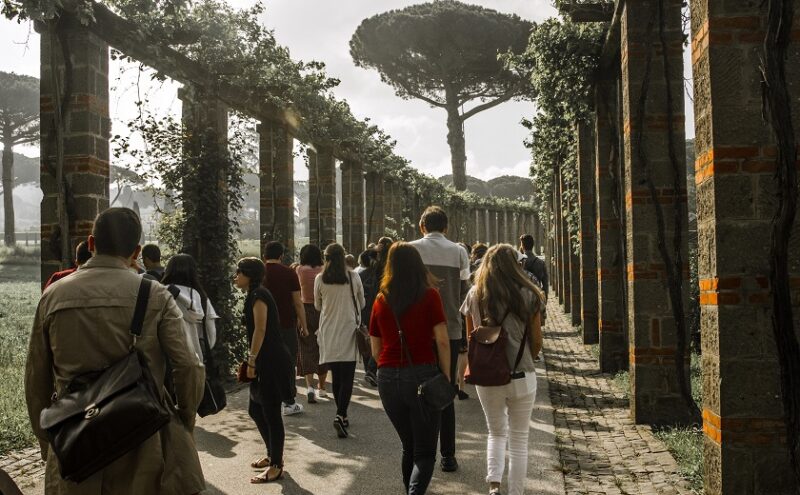 Providing a unique bridge from high school to university, St. Michael's popular SMC One seminars are now accepting applications for the 2020-2021 academic year.
The Gilson Seminar in Faith and Ideas, the Boyle Seminar in Scripts and Stories, and the McLuhan Seminar in Creativity and Technology draw new students into close-knit learning communities that personalize the student experience at UofT.
"The SMC One seminars are among the most sought-after courses for first-year students at the University of Toronto. With small class sizes, discussions led by leading scholars and superb teachers, and unparalleled opportunities for intensive international learning experiences, these courses provide an excellent introduction to university-level studies," St. Michael's Principal Randy Boyagoda says.
The seminar format creates a supportive and dynamic environment in which new students are empowered to develop important academic skills they will rely on throughout their academic careers. The programs also draw from the historic interdisciplinary strengths of St. Michael's sponsored programs.
The Gilson Seminar in Faith and Ideas
"SMC Ones emerge out of the distinct resources and traditions of St. Michael's, which professors and students together placed in dialogue with the leading currents of thought and practice today," Professor Boyagoda says.
He teaches the Gilson Seminar in Faith and Ideas, which explores the intersection of faith with today's most important questions. Students research and discuss issues in ecology, science, literature, social justice, and politics with reference to the Catholic intellectual tradition.
Graphic novels, memoirs, theological tracts, papal encyclicals and literary novels fuel wide-ranging conversations in both the main seminar and smaller tutorials, and the class culminates with a spring trip to Rome. There, students have the opportunity to visit St. Peter's Basilica, the Vatican Observatory, and other world-famous religious and cultural sites.
"The Gilson community became a family," third-year St. Michael's student Taylor Medeiros writes of her own experience in the seminar. "While on the trip, I fell in love with Roman art, architecture, and gelato. I never expected that I would fall in love with the liberal arts, too."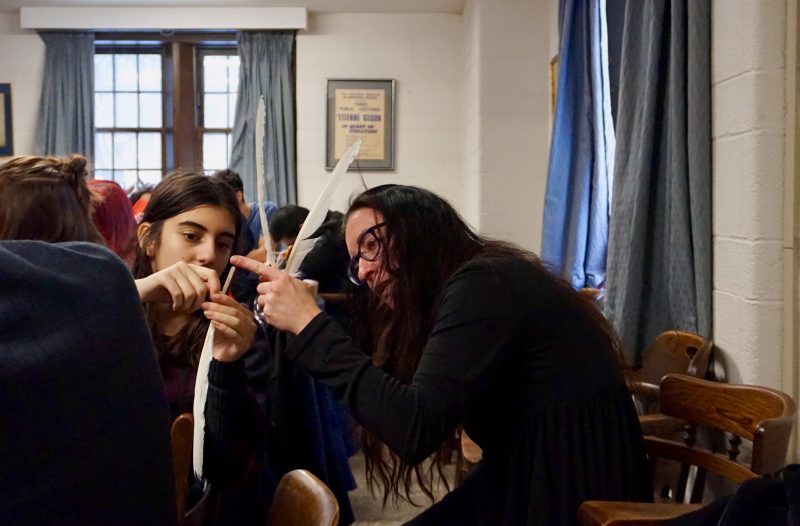 The Boyle Seminar in Scripts and Stories
A key theme of education at St. Michael's is the union of theoretical learning and practical knowledge. Bringing together two of St. Michael's sponsored programs, Mediaeval Studies and Celtic Studies, the Boyle Seminar in Scripts and Stories equips students to study the history of knowledge preservation in the mediaeval era while also giving them hands-on experience in the practices of mediaeval knowledge transmission.
"We spend quite a lot of time talking about 'how do we go from cow to page?'" says assistant professor Máirtín Coilféir, who co-teaches the course with fellow assistant professor Alison More. After learning how monks in a scriptorium approached the production of manuscripts, Boyle students have an opportunity to cut, finish, and write with their own feather quill pens – just as the monks did.
Boyle Seminar participants also receive hands-on experience with medieval manuscripts, a rare opportunity for first-year students to touch the past. The seminar's May trip to Ireland includes visits to ancient cultural sites and an active archaeological dig, where students can touch artifacts that are fresh out of the ground.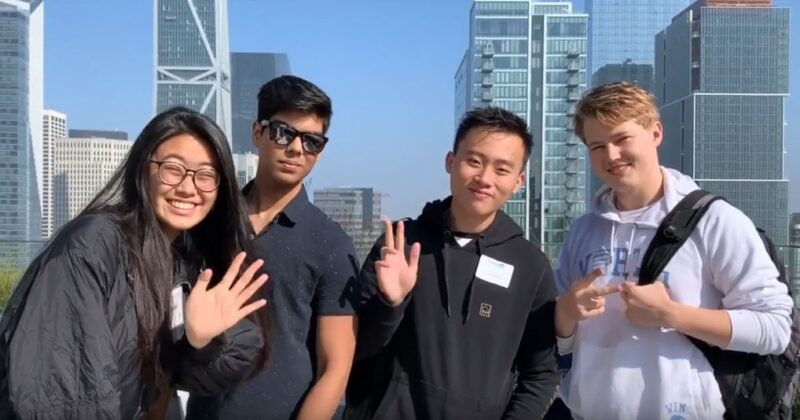 The McLuhan Seminar in Creativity and Technology
Named for Marshall McLuhan, one of St. Michael's most famous professors, the McLuhan Seminar in Creativity and Technology encourages students to turn a humanistic lens on the world of science and technology. Assistant Professor Paolo Granata, a scholar of McLuhan's work, introduces student participants to leaders in the tech world while constantly posing the question: how does creativity make innovation possible?
"The McLuhan Seminar is designed for students who want to develop an awareness of the relationship between creativity and technology, and who want to know how that relationship impacts both individuals and broader culture and society," professor Granata says. "It cultivates interdisciplinary and critical thinking, and suggests how creativity and technology can be embedded in everyday practices as well as in large-scale societal processes."
Students in the McLuhan Seminar get to know the figures who put Silicon Valley on the map through their world-changing ideas and products before decamping to the Valley for a one-week international learning experience. A whirlwind itinerary takes participants to LinkedIn, the Mozilla Foundation, the Google Plex, and networking events to meet innovators and leaders who are determining the shape of our digital future.
Introduced in the 2018-2019 academic year, the Boyle Seminar in Scripts and Stories is a unique offering for first-year students interested in the transmission of knowledge and preservation of intellectual culture during the medieval era. As one of three SMC One seminars at St. Michael's, the Boyle Seminar brings together the strengths of two St. Michael's-sponsored programs – Medieval Studies and Celtic Studies – to give participants an interdisciplinary foundation for future academic work, preparation for careers in a wide range of fields and an opportunity to go on an international learning experience in Ireland.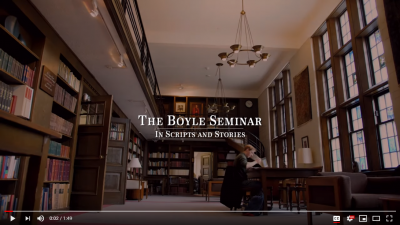 Assistant professors Máirtín Coilféir and Alison More seek to give new students experience in manuscript studies, history and the Latin and Irish languages, but the program also serves as an effective bridge to university-level academic work more generally. Open to around 20 students each year, the small class size of the Boyle Seminar helps each cohort to bond into a tight-knit group, and gives each student one-on-one time with both professors.
A Hands-On Approach
Professor Coilféir, who teaches in the Celtic Studies program, describes one of the primary themes of the course as "the practical application of theoretical knowledge." Instead of giving students a dry survey of medieval and Irish culture, he and professor More give students direct experiences of the practices that monks used centuries ago to create and preserve manuscripts, which are the hand-written copies of documents prepared in the medieval scriptorium.
By encountering parchment first as a dried and treated animal hide, students begin to see the living material basis for history. "We spend quite a lot of time talking about 'how do we go from cow to page?'" Coilféir says. Practical experience with parchment, ink and feather quills, which the students cut into usable pen nibs, helps to reinforce the notion of medieval and Celtic culture as representing a living history – one that students are equipped to take up with gusto.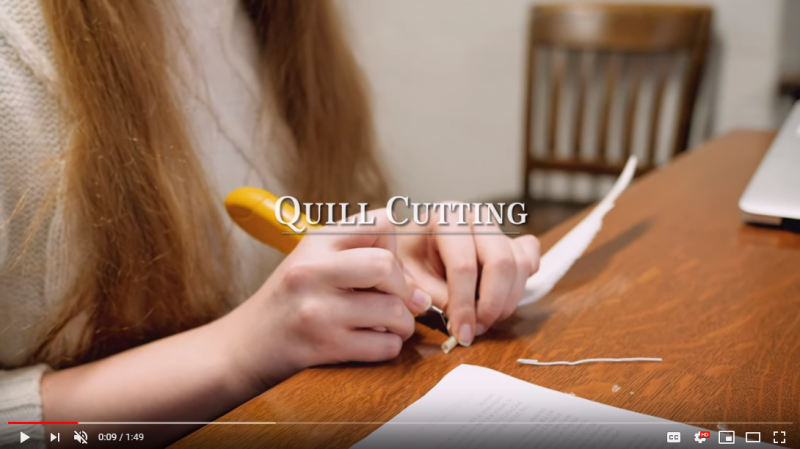 Most Medieval Studies programs for undergraduates follow a very different and far more traditional pattern than that of the Boyle Seminar at St. Michael's. Professor More, a medievalist, describes the typical progression for an academic in her field as requiring at least three years of dry study before a typical student gets a chance to see or touch a manuscript.
By contrast, the Boyle Seminar puts centuries-old manuscripts in the hands of students during their first months at university. This fearless and practical approach to the artifacts of the period gives students a solid basis for "manuscript studies and the often-baffling sources of medieval history," More says, as well as training that can serve as effective preparation in a variety of other fields such as law, theology and cultural conservation.
The May trip to Ireland reinforces the practical emphasis of the course, with visits to ancient cultural sites including an active archaeological dig at the Blackfriary Archaeology Field School. Though not for academic credit, the trip gives students an opportunity to handle artifacts fresh out of the ground and learn contemporary archaeological methods.
A St. Michael's Tradition
With both the Pontifical Institute of Medieaval Studies (PIMS) and the John M. Kelly Library located right on campus at St. Michael's, it only makes sense for the Boyle Seminar to rely on the research institute and library's holdings to give students access to special texts for the course.
One of the seminar's key texts is Integral Paleography, a collection of articles about different scholarly approaches to medieval writing. This book has a special connection to the seminar: it is the work of Fr. Leonard Boyle, OP, the scholar and former PIMS professor for whom the seminar is named.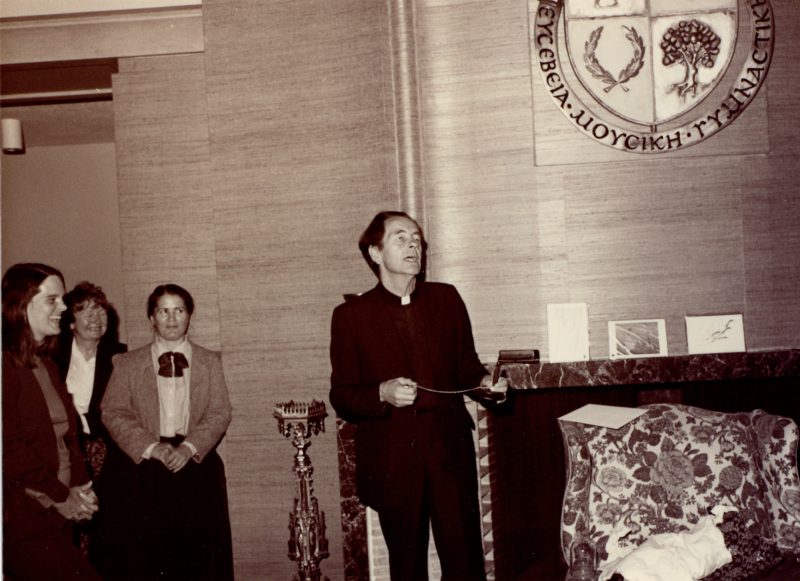 Fr. Boyle was an important figure at PIMS and helped to build the University of Toronto's Medieval Studies program, now hosted at St. Michael's. In 1984, Fr. Boyle left Toronto for Rome after Pope John Paul II appointed him Prefect of the Vatican Library. There, the scholar-priest worked for years to expand access to the library's holdings to scholars around the world. In so doing, he changed the reputation of an institution "not well known for its hospitality to visitors" into a place where "the doors were flung open from morn till night," as Nicolas Barker wrote in his obituary for Fr. Boyle for The Independent.
The spirit that animated Fr. Boyle's approach to the Vatican Library – prioritizing access for everyone who needs it – continues to animate the Boyle Seminar. In line with a storied history of scholar-teachers at St. Michael's, professors More and Coilféir open up a world of ideas and experiences while helping students to make lateral connections across disciplines. Rejecting the Ivory Tower model of the academic enterprise in favor of a robust commitment to the liberal arts, the seminar's approach fuels creativity and courage in first-year students' approaches to their academic careers and later readiness for the workplace. As one student observed, "when you think about the past, you think more about the future."