Dr. Pa Sheehan is from Sixmilebridge in County Clare, Ireland. He was living in St. John's, Newfoundland when the pandemic started and moved to Toronto in July. He teaches the Irish language at the University of St. Michael's College as the Ireland Canada University Foundation (ICUF) scholar.
---
Finding One's Inner Resilience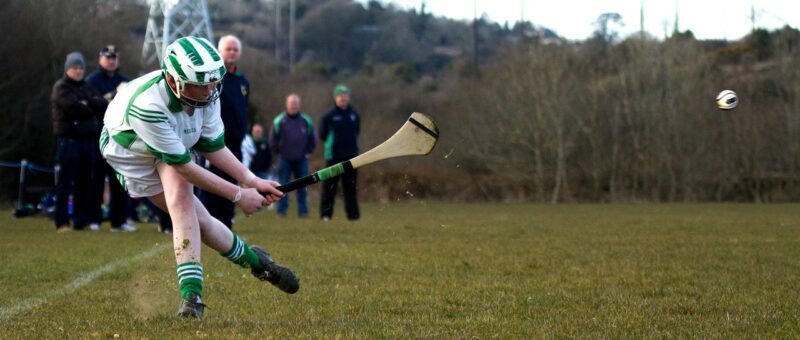 Whenever this pandemic ends and we can look at it in the past, we will all be able to say that it was a defining period in each of our lives. I want to be able to say to myself that it was the period in my life during which I realized what resilience I had always possessed but was not always sure how to use. We cannot control the end result but what we can control are the decisions we make during the process that lead us to the end result. That may sound a little contradictory but it is a perspective I have borrowed from the sporting world and adapted to use in my new normal life.
As a teenager, and even during much of my time at university, I began noticing that I enjoyed being in control of my destiny, that the final outcome would always align with my desires. We all know that this is not always the case, however. There are instances when the outcome does not correspond with the initial intentions. This used to make me feel bitter, angry, anxious and many other things. I look back at exam results with which I disagreed or at not having been picked on a particular sports team and how I allowed these external decisions make me become upset. Little did I know that these external decisions were outside of my control and that I had already done my part, so as long as I was satisfied with the role I had played, I had no reason to feel any ill sentiments.
I truly believe that this pandemic has been a blessing in disguise for me personally. I do not want to belittle the appalling circumstances in which many people find themselves due to the pandemic. I only want to acknowledge the wonderful things it has done for me and I hope you can appreciate that. I talked about resilience at the beginning of this article and I want to refer to it again.
Many moments have tested my resilience during this pandemic. I am from Ireland and have had trips home cancelled, meaning I have not seen my family in well over a year now. My job involves organizing social events and fostering a sense of community amongst the Irish themselves in Toronto as well as anyone interested in Irish culture. This has obviously been affected. One could view my moving to Toronto during the pandemic as a pity, considering I cannot experience what the big city has to offer in its fullness. I am also a sports fanatic, whether it be playing or watching and this aspect of my life has been considerably impacted as well, as sports events were cancelled one after one. I was in the middle of training for my first marathon, which inevitably succumbed to the pandemic. Having been deprived of playing my first love—the Irish sport of hurling—while living for a year in Newfoundland, I welcomed the move to Toronto as it would afford me the opportunity to play it again, given the number of Irish expatriates living in the city. Of course, the pandemic continued and these plans were scuppered along with many others.
A couple of years ago, I would have viewed these setbacks with frustration as I could do nothing to control them. However, I realize now that there is beauty in the fact that I cannot control them. It means that I must make new decisions which are within my control. For example, my inability to physically go back to Ireland has encouraged me to reach out more to people back home whom I may have neglected in the past, whether they be family or friends. It has also motivated me to appreciate the greatness of my homeplace, something I strive to illustrate each day in my teaching of Irish language and culture. Not being able to physically host social gatherings has afforded me opportunities to organize more online events and I am extremely thankful for this as I have most definitely interacted with more passionate and enthusiastic Irish people as a result of the compulsion to go online. The cancellation of marathons and hurling championships has reminded me of the reasons I initially fell in love with playing sport. I do it because it makes me feel good, simple as that. I am still running almost every day, but not because I am training for a marathon that may or may not take place in the future. I have no control over that. I train to feel well. And whenever I can play hurling again, the result of the match will not be significant, nor will the quality of my own performance. All that will matter will be the sheer enjoyment I derive from playing the game and making my best possible effort. Never in a million years would I thought I would have uttered that last sentence!
As plans continue to go awry, flights continue to be booked and cancelled, restrictions are lifted and then enforced again, events are planned only to be aborted once more, I take solace in the fact that my mind is not bound by the outcomes which I cannot affect but by the decisions which I choose to make every day to make the best of every possible situation. Resilience is something each human being possesses but only initiates when necessary. I encourage anyone to solely focus their minds on the decisions they can control. Although you have no say in them, the results will probably astonish you.
---
Read other InsightOut posts.
Dr. Mark McGowan is a Professor of History and Celtic Studies, and the Interim Principal of the University of St. Michael's College for the 2020–2021 academic year. Dr. McGowan is an historian renowned for his work on the Catholic Church in Canada and the Great Irish Famine, as well as the lasting impact that the Famine's mass migration had on Canada.
---
---
Explore other InsightOut posts.
Introduced in the 2018-2019 academic year, the Boyle Seminar in Scripts and Stories is a unique offering for first-year students interested in the transmission of knowledge and preservation of intellectual culture during the medieval era. As one of three SMC One seminars at St. Michael's, the Boyle Seminar brings together the strengths of two St. Michael's-sponsored programs – Medieval Studies and Celtic Studies – to give participants an interdisciplinary foundation for future academic work, preparation for careers in a wide range of fields and an opportunity to go on an international learning experience in Ireland.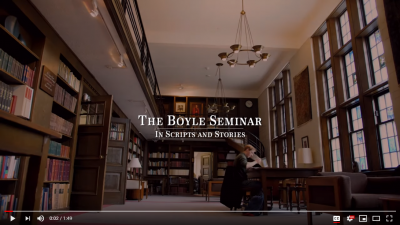 Assistant professors Máirtín Coilféir and Alison More seek to give new students experience in manuscript studies, history and the Latin and Irish languages, but the program also serves as an effective bridge to university-level academic work more generally. Open to around 20 students each year, the small class size of the Boyle Seminar helps each cohort to bond into a tight-knit group, and gives each student one-on-one time with both professors.
A Hands-On Approach
Professor Coilféir, who teaches in the Celtic Studies program, describes one of the primary themes of the course as "the practical application of theoretical knowledge." Instead of giving students a dry survey of medieval and Irish culture, he and professor More give students direct experiences of the practices that monks used centuries ago to create and preserve manuscripts, which are the hand-written copies of documents prepared in the medieval scriptorium.
By encountering parchment first as a dried and treated animal hide, students begin to see the living material basis for history. "We spend quite a lot of time talking about 'how do we go from cow to page?'" Coilféir says. Practical experience with parchment, ink and feather quills, which the students cut into usable pen nibs, helps to reinforce the notion of medieval and Celtic culture as representing a living history – one that students are equipped to take up with gusto.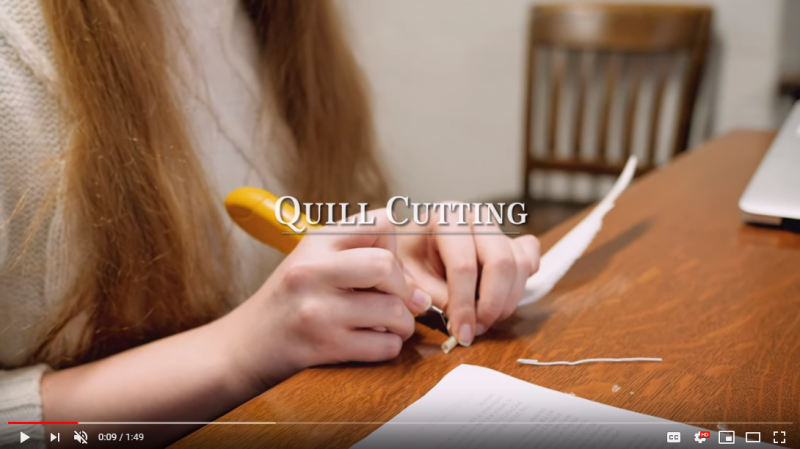 Most Medieval Studies programs for undergraduates follow a very different and far more traditional pattern than that of the Boyle Seminar at St. Michael's. Professor More, a medievalist, describes the typical progression for an academic in her field as requiring at least three years of dry study before a typical student gets a chance to see or touch a manuscript.
By contrast, the Boyle Seminar puts centuries-old manuscripts in the hands of students during their first months at university. This fearless and practical approach to the artifacts of the period gives students a solid basis for "manuscript studies and the often-baffling sources of medieval history," More says, as well as training that can serve as effective preparation in a variety of other fields such as law, theology and cultural conservation.
The May trip to Ireland reinforces the practical emphasis of the course, with visits to ancient cultural sites including an active archaeological dig at the Blackfriary Archaeology Field School. Though not for academic credit, the trip gives students an opportunity to handle artifacts fresh out of the ground and learn contemporary archaeological methods.
A St. Michael's Tradition
With both the Pontifical Institute of Medieaval Studies (PIMS) and the John M. Kelly Library located right on campus at St. Michael's, it only makes sense for the Boyle Seminar to rely on the research institute and library's holdings to give students access to special texts for the course.
One of the seminar's key texts is Integral Paleography, a collection of articles about different scholarly approaches to medieval writing. This book has a special connection to the seminar: it is the work of Fr. Leonard Boyle, OP, the scholar and former PIMS professor for whom the seminar is named.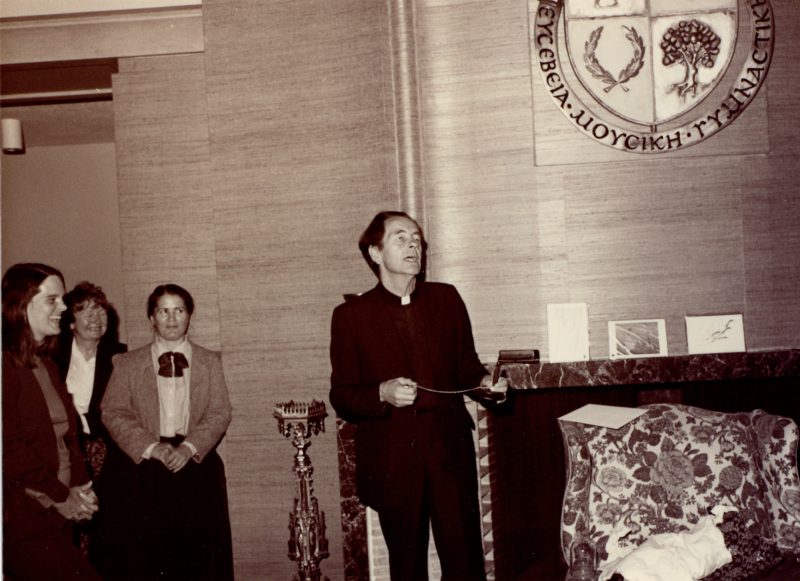 Fr. Boyle was an important figure at PIMS and helped to build the University of Toronto's Medieval Studies program, now hosted at St. Michael's. In 1984, Fr. Boyle left Toronto for Rome after Pope John Paul II appointed him Prefect of the Vatican Library. There, the scholar-priest worked for years to expand access to the library's holdings to scholars around the world. In so doing, he changed the reputation of an institution "not well known for its hospitality to visitors" into a place where "the doors were flung open from morn till night," as Nicolas Barker wrote in his obituary for Fr. Boyle for The Independent.
The spirit that animated Fr. Boyle's approach to the Vatican Library – prioritizing access for everyone who needs it – continues to animate the Boyle Seminar. In line with a storied history of scholar-teachers at St. Michael's, professors More and Coilféir open up a world of ideas and experiences while helping students to make lateral connections across disciplines. Rejecting the Ivory Tower model of the academic enterprise in favor of a robust commitment to the liberal arts, the seminar's approach fuels creativity and courage in first-year students' approaches to their academic careers and later readiness for the workplace. As one student observed, "when you think about the past, you think more about the future."