Dr. Adam Hincks, S.J., holds the Sutton Family Chair in Science, Christianity and Cultures at the University of St. Michael's College. Dr. Hincks, who specializes in physical cosmology, completed a B.Sc. in physics and astrophysics from U of T in 2004. In 2009 he earned a Ph.D. in physics from Princeton University and then entered the Jesuit novitiate in Montréal. After pronouncing vows in 2011, he pursued philosophical studies at Toronto's Regis College and later did a Bachelor of Sacred Theology at Rome's Pontifical Gregorian University. Returning to Toronto, he worked on a Master of Theology and Licentiate in Sacred Theology at Regis College from 2018–20. He was ordained to the priesthood in 2019.
---
What Parish Are You At, Father?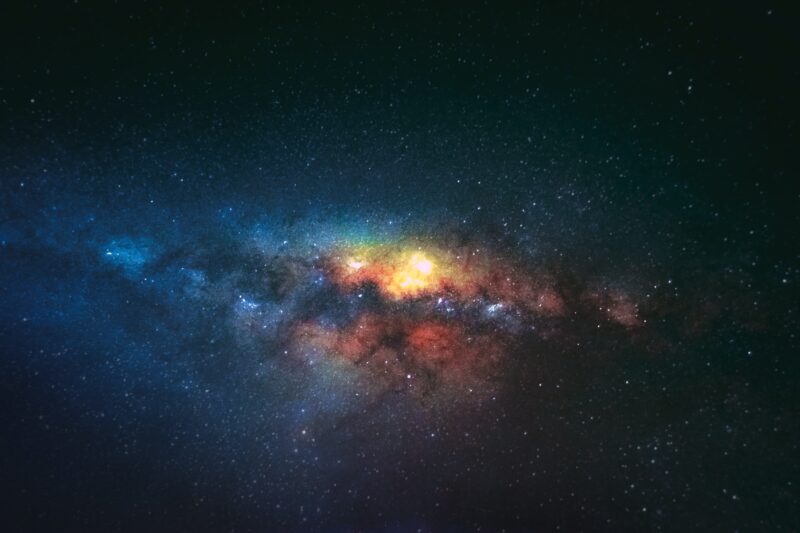 "What parish do you live at, Father?" It's a question I've been asked a couple of times since I was ordained last year. The answer—"I'm not based at a parish"—can be unexpected for those who are only used to seeing priests at Sunday mass. The fact of the matter is that most ordained Jesuits are not parish priests, nor have we ever been since our founding in the sixteenth century. The same can be said for those in many other religious institutes, such as the Basilian Fathers who are so important to St. Michael's College. This doesn't mean that none of us have parishes—for instance, here in Toronto, Our Lady of Lourdes is served by Jesuit priests and St. Basil's by Basilians. Nor does it mean that we don't help out at parishes in various ways. But it isn't our sole defining ministry.
In my own case, my principal assignment, which I just began in July, is as a professor here at the University of Toronto. To be honest, when I became a Jesuit in 2009 fresh off of a doctorate in physics, I never dreamt that I would come back to the St. George campus, where I had been an undergraduate, as a professor! I figured after the many years of Jesuit formation I would could end up in an academic setting, perhaps at one of the scores of universities we run around the world, but it was only a vague idea.
The position I have begun here is new and unique. Supported by the Sutton Family Chair in Science, Christianity and Cultures, I have an appointment both in the Department of Astronomy & Astrophysics and here at St. Michael's College. The majority of my research is purely scientific, in the area of physical cosmology, or the study of the Universe as a whole. I work on telescopes that observe the very early universe and that map out the cosmos on its largest scales. But with my training in philosophy and theology, I also have an interdisciplinary interest in how science relates to faith and vice versa. And so a good part of my teaching will be precisely in this area—such as SMC371, "Faith and Physics", which I shall teach in the winter term of 2021.
Still, one might return to the spirit of the question I began with and frame it a bit differently: why should a priest be engaged in research and teaching at a public university? There is the somewhat facile answer that there have been clerics on faculties ever since the first universities of the West arose in the eleventh and twelfth centuries. The Church has always valued education and the pursuit of knowledge, and thus her clergy and religious as well as her laity have always contributed to these great endeavours. But looking at the question from within the tradition of my own religious order, I am reminded of the notion of "finding God in all things", a formula often used to capture a key aspect of the spirituality of St. Ignatius of Loyola, our principal founder.
"Finding God in all things" is not a vague aphorism or a flaky aspiration, but is rooted in the deeply Biblical conviction that as Creator, God is intimately present to his creatures, or, as Thomas Aquinas put it, "God is in all things, and innermostly." This does not mean that if you use a powerful enough microscope (or telescope!) you will suddenly find scientific "evidence" for God. But it does mean that studying creation—whether through the lenses of the humanities, the social sciences or the natural sciences—can be a springboard to contemplating its Creator. "Whatever is true, whatever is honorable, whatever is just, whatever is pure, whatever is lovely, whatever is gracious, if there is any excellence and if there is anything worthy of praise, think about these things" (Phil. 4:8, NABRE). And ultimately, it is "contemplation of divine things" that is one of the principal tasks of those of us in religious life.
So I consider myself blessed to have this opportunity for contemplation, even if the busyness of the job means that I can't always advert to it! I am looking forward to collaborating with all my colleagues at this university—fellow faculty, other researchers and students—as we lift our minds to consider true and lovely things "worthy of praise." Not everyone contemplates science from within a religious worldview, and of course there are some who think such a stance is ludicrous. But I'm excited that St. Michael's College has opened the space to explore it further, and I'm excited to see where it leads. I trust it will make me a better scientist, a better Christian—and a better priest.
---
Read other InsightOut posts.
Nisheeta Menon is a graduate of St. Michael's Christianity & Culture program and holds a Master of Divinity degree from the Faculty of Theology. While studying theology she served as the Social Justice Co-ordinator and Student Life Committee Vice-President. She is now a high school Religion teacher in Mississauga, where she hopes to continue her co-curricular work serving her school community in the areas of equity and diversity education and chaplaincy.
---
Wandering in the Desert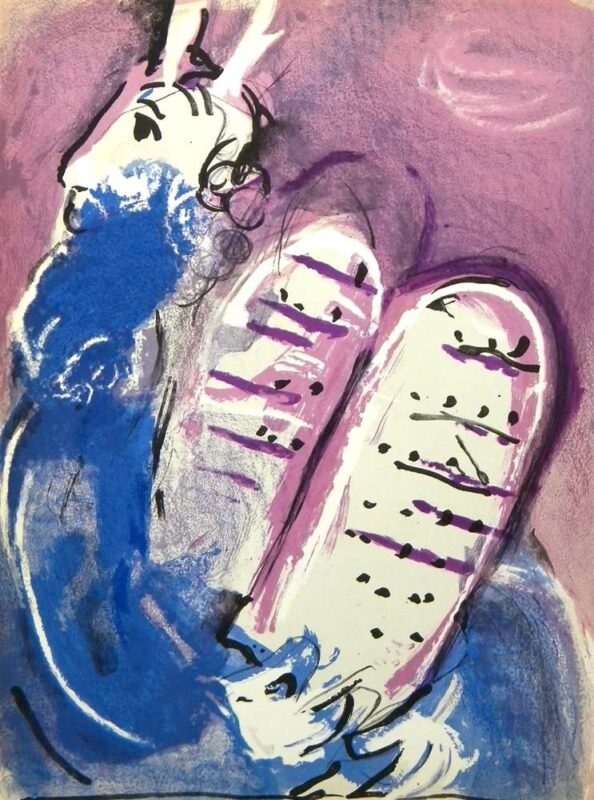 Autumn is a time of year I have always loved. As a student, I looked forward to transitioning back into school and the start-up of all of the clubs, sports, and activities. Now, as a secondary school teacher, my appreciation of this time of year has only increased. It is around this time that the life of a school starts to take shape—student leadership, chaplaincy, athletic teams, volunteer and outreach initiatives, arts programs, etc. Plans turn into reality and the school begins buzzing with activity, creativity, and life!
This autumn, as you might imagine, looks very different. The beginning of the school year was tumultuous, to say the least, and some of us only received our teaching assignments in late September. A number of teachers, like me, were designated to teach the online cohort and, with that, we have sunk into the routines of virtual teaching with considerable reluctance.
Students continue to be moved in and out of our courses due to a host of scheduling issues while the quadmester is rapidly progressing toward its end date in the second week of November. The tight timeline forces teachers to compress the curriculum, either speeding through important concepts or eliminating them entirely. The students "attend" class daily but are behind their screens while we are behind ours, and, even when our cameras are on, there is a palpable discomfort.
In a regular classroom, these students would know each other quite well by Grade 12, and they would continue to build connections with one another throughout their time in a class like mine. In the virtual environment, however, students in my classes are from all over the school board and, despite my efforts, their interaction is limited. As well, during the average school day, my colleagues generally remain isolated in their own classrooms (for good reason), leaving the staff lounge and department offices empty. The school is eerily quiet and the few faces you may pass are hidden behind masks. This is a far cry from the Thanksgiving liturgies, staff potlucks, and Student Council Haunted House tours of the past.
For most teachers, even those with in-class cohorts, the laments are the same: feeling disconnected from the students, being unable to teach and assess in an effective way, concern over students with access issues or learning challenges, and a general lack of guidance and support. At the same time, we watch the news as reports of COVID-19 cases in schools rise and we check in with some of our close friends and family as they await the results of their tests. We miss the loved ones who are outside of our social bubbles, and we worry about them, and ourselves. It is difficult to be hopeful.
One day, as I discussed these grim realities with a colleague, I confessed I was having a difficult time staying optimistic and energized, but that I was simultaneously feeling guilty about this because I also acknowledge how privileged I am in many ways. She offered one of the most helpful comments I have heard throughout this pandemic: "Of course you're having trouble staying hopeful! What do you expect? We are the Israelites in the desert! This is not the Promised Land!"
Coincidentally, it was at that very time that I was in the midst of discussing the Exodus story with my Grade 12 Religion class. We had talked about how the Israelites in the desert must have felt a sense of hopelessness, fatigue, monotony, and an underlying fear that they might never actually reach the Promised Land. It is difficult to imagine that they ever woke up optimistic and chipper, ready to spend another day wandering in the desert!
During this pandemic, part of the struggle which so many of us put ourselves through is trying to make our lives as close to what they were pre-pandemic as possible. Of course, this is nearly impossible, and our failure to meet our self-imposed standards only heightens our anxiety. By acknowledging that we are "in the desert," perhaps we can give ourselves permission to feel a little lost, at times hopeless, and generally unable to think more than a few steps ahead at any given time.
My most gratifying class thus far occurred when I shelved the curriculum for one day and chatted with the students about how I was feeling. As a teacher, and one of the only adult influences outside of their home they have regular access to right now, I know that modelling for my students the fact that it is okay to be struggling is perhaps the most important lesson that I can offer. After sharing with them a little about what was weighing on me, my students quickly piped in with words of validation and encouragement, which led to other students sharing their particular burdens, which in turn led to more encouragement from the group. Despite the distance between us and the glitchy internet connection, our discussion rolled on until the end of the period. There was laughter, exclamations of, "Oh my gosh! Me too!" and quiet, muffled sniffles at times. We never got around to our lesson on the Book of Exodus that day, and yet I am certain that we came to a better understanding of how the Israelites were able to survive—and find deep meaning in—their time in the desert together.
---
Read other InsightOut posts.
Jean-Olivier Richard is Assistant Professor, Teaching Stream, in the Christianity and Culture Program. A historian of science by training, his research and teaching interests include the relationship natural philosophy with Christianity with science in the early modern era, Jesuit history, environmental history, and the history of alchemy, astrology, and magic.
---
Night Sky and Quietude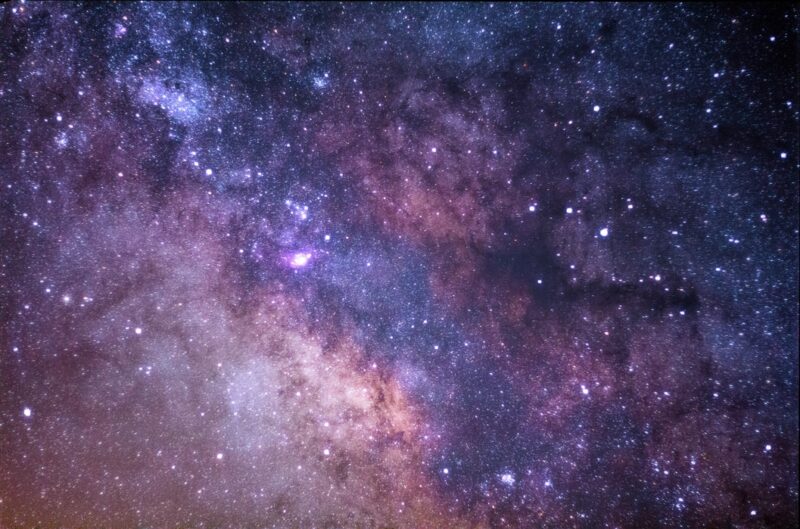 On June 17, I decided to set up a tent in the backyard of my partner's parents, thereby adding a room to what was beginning to feel like a crowded house. My girlfriend and I brought mattresses, pillows, sleeping bags, and munchies. I also decided to install my Meade ETX 90, a reflecting telescope I had purchased a couple years ago and neglected to use since. I figured that on a clear night in Ottawa's suburbs, it would find better use than in dazzling Toronto.
Around 3 a.m., we woke up to a starry sky, with Vega and Arcturus above our heads and a handful of planets lined up within the narrow band of the Zodiac. In the south, majestic Jupiter lorded at its zenith in conjunction with Saturn. Red Mars was lagging further to the East, next to Neptune, invisible. The waning crescent Moon, with Venus by its side, had yet to rise. Over the next two hours, we turned the telescope to each of these celestial bodies, trying different lenses and observing with childlike excitement. My girlfriend saw, for the first time, Jupiter's four largest satellites—the same Galileo discovered with his spyglass in 1610—as well as hints of the giant's darker belts. Even more delightful, to both of us, were Saturn's rings, which we could see distinctly, like a pair of bright handles. Then, just before dawn, the ancient Moon's familiar wink was made unfamiliar. Next to its shadowed face, Venus was showing its crescent. At that point, our excitement had ceded place to a kind of contemplative wonder, mixed with serenity and sunlight. With our naked eyes, we had observed and experienced what astronomers of old described as the wheeling of the celestial spheres around Polaris, the axis of the world. It was a wakeful night well spent.
Over the next couple of days, my mind was busy pondering Plato's Timaeus, a speculative account of the creation the universe I teach in some of my Christianity and science courses. Therein Plato argues that the cosmos was made by the Demiurge, a divine, benevolent craftsman who ordered his materials mathematically and beautifully, in the likeness of eternal, unchanging forms. The Demiurge not only created the gods (including the planets) but also individual souls (each one tied to a guardian star), whose bodies He let the lesser deities shape from imperfect matter. Plato teaches that our souls, trapped as they are in their fleshy shells, tend to be confused and disorderly, having lost sight, from the moment of their birth, of the divine harmonies from whence they come. For Plato, contemplation of the wheeling stars—and by extension, the study of mathematical proportions—is the best way to quell our inner disturbances and to restore our quietude. Failing to do so is to risk losing clarity of mind, to condemn the soul to reincarnate in critters less suited for philosophy than human beings: birds, brutes, or—God forbid—fish!
For sure, contemplating the heavens was not a source of excitement for Plato in the way it can be to city dwellers today, but it was just as salutary. Plato's great insight was that education is transformative: we become what we study, and we must therefore be mindful of our intellectual diet. In trying times, when we feel trapped in our heads and in our houses, it pays to look up, and emulate the stars.
---
Read other InsightOut posts.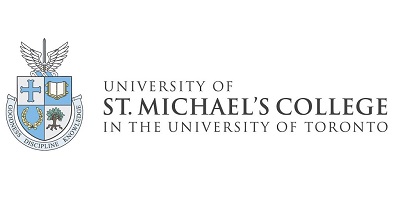 June 24, 2020
The University of St. Michael's College and The University of Toronto Faculty of Arts & Science are pleased to announce that astrophysicist Dr. Adam Hincks, S.J., will be the inaugural holder of the Sutton Family Chair in Science, Christianity and Cultures. The position, jointly supported by Arts & Science and an endowment to St. Michael's from alumni members Dr. Marilyn and Thomas Sutton, will make a significant contribution to the body of scholarship on the intersection of these three key fields.
Alumni and generous donors to St. Michael's, the Suttons have long envisioned a position dedicated to examining how Christianity, science and cultures interact and intertwine.
"Marilyn and I are pleased to make this gift of gratitude in support of the distinctive partnership of USMC (St. Michael's) and U of T. Our education in the Humanities at USMC and Math and Physics at UofT gave us a strong foundation for further education and our professions," says Mr. Sutton.
The Suttons have found in their own studies that exciting knowledge is found in the spaces between disciplines. The Sutton Family Chair will offer a distinctive opportunity to advance such understanding.
"The inquiries of Science, Christianity and Cultures are informed by intersecting strands of scholarship. This Chair will provide a locus for focused study of those intersections and facilitate the development of new knowledge," Dr. Sutton says.
Dr. Hincks specializes in physical cosmology, which studies the evolution and overall structure of the universe. In 2004, he completed a B.Sc. in physics and astrophysics from U of T, while also earning the St. Michael's College Gold Medal for the highest cumulative GPA in sciences for a graduating student. In 2009 he earned a Ph.D. in physics from Princeton University and then entered the Jesuit novitiate in Montréal. After pronouncing vows in 2011, he pursued philosophical studies at Toronto's Regis College and later did a Bachelor of Sacred Theology at Rome's Pontifical Gregorian University. Between these studies, from 2013 to 2015, he was a postdoctoral research fellow at the University of British Columbia. Most recently he has been completing a Master of Theology and Licentiate in Sacred Theology at Regis College. He was ordained to the priesthood in 2019.
"As an alumnus of St. Mike's at the University of Toronto, where I did the undergraduate Astronomy and Physics specialist programme, I'm proud that my alma mater has created this creative position, and I'm delighted to be taking it up," he says.
Among his various academic affiliations he is an associate scholar of the Vatican Observatory, while his research includes work with the Atacama Cosmology Telescope and the upcoming Simons Observatory, both located in Northern Chile, that are designed to answer fundamental questions about the history and structure of the Universe. In the past, he has also worked on the Canadian Hydrogen Intensity Mapping Experiment in British Columbia's Okanagan Valley.
"I'm looking forward to continuing my scientific research in a context that also allows me to examine how it enters into conversation with Christianity and culture, both in the classroom and as a secondary research area," Dr. Hincks explains.
"Dr. Hincks is a stellar addition to a growing group of very fine core faculty at St. Michael's," says Dr. Sylvester. "He reflects the caliber of research and teaching excellence St. Michael's is providing to all University of Toronto students. Dr. Hincks's work—especially in studying the interrelationships of Science and Christianity and their relationships to a variety of cultures—disproves the frequent assumption that science and religion have nothing positive to gain from encountering each other. We are very glad to welcome him home to St. Michael's."
Dr. Melanie Woodin, Dean of U of T's Faculty of Arts & Science, agrees.
"The establishment of the Sutton Family Chair will advance research and teaching in multi-disciplinary ways that attest to the breadth and depth of the scholarship and learning that takes place in the Faculty of Arts and Science," Dr. Woodin says. "I am delighted to recognize the generosity of U of T alumni and longtime supporters Tom and Marilyn Sutton. Their investment in this co-located Chair affirms the importance of creative and meaningful collaborations between the Faculty and one of its valued federated colleges, St. Michael's."
Dr. Hincks will begin his four-year appointment on July 1, 2020. The David A. Dunlap Department of Astronomy and Astrophysics will host Adam's graduate appointment in the University of Toronto. In addition to teaching courses for the Department and also for the Christianity and Culture program sponsored by St. Michael's College for students in the Faculty of Arts and Science, Adam will develop a course to be offered jointly for students in both programs, related to religion and science, in the time ahead.
Marilyn and Tom Sutton are graduates from St. Michael's class of 1965. Marilyn graduated with a B.A. in English and French, completed a Phd at Claremont Graduate University and is Professor of English (Emerita) at California State University, Dominguez Hills. Tom graduated with a B.Sc. in Mathematics and Physics and is the retired chairman and CEO of Pacific Life Insurance Company.
Michael O'Connor is Associate Professor, Teaching Stream, in the Christianity and Culture program and Book and Media Studies. His research interests include music and liturgy and he is director of the St. Michael's Schola Cantorum and the college Singing Club.
---
Saturday night, Sunday morning
Saturday night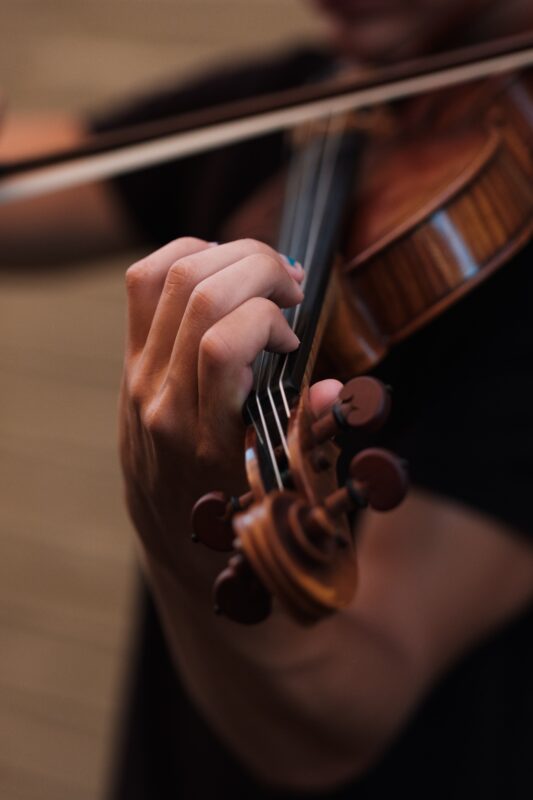 You were lucky the get tickets for the Tafelmusik late-night concert. You arrive an hour early for check-in, as required, and stand in a well-spaced line in the cordoned-off section of now pedestrianized Bloor Street. Your mask is inspected, your temperature taken, you are asked some routine questions about your health (all rather reminiscent of flying to the US in the old days—when we could do that), and are then directed to your seat, four seats away from the next person, empty rows in front and behind. The tang of bleach competes with wood polish. At least there's space to put your coat, scarf, and mitts (it has been an especially cold March). You nod at your nearest neighbours, an indistinct gesture that could mean "Why on earth are we here?"
The tiny orchestra is spread out over the whole dais. The string players are all wearing masks, the harpsichordist is wearing gloves, and the oboist is inside a plexiglass booth, standing on a disposable absorbent mat. The choir, of course, has been furloughed—they are supervectors. According to the program notes, which you read on your phone, you'll be hearing music from seventeenth-century Venice composed in thanksgiving for deliverance from the plague. The oboe gives a note and the strings begin tuning up; at this sound, neither music nor noise, you shiver with unpremeditated delight. It has been almost a year since you heard any live music—other than the neighbour's daughter practising clarinet. You realize in that instant how heartsick you have become with the diet of autotuned, click-tracked, virtual ensembles.
You can't take you eyes off the three-dimensional, flesh and blood performers. They make occasional eye contact with each other at beginnings and endings but for the most part, like geese in formation, they sense together the music's flight, bobbing and weaving as one. Carried along with them, your spirit soars, your pulse quickens. Behind your mask, you chuckle with nervous joy. They play for an hour (no interval, no washrooms, merchandise for sale online only) but it passes in moments. Your final applause is exuberant, reverberant, as you try to fill the space with the appreciation of an absent crowd.
Sunday morning
At St. Basil's, you join the ticket-holders for the 11:07 mass ("enter through the west door, please stand on the red dots"), where your mask is inspected and your temperature taken. Once the 10:30 mass is over, you file up the stairs into church. Household groups sit together; others sit in isolation. You choose a spot in the sightlines of the camera live-streaming the mass on the parish's YouTube channel. Your mother will be watching ("No, not lingering adolescent guilt," you insist: "it will lift her spirits to know she has a proxy at mass"). You greet parishioners whose names you now know from Zoomed faith-sharing sessions. Stilted remarks are exchanged across the voids but, like teenagers, you have learnt to save your most vulnerable conversations for social media. Gloved sacristans lay out all the necessaries next to the altar; there will be no servers.
The entrance hymn is sung by an unseen cantor and although the words are projected onto two large screens, you are encouraged only to hum along quietly ("Singing is worse than coughing"). This suits you, since you are a reluctant singer—unless it's "Come all Ye Faithful," "Amazing Grace," or that bit from the Mass of Creation that everyone knows. You recall the choir director who insisted that singing is all health benefits and no side effects—you wonder how he's enjoying his humming. Readers proclaim the scriptures from individual iPads. The priest's homily is polished—which is not surprising given the number of times he has preached it today. Occasionally he turns to the camera to address the over-60s watching from home. He looks tired. You enjoy the reminder that the collection basket has been stood down ("temporarily, of course"), and nag yourself (again!) to go online as soon as you get home to make your donation.
Bread and wine are prepared at the altar. The organ plays softly, a half-disguised melody accompanied by the clink of the cruets on the chalice. The sight of the empty seats conjures up the parishioners who normally occupy them, and your mind's eye is flooded with images of warm, colourful, singing bodies. In among them, you wonder if you really do see faces of angels, apostles, martyrs—a shimmer of countless holy ones.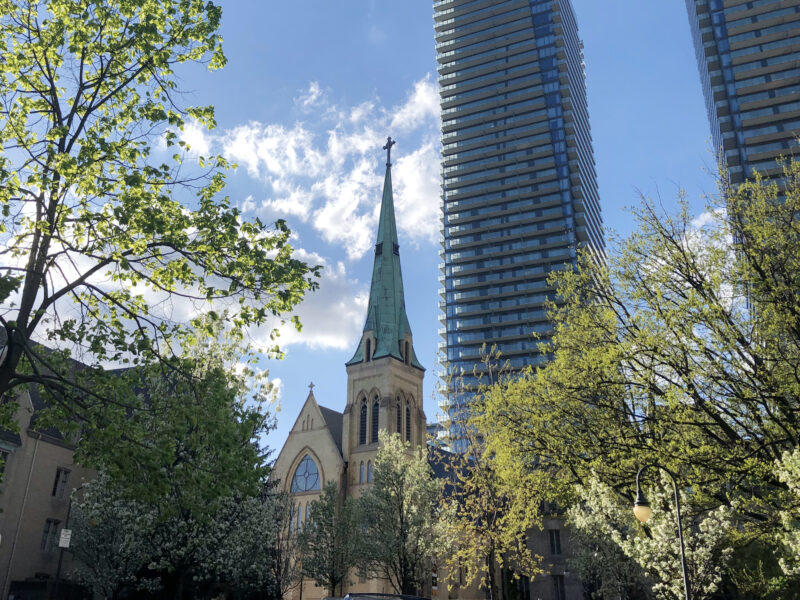 Communion is a regimented, high-alert manoeuvre. You make your way forward biddably. Against all reason, you lower your mask. As the social distance collapses to near-zero, the minister deftly drops the host onto your well-scrubbed hands. You exhale your Amen. Back in your seat, you savour communion. You think of those you love, those in need, those who have not made it this far. While the invisible cantor reminds you to taste and see how good the Lord is, your prayers rise on clouds of Purell and latex powder.
After the closing devotionals (St. Michael has been joined by St. Blaise and St. Roch), you leave the church in an orderly fashion ("exit through the east door"). The organ postlude is almost loud enough to drown out the sound of disinfectant being sprayed on the pews as the church is made ready for the 11:44 mass, the last one before the lunch break.
On the long walk home, your mind is a-chatter: yes, togetherness is in your genes, primates love to sing and laugh together, to feast and embrace. But as a rational primate, you have been hearing for months now that your neighbour is a potential biohazard—that you could be a biohazard—and that the only safe space is the digital universe, where viruses are metaphors.
When you get home and inside, you slump against the door, pull off your mask and take several long breaths. You're exhausted. You're blessed. You just might be hungry (you're never sure these days).
The lockdown was not easy; but the opening-up feels much harder.
Sources
Guidelines for rehearsals and concerts during the pandemic have been issued by the German Orchestra Association's Health and Prophylaxis Working Group and by seven orchestras in Berlin. Two bodies in the US have produced guidelines for the celebration of sacraments: the Thomistic Institute in Washington and the Federation of Diocesan Liturgical Commissions. An alliance of singing groups sponsored a webinar on the near future of singing.
---
Read other InsightOut posts.
Assistant Professor, Christianity and Culture Stephen Tardif is now co-editor of The Hopkins Quarterly, an international journal of critical, scholarly, and appreciative responses to the lives and works of Gerard M. Hopkins, S.J., and his circle. He begins his duties at the same time as fellow co-editor Dr. Michael D. Hurley of Cambridge University.
"I'm delighted to be co-editing the Quarterly, which has been the major journal in Hopkins studies for almost a half-century," Tardif says. "It's also a great pleasure to extend The Hopkins Quarterly's long-standing connection to St. Michael's College." Past co-editors include St. Michael's Professor Emeritus Joaquin Kuhn, who co-edited the journal for 25 years.
Founded in 1974, the journal publishes academic articles and book reviews, notes and notices, as well as special issues, from new and established scholars. The first issue of the journal under its new co-editors is now available, featuring articles on "The Wreck of the Deutschland" and Hopkins' and Christina Rossetti's poetic depictions of flux, and a number of book reviews.