From shared hobbies and interests to causes and activism, the more than 20 clubs at St. Michael's bring together students from across campus, neighbourhoods, and divisions to enrich the larger community. The annual SMCSU clubs fair and BBQ helps new students get a sense for just how many ways they can get involved in life at St. Michael's, both supporting and being supported by their university home. Clubs are also a place many students form the friendships that they carry with them after graduation, and develop skills and experience that are directly applicable to their future careers.
"Clubs at St. Michael's are an essential part of student life, and one of many ways students find opportunities to grow in their talents and passions outside the classroom at St. Mike's," says Student Life Associate Emma Graham. "They're also a bedrock of community life here for both residential and commuter students."
One of the newest St. Mike's clubs is Clean SMC, an organization that strives to "educate and empower students to take action against environmental issues through the support of green initiatives and sustainability," says club president and SMC student Juliano Baggieri. "[We] collaborate with St. Michael's College and students to make environmentally friendly projects come to life."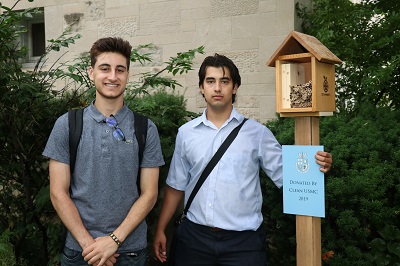 One of the recent collaborations between Clean SMC and St. Michael's resulted in the installation of a "bee box" on campus next to Carr Hall. Donated by Clean SMC and coordinated and installed by the St. Michael's Facilities team, the unit will provide a home to friendly, non-stinging pollinators that will help to brighten the many species of flowering plants that thrive on 11-acre St. Michael's campus.
Baggieri believes that the growing interest in sustainability and the environment will attract even more new members and help the club achieve its three primary goals of "building awareness, increasing community involvement in sustainable activities and developing environmentally friendly projects."
Other organizations directly support the work of the University's four sponsored academic programs: Christianity and Culture, Mediaeval Studies, Celtic Studies, and Book and Media Studies.
Christianity and Culture Social Club co-presidents Maryrose Doucette and Lara Connell work to create deeper connections between students and professors in the program by hosting regular social events where students and professors mingle over refreshments and coffee.
"These clubs exist so that students can make the most of their university experience and genuinely enjoy a community of like-minded people outside of the classroom," Doucette says.
Other student clubs support the larger St. Michael's community by offering real-life experience that encourages students to share their gifts beyond the classroom.
"Reporting fresh, relevant stories that are both for students and by students" is the mandate of student paper The Mike, where generations of St. Michael's students have developed their journalistic chops since the founding of the paper in 1947. Fourth-year SMC student Isabel Armiento oversees The Mike as this year's Editor-in-Chief. This fall, she hopes to "bring together a larger network of St. Mike's students and emphasize all facets of the newspaper," noting that there are major opportunities for artistic and creative students to contribute their talents at every stage of the editorial process.
Many clubs also foster the development of creative gifts. Co-Executive Producers of SMC Troubadours Kaitlyn Wang and Simran Dhir are soliciting suggestions for musicals and student-written plays to showcase student talent at St. Mike's.
"Students don't need to have any previous experiences of the dramatic arts," Wang and Dhir say. All levels are welcome in auditions for shows the club is putting on as part of the 2019–2020 season. This year's diverse lineup includes "a student-written play, an alumni-written play, a musical, [and] a stand-up comedy show."
Clubs at St. Michael's are funded by the St. Michael's College Student Union, which puts on the annual clubs fair and BBQ. Cianna Choo, SMCSU's VP of Academics and the organizer of this year's fair, says "clubs provide a creative outlet for students to explore interests outside of their programs." She notes that in addition to helping the St. Michael's community to flourish, club involvement helps students develop essential skills for the workplace in a context of collaboration.
The St. Michael's community is richer for the variety of student organizations that create community, put on events, and further the extracurricular education of students at the college. More information on ways to get involved on campus is available on the St. Mike's website.