From the arrival of a new principal to our tradition of lighting up the campus in anticipation of Christmas, the fall was a busy time at St. Mike's. Here are some of the things we celebrated during the months of October, November, and December.
New Principal Dr. Irene Morra Arrives — We offered a heartfelt welcome to Dr. Irene Morra as she assumed her duties on December 1, 2022. A St. Mike's alumna with many family connections to the university, Morra comes to us from Cardiff University. In explaining why she has chosen to work at St. Mike's, Morra says, "I'm drawn to St. Michael's because it epitomizes, for me, the very ideal of a university experience."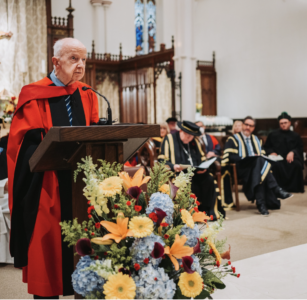 O'Mara, Donovan Receive Honourary Degrees — Two long-standing St. Michael's professors – Sr. Mechtilde O'Mara, CSJ, and Fr. Daniel Donovan—received honourary degrees at the Faculty of Theology convocation in November.
St. Mike's Celebrates Fall Convocation — University President David Sylvester presented remarks at the Fall Faculty of Arts & Science Convocation, which saw 139 of St. Michael's students graduate.
President's Capstone Awards Granted — Four graduates of St. Michael's Corporate Social Responsibility & Sustainability program were awarded President's Capstone Awards this November: Rosalind Share, Heather Anne McKelvey, Amanda Baron, and Patricia Escobar.
Convocation celebrations for 2020 and 2021 grads — On Dec. 14, St. Michael's celebrated more than 360 graduates from 2020 and 2021. Grateful thanks to Eagle Feather Bearer Dr. Robert Phillips who led the procession Convocation Hall and to Colin Asuncion (BA 2011 SMC), the speaker at the graduation celebration.
Indspire Partnership Launched — St. Mike's launched its partnership with Indspire to offer awards for Indigenous students. The application deadline for the next round is coming up on Feb 13, 2023.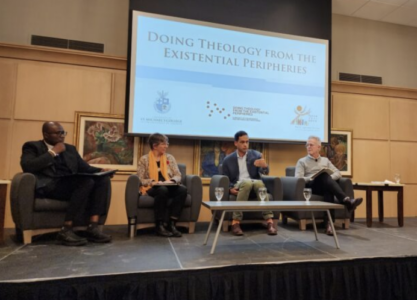 St. Michael's Hosts Vatican Event — In November, the University of St. Michael's College hosted the Canadian launch of the research findings from a key pillar of Pope Francis's ongoing synodal process, work that offers a voice to those often invisible and unheard in church communities and society. More than 300 people gathered in person and online on to hear about a report from an international theological research project, Doing Theology From the Existential Peripheries. The event has been posted on YouTube for those who were unable to attend.
Rosanne Rocchi to Chair Collegium — Toronto lawyer and St. Mike's alumna Rosanne Rocchi was appointed Chair of St. Michael's Collegium, chairing her first meeting, in person, in October.
Kelly Library Hosts Open House for Students — Staff introduced students to all aspects of our work and collections, from rare book and archival materials to research and writing help services, book preservation techniques, and Loans Desk offerings. We shared highlights on Instagram.
Research Consultation Hit New High — The Kelly Library is hitting new heights in terms of research consultations. Between May and January 1st, librarians conducted 241 research consultations, breaking the 2020 record of 200.
Our First Christmas Market a Success — Students, staff, faculty, alumni, neighbours, and community partners helped make the first St. Mike's Community Christmas Market a success. More than 350 people passed through the gates to visit 25 vendor tables, with partial proceeds from sales donated to Romero House. Curious? Have a look at our video of the event.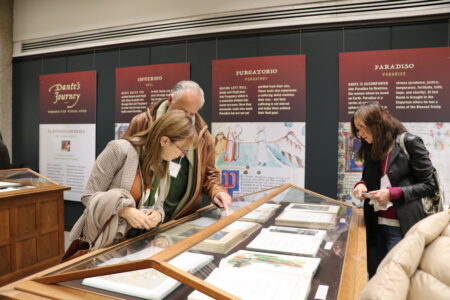 Dante Exhibit & Reception, Manuscript Donation — Curated by Noel McFerran, our Dante exhibit won plenty of admirers at the library's reception for the annual Dante lecture, held November 9th. Just weeks earlier, the Kelly Library was delighted to receive a modern handmade illuminated anastatic copy of Dante's Inferno, known as Dante Guarneriano, from the Biblioteca Guarneriana in San Daniele del Friuli, one of Italy's oldest and most venerated public libraries. Highlights of the exhibit are available the Kelly Library website.
Social Events Return to Campus — It's been great catching up with friends both old and new as events have returned to campus. This fall, we saw the return of the Christmas tea, the Santa Claus parade party and staff Christmas party, all roaring successes. Another big hit was a donor reception honouring longtime coach Lex Bird.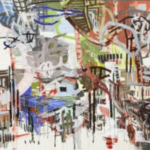 Donovan Collection Work in AGO Exhibition — Babylon, a work familiar to many due to its prominent place in Madden Hall, is currently included in a retrospective of the work of artist Denyse Thomasos. The exhibit runs until Feb. 20 at the AGO.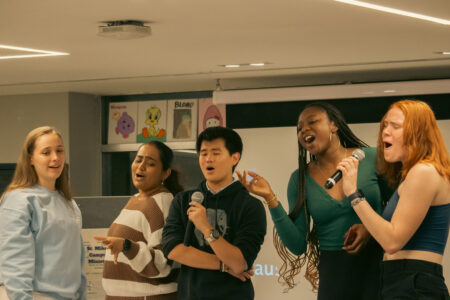 Student Life Hopping with Activity — Of course, our students were keen to resume in-person activities, and this fall saw classics such as the return of Kelly's Korner. The Office of the Dean of Students in collaboration with the Library, Registrar's office and Campus Ministry hosted a week of events to celebrate wellness on campus including Therapy Dogs, Study Cafes, De-stressor events and more. Our Commuter Dons and Campus Ministry hosted a Jingle Ball on December 1st with carols, ugly Christmas sweaters, and lots of fun celebrations, while our residence community came together to celebrate the end of term and start of the holidays with formal dinners, where everyone dressed to the nines!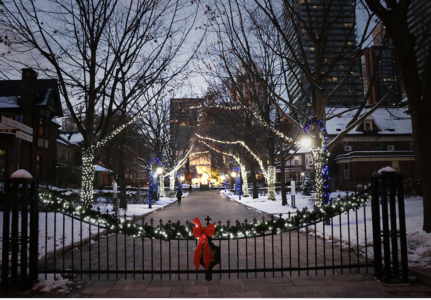 Campus Lights Shine — And, befitting the shortest days of the year, we saw the return of our festive Christmas lights, a bright spot not only for the students and employees of St. Michael's, but for all who live and work in the neighbourhood.
Best wishes for 2023!