FOR IMMEDIATE RELEASE
University of St. Michael's College and Umalia Collaborate on Brokering Multi-Stakeholder Partnerships
TORONTO, Canada November 10 / – This week the Diploma in Social Responsibility & Sustainability and Umalia are launching a "living learning laboratory" on multi-stakeholder partnerships.  "This is a win-win collaboration," says Kathryn Cooper, Program Manager. "Umalia is a leader in developing multi-stakeholder partnerships for social and environmental impact.  Our students will be learning firsthand best practices while lending their expertise to the future sustainability of the project."
Students from the 2020/21 Cohort of the Graduate Diploma in Social Responsibility & Sustainability will be studying the Climat'Eau project.  This project, led by Umalia for the last three years, is a multi-stakeholder partnership in Benin, Africa involving local Beninese partners, the Sô-Ava municipal government and the Sô-Ava Collective of Civil Society Organizations, the Canadian company Technologies Ecofixe, and Université Laval.  The purpose of the project has been to build resilience of populations against the effects of climate change in Benin.
"The students at the University of St. Michael's College will be examining five aspects of the project and making recommendations to contribute to the reflection of the long-term sustainability of this partnership," says Lucie Bourgeois, President and Founder of Umalia.  "Our project team is looking forward to receiving an external perspective on this important project."
The Benin project began in 2017 and is funded in part by the Government of Quebec under the International Climate Cooperation Program.  In 2013 Umalia committed itself to the community of Sô-Ava in southern Benin, together with the local municipal government and the Collective of Civil Society Organizations (COSC) for a period of ten years.  Umalia's objective was to use its experience and expertise to support the community in its development efforts, to build resilience to climate change, to build value-creating partnerships with the private sector and to establish responsible and sustainable collaborative governance.
"The Team at Umalia live their values," says Kathryn Cooper. "Each Member has committed to volunteer their time to advance this project.  Their passion for 'making a difference' through multi-stakeholder partnerships is inspiring.  I hope our students come away from this experience with the skills and enthusiasm to put these types of partnerships to work in their sectors, for social and environmental good."
About Umalia
Umalia Inc. is a consulting firm founded on the strong belief that profit and societal engagement can and must go hand in hand. Therefore, Umalia helps organizations to design, implement and activate strategies and ecosystems to create sustainable value for both organizations and society.
About the Graduate Diploma in Social Responsibility & Sustainability
Thirty-five participants are accepted annually to St. Michael's program, which attracts students from across Canada and around the world. This "work as you learn" program enables participants to take their career in Social Responsibility and Sustainability to the next level.  Participants tackle and resolve a Sustainability/ESG challenge in their company in a major Action Project under the mentorship of faculty and co-learners; learn from global thought leaders; experience practical "real world" change management through the ExperienceChange™ Simulation and join a prestigious community of St. Michael's Alumni in continuing education, sharing and networking.  Graduates receive the post nominal letters G.Dipl.SR&S.
The Diploma is now taking applications for 2021/2022.  Only 35 applicants are accepted.  To apply, go to the Diploma in Social Responsibility and Sustainability Website.  First Intake Deadline is April 30, 2021.
About the University of St. Michael's College in the University of Toronto
The University of St. Michael's College (USMC) is a Catholic institution of higher learning federated with the University of Toronto. USMC strives to offer students a transformative educational experience in a diverse and engaged community, encouraging and supporting students and graduates to share their gifts in the cause of the greater good.
A Business Advisory Committee ensures the Diploma program is relevant and experiential. Sustainability/ESG Leaders representing a broad range of business sectors provide advice and input.
 For More Information Contact
Kathryn A. Cooper, Program Manager, Diploma in Social Responsibility & Sustainability
Phone: (519) 855-9491
Website: https://www.csr-stmikes.ca/
Delphine Orfila, Consultant, Societal Engagement, Umalia
Phone: (438) 725-0518
Email: Dorfila@umalia.ca
Website: www.umalia.ca
Fall Campus Week gives prospective University of Toronto students the opportunity to remotely explore programs and colleges at the University. This Saturday, St. Michael's College will open its virtual doors to introduce some of those students to its vibrant community, its outstanding academic programs, and its robust supports for students.
"When you come to St. Michael's you will feel this sense of community that is very real," says Giancarlo Mazzanti, St. Michael's Registrar and Director of Student Services. "Our approach is to make it as human an experience as possible – meeting with current students, advisors and student services personnel," he says.
This year, current students will facilitate live chats with virtual guests to discuss life at the College during two two-hour windows, and a diverse student panel will also offer a more focused presentation on their experience of community at St. Mike's.
Advisors from the Office of the Registrar and profs and staff from the Office of the Principal will also introduce prospective students to another St. Mike's distinctive during Fall Campus Week and on Fall Campus Day itself: the outstanding interdisciplinary programs that draw from the College's historic strengths.
"I like to think of it as a small liberal arts college sitting at the corner of Bay and Wellesley," Mazzanti says, noting the small class sizes and personalized support students receive in sponsored programs like Christianity & Culture and Medieval Studies. The appointments of new professors like Dr. Adam Hincks, SJ as the Sutton Family Chair in Science, Christianity and Cultures and Dr. Alison More as Comper Professor of Medieval Studies and the introduction of special initiatives like Dr. Paolo Granata's Media Ethics Lab have contributed to a sense of renewal and new excitement for the College's programs.
These professors also support the College's commitment to building a diverse and inclusive community, connecting with students through virtual events and a unique first-year check-in program. These are two examples of the many supports the College's registrarial advisors will introduce to students—a range of services touching all parts of campus, from mental health counseling to academic assistance to financial aid.
While the pandemic has made the prospect of attending university more challenging for some students this year, Mazzanti also emphasizes the ways the University and College are partnering to give unprecedented help to incoming students affected by COVID-19. St. Michael's normally receives $372,000 from the University of Toronto to support grants and other student aid. This year that figure has doubled to $744,000, with the extra funding intended to cover COVID-19-related needs. This funding is in addition to St. Michael's own bursaries, grants, and other student aid, all of which will be covered during the event.
The additional funding enables the Office of the Registrar to help a bigger pool of students to cover additional expenses, and gives the office the flexibility to provide assistance to international students undergoing pandemic-related financial stresses.
While students may not be able to physically visit the campus, virtual tours will make it possible for them to take in the sight of St. Michael's "Oasis in the City." If they pay attention to social media, they may even get a chance to catch sight of one of the campus's most recent visitors—a silver fox—or take a moment to relax in front of one of the many fireplaces.
---
Fall Campus Week at the University of Toronto runs from October 17 to 25. Fall Campus Day for St. Michael's College will take place Saturday, October 24. Register to attend.
Cianna Choo and Jessica Sorbara are this year's Orientation coordinators. Cianna is a 3rd-year student majoring in Neuroscience and Molecular Genetics and Microbiology, while Jessica is a 4th-year English and History major. They have been involved with Orientation throughout their time at St. Mike's and, as they say, "becoming a part of Orientation has undoubtedly been one the best decisions we've made throughout our time at UofT so far."
---
Welcoming the Class of 2024 Virtually
Welcoming incoming students to the St. Mike's campus and university life at UofT is always exciting and rewarding, but this year we are even more excited to be greeting students in a new, innovative way, adjusting to life amidst the COVID-19 pandemic.
Organizing a virtual Orientation for upwards of 1000 incoming students was definitely not something we expected when we started to plan our events in April, and we have had to adapt and reconstruct mostly all of our original plans. We have faced challenges of accessibility, social distancing guidelines, and scheduling with people located around the world. With the changing and complicated circumstances around us, we were constantly in a cycle of adjusting and re-imagining our plans for Orientation 2020. Because we are unable to have a traditional in-person Orientation we have had to think of fun events that would substitute for our usual elaborate on-campus activities. While changing plans and adapting to virtual methods of Orientation is extremely challenging, it has also allowed us to explore so many different delivery methods, activities and events that we would have never thought about before.
Something new and exciting this year has been the shift from Orientation being one week of amazing events and activities in September, just before school starts, to organizing an entire summer leading up to that week. Planning Orientation has been both a challenging and exciting process, trying to figure out ways to build the St. Mike's community with incoming students who have never been on campus before. With the transition to an online approach, we have had to find new ways to make sure students can feel—through their computer screens—the welcoming, positive energy that radiates throughout St. Mike's.
Throughout this summer the two of us, along with our amazing Orientation team, have had to find a way to create a virtual community; thankfully, we've managed to do that through our SMC Online Orientation page on Quercus and our various social media pages. Our SMC Online Orientation page is filled with modules introducing different programs, professors, clubs, events, and all aspects of life at SMC.
We have also been able to interact with students directly via our Summer Workshop Series—a new concept we are both so happy to have made possible this summer. Wanting to make sure the incoming class was prepared for their first year of university, we took a moment to reflect on our own first-year experiences and all the questions we had asked regarding university life. Our Orientation team then created and facilitated the Summer Workshop Series sessions, where we would share our own experiences and advice to help incoming students with their transition into university. We got the chance to host some amazing sessions, including ones offering ideas on how to get involved at St. Mike's, study and time management tips, ways to explore Toronto, and so many more!
Even though we have had to eliminate some of our traditional Orientation events, we were able to create such amazing aspects of Orientation we would have never thought about previously. We also began thinking about all the different ways we wanted students to get excited about Orientation before the week itself. We wanted to make sure this incoming class wasn't missing out on the sense of spirit that we have at St. Mike's, so we had to get creative. We have introduced many contests this summer on our social media pages to get students engaged—learning the Hoikity Choik, getting excited about bed races, and showing off SMC spirit! We have also been extremely lucky to work with an amazing group of leaders and marshals who, throughout the entire summer, have shown everyone how much SMC means to them. By facilitating events and creating videos about campus, TikToks, Instagram takeovers, and so much more, everyone on our Orientation team has shown the incoming students how amazing and welcoming the community is at St. Mike's.
Organizing a week of fun, informative events online was a completely new experience for the two of us, but it was something that got us to think about Orientation in a completely new way. With all the changes that have come our way, we are so excited to meet our incoming class and to see that SMC spirit—even if it is through our computer screens!
---
Read other InsightOut posts.
When the Office of the Dean of Students started developing an online orientation program early this summer in response to the pandemic, they had no idea how popular the program would become. Over 800 incoming St. Mike's students have enrolled in the program so far, over a hundred more than the average number of participants in Orientation Week on campus in recent years—and not only are they enrolling in greater numbers, but those who enroll are spending large amounts of time on the site as well, Campus Life Coordinator Emma Graham says.
The system recreates an essential part of campus life for incoming students in a time when it's not possible to gather in person, making it possible for participants to start experiencing the school's hallmark community in a safe way before the fall term begins.
When developing the online orientation system, Graham and her team of current students aimed to capture three essential content areas: informational content, providing incoming students with everything they need to know before starting their university careers; the physical space, so students will be able to properly orient themselves on campus when they visit; and community. While all three parts were essential to this year's orientation strategy, the last content in particular helps to account for the program's success with the incoming class.
Hosted on Quercus, the University of Toronto's online teaching and learning environment, St. Michael's online orientation comprises 12 modules spread over 48 pages. The content includes 37 videos featuring St. Michael's students and professors. St. Mike's student and Online Orientation Executive Natalie Barbuzzi took the lead in developing the informational content for the modules, which launched in early June.
"The modules were created to be as accessible as possible," Barbuzzi says, mentioning topics ranging from financial aid to mental health and student life. The goal was to create a "one-stop shop" for information to help new students make a successful transition into university, which includes information on ways students can get involved in clubs and other activities. The material will remain available on Quercus after the academic year starts, making it a resource new students can return to as their university careers develop.
Additionally, in conjunction with weekly Q&A sessions and international student webinars for new students offered by the Office of the Registrar, Orientation Coordinators and St. Michael's students Jessica Sorbara and Cianna Choo developed an itinerary of twice-weekly synchronous Summer Workshop sessions meant to offer opportunities for incoming students to connect with each other and foster community.
"We got the chance to host some amazing sessions with our incoming students about getting involved at SMC, international student experiences, study tips and time management, some insider tips on the best wasy to explore Toronto during this unusal time and more," Choo says. The workshops included how-tos on things like using public transit and talking to professors—essential, practical skills for any new student, but not ones they're likely to ask around about. "As a team, we all took a moment reflect on our own experiences in first year and tried to think of some things that we would have loved to know in advance of our first year at UofT," Sorbara says.
The final phase of Online Orientation will begin the first full week of September, when Orientation Week is traditionally scheduled. Divided into groups as they would be for an in-person orientation, new students will have the opportunity to get to know their new classmates while participating in a bevy of online events including movie nights, games, informational sessions, socials with students and faculty, virtual tours, and an online version of Kelly's Korner.
The connections students are making in advance of the fall term will continue after Orientation concludes: The Mentorship program will kick off with a special social event September 3, and a Clubs Fair will follow later in the month.
---
Students who still wish to register for St. Mike's Orientation 2020 can do so at www.stmikesorientation.com. Consult Fall 2020 for current updates on St. Michael's plans for the fall semester.
As the fall semester approaches, the University of St. Michael's College is implementing cutting-edge measures—including some from front-line health care settings—to keep the campus safe for community members and visitors.
"Safety is of foremost importance when considering reopening—not just for staff and students, but for everyone that has access to USMC," says Michael Chow, Director of Facilities and Services at St. Mike's. Following public health guidelines and the University of Toronto, Chow and his team have implemented measures ranging from extensive cleaning strategies to high-tech virus-killing devices. The measures fall into three main categories: facilities, administrative measures, and personal protective equipment (PPE).
Facilities
Visitors to campus will notice a variety of newly installed safety measures this fall, including Plexiglass shields at key points including the Porter's Desk, Registrar's Office, and other areas where queues could create challenges for physical distancing. Classrooms and common areas will have less furniture and reduced capacities in order to make it easier for an appropriate distance to be maintained, and signage and stickers will help direct pedestrian traffic to keep people moving efficiently and safely through indoor spaces.
HVAC equipment will receive increased–efficiency filters wherever possible, as well as a more rigorous filter replacement schedule to ensure clean air throughout campus buildings. Twenty-five free-standing hand-sanitizer stations have been installed next to building entrances, high-traffic areas and entrances to larger classrooms, and wipe or spray disinfectants will be available for students to quickly clean off a desk or chair before they use it, as well. All washrooms are now stocked with paper towels, and Legionella testing has identified no issues with water on campus.
Administrative
"I think the most important change is about our cleaning strategies, for both common spaces and student spaces," Chow says. In line with UofT's tri-campus cleaning protocols, St. Mike's will conduct enhanced cleaning throughout all building spaces and student areas while also adding "a dedicated team of cleaners to do disinfecting and increase cleaning in high-touch areas—a minimum of twice a day for high-touch surfaces." Routine cleaning during normal workday hours as well as on nights and weekends will be enhanced through the use of new cleaning agents, which have been upgraded to a dual-purpose cleaner that both cleans and disinfects.
Hard at work keeping campus safe since the pandemic began, the Facilities and Housekeeping teams is going into the fall semester with new, high-tech tools. Chow says that his team adopted some of these after first seeing them used in hospital and long-term-care settings—the front lines in the fight against the virus.
These tools include a stand–alone UV light system, which staff are using to disinfect all residence rooms before new students move into them in September. The portable UV system is also intended for use in classrooms. A hospital-grade portable disinfectant misting system will also be employed on an as-needed basis, helping to disinfect places that are hard to reach using normal cleaning methods.
PPE
All Facilities & Services staff members have worn either reusable or disposable masks during their work since the pandemic began, with many of those coming from a generous donation of 2000 masks by a St. Michael's student in May. Now, as some staff and faculty return to campus this fall, two reusable masks will be provided to every student and employee. St. Michael's will follow the University of Toronto and the City of Toronto in requiring non-medical masks or face coverings to be worn inside buildings that are normally publicly accessible.
Anyone without one will be able to receive a single-use mask at the Porter's Desk, ensuring that all outside visitors and contractors will also be able to have access to masks while on the USMC campus. Signage posted throughout campus will provide visitors and community members with reminders of proper mask usage as well as principles of handwashing, correct hand sanitizer usage, and other important safety principles.
Behind all the safety measures being implemented on campus, Chow says, are the members of the Facilities and Housekeeping teams, whose tireless efforts have kept students, employees, and visitors safe throughout the pandemic. As he wrote for InsightOut, "Behind the scenes—and often unnoticed—the F&H staff have faced the challenges of the pandemic as essential staff and turned them into opportunities as guardians for the university."
"I think we're doing something right," Chow says. While the safety measures will help keep the St. Michael's campus safe this fall, he notes, it's almost just as important to communicate the changes to the campus community "to put everyone's minds at ease.
"We're not just sending everyone back to the same university they left," he says.
---
Consult Fall 2020 for current updates on St. Michael's plans for the fall semester.
Giancarlo Mazzanti is the Registrar and Director of Student Services at the University of St. Michael's College. Giancarlo is a graduate of the University of Toronto (St. Mike's) with an Honours B.A. in Political Science, and a B. Ed. from the Faculty of Education in 1985. He began his career in education at St. Michael's College School and has worked in student services for over 30 years.
Our Connection Is Just Fine
It's not like rumours weren't swirling about a possible move to a primarily online mode of delivering the services of the Registrar's Office and related Student Services. So it was with the better judgment of our team that we began preparations for what was beginning to look like the inevitable. It seemed like no time at all passed from those water cooler conversations with colleagues within the university community to when the email arrived from the Office of the President telling us that our offices were closing to in-person services. Academic advising meetings, learning strategist sessions, wellness appointments, and every other function and/or service would need to go online.
We received the call on the afternoon of March 17. Within minutes, Morteza was making sure e-tokens were good to go and that college staff in the various university offices were able to log in from home. Most were taken care of, but there were still a few to activate: no problem. Miranda, with Guillermo's and Philip's help, was making certain all students on the day's docket were either seen or given a new appointment, all while planning for graduation scholarships and any number of the other responsibilities within our office. Nawang was ensuring that bursaries were going to get into students' hands… yesterday! Next was getting ready for the hundreds of financial aid requests that would be submitted by our students, as well as the upcoming round of May admissions. Stephen was finalizing plans on how we were going to meet with future applicants, remotely, all while he and his wife were getting ready to deliver a future SMC student. Judy and Alex? Well, the newest members of our office were getting ready for the onslaught of student advising appointments which would fall on their shoulders as the various portfolios were being tended to. Hundreds of emails daily! Then, as the day turned into evening we packed our favourite mugs and our laptops and, with e-tokens in hand, we went home to our new offices!
All were confident as we prepared for remote delivery, even though the occasional nervous giggle could be heard. Gone were the commutes, the traffic, and the aggressive drivers. So was that horribly conspicuous dash to the only open seat on the train; everyone knows when you have designs on a seat in a subway train at 8:15 in the morning! Now it was simply a 12-second climb to the second-floor office, right next to the bathroom, and with a lovely view of the garden.
And so it was that practically overnight all university operations moved online, except for the staff in finance, the residence operation, and building services. They were our "hyflex" model pioneers. They were toughing it out on campus to make sure that USMC kept functioning and that students unable to get home had a room on campus, and that it was a safe space. The I.T. department stood on its collective head to make sure we had the hardware, software and in-servicing on the technology we had all dabbled in but which was not yet part of the daily menu. All of a sudden, Teams and Zoom were the plat du jour! And of course, the Communications team made sure there was an uninterrupted flow of information, essential to all parts of the community.
By the end of Day One of working from the home office, in whichever corner of the house we were assigned—or had earned over many years of squatting—many of the bugs had been worked out. It was quickly becoming business as usual for most, with the rest not far behind. Professionals who were accustomed to meeting in person were now looking at a screen with nothing more than a student's initials in a small circle. Whether discussing course selection, scholarships, or convocation, all meetings were now being conducted via telephone or in a Teams meeting. Different delivery models, same great advice and suggestions.
And how appreciative our students were during those early days of the new, even if only temporary, normal! Every email or call we received began with "sorry to bother you during this very busy time," and was often followed up with a lovely thank-you note.
Today, after hundreds of Teams or Zoom advising meetings, thousands of emails, dozens of website updates, countless online lectures and tutorials, governance meetings, a virtual Welcome Day for newly admitted students, two new Quercus courses to help transition our class of 2024, and hundreds of thousands of dollars in emergency financial aid to our students, it dawned on me. I confirmed for myself what I knew all along. The people! That is the ingredient that is making all the difference.
The people I met on campus were important to me during my undergrad years, decades ago, and I understand far more clearly how important that is today: the staff, faculty, and students of the university. In these "interesting" times, we know we can rely on each other. Whether teaching or making sure we are well positioned to tackle the financial pressures of the coming year or helping a student find a course that will fill a final breadth requirement, we know each member of our community continues to do their utmost to make things work for our students—and for each other. I am confident that is why we were all drawn to this place, our community. That is why we will be ready for the coming year. Yes, a simple electronic screen will not get in the way. Our connection in just fine.
---
Read other InsightOut posts.
Ask.smc@utoronto.ca offers a single point of access for student to find the help they need
From academic advising to assistance with financial aid, accessibility needs and career planning, the Office of the Registrar and Student Services provides essential help to students in all stages of their St. Mike's journey. Although the physical office has been closed since mid-March in response to the COVID-19 pandemic, the Student Services team continues to provide timely, crucial support to St. Mike's students online, and the team is optimizing its services for remote delivery this fall as well.
The effort on the part of the office to optimize online service delivery for St. Michael's students in a matter of days "is truly something I have never witnessed before," says St. Michael's Registrar Giancarlo Mazzanti.
"Advisors have stepped up to deal with the very significant increase in student inquiries, while working at putting into a virtual format everything that students have come to expect of the Registrar's Office and Student Services," Mazzanti says. "The university has made a commitment to the continuation and expansion of Student Services to be certain that all students will have the advising and services that have become synonymous with the student-centered St. Michael's approach."
During this unique time, a single point of access has made it easier for students to find the help they need: ask.smc@utoronto.ca. Students can email this account to get in touch with an advisor directly, and to get connected with a variety of ongoing services.
Academic Advising is a primary focus of the office. During one-on-one sessions, advisors provide assistance with registration, course selection, program selection and scheduling. In addition, advisors can provide students with guidance regarding workloads relative to other aspect of their student life, and help provide clarity on options for financial aid, some of which are available directly through the University of Toronto.
Nicole LeBlanc MSW, RSW has been the Wellness Counsellor at St. Michael's since the fall of 2016. All students and residents of St. Michael's are welcome to set up an online half-hour counseling appointment with her by email: nicolem.leblanc@utoronto.ca. Other wellness resources can also be found through St. Michael's Student Services under the Wellness Counsellor tab.
Dr. Andrea Graham and Julia Andrews are the Academic Success Learning Strategists at St. Michael's, and they support students in all areas of learning and academic performance. Graham and Andrews are available to help students discover their best ways of learning, adapt to university expectations, increase their efficiency, identify and pursue their goals, improve their work, and get the most out of their academic learning experience. Appointments with each can be set up through ask.smc@utoronto.ca, and additional resources for academic success are available through University of Toronto Student Life.
Accessibility Services at the University of Toronto can help students with temporary and permanent accessibility needs receive necessary academic accommodations. St. Michael's accessibility advisor can be reached through ask.smc@utoronto.ca, and more information about registering for services is available through University of Toronto Student Life.
It's no secret that writing at the university level can be a challenge, especially for new students. That's why the Writing Centre at St. Michael's continues to offer one-on-one appointments for students looking for guidance on all aspects of the writing process, from researching and outlining to drafting and editing.
Support for students also includes help with the period that follows graduation. This is where St. Michael's Career Educator Husna Arif comes in: she helps students with exploring career options, applications for grad school, upgrading job search skills, conducting mock interview, learning about employment opportunities, and making plans for after graduation. As with the Office of the Registrar's other services, digital appointments with Husna can be set up through ask.smc@utoronto.ca.
As these services continue being offered digitally through the summer, Mazzanti says remote service is being optimized for the Fall term as well. "We have doubled the number of front-line advisors available to answer student inquiries as well as adding resource to the financial aid portfolio, in personnel and funds," he says. Regular services offered during the Fall and Winter terms such as the Math and Computer Science Success Centres will be available remotely, too.
Many students will also be making their transition to university during this uncertain time, and the Office of the Registrar and Student Services team is already working hard to make the move as seamless as possible. "We have over 20 events planned over the summer to facilitate the student transition to university," Mazzanti says, including "welcome events, course planning and selection and other events that will allow students to actively participate, collaborate and meet with our advising team."
June 8, 2020
Dear members of the St. Michael's community,
I trust this message finds you in good health and holding up in these uncertain times. The 2019/2020 academic year has ended like no other, and I have watched our community respond with grace, courage and resilience to the challenges created by the COVID-19 pandemic. Once again, St. Michael's is showing that even in very difficult times, our strength and generosity marks us as an anchor of hope in our community.
Social media use of #allinthistogether has gathered traction as the world responds to COVID-19, but I am particularly struck by how, at St. Mike's, we really are in this together. Together, our students, faculty, alumni, and staff have worked to respond to these unique times, enabling classes to continue while ensuring the safety and security of campus, and the community. Students have been particularly resilient, and they have shown great understanding and patience in the face of a dramatically upended school year. As I look forward not only to the coming academic year but also to the future of St. Mike's, I am confident that the lessons learned in these challenging days will help strengthen this incredible place, a place with compassion and community at its very heart.
When it became clear in mid-March that we needed a drastic response to the looming health crisis, creative problem-solving swung into action across the University. Within days, faculty and staff began offering classes and advising remotely, and students rose to the challenge. Residence students were able to pack up and head home early. The library remained open online, even offering a town hall on research. With a dedicated skeleton staff on campus to ensure that our students who could not leave were safe and supported, colleagues began working remotely, and virtual meetings became the norm. For the first time in history even Collegium and Senate meetings moved online.
This period will forever be remembered as a time when the world faced challenges above and beyond the norm, and we offer our support to those who are suffering. For St. Mike's, the pandemic has forced us to sacrifice some much-loved traditions. We had to cancel spring reunion on campus and move to online anniversary activities, and the Class of 2020 missed out on an in-person, on-site convocation. As always, however, our community has responded with energy and hope. Whether it's our Student Life team working on a virtual orientation for the incoming class, staff in the Registrar's office taking additional time and care to respond to new and returning students' concerns, or one of our students arranging to donate thousands of masks to protect those still on campus, this community is motivated by a concern for others, and it has been deeply moving and inspiring to witness.
We were in the midst of our St. Mike's 180 planning when the pandemic hit. The pause in this project has allowed us time to reflect on our efforts to date and has affirmed what we already knew, that it is the strength of this community that is helping us weather this difficult storm and gives us hope for the future. We remain focused on our plans for renewal and I look forward to restarting conversations with you all about who we want to be as an institution and how we plan to achieve that. Obviously, we are stepping into a very different world, but St. Mike's is prepared and must take up the mantle of leadership and think of new ways to build hope for our university and society, through our academic and student life programs and through our alumni and community partnerships.
Looking ahead to the 2020-2021 academic year, much remains unknown and difficult decisions must be made in the face of ongoing uncertainty. The health and safety of our community continues to come first, as well as the ability to reopen and resume operations when we are able to do so safely. The university is also facing challenges with regard to reduced revenues, and must also ensure that it remains fiscally sustainable. In early April, we implemented a hiring freeze, along with temporary redeployments. More recently, faced with prolonged shutdowns of parts of our campus and operations the University has worked with the United Steelworkers so that employees in our Facilities and Services Department and Physical Plant Departments can self-identify if they are willing to take a temporary leave. Staff who are affected by this decision have already heard from us directly.
Despite the challenges we are facing as the result of the pandemic, we remain committed to our community and charting a path forward. We are doing everything we can to sustain our workforce and adapt as we move through this crisis. We have established an advisory group, focused on plans for the fall, and we will continue to follow advice from public health and government guidelines. The University of Toronto has recently announced a plan to support employees in working from home where possible until at least September. St. Michael's is part of this collaborative effort to achieve a gradual and safe reopening of the city's workplaces.
Fortunately, in addition to calling on the expertise of our in-house resources, we can also tap into the knowledge and best practices of organizations such as Universities Canada to help us continue to do what we do best as a centre of learning and faith committed to building the common good.
Our Collegium remains a strong sounding board and a source of advice, responding wisely and compassionately to the unique concerns raised by the pandemic. Last week, the USMC Senate discussed the impact of COVID-19 on our academic community. We head into the coming year in especially capable hands, with former St. Michael's Principal Dr. Mark McGowan returning as Interim Principal, as Prof. Randy Boyagoda becomes Vice-Dean, Undergraduate in the Faculty of Arts & Science at U of T. As well, Dr. John McLaughlin will again serve as Interim Dean of the Faculty of Theology as Dean James Ginther returns to the classroom following a leave. We are also very fortunate to have continued great student leadership, and I have already begun to work with Cianna Choo and the newly-elected executive of SMCSU.
While there is still so much we do not know about the course of this pandemic, rest assured that we will continue to communicate via email, social media and our website, stmikes.utoronto.ca, with important information about the 2020-2021 academic year and how and when the campus will reopen. Yes, we are in extraordinarily challenging times, but we are truly all in this together, and with your help St. Michael's serves as an anchor of hope, an engaged and compassionate community dedicated to serving the greater good.
I am proud to be a member of this remarkable community.
Gratefully,


David Sylvester, PhD
President and Vice-Chancellor
University of St. Michael's College
A Season of Transformation for St. Mike's CSR Program
Updated name, new award, enhanced value all signs of program's coming of age
No matter what stage of life you're at, icebreakers can help the first day of school seem a little less daunting. But when the school is St. Mike's, and the subject is corporate social responsibility, you can forget about standard tension diffusers like 'tell two truths and one lie about yourself' or pinning your birthplace on a giant map.
As participants in the 2019/2020 Graduate Diploma in Social Responsibility and Sustainability cohort met for the first time this past October, students were asked to chat with a seatmate and then present that person to the group by naming their core values. As the introductions circled Charbonnel Lounge, words like honesty, gratitude, compassion, respect, integrity and humour surfaced, indicators that this is not just any classroom.
For close to 20 years, University of St. Michael's College has been the go-to school in Canada to study Corporate Social Responsibility, an operational philosophy also known by a variety of other labels, including ESG (Environmental, Social, and Governance), Corporate Citizenship, or Social Purpose and Social Innovation.
The common thread is an institution's commitment to action that enhances the common good by adopting strategies such as environmentally friendly processes, fair labour practices, or corporate volunteer efforts. Proponents of CSR argue that a strong strategy can have multiple benefits, from answering shareholder concerns and aligning with a board's ethics through to self-preservation and furthering employees' sense of participation in something valuable, all factors that can contribute to a stronger bottom line.
"Corporate Social Responsibility is not just a set of [business] tools but a new outlook," Program Manager Kathryn Cooper explains. "CSR helps you look at people in a more human way and, as such, it is transformational.
"When we talk about Corporate Social Responsibility or Citizenship, we talk about social and environmental impact. Today investors, consumers and global citizens want to know that organizations are not causing social or environmental damage. In fact, there is an expectation that companies are making a positive contribution to society and the planet."
As an example, she cites athletics apparel giant Nike as a cautionary tale. When negative media reports on its international labour practices surfaced in 1996, stock value fell by 50% from $38 to $19 per share, while sales dropped almost 10%.
It is precisely the goal of positive change that makes St. Mike's a logical host for the program, says University President David Sylvester, because the program's goals and outcomes represent the long-standing values of St. Michael's. There is a clear correlation, for example, between the topics studied in the program and the tenets of Catholic Social Teaching, whether the issue is environmental stewardship, concern for the marginalized or a driving interest in the common good, he explains.
As it approaches its third decade of operation, the St. Mike's program is undergoing its own transformation, a sign of a coming of age not only of the program but also for the concept itself.
This past Fall, the program name of Corporate Social Responsibility was changed to the Graduate Diploma in Social Responsibility and Sustainability. Corporate no longer appears in the program name because the core concepts' appeal reaches far beyond the business world. While the idea began with financial institutions, it is now being embraced by a variety of sectors, including health care, education, NGOs, and not-for-profit organizations, notes Cooper. Recent graduates from the St. Michael's program have come from a diverse group of employers, including Toronto Hydro, Manulife Financial, the University of Calgary, and UNICEF.
"The idea of social responsibility used to be viewed as a public relations issue or the way to earn a 'social licence to operate', but it's got far wider applications," she says.
Sustainability has been added to the program's name "in response to a global trend toward embedding environmental, social and governance issues in business," Cooper adds. "To survive and thrive, organizations must focus beyond their bottom line, and create positive social impact.
"We make a lot of personal connections between values and ethics and urge people to take their whole selves to work."
The name change also signals the program's upgrade from a certificate to a diploma. Graduates of the 2018/2019 cohort were the first to receive diplomas at their November convocation, and are eligible to use the post-nominal letters G.Dipl.SR&S. The upgrade is a result of the increasingly academic nature of the program, says Dr. Sylvester, who notes that when the motion to change the program to a diploma was put before St. Michael's Senate, it was unanimously approved.
The changes to the CSR program come as St. Mike's engages in its own strategic visioning exercise, notes Dr. Sylvester. St. Mike's 180, Rooted in the Future seeks input from community members, asking how St. Mike's can create a dynamic and abundant future as the school looks to its 180th anniversary in 2032.
St. Mike's, like many other Canadian post-secondary institutions, is beginning to think more about the social impact of universities, and is looking to imbed related language and goals, examining everything from purchasing and infrastructure to examining a school's relevance and how it engages with the community, he adds.
"We want to turn research and teaching on the community as a vibrant force, because universities must be engaged in the community to have relevance," Dr. Sylvester says.
The Social Responsibility and Sustainability program at St. Mike's runs over 13 months, and consists of three sets of in-class sessions throughout that period, for a total of 11 days on campus. In between the three on-campus sessions, participants engage in reading assignments, participate in webinars, post reflections, meet with mentors who provide advice and guidance on a capstone project, and stay in touch as a cohort through a special web portal. As each cohort is capped at 30 students, both participants and instructors get to know each other well, with plenty of time for discussion.
On-campus sessions include workshops on everything from making the business case for social and environmental responsibility to how to apply CSR and sustainability strategies in the workplace through the development and implementation of diversity and inclusion, community investment, ethics and reporting and communication policies and procedures.
The program draws three types of participants, Cooper notes. Some are tapped on the shoulder by employers wanting participants to develop their company's CSR or Sustainability Strategy. Others are looking for a purpose-focused mid-career transition, while a third group consists of younger people who have graduated with theoretical knowledge about sustainability and CSR but are looking to learn from mentors and program participants with practical experience.
Participants have two major assignments, as well as a capstone project where they work with a seasoned CSR and sustainability mentor to undertake a practical social responsibility and sustainability project. Students identify their project's outcomes and methodology, as well as how to socialize the plan with key stakeholders, she explains.
Past projects have included Community Investment Strategies, Volunteer Programs, Environmental Sustainability Initiatives, Indigenous Impact and Sustainability Reports and CSR/Sustainability Strategies.
The ability to connect with experts, as well as to meet others in similar fields grappling with similar questions, is one of the big draws for the program, graduates note.
"It's a top-notch program, the only one of its kind in Canada connecting like-minded people with similar passions in Corporate Social Responsibility," says Alexandra Biron, who is Assistant Manager, Corporate Responsibility at professional services firm Deloitte in Toronto. She looked at online offerings from other schools but was drawn to St. Mike's both because of the in-person sessions, as well as what she heard from former students.
"You can find a lot of information online but the network of professors and speakers is what's most valuable. You are a cohort with a diverse group in terms of age, sector, experience, background, and even with those who might not come from a CSR background but are looking to change fields," Biron explains. "These people share their struggles and high points, especially as so much can happen in 13 months. These are people with similar values and passions in a variety of jobs."
Biron was one of the two winners of the inaugural President's Capstone Award this past Fall for her project, entitled Deloitte Canada 2019 Indigenous Impact Report, which examined the impact [Deloitte has] made with Indigenous communities through pro bono work, volunteering, donations, sponsorships or serving as directors on boards.
"This report was the first of its kind for the firm. We publish an annual CR report but this was the first time we looked at the impact we were having with Indigenous communities. It's led to an even bigger project, which is the firm's Reconciliation Action Plan, which is set to launch in 2020 and will set the stage for how Deloitte will move forward on implementing TRC recommendations into its corporate life."
Like Biron, Sarah Thirnbeck credits the program with offering her the skills to lead change in her workplace. Thirnbeck, who is Associate Director of Strategic Impact for the Canadian Real Estate Association in Ottawa, says of the program, "It changed my life."
When moved from handling social media into her current duties this past Fall, Thirnbeck sought a program to help her create a vision for her new role.
While seeking resources online, she found mention of the St. Mike's program "and it fulfilled all my expectations. I arrived on Day 1 knowing I wanted to develop a CSR strategy for my organization but I became like a sponge, soaking up information."
Thirnbeck was the other winner of 2019 President's Capstone award. Her project was titled "A CSR Strategy for the Canadian Real Estate Association." It has already had an impact, as the Board of Directors of CREA agreed to include ethics, sustainability and social impact as a new priority in its strategic plan, based on her recommendation.
Now, she will begin implementing ideas from her project, including a green strategy, in her own office, with an eye to rolling them out to various local boards and offices across the country.
Program graduate Robert Waite now serves as a CSR mentor, working with and inspiring other students. Waite found himself in the program in 2008 while working at Canada Post, after he was asked to lead the effort of Crown Corporations in the area of environmental stewardship. Deciding he wanted an academic understanding of the program, he chose St. Mike's because "I liked the structure. …It was more humanistic and less technical, with more emphasis on the soft skills. The program gave me the tools I needed," says Waite, who went on to produce the first CSR report of any Crown Corporation, and hosted a meeting of various Crown Corporations to share best practices.
Waite, who now teaches at Seneca College and does consulting, says he decided on the St. Mike's program for several reasons, including the fact that the small program, on a small campus within the enormous University of Toronto campus, had an intimacy to it.
The very nature of a liberal arts college is another, he adds.
"Climate change, for example, can be positioned as a moral issue, a philosophical one," he says.
A few years after graduating, he was invited by a United Nations official to lecture on CSR to a group of postal agencies from 10 Caribbean countries.
"The materials I used were materials I gathered from St. Mike's. It was a great feeling, as many participants' countries were small and didn't have the resources to take on issues like environmental stewardship. My ability to say yes can be tracked to my participation in the program. I have nothing but praise for the people who run the program."
One of the influences he cites is Dr. Mimi Marrocco, who started the program in 2002, when she ran St. Mike's continuing education program. In chatting with various stakeholders, it became clear to Dr. Marrocco that "the liberal arts had something to contribute to business, including creating the time to think," she recalls. "Liberal arts allows for reflection.
"Sometimes, work environments can become siloed, but this program creates a forum to talk to like-minded people, and it presents the opportunity to make connections inside and outside."
One of Dr. Marrocco's first ideas for the program was to introduce a novel study to allow people to use their right brain, the hemisphere associated with creativity and innovation.
The first year, participants read E.M. Forster's Howards End, which bears the epigraph Only Connect, a message she says underlines the program.
"We need slow knowledge, slow movements. We are busy people in business and
sometimes we fall into busyness, which doesn't allow us to use the whole person."
New grad Alexandra Biron agrees.
The program "provided me with a platform to combine my professional life and one of my passions…. My career may not have progressed the way it did so quickly without this experience."
---
By Catherine Mulroney
From St. Michael's Magazine: Winter 2020
Providing a unique bridge from high school to university, St. Michael's popular SMC One seminars are now accepting applications for the 2020-2021 academic year.
The Gilson Seminar in Faith and Ideas, the Boyle Seminar in Scripts and Stories, and the McLuhan Seminar in Creativity and Technology draw new students into close-knit learning communities that personalize the student experience at UofT.
"The SMC One seminars are among the most sought-after courses for first-year students at the University of Toronto. With small class sizes, discussions led by leading scholars and superb teachers, and unparalleled opportunities for intensive international learning experiences, these courses provide an excellent introduction to university-level studies," St. Michael's Principal Randy Boyagoda says.
The seminar format creates a supportive and dynamic environment in which new students are empowered to develop important academic skills they will rely on throughout their academic careers. The programs also draw from the historic interdisciplinary strengths of St. Michael's sponsored programs.
The Gilson Seminar in Faith and Ideas
"SMC Ones emerge out of the distinct resources and traditions of St. Michael's, which professors and students together placed in dialogue with the leading currents of thought and practice today," Professor Boyagoda says.
He teaches the Gilson Seminar in Faith and Ideas, which explores the intersection of faith with today's most important questions. Students research and discuss issues in ecology, science, literature, social justice, and politics with reference to the Catholic intellectual tradition.
Graphic novels, memoirs, theological tracts, papal encyclicals and literary novels fuel wide-ranging conversations in both the main seminar and smaller tutorials, and the class culminates with a spring trip to Rome. There, students have the opportunity to visit St. Peter's Basilica, the Vatican Observatory, and other world-famous religious and cultural sites.
"The Gilson community became a family," third-year St. Michael's student Taylor Medeiros writes of her own experience in the seminar. "While on the trip, I fell in love with Roman art, architecture, and gelato. I never expected that I would fall in love with the liberal arts, too."
The Boyle Seminar in Scripts and Stories
A key theme of education at St. Michael's is the union of theoretical learning and practical knowledge. Bringing together two of St. Michael's sponsored programs, Mediaeval Studies and Celtic Studies, the Boyle Seminar in Scripts and Stories equips students to study the history of knowledge preservation in the mediaeval era while also giving them hands-on experience in the practices of mediaeval knowledge transmission.
"We spend quite a lot of time talking about 'how do we go from cow to page?'" says assistant professor Máirtín Coilféir, who co-teaches the course with fellow assistant professor Alison More. After learning how monks in a scriptorium approached the production of manuscripts, Boyle students have an opportunity to cut, finish, and write with their own feather quill pens – just as the monks did.
Boyle Seminar participants also receive hands-on experience with medieval manuscripts, a rare opportunity for first-year students to touch the past. The seminar's May trip to Ireland includes visits to ancient cultural sites and an active archaeological dig, where students can touch artifacts that are fresh out of the ground.
The McLuhan Seminar in Creativity and Technology
Named for Marshall McLuhan, one of St. Michael's most famous professors, the McLuhan Seminar in Creativity and Technology encourages students to turn a humanistic lens on the world of science and technology. Assistant Professor Paolo Granata, a scholar of McLuhan's work, introduces student participants to leaders in the tech world while constantly posing the question: how does creativity make innovation possible?
"The McLuhan Seminar is designed for students who want to develop an awareness of the relationship between creativity and technology, and who want to know how that relationship impacts both individuals and broader culture and society," professor Granata says. "It cultivates interdisciplinary and critical thinking, and suggests how creativity and technology can be embedded in everyday practices as well as in large-scale societal processes."
Students in the McLuhan Seminar get to know the figures who put Silicon Valley on the map through their world-changing ideas and products before decamping to the Valley for a one-week international learning experience. A whirlwind itinerary takes participants to LinkedIn, the Mozilla Foundation, the Google Plex, and networking events to meet innovators and leaders who are determining the shape of our digital future.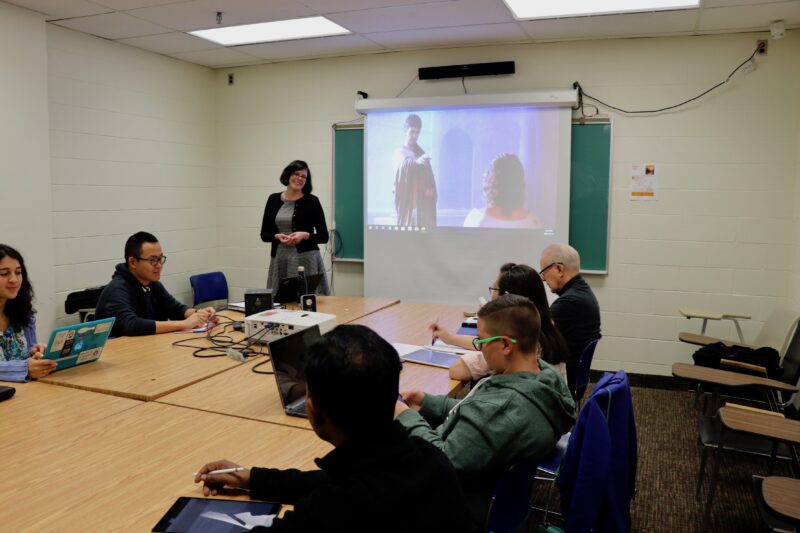 Ask Dr. Callie Callon about her field of study and she launches into an animated anecdote about insults in the ancient world. First she breaks into a grin and then an outright laugh as she details how St. Jerome suggesting that Pelagius fought with "a pointy head" was really an exquisite 5th-century dig at the latter's character. It's a laugh that indicates just how much this professor enjoys her work.
"Nerdy, I know!" she says.
Dr. Callon, a New Testament scholar now teaching at the Faculty of Theology, is also an expert in ancient physiognomy, looking at how early Christians used appearances to praise or impugn others. Her book, Reading Bodies: Physiognomy as a Strategy of Persuasion in Early Christian Discourse, was published earlier this year by Bloomsbury Publishing.
The pointy head reference, she explains, was really designed to allude to a wrestling position, as the common thinking about wrestlers in Jerome's time was that they had brute strength but moral shortcomings. One of Pelagius's moral shortcomings? He had criticized some of Jerome's writings. (Subsequently, of course, Pelagius was deemed a heretic at the Council of Carthage in 418 A.D. over his thoughts on original sin.)
"In some situations Early Christians could capitalize on what was held to be a deficiency in the personal appearance of an opponent in order to persuade an audience of his deficiency in character," Dr. Callon explains. With Jerome and Pelagius at odds over theology, the former took to attacking physical characteristics of the latter to defame and undermine his philosophy.
The delight Dr. Callon finds in her subject area, whether interpreting the nuances of early Church writing or the depths of Scripture, has won her fans among her students.
"You can tell that teaching is her passion," says doctoral student Min-June Kye, who first encountered the professor in her The Parables of Jesus class, and who uses words like supportive and innovative to describe her as a teacher. "She clearly enjoys what she's doing, including learning from her students, she's incredibly smart, and her objective is knowledge, not career."
When asked to elaborate, he cites things like Dr. Callon's Greek word of the day to amplify readings and broader horizons, her use of humour in lectures, or her timely response to emails, with detailed answers demonstrating she has read the entire message thoroughly.
"She also offers detailed attention on papers – and she's always encouraging in the areas that need attention," he says.
Modest about her students' appreciation for her teaching style, Dr. Callon describes herself as "student-focused," and says she tries to get a feel for her students on the first day of class because each group is unique.
"A third of the way through the course I ask students to write one thing that is going well (about the class) and one that they would change and hand them in – anonymously — because there are so many different learning styles," she explains. "That way I can address areas that could help students better engage."
Dr. Callon found her subject area of interest by accident.
"An original interest in contemporary gender theory and gender performance let to an interest in the way the body and gender were understood and interpreted in antiquity," she explains. "A significant component of ancient physiognomic thought was concerned with detecting what it deemed 'gender slippage' in bodily comportment."
She earned her doctorate at the University of Toronto's Department for the Study of Religion under the supervision of renowned scripture scholar Dr. John Kloppenborg. After graduating in 2014, Dr. Callon taught courses at the University of Toronto and Queen's University before arriving at St. Mike's in 2017 as a sessional instructor and then accepting a contract position with the Faculty of Theology in 2018.
This year, she is teaching The Gospel of Matthew, The Life and Letters of St. Paul, and Feminist Interpretations of the Bible for the Faculty of Theology. New to her teaching schedule this year is an undergraduate course, Women and Christianity, which will run in the Winter semester. As described in the syllabus, the course will explore "what Pope John Paul II, among others, called the 'feminine tradition' in Christian life and thought."
"Research-informed teaching is a defining feature of a University of Toronto undergraduate program," says Professor Randy Boyagoda, Principal of the College and Director of the Christianity and Culture program, in which Dr. Callon is teaching her course. "The College, the program, and above all our students are fortunate to have a scholar of Dr. Callon's calibre drawing on her active work in this area and sharing that in the classroom."
Faculty Dean Dr. James Ginther says he's delighted to see Dr. Callon's teaching talents shared with the undergraduate division, describing her as a "wonderful ambassador" for theology, and as someone who will offer students a top academic experience while remaining approachable and able to answer questions undergrads might have if they're pondering graduate studies.
That skill has already been demonstrated. Just ask Min-June Kye.
Dr. Callon is "one of the reasons I continued my studies," he says simply.
Each year, students come from all over the world to study at the University of St. Michael's College in the University of Toronto. We caught up with one of those students to hear more about what life is like for our international student community, and how St. Mike's becomes a home away from home.
Simran Dhir is a second-year student specializing in Pharmacology and Toxicology while minoring in Education and Society. She came to St. Mike's from Kolkata, India, and is involved with the SMC Troubadours theatre club on campus. She was also a member of SMC One: The McLuhan Seminar in Creativity and Technology, which features an in-course international learning experience to Silicon Valley.
1. What makes St. Michael's a good fit for you as an international student?
St. Mike's is one of the most welcoming places I have been to. Considering how diverse we are, it is impossible not to find people you relate to and who are going through the same things as you. Also, with the help of the super knowledgeable Dons and the Registrar who work so hard trying to ensure that the transition from high school to college goes smoothly, it is hard to not feel as if St. Mike's is a home away from home.
2. What are some of the resources available at St. Michael's that new international students should know about?
We have a really well-organized Mentorship program that pairs incoming students with seniors who share similar interests, and I think it's a really nice way to get to know the workings of the University. Being situated right across from the Kelly Library comes with its perks, and each student has a personal librarian that can help them with their research assignments and writing. There are also study spaces that can be booked for group study sessions. We have a great support system created by our Dons, and we have an excellent team of Commuter Dons who are there for the students who do not live on campus. Our Student Union this year is super involved in campus life and is going out of their way to make students feel like they are being heard.
We also have a wide array of clubs that you can get involved in, like the St. Michael's College Troubadours, which is the drama club at our college, or Clean SMC, which works on creating a more sustainable campus. The Registrar is there to help answer any questions you may have, and is one of the most important resources that you should take full advantage of. Last but not least, interact with the people around you! Your peers are the most underrated resource here and if you let yourself be open to the community around you, you will have some of the best years of your life here.
3. What is your favourite part of life as an international student at St. Michael's?
The community is hands-down my favourite part of life here as an international student. St. Mike's has so many events like the Dean's Cup and Kelly's Corner that provide students with the opportunity to get involved and which garner a sense of belonging. I strongly feel that the diversity present in this college makes us more inclusive, and that no matter where you are from, you will find the support and love you need here.
When asked to describe St. Mike's, students often mention "community" as a foundational part of their experience of the school. The newly renovated and fully accessible Brennan Hall offers – quite literally – a concrete example of the ways in which community is an essential and longstanding feature of the student experience at St. Michael's. Amid the portraits of alumni and past professors, current students find themselves in a community as familiar as an extended family—and just as committed to their success in every area of life.
"The revitalization of Brennan Hall represents this university's commitment to student experience," says President David Sylvester. "By placing key services and resources alongside club and gathering spaces in the heart of our campus, the new Brennan Hall brings together every part of St. Michael's student life—spiritual, academic, personal, and social—in the same way a St. Mike's education forms the student as a whole person."
One of the most important updates to the space is the relocation of the Office of the Registrar from Alumni Hall to the centre of Brennan. This places essential registrarial services at the heart of campus for both undergraduate students at St. Mike's and graduate students at the USMC Faculty of Theology.
Students can make use of those services while also popping in to the SMCSU office, the Canada Room dining hall, or the Dodig Family COOP. With Campus Ministry and Student Life offices down the hall as well – and exciting events often taking over the COOP during evenings and weekends – the overall effect is that of a bustling home for students from every division of the school, and a place that caters to every part of student life.
Giancarlo Mazzanti '84, Registrar and Director of Student Services, says "The revitalization of the main level of Brennan Hall has been the catalyst in improving the student experience on our campus." He mentions one of the key benefits has been that staff "are in constant contact with students, and sharing in the community experience," and that the new spaces bustle with students "studying and meeting with academic advisors, learning strategists, career advisors or our Campus Ministry team."
Since the beginning of the new academic year, the revitalized Brennan has been buzzing with activity, from orientation programming to events and first club meetings. A recent Kelly's Korner – an open mic night and longstanding tradition brought back in the new space – was full to overflowing the doors of the Dodig Family COOP.
"It looks beautiful and it is coming back to life!" says Maryrose Doucette, a third-year SMC student double-majoring in Christianity and Culture and Mediaeval Studies with a minor in Political Science. "The COOP being redone, the pool table, and of course the coffee shop are all a draw for me, and it's great to walk through on my way to class and run into friends at every corner."
The changes to Brennan are apparent from the moment a visitor walks in the south entrance. A bright and welcoming entrance space, the Tony J. Desanti Lobby features a curved wall imprinted with the names of members of the St. Michael's community who made the renovation possible. The old-school USMC crest on the floor recalls decades of St. Michael's history, while a pair of giant angel wings on the wall provide Instagrammable photo opportunities to students and visitors to campus.
In the updated central space, students now have a large variety of seating options while waiting for appointments or gathering with friends. One option is to grab a drink or a snack at Mike's Café, a coffee shop quickly becoming known for its "Basil the Bulldog" signage where students can pick up St. Mike's merchandise and a small selection of toiletries and living essentials in addition to Starbuck's Coffee. Arrays of outlets next to every seating area make it possible for students to study or hang out for as long as they like without relocating for a battery top-up.
An essential part of the project was the update to the Dodig Family COOP, a beloved open space where students at St. Mike's have gathered for decades. It has always played a particularly important role in the lives of commuter students, who treat the COOP as a home base for the days they spend on campus. The new COOP features soft seating, updated lighting, plentiful outlets, and a complement of glass-walled office spaces for student organizations and clubs, as well as a graduate student lounge with further comfortable seating. Microwaves and high-top tables make the COOP a place to eat as well as study, hang out, and gather for events.
Isabel Armiento, fourth-year SMC student and this year's Editor-in-Chief of The Mike, finds that the revamped club spaces next to the COOP have been a boon to the campus paper's operations, saying "we can now comfortably host in-house copy-editing and production sessions with more members present than ever before." Armiento also notes the centralized office spaces make it easier to "hold outreach events in common student spaces and to communicate with Student Life and USMC faculty."
The Class of 2023 has already begun to make themselves at home in the COOP and the adjacent offices, which are adaptable for a variety of uses. Passers-by often catch sight of board game nights and friendly games of pool on the new billiard table. From residential students to commuters, graduate students to those pursuing certificates in Continuing Education, visitors to the revitalized spaces find a new home for the community that has always made St. Michael's unique.
Since its official opening in August of 1939, Brennan Hall has been at the heart of the St. Mike's experience. 80 years later, thanks to the generosity of Brennan Hall "Champions," gifts from alumni and friends, major class gifts, and a contribution from students through the Student Capital Improvement Fund, the Class of 2023 will be the first to enjoy a completely revitalized Brennan Hall throughout their entire experience at St. Mike's.
From shared hobbies and interests to causes and activism, the more than 20 clubs at St. Michael's bring together students from across campus, neighbourhoods, and divisions to enrich the larger community. The annual SMCSU clubs fair and BBQ helps new students get a sense for just how many ways they can get involved in life at St. Michael's, both supporting and being supported by their university home. Clubs are also a place many students form the friendships that they carry with them after graduation, and develop skills and experience that are directly applicable to their future careers.
"Clubs at St. Michael's are an essential part of student life, and one of many ways students find opportunities to grow in their talents and passions outside the classroom at St. Mike's," says Student Life Associate Emma Graham. "They're also a bedrock of community life here for both residential and commuter students."
One of the newest St. Mike's clubs is Clean SMC, an organization that strives to "educate and empower students to take action against environmental issues through the support of green initiatives and sustainability," says club president and SMC student Juliano Baggieri. "[We] collaborate with St. Michael's College and students to make environmentally friendly projects come to life."
One of the recent collaborations between Clean SMC and St. Michael's resulted in the installation of a "bee box" on campus next to Carr Hall. Donated by Clean SMC and coordinated and installed by the St. Michael's Facilities team, the unit will provide a home to friendly, non-stinging pollinators that will help to brighten the many species of flowering plants that thrive on 11-acre St. Michael's campus.
Baggieri believes that the growing interest in sustainability and the environment will attract even more new members and help the club achieve its three primary goals of "building awareness, increasing community involvement in sustainable activities and developing environmentally friendly projects."
Other organizations directly support the work of the University's four sponsored academic programs: Christianity and Culture, Mediaeval Studies, Celtic Studies, and Book and Media Studies.
Christianity and Culture Social Club co-presidents Maryrose Doucette and Lara Connell work to create deeper connections between students and professors in the program by hosting regular social events where students and professors mingle over refreshments and coffee.
"These clubs exist so that students can make the most of their university experience and genuinely enjoy a community of like-minded people outside of the classroom," Doucette says.
Other student clubs support the larger St. Michael's community by offering real-life experience that encourages students to share their gifts beyond the classroom.
"Reporting fresh, relevant stories that are both for students and by students" is the mandate of student paper The Mike, where generations of St. Michael's students have developed their journalistic chops since the founding of the paper in 1947. Fourth-year SMC student Isabel Armiento oversees The Mike as this year's Editor-in-Chief. This fall, she hopes to "bring together a larger network of St. Mike's students and emphasize all facets of the newspaper," noting that there are major opportunities for artistic and creative students to contribute their talents at every stage of the editorial process.
Many clubs also foster the development of creative gifts. Co-Executive Producers of SMC Troubadours Kaitlyn Wang and Simran Dhir are soliciting suggestions for musicals and student-written plays to showcase student talent at St. Mike's.
"Students don't need to have any previous experiences of the dramatic arts," Wang and Dhir say. All levels are welcome in auditions for shows the club is putting on as part of the 2019–2020 season. This year's diverse lineup includes "a student-written play, an alumni-written play, a musical, [and] a stand-up comedy show."
Clubs at St. Michael's are funded by the St. Michael's College Student Union, which puts on the annual clubs fair and BBQ. Cianna Choo, SMCSU's VP of Academics and the organizer of this year's fair, says "clubs provide a creative outlet for students to explore interests outside of their programs." She notes that in addition to helping the St. Michael's community to flourish, club involvement helps students develop essential skills for the workplace in a context of collaboration.
The St. Michael's community is richer for the variety of student organizations that create community, put on events, and further the extracurricular education of students at the college. More information on ways to get involved on campus is available on the St. Mike's website.
Orientation Week 2019 at St. Michael's will take place September 1 to 4. Register here! In the weeks leading up to Orientation, we're posting quick interviews with each member of this year's orientation coordinator team. The introduction to the series is available here.
Student Life Associate Emma Graham is a St. Michael's grad and this year's staff representative on the team. We asked Emma three questions over email about orientation and life at St. Mike's.
What part of Orientation 2019 are you most excited for?
I am most excited for our Carnival and Academic Orientation! Students get to explore campus, play awesome carnival games and then meet some professors in their programs and some upper year students for Q&A sessions, all accompanied by a fantastic presentation by our very own Principal!
.
The theme for this year's orientation is "Into the Wild." What's that about?


.


Our Executive team chose this theme because it reflects the truth that entering University can be a terrifying and somewhat chaotic experience. However, the wild is also beautiful and full of diversity, so once you overcome your fears there is a wealth of opportunities for learning and growth. Our Orientation leaders and marshals will work hard all week to accompany students into the Wild so that by the time classes start they are well equipped to face it on their own!


.
What are some resources new students should be aware of before they start the new year?


.


Some of the best parts about belonging to St. Mike's are the friendships and amazing community life, but in addition to this our college offers fantastic resources such as a personal librarian assigned to each student, a robust peer mentorship program to help students acclimatize to university, a chaplaincy program that offers formation for students beyond their academics, and so many more! My greatest hope for our first years this year is that they seek out these resources before the weight of term work sets in, and that they will be able to rely on their community to support them on this wild adventure we call post-secondary education!


.
Emma can't wait to welcome you to campus in just a few short days. Get excited! The fun begins September 1. Remember to register for Orientation 2019 here if you haven't already.
Orientation Week 2019 at St. Michael's will take place September 1 to 4. Register here! In the weeks leading up to Orientation, we're posting quick interviews with each member of this year's orientation coordinator team. The introduction to the series is available here.
Orientation Executive Officer of Leader Training and Management Jessica Sorbara is a third-year student at St. Mike's double-majoring in English and History. We asked Jessica three questions over email about orientation and life at St. Mike's.
What part of Orientation 2019 are you most excited for?
This year what i'm most excited for during Orientation Week is the tri-campus parade! This event takes place every year during Orientation, and is such an exciting event where we really get to show our SMC spirit. All the cheers and all the energy really get everyone so excited for the school year, which is such a great way to end the week.
What is one of your best memories at SMC?
My best memory at SMC is definitely participating in Orientation. Being an orientee, a leader, and now an Orientation Exec member has really shown me all the amazing things that the college has to offer its students. Being a part of such a welcoming community and seeing exactly how our planning and hard work affect the first-year students is so rewarding, and makes me so happy to be part of the St. Mike's family.
How can the Class of 2023 get involved on campus in the fall?
There are so many ways that the Class of 2023 can get involved on campus in the fall! Firstly, participating in Orientation is a great way to get to know all the programs, clubs and people around campus. It can show students all the amazing groups at SMC, and will absolutely encourage everyone to be an active student in the community. Year round there are so many clubs that UofT and SMC have to offer students, so I would say to definitely attend the Clubs Fair during Orientation Week to see what clubs interest you!
Jessica can't wait to welcome you to campus this fall. If you haven't already done so, register for Orientation 2019 at St. Michael's here.
Orientation Week 2019 at St. Michael's will take place September 1 to 4. Register here! In the weeks leading up to Orientation, we're posting quick interviews with each member of this year's orientation coordinator team. The introduction to the series is available here.
Orientation Executive Officer of Communications and Marketing Taylor Medeiros is a third-year student at St. Mike's double-majoring in Statistics and Book and Media Studies with a minor in Mathematics. We asked Taylor three questions over email about orientation and life at St. Mike's.
What part of Orientation 2019 are you most excited for?
I am most excited to be back on campus and see the hustle and bustle of Orientation Week! I am also super excited to participate in the Tri-Campus Parade again, and help first year students move into their residences.
What is one of your best memories at SMC?
It's difficult to pick a single favourite memory at SMC, but since I should only pick one I'll choose my own Orientation Week in 2017. I made the best friends I could possibly ask for. Orientation was incredibly fun and I really loved how comfortable it made me feel at St. Mike's, on the UofT campus, and in Toronto! The Tri-Campus Parade showed me how much school spirit there really is, and made me very happy with my decision to choose St. Mike's and UofT. Starting at UofT felt a little daunting, but ended up being an amazing experience.
How can the Class of 2023 get involved on campus in the fall?
The Class of 2023 can get involved on campus in the fall in a variety of ways. The best way to see all the clubs and what you can participate in is by going to the UTSU Clubs Carnival and the St. Mike's Club Fair during Orientation Week. There is also a Clubs Fair down St. George St. during the first week of school that you can attend and sign up for what you think is interesting. If you're a commuter, I highly suggest attending the St. Mike's Commuter Don Orientation AND attending the events they hold. It's a great way to meet new people! Another suggestion is to look at the website CLNx. The university posts job positions and volunteer opportunities to the job board, making it easy to get involved.
Taylor can't wait to welcome you to campus this fall. If you haven't already done so, register for Orientation 2019 at St. Michael's here.
Orientation Week 2019 at St. Michael's will take place September 1 to 4. Register here! In the weeks leading up to Orientation, we're posting quick interviews with each member of this year's orientation coordinator team. The introduction to the series is available here.
Orientation Executive for Event Planning and Management Adam Da Costa Gomes is a fourth-year student at St. Mike's double-majoring in Neuroscience and Pharmacology with a minor in Portuguese. We asked Adam three questions over email about orientation and life at St. Mike's.
What part of Orientation 2019 are you most excited for?
I'm having a difficult time deciding a single part of Orientation to be most excited for, but I would probably have to say the zumba classes. I led classes last year and will be doing so again this year, and it's so much fun to just let loose and dance!
What is one of your best memories at SMC?
One of my best memories at SMC was last year's Orientation – I was in the role of a marshal (which is what we call our organizational team members) and it was just so fun taking the class of 2022 through their first 4 days on campus. It's been amazing seeing how many of the students in Orientation last year have come back to pay it forward for the class of 2023.
How can the Class of 2023 get involved on campus in the fall?
There are honestly an infinite amount of ways for the class of 2023 to get involved come fall. Even if not specifically through SMC or an SMC-based club/organization, there are just so many different clubs at the university that there quite literally is something for everyone. There are interest-based clubs, cultural-based clubs, faith-based clubs, program-based student unions, intramural sports teams, and if you don't find something that you like, you can make your own club under the UTSU! The possibilities and opportunities are endless; it's just on the students to go and make their own paths. And we're here during Orientation to help them start on the right foot.
Adam can't wait to welcome you to campus this fall. If you haven't already done so, register for Orientation 2019 at St. Michael's here.
Orientation Week 2019 at St. Michael's will take place September 1 to 4. Register here! In the weeks leading up to Orientation, we're posting quick interviews with each member of this year's orientation coordinator team. The introduction to the series is available here.
Orientation Coordinator Anna Zappone is a fourth-year student at St. Mike's majoring in Environmental Geography with minors in English and Forest Conservation. We asked Anna three questions over email about orientation and life at St. Mike's.
What part of Orientation 2019 are you most excited for?
I am most excited to meet all the new SMC students and welcome them to our community as well as seeing the months of planning come to life during Orientation week!
What is one of your best memories at SMC?
My favourite memories at SMC are of the times spent with friends at Brennan and in the Coop. Whether it was playing cards, pancake days or just talking to friends, you can always count on finding a friendly face there!
How can the Class of 2023 get involved on campus in the fall?
The one piece of advice I can give to the Class of 2023 is to find something you're passionate about and get involved in any way you can! The USMC clubs fair in September is a great way to learn more about what St. Mike's has to offer. Join one of the many SMC clubs and sports teams, run for student council, write for the college newspaper or become an Orientation leader! Getting involved and giving back to the community is so rewarding, and is a great way to meet new people.
Anna can't wait to welcome you to campus this fall. If you haven't already done so, register for Orientation 2019 at St. Michael's here.
Orientation at St. Michael's is one of the most exciting events of the year for incoming students. Over the course of four days before classes start, you'll meet new friends, get a taste of Toronto life and start to experience the tight-knit community that defines St. Mike's. There's even a parade!
Orientation includes programming with both academic and social focuses to help you feel comfortable and prepared to begin your journey at the U of T. We're committed to your success as an undergraduate student in all areas of life – that's what educating the whole person is all about.
The SMC Orientation 2019 team is composed of an orientation coordinator, executive officers, and a student life associate, who is a St. Mike's staff member. To get you excited for this year's orientation, we'd like to introduce you to our team.
Over the coming weeks, check back as we post interviews with each of this year's undergraduate team members, and get excited! The fun begins September 1. Remember to register for Orientation 2019 here.
Read the interviews here:
Sustainability, Social Responsibility and related ESG job opportunities are on the rise. Millennials and Gen Z  want purpose in their lives. And sustainability and social responsibility is transitioning to be strategically embedded in organizations. New skills and practices are in critical demand for today's CSR & Sustainability jobs.
Companies are Embedding Purpose, Responsibility, Sustainability
According to a May 29, 2019 Gallup report, Millennials want meaning in their work. They want to work for organizations with a mission and purpose. The emphasis for this generation has switched from paycheck to purpose — and so must organizational culture, products and services. Meanwhile the Next Generation CSR/Sustainability Jobs and Competency Development studies conducted by University of St. Michael's College, Strandberg Consulting and The Conference Board of Canada's Corporate Responsibility and Sustainability Institute indicate that Sustainability and Social Responsibility practices are actively transitioning. A survey of 156 CSR/Sustainability Professionals across North America indicated that:
68% are developing a medium to long term sustainability/CSR strategy, including goals and targets.
68% are improving their company's value chain & external operating environment thru external collaborations and tackling impacts that they can influence.
50% are working with stakeholder collaborations on shared value initiatives.
46% are embedding sustainability at the enterprise level & into functional, business unit & departmental level strategies and mandates.
41% are developing customer engagement tools & initiatives to improve customer sustainability performance and add value to business segments.
38% are advancing innovation to address sustainability barriers.
Apply Now – Graduate Certificate in CSR & Sustainability Delivers Critical Embedding Skills and Practices 
The Graduate Certificate in CSR & Sustainability delivers the new skills and practices that are in critical demand for today's jobs. In this "work as you learn" program, active practitioners and thought leaders guide participants through:
One-on-one mentoring, with a subject matter expert, throughout the  13 months of the program;
An Action Learning Project related to your company or professional development;
Gap assessments, critical thinking and application of embedding practices for CSR/Sustainability; and
Practical, real world application of CSR and Sustainability change management frameworks through ExperienceChange™ Simulation.
Apply now to the 2019/2020 Cohort of the Graduate Certificate in CSR & Sustainability to gain the skills you need.
Join participants from Sysco, The Body Shop, Aviso, BMO Financial Group, Concordia University, Red Cross and Nature Conservancy, Foundation for Atlanta Veterans Education & Research and many more. Become part of a Community of Practice in CSR/Sustainability for professional development, sharing and networking.
Check out the program schedule, past graduates, testimonials and latest news. Module 1 will be held in Toronto, Canada, October 23-25, 2019.  Module 2 and 3 will be held May, 2020 and November, 2020 respectively.
The second intake Application Deadline is June 30th, 2019.
About the University of St. Michael's College Corporate Social Responsibility Program
The University of St. Michael's College (USMC), federated within the University of Toronto, offers a transformational CSR/Sustainability program that creates space for people of shared values to explore, interact, develop and grow. It empowers a community of changemakers to develop the skills and support needed to impact a thriving global future.
The CSR/Sustainability Education Council continuously ensures that this program is relevant and experiential.  CSR/Sustainability Leaders from a broad range of industries from insurance to mining,  including: The Co-operators, BMO Financial,  Scotia Bank (ret.),  Vermillion Energy, Centerra Gold , ESG Ledger, Conference Board of Canada,  and Rotman School of Management (University of Toronto) provide advice and input.
For More Information Contact
Kathryn A. Cooper, Program Manager, Certificate in Corporate Social Responsibility & Sustainability
Phone: (519) 855-9491
Website: https://www.csr-stmikes.ca/