Alison More came to St. Mike's from the Centre for Medieval and Early Modern Studies at the University of Kent, where she designed and taught core courses on Latin and palaeography. She studied Latin in Rome with Reginald Foster, and has further developed her skills through teaching and research fellowships at Harvard, the University of Edinburgh, and Radboud Universiteit. A passionate Latinist, Alison is interested in alternative interpretations of absences and inconsistencies in the historical record. In particular, her research investigates the intersections between social and religious culture in Northern Europe from 1250 to 1450.
---
Sancta Corona, ora pro nobis

Medieval saints were often hailed as powerful intercessors in particular situations. Even today, St Anthony of Padua is a faithful helper for finding lost things; St Apollonia helps those in dental distress; and St Joseph of Cupertino is invoked by students taking exams. Recently, St Corona has re-entered popular religious consciousness as a protector against plague, pandemics, and infectious disease. After years of relative obscurity, Corona's relics are now on display in a reliquary in Aachen Cathedral in Germany. Also, versions of her legend have been re-written for the Internet. While she is undoubtedly happy to intercede for the sufferings of the earthly Church, our health was not one of Corona's traditional concerns. Her story is an interesting example of the ways in which saints' cults adapt in accordance with the social needs of the day.
The tales of early Christian martyrs are generally formulaic. They contain little precise information and emphasize the gruesome deaths of their subjects. Corona's tale is no exception, and we have little historical information about the saint. Her date of birth has been placed anywhere between 161 and 270 CE. She was married to a soldier named Victor at around the age of 15 and martyred one year and four months later. The Bollandist catalogues record more than 50 manuscripts of her vita, but all seem to be brief. Her short Passio in the Acta Sanctorum tells us that Corona's profession of her illicit faith was an act of solidarity with Victor. After refusing to renounce Christ, Corona was tied to two trees, which her captors had bound together. When her tormentors cut the trees apart, Corona was ripped in two. Victor was then beheaded.
Until the current pandemic, there was little to connect Corona to viruses, plagues, or illness. Instead, her cult which existed primarily in Italy and the German regions appears to have been associated with the pursuit of fortune. Her name "Corona" is Latin for crown. In his work on treasure hunting, Johannes Dillinger points out that "corona" or "crown" was also the name given to a unit of currency in several countries. Whatever the reason, Corona found herself being invoked as the patron of treasure seekers. Dillinger points out that "Corona books," texts midway between prayers and spells, circulated widely. Like prayers, they directed the supplicant to request Corona's intercession. Like spells, the texts often seemed to depend on specific rituals and were even tailored to the amount of money in question. Later Corona texts even included methods of divining the lottery numbers. Not surprisingly, the lottery soon became another area of Corona's patronage.
There does not appear to have been any association between Corona and plagues until 2020 when a virus that shared her name showed modern society to be less than invincible. Like our ancestors, our response was to seek divine aid and find a saintly intercessor as patron. Saints such as Roche and Sebastian were frequently invoked for protection against the plague in the 14th century. Their counterpart, the 12th-century St Rosalia of Palermo was called upon during an outbreak of illness in her native city during the 17th century. Notably, Rosalia has recently been featured in The New York Times as "The Saint Who Stopped an Epidemic on Lockdown in the Met." In our current hour of need, those with an interest in saints discovered the existence of St Corona. As has been true of the cult of saints throughout Christian history, her devotees found a suitable association to declare her informally a patron of a crisis affecting the modern world. Her relics in Aachen, originally intended for a display on medieval metalwork, became a focal point for prayer and intercession. After several hundred years of relative quiet, she found herself being called upon as an intercessor.
Saints cannot exist in isolation. Instead, like all aspects of popular religion, their cults adapt to meet the needs of the society that venerates them. Throughout Christian history preachers and hagiographers have included imagery, allegory, and etymological devices based on saints' names to communicate particular messages. The cult of saints has long illustrated the ways in which devotion could be incorporated into daily life. The case of Corona is no different: her name attracts attention and there is no reason to doubt her intercessory power. Perhaps this Easter Vigil, she will quietly be added to our litanies: Sancta Corona, ora pro nobis.
---
Works referenced:
"De SS. Victore milite et Corona martyribus in Ægypto," AASS, May, t. III, pp. 265-67.
Johannes Dillinger, Magical Treasure Hunting in Europe and North America (London: Palgrave Macmillan, 2012).
---
Read other InsightOut posts.
President David Sylvester is pleased to announce the establishment of the Comper Professorship in Medieval Studies at the University of St. Michael's College in the University of Toronto. This newly endowed position has been made possible by a foundational investment by St. Michael's alumnus, Dr. Tony Comper, C.M., L.LD. (Hon). Dr. Sylvester is also delighted to announce that Dr. Alison More is appointed the inaugural holder of the Comper Professorship. Dr. More is a highly regarded Latinist whose research investigates the intersections of social and religious culture in late-medieval Northern Europe.
The donation reflects Dr. Comper's firm belief that studying the humanities offers invaluable benefits both personally and professionally – and that St. Michael's is on the right path with its renewal as a vibrant centre of undergraduate education at U of T. "Studying liberal arts, in particular literature, provides significant insight into human nature; (it offers) essential knowledge in interpersonal skills, the most important skill for success in business and indeed in life," says Dr. Comper, who is the retired President and CEO of BMO Financial Group.
Dr. Comper recently returned to campus to take courses in Medieval Studies, a Faculty of Arts and Science undergraduate program sponsored by the University of St. Michael's College that is available to all students in Arts and Science at the University of Toronto. This has given the philanthropist a front-row seat for the revitalization of Arts and Science undergraduate programs sponsored by St. Michael's. Pleased with what he has seen, he has offered the university a unique hybrid investment in teaching by funding this position. The gift is comprised of a multi-million dollar bequest, and the promise of annual funding, effective immediately, in the intervening years to cover salary and benefits. This faculty position is one of six that St. Michael's implemented in 2017 as part of its focus on teaching excellence in the four undergraduate programs it sponsors: Book and Media Studies, Christianity and Culture, Celtic Studies, and Medieval Studies.
Dr. Alison More came to the College from the Centre for Medieval and Early Modern Studies at the University of Kent where she designed and taught core courses on Latin and palaeography. She and the other assistant professors who joined the St. Michael's community and broader University of Toronto three years ago have become a vital part of social and academic renewal. They have enhanced students' learning experience through their own engaged and creative teaching and research interests and have contributed a great deal to the culture and community of the College beyond the classroom by supporting student-run initiatives and presenting public lectures for alumni. The Comper gift is creating great excitement on campus, as it represents the first step in the campaign to ensure the professorships remain permanent.
"This generous gift is an extraordinary demonstration of the confidence in the renaissance under way at St. Michael's," says Dr. David Sylvester, President and Vice-Chancellor. "It's also a model of funding for other professorships, and an ideal example of how St. Mike's continues to renew itself through endowed legacy positions. We're thrilled that an outstanding philanthropist like Dr. Comper has demonstrated his dedication to his alma mater in this way."
"St. Michael's and the wider U of T share a long tradition of international excellence in the field of Medieval Studies," says Professor Meric Gertler, President of the University of Toronto. "Dr. Tony Comper's wonderful gift will help to strengthen that tradition for future generations, and to accelerate the renewal of undergraduate education at the College. His generosity also builds on his long record of leadership in the University community, including his previous service as Chair of U of T's Governing Council, as well as his and his late wife Elizabeth's support for the Anne Tanenbaum Centre for Jewish Studies. We applaud this latest contribution to our collective success."
About Medieval Studies at The University of St. Michael's College
With its strong combination of intensive Latin study alongside explorations of theology, literature, history, culture, and manuscripts, Medieval Studies invites students not just to study the Middle Ages, but instead to join a great tradition of inquiry and discovery enlivened by the world-renowned professors who have taught Medieval Studies at St. Michael's over the years, including Étienne Gilson, Jacques Maritain, Msgr. Edward Synan, Sr. Frances Nims, IBVM, Sr. Mary Arthur Knowlton, CSJ, and Colin Chase.
The University of St. Michael's College has a long tradition of teaching and research in medieval disciplines and its library has rich resources in the field. The PIMS library, which is housed in the John M. Kelly Library, includes rare, non-circulating books and draws scholars from around the world. The University of St. Michael's College recently signed a five-year Memorandum of Understanding with PIMS and the University of Toronto recommitting to collaborative work in research, teaching and publication.
For more information, please contact:
usmc.communications@utoronto.ca
(416) 926-2267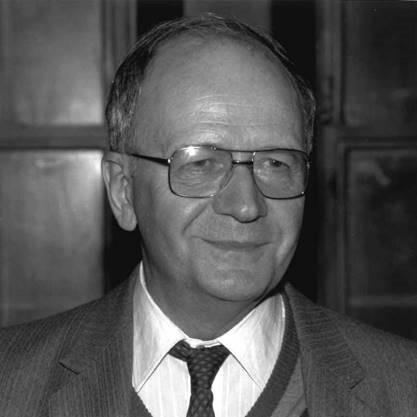 The Pontifical Institute of Mediaeval Studies (PIMS) is mourning the death of long-time faculty member Fr. Édouard Jeauneau, who died at the age of 95 on Monday, Dec. 9, 2019 in Chartres, France.
Fr. Jeauneau was a Professor of Medieval Philosophy at PIMS and the Centre for Mediaeval Studies (CMS) at the University of Toronto from the 1975 through to 1995. He was named Institute Professor at PIMS in 1990 and was awarded an honorary doctorate in 2002.
His involvement in the medieval community in Toronto began following a formal invitation in 1974 to join the PIMS Faculty from Rev. E.A. Synan, Praeses, and Rev. James McConica, CSB, Chairman of the Search Committee.
Until 2015, he spent about eight months each year working on his many projects here in Toronto, most notably the five-volume Periphyseon of Johannes Scottus Eriugena (Turnhout: Brepols).
Fr. Jeauneau was consistently awarded substantial Social Sciences and Humanities Research (SSHRC) grants, and hired a long string of Centre students to work for him, paying them generously. He also trained many of these students in reading the particular handwriting in the manuscripts and in editing the texts.
Among the honours bestowed on him over the years was the position of Directeur de Recherche Honoraire au CNRS in Paris, France's National Centre for Scientific Research, and an appointment as a fellow of the British Academy.
A funeral Mass will be held Monday, December 16 in his small home town of Coudray-en Perche, about 60 km from Chartres.
His presence will be missed by all who knew him.
Introduced in the 2018-2019 academic year, the Boyle Seminar in Scripts and Stories is a unique offering for first-year students interested in the transmission of knowledge and preservation of intellectual culture during the medieval era. As one of three SMC One seminars at St. Michael's, the Boyle Seminar brings together the strengths of two St. Michael's-sponsored programs – Medieval Studies and Celtic Studies – to give participants an interdisciplinary foundation for future academic work, preparation for careers in a wide range of fields and an opportunity to go on an international learning experience in Ireland.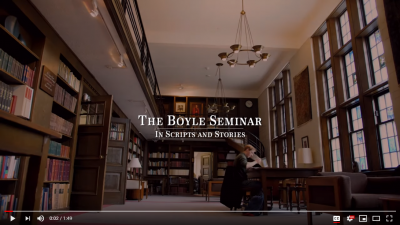 Assistant professors Máirtín Coilféir and Alison More seek to give new students experience in manuscript studies, history and the Latin and Irish languages, but the program also serves as an effective bridge to university-level academic work more generally. Open to around 20 students each year, the small class size of the Boyle Seminar helps each cohort to bond into a tight-knit group, and gives each student one-on-one time with both professors.
A Hands-On Approach
Professor Coilféir, who teaches in the Celtic Studies program, describes one of the primary themes of the course as "the practical application of theoretical knowledge." Instead of giving students a dry survey of medieval and Irish culture, he and professor More give students direct experiences of the practices that monks used centuries ago to create and preserve manuscripts, which are the hand-written copies of documents prepared in the medieval scriptorium.
By encountering parchment first as a dried and treated animal hide, students begin to see the living material basis for history. "We spend quite a lot of time talking about 'how do we go from cow to page?'" Coilféir says. Practical experience with parchment, ink and feather quills, which the students cut into usable pen nibs, helps to reinforce the notion of medieval and Celtic culture as representing a living history – one that students are equipped to take up with gusto.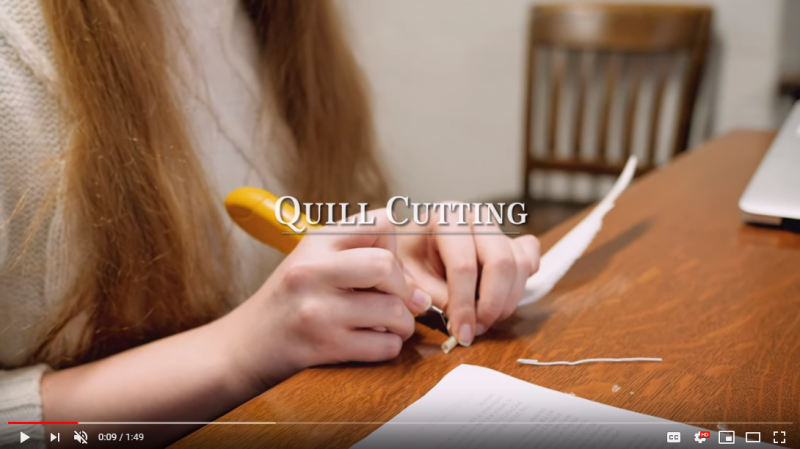 Most Medieval Studies programs for undergraduates follow a very different and far more traditional pattern than that of the Boyle Seminar at St. Michael's. Professor More, a medievalist, describes the typical progression for an academic in her field as requiring at least three years of dry study before a typical student gets a chance to see or touch a manuscript.
By contrast, the Boyle Seminar puts centuries-old manuscripts in the hands of students during their first months at university. This fearless and practical approach to the artifacts of the period gives students a solid basis for "manuscript studies and the often-baffling sources of medieval history," More says, as well as training that can serve as effective preparation in a variety of other fields such as law, theology and cultural conservation.
The May trip to Ireland reinforces the practical emphasis of the course, with visits to ancient cultural sites including an active archaeological dig at the Blackfriary Archaeology Field School. Though not for academic credit, the trip gives students an opportunity to handle artifacts fresh out of the ground and learn contemporary archaeological methods.
A St. Michael's Tradition
With both the Pontifical Institute of Medieaval Studies (PIMS) and the John M. Kelly Library located right on campus at St. Michael's, it only makes sense for the Boyle Seminar to rely on the research institute and library's holdings to give students access to special texts for the course.
One of the seminar's key texts is Integral Paleography, a collection of articles about different scholarly approaches to medieval writing. This book has a special connection to the seminar: it is the work of Fr. Leonard Boyle, OP, the scholar and former PIMS professor for whom the seminar is named.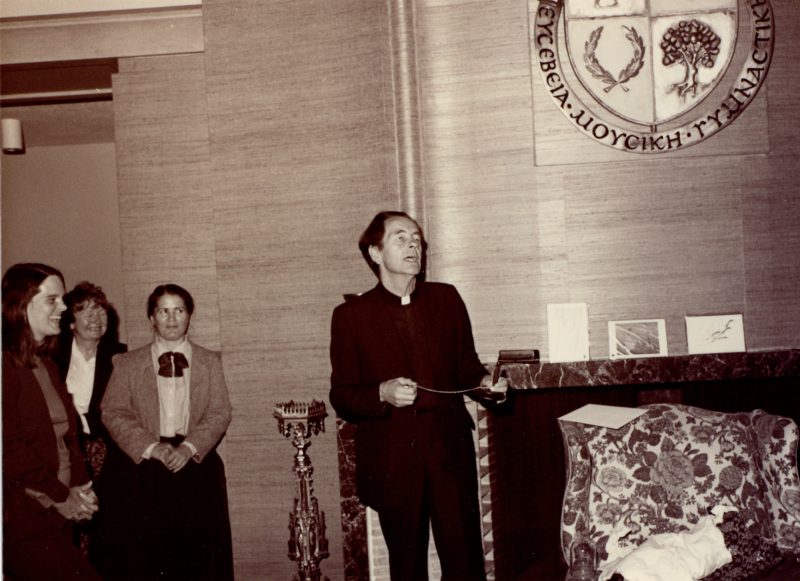 Fr. Boyle was an important figure at PIMS and helped to build the University of Toronto's Medieval Studies program, now hosted at St. Michael's. In 1984, Fr. Boyle left Toronto for Rome after Pope John Paul II appointed him Prefect of the Vatican Library. There, the scholar-priest worked for years to expand access to the library's holdings to scholars around the world. In so doing, he changed the reputation of an institution "not well known for its hospitality to visitors" into a place where "the doors were flung open from morn till night," as Nicolas Barker wrote in his obituary for Fr. Boyle for The Independent.
The spirit that animated Fr. Boyle's approach to the Vatican Library – prioritizing access for everyone who needs it – continues to animate the Boyle Seminar. In line with a storied history of scholar-teachers at St. Michael's, professors More and Coilféir open up a world of ideas and experiences while helping students to make lateral connections across disciplines. Rejecting the Ivory Tower model of the academic enterprise in favor of a robust commitment to the liberal arts, the seminar's approach fuels creativity and courage in first-year students' approaches to their academic careers and later readiness for the workplace. As one student observed, "when you think about the past, you think more about the future."