John Montefiore is a member of the graduating class of 2020. On Tuesday, June 2, 2020, he will be granted a Bachelor of Arts degree with a Double Minor in Education and Society and Human Geography.
---
Walking Away—and Coming Back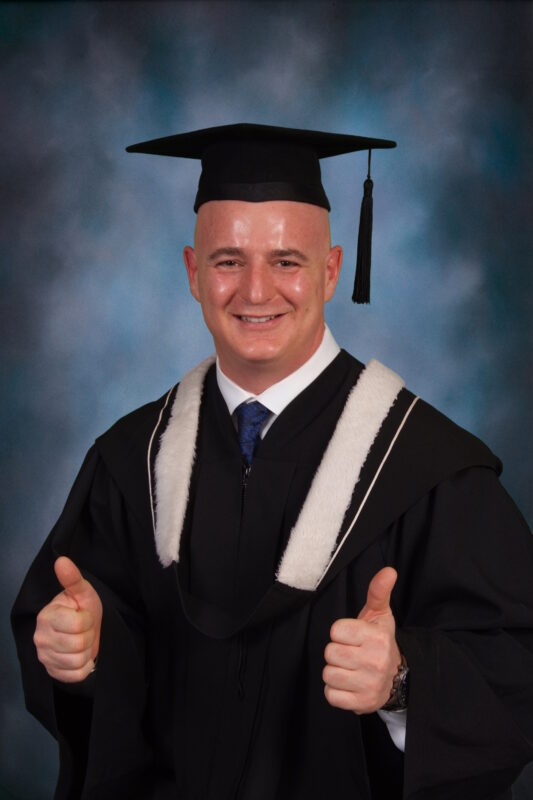 My relationship with St. Mike's goes back to 1995, when I first began my university career. I abandoned my pursuit of a university degree, however, after I was found I was unsuccessful in performing academically while also being a varsity athlete with the University of Toronto Varsity Blues football team. I walked away from both my academic and athletic dreams, primarily because I was unable to face and overcome the adversity and difficult position in which I had put myself.
Decades later, in the summer of 2018, I returned to the University of St. Michael's College to explore the possibility of returning to school to complete my university degree. The staff at the registrar's office were so helpful, accommodating, and supportive of me in my goal to complete my studies! A special thank-you goes out to Associate Registrar Miranda Cheng. She helped me plan my return and directly contributed to my success. I will be forever grateful to her and to the entire St. Mike's administrative staff for helping me erase decades of feelings of regret and disappointment.
Today, I am proud to be a graduate of the University of St. Michael's College. My feelings of pride, however, would have been delayed if not for the flexibility, actions, and commitment the entire University took to ensure that the academic year would not be lost due to COVID-19. All my professors went above and beyond to transition to a virtual format to help complete the winter term. Considering my own experience with adversity, seeing the University of Toronto react so positively in a time of crisis was inspiring. As such, I have decided the best way I can repay both St. Michael's and the University of Toronto for their efforts is to aspire to be the best version of myself in spite of being faced with challenges that may arise, and to "pay it forward" to anyone that can benefit from any assistance I can provide.
As for not having an in-person convocation, well, I do feel somewhat disappointed. More so for my family, who would have loved to experience a moment that I failed to deliver to them decades ago. But it is just the cherry on top of the sundae! As I reflect back on my academic journey, I am reminded that it was the journey itself, the knowledge gained, the friends I made, the personal growth, and my sense of accomplishment that was the ice cream, chocolate sprinkles, whipped cream and nuts that made up one delicious dessert. I am so grateful for being a part of the class of 2020, and will always remember graduating during the COVID-19 crisis. So, instead of using crisis as an excuse, I will use it as a reason, a reason to rise above it and do interesting things during these interesting times.
---
Read other InsightOut posts.
On June 14, the University of St. Michael's College will welcome back to campus two accomplished alumni, who will be addressing the Class of 2019 at each of this year's two-degree conferral ceremonies.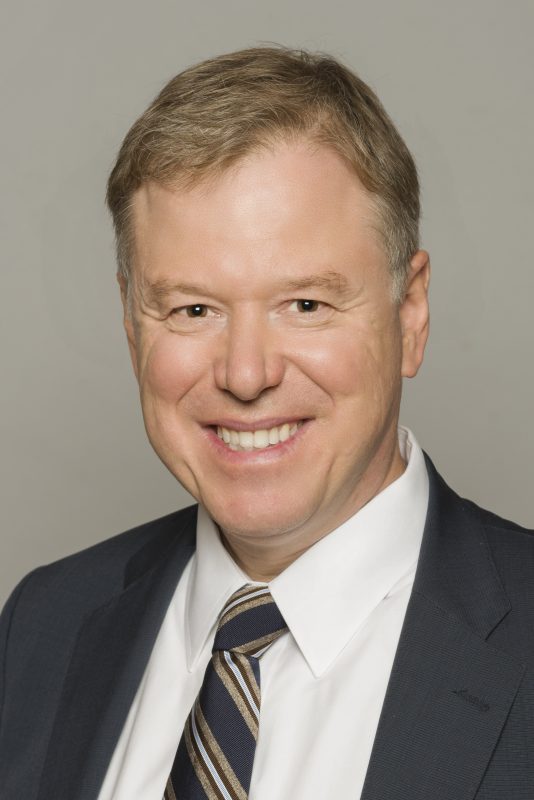 At 10 a.m. June 14, Arts graduates will gather in Convocation Hall for the presentation of their degrees, and Dr. Andy Smith, CEO of Sunnybrook Hospital, will deliver remarks.
Dr. Smith graduated from St. Michael's in 1990 and entered medical school. Today, Dr. Smith serves as president and CEO of Sunnybrook Health Sciences Centre, a prestigious appointment that followed years of leadership in other roles at Sunybrook, the Division of General Surgery at the University of Toronto, the Odette Cancer Program and Cancer Care Ontario. A surgeon by training, Dr. Smith anticipates a day when advances in ultrasound and other medical technology result in surgical procedures no longer requiring incisions on the patient's body – a science-fiction scenario he is helping to bring into reality with his team at Sunnybrook.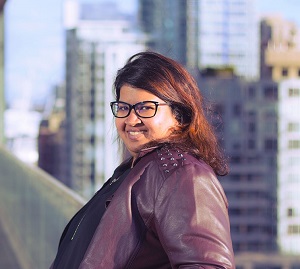 Science and Commerce graduates will gather at Convocation hall at 2:30 p.m. for their degree conferral ceremony, and those students will hear from Aashni Shah, CEO of non-profit Elixir Labs and software engineer for Square.
A member of the St. Michael's Class of 2016, Ms. Shah was named one of Canada's 50 most inspiring women in STEM by Inspiring Fifty, an honour she received for her innovative work at the intersection of technology and philanthropy. She was the first female president of the Computer Science Student Union at the U of T in over a decade, and founded UofTHacks, Canada's first student-run hackathon. Born and raised in Kenya before moving to Canada in 2011 to start university, Ms. Shah is an advocate for diversity in tech, and believes that "by promoting diversity in STEM, we're increasing our odds of finding stable and sustainable solutions that will help Canadians and people all around the world."
Dr. Smith and Ms. Shah have worked to create new pathways into the future, representing the value of an education that pairs elite skills and job-readiness with a sense for the most important questions facing society today. We look forward to their remarks to the Class of 2019.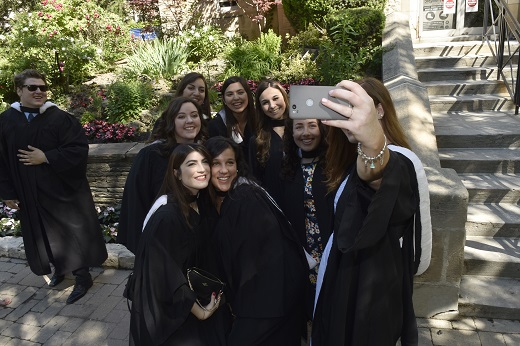 Cool light fell through the trees bordering Elmsley Place on the morning of June 15 as several dozen students gathered in front of Brennan Hall in graduation gowns and hoods. Blessed with the same pleasant weather of last year's ceremony, Spring Convocation 2018 began gently for its many participants.
"It's pretty surreal," 2018 graduand Emerson said. "I don't think it hit me until this morning. I work right across from [King's] College Circle so I've been seeing graduates walk across the field every day, and when I woke up this morning I'm like, 'oh, that's [going to] be me now.'"
The neuroscience major continued: "Standing right here, I just remember gathering here with my frosh group in first year, and it's pretty cool standing here again."
"We started with first year orientation… and now we're back where it started," fellow graduand Angelo said. "It feels pretty surreal; it started to sink in just now as I put the gown on, actually."
The procession formed into a line behind Dean of Students Duane Rendle. He led the students and a small group of similarly robed staff and faculty south from the entrance to Brennan, east on St. Joseph Street, and back north again to St. Basil's, setting in motion a busy day of events and activities.
Following Mass in St. Basil's, students, parents, faculty and staff gathered on the north patio of Brennan Hall for a celebratory BBQ. Graduands posed with props in front of a St. Michael's photo backdrop as their families reached out, phones in hand, to record pictures and video. The sense of community and intense friendship that has grown with the graduating class created an atmosphere of laughter and celebration. Asked what single thing he anticipates carrying with him beyond St. Michael's, commuter don Angelo said, "I would definitely say the community, hands down."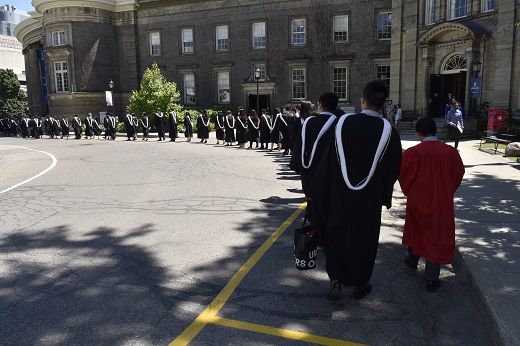 "I definitely feel that I've made some lifelong friends here and I'm really excited to see how these friendships grow over the years," he continued. Life science double-major Katie agreed. "The community, the people that we're graduating with—it's so special."
In the afternoon, the full USMC Class of 2018 gathered at Howard Ferguson Dining Hall for their procession around King's College Circle into Convocation Hall. A four-piece band played covers of pop songs (Drake's hit "Hotline Bling" among them) as graduands entered the room, soon to be joined by the Chancellor's Procession.
Many families watched the proceedings in a shaded enclosure on the grass outside Convocation Hall. "I bring you greetings on behalf of our Chancellor, Cardinal Collins, and on behalf of the University of St. Michael's College," outgoing President David Mulroney said near the beginning of the ceremony, his face visible in duplicate between the different projector screens. He described the gift of the land upon which St. Michael's was built in the 19th century, and the work of John Elmsley in helping to establish St. Michael's and St. Basil's. "In congratulating you today," the outgoing president said, "I ask you to spare a thought for John Elmsley, someone who dared to be different, who followed his conscience, and who never stopped giving his gift of service to this university, this city and this country."
Author and St. Michael's alumnus Charles Foran delivered this year's commencement address, emphasizing the importance of "[starting] a practice of thinking as regularly as you can about our shared predicament." Fiction provides a natural and easy means of "[dwelling] inside the lives and minds of others, and [learning] how they think and dream, hope and pray." In a politically and culturally fraught time, the sort of empathy that great fiction cultivates can help us to deal with the challenges of being in close and frequently difficult proximity, especially in a packed cosmopolitan city like Toronto. He concluded: "Being mindful of [our shared predicament], keen to do whatever small things you can to contest it, constitutes a good, honourable way to live. Even better, it is certain to make your soul sing."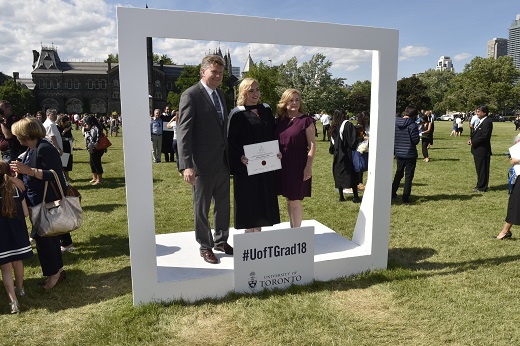 Degrees conferred, the former graduands recessed onto King's College Circle and into the arms of the family and friends who waited for them there. T-shirts and other merchandise with the school's new script logo were available, and graduates each received gift bags that contained, among other items, a card deck printed with explanations for specialized terms and important moments in the history of book-printing—a fitting souvenir from the College that sponsors the Book and Media Studies program. (USMC professor Paolo Granata designed the deck for use in his classes.)
Near the end of the day, students and families gathered in the St. Michael's Quad for the USMC Awards Presentation. Principal Randy Boyagoda presented honours ranging from the Governor General's Silver Medal Nomination to the College Gold Medals and a variety of named prizes and awards. The Class of 2018 leaves St. Michael's having accomplished many things.
Even so, the theme of Spring Convocation 2018 remains the sense of abiding community to which so many students gave voice before the day's itinerary began. Those students are now part of a much larger family of alumni, one that stretches across the world. Psychology major Julia captured the warmth of the St. Michael's community that first welcomed her four years before: "whenever I walk onto campus, it feels like home, just because the people here become like family."