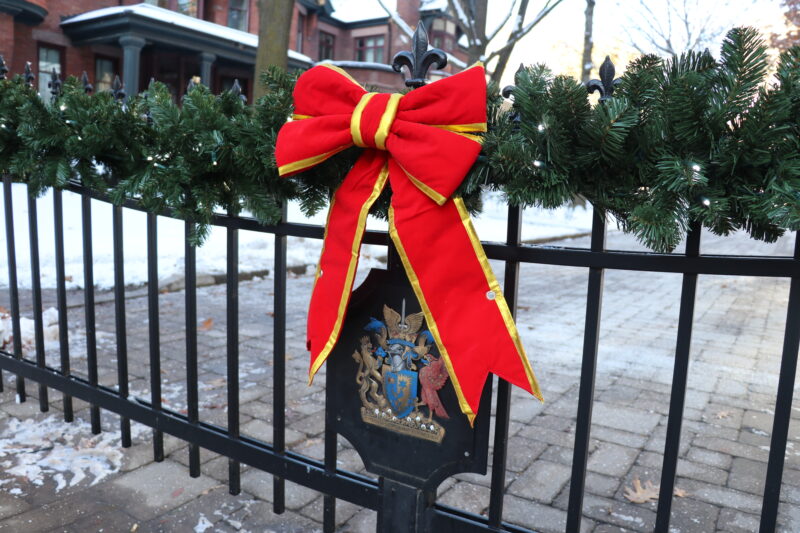 Not even a pandemic can stop Christmas from coming to St. Mike's.
While the campus is quiet and missing many of the traditional seasonal activities this year—the alumni Christmas tea and the Schola Cantorum Advent concert are two notable, sorely missed examples—our gorgeous Christmas lights will still illuminate the grounds to bring cheer both to those students in residence as well as to neighbours and passersby.
To ensure that help gets to those in need, the annual toy drive, which sees St. Michael's team up with the University of Toronto campus police and the Society of St. Vincent de Paul, is accepting donations online to buy gift cards for families so that parents can pick out the perfect items for their loved ones. Donations of gift cards are also being accepted at the security desk in Charbonnel Hall at 81 St. Mary St. Donations are being accepted up until Friday, December 4.
And in this season of giving, the University has been particularly touched by the generosity of the creative minds who came up with a way to compensate for the fact the annual golf tournament fundraiser was COVID-cancelled. Two golf tournament sponsors—Mackenzie Financial and CIBC, who are represented by event co-chairs Barry McInerney and David Scandiffio—made donations of $10,000 each this year instead of sponsorships. USMC matched these donations with proceeds from previous years' tournaments to create a $40,000 expendable fund, allocated care of the Registrar's office, to help students with exceptional needs related to COVID.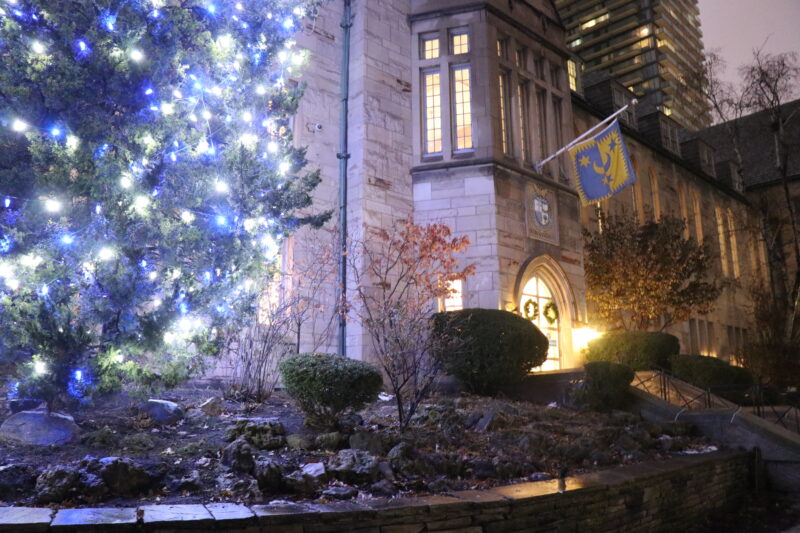 This approach parallels the Faculty of Theology fund created earlier this year, which was built from donations and matched by St. Michael's. Together, these gifts represent the continued loyalty of golf tournament sponsors and the commitment of alumni, faculty, staff and the university to helping students during this challenging time.
At a time when food banks and social service agencies are seeing soaring demand, the generosity is being spread widely. Another golf tournament sponsor, Mawer, donated $5,000 in lieu of sponsorsip. This, too, was matched with donations from previous years and augmented by other alumni gifts, creating a gift of $12,500 to support the Out of the Cold program at St. Basil's Church.
While an Advent Vespers service followed by dinner is one of the highlights of the Faculty of Theology's social calendar, Vespers will be observed online this December, with a social gathering to follow. And since there'll be no dinner cheque for the SLC to pick up this year, they're offering a great incentive to partygoers, promising to make a $15 donation to the Into the Cold program for each person who attends the online party.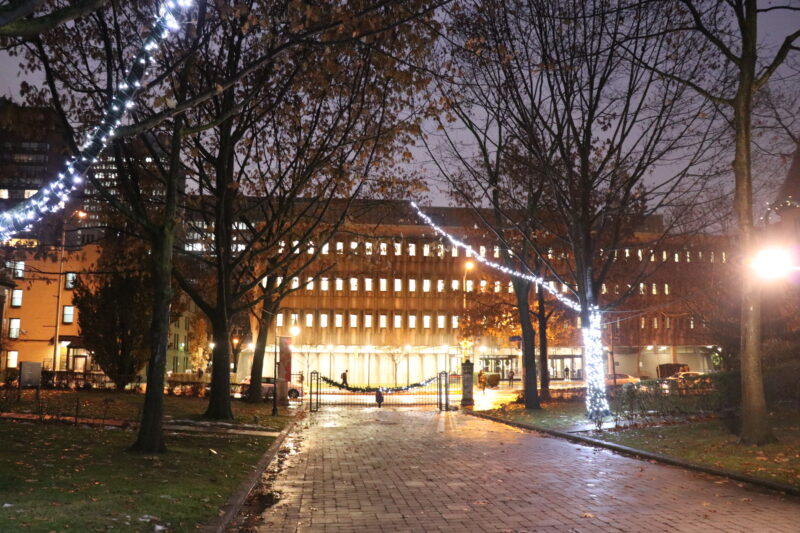 The undergrads also have online fun planned, with a Winter Festival from Dec. 4 to 6 featuring decorating Christmas ornaments with the commuter dons, a Kelly's Corner, and a family dinner all lined up.
And while most of us will find this a quieter, slower-paced Advent season, without the usual trips to the mall or holiday parties, there is no doubt we could all use some peace. With that in mind, St. Basil's is hoping to open the church for prayer from 7:30 to 8:30 a.m. and 12 to 1 p.m. Monday to Friday, 5 to 6 p.m. Saturdays, and 12 to 1 p.m. and 4:30 to 5:30 p.m. on Sundays. Capacity when the church is open is restricted to 10 people. During these prayer times, a priest is usually available to hear confessions, except for the 7:30 to 8:30 a.m. time periods.
COVID-19 may have changed this holiday season, but the heart of St. Mike's just continues to grow.
President David Sylvester is pleased to announce the establishment of the Comper Professorship in Medieval Studies at the University of St. Michael's College in the University of Toronto. This newly endowed position has been made possible by a foundational investment by St. Michael's alumnus, Dr. Tony Comper, C.M., L.LD. (Hon). Dr. Sylvester is also delighted to announce that Dr. Alison More is appointed the inaugural holder of the Comper Professorship. Dr. More is a highly regarded Latinist whose research investigates the intersections of social and religious culture in late-medieval Northern Europe.
The donation reflects Dr. Comper's firm belief that studying the humanities offers invaluable benefits both personally and professionally – and that St. Michael's is on the right path with its renewal as a vibrant centre of undergraduate education at U of T. "Studying liberal arts, in particular literature, provides significant insight into human nature; (it offers) essential knowledge in interpersonal skills, the most important skill for success in business and indeed in life," says Dr. Comper, who is the retired President and CEO of BMO Financial Group.
Dr. Comper recently returned to campus to take courses in Medieval Studies, a Faculty of Arts and Science undergraduate program sponsored by the University of St. Michael's College that is available to all students in Arts and Science at the University of Toronto. This has given the philanthropist a front-row seat for the revitalization of Arts and Science undergraduate programs sponsored by St. Michael's. Pleased with what he has seen, he has offered the university a unique hybrid investment in teaching by funding this position. The gift is comprised of a multi-million dollar bequest, and the promise of annual funding, effective immediately, in the intervening years to cover salary and benefits. This faculty position is one of six that St. Michael's implemented in 2017 as part of its focus on teaching excellence in the four undergraduate programs it sponsors: Book and Media Studies, Christianity and Culture, Celtic Studies, and Medieval Studies.
Dr. Alison More came to the College from the Centre for Medieval and Early Modern Studies at the University of Kent where she designed and taught core courses on Latin and palaeography. She and the other assistant professors who joined the St. Michael's community and broader University of Toronto three years ago have become a vital part of social and academic renewal. They have enhanced students' learning experience through their own engaged and creative teaching and research interests and have contributed a great deal to the culture and community of the College beyond the classroom by supporting student-run initiatives and presenting public lectures for alumni. The Comper gift is creating great excitement on campus, as it represents the first step in the campaign to ensure the professorships remain permanent.
"This generous gift is an extraordinary demonstration of the confidence in the renaissance under way at St. Michael's," says Dr. David Sylvester, President and Vice-Chancellor. "It's also a model of funding for other professorships, and an ideal example of how St. Mike's continues to renew itself through endowed legacy positions. We're thrilled that an outstanding philanthropist like Dr. Comper has demonstrated his dedication to his alma mater in this way."
"St. Michael's and the wider U of T share a long tradition of international excellence in the field of Medieval Studies," says Professor Meric Gertler, President of the University of Toronto. "Dr. Tony Comper's wonderful gift will help to strengthen that tradition for future generations, and to accelerate the renewal of undergraduate education at the College. His generosity also builds on his long record of leadership in the University community, including his previous service as Chair of U of T's Governing Council, as well as his and his late wife Elizabeth's support for the Anne Tanenbaum Centre for Jewish Studies. We applaud this latest contribution to our collective success."
About Medieval Studies at The University of St. Michael's College
With its strong combination of intensive Latin study alongside explorations of theology, literature, history, culture, and manuscripts, Medieval Studies invites students not just to study the Middle Ages, but instead to join a great tradition of inquiry and discovery enlivened by the world-renowned professors who have taught Medieval Studies at St. Michael's over the years, including Étienne Gilson, Jacques Maritain, Msgr. Edward Synan, Sr. Frances Nims, IBVM, Sr. Mary Arthur Knowlton, CSJ, and Colin Chase.
The University of St. Michael's College has a long tradition of teaching and research in medieval disciplines and its library has rich resources in the field. The PIMS library, which is housed in the John M. Kelly Library, includes rare, non-circulating books and draws scholars from around the world. The University of St. Michael's College recently signed a five-year Memorandum of Understanding with PIMS and the University of Toronto recommitting to collaborative work in research, teaching and publication.
For more information, please contact:
usmc.communications@utoronto.ca
(416) 926-2267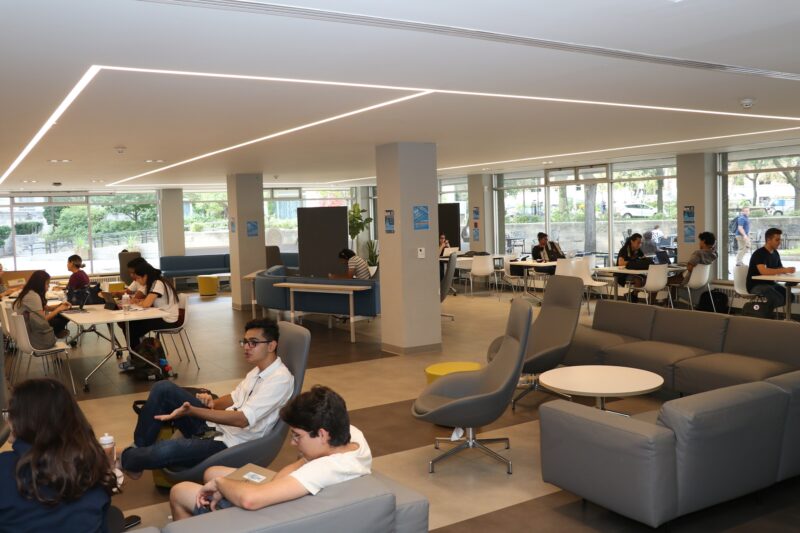 When asked to describe St. Mike's, students often mention "community" as a foundational part of their experience of the school. The newly renovated and fully accessible Brennan Hall offers – quite literally – a concrete example of the ways in which community is an essential and longstanding feature of the student experience at St. Michael's. Amid the portraits of alumni and past professors, current students find themselves in a community as familiar as an extended family—and just as committed to their success in every area of life.
"The revitalization of Brennan Hall represents this university's commitment to student experience," says President David Sylvester. "By placing key services and resources alongside club and gathering spaces in the heart of our campus, the new Brennan Hall brings together every part of St. Michael's student life—spiritual, academic, personal, and social—in the same way a St. Mike's education forms the student as a whole person."
One of the most important updates to the space is the relocation of the Office of the Registrar from Alumni Hall to the centre of Brennan. This places essential registrarial services at the heart of campus for both undergraduate students at St. Mike's and graduate students at the USMC Faculty of Theology.
Students can make use of those services while also popping in to the SMCSU office, the Canada Room dining hall, or the Dodig Family COOP. With Campus Ministry and Student Life offices down the hall as well – and exciting events often taking over the COOP during evenings and weekends – the overall effect is that of a bustling home for students from every division of the school, and a place that caters to every part of student life.
Giancarlo Mazzanti '84, Registrar and Director of Student Services, says "The revitalization of the main level of Brennan Hall has been the catalyst in improving the student experience on our campus." He mentions one of the key benefits has been that staff "are in constant contact with students, and sharing in the community experience," and that the new spaces bustle with students "studying and meeting with academic advisors, learning strategists, career advisors or our Campus Ministry team."
Since the beginning of the new academic year, the revitalized Brennan has been buzzing with activity, from orientation programming to events and first club meetings. A recent Kelly's Korner – an open mic night and longstanding tradition brought back in the new space – was full to overflowing the doors of the Dodig Family COOP.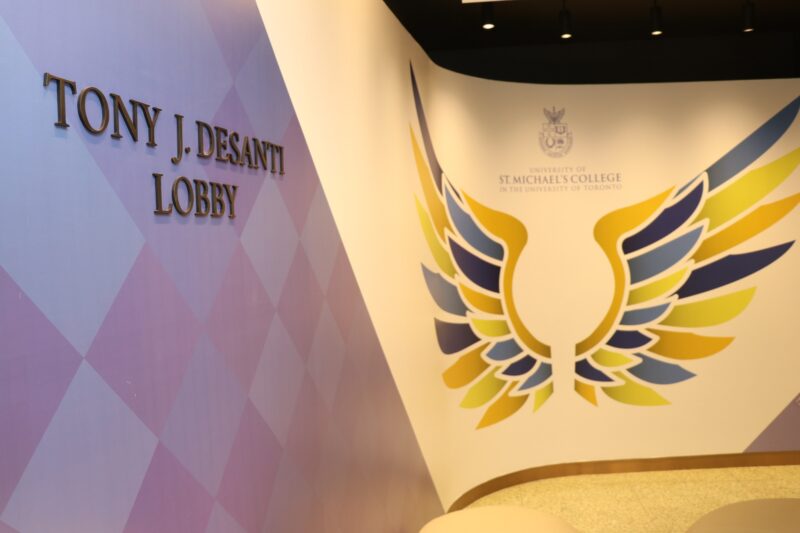 "It looks beautiful and it is coming back to life!" says Maryrose Doucette, a third-year SMC student double-majoring in Christianity and Culture and Mediaeval Studies with a minor in Political Science. "The COOP being redone, the pool table, and of course the coffee shop are all a draw for me, and it's great to walk through on my way to class and run into friends at every corner."
The changes to Brennan are apparent from the moment a visitor walks in the south entrance. A bright and welcoming entrance space, the Tony J. Desanti Lobby features a curved wall imprinted with the names of members of the St. Michael's community who made the renovation possible. The old-school USMC crest on the floor recalls decades of St. Michael's history, while a pair of giant angel wings on the wall provide Instagrammable photo opportunities to students and visitors to campus.
In the updated central space, students now have a large variety of seating options while waiting for appointments or gathering with friends. One option is to grab a drink or a snack at Mike's Café, a coffee shop quickly becoming known for its "Basil the Bulldog" signage where students can pick up St. Mike's merchandise and a small selection of toiletries and living essentials in addition to Starbuck's Coffee. Arrays of outlets next to every seating area make it possible for students to study or hang out for as long as they like without relocating for a battery top-up.
An essential part of the project was the update to the Dodig Family COOP, a beloved open space where students at St. Mike's have gathered for decades. It has always played a particularly important role in the lives of commuter students, who treat the COOP as a home base for the days they spend on campus. The new COOP features soft seating, updated lighting, plentiful outlets, and a complement of glass-walled office spaces for student organizations and clubs, as well as a graduate student lounge with further comfortable seating. Microwaves and high-top tables make the COOP a place to eat as well as study, hang out, and gather for events.
Isabel Armiento, fourth-year SMC student and this year's Editor-in-Chief of The Mike, finds that the revamped club spaces next to the COOP have been a boon to the campus paper's operations, saying "we can now comfortably host in-house copy-editing and production sessions with more members present than ever before." Armiento also notes the centralized office spaces make it easier to "hold outreach events in common student spaces and to communicate with Student Life and USMC faculty."
The Class of 2023 has already begun to make themselves at home in the COOP and the adjacent offices, which are adaptable for a variety of uses. Passers-by often catch sight of board game nights and friendly games of pool on the new billiard table. From residential students to commuters, graduate students to those pursuing certificates in Continuing Education, visitors to the revitalized spaces find a new home for the community that has always made St. Michael's unique.
Since its official opening in August of 1939, Brennan Hall has been at the heart of the St. Mike's experience. 80 years later, thanks to the generosity of Brennan Hall "Champions," gifts from alumni and friends, major class gifts, and a contribution from students through the Student Capital Improvement Fund, the Class of 2023 will be the first to enjoy a completely revitalized Brennan Hall throughout their entire experience at St. Mike's.
By: Michael Czobit
---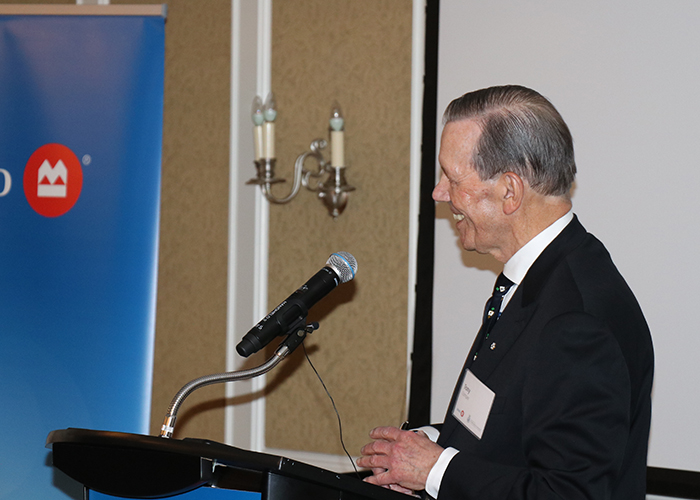 How long does a year feel? With so much activity and change at the University of St. Michael's College, not very long at all. And much of that activity and change is due to the generosity of USMC's most loyal and committed donors—members of the Chancellor's Club, Vice-Chancellor's Club and Heritage Donor Society—who gathered for the 18th annual St. Michael's donor appreciation reception hosted by BMO Financial Group at First Canadian Place on Nov. 21.
Dr. Tony Comper, 6T6, welcomed the guests and mentioned a development in his own life: he had returned to school, specifically, St. Mike's Mediaeval Studies program. Dr. Comper explained that he had begun attending Prof. Alexander Andrée's Early Mediaeval Tradition course, but joked that he could only audit the class as it had been a while since he'd been tested in an academic setting. Dr. Comper then introduced someone who was also familiar with the Middle Ages, USMC's newly installed president, Dr. David Sylvester, a social economic historian who holds a PhD in medieval history.
Dr. Comper remarked on Dr. Sylvester's installation in October, saying the praise for Dr. Sylvester's appointment as USMC President has been widespread, from Rev. George Smith, CSB, former superior general of the Basilians, and across North America. As he took the podium, Dr. Sylvester thanked Dr. Comper for his generous introduction and welcomed a special guest, Dr. Rose M. Patten, O.C., Chancellor of the University of Toronto. Dr. Sylvester thanked the guests for giving him the opportunity to acknowledge the University's gratitude for their loyalty and generosity.
Dr. Sylvester then spoke of last year's donor reception when a video was shown to introduce the launch of a project to renovate Brennan Hall. Shortly after, on Nov. 17, 2017, John Bennett, 6T7 and Diana Collins Bennett, 6T8 made a generous anchor gift, challenging the St. Mike's community to begin a Brennan Hall Renewal fundraising campaign, which had a $2M fundraising goal. Dr. Sylvester said that over the past year the campaign had generated $1.7M from friends, faculty and staff members. Because of this, the project was nearly complete, with Brennan Hall expected to re-open to students in early December.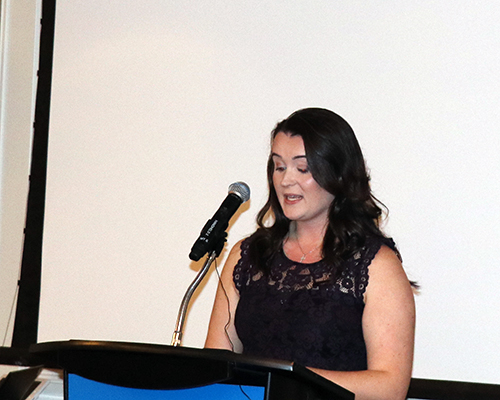 A video (which is embedded and available for you to watch below the text of this article) then detailed the progress of the renovation, and included messages from students about what the renovated Brennan Hall would mean to them and their thanks to campaign donors. The renewal project, which was envisioned and launched by Dr. Sylvester's predecessor, David Mulroney, centralizes student services and provides space for resident and commuter students to gather, study, celebrate and engage with each other as a community.
After the video aired, Dr. Sylvester had more good news to share. The fundraising campaign had actually met its $2M goal. How? Dr. Sylvester welcomed to the podium Kate Strazds, President of St. Michael's College Student Union, who announced a $300,000 gift on behalf of all St. Mike's students.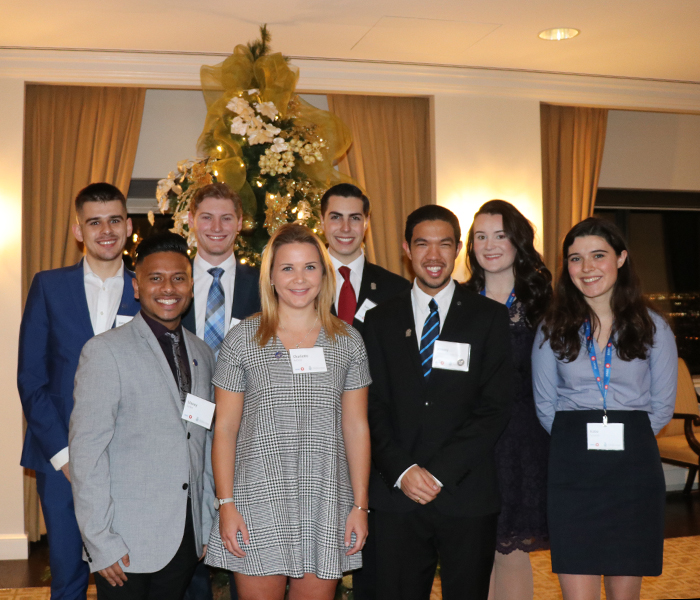 Turning to other exciting developments at USMC, Dr. Sylvester spoke about recent and upcoming faculty appointments in the Faculty of Theology and commented on the work of the six assistant professors who joined St Michael's in 2017-2018 to teach in the undergraduate sponsored programs. He then highlighted the success of visiting professor Sam Tanenhaus's "Trump and the Media" course, which has been popular with students and, incidentally, the media—the CBC, Vice, The Globe and Mail and Vanity Fair have all reported on Mr. Tanenhaus's unique Book and Media Studies course.
Finally, in closing, Dr. Sylvester reiterated USMC's commitment to maintaining and modernizing campus facilities, growing student aid programs, building wellness services and learning supports for students, and to continuing to pursue teaching excellence in the College and Faculty of Theology. He said that it was an important time for the St. Michael's community to gather and reflect on how the University will fulfill its mission, addressing the present and planning for the future needs of students, society and the Church.
He closed by thanking guests once again for their advocacy and generous support and invited all to mingle at the reception, graciously hosted by BMO.
---
Michael Czobit is the Director of the Office of the Principal and Vice-President at the University of St. Michael's College.