Part of the communications team, Catherine Mulroney studied English and Medieval Studies at St. Mike's and returned recently to complete an M Div at the Faculty of Theology.
---
A Shot in the Arm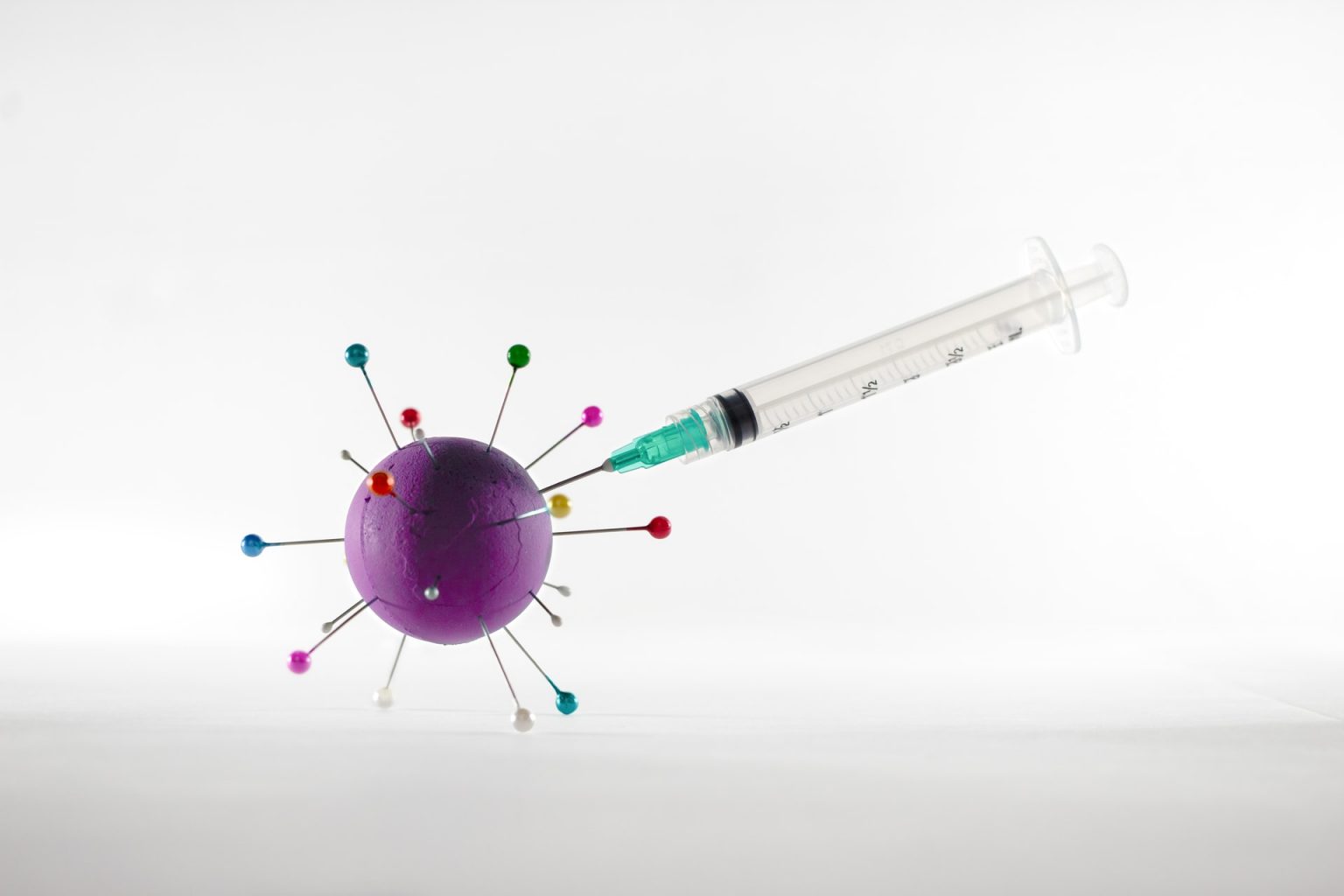 "Love hurts," the old song says. But a little short-term pain for long-term gain is always worth it—and especially in these unusual times.
A few days ago, I joined the millions of Canadians now vaccinated. I got a shot of Pfizer and, in the spirit of full disclosure, it didn't really hurt at all, but for a little site tenderness that lasted all of 18 hours.
My injection moment made me want to recreate Rocky's famous run up the steps of the Philadelphia Museum of Art, or Braveheart's freedom speech, or Gene's Kelly's iconic "Singin' in the Rain" dance because had been so long in coming and meant so much.
In truth, though, the only thing I did do was get a little teary-eyed because taking 20 minutes out of my day meant I was now one step closer to seeing my children again, a little bit closer to getting back to my real office, and I could now say I was helping in my own small way to end the nightmare we've all been living for more than a year. I think I'd forgotten what a pleasant sensation relief can be.
I'm happy to say that my employer, the University of St. Michael's College, has been supportive as vaccinations have been rolled out, encouraging staff and faculty to get a shot, and offering time off to attend vaccine clinic appointments. It's a mindset that brings our 180 strategic plan alive for me.
In these days of the coronavirus, I am reminded that the 180 is not just a statement to hang on the wall but a reflection of a lived attitude. The references to such things as concern for the common good, the need to recognize the dignity of all, and our need to care for all creation actually mean something to all of us. Challenging times are bringing that to light. I see this in the professors' concern for students' wellbeing, and their understanding that, these days, support and encouragement trumps deadlines. I see it in the student life staff and volunteers' outreach to students, ensuring they know about extra funding available during COVID or offering reminders to take a break and engage in self-care, informing students of how they can get extra emotional support if needed. And I see it in email traffic and Zoom calls where we are all beginning to realize, via expressions of longing to be together again, that we might all be a little closer than just colleagues.
Daily, I watch the very lessons lived out on campus that I learned in ethics classes while studying theology at St. Mike's, or while reading the classics here as an undergrad. Life is beautiful and precious and we are called to do our best not only to respect and protect it, but to celebrate it, too. To me, that lesson includes getting a shot—for myself and for my neighbours. We are to live out the now oft-used phrase that we are all in this together. I'm proud to be an alumna—and an employee—of a workplace that practises what it preaches.
As strong as all these motivations are, though, my primary impetus for getting a shot was to ease my kids' worries. Their dad died a week before the pandemic lockdown began, and the early warnings about the severity of COVID had them stressed about their mother's health.
"We've just had one parent die. We don't want to lose the other," said the oldest, soon after the pandemic began, speaking as the now-elder statesman in his usual blunt fashion.
For the following six weeks, I only went as far as our garden, guiltily answering the door on occasions, but mostly watching the world pass by from our front window.
But then, early May dawned, and with it, my first solitary wedding anniversary. I felt an overwhelming desire to visit the garden centre and buy some plants, something that Mike and I had done in May for as long in as we'd been homeowners.
I can't say it was a fun trip, as it was laden with guilt: guilt for co-opting my youngest into accompanying me on my covert operation, and guilt that I was contravening a heartfelt request from my children. On an up note, though, I felt 17 again, because it reminded me of being in high school and bending a few of my parents' rules—just slightly, of course.
I monitored dropping age limits and expanding availability and leapt when my chance came. It took close to an hour on hold with the Ministry of Health to book an appointment, and the poor woman who answered my call had a wailing child in the background, but it was all worth it.
My kids put on a brave face at all times for their mother but I know they were relieved. I was just happy I could do something that would ease some of the pile of worries each of them has these days. Then attention shifted to when they could be vaccinated, too, jealous that Molly, the child living in Florida for the year, has already had both doses of Moderna.
This has been an extended period of loss for all of us. Some of the those losses, of course, are trivial—the inability to hit the links, or the discovery that not being able to go to the hairdresser's means saying goodbye to a preferred hair colour.
And some, of course, are profound. I don't know anyone who hasn't lost a friend or relative in the past year, including some to COVID, with their grief compounded by the inability to say a proper goodbye.
That's why the vaccine, along with continuing measures such as masking and social distancing, remain so important. A shot in your arm is a shot in the arm for all of us. Take one for the team.
---
Read other InsightOut posts.
Renata Brum is a Regulated Canadian Immigration Consultant (RCIC). Prior to founding Brum Immigration in 2018, she was the Senior Citizenship Judge of Canada, with Immigration, Refugees and Citizenship Canada for 5 years, responsible for supervising and training 36 citizenship judges. Reporting directly to the Minister of Citizenship and Immigration Canada, she was a citizenship judge for 6 years prior to her appointment as Senior Judge. Renata is an alumna of St. Michael's and a former Vice Chair of the Collegium.
---
Helping International Students Navigate Canada's Immigration System During the COVID-19 Pandemic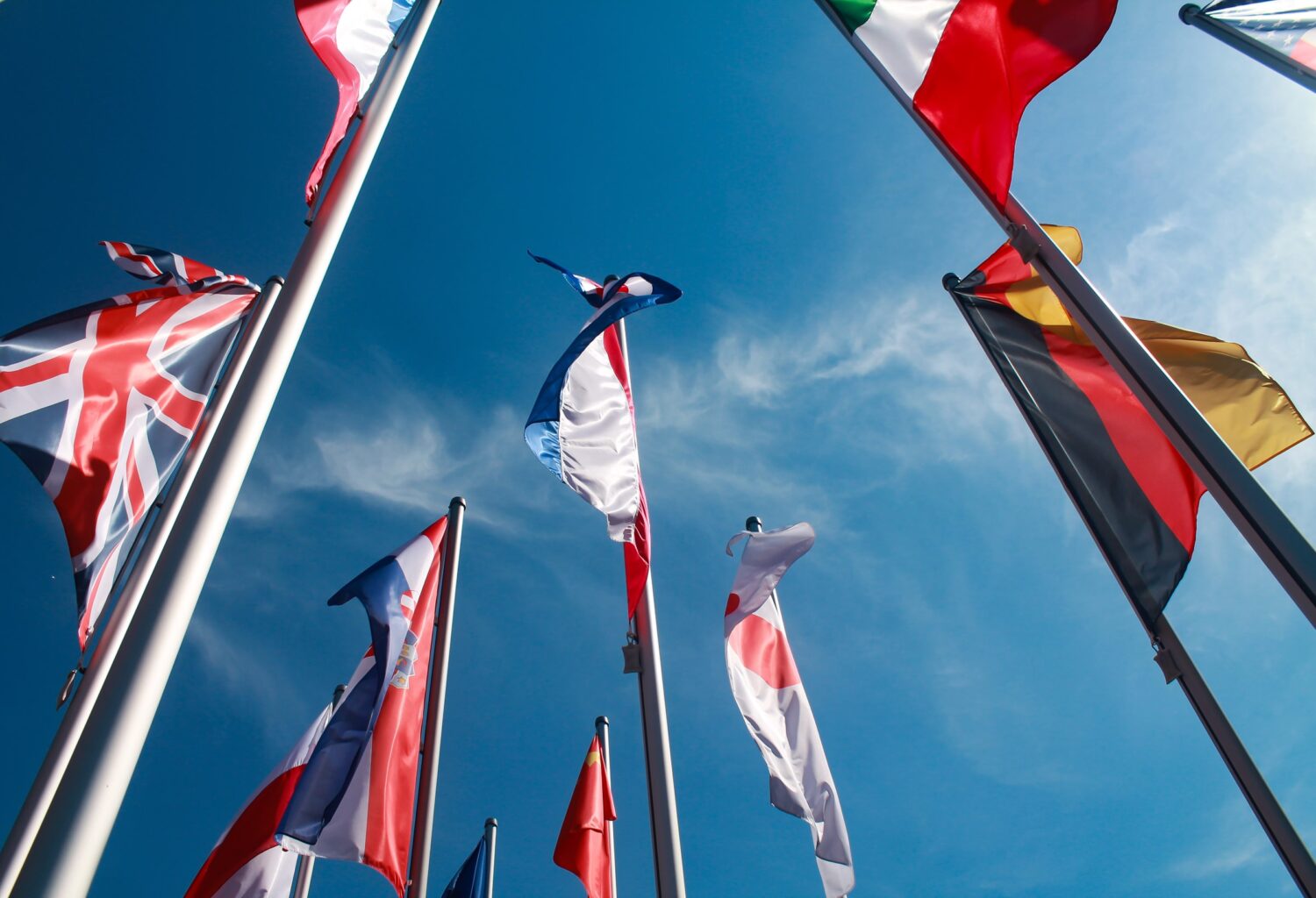 The COVID-19 pandemic has been an unprecedented and disruptive force in all our lives. Our daily routines have undergone significant upheaval and our social interactions have become largely virtual—a practice that disrupts our intuitive inclination to connect through personal presence and physical touch.
Staying physically apart has had a significant impact on all students in Canada who have had to muster up new levels of resilience and creativity as they adapt to online learning and to prolonged isolation from their friends and classmates with whom they normally interacted with over the course of their studies.
Perhaps one of the harder hit groups has been international students, who are often in Canada with limited support, without their family members, and who have now been separated from their friends and communities for almost a year as provincial and federal lockdowns and restrictions have strictly curtailed social gatherings.
Additionally, the sharp decrease—or in many cases, total suspension—of in-person learning, looming immigration status expiry dates, and an unclear future with regard to job opportunities, have left international students with justified anxieties about what comes next.
Over the course of the past year, I have had the opportunity to help international students navigate the murky, and often overwhelming, information provided to them by Canadian immigration officials. These clients in particular touch a nerve, elicit a deep, intuitive and reflexive compassion, since they are the age of all of my five children—18–24—who are themselves reaching beyond their grasp toward the future they are dreaming for themselves.
During these unusual times, I have assisted international students with applications for initial study permits, extensions of their status in Canada, applying for Post Graduate Work Permits, and have assisted financially precarious students obtain emergency work permits—notwithstanding their student status—so they could work full-time and support themselves in Canada.
My clients' stories and struggles as they navigate how to continue their dreams of making a better life for themselves in Canada continue to inspire me. I recently worked with a young student, a brilliant aerospace engineer who, having been disowned by his family, was alone in Canada without any support. He found himself on the brink of poverty, utterly destitute, and with no way to pay his tuition unless he was able to work full-time. Bound to part-time work by the conditions imposed on him as an international student, he did not know what to do. When we connected, I was moved. My maternal instincts kicked in. I offered him a room in our home and then set to work on his immigration status. I knew he was an ideal candidate for an emergency "destitute" student work permit. I took on his case pro bono and successfully obtained his work permit authorization—in 3 months—giving him the ability to adequately support himself in Canada.
Fortunately, in the wake of the COVID-19 pandemic, Immigration, Refugees and Citizenship Canada ("IRCC") has introduced a variety of policies aimed at assisting international students begin and continue their studies and at obtaining the proper authorization to work after they have completed their program.
Applying for a Study Permit
Before travelling to Canada, the vast majority of international students must apply for a study permit. Only citizens and permanent residents of the United States of America, and limited others may apply for a study permit at a port of entry at this time. Unsurprisingly, study permits issued to students online and before travelling to Canada are delayed—so be prepared for a wait.
Entering Canada
International students who have a valid study permit or letter of introduction confirming that their application for a study permit has been approved and that they have been accepted to a designated Canadian school that has an approved COVID-19 readiness plan are exempt from the travel restrictions currently in place. This exemption also applies to accompanying family members of workers or students who wish to study in Canada.
Technical Bits — Extending Your Studies & Restoring your Status
What if your study permit has expired and you need more time to complete your studies or you wish to pursue additional studies in Canada? You may apply to extend your study permit online.
If your study permit has already expired, you may be eligible to restore your status. If it has been less than 90 days since your study permit expired, you can restore your status as a student by applying online. In addition to these provisions, there are special measures for students whose status has expired beyond 90 days—an unusually compassionate step for those who were particularly hard hit by COVID-19 uncertainties.
Working in Canada After You Complete Your Program: Changes to the Post-Graduate Work Permit Program
Eligibility for a Post-Graduate Work Permit (PGWP) now varies greatly depending on whether you are inside or outside of Canada. These requirements are technical, and it's best to call us for advice before applying.
Mandatory Quarantine
Although international students are exempt from the travel restrictions, they are not exempt from the mandatory 14-day quarantine requirement. On February 21, 2021, all international travellers (except for a few limited exemptions) are required to enter a government-approved quarantine facility for a period of 3 days as they await the results of the COVID-19 test they underwent upon arriving in Canada.
We continue to assist international students at all stages of their studies in Canada in navigating Canada's immigration system.
In 2020, Sister Penny McDonald celebrated her diamond anniversary of her entrance into the Congregation of the Sisters of St. Joseph of Toronto. After obtaining a BA at St. Michael's, her main ministry until 1995 was in education, as a secondary school teacher and administrator. Sister Penny realized her need to deepen her theological understanding for her work with students and in the field of vocational discernment, and was awarded a Master of Divinity degree at St. Michael's Faculty of Theology. In 1995, Sister Penny moved from teaching to volunteering at St. Michael's Hospital in the HIV clinic. Later, she directed the Drop-In, a place for women who were homeless or under-housed. For the past 14 years, Sister Penny has worked at Providence Healthcare as a volunteer in the Adult Day Program. The joy and satisfaction of serving in one of the original ministries of the Sisters of St. Joseph in Toronto, and of being part of a welcoming community of compassion, hope, and healing, has been source of joy.
---
"Listen to what life is asking you"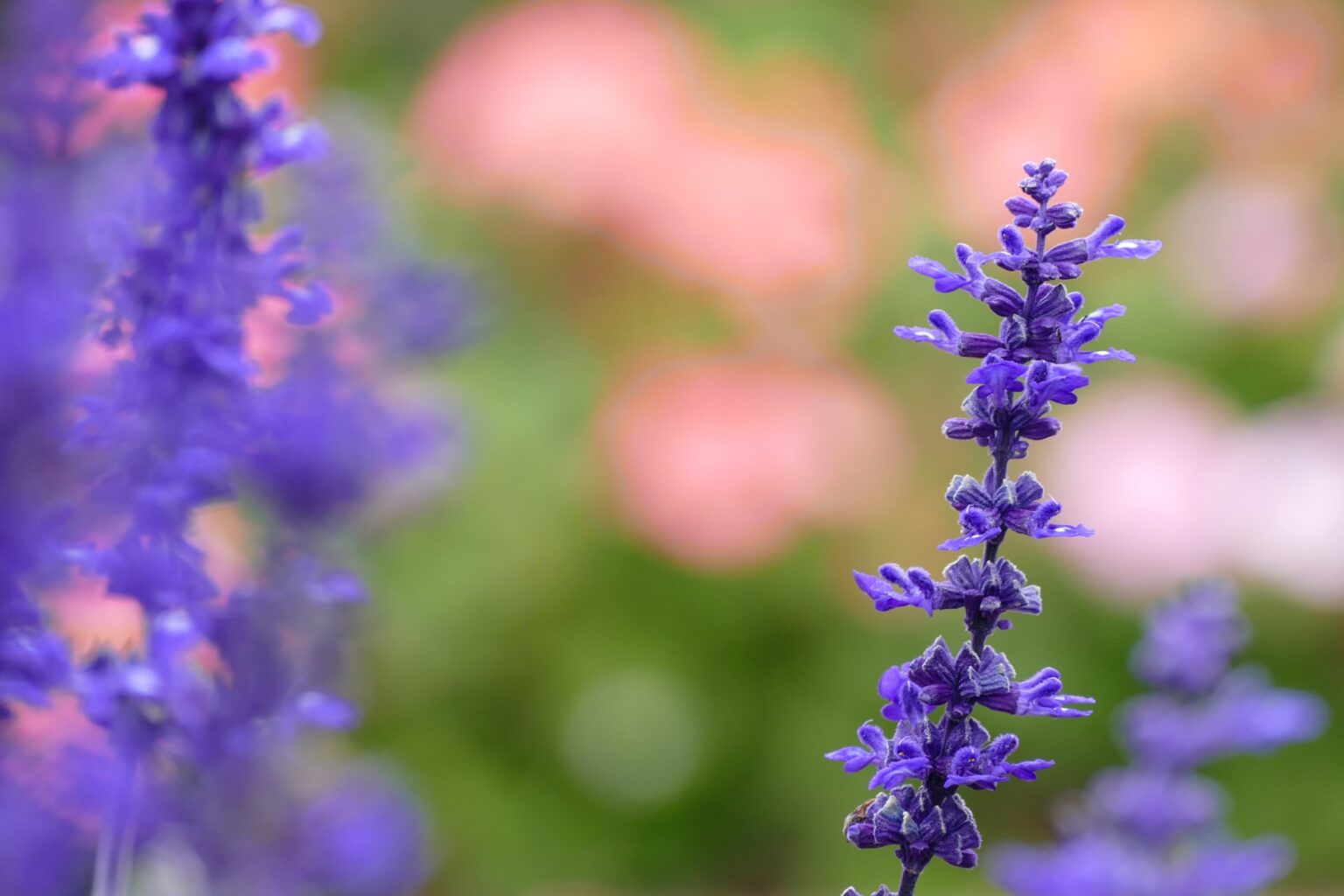 On Thursday March 13, 2020, I returned home from Providence Healthcare, where I have volunteered for 12 years in the Adult Day Programme (ADP), a programme for people who have dementia and are living at home. The following day I received an e-mail informing me that all volunteers were suspended until further notice. When I left Providence Thursday I had no idea that I would not be returning on Tuesday to be with the club members and staff.
I am a Sister of St. Joseph of Toronto, and the Charism of our Community is reconciliation and service of the dear neighbour. It is a challenge for me to accept that loving my neighbour is to stay home, to wash my hands, to wear a mask. In contrast, Our Foundress, Sister Delphine Fontbonne, arrived in Toronto in 1851 with three other Sisters in the midst of the Typhus epidemic and took on the management of an orphanage on Jarvis Street. For these Sisters, loving the dear neighbour meant living with the orphans, establishing schools, planning the House of Providence, which would accommodate hundreds of poor seniors, the sick, and immigrants. Sister Delphine died on February 7, 1856. She had stayed with a woman who was alone and distraught, and she had tended to the sick Sisters in her Community.
Today, of course, I want to be with the club members and staff of the ADP, and I await the day when the COVID-19 pandemic will end. Until such time, in the words of Dr. Ted Dunn, as expressed in his book The Role of Meaning-Making in Transitional Times, I "listen to what life is asking me." I find purpose and meaning in being aware of the suffering in our world, following the news and world events, entering into committee work carried on with Zoom, sorting and organizing and packing, exercising, praying, gardening, reading, listening to music, crosswording. For this moment in time my life is changed. I believe the change is not forever!            
This year our Congregation is celebrating God's goodness to us for 170 years. It is our prayer that we be healers and show the compassionate face of God to our dear neighbour. March 8 is International Women's Day and I thank God that I belong to a Community of women—a Community that dates from 1648 in France. I live in the Grace of all the women who spent their lives in service of the dear neighbour without distinction and in fidelity to our call to continue the mission of Jesus "that all may be one".
---
Source: Ted Dunn, PhD The Role of Meaning-Making in Transitional Times
---
Read other InsightOut posts.
Nick Pantaleo, FCPA, FCA, SMC8T0 B. Comm, is a retired executive of Rogers Communications Inc. and a former partner at PricewaterhouseCoopers. He is a Senior Fellow at the C.D. Howe Institute. Recently, he took time to meet virtually with students as part of St. Mike's Alumni Mentorship Program.
---
Change is Constant
Where has the time gone?

I blinked and suddenly I found myself in a virtual meeting with future St. Mike's grads almost 41 years after my own graduation! 41 years!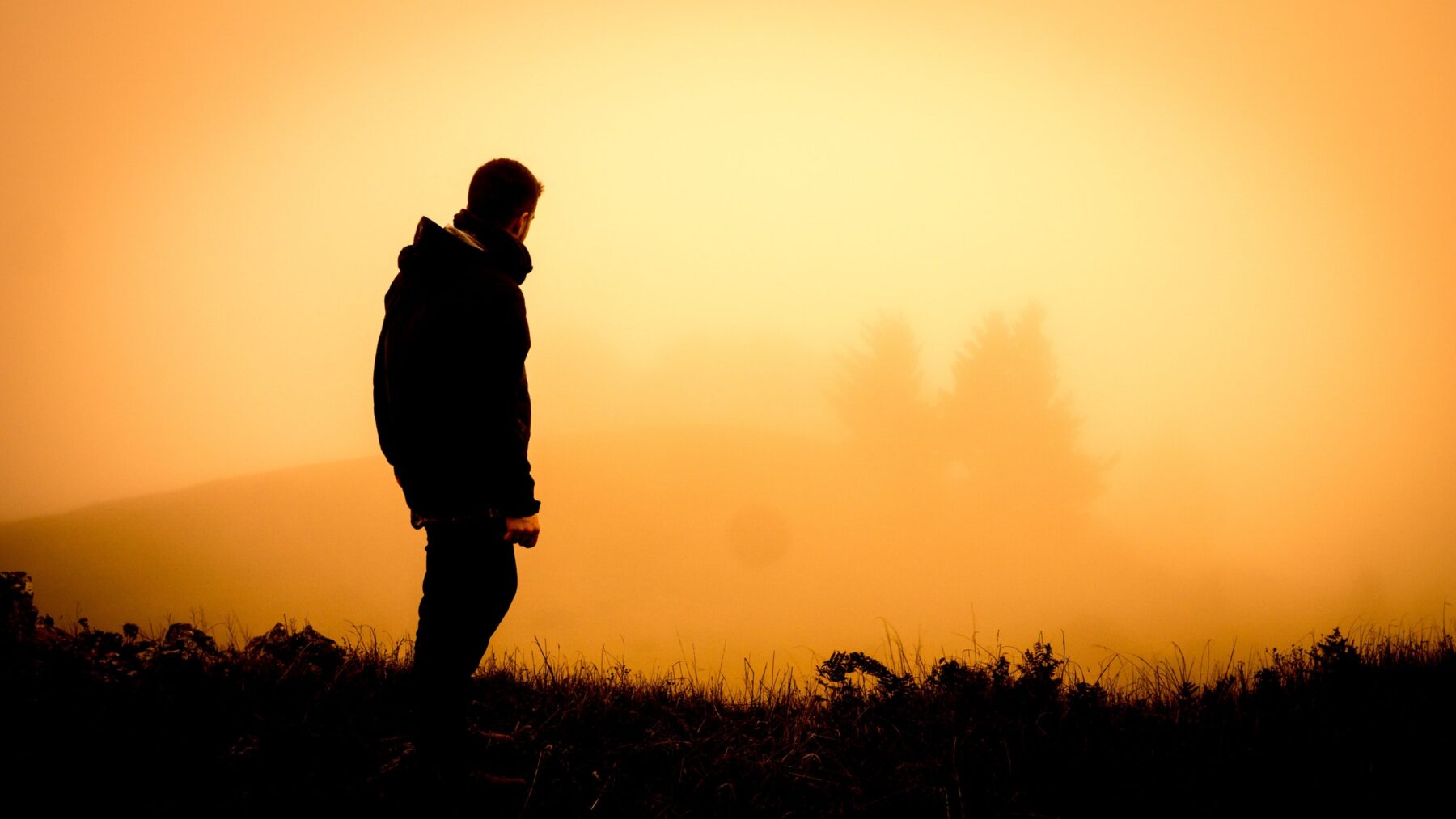 That's right. I am a St. Mike's alum, having graduated with a Bachelor of Commerce degree in 1980. I then embarked on a 33-year career—22 as partner—at PricewaterhouseCoopers, specializing in taxation, before "retiring" to take a senior vice president position at Rogers Communications. In 2019, I retired from Rogers. The timing was planned but it turned out to be fortuitous because I was able to devote more time to my aging parents as they battled health issues and moved into a retirement home.

I usually make the point that I "retired from Rogers" as I did from PwC, as opposed to saying I am "retired." After all, I plan to—and have remained—busy since leaving Rogers. I play more golf in the summer, and I spent more time at our place in Florida in the winter months BC—"Before COVID." I have also written some papers and remain engaged in tax and other policy discussions at the C.D. Howe Institute, where I am a Senior Fellow. I also have more time to focus on my charitable and board responsibilities —until recently I was on the Board of Catholic Charities of the Archdiocese of Toronto and am currently on the Board of Catholic Cemeteries and Funeral Services.
While my graduation was over a generation ago, I have never been far away from university life. My oldest daughter is a SMC1T3 Commerce graduate and my youngest daughter graduated from Guelph University with a business degree in 2017. For many years after my own graduation, I was very involved in recruiting university students. I also taught tax to university students throughout most of my career, and I continue to do guest lectures at the University of Waterloo, where I was an Executive in Residence shortly after leaving Rogers.
Teaching was my primary source of personal development throughout my career. After graduation and later after another year of study to get my professional accounting designation, I guess I found it hard to discipline myself to be a student again. I found teaching a great way to stay current. Plus, teaching was very rewarding. I always found my interactions with students to be refreshing and a welcome diversion from the intensity of my professional career. Sure, student interactions could be intense at times—like around exam and mark time!—but it was not the same as dealing with client matters. I find students' enthusiasm to be infectious. Their curiosity and questions about what to expect "in the real world" challenge me and are an opportunity for personal reflection.
So it was a no-brainer to accept the invitation to participate in a virtual meeting with future grads last month as part of St. Mike's Alumni Mentorship Program.
Graduates of my generation faced challenges and uncertainty. Does anyone ever know what the future holds for them? Students graduating this year and possibly even the next, do so in circumstances they could not have imagined when they started their university journey. Who would have thought that this decade would begin with the world struggling through a pandemic the likes of which have not been experienced in more than 100 years?

How do students graduating from St. Mike's meet the challenges brought on by the pandemic and quell their anxiety about the future?
Based on my experience, two things come to mind immediately.
First, as with all challenges we face, start by trusting yourself. Trust your abilities. Yes, you will be a work in process when you graduate. But take comfort from the fact that you will graduate from a preeminent college in a world-renowned university under extraordinarily difficult circumstances. Arguably, no group has faced a greater challenge during the pandemic than students—of all ages. They have had to basically re-learn how to learn while being largely isolated from their peer group and unable to participate in extracurricular activities that are equally important to one's development. How will you have met this challenge? One. Day. At. A. Time. That is how you will meet the challenge(s) "in the real world" brought on by the pandemic. And for those times when you do doubt your ability, continue to ensure your support system is in place—parents, spouse, partner, children, coach, friends, colleagues. At some point, they will need you as well.
Second, remember that change is constant. That is a good thing. Change can be the great equalizer if approached with a positive mind frame. Change creates opportunities. The pandemic is forcing all (profit and not for profit) businesses, organizations and institutions to re-invent themselves, to rethink their operating model from top to bottom. Everything from how to service customers to how and where employees will work. Those too hard-wired to the way of doing things BC will struggle. They will have difficulty pivoting. They will need help. Therein lies the opportunities for future graduates.
I look forward to sharing more of my experiences in future blogs. Reach out to me at npantaleokc@gmail.com with any thoughts or questions.
In the meantime, stay safe!
---
Read other InsightOut posts.
St. Michael's alumna Suzanne Heft spent her childhood living in the United States, the Middle East and England before attending the University of Toronto, graduating with a B.A. in English Literature in 1990. After a brief stint in public relations, she became interested in non-profit fundraising and has been a senior executive on numerous fundraising campaigns over a 20-year Toronto-based career. She met her late husband Harold Heft while working at U of T many years after graduation, and the university holds a special place in her heart as the place where they met. Suzanne's oldest son Sam is a student at Woodsworth College, and A Perfect Offering, published by Mosaic Press and available from book retailers, is dedicated to him, his younger brother John, and to Harold himself.
---
A Perfect Offering
Ring the bells/that still can ring
Forget your perfect offering/There's a crack
A crack in everything/That's how the light gets in.
—Leonard Cohen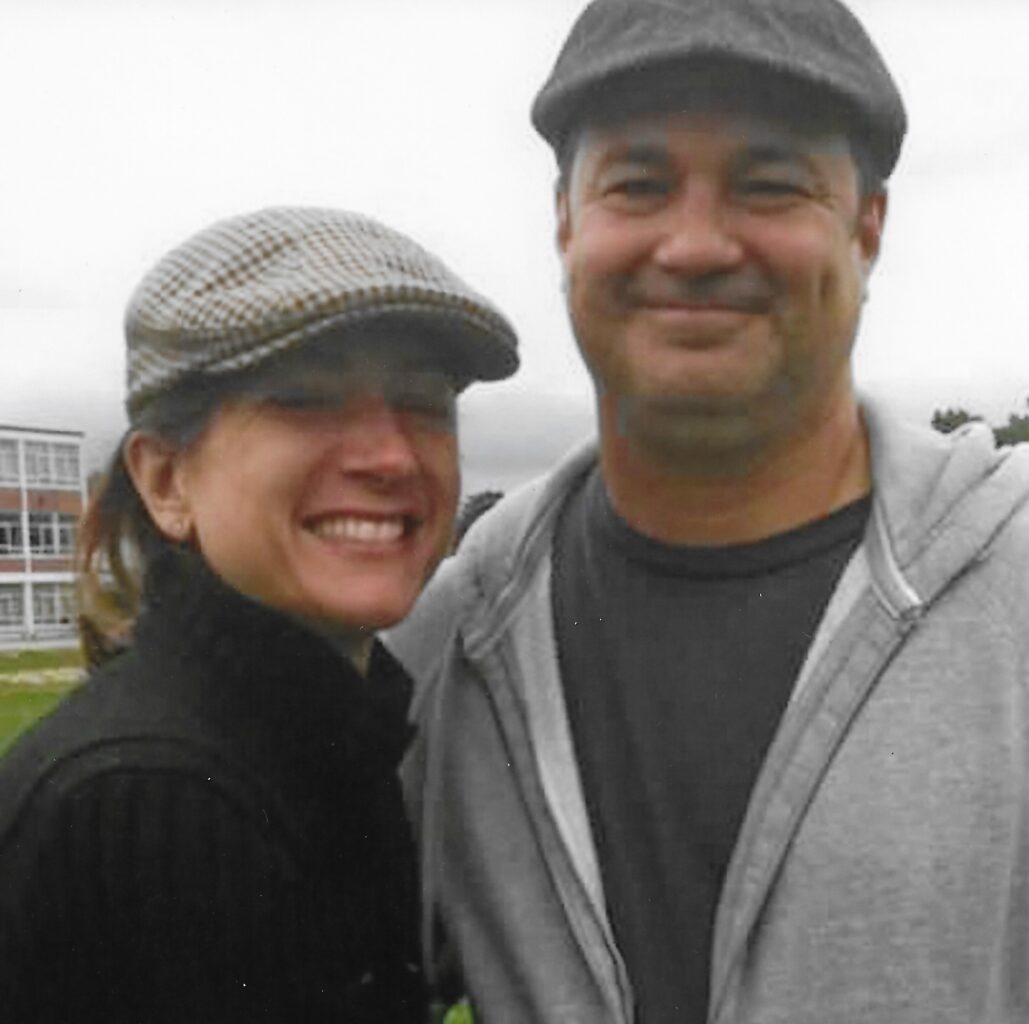 What would you do if suddenly your world cracked apart?
What if you were a teenager on vacation, sunbathing on a beach and a terrorist bomb blew up just a few metres away from you? Or you were a new mother of a one-year-old baby who inexplicably died in a hospital ICU? What if your beloved parents were both killed by a drunk driver two months before your university graduation? Or what if you collapsed at work, age 49, only to be told you had a brain tumour growing in your head and likely had less than two years to live?
What if. What if.
The last scenario actually happened to me, or rather to my husband, Harold, almost six years ago. A writer by trade, a former English professor and a senior marketing executive, he was rendered unable to read or write by the location of his tumour. A father to two young children, he found himself, suddenly, figuratively, staring down the barrel of a gun. And me alongside him.
Many people reading this are familiar with the "life before" and the "life after." Traumatic events are the fault lines that separate us from who we were then and who we are now. Understanding and exploring this phenomenon became Harold's preoccupation in the months after his diagnosis. His past had fallen away like the sheer drop of a cliff below his feet, and the future was now an elusive mirage.
"What do I do now?" he asked me. As he had done all his life, he chose to write. Except this time, I was his scribe. Together, and with help of an editor friend we had both known for years, Harold imagined a book of non-fiction stories, the real, wrenching stories of ordinary people, who, like him, had made passage from "the before" to "the after," and who had luminous insights and observations to offer. Making this book—a book he himself would have wanted to read—became a true passion project.
Creating a book is a daunting task under any circumstances. Doing so while you're in the middle of chemotherapy, radiation, and rehabilitation from brain surgery is practically impossible. And yet we worked on it. Tenaciously.
Harold died in 2015, before the completion of a full manuscript of the book he imagined so vividly. At his funeral, there were hundreds of people present while my friend Jim delivered a eulogy where he talked about Harold's legacy as a storyteller, among other things. Adrift in my own grief, I knew that part of my forced reckoning with death lay in picking up the book project where Harold had left off—and finding a way to complete it.
The submissions we solicited came pouring in. Iranian-Canadian writer Marina Nemat wrote of an encounter with a fellow survivor of the infamous Evin prison in Iran where she had been wrongly jailed as a young woman decades before escaping to Toronto. Rabbi Yael Splansky, mother of three sons, recalled a deeply personal sermon she delivered in front of her entire congregation on the Jewish New Year, having just turned the page on her gruelling treatment for breast cancer. New York Times columnist Jennifer Finney Boylan sent us a story about a near-death moment that changed her life forever, and Canadian photojournalist Paul Watson shared photos and stories of orphans and street children he encountered on location in Kabul and Vietnam, boys and girls with glassy stares and lost childhoods.
All these stories—and many more—polished like gems, made it into the pages of A Perfect Offering: Personal Stories of Trauma and Transformation, which was finally published in December 2020.
I hope that the book is a testament to the power of story. That in our shared vulnerability, we find ways to be less alone with our pain. There is an old adage, "a burden shared is a burden halved." I'm not sure this is quite true, but I do believe that when other human beings witness our suffering, it calls us to a state of grace that is transformative and compelling.
It is highly serendipitous that this book is published during the middle of a global pandemic, where so many of us are suffering alone, and grieving all manner of losses too numerous to mention. Harold was always skeptical of those folks who said: "everything happens for a reason." His own story is in the book, but it was half-finished. In the flurry of work on other people's essays, he neglected his own, until, alas, it was too late. I decided to include it as is, unfinished and real. It is his own imperfect offering.
Indeed, there is perhaps no other kind.
---
Read other InsightOut posts.
Mark De Luca (SMC1T5) holds a Bachelor of Arts (Political Science and History) degree from the University of Toronto. After graduating, he pursued a Post-Graduate Certificate in Broadcasting—Radio from Humber College, ultimately moving out West to work as a news reporter/director in rural Manitoba. For the past five years Mark has had the privilege of working in rural and urban centres at a number of radio stations, including 730 CKDM (Dauphin, MB), The Shoreline's myFM (Kincardine, ON) and 680News in Toronto. Mark now works as a Traffic Reporter with the Canadian Traffic Network (CTN) and can be heard every afternoon on the following stations: Boom 97.3, Flow 93.5, Jazz FM 91, The New Classical FM, 1460 CJOY and Magic 106.1.
---
InsightOut: The Familiarity of Radio in a Changing World
It's been roughly one year since Toronto experienced its first full lockdown. I remember it vividly. I was at the local pub having a beer with some buds, chatting about this potential pandemic spreading across the globe. It was being called COVID-19, similar to the SARS outbreak 16 years prior, but we didn't know much. The World Health Organization was apprehensive about classifying it as a pandemic but was keeping an eye on it. Nearly 365 days later, we find ourselves in the situation we are currently dealing with.
It goes without saying that COVID-19 has completely changed lives for all. From the way we interact with one another to how we conduct our daily lives, this once-in-a-generation virus has been front and centre for one whole year.
At times it seemed you couldn't get away from it. Every popular media platform provided wall-to-wall coverage about the pandemic at all hours. Having worked in news radio for close to five years I was used to information overload but COVID-19 presented a whole new meaning when it came to the 24/7 news cycle. Radio—an industry already going through immense change—once again needed to find a way to adapt, learn, and grow.
Rather than disregard the virus entirely, I looked for ways we could evidently beat the illness while living and working amid it. For some, that meant working from home, wearing a mask, social distancing, weekly Zoom video calls, but for me that meant using my platform: radio, and the power it still has over a population.
Radio has been around for more than 100 years and has changed along with the world around it. Although the medium has taken a new direction in the form of engagement through social media platforms, at its core, the main objective is to communicate important information to a wide audience in real time. As a traffic reporter I quickly realized this when the busy city streets of Toronto and its area highways instantly became bare. What was once gridlock on the 401 now seemed to be open, the hustle and bustle of Yonge & Dundas non-existent, and a backed-up Gardiner Expressway a thing of the past.
I pondered this new world and many times asked myself, "What's the point of these reports if everyone is at home?" but, in reality, that was not the case. Although the streets were substantially less busy, a new group of people came to light… the Essential Workers. The ones whose jobs did not allow them to stay at home were the people now occupying our roadways. The nurses, frontline health care workers, EMS paramedics, warehouse attendants, truck/ delivery/ bus/ taxi/ UBER drivers, construction workers, plumbers, electricians, mechanics, police officers, and firefighters were now the primary commuters. They were the ones waking up early in the morning, getting in their cars—or jumping on public transit—to provide the necessary services to keep our province safe and economy afloat.
The realization that, for a select few, working from home was not an option quickly resonated with me. For these people, a new level of fear, stress, and anxiety was unexpectedly thrust upon them. For many of these workers, the only break they could potentially have (if they received any at all) was that short timeframe between home and work that they had to themselves.
I reflected on this new reality and how my job could make the lives of these essential workers easier. What could I do to help them? Like many other industries, I was now relegated to a "Home Office" which was anything but—realistically it consisted of a desk, microphone, and a bed sheet over my head. But I was home, and for many this was not an option.
It was at that moment I made the decision to dedicate all my reports to essential workers across the Greater Toronto Area. If I could make someone's commute easier, I see that as a win. Radio has the unique power to provide much-needed companionship to so many, adding an extra voice to someone's day when at times they may feel alone.
My time at St. Michael's taught me about the importance of community, and I have taken those lessons with me throughout my life—I do not take that for granted. For these workers, community is more important now than ever before and I have applied those beliefs to my traffic reports. As we continue to adapt to the changes of COVID-19 I am optimistic there is a light at the end of the tunnel. With enough self-discipline, focus, and commitment to work in our own unique ways we will beat this thing.
I hope radio, in all its changes, brings you that sense of comfort and familiarity we are all longing for. As I say after I end every week on-air, "Until next time, be safe out there and I'll see you next week."
SMC, can I get a Hoikity Choik on C?
---
Read other InsightOut posts.
Maxine Webster serves as Advancement Officer, Alumni Engagement at St. Mike's. She holds a B.A. in Media, Culture, and the Arts from The King's College in New York City.
---
Virtual Connections with St. Mike's Alumni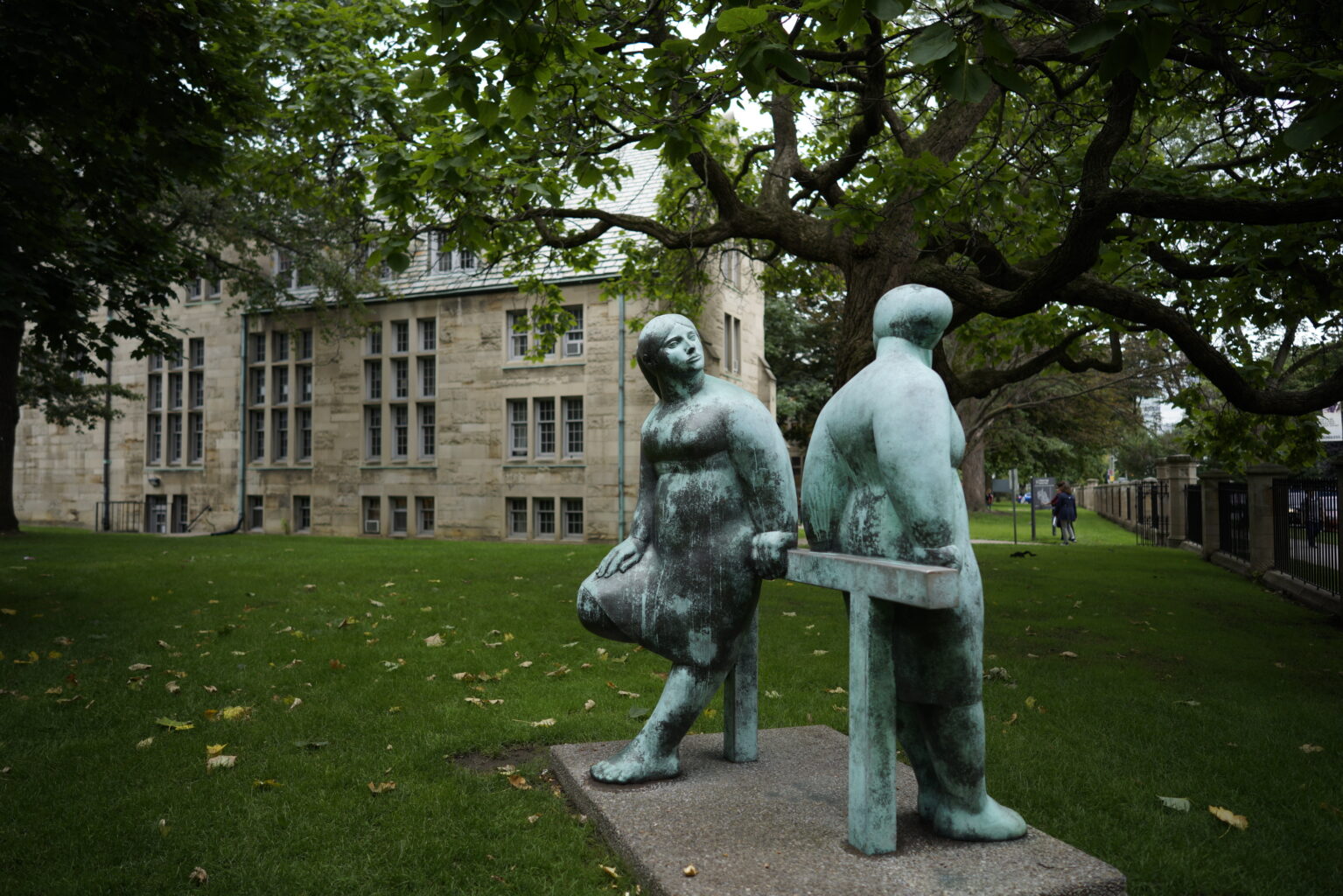 Since starting work within the Advancement team two months ago I've come to appreciate the special nature of St. Mike's.
I was initially drawn to the role based on the understanding that the College is supported by a loyal and generous community of alumni. And as someone who graduated from a small liberal arts college in a big city, I appreciate the juxtaposition of being part of a safe, tight-knit community while simultaneously being surrounded by the resources and opportunities a bustling city—and one of the world's leading research universities—affords.
This is an interesting time to be working in university alumni relations, as so many things have shifted in the last several months due to COVID-19. Traditionally, St. Mike's alumni would be looking forward to various in-person social events. On the flip side, alumni who may not have been able to access a local event in the past can now tune in, a unique opportunity to connecting with one another virtually.
So, while we all wait to return to "normal" when it is safe to do so, it is my job to engage and support the alumni community throughout this time—and I think we can all agree it is more important than ever to stay as connected to one another as we can.
Alumni volunteer activity is a critical asset to any university, and I am particularly grateful for the Alumni Association Board and Young Alumni Committee. These groups provide invaluable perspectives and insight as the mouthpiece for St. Mike's alumni at large. Their contributions and ideas support the relationships between St. Mike's and alumni, as well as within the alumni community, through alumni programming. They have a direct impact on the future of St. Mike's. Right now, there is an opportunity and a priority to grow these groups to further represent the diversity and various backgrounds of the alumni body.
There are a couple of new virtual programs coming up. I am really looking forward to the St. Mike's Alumni Workshop Series in partnership with the Office of the Dean of Students, where alumni who represent varying industries and experiences are meeting with a small group of current students over Zoom throughout February and into March. Each session is focused on a particular theme, such as "Finding a Job in a Difficult Market" and "Entrepreneurship."
Another program in the works is a Faculty Speaker Series, a way to highlight and share St. Mike's fantastic faculty and programming with all University of Toronto alumni through virtual presentations. We also look forward to traditional programming—the Lenten Retreat, Alumni Reunion, and Spring Convocation—done in new ways, for now.
Furthermore, I have been inspired by ideas alumni bring forth—from social media initiatives to thematic virtual events—and I am honoured to witness the progress that continues to take place at St. Mike's, through St. Mike's 180 strategic plan. I look forward to continuing to spend time in conversation with alumni in an effort to connect, learn, share ideas, and make plans.
More than anything, I realize time and time again what a special place St. Mike's is. Stories of Catholic services and religious pursuits, campus life and community involvement, stimulating classes and academic advisors, all remind me that St. Mike's is a place where some of life's fondest memories have happened, and continue to happen. Even in the midst of a challenging season, I am constantly reminded that a strong alumni community makes for a stronger St. Mike's.
If you would like to introduce yourself or get in touch with me about any of the things above (I really enjoy hearing from alumni!), you can reach out via email or phone (416.926.7260 ext: 67260).
---
Read other InsightOut posts.
Kathryn Elton joined the University of St. Michael's College in 2016, as Chief Advancement Officer, overseeing fundraising and alumni programming. One of the best parts of her work, she explains, is meeting and getting to know St. Mike's incredible alumni community.
---
Remembering Long-time St. Mike's Alumna Gloria (Chisholm) Buckley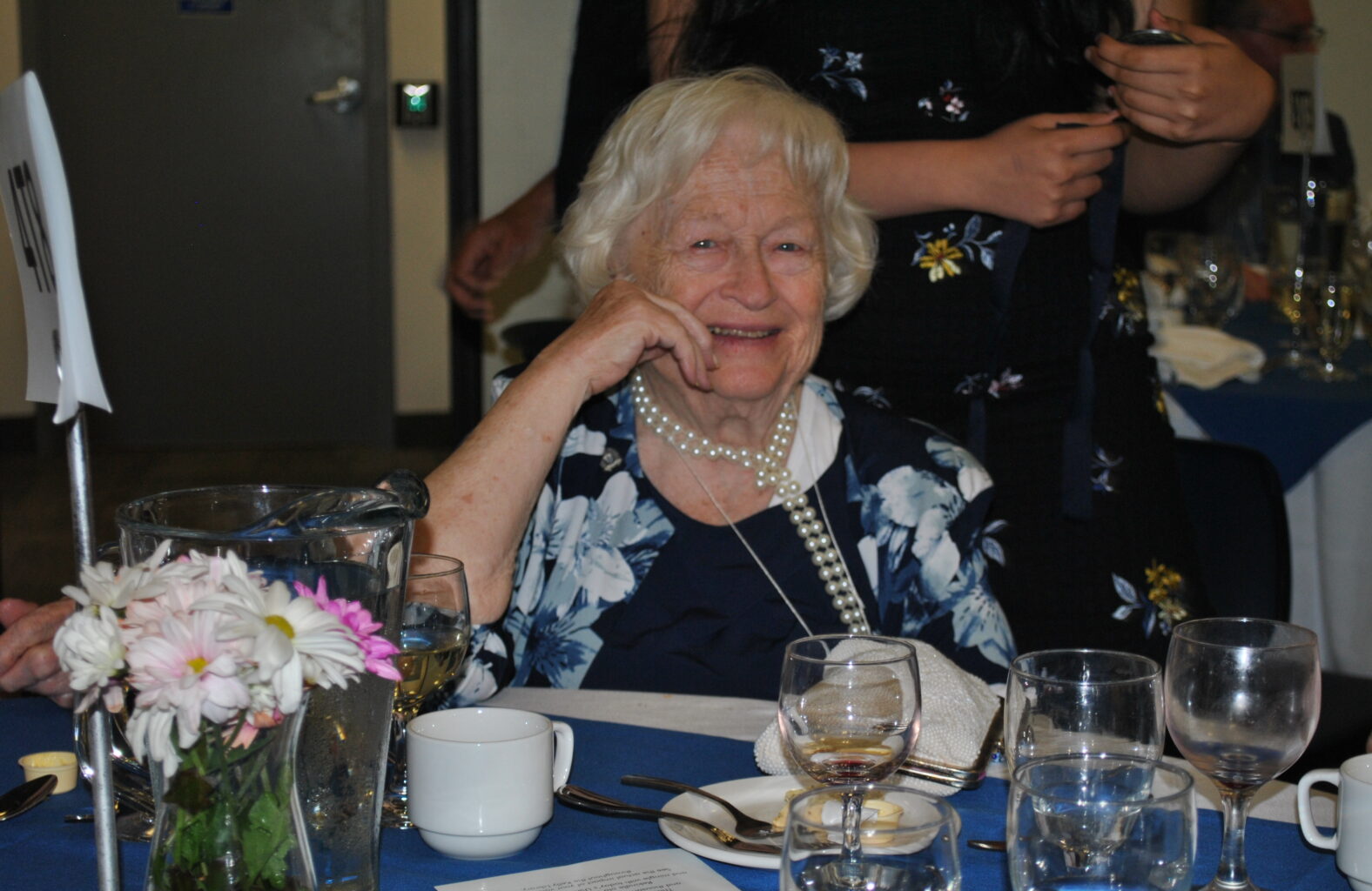 The University of St. Michael's College and University of Toronto communities lost a treasured friend with the passing of alumna Gloria (Chisholm) Buckley on January 25, 2021. Gloria, who graduated from St. Michael's College in 1948 with a Bachelor of Arts and Science, majoring in chemistry, was a beloved alumni volunteer leader. She was also a trailblazer who shone a path for women in science and returned her good fortune by serving others.
When Gloria was presented with St. Michael's Alway Award in 2014 she was celebrated as a "pioneering spirit, a scientist, working mom and community volunteer…at peace with both faith and science, a lifelong passion for knowledge, and thrilled by discovery. With a penchant for asking questions, a feminist before the movement began, a desire to contribute to saving lives, to fight for health and to understand the world at its most basic elements. She has lived up to the highest standards in numerous ways."
Gloria's accomplishments were extensive. She was:
a researcher at University of Toronto and at St. Michael's Hospital's Lipid Centre
a scientist in the private sector, including in bioscience and clinical chemistry specializing in cancer research
a member of the Christian Family Movement—helping peers with children cope with the pressures of life while raising families
a member of the Associates of the Sisters of St. Joseph for more than 25 years
one of the longest-serving members of the U of T Senior Alumni Association
the founder and leader of the organizing committee for University of St. Michael's College Alumni and Friends Annual Lenten Twilight Retreat
and
the longest-serving Board Member of the USMC Alumni Association.
Gloria was also the proud mother of sons Roger, Brian, and Phillip, all of whom attended St. Mike's.
She was a much-loved friend among the alumni community. St. Mike's alumna Marcella Tanzola remembers:
"I had the honour of knowing and working with Gloria for many years on the St. Michael's Alumni Board. With Father Bob Madden, we both helped to establish the Annual Twilight Lenten Retreat and worked closely over 25 years to make this a memorable and meaningful event. Gloria was a tireless worker and supporter of all alumni pursuits. For me she was a ready ear and good counsellor. We shared wonderful conversations during all those years and I learned what a remarkable woman she was as we exchanged our life experiences. Rest in a much deserved peace Gloria. I will miss you."
Miriam Kelly, another alumna and colleague, adds:
"The Basilian Fathers, the University of Toronto and the University of St. Michael's College, and the Annual Lenten Twilight Retreat will all be thankful for the many years Gloria gave to their many endeavours, sharing her wisdom, hospitality and sense of humour. Gloria will be much missed and remembered. Rest in Peace."
When I joined St. Mike's advancement and alumni programs team in 2016, all my new colleagues recommended that Gloria be one of the first alumni I should meet. She had a long-standing connection with St. Michael's, deep commitment to the university, and astute perspectives on our past and our future. She was also a frequent attendee at alumni meetings and events, and I soon learned why she was loved by my colleagues. Betty Noakes, a member of our advancement team who knew her for more than 10 years notes that "Gloria's kindness, knowledge, sage advice, and grace made the world a better place. She exemplified Goodness, Discipline and Knowledge. I will hold her in my heart, and miss her dearly, as will, I'm sure the community she has left behind."
The University of St. Michael's College is truly blessed by a loyal and committed alumni community, and I have a special place in my heart for Gloria. From our first meeting in fall, 2016 until our last conversation this past fall, when she was sharing ideas about St. Mike's vision for the future, I have felt extremely lucky to have known her, even just a little.
Thank you Gloria. God speed.
Gratefully, Kathryn.
Alumni who wish to share memories and tributes to Gloria are invited to send messages to: smc.alumniaffairs@utoronto.ca. We will collect them and send them to the family.
---
Read other InsightOut posts.
The author of our post for Bell Let's Talk Day 2021, Therese Hassan completed both her undergraduate and graduate degrees at the University of St. Michael's College. A recent graduate from the Master of Theological Studies program at the Faculty of Theology, she is particularly interested in Catholic philosophy of education, theology of ministry, and qualitative methods in religious studies. Therese is currently a Secondary School teacher with the Dufferin-Peel Catholic District School Board.
---
Talking About Fight Club to Stay Healthy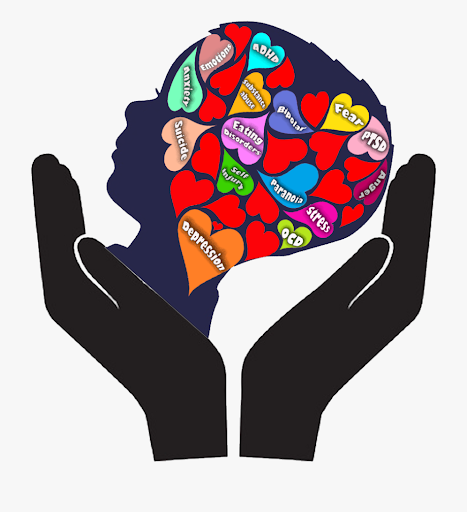 I recently assigned my students an adaptation of a "time audit" activity that Jay Shetty offers in his book Think Like a Monk. The premise of the exercise was that what we spend most of our time on essentially reflects what we value most. The idea was for my students to audit their time over five days to identify where most of their time was being spent. My students had to articulate what it is they truly value and whether or not the way they spent their time (especially amid a pandemic) truly reflected what they valued most. For most students, the realization set in that how they spent their time was disproportionate to what they outlined they truly valued.
As I listened to my students' reflections on their time audit, several patterns emerged. Many of my students identified having valued their mental health but recognized that the way they spent their time did not necessarily foster positive mental health. Many voiced an intention to carve out more time in the day to spend on activities that would benefit their mental health, including less time on social media, more time meditating and praying, and more time being present with family (I know: amazing conclusions, right?). Interestingly, almost all of them felt guilty to some degree about not doing more with their time, considering the time at home the pandemic has granted. On this point, I could relate to my students more than they will ever know.
The truth is that the conclusions my students came to as a result of their time audit are as intuitive as they are appropriate to the unprecedented time we find ourselves in. As their teacher, I am essentially endowed with the responsibility to keep considerate of their mental health, offer information and resources on how to cope and who to talk to, and tips and tools in practicing self-care, all while standing as a pillar of poise, a model of "keeping it together," a standard of composure even though I too share in the same struggle. It's like having to prepare my students for a test I've never taken myself, in an area I haven't yet achieved a level of expertise. Put all that against the backdrop of a pandemic, and it feels more like a fight; only it's a fight I didn't ever think I'd need to prepare for, let alone be responsible for in preparing others. I'm right there in the ring with everyone else trying to listen to coaching instructions.
Of course, I could never say this out loud. The first rule of fight club is you cannot talk about the fight club. If I talk about my struggle in the fight club, how can anyone find me dependable or reliable? What if I am seen as any less of a Professional? How do I continue to meet the needs of my students, friends, or family members in supporting their mental health while staying afloat myself? How do I talk about self-care amid a pandemic when I'm still trying to figure out a routine that works for me? How do I help the people around me continue to feel connected despite struggling from isolation and confinement myself?
Mental health is something for all of us to be concerned about. One of the most significant personal revelations I ever had on the topic was to learn that mental health and mental illness are not synonymous concepts but rather interconnected concepts that each span their own continuum. This means that not everyone with mental illness has bad mental health, and an absence of mental illness does not necessarily mean good mental health. There's a line in Amanda Gorman's poem The Hill We Climb where she talks about the nation before her as not a broken nation, but an unfinished one. Similarly, mental illness or the struggle with mental health doesn't make us broken, but unfinished, a work in constant progress. Trying to work towards positive mental health is a struggle to be met by everyone at one point or the other. Meeting the expectations of self-care can and probably does feel near impossible with or without a pandemic. For that reason, we are literally all in it together even when we feel completely alone.
Despite it all, I am still trying to do it all. People depend on me. I am sure that many out there are doing the same thing, persisting and persevering because people count on them. If there is one thing I have learned, it is that, for whatever reason, knowing I'm not alone in the ring is a comforting thing. Storytelling is a magical device we have that dates back as far as the human community itself. Testimony and dialogue help us confront some of the harsh realities of the human condition at its deepest level, inviting us into a journey of "meaning-making" as we bear witness to the stories and experiences of those around us. If there is one thing I can say for sure, it's that we need to feel empowered and empower others by and through witness and storytelling regarding our experiences and struggles with and of mental health. We need to normalize talking about this regardless of rank, position, gender, age, or creed.
They said that the first rule of fight club is to never talk about the fight club. Well, this is our fight club, and mental health is our ring. Whether one is giving or receiving support in dealing with mental health, we're all in the ring, a human make-up of grace under pressure, each of us hoping that we or the ones we love can and will persevere through each second of every minute of every round. One of my own coaches from the ring often reminds me that, in our fight, we strive not to be perfect but to be balanced; constantly adjusting our footing to be as close to the centre point of love, family, friends, respect and humanity. We may sway, but we adjust, and we never fall completely.
And so, to that I say: screw the rules of fight club. Let's talk about fight club. Let's reflect on our own stories deeply and honestly. Let's share our testimonies and open our hearts to the testimonies of others. In a time characterized by physical and social distance, let our stories and experiences of being inside the ring connect us like never before. Let's talk not just one day a year but consistently and intentionally, because our lives depend on it.
---
Read other InsightOut posts.
Dr. Christopher Hrynkow holds a PhD (Peace and Conflict Studies, St. Paul's College, University of Manitoba) and a ThD (Christian Ethics jointly awarded by the University of St. Michael College, the Toronto School of Theology, and the University of Toronto). Hrynkow is Associate Professor in Religion and Culture at St. Thomas More College, University of Saskatchewan, where he teaches courses in Religious Studies, Catholic Studies, Peace Studies, and Critical Perspectives on Social Justice and the Common Good. He presently serves as the founding director for St. Thomas More College's new Centre for Faith, Reason, Peace, and Justice. Additionally, Hrynkow is Department Head, Program Chair, and Graduate Chair in Religion and Culture for the University of Saskatchewan.
---
A Culture of Care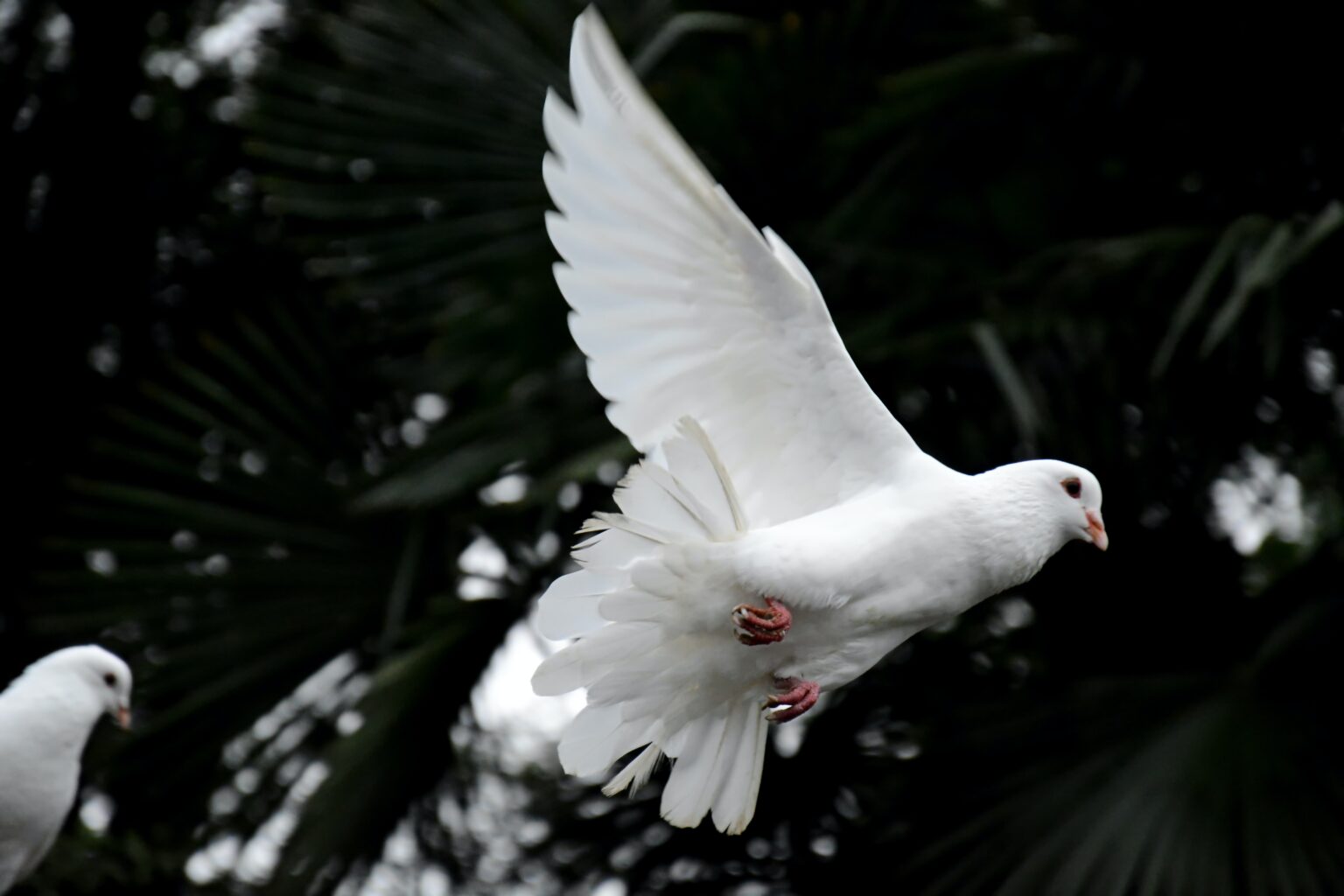 COVID-19 has provided a real opportunity for us to pause and reconsider our ways of being in the world. Such reflection can bring into focus an important question for Christians, academics, and citizens today: what kind of world do we want to see after the pandemic? In considering adequate responses to this question, I know in my heart that we cannot go back to the status quo that existed in late 2019. First of all, especially after this dark winter, we will have lost too many folks who would have otherwise survived. As such, the world cannot ever be the same. Also, my faith along with my formal studies and research in areas including peace, education, and Christian Ecological Ethics have formed not only my mind but also my heart. The cumulative effect, in no small part as result of my experiences at St. Mike's, is that I am certain we need a transition to more just and verdant ways of being in our religion, politics, education, and action in the world. Better choices in terms of what we select to revive and what we choose to leave behind in our cultures and societies as a result of the pandemic are required to participate in the necessary transformation. From a Christian perspective, this transformation is necessary to more fully accept Jesus' call to be pilgrims for peace, justice, and the integrity of creation on Earth. Contemporary Catholic Social Teaching can provide a guide for this most important journey. In order to ground these opening points, please allow me to go deeper into one of the most recent examples of Catholic Social Teaching with my remaining space for this reflection.
Since Paul VI established the practice, each year and in anticipation of the World Day of Peace celebrated on January 1, the Catholic Bishop of Rome releases a message. In the 54th message, written for 2021 during a time of global pandemic, Pope Francis addressed A Culture of Care as a Path to Peace. This example of Catholic Social Teaching is both innovative and important. Herein, like his predecessors, Francis considers peace as much more than the mere absence of war but as also including positively defined conditions like social justice, gender equality, care for creation, and, as he himself helped to bring into focus, cultures of encounter and dialogue. Indeed, by introducing "a culture of care" to Catholic Social Teaching, he is recalling his earlier reflections that align with, and enrich, the content of "cultures of peace" so important to peace studies. The concept of cultures of peace is both analytical and aspirational. It helps us to discern those ways that are helpful in cultivating cultures of peace. Additionally, "cultures of peace" provides a framework to exercise our moral imaginations in creative ways in order to provide a vision to drive the action of building substantive peace.
In accord with these intertwined features of cultures of peace and drawing lessons about caring for both each other and the rest of creation from the events of 2020, Francis offers "a culture of care as a way to combat the culture of indifference, waste and confrontation so prevalent in our time" (#1). Summarizing the doctrine of the Catholic Church in light of a culture of care Francis teaches, "this doctrine is offered to all people of good will as a precious patrimony of principles, criteria and proposals that can serve as a 'grammar of care': commitment to promoting the dignity of each human person, solidarity with the poor and vulnerable, the pursuit of the common good and concern for protection of creation" (#6). In this light, Francis articulates a duty to promote a culture of care "as a process of education" (#8) in a holistic sense that moves far beyond the four walls of the classroom to touch upon the duties toward the common good not only of teachers and professors but also of those of families, faith leaders, and politicians amongst others. For Francis, supporting the common good with a spirit of solidarity is particularly important at a time when "the massive Covid-19 health crisis…[is] aggravating deeply interrelated crises like those of the climate, food, the economy and migration, and causing great suffering and hardship" (#1). As such, the Pope teaches there can be no substantive peace without a culture of care, which "calls for a common, supportive and inclusive commitment to protecting and promoting the dignity and good of all, a willingness to show care and compassion, to work for reconciliation and healing, and to advance mutual respect and acceptance" (#9). These are prime ingredients for any recipe aimed at nourishing the incarnation of cultures of peace in this world.
To conclude, I would note that in framing cultures of care as a path toward peace Francis is implying there are other paths towards peace, a selection of which he has already engaged in other exercises of his teaching office, including with Laudato Si' and Fratelli Tutti. Peacebuilding work is transformative because these paths of dialogue and action exist within a reality of integral ecology, where everything is interconnected, as Francis also notes in the 54th World Day of Peace Message. Indeed, that connectivity means a culture of care is transformative whether it be incarnated in small doses like sharing nourishing food with a neighbour or in large doses like ensuring the just distribution of vaccines across both individual societies and the community of nations. Thus, if Francis' teaching has resonance for you, the global pandemic is no barrier to the necessary transformative journey named in this reflection. In fact, despite its association with restricted movements, lockdowns, and curfews when viewed through a lens informed by a culture of care, COVID-19 actually serves to stimulate this transformative journey. It only remains for us to choose a path, or paths, to peace. Then, we begin, or indeed deepen, our work as pilgrims building up cultures of peace.
---
Read other InsightOut posts.
Nick Cotman did his undergraduate studies in philosophy and political science at the University of Ottawa. He then completed his Master of Theological Studies at St. Michael's Faculty of Theology in 2019. It was at this time that he began working in the chaplaincy leader position at his alma matter, Holy Cross Catholic Secondary School in Kingston, ON.
---
Encountering Opportunity in Restriction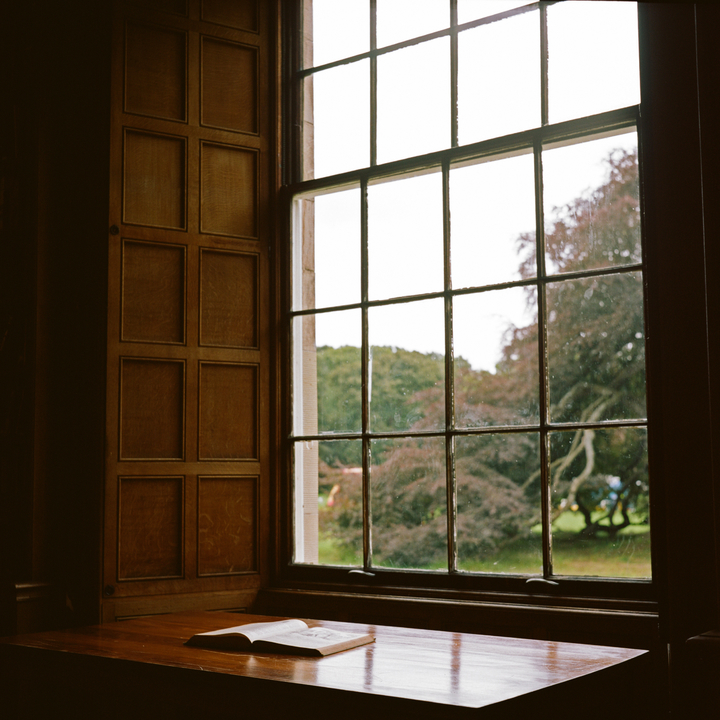 As we have come to expect from most things in 2020, public education in Ontario's schools looks a little different from most years. In Kingston, secondary schools are following an octomester model, meaning that there is one class each day for 22 straight days. Lunch periods are staggered for each grade in an effort to avoid congestion around the school. Additionally, teachers are livestreaming their lessons to ensure remote learners are getting the needed material. All of these adjustments have required a significant mental and pedagogical reorientation from staff and students. Having only begun my high school chaplaincy career in the fall of 2019, and being out of the school by this past March, these first months back have felt more like the second volume of my first year as I relearn the role.
Being (physically) back in school has affirmed something I had been reflecting on since COVID first began to reshape our daily lives: that a single thing can be both restrictive and freeing. The colleagues and students I have the privilege of spending time with each day are showing me there are unexpected opportunities to be found in the constraints we are currently navigating. I think it is important to note, however, that any "pleasant surprises" we encounter in no way diminish or undermine the unique challenges each of us has faced. Nonetheless, we should acknowledge that by being forced to reconsider the way we approach many things, 2020 has also shed light on the shortcomings of previous practices and provoked new, more effective methods. Being in school has made this especially clear to me.
There are a few experiences I'd like to recount. The first is one which is bound up closely with my position in the school: the absence of school Masses. This has forced a significant shift in focus to other liturgical practices. I have been doing regular class visits to lead lectio divina readings and the Ignatian Daily Examen with students. Although we will be thankful when the day comes that we can celebrate Mass as an entire community, this unplanned hiatus has led me to recognize the richness of these other liturgical approaches. Mass in school was always an appreciated community event, but it was evident that further foundational efforts in spirituality and liturgical understanding would enrich the experience. The event of a school Mass may have become overly familiar, causing a lack of deliberate and reflective participation. J.R.R. Tolkien wrote that we often need "to clean our windows; so that the things seen clearly may be freed from the drab blur or triteness of familiarity." This break may inadvertently serve as opportunity to form our liturgical sensibilities as a community through other practices, allowing us "to clean our windows," and more fully appreciate Mass when we can gather once more as an entire community.
Another example that is small but noteworthy is the new inclusion of an end-of-day prayer. Prior to current circumstances, we would recite a simple grace over the PA before lunch. Now, however, with each grade now getting out of class at different times, this was ruled out to avoid further interruptions. In the absence of a lunch hour prayer, we decided to begin doing a prayer at the end of the school day. This small change has been incredibly well received. We join in a meaningful prayer to give a definitive conclusion to the school day and to look forward to the evening ahead. This is a practice we will likely carry forward beyond these unusual circumstances, though we may have been unprompted to explore it without the current conditions.
Without Masses, retreats, or community outreach to coordinate, my priorities within the school have shifted. More than ever, it seems that chats in the staff room and chance encounters with students in the halls are of greater pastoral importance. When there was more room to complete tasks and plan outreach events, I began to let behind-the-scene to-do lists take the front seat. I'm thankful I've been required to shift my focus to relationships within the school. When things return to normal, I'll be sure to maintain this focus.
There are an array of other instances I could talk about, such as our amended graduation ceremony, virtual coffee houses, and the music class using the cafetorium so as to social distance more effectively (allowing halls throughout the school to enjoy their practice). Students seem more open to seek me out to chat (though perhaps they just want out of class since they're now in the same room all day!) and are displaying impressive consciousness of the well-being of those around them. They are dutiful in mask wearing, have embraced the octomester model, and even surpassed any previous food drives during our Thanksgiving collection.
These are all just small instances of the pleasant surprises I've seen over the past months. We have all encountered them in different ways, but I am especially thankful to see them occurring in Catholic education through the lens of chaplaincy. When we learn to embrace unanticipated circumstances, we can open ourselves up to viewing things in new ways and create room for God's grace in areas we might lack control. In the chaplaincy work ahead, I'll be sure to continue looking for the pleasant surprises and opportunities for growth that our current restrictions can bring.
---
Read other InsightOut posts.
Nick Olkovich is an Assistant Professor and holds the Marie Anne Blondin Chair in Catholic Theology at St. Mark's College in Vancouver. He completed three of his four degrees at the University of St. Michael's College where he met his wonderful partner Julia, a graduate of Christianity and Culture and the Faculty of Theology, in a course exploring the thought of Bernard Lonergan.
---
Nick and Julia's Victory Garden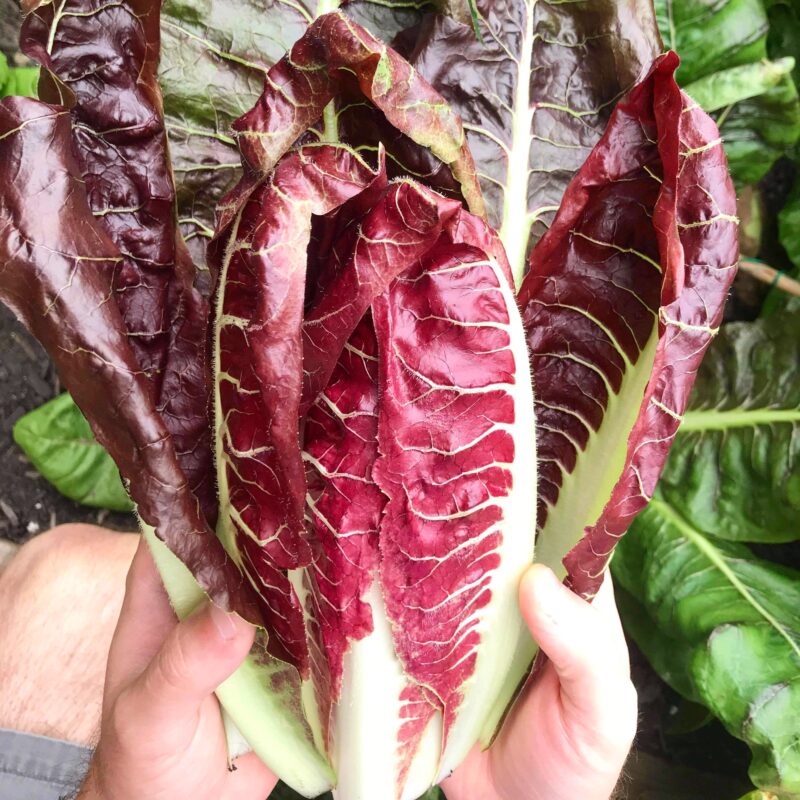 I'm sitting in my living room looking at what's likely to be the last tomato from the small garden we planted at St. Mark's College here in Vancouver. Shortly after everything shut down on March 16, 2020—and well before the ground was ready in Toronto—Julia and I found ourselves sowing seeds—two types of lettuce, arugula, radicchio and puntarelle—and planting tomato, eggplant, pepper and cucumber seedlings.
Anxiously awaiting signs of germination and growth, we'd close our laptops around 5 p.m. every second day and drive up to the College to check on our pandemic garden. Slowly but surely our seeds sprouted and their shoots began to look like miniature versions of themselves. Within weeks we were eating arugula while Toronto was still under a pile of snow. Yet, our tomatoes had barely grown; the cucumber seedlings kept dying; and I was convinced that my pepper plants were shrinking. I was frustrated. Anxiety over the pandemic combined with the pressure to work harder and accomplish more. I was hard on myself like I was hard on the garden.
As the lockdown wore on, workdays and then weeks began to blur into one another and yet time stood still in a different way when we'd call it quits, earlier and gradually with much less guilt, and head up to the College. We'd go when we were miserable or angry with each other. It was quiet and it helped. We'd go on the weekends sometimes when the sun was shining and it helped even more. Julia needed her steps and so we'd walk after pulling weeds and talk in ways that our pre-pandemic weekdays never seemed to allow.
As time went on our near daily trips became routine. We'd pack our tomato ties, our scissors, and big ziplock bags that I'd wash after each use. Soon we lost access to a hose and so we started bringing a watering can that one of us would fill six or seven times behind St. Mark's Parish whenever Fr. Rob wasn't hearing outdoor confessions. As summer finally started to arrive in Vancouver the garden became a hot spot of activity. We met neighbours who told us they liked our greens (thanks?); neighbours we traded stories and plants with; other gardeners on the UBC campus who envied the shade our lettuce got; neighbours' children and their pets. I began running into work colleagues, one who tended two of the College's four garden beds, and others who still had access to the main building. These chance encounters and the short conversations they prompted—so everyday and yet so oddly meaningful—broke up the monotony of daily Zoom calls and online happy hours. Soon enough the garden started to produce and everyone we ran into or visited got a bag of lettuce or clippings of chard. What had started out as a pet project had become a way to connect.
In the end, not everything worked out. The eggplant and peppers never grew. Most of the tomatoes will never ripen. But over time my frustration with the garden turned to acceptance and then celebration. Look at all the delicious things we got out of two overcrowded and partly shaded boxes. Over time I've grown to be easier on myself and to celebrate all the little ways Julia and I have grown over the past six months. None of it was expected. None of it was easy. All of it was grace.
---
Read other InsightOut posts.
Nisheeta Menon is a graduate of St. Michael's Christianity & Culture program and holds a Master of Divinity degree from the Faculty of Theology. While studying theology she served as the Social Justice Co-ordinator and Student Life Committee Vice-President. She is now a high school Religion teacher in Mississauga, where she hopes to continue her co-curricular work serving her school community in the areas of equity and diversity education and chaplaincy.
---
Wandering in the Desert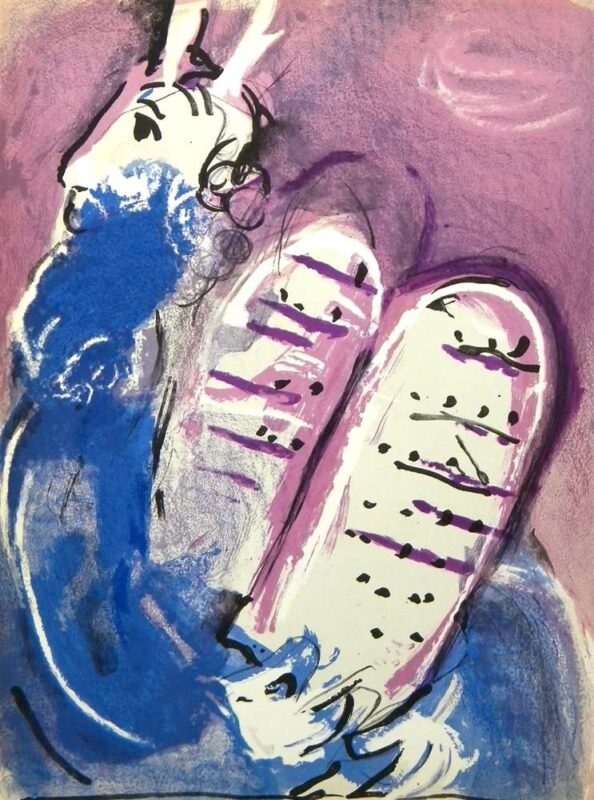 Autumn is a time of year I have always loved. As a student, I looked forward to transitioning back into school and the start-up of all of the clubs, sports, and activities. Now, as a secondary school teacher, my appreciation of this time of year has only increased. It is around this time that the life of a school starts to take shape—student leadership, chaplaincy, athletic teams, volunteer and outreach initiatives, arts programs, etc. Plans turn into reality and the school begins buzzing with activity, creativity, and life!
This autumn, as you might imagine, looks very different. The beginning of the school year was tumultuous, to say the least, and some of us only received our teaching assignments in late September. A number of teachers, like me, were designated to teach the online cohort and, with that, we have sunk into the routines of virtual teaching with considerable reluctance.
Students continue to be moved in and out of our courses due to a host of scheduling issues while the quadmester is rapidly progressing toward its end date in the second week of November. The tight timeline forces teachers to compress the curriculum, either speeding through important concepts or eliminating them entirely. The students "attend" class daily but are behind their screens while we are behind ours, and, even when our cameras are on, there is a palpable discomfort.
In a regular classroom, these students would know each other quite well by Grade 12, and they would continue to build connections with one another throughout their time in a class like mine. In the virtual environment, however, students in my classes are from all over the school board and, despite my efforts, their interaction is limited. As well, during the average school day, my colleagues generally remain isolated in their own classrooms (for good reason), leaving the staff lounge and department offices empty. The school is eerily quiet and the few faces you may pass are hidden behind masks. This is a far cry from the Thanksgiving liturgies, staff potlucks, and Student Council Haunted House tours of the past.
For most teachers, even those with in-class cohorts, the laments are the same: feeling disconnected from the students, being unable to teach and assess in an effective way, concern over students with access issues or learning challenges, and a general lack of guidance and support. At the same time, we watch the news as reports of COVID-19 cases in schools rise and we check in with some of our close friends and family as they await the results of their tests. We miss the loved ones who are outside of our social bubbles, and we worry about them, and ourselves. It is difficult to be hopeful.
One day, as I discussed these grim realities with a colleague, I confessed I was having a difficult time staying optimistic and energized, but that I was simultaneously feeling guilty about this because I also acknowledge how privileged I am in many ways. She offered one of the most helpful comments I have heard throughout this pandemic: "Of course you're having trouble staying hopeful! What do you expect? We are the Israelites in the desert! This is not the Promised Land!"
Coincidentally, it was at that very time that I was in the midst of discussing the Exodus story with my Grade 12 Religion class. We had talked about how the Israelites in the desert must have felt a sense of hopelessness, fatigue, monotony, and an underlying fear that they might never actually reach the Promised Land. It is difficult to imagine that they ever woke up optimistic and chipper, ready to spend another day wandering in the desert!
During this pandemic, part of the struggle which so many of us put ourselves through is trying to make our lives as close to what they were pre-pandemic as possible. Of course, this is nearly impossible, and our failure to meet our self-imposed standards only heightens our anxiety. By acknowledging that we are "in the desert," perhaps we can give ourselves permission to feel a little lost, at times hopeless, and generally unable to think more than a few steps ahead at any given time.
My most gratifying class thus far occurred when I shelved the curriculum for one day and chatted with the students about how I was feeling. As a teacher, and one of the only adult influences outside of their home they have regular access to right now, I know that modelling for my students the fact that it is okay to be struggling is perhaps the most important lesson that I can offer. After sharing with them a little about what was weighing on me, my students quickly piped in with words of validation and encouragement, which led to other students sharing their particular burdens, which in turn led to more encouragement from the group. Despite the distance between us and the glitchy internet connection, our discussion rolled on until the end of the period. There was laughter, exclamations of, "Oh my gosh! Me too!" and quiet, muffled sniffles at times. We never got around to our lesson on the Book of Exodus that day, and yet I am certain that we came to a better understanding of how the Israelites were able to survive—and find deep meaning in—their time in the desert together.
---
Read other InsightOut posts.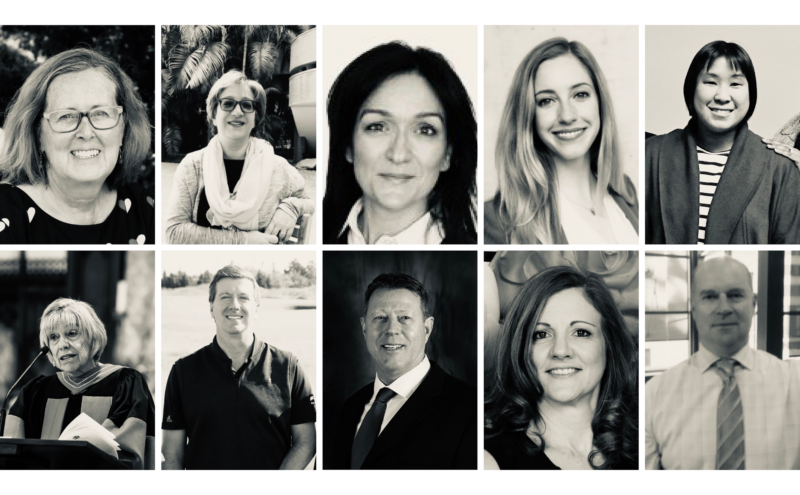 Ten alumni of the University of St. Michael's College have been named recipients of the Arbor Award, the highest honour granted by the University of Toronto. The award recognizes outstanding volunteer contributions to the life and mission of the university community.
This year's Arbor Award winners from the University of St. Michael's College alumni community have helped coordinate initiatives that have funded major improvements for students, supported uniquely impactful programs and associations, and done much else to further the work and community of the university. Join us in congratulating the following recipients:
Wendy L. Brennan (SMC 7T6) has been a volunteer supporter of the Friends of the Kelly Library annual book sale since 2008, serving since 2015 on the executive committee. With her help, the yearly sale has generated proceeds that have directly benefited St. Michael's and UofT students through improving the Kelly Library's physical spaces, updating library technology, and preserving and enhancing its collections.
Susan Campisi (SMC 9T1) has since 2017 served as Awards Officer for the Dalla Lana School of Public Health's Public Health Alumni Association. Through her leadership in the position and her membership on the board, the PHAA has grown stronger, and the awards process has become more efficient and streamlined.
Rosa M. Del Campo (SMC 8T7) has supported the Rotman Commerce community through mentoring students, speaking on panels and moderating for events, and has offered her expertise and support consistently to both current students and alumni in the Rotman community.
Lauren Della Mora (SMC 1T2) received a Fr. Robert Madden Leadership Award from St. Michael's upon her graduation in 2012 in recognition of her service and leadership in the St. Michael's student community. Since then, she has served a valuable role on the Dalla Lana School of Public Health's Public Health Alumni Association's board of directors, and provided mentorship and guidance to students through a variety of organizations at UofT including Women in Science and Engineering and the Faculty of Arts & Science's Backpack to Briefcase program.
Elizabeth I. Lee (SMC 0T5) has served the Factor-Inwentash Faculty of Social Work Alumni Association in a volunteer capacity for the past five years, contributing her administrative talents as Secretary for the association from 2015 to 2018 and continuing to serve since then as a member-at-large.
Dr. Mimi Marrocco (SMC 6T9) has served as her class representative since her graduation in 1969, helping to expand and strengthen the St. Michael's alumni community. Since 2015 she has given tireless support to students in St. Michael's Corporate Social Responsibility program, offering career advice, helping them to connect with the program's alumni network, and lending her expertise in social responsibility, social impact and sustainability.
Barry S. McInerney (SMC 8T5) has served as co-chair of the annual St. Michael's Golf Classic since 2017, and in the role has helped to organize virtually every aspect of the event. Since its inception in 2000, the golf classic has raised more than $2.7 million to directly support St. Michael's students.
Joe G. Nizich (SMC 7T7) has helped coach the Varsity Blues Men's Lacrosse team since 2006 and has been head coach since the fall of 2010. His dedication to the sport and to his student athletes testifies to his commitment to the education of the whole person.
Laura A. Pasut (SMC 8T2) became president of the Department of Nutritional Sciences Alumni Association in 2018 following six years of providing mentorship to students and leadership in the association. She has been credited with helping to revitalize the association and has supported and provided guidance to many students studying in the department.
Stephen T. Taborek (SMC 8T4) upholds the value of St. Michael's approach to the education of the whole person by honouring its athletic tradition. He has supported St. Michael's alumni and students involved in athletics by serving on committees for the Mulock Cup, Lex Byrd award, and Boozer Brown athletics reception, and helped to launch the Lex Byrd bursary for student athletes at St. Mike's.
________________
Since 1989, more than 2,300 alumni and friends have received Arbor Awards for their tremendous generosity and contribution to the experience of U of T students, faculty, staff and alumni. The award is the highest honour granted by the University and is given for sustained contributions to specific academic units, such as faculties, colleges or institutes, or for broader contributions to the University at large.
Rev. Dr. Matthew Durham is a Roman Catholic priest and experienced hospice palliative care administrator. An alumnus, Fr. Matthew earned an MDiv and a DMin at the Faculty of Theology, and is currently the Executive Director, Hospice Palliative Care and Community Development for SE Health. Formerly, he was the Director of Community Engagement & Advancement at The Hospice of Windsor & Essex County Inc. This article was co-authored with Hana Irving, MA.
---
Helping the Most Vulnerable at the End of Life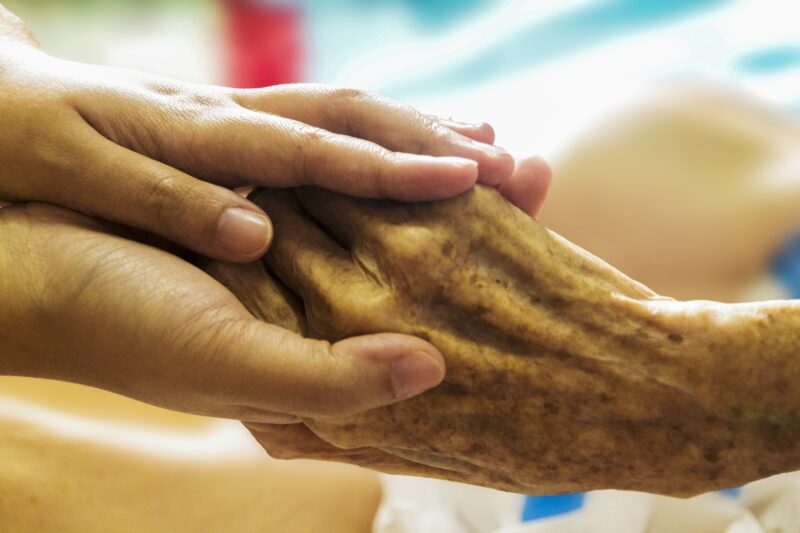 While discussions of how to create a system that supports Canadians who wish to live and age at home have been at the forefront of health care agendas for decades, this discussion has only become more necessary in the midst of the COVID-19 pandemic. Discussions of viral spread, social and physical distancing, the importance of wearing a mask, washing hands, and disinfecting surfaces to prevent infection have become commonplace in households nationwide. At the same time, as a society, we are becoming more aware of the social and economic disparities that have put certain vulnerable populations at greater risk.
Ubiquitous yet largely ignored, in every major city there are thousands of Canadians who are homeless and lacking access to adequate resources to follow public health guidelines about social distancing and hygiene (Jadidzadeh & Kneebone, 2020). Furthermore, people experiencing homelessness are often at greater risk for virus transmission due to crowded living conditions in temporary housing or shelters, or congregate settings, and overall face a 5–10 times greater mortality risk than the general population (Tsai & Wilson, 2020). Those risks only increase for individuals with compromised immune systems or who may be approaching the end of life.
For people experiencing homelessness, access to palliative care has traditionally been a challenge, which has only been exacerbated by the COVID-19 pandemic. Hudson, Shulman and Stone (2017) note that
the delivery of high-quality care in mainstream settings for homeless people is complex for many reasons, including mistrust of health services, isolation, the impact and chaos associated with substance or alcohol misuse and, for some, alcohol-related early cognitive impairment. These factors, alongside the relatively young age at which homeless people may benefit from palliative care, means access to hospice and care homes is currently rare. As a result, homeless people often receive inadequate care and support. (p. 54)
This is a problem that Journey Home Hospice has been addressing for a little more than two years as Toronto's only hospice serving homeless and vulnerably housed individuals. The hospice, which is a partnership involving Saint Elizabeth Foundation, Hospice Toronto, and Inner City Health Associates, provides 24/7 hospice palliative care, including complementary therapies to patients at the end of their lives, with a typical admission having a prognosis of approximately three months. More than pain and symptom management, Journey Home Hospice also offers formerly homeless patients the opportunity to experience "home," sometimes for the first time in decades. The small clinical staff, complemented by specially trained volunteers, often become a "found" family for patients who are typically estranged from their loved ones. Volunteers especially fill an important role: reading stories aloud, singing favourite songs, cooking memorable dishes, playing cards, or even watching movies with patients.
Equally important, Journey Home Hospice becomes a place of healing, even as patients approach the end of life: regular meals; a clean, safe place to stay; coordinated pain and symptom management; programs such as art and music therapy, legacy work, and a visiting dog program all help patients to reconnect with their humanity after years of hardship and struggle. The psychosocial and spiritual care program also helps patients reconnect with loved ones if they wish and provides a welcoming space to express their faith or find a connection with their chosen religion.
Every patient who has stayed at Journey Home Hospice comes with a story. As each patient begins to feel at home, they will often share their story with a trusted team member or volunteer, and each life history comes with its own unique heartache. Whether fleeing an abusive family or relationship, struggling to cope with mental health issues and addiction, or facing financial setbacks from a divorce or workplace accident, our patients never intended to be homeless. However, once they found themselves without a permanent address, the struggle to find or maintain employment, save enough money for deposits on a new apartment, or even access social services became almost insurmountable challenges for many.
For many persons who have experienced homelessness, the overwhelming shame and fear associated with appearing "needy and dependent" prevents both men and women from asking for help. This is only compounded by our generally negative view of dependence and aging as a society. A recent study in Montreal found that individuals aged 50–64 were the largest growing demographic of the homeless population, as ageism often made it difficult to find new employment, and age prevented them from accessing social services and support programs designed for older Canadians (Burns, Sussman and Bourgeois-Guérin, 2018).
Journey Home Hospice becomes even more important in this context as a beacon of hope for patients, and as a potential teaching and learning facility on a local, national and international scale. Both from listening to our patients' experiences and leading research into the factors affecting homelessness, we know that it is largely structural issues that cause and perpetuate homelessness. We are socially conditioned with capitalist values that emphasize individual responsibility, work ethic, and suggest that the only factor that determines success or failure is an individual's motivation to work towards a goal. In reality, there are political and social factors that shape individuals' access to opportunities, education, resources, and the necessary support and social services. Poverty and homelessness are closely tied factors that are caused by an inequitable distribution of wealth and opportunity (Murphy and Eghaneyan, 2018).
Our hospice is creating a truly safe space for people who have experienced homelessness, with a specially trained team able to respond to their unique life stories, physical, psychosocial and spiritual needs, as well as to offer care in a flexible environment responsive to the needs of the individual. COVID-19 has demonstrated more than ever that health care solutions in Canada must be innovative and responsive; we are proud that in the midst of this pandemic, not only have we been able to offer patients a safe respite at the end of their lives, we are also expanding to serve more people in the future. Currently, Journey Home Hospice is renovating our existing site to add six more hospice beds and hopes to be open in late 2020.
---
References:
Burns, V.F., Sussman, T & Bourgeois-Guérin (2018). Later-life homelessness as disenfranchised grief. Canadian Journal on Aging, 37(2), 171–184.
Hudson, B., Shulman, C. & Stone, P. (2017). 'Nowhere else will take him' – Palliative care and homelessness. European Journal of Palliative Care (24)2. 54.
Jadidzadeh, A. & Kneebone, R. (August 2020). Homeless shelter flows in Calgary and the potential impact of COVID-19. Canadian Public Policy. S160–S165.
Murphy, E.R. & Eghaneyan, B.H. (2017). Understanding the phenomenon of older adult homelessness in North America: a qualitative interpretive meta-synthesis. British Journal of Social Work, 48, 2361–2380.
Tsai, J. & Wilson, M. (April 2020). COVID-19: a potential public health problem for homeless populations. www.thelancet.com/publichealth (Vol 5). e186–e187.
---
Read other InsightOut posts.
Betty Noakes has been a proud employee of St. Michael's College since 2009. She has served as Alumni Affairs Associate, responsible for numerous alumni and community events for many years, and, most recently, as Advancement Associate, responsible for donations processing and donor stewardship. Betty earned her BA in Social and Cultural Anthropology from St. Mike's/UofT in 2013, crossing the stage at Convocation Hall at the age of 50, finishing off studies that were postponed in the 1980s. One of the greatest joys of Betty's work has been interacting with and getting to know many St. Michael's students, alumni and friends. Betty is also one of the human caretakers of Toby, the 11-year-old Newfoundland/Labrador dog and, most recently, nine-week-old Baco the kitten.
---
A Family's Best Friend Gets a Pandemic Pal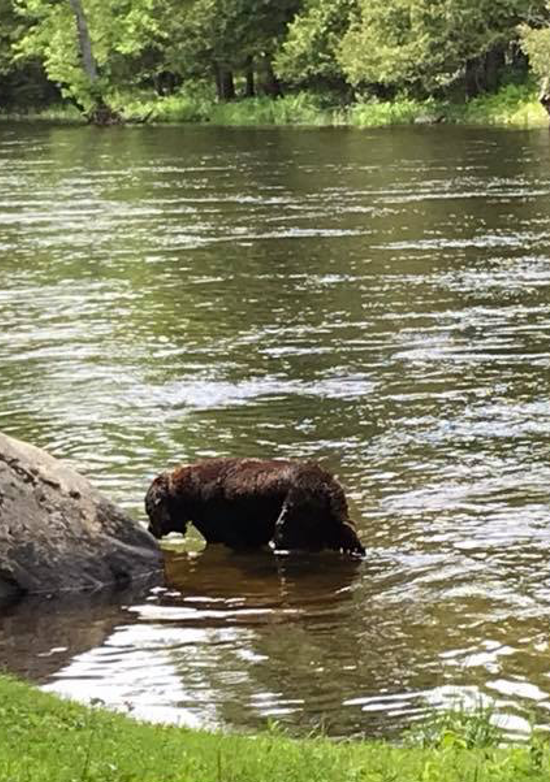 Toby, our big brown Newfoundland and Labrador mixed-breed dog, came to us 10 years ago when he was just a year old. We found him on Kijiji a few days after our family dog Jake passed away. Losing Jake, our family felt anchorless. We had always had a dog, and we felt so incomplete. Our cat Luke missed having his dog friend to chase around the house, to torment, and to cuddle with during the day when the humans were away. We wanted a dog who was large and gentle and who would enjoy time with our family at our cottage on the Crowe River. A dog who loved water would be best, and we thought love of water would be ingrained into a Newfoundland and Labrador's DNA. We were right about that!
Toby's previous home had been in a high-rise apartment in the GTA where, during the day and for most of the night, he was kept in a crate. His previous owner had to move and so put Toby up for sale. Lucky for our us! We like to think lucky for Toby as well. From the very beginning Toby loved us and we loved him. It wasn't long before he became well known in our neighbourhood from his walks and visits to the local park, as he would greet everyone with a tail wag and a smile and could get along with most other dogs. For the past several summers, Toby has become infamous on his stretch of the river by our cottage where he stands in the water for hours on end "fishing," often mistaken for a bear by passing boat traffic.
Toby and his cat Luke were best buddies, and often curled up together to sleep in Toby's favourite chair. After long days at work or at school each of us would be greeted with such excitement! It was as if he had been waiting for our return all day. These greetings and the kisses that came with them were magic, and helped us leave the stresses of our days at the door. Evening time was always a flurry of supper preparations and clearing, homework, chores, and a walk for Toby. Afterwards, when things quieted down for the night, Toby would stretch at our feet and receive pats and scratches, with Luke snuggling in my lap as we read or watched TV.
As the years ebbed on, Toby was always at or under our feet or by our sides. When he sensed we were sad or when things were not going our way, he would put his big chin on our laps or rub against our legs and we would automatically reach out for the comfort of patting him, without even realizing we were doing it. Toby always seemed to know when anyone was sad and needed an extra bit of his gentle, unconditional love.
It's been 10 years since Toby arrived, and our two sons have grown. One of Toby's human brothers moved away and Luke the kitty recently went over the rainbow bridge. These changes came in the winter of 2019 and were hard on Toby. He missed the human who grew up with him and he kept looking in the vacated room, sometimes just sighing heavily and lying on the floor of that room, waiting for his brother's return. When his cat brother passed on, Toby was extremely sad, looking for Luke in all his favourite spots, and cuddling with the cat's abandoned stuffed toys. Toby was depressed and seemed to lose his enthusiasm for things that used to give him so much joy. We tried to pat him even more and show him extra love, but he just seemed so sad, so despondent, although he went along wagging his tail, likely for our sakes.
Then suddenly, about six months ago, things changed again in Toby's world. We humans stopped going out every day and stayed home most of the time. All of the sudden there were more walks and more pats on the head! We humans who were left in the house, however, seemed sad and worried to Toby, as we sat more in front of the TV news shaking our heads. Toby became even more attentive to us, sensing we needed to pat him, and hoping we needed to go out for another walk soon. It seemed to help Toby's sadness having us around so much, and we sure know it's been a big comfort to pat him, to walk him, and to look into his big kind brown eyes full of unconditional love for us. We pat him and we feel our worries ebb away; worry and concern for his needs takes us out of ourselves a little bit.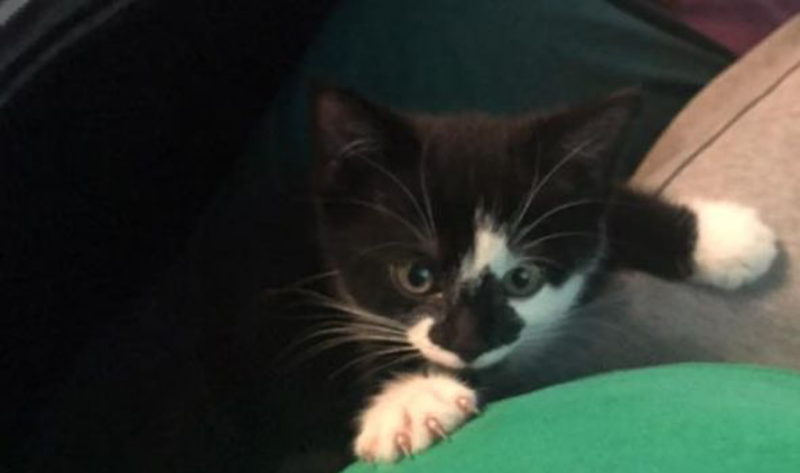 Though Toby has been busy looking after us the past six months, he still seemed a bit sad, and still went to the same spots looking for Luke the cat. But recently, the opportunity to give a new kitten a home presented itself. We jumped at the chance to give a home to a cute little kitten born in a barn in a vineyard. We've named the kitten Baco, after the delicious Baco Noir which hails from his birthplace.
For now, Toby and Baco are sniffing at—and closely keeping an eye on—each other. Over the past few days, Toby has an extra spring in his step, although for now it may be the prospect of humans leaving open the door to the room where the cat food is, giving him the opportunity to gobble it up before we or Baco know what is happening. Or it may be the realization that in Baco he has a new friend to commiserate with about the humans, to share toys and to cuddle with—and eventually to keep him company when the days return that prompt the humans go back to being away from home for hours on end.
For now, though, Toby is delighted to lie at our feet and let us pat him while he sniffs at the kitten swatting at his nose from my lap.
---
Read other InsightOut posts.
Rachel Ottenbreit is a St. Mike's alumna and former staff member, and is currently studying theology at the Pontifical University of the Holy Cross in Rome.
---
Doubling Our Joys and Halving Our Sorrows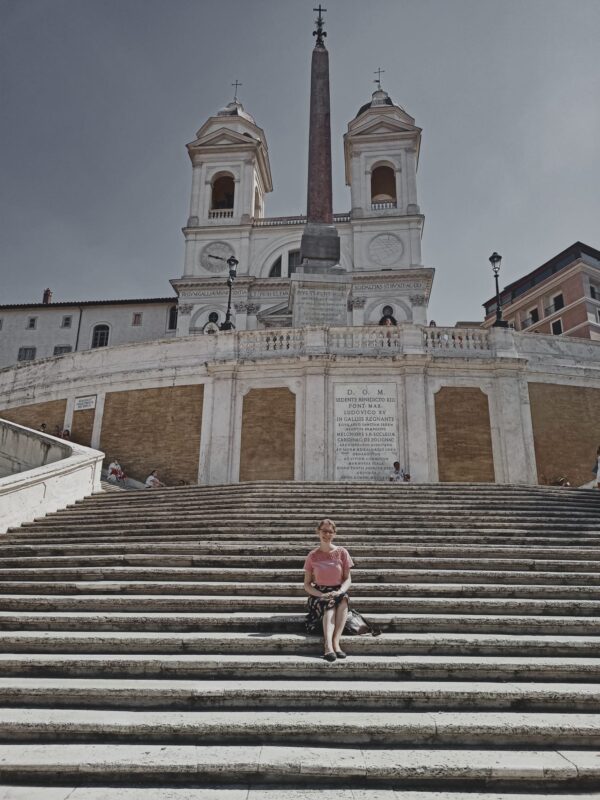 In Italy, the lockdown began in March. Things closed fast, and although it felt like a total shutdown from the beginning, every week brought new restrictions. Parks, schools, churches, and businesses were closed; travel, group meetings, and "playing" (not ironic quotes: that's the word the ordinance used) were banned; we could leave our houses only for emergencies, and then alone and with a paper justifying what we were doing on the street. Jane Austen might have said we were "in the middle before we knew we'd begun," and Shakespeare that "there are more kinds of lockdown and quarantine, Horatio…"
The consequences of these closures are so varied. Surprisingly there were unexpected joys. Yes, although dolphins may or may not have returned to the canals of Venice (reports vary and I didn't see it myself), those canals are definitely clearer and wildlife have been exploring our cleaner, quieter world. Joys erupted on a personal level too. I got to watch my aunt's wedding in June and one of my best friend's this last week. I couldn't have flown home for either, so those live streams were pure, unexpected gifts.
In Diary of a Country Priest, Georges Bernanos writes that soldiers at the front cannot desert: "A chest is a chest when you get to the trenches. And one less counts!" That is, in the trenches you can literally take hits for others. Once you're there, whoever you are, you do whatever you can do because whatever you can do makes a difference.
This is not to say that I've taken many hits myself. I've been very fortunate to live with other people, good friends, in the middle of this. We have good WiFi and a garden we can go to for fresh air and exercise. And our university bent over backwards for us (even couriering library books we requested, as long as that was possible).
But being restricted earlier and more severely than other countries, missing more than one family member who planned to visit this spring, helping people pack up and go or find ways to stay because they couldn't leave, and grieving with close friends, many of them, who've lost family members and can't go home…yes, while there were unexpected joys, there has also been an expected sorrow.
I started checking in with friends back home in their own trenches. Between the people I wrote to and those who, reciprocally discovering the same idea, wrote to me, throughout this time I've been in touch with more old friends than any time before. Though officially isolated, I knew I wasn't alone, and I hope they did too. This has been another joy.
For me, as for many believers around the world, it was incredibly difficult to go without religious services—in my case, Mass and Confession. But it's also been incredibly moving to see Pope Francis doing everything he can so that we Catholics, we anyone, aren't alone. He really shouts it from the rooftops: we are not alone and we need never be. To remember him walking through Rome's tragically empty streets praying for all those suffering, and giving his hopeful, consoling "to the city and to the world" blessing still calls forth thankful tears. That's the front line, and I'm so thankful that he's there.
All in all there are so many blessings. It has become much more obvious that we're in this, in life, together. We don't need a pandemic to take hits for each other. We can double our joys and halve our sorrows together. In the middle of this mess, that's something to be grateful for.
---
Read other InsightOut posts.
Dr. Stephanie Rutherford is an alumna of St. Michael's College (BA 1997) and is now an Associate Professor in the School of the Environment at Trent University. Her work is interdisciplinary, focusing on the intersections among the environmental humanities, animal studies, and cultural geography. She is the author or co-editor of three books that consider these themes, the most recent of which is Historical Animal Geographies (2018). She is currently writing a new book on the history of wolves in Canada for McGill-Queen's University Press. You can learn more about her work here.
---
Letting Go of the Treadmill of Productivity; Or How to Finish a Book in a Pandemic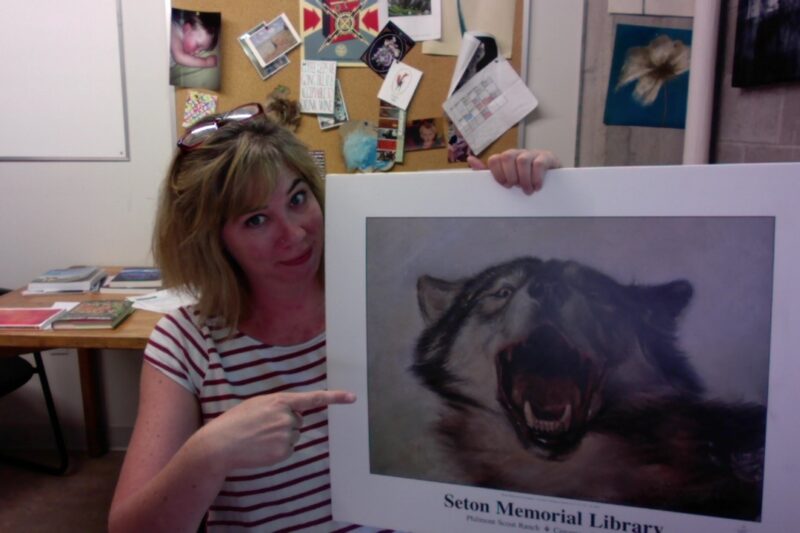 The book was already late when the pandemic hit. Of course, being late is nothing new to most academics; we are often scrambling to meet—and missing—writing deadlines. Teaching and administrative work often take precedence during the term; bite-sized articles seem more doable over big projects.
But this was a big project that needed finishing. I've been working on this book about wolves for about eight years now. Eight years is a long time for any project; it starts to feel like it's strangling you. The funding has elapsed. People keep asking when the book is going to be done. I started to be called the wolf lady, and not just behind my back. It was time to move on.
Last year I decided it was a good idea to seek a book contract to impose a deadline since I couldn't seem to meet my own. It seemed like a smart thing to do—adding pressure from an outside source—as if the reason I hadn't completed the book was out of slothfulness instead of being pulled in a variety of academic and administrative directions. It's the curse of academia: you are never doing enough, publishing enough, or reading enough. It's a feeling bred in PhD programs that lasts throughout your career, if you let it. Shame is not only the purview of my Irish aunties; it's also the handmaiden of neoliberal academic life.
So, I got my contract and I had a June 2020 deadline. Then the pandemic hit. My 9-year old started school from home and in many ways that became my full-time job and my actual job began happening in smaller chunks and much later at night.
Of course, this has been the reality for many parents, and the effects can be quite gendered. For instance, there have already been a fair number of stories about how women academics have slowed their research output while men have sped theirs up during COVID. Guiliana Viglione in a Nature article tells us women are starting fewer new projects. Diane Peters in University Affairs writes that women's research has been "squeezed" by the pandemic. I have received invitations to complete three surveys meant to measure my own gendered lack of productivity, which have only succeeded in making me feel that the authors of these surveys are much more productive than I am. My fabled life of the mind has been replaced by the life of "Mom, can I have a snack"? So it goes.
But I have discovered, amid a fair amount of frustration, that I can work in new ways to accommodate our present reality. They aren't ideal; right now, I often write in short chunks, bookended by swims and bike rides with the best kid I know. And I'm lucky. I don't have to do this while worrying about my job, or my partner's job. It also helps that I have the security of tenure. My research can be put on hold in ways that more precarious faculty could never consider. Neoliberal academia once again.
But I've realized something that feels significant in my own understanding of the kind of academic life I want to lead. If my project was new, this approach wouldn't be tenable. It seems those eight years of researching and pondering might, in this strange time, be an advantage rather than a liability. Put differently, maybe it pays a little to be late (don't tell my mom) and engage in a kind slow scholarship, one that allows for a capacious openness to the kinds of ideas that might sometimes be missed when the treadmill of academic production has to be so very fast. At the very least it allows you to dig deep. In this way of thinking, instead of too long, eight years might seem like just about the right time, at least for me and at least with this project. The pandemic graced me with the ability to let go of the shame that goes with an obsessive emphasis on academic productivity, and embrace being present for myself and my family, as well as my work. In doing so, I learned to love those wolves again, which is really how this whole project started.
It turns out that letting go of that shame was perhaps just what I need to do. Just before writing this short reflection, I completed the draft of the book, late again but done this time. It feels great; it's time for someone else to worry about it. So now I'm going to go enjoy another swim with my kid, because as Rabbi Harold Kushner famously noted "No one ever said on their deathbed 'I wish I'd spent more time at the office'."
---
Read other InsightOut posts.
Laurie Morris is communications director at the University of St. Michael's College and the proud owner of a Conklin Carnival t-shirt. She holds a B.A. in English from UofT and a certificate in Corporate Social Responsibility from St. Michael's.
---
Do You Want to Go Faster?!?!?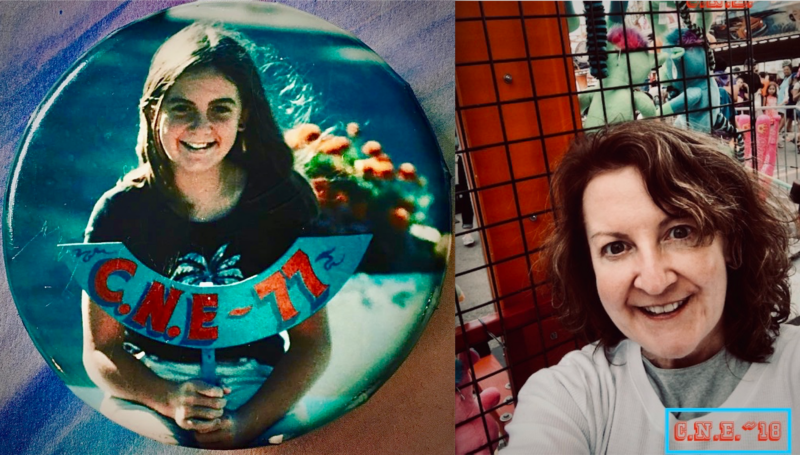 In the five months since most of the country went into collective lockdown, there have been countless memes and chin-stroking think pieces about the effect of COVID-19 on our perception of the passage of time. March went by in a millisecond, April lasted 1100 days and now, according to the Gregorian calendar at least, the end of summer is upon us. But how will we know the summer's over if we can't go to the Ex?
For as long as I can remember, going to the Canadian National Exhibition in Toronto has been a welcome but bittersweet segue between seasons. Even when I lived in New York, I'd factor the dates into my vacation calendar. It would never be the primary reason for a return visit to Toronto, but it never fell off the radar either. The CNE was something that kept me strangely anchored to "home."
I'm sure most of us have a mental reel of Exhibition highlights. For me, it includes Holly Hobby doll prizes, huge boxes of Double Bubble gum (100 pieces at once!!) and the Polar Express guy who keeps asking if you want to go faster. And, of course, the thrill of discovery in the "oddities and novelty" factor—the invisible dog, Labatt Blue tube socks and, more recently, a larger-than-life sculpture of Justin Trudeau made entirely of butter.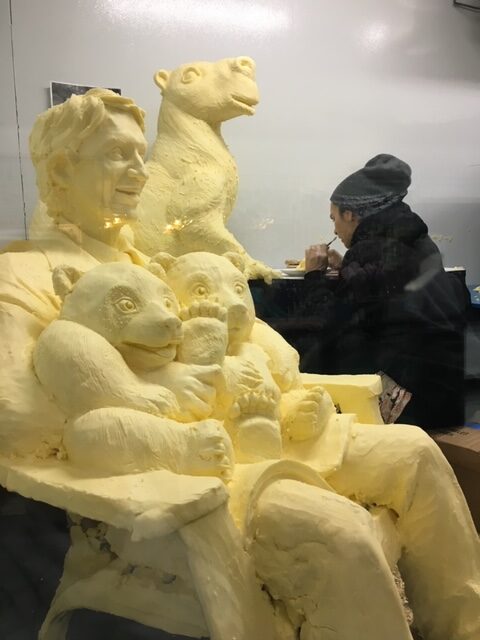 But when it comes down to it, the lure of the CNE (at least for me) was less about what actually happened there and more about the promise of one last chance to exhaust the potential of summer, complete with corn dogs and top hats emblazoned with glitter. A trip to the Ex offered an opportunity to embrace simple, silly pleasures and a brief distraction from the more serious business of "getting down to business" in the Fall.
COVID-19 has challenged us in unexpected ways. Among other things, it's called us to be flexible, patient and quick to realign expectations to find the best path forward—arguably some of the same skills required to scale the shifting steps of the Fun House.
But as much as the virus has us taught us about masking, distancing and cleaning, it's also given us the opportunity to be creative and impressively resilient. Not nearly as satisfying as corn dogs, but important to recognize nonetheless. Many of the usual milestones and markers that we've depended on to bridge transitions and provide a sense of renewal don't work well in a time of social distance and sanitization.
So this year, we have to draw on lessons learned from CNEs past and COVID present. As we head into Fall, give yourself permission to embrace silly, simple pleasures and to delight in the smallest things. The gates of the CNE are temporarily closed but we can still make the trip.
(Contributor's note: No invisible dogs were harmed in the making of this blog post.)
---
Read other InsightOut posts.
Fr. Don McLeod is a Basilian priest, an alumnus of USMC (College and Faculty of Theology) and a member of the Collegium since September 2013, serving as Chair from 2017 until the present. He has a particular interest in institutional governance and in ensuring that the proper role of the Collegium in University governance is clearly outlined. He has taught and been an administrator at both the high school and university levels, most recently at St. Joseph's College in the University of Alberta. He continues to exercise his passions for aviation and cycling, Catholic Social Teaching and the study of Scripture and Biblical languages, while residing with the Basilian Fathers of Presentation Manor in Scarborough.
---
"Piloting" USMC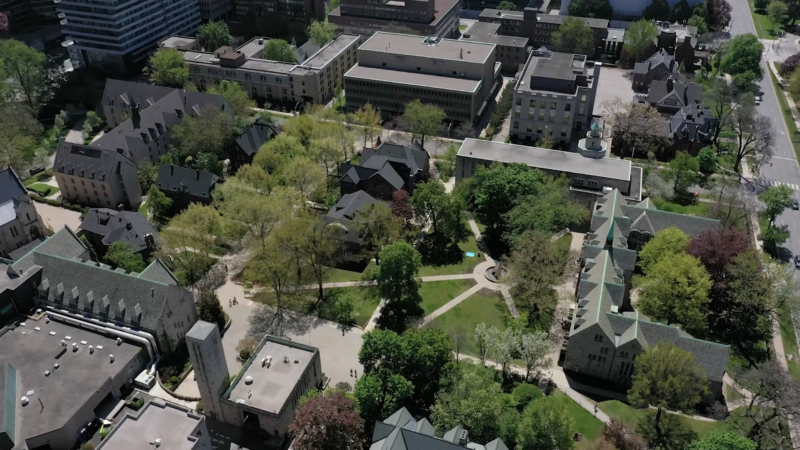 Two or three weeks ago, someone asked me if serving as Chair of the Collegium was burdensome, especially during the current COVID-19 crisis. After a few moments' reflection, I replied that although Collegium had recently had to confront some very challenging issues, I would not describe my role as "burdensome." To the contrary, the past four-plus months have been challenging but not burdensome.
To help clarify, permit me to draw an analogy with aviation. When people learn that I am a licensed pilot, they often ask if I fly solo—to which my usual response is "yes and no." "Yes," if that means that I am the only person in the aircraft. "No," if the implication is that no one else is involved in a flight. Although it sounds counter-intuitive, even if the pilot is the only one aboard the airplane, there is no such thing as "solo."
Most people who fly commercially know that a safe and successful flight requires professional pilots "up front," equally competent and professional flight attendants in the cabin and good ground crew—and that is certainly true. However, there is much more to aviation than that.
First, even a small aircraft comes with a very detailed Pilot's Operating Handbook—in the case of the Cessna 172, the aircraft I fly, nearly 200 pages of very dense information. Included in this are several checklists covering nearly every conceivable situation, from before engine start through to shutdown—and the pilot who ignores or omits even parts of these does so at his or her own risk. These documents reflect literally thousands of person-hours of designing, building and testing, without which no aircraft ever makes it to the flight line, let alone into the air.
Further, behind the scenes of any safe flight are the people who service the aircraft and keep it airworthy. This includes mechanics, dispatchers, fuelers, cleaners and airworthiness inspectors—all of whom are required to ensure that the aircraft is indeed safe to fly.
Most of my compatriots fly out of and into what in Canada are known as certified aerodromes—airports, for short. These facilities require ongoing maintenance to ensure that taxiways and runways are safe and clear of any debris, including snow and ice in winter, that pavement markings including runway numbers are clearly visible and that all ground signage is accurate. Much of this work goes unnoticed but is essential to safe operation—and is regularly inspected.
Once the aircraft is ready, the airport safe to fly out of, the pilot (and maybe passengers) belted in and the engine started, the pilot is still dependent on many people to ensure a safe flight. If the airport has traffic controllers the pilot must obtain clearance both to taxi and to take off and must rely on the men and women at the other end of the radio waves to ensure safe separation of all aircraft. Even at an uncontrolled airport, the pilot must rely on other pilots and even people on the ground to advise of their positions and intentions. The same is true, in reverse order, when preparing to land.
In short, from long before engine start to after shutdown, safe and enjoyable flying is dependent on the skills, attentiveness and commitment of a significant number of people filling a wide range of roles—the pilot is one of these people, undoubtedly an essential cog in the machinery, but far from being the only one. In other words, the pilot in reality is never "solo."
To return to my analogy, one could suggest that the Collegium, and in particular the Chair, might be viewed as the pilot who is charged with ensuring that the University is able to fulfill its mission. However, just as with the pilot of an aircraft, a successful "flight" of the University is dependent on the commitment, dedication and competence of many more persons than the relatively few that a casual observer might see seated at the Collegium table.
This has been even more apparent to me as we have dealt with the impact of the COVID-19 pandemic. From the very beginning, every member of the USMC community, regardless of their particular role, has given more than generously of their time and talent to ensure that we "fly" successfully through this unprecedented turbulence. I may by analogy be one of the "pilots" for this adventure but am well aware of the enormous debt of gratitude my colleagues and I owe to so many who have contributed to our safe and level "flight." To them I say simply, "Thank you!"
---
Read other InsightOut posts.
As a humanitarian professional, St. Mike's alumna Catherine Bellamy has worked with the United Nations and reputable think tanks for the past 20 years. She has managed operations and lead initiatives with the UN World Food Programme (WFP) in Africa, Europe and the Middle East. She was a lead author on the Overseas Development Institute report on the Lives and Livelihoods of Syrian Refugees in 2016. Currently, Bellamy is an advisor on capacity strengthening with WFP.
---
Helping Côte d'Ivoire From a Distance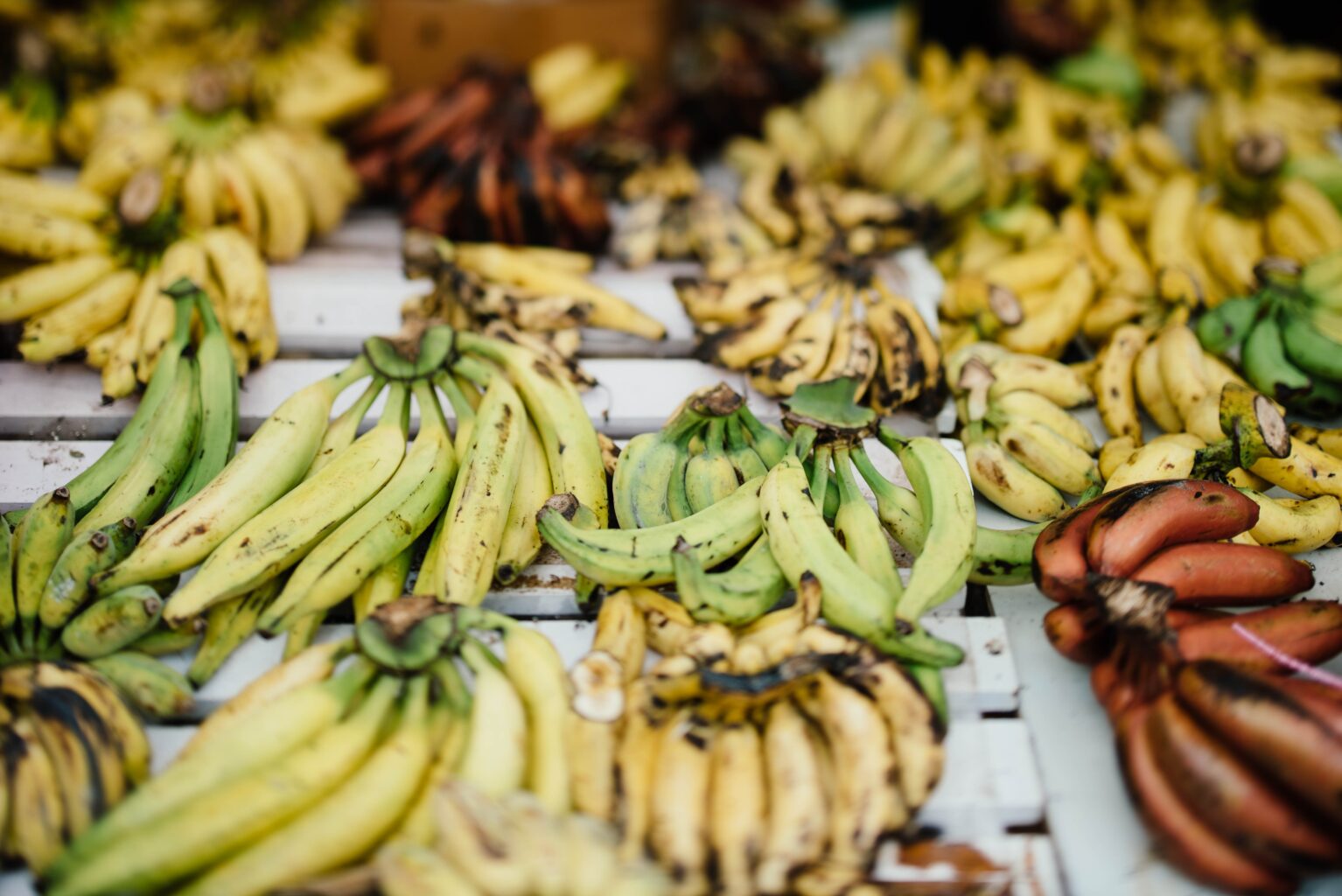 I was hired for my current job at the UN World Food Programme (WFP) the day that schools were closed in Italy as COVID-19 continued to spread. At the time, I had been worried about going back to work after being mostly a full-time mom for a few years. How would my son adjust to full-time daycare, would I miss him too much, would it mean that I slept even less? Instead, all the anxiety drilled down into one challenge for my husband and me: how to keep a toddler occupied while on conference calls or answering emails.
When I was pregnant, I felt invincible. I was six months along in 2016 when I went to Istanbul to interview refugees for a report on international assistance. The coup was a surprise. From my hotel room window, I could see one of the standoffs within the army. The military tanks were lined up on a bridge over the Bosporus, normally a picturesque spot. It was a tense and loud night, but by the morning most of the opposition military had backed away. A lot of people across the country ended up in jail or lost their jobs and careers.
I spent a lot of time checking in with the Canadian and American embassies and scouring the English news outlets for updates. After a few days the airports opened again, and I got a flight out to New York City. I had a weird sense of calm the whole time, that the baby bump could protect me from the madness outside my window.
I don't feel invincible anymore. Like most parents, I am exhausted and preoccupied by how this virus might impact my kid. I know how lucky I am to have a job where I can work from home, and where I can spend time with my son throughout the day. But closed airports and quarantines make it hard for me to do my job well, and to understand what is happening on the ground.
While drafting a large grant for a national school meals programme in Côte d'Ivoire, I started to record the Zoom meetings that I knew I couldn't miss. While I blamed my mediocre French, it was because half of my brain was wondering when my son would burst into the room demanding a snack or that I play with his dinosaurs.
I was supposed to go to Abidjan for a few weeks to see the project I was writing about, to meet with the team that I would work with to develop a strong argument for the proposal. It had helped a lot previously. But the trip was called off once the airports started shutting down.
My favourite part of the project in Côte d'Ivoire, besides giving poor kids a meal at school, is the government's effort to encourage women small holder farmers. The majority of the country's rural population survives on agriculture, and many live below the poverty line. Most food producers are women, but they are less likely to own land or have access to capital. The government provides women farmers with land and training and inputs (fertilizer)—increasing their productivity and independence. In exchange, the women give a third of the produce that they grow to local public primary schools for the school meals. Some of the women are taught how to read and write.
COVID-19 has hit Côte d'Ivoire's economy hard and will make life for the poor more difficult. WFP's strategy in the country is in part to strengthen support for the women farmers, to mitigate disruptions to domestic food supplies and to help continue serving nutritious meals at schools. The production by women has grown substantially with technical support, generating income to purchase their own seeds, fertilizer, and equipment. Bicycles, grain mills, and scales can help save time and money, and financial training and market access allows them to sell produce for a higher price at the markets.
I haven't managed to go to Côte d'Ivoire yet, but everything that I have read and heard is that many of the women farmers wish they could have gone to school themselves and want their kids to go. Because motherhood is a powerful force, I just hope that some of them can make that happen. And I hope that next time, I can get on a plane and go see for myself.
---
Read other InsightOut posts.
Catherine Mulroney is a communications officer at the University of St. Michael's College. She is also a double alumna of St. Mike's, holding a B.A. in English and Mediaeval Studies and a Master of Divinity degree. That equals many hours in Kelly Library and many, many overdue fines.
---
Raising Our Voices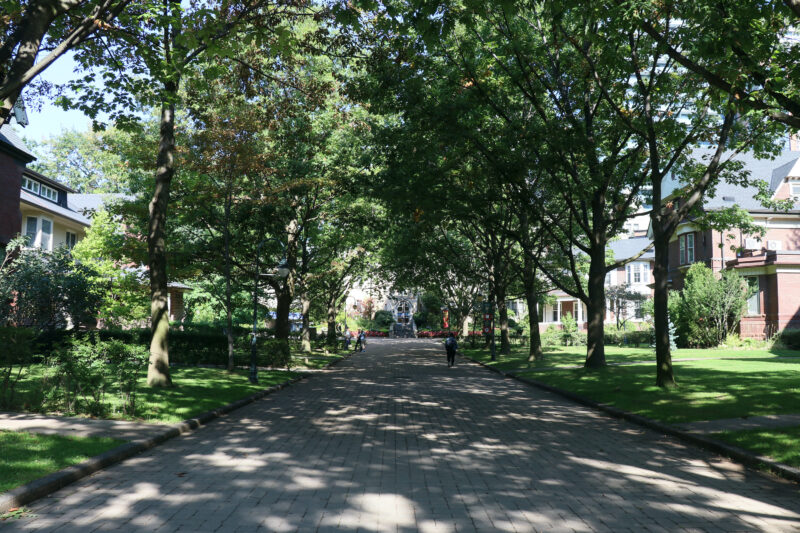 It began—as many of the best things do—with someone volunteering an absent colleague for a little extra work.
Our new St. Mike's blog, InsightOut, is the result of an after-hours conversation with Communications Director Laurie Morris and Theology prof Dr. Darren Dias on March 16, the last day we were all present on campus. Dr. Dias mentioned that his colleague, Dr. Michael Attridge, was self-quarantining at home after a research trip to Italy.
"It's a good story," Fr. Darren said. "You should ask Mike to write something for the website."
Then the wheels began to turn. While not one of us could predict just how the comings weeks and months would play out, we knew we were facing an extraordinary moment in the university's history. There would be value, we thought, in hearing each other's experiences in, and thoughts about, living through such a momentous period.
Four months later, we now have a pattern established of InsightOut blog posts running on the St. Mike's home page every Monday and Thursday. Each story, each opinion, is unique. And as the person privileged with soliciting and receiving submissions, I am humbled by the chance to be part of the process.
Graduate student Fr. Gustave Noel Ineza, O.P., for example, spoke about his childhood during the Rwandan genocide and urged us not forget the suffering of the broader world as we focus on local troubles.
Alumnus Dr. Christopher De Bono,Vice President of Mission, People and Ethics at Vancouver's Providence Health Care, wrote about how moving he found his neighbours' nightly ritual of banging pots and pans and making noise to celebrate the dedication of health care workers.
Interim Principal Dr. Mark McGowan, meanwhile, a professor of History and Celtic Studies, submitted a video explaining the typhus epidemic of 1847 in light of the current situation.
Professors have written about what their subject areas tell them about the pandemic, while students have talked what St. Mike's means to them. And alumni members like Patricia Dal Ben, along with her colleague John Kostoff, a member of St. Michael's Collegium, offered their professional wisdom on how families can keep a faith life alive when unable to get to Mass.
Some people have shyly offered to submit while others, when approached with a specific topic, agree with grudging good humour.
Coming posts will touch on the reality of working from home as a parent, how we are preparing for the coming academic year, and even how to get married during a pandemic. Pieces have ranged from moving to amusing.
Anyone who has worked through these past months will have experienced their colleagues in new ways. Zoom meetings reveal family photos or a glimpse of a partner or pet. A phone call might be interrupted by a delivery person at the door of what has become a home office.
For those of us working at St. Mike's, the blog has taught us about family, we've heard admissions from those who miss their colleagues, we now know about our officemates' hobbies, and we have gained insight into who we are as a community and what makes us unique. When we are at our best, it seems, we are closer to being family than colleagues.
But lest this sound like busy work or a grand vanity project, it's anything but. While we've gained insight into our colleagues, the blog's purpose is very much outreach. Having worked on planning various campus events, I know how people look to St. Mike's to keep them engaged with the world and continuing on a path of lifelong learning. And if we can't do that in person, some reflections and mini-online lectures are a sound alternative.
Parents of future students may come away from this blog reassured that not only are the people who'll be working with their children skilled, capable professionals, they are also decent and caring people.
Future students can read the blog and find out some of the cool work happening on campus, and look forward to engaging in the kinds of discussions that make university a once-in-a-lifetime experience.
And alumni can engage with InsightOut and know that their alma mater remains vibrant and in good hands.
One of the great ironies of this time of masks and social distancing is that through it we have been brought closer together. We now know more about each other and, more often than not, knowledge brings with it respect. We have learned to work together in new ways and have seen the value in teamwork.
As we approach the fall, this blog will begin to pivot toward other aspects of life at St. Mike's, looking ahead to a time when we can put the pandemic behind us.
If you are connected with St. Mike's and would like to participate in InsightOut, please send me an email to chat about a submission.
Having heard the stories of the St. Mike's community, I am confident we will head into the fall ready to take on pretty much anything. As the hashtag says, we really are all in this together.
---
Read other InsightOut posts.
Matt Doyle, Advancement Officer, Special Projects, has worked in the St. Michael's Advancement Office for eight years, involved with a range of alumni and fundraising projects. A graduate of U of T (UC), he has studied business and project management. He lives in a place with way too many books and no television.
---
Living with Books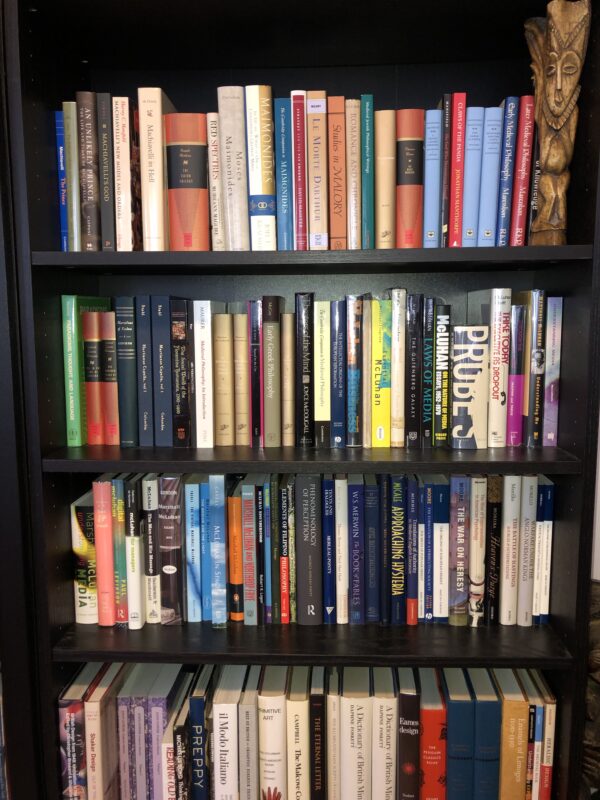 A good friend of mine once said "you live with books," and that sentiment has resonated with me, as I've been working from home for nearly four months now, surrounded by my books. COVID-19 has given me more time to spend with them, gazing at their spines neatly lined up on the shelves, knowing which ones have been read and which others will be enjoyed in the future. I've finally found the time to alphabetize them all.
I shared that statement with someone last year and she looked at me quizzically, wondering what I meant. For the bookworm like me, it made perfect sense, with no need for an explanation. Books are different than art. Art hangs on the wall, but books are something special in your house. They're there to be enjoyed—pulled off the shelf, returned, moved around, sorted, read, and re-read.
One author represented on my shelves is Morley Callaghan, an alumnus of St. Mike's who graduated in 1925. Sadly overlooked today, and more remembered for knocking down Ernest Hemingway in a boxing match refereed by F. Scott Fitzgerald, at one time Callaghan was one of the most popular novelists and short story writers in Canada. His novels and stories are written in a deceptively straightforward style which belies the deeper moral concerns underpinning each one. Toronto was still very much a part of the British Empire in the 1930s, and Callaghan's dramas focus on the Catholic minority in a city that was beginning to lose it homogeneity.
Callaghan's career began while he was an undergrad studying at St. Mike's, writing for the yearbook, submitting short stories to publishers, and penning articles for the Toronto Star. Besides his writing, Callaghan also organized the St. Mike's Literary Club, where he chose the books and plays to be read by the other students, with a heavy bent to the modernist writers who were his near contemporaries. Conrad, Fitzgerald, Tarkington, Galsworthy, Shaw, and O'Neill were some of the authors Callaghan chose, all of whom were giants in the early 20th-century literary world. One wonders if the Basilian Fathers who were teaching at the school knew who Callaghan was encouraging his fellow students to read.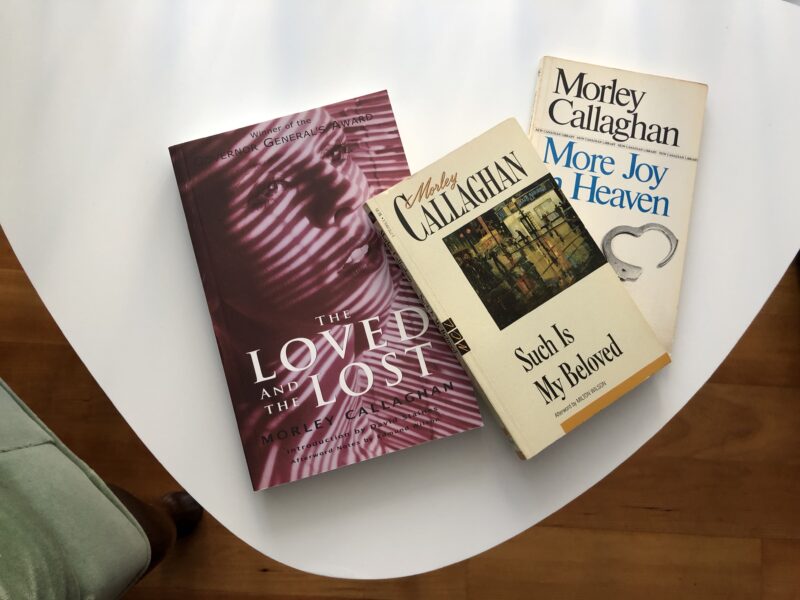 Debating was a popular activity on the U of T campus in the 1920s, and Callaghan was a member of the St. Michael's team that won several debates, which would help his studies when he went to Osgoode Hall Law School after he graduated. It should also be mentioned that St. Mike's was not only the place where Callaghan started his literary career, but he was also awarded for his boxing skills while at the college, which would come in handy when he was later challenged to that bout by Hemingway.
That's one of the things I enjoy most about working in the Advancement Office at St. Mike's—learning the rich traditions and stories of the College's nearly 170-year history. The pandemic has prevented our usual in-person events from happening, including Alumni Reunion, when alumni are invited to return to campus. I miss meeting with our alumni and hearing their stories about their time at St. Mike's. I know it's only temporary, and our alumni will be back on campus soon. Our recent grads are our newest alumni, and who knows—maybe someday one of them will be Canada's most popular author.
---
Read other InsightOut posts.
Luis Filipe graduated in 2006 with an Honours BA in History and Linguistics, and then completed a Bachelor of Education degree at OISE in 2008. He has been teaching for 12 years in the Toronto District School Board, the last three at Bloor Collegiate Institute as Department Head of Social Science, where he teaches law and history, and coaches girls' soccer. He is also the president of the Toronto History, Humanities, and Social Science Subject Council.
---
A Father's Inspiration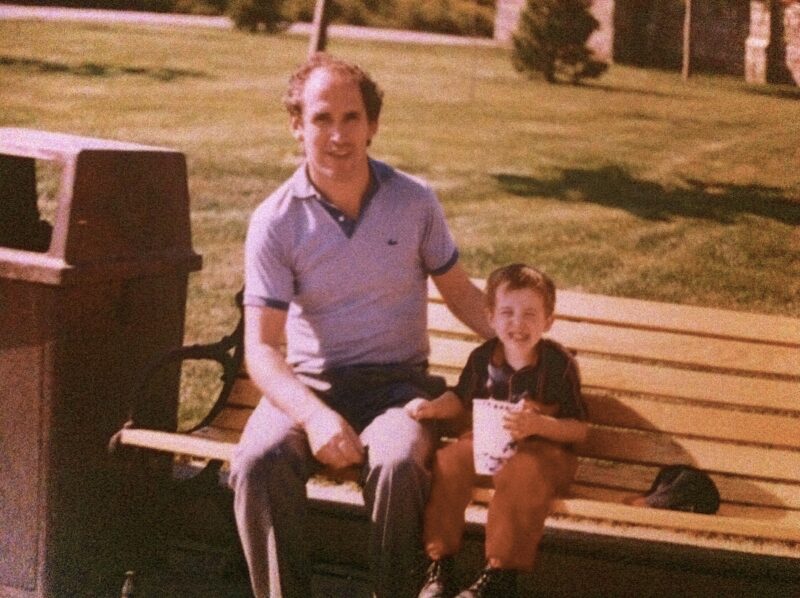 Navigating life through the new normal of social isolation and distance from family and friends has been challenging. In many ways my relationship with the world is linked to my father. The places and people I know all circle back to him. No place better exemplifies this than the University of St. Michael's College.
My family is made up of a different kind of alumni. My father, Manuel Filipe, started working at St. Mike's in 1975, eight years before I was born, first as a night caretaker, and then later as Senior Supervisor of Facilities & Services. In those early days he worked alongside my great-uncles and aunts—the patriarchs and matriarchs of our family—who arrived in Canada with the first wave of Portuguese immigration in the 1950s. So while I was the first in my family to attend as a student, I was the third generation to be a part of the SMC community.
As a child, I would visit St. Mike's regularly with my father. Our weekends were bookended by trips to lock up Carr and Alumni Halls, shut off the lights in Brennan Lounge, and close the Elmsley and Alumni parking lots. Nights would end with a walk together to Dufferin station, where we awaited my mom's return from work at St. Mike's, or carrying me to bed after I inevitably fell asleep on the drive home when we picked her up directly. The college was where I watched my father play table tennis tournaments; where I spent March Break changing batteries and reprogramming electronic residence locks with him; accepting rosebud chocolates from the wonderful Mrs. Lee in Carr Hall when he wasn't looking; and organizing keys and envelopes before the start of each school year. Like any home, the college also bore witness to more painful memories, like when, on my first day as an SMC student, I approached my proud father on the third floor of Alumni Hall to share the news that his father, my grandfather, had died earlier that morning in Portugal. All these experiences are the landscape of my life.
So much of what I know about my father as a person is shaped by his relationship to his work at the college. My father doesn't have many friends outside of its buildings; he doesn't go out or really have any hobbies. His role at St. Mike's was an inextricable part of his identity. He is proud of the work he did each day and proud of the life it provided us. It gave him a chance to serve a community, and Catholic faith, he cared about deeply. As I grew older, and my father's academic expectations came into greater focus, the relationship I had with my father and the college helped to make me feel at home on campus, as a student carrying the weight of my entire family's academic expectations. It's easy to see yourself belonging in an institution when you have already been in its buildings.
My father has been retired from St. Mike's for 11 years now, but that relationship remains an influence in our lives, as father and son. Almost two years ago I also became a father, when my son Mateo was born. I have thought a lot about the relationships my son will forge through me, the way I did with my father. Before the pandemic, my son regularly visited me at Bloor Collegiate Institute, where I teach, interacting with staff and students alike. In those exchanges I caught myself thinking back to those early days at St. Mike's, where I was carried around campus by my father, meeting the Professor Ann Dooleys and Father Maddens of the world. I wonder whose names my son will remember, and what memories will linger for him.
So while there is some physical separation between us today, because of social distancing, our experiences and memories remain connected, and centred on the college. I'm looking forward to visiting St. Mike's some day again soon with my father, but this time with his grandson in tow, watching the two of them share spaces he and I did so many times before. And maybe after this is all over, our family's presence, and my father's connection to St. Mike's, will grow by another generation.
---
Read other InsightOut posts.
Grace McSorley (USMC Class of 1995) is a lawyer and Deputy Ombudsman at the Ombudsman for Banking Service and Investments. She is currently on the USMC Senate and previously served on the Collegium as a student and later as an alumni representative.
---
A Virtual Check-in with Classmates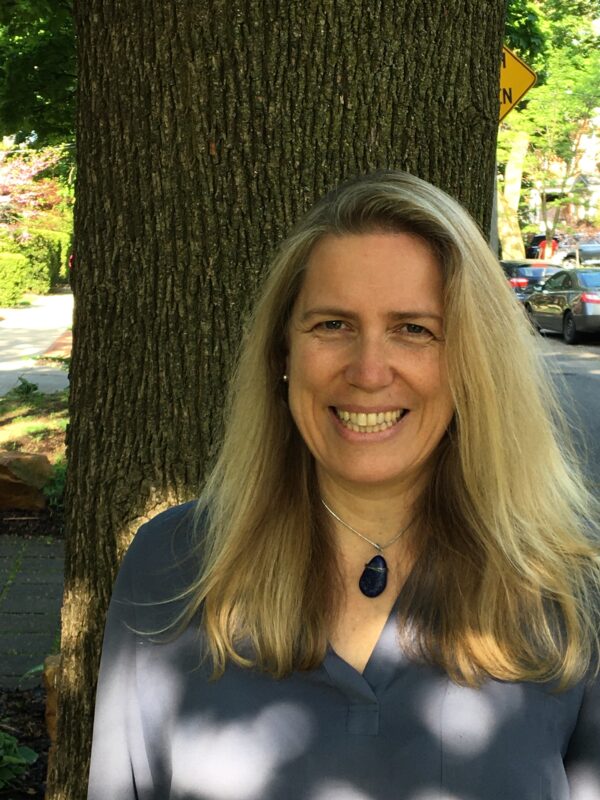 Hello St. Mike's community!
Since we can't catch up in person at reunion this year—and by now most of us are "zoomed-out"—it is great we can use the St. Mike's blog to hear about what people are thinking and how they are doing. I thought I would share my experience as a work-from-home parent during the COVID-19 crisis.
My husband, Michael McCarthy (USMC Class of 1994), and I are fortunate in that we are both able to work from home. I work at OBSI, the Ombudsman for Banking Services and Investments, a not-for-profit that resolves disputes between banking and investment firms and their clients when they can't resolve them on their own. This is a busy time for us, and for our stakeholders. Fortunately, OBSI had practiced a scenario where we would have to work from home on short notice, so our transition was seamless and our work was not interrupted.
Things were not as seamless on the domestic front. The day the COVID-19 shutdown started, our laundry machine broke so, for the first three weeks of the shutdown, I did laundry in our bathtub with my feet, which can only be described as a joyless task. It is amazing how much laundry a family of four still generates when they are hardly leaving the house.
In the early pandemic days, I worried my family wasn't active enough. This was reinforced during a game of charades when one family member mistakenly acted out the song, "I've Been Sitting on the Railroad" instead of "I've Been Working on the Railroad." Shortly thereafter, family walks became mandatory and longer.
For the most part, I'm impressed with the way my family has adapted to new activities. Mike successfully joined the ranks of the sourdough bread bakers. He and the boys play Dungeons & Dragons with a neighbour via FaceTime. My youngest son dug a hole as deep as he is tall in our tiny backyard. He jokes that other kids will return to school telling stories of how they learned to play guitar and wrote "Coronavirus the Musical," but he's going to tell everyone he just dug a hole. He's actually done a lot more, including making me the beautiful Mother's Day necklace I'm wearing in the picture accompanying this piece using lapis lazuli from his rock collection.
Like many, we've had a lot of low points over the last few weeks—but I will spare you the details of our internecine quarrels. We know we are fortunate that we are healthy, employed and able to work from home. Still, it is hard not being able to do important things like be with my mother, or mourn with friends who've recently lost parents. My mother recently had to go into full quarantine because three personal support workers from her residence tested positive for the Coronavirus. It is my understanding that they are well and no one else has tested positive, but this is still upsetting for everyone.
We are happy to have backyard social distancing visits with my mother-in-law, during which my boys regale her with jokes they research ahead of time. She has now twice told us how much she misses hugs, and it breaks my heart that we can't give her one. On our last visit she said that as soon as this is over, she is going to run to the closest intersection and hug everyone she sees. This makes me imagine my mother-in-law in a photo like the iconic WW2 VJ day nurse and sailor image, only in this photo, she is the one dipping another reveller who is also out celebrating the end of COVID-19 times.
I hope everyone is well and I look forward to catching up in person!
---
The University of St. Michael's College is keeping the members of all our honoured classes in mind. We look forward to the day when we gather again!
---
Read other InsightOut posts.
Dr. Christopher E. De Bono is Vice President of Mission, People and Ethics for Providence Health Care (PHC) in Vancouver. A practical theologian, a Clinical and Organizational ethicist, and a certified Spiritual Care chaplain, Christopher earned his BA and PhD at St. Michael's.
---
A Novel Ritual for a Novel Virus
In the densely apartment-laden West End of Vancouver where I live, a ritual erupts every night at 7, when for between three and five minutes, people open their windows, go to their balconies, or congregate at a safe distance on the rooftops of their buildings. Why? To make a lot of noise.
Some clap, others shout. Many just bang kitchen pots and pans. Some even bring loudspeakers and drums and beat out a rhythm.
The result, which you might think should be cacophonous, is neither harsh nor discordant, but almost harmonious. I find it strangely comforting. And it has become something I prepare for every night.
But before I decided to become an active participant, I first heard this now-ritual noise-making on my walk home late in the evening. It was early in this crisis. After a long day working in health care to "flatten the curve" and to plan for those who would soon arrive at our hospitals with the novel corona virus, I wearily headed home for some much-needed rest.
As I left the hospital, I found myself surrounded by the noise of this novel ritual that has emerged as a reaction to a novel virus. Immediately I felt deeply happy, more resilient. I felt proud to hear the community acknowledge so many courageous frontline staff in acute and community care, so many researchers seeking solutions, and so many long-term care staff courageously limiting the spread among those individuals most at risk.
As a senior leader at Vancouver's Providence Health Care, a Catholic health system famously known for its downtown St. Paul's hospital and its long history of innovative work with marginalized groups, I already felt called to do my best. I also already knew the seriousness this novel virus posed and continues to pose.
So while we—and so many health care and essential care workers across the country—continue to work tirelessly to prepare for the surge, planning for the worst while hoping for the best, I take solace in this noisy and celebratory end-of-day ritual.
As a practical theologian, I am reminded of what I learned during my undergraduate and post-graduate student days at St. Michael's: Rituals bring comfort. Rituals help us find meaning. Rituals bring connection. Rituals also give us a sense of control, because they are predictable.
Right now, we need all four of these things. This new virus has disrupted our comfort and has destabilized our sense of who we are. It has interrupted our very ability even to be physically close to human beings. It has increased our feelings of helplessness. And so much more. And this is why I am grateful for the creativity, hope and affirmation this new ritual offers.
A novel virus needed a novel ritual.
---
Read other InsightOut posts.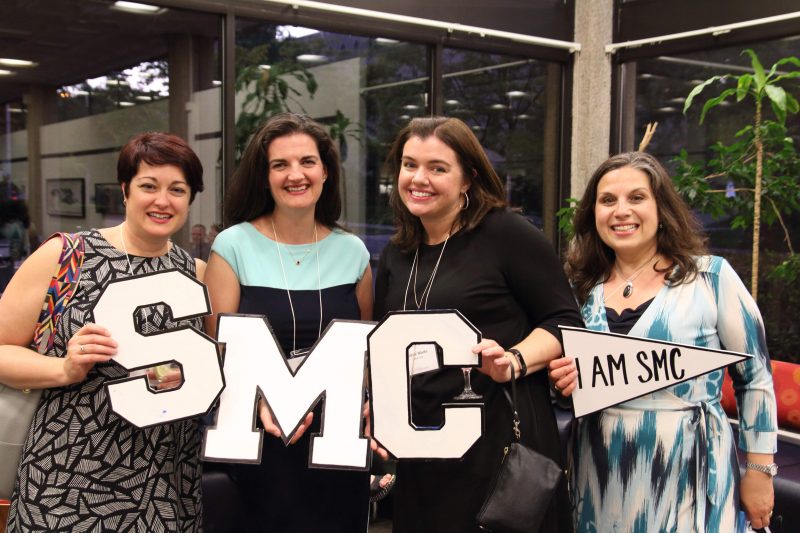 On Friday, June 1, hundreds of alumni and friends of the University of St. Michael's College came to campus for one of the largest Spring Reunions ever hosted at St. Mike's. The USMC Advancement and Alumni Affairs teams organized 14 different events scheduled around additional reunion celebrations at the University of Toronto, and in the final count, 675 people attended St. Michael's special events. This year, honoured classes included those falling on 5-year anniversaries moving back from 2018, and some returning alumni graduated as far back as 1948.
In his remarks at Friday evening's champagne reception and alumni association AGM, outgoing St. Michael's President David Mulroney, 7T8 thanked alumni for their continuing loyalty and support. "As we continue to build on the traditions that make St. Mike's special we are informed and inspired by your memories – of exceptional teachers and our welcoming community within the larger U of T," he said.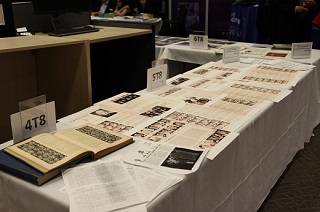 These memories gave the weekend its primary theme. Attendees reminisced and shared stories at each event, and during periods of downtime, many of them browsed a collection of memorabilia displayed in the library. Campus tours reacquainted guests with Elmsley Hall, Sorbara Hall and the Quad, and included a stop at a re-creation of Marshall McLuhan's office. Book & Media Studies professor Paolo Granata developed the McLuhan office display for Doors Open Toronto the weekend before, and made a number of authentic McLuhan artifacts available for inspection.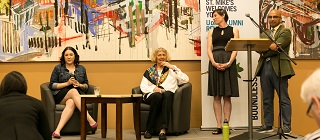 Professor Granata also delivered one of three St. Michael's lectures over the weekend. The McLuhan expert offered guests a "Guide to Surviving the Internet Age" on Saturday morning, while during the afternoon, USMC Principal Randy Boyagoda read excerpts from his latest novel as part of a "Stress-Free Degree" session titled "Writers on Writing." Christianity and Culture professor Stephen Tardif, 0T6 concluded the academic proceedings for the weekend with a Sunday afternoon lecture on Jane Austen's Pride and Prejudice that centered on the mischievous question of whether Austen actually desired to be married herself. Each professor spoke to a packed audience with standing room only. A memorial gathering for beloved English professor and noted Austen fan Fred Flahiff followed professor Tardif's presentation.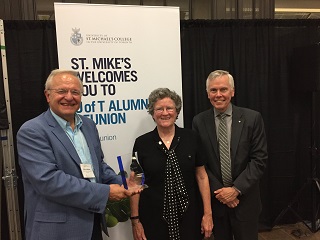 In addition to the lectures, tours and special events that fill up the weekend, Spring Reunion is also the time of year for presenting the Alway Award. Established in 2007, the Alway Award is intended to honour a graduate of St. Michael's who has demonstrated the highest character and made a significant contribution to society through spiritual, professional and personal excellence. This year's award went to Dr. Peggy R. Williams, 6T8 in recognition of a remarkable career that includes serving as president of both Lyndon State College in Vermont and Ithaca College in New York. At the latter institution, she was the first woman to serve as president.
One other regular St. Michael's event entered the weekend's itinerary, as Mass was celebrated twice on campus during the reunion. Professor emeritus Father Dan Donovan, 5T8 presided over a special Mass for the class of 6T8 on Friday morning, and Father Norman Tanck, CSB celebrated the 10:30 a.m. Sunday Mass in St. Basil's Church in the presence of an overflow crowd of visiting alumni—some of whom had not been to campus or the church since their undergraduate days.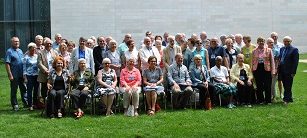 Standing room only, overflow crowds, packed audiences—the sheer number of guests to campus gave each event a special air of excitement and interest. The class of 6T8 celebrated the 50th anniversary of their graduation with record numbers of attendees, some of whom traveled from as far away as California and the UK. In their student days, Father Robert Madden, CSB dubbed them "the class with brass." After raising more than $125,000 to support the Brennan Hall renewal project—nearly twice their original goal for the anniversary milestone—it was easy for all to see the spirit and camaraderie that earned them the title.
The class of 5T8 came together to celebrate their own anniversary at a Friday afternoon reception graciously hosted by Ann Marie Sweeney with the support of fellow year reps Frank and Mary Pat Kielty. Cheers went up for the class at the dinner on Saturday. The presence of these alumni on campus was reason enough to celebrate, but their gifts of over $122,000 to the Brennan Hall renovation (a project their class had also chosen to support) provided a second reason for cheering: the investment in the lives and experiences of future St. Michael's students.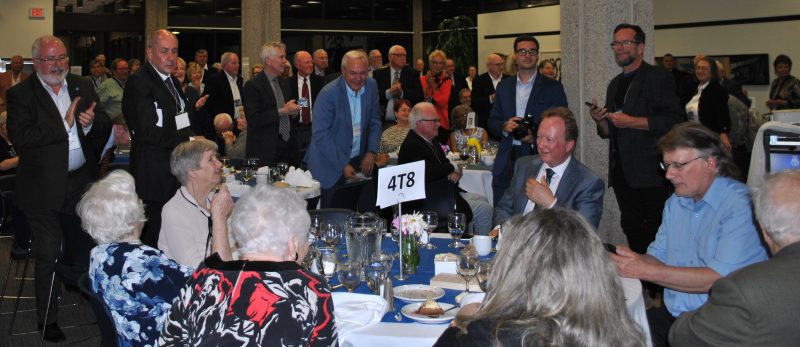 The largest ovation at the Saturday dinner, however, was reserved for a small but important group. Four members of the class of 4T8 made the trip to St. Michael's this year to celebrate the 70th anniversary of their graduation, a truly remarkable milestone and wonderful point of connection with a vaunted era in the history of the College.
That history continues, as outgoing President Mulroney said on Friday evening: In a new era at St. Michael's, "we are informed and inspired by your memories." This year provided an occasion for many new and joyous memories to be made.
Special thanks go out to St. Michael's staff Leslie Belzak, Melanie Waring-Chapman, Matt Doyle and their student assistants, whose work in organizing and carrying out this year's Reunion testified in its own way to the spirit and character of the College—a place that will always welcome its alumni home.