From her time at St. Michael's and beyond, Samantha Peters' career has been shaped by her commitment to social justice.
She grew up in downtown Toronto (the high school she attended—St. Joseph's College School—is located right behind John M. Kelly Library) and was one of the first in her family to graduate from university. Her mother encouraged her to attend UofT because of its excellent reputation for teaching and research.
She holds an Honours B.A. and double majored in Equity Studies and Political Science with a minor in French. Throughout her time at St. Michael's she was involved with the college's chaplaincy program, where she volunteered with Out of the Cold and hosted social justice movie nights and discussions. She received the Fr. Robert Madden, CSB Leadership Award upon graduation in 2009.
Within UofT more broadly, she was involved in the Black Students' Association (BSA), The Étudiants Francophones à l'Université de Toronto (ÉFUT), and the Caribbean Conference Organizing Committee, a committee that discussed emerging issues impacting Caribbean persons living in Toronto.
Samantha describes the committee as an opportunity to meet with students who were connecting their own difficulties in the diaspora to issues that were going on in the Caribbean (she mentions Structural Adjustment Programs specifically) and "think about the theories that I was learning in the classroom and how they applied in the context of the Caribbean diaspora but also the Caribbean generally…issues that directly impact my family and my community."
When speaking about how her undergraduate studies prepared her for law school, Samantha notes, "I was able to understand the complexities of the law: how it is a tool for oppression, but also how it can be used in collaboration with other things as a tool for transformation."
In 2010, she completed a M.A. in Sociology and Equity Studies in Education at the Ontario Institute for Studies in Education (OISE) at the University of Toronto. "When I studied at OISE, I really got to interrogate the education system…Who are we learning about and who are we not? Where are the gaps? That was helpful to me because this is the lens that I apply to the law. When we talk about the law, who are we centering and who are we de-centering? Who is impacted by the law versus who creates the law? These are some of the critical thinking skills that I developed in my master's program and in writing my master's thesis which better equipped me to be successful in law school."
After completing her master's degree, she worked at The Ministry of National Education in Paris and then the Ontario Bar Association, the latter giving her the opportunity to work at the intersection of law and education and ultimately inspiring her to become a lawyer.
She received her J.D. degree from the University of Ottawa Faculty of Law in 2016. After completing her bilingual articles at a national union in Ottawa, Samantha took a break to reflect on what she wanted out of her career and began working at the Legislative Assembly of Ontario as an Education and Social Policy Researcher. In the summer of 2019, a mentor encouraged her to take the leap: she finished her licensing exam and was called to the bar in Alberta and Ontario in 2020.
Today, she is working at the intersection of law, education, and policy with a focus on human rights advocacy, sexual and gender-based violence prevention work, and workers' rights. She supports Black law students as the first ever Black Legal Mentor-in-Residence at University of Ottawa Faculty of Law—a position she helped create after she noticed a need for support for Black law students while she was a student herself—and is a pro bono lawyer providing free legal advice and services to survivors of domestic violence throughout Ontario. She also recently received a grant from The Law Foundation of Ontario to fund a legal project she created that offers both legal and non-legal supports to Black 2SLGBTQ+ workers in Ontario.
On why she chooses to redefine legal work: "As marginalized communities have felt, lawyering in the traditional sense can cause harm. So how can I participate in a legal practice that is not causing harm, or is disrupting harm, or is transforming the legal system in a way that causes less harm? These are the kinds of things that I think about in my law practice…this is how I am able to express my creativity, in my practice, to think beyond what is right before me."
Samantha was also selected as one of the "Top 100 Black Women in Canada to Watch" by the Canada International Black Women Event (CIBWE) and her writing and commentary has appeared in numerous publications, including Global News, the Toronto Star, Canadian Anti-Hate Network, Huffington Post Canada, NOW Toronto, Xtra, the Canadian Centre for Policy Alternatives, and Flare.
St. Michael's alumni workshops help students forge a path to the future
In an academic year like no other, St. Michael's students have found themselves faced with challenges beyond what any of them expected when they first decided to pursue university studies. Fortunately, they won't have to go it alone.
A new alumni workshop series will connect current students with members of the St. Michael's alumni family to give them an opportunity to see new paths into a post-pandemic future. Co-presenters for the workshop series will bring extensive experience in a variety of fields to bear on topics ranging from life after graduation to career opportunities in specific fields.
"Our alumni have such deep and generous hearts, which they demonstrate through their gifts, their volunteer leadership, and their interest in serving as mentors and advisors," Chief Advancement Officer Kathryn Elton says. "These workshops are a great example of how committed St. Michael's alumni are to helping current students succeed in a time that has been challenging for everyone."
The series kicked off Tuesday, Feb. 2 with "Business Success." Later sessions include "Finding a Job in a Challenging Market" (Feb. 4), "Opportunities in Education" (Feb. 11), "Women in STEM" (Feb. 23), and "Entrepreneurship" (March 2). Each session will be facilitated by student leaders and include both an alumni panel and time for students to pose questions during a Q&A.
Darren Slind (SMC 8T8), co-founder and managing director of Clarify Group and a co-presenter for the Feb. 2 panel, says he valued the opportunity to offer guidance to the current generation of students in the same way he found mentors during a period at St. Mike's he describes as "formative." He also wanted to simply encourage St. Michael's students about their prospects.
"If students can survive and thrive through this pandemic, they will have the confidence to overcome future challenges," he says. "That's the silver lining in what has otherwise been a hard and sometimes painful pandemic, especially for those families directly impacted by COVID-19."
Slind encourages current students thinking about life after graduation to pursue kinds of success that put people first, a quality he feels St. Michael's does a good job of inculcating in its students. "You quickly realize after arriving at St. Mike's that you are surrounded by equally or even smarter peers!" he says. He considers developing one's "emotional intelligence" to be the most important factor for success in the workplace and names fellow alumnus Victor Dodig, CEO of CIBC, as providing an example of the sort of "extraordinary people-centric leadership" St. Michael's alumni specialize in.
"In a challenging job market, it's encouraging to see St. Mike's alumni stepping in to connect with and support current students," says Maxine Webster, Advancement Officer, Alumni Engagement. "These types of conversations and connections between alumni and current students are one of the things that makes St. Mike's special."
All sessions will take place over Zoom. Register online.
Ten alumni of the University of St. Michael's College have been named recipients of the Arbor Award, the highest honour granted by the University of Toronto. The award recognizes outstanding volunteer contributions to the life and mission of the university community.
This year's Arbor Award winners from the University of St. Michael's College alumni community have helped coordinate initiatives that have funded major improvements for students, supported uniquely impactful programs and associations, and done much else to further the work and community of the university. Join us in congratulating the following recipients:
Wendy L. Brennan (SMC 7T6) has been a volunteer supporter of the Friends of the Kelly Library annual book sale since 2008, serving since 2015 on the executive committee. With her help, the yearly sale has generated proceeds that have directly benefited St. Michael's and UofT students through improving the Kelly Library's physical spaces, updating library technology, and preserving and enhancing its collections.
Susan Campisi (SMC 9T1) has since 2017 served as Awards Officer for the Dalla Lana School of Public Health's Public Health Alumni Association. Through her leadership in the position and her membership on the board, the PHAA has grown stronger, and the awards process has become more efficient and streamlined.
Rosa M. Del Campo (SMC 8T7) has supported the Rotman Commerce community through mentoring students, speaking on panels and moderating for events, and has offered her expertise and support consistently to both current students and alumni in the Rotman community.
Lauren Della Mora (SMC 1T2) received a Fr. Robert Madden Leadership Award from St. Michael's upon her graduation in 2012 in recognition of her service and leadership in the St. Michael's student community. Since then, she has served a valuable role on the Dalla Lana School of Public Health's Public Health Alumni Association's board of directors, and provided mentorship and guidance to students through a variety of organizations at UofT including Women in Science and Engineering and the Faculty of Arts & Science's Backpack to Briefcase program.
Elizabeth I. Lee (SMC 0T5) has served the Factor-Inwentash Faculty of Social Work Alumni Association in a volunteer capacity for the past five years, contributing her administrative talents as Secretary for the association from 2015 to 2018 and continuing to serve since then as a member-at-large.
Dr. Mimi Marrocco (SMC 6T9) has served as her class representative since her graduation in 1969, helping to expand and strengthen the St. Michael's alumni community. Since 2015 she has given tireless support to students in St. Michael's Corporate Social Responsibility program, offering career advice, helping them to connect with the program's alumni network, and lending her expertise in social responsibility, social impact and sustainability.
Barry S. McInerney (SMC 8T5) has served as co-chair of the annual St. Michael's Golf Classic since 2017, and in the role has helped to organize virtually every aspect of the event. Since its inception in 2000, the golf classic has raised more than $2.7 million to directly support St. Michael's students.
Joe G. Nizich (SMC 7T7) has helped coach the Varsity Blues Men's Lacrosse team since 2006 and has been head coach since the fall of 2010. His dedication to the sport and to his student athletes testifies to his commitment to the education of the whole person.
Laura A. Pasut (SMC 8T2) became president of the Department of Nutritional Sciences Alumni Association in 2018 following six years of providing mentorship to students and leadership in the association. She has been credited with helping to revitalize the association and has supported and provided guidance to many students studying in the department.
Stephen T. Taborek (SMC 8T4) upholds the value of St. Michael's approach to the education of the whole person by honouring its athletic tradition. He has supported St. Michael's alumni and students involved in athletics by serving on committees for the Mulock Cup, Lex Byrd award, and Boozer Brown athletics reception, and helped to launch the Lex Byrd bursary for student athletes at St. Mike's.
________________
Since 1989, more than 2,300 alumni and friends have received Arbor Awards for their tremendous generosity and contribution to the experience of U of T students, faculty, staff and alumni. The award is the highest honour granted by the University and is given for sustained contributions to specific academic units, such as faculties, colleges or institutes, or for broader contributions to the University at large.
Dr. Stephanie Rutherford is an alumna of St. Michael's College (BA 1997) and is now an Associate Professor in the School of the Environment at Trent University. Her work is interdisciplinary, focusing on the intersections among the environmental humanities, animal studies, and cultural geography. She is the author or co-editor of three books that consider these themes, the most recent of which is Historical Animal Geographies (2018). She is currently writing a new book on the history of wolves in Canada for McGill-Queen's University Press. You can learn more about her work here.
---
Letting Go of the Treadmill of Productivity; Or How to Finish a Book in a Pandemic
The book was already late when the pandemic hit. Of course, being late is nothing new to most academics; we are often scrambling to meet—and missing—writing deadlines. Teaching and administrative work often take precedence during the term; bite-sized articles seem more doable over big projects.
But this was a big project that needed finishing. I've been working on this book about wolves for about eight years now. Eight years is a long time for any project; it starts to feel like it's strangling you. The funding has elapsed. People keep asking when the book is going to be done. I started to be called the wolf lady, and not just behind my back. It was time to move on.
Last year I decided it was a good idea to seek a book contract to impose a deadline since I couldn't seem to meet my own. It seemed like a smart thing to do—adding pressure from an outside source—as if the reason I hadn't completed the book was out of slothfulness instead of being pulled in a variety of academic and administrative directions. It's the curse of academia: you are never doing enough, publishing enough, or reading enough. It's a feeling bred in PhD programs that lasts throughout your career, if you let it. Shame is not only the purview of my Irish aunties; it's also the handmaiden of neoliberal academic life.
So, I got my contract and I had a June 2020 deadline. Then the pandemic hit. My 9-year old started school from home and in many ways that became my full-time job and my actual job began happening in smaller chunks and much later at night.
Of course, this has been the reality for many parents, and the effects can be quite gendered. For instance, there have already been a fair number of stories about how women academics have slowed their research output while men have sped theirs up during COVID. Guiliana Viglione in a Nature article tells us women are starting fewer new projects. Diane Peters in University Affairs writes that women's research has been "squeezed" by the pandemic. I have received invitations to complete three surveys meant to measure my own gendered lack of productivity, which have only succeeded in making me feel that the authors of these surveys are much more productive than I am. My fabled life of the mind has been replaced by the life of "Mom, can I have a snack"? So it goes.
But I have discovered, amid a fair amount of frustration, that I can work in new ways to accommodate our present reality. They aren't ideal; right now, I often write in short chunks, bookended by swims and bike rides with the best kid I know. And I'm lucky. I don't have to do this while worrying about my job, or my partner's job. It also helps that I have the security of tenure. My research can be put on hold in ways that more precarious faculty could never consider. Neoliberal academia once again.
But I've realized something that feels significant in my own understanding of the kind of academic life I want to lead. If my project was new, this approach wouldn't be tenable. It seems those eight years of researching and pondering might, in this strange time, be an advantage rather than a liability. Put differently, maybe it pays a little to be late (don't tell my mom) and engage in a kind slow scholarship, one that allows for a capacious openness to the kinds of ideas that might sometimes be missed when the treadmill of academic production has to be so very fast. At the very least it allows you to dig deep. In this way of thinking, instead of too long, eight years might seem like just about the right time, at least for me and at least with this project. The pandemic graced me with the ability to let go of the shame that goes with an obsessive emphasis on academic productivity, and embrace being present for myself and my family, as well as my work. In doing so, I learned to love those wolves again, which is really how this whole project started.
It turns out that letting go of that shame was perhaps just what I need to do. Just before writing this short reflection, I completed the draft of the book, late again but done this time. It feels great; it's time for someone else to worry about it. So now I'm going to go enjoy another swim with my kid, because as Rabbi Harold Kushner famously noted "No one ever said on their deathbed 'I wish I'd spent more time at the office'."
---
Read other InsightOut posts.
As a humanitarian professional, St. Mike's alumna Catherine Bellamy has worked with the United Nations and reputable think tanks for the past 20 years. She has managed operations and lead initiatives with the UN World Food Programme (WFP) in Africa, Europe and the Middle East. She was a lead author on the Overseas Development Institute report on the Lives and Livelihoods of Syrian Refugees in 2016. Currently, Bellamy is an advisor on capacity strengthening with WFP.
---
Helping Côte d'Ivoire From a Distance
I was hired for my current job at the UN World Food Programme (WFP) the day that schools were closed in Italy as COVID-19 continued to spread. At the time, I had been worried about going back to work after being mostly a full-time mom for a few years. How would my son adjust to full-time daycare, would I miss him too much, would it mean that I slept even less? Instead, all the anxiety drilled down into one challenge for my husband and me: how to keep a toddler occupied while on conference calls or answering emails.
When I was pregnant, I felt invincible. I was six months along in 2016 when I went to Istanbul to interview refugees for a report on international assistance. The coup was a surprise. From my hotel room window, I could see one of the standoffs within the army. The military tanks were lined up on a bridge over the Bosporus, normally a picturesque spot. It was a tense and loud night, but by the morning most of the opposition military had backed away. A lot of people across the country ended up in jail or lost their jobs and careers.
I spent a lot of time checking in with the Canadian and American embassies and scouring the English news outlets for updates. After a few days the airports opened again, and I got a flight out to New York City. I had a weird sense of calm the whole time, that the baby bump could protect me from the madness outside my window.
I don't feel invincible anymore. Like most parents, I am exhausted and preoccupied by how this virus might impact my kid. I know how lucky I am to have a job where I can work from home, and where I can spend time with my son throughout the day. But closed airports and quarantines make it hard for me to do my job well, and to understand what is happening on the ground.
While drafting a large grant for a national school meals programme in Côte d'Ivoire, I started to record the Zoom meetings that I knew I couldn't miss. While I blamed my mediocre French, it was because half of my brain was wondering when my son would burst into the room demanding a snack or that I play with his dinosaurs.
I was supposed to go to Abidjan for a few weeks to see the project I was writing about, to meet with the team that I would work with to develop a strong argument for the proposal. It had helped a lot previously. But the trip was called off once the airports started shutting down.
My favourite part of the project in Côte d'Ivoire, besides giving poor kids a meal at school, is the government's effort to encourage women small holder farmers. The majority of the country's rural population survives on agriculture, and many live below the poverty line. Most food producers are women, but they are less likely to own land or have access to capital. The government provides women farmers with land and training and inputs (fertilizer)—increasing their productivity and independence. In exchange, the women give a third of the produce that they grow to local public primary schools for the school meals. Some of the women are taught how to read and write.
COVID-19 has hit Côte d'Ivoire's economy hard and will make life for the poor more difficult. WFP's strategy in the country is in part to strengthen support for the women farmers, to mitigate disruptions to domestic food supplies and to help continue serving nutritious meals at schools. The production by women has grown substantially with technical support, generating income to purchase their own seeds, fertilizer, and equipment. Bicycles, grain mills, and scales can help save time and money, and financial training and market access allows them to sell produce for a higher price at the markets.
I haven't managed to go to Côte d'Ivoire yet, but everything that I have read and heard is that many of the women farmers wish they could have gone to school themselves and want their kids to go. Because motherhood is a powerful force, I just hope that some of them can make that happen. And I hope that next time, I can get on a plane and go see for myself.
---
Read other InsightOut posts.
Emily VanBerkum (USMC MDiv 2015) is the Dean of Student Residence at Loretto College, and John Paul Farahat (UofT DMA 2019) is Director of Music and Principal Organist of Saint Basil's Church.
---
Enjoying Life's Quiet Moments
"How many times have you noticed that it's the little quiet moments in the midst of life that seem to give the rest extra-special meaning?" — Fred Rogers
The story of the proposal is really a two-part saga. Last year around this time, we were vacationing in Chamonix, France. Standing at the base of Mont Blanc, eyes gazing up at the breathtaking alpine landscape with gelato and marzipan cookies in hand, we considered ourselves incredibly grateful.
Unbeknownst to one of us, an engagement ring had been discreetly tucked away in our luggage for a surprise proposal in the Alps. But that carefully chosen landscape would fall through following an ill-timed fall down an old stone church staircase moments before that destined date-night dinner. Instead of a picturesque engagement ring reveal in a historic gazebo on a crisp late summer night under a sky of twinkling stars…a torn ligament, a pair of crutches, and a wheelchair ride through the Geneva airport.
One month later—ankle reasonably healed—we took a relaxed evening stroll along Toronto's Queen's Quay. Nearing sunset, on an ordinary park bench looking out to the calm waters, a proposal happened at last. A wild success: two elated smiles (and no torn ligaments). It was a perfectly tranquil, joyful moment. We laughed at the story of the-Chamonix-proposal-that-almost-was, and exclaimed to each other that 2020 was the year to be married—a year of perfect balance and harmony. We unhesitatingly chose Saint Basil's, a parish to which we have both happily belonged since our student days, and set a date for September, 2020.
Much has changed in the world since we made initial arrangements. While our 2019 selves were focused on venues, vendors, realizing the "wedding vision," and planning for out-of-country family members to attend, our 2020 selves have been more concerned with health, safety, and grappling with our new reality.
Our new central question was shared with many others: do we go ahead with the wedding, or do we postpone?
Our engagement story provided us with a providential lesson. The elaborate getaway proposal in Chamonix—with bells, whistles, and grand gestures—was replaced with a quiet proposal close to home, with only the most essential elements: the two of us, the "big question," and a whole-hearted promise to spend our lives together. Indeed, the most though-out plans do not always go according to plan. Often, it is the beauty of the "quiet" moments that we cherish so deeply. It's these instances that capture a moment in time, leaving an indelible mark on our minds and hearts.
Therefore, we have decided to move ahead with the originally scheduled date.
Establishing a sacramental union in Saint Basil's, even without the larger guest count, elaborate reception, or flourishes that we had originally imagined, allows us to be true to what is most foundational: that marriage is a vocation in which the couple is drawn together for a purpose greater than themselves. Just like the proposal, our wedding day will be a reminder to find joy and contentment in the quiet, less elaborately planned moments of our married lives.
The beginning of our married life, surrounded by a small gathering of immediate family, will be at the forefront of our special day. And while we know the wedding day doesn't make the marriage, in the end, perhaps the apparent "quietness" of the day will be everything we didn't know we needed.
---
Read other InsightOut posts.
Catherine Mulroney is a communications officer at the University of St. Michael's College. She is also a double alumna of St. Mike's, holding a B.A. in English and Mediaeval Studies and a Master of Divinity degree. That equals many hours in Kelly Library and many, many overdue fines.
---
Raising Our Voices
It began—as many of the best things do—with someone volunteering an absent colleague for a little extra work.
Our new St. Mike's blog, InsightOut, is the result of an after-hours conversation with Communications Director Laurie Morris and Theology prof Dr. Darren Dias on March 16, the last day we were all present on campus. Dr. Dias mentioned that his colleague, Dr. Michael Attridge, was self-quarantining at home after a research trip to Italy.
"It's a good story," Fr. Darren said. "You should ask Mike to write something for the website."
Then the wheels began to turn. While not one of us could predict just how the comings weeks and months would play out, we knew we were facing an extraordinary moment in the university's history. There would be value, we thought, in hearing each other's experiences in, and thoughts about, living through such a momentous period.
Four months later, we now have a pattern established of InsightOut blog posts running on the St. Mike's home page every Monday and Thursday. Each story, each opinion, is unique. And as the person privileged with soliciting and receiving submissions, I am humbled by the chance to be part of the process.
Graduate student Fr. Gustave Noel Ineza, O.P., for example, spoke about his childhood during the Rwandan genocide and urged us not forget the suffering of the broader world as we focus on local troubles.
Alumnus Dr. Christopher De Bono,Vice President of Mission, People and Ethics at Vancouver's Providence Health Care, wrote about how moving he found his neighbours' nightly ritual of banging pots and pans and making noise to celebrate the dedication of health care workers.
Interim Principal Dr. Mark McGowan, meanwhile, a professor of History and Celtic Studies, submitted a video explaining the typhus epidemic of 1847 in light of the current situation.
Professors have written about what their subject areas tell them about the pandemic, while students have talked what St. Mike's means to them. And alumni members like Patricia Dal Ben, along with her colleague John Kostoff, a member of St. Michael's Collegium, offered their professional wisdom on how families can keep a faith life alive when unable to get to Mass.
Some people have shyly offered to submit while others, when approached with a specific topic, agree with grudging good humour.
Coming posts will touch on the reality of working from home as a parent, how we are preparing for the coming academic year, and even how to get married during a pandemic. Pieces have ranged from moving to amusing.
Anyone who has worked through these past months will have experienced their colleagues in new ways. Zoom meetings reveal family photos or a glimpse of a partner or pet. A phone call might be interrupted by a delivery person at the door of what has become a home office.
For those of us working at St. Mike's, the blog has taught us about family, we've heard admissions from those who miss their colleagues, we now know about our officemates' hobbies, and we have gained insight into who we are as a community and what makes us unique. When we are at our best, it seems, we are closer to being family than colleagues.
But lest this sound like busy work or a grand vanity project, it's anything but. While we've gained insight into our colleagues, the blog's purpose is very much outreach. Having worked on planning various campus events, I know how people look to St. Mike's to keep them engaged with the world and continuing on a path of lifelong learning. And if we can't do that in person, some reflections and mini-online lectures are a sound alternative.
Parents of future students may come away from this blog reassured that not only are the people who'll be working with their children skilled, capable professionals, they are also decent and caring people.
Future students can read the blog and find out some of the cool work happening on campus, and look forward to engaging in the kinds of discussions that make university a once-in-a-lifetime experience.
And alumni can engage with InsightOut and know that their alma mater remains vibrant and in good hands.
One of the great ironies of this time of masks and social distancing is that through it we have been brought closer together. We now know more about each other and, more often than not, knowledge brings with it respect. We have learned to work together in new ways and have seen the value in teamwork.
As we approach the fall, this blog will begin to pivot toward other aspects of life at St. Mike's, looking ahead to a time when we can put the pandemic behind us.
If you are connected with St. Mike's and would like to participate in InsightOut, please send me an email to chat about a submission.
Having heard the stories of the St. Mike's community, I am confident we will head into the fall ready to take on pretty much anything. As the hashtag says, we really are all in this together.
---
Read other InsightOut posts.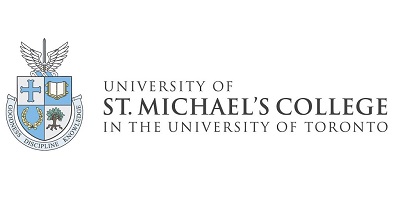 Convocation is a time not only for celebrating memories and friendships, but also the academic and extracurricular achievements of the graduating class. This year, almost 150 graduating St. Michael's students received medals and named awards. Celebrate their accomplishments with us as the Class of 2020 enters the St. Michael's alumni family.  
Graduation Awards by Application
The Principal's Medal Award 
In conjunction with the family of the late Professor Lawrence E. Lynch, the Principal's Medal was created in 1978 to recognize the almost lifelong association of Professor Lynch with St. Michael's College, and also to mark his 25th wedding anniversary. 
 Professor Lynch served as the College Principal from July 1976-June 1981. 
 The medal is given annually to a graduate who has made a distinctive contribution to life at the college and who upheld the practice of Catholicism proper to a university community. 
This year's recipient of the Principal's Medal is Rose Wang.  
The Marina Santin Award  
Sylvia and Raymon Santin, St. Mike's alumni, established the Marina Santin award in honour of their late daughter. During her time as a St Mike's Marina contributed significantly to the life of the College and to the University through her work as an Arts and Entertainment columnist for The Mike, staff photographer for The Newspaper, a Coordinator of the 1991 St. Michael's Orientation, and by her presence at and support of College and University events and programmes. 
 The Marina Santin Award is presented annually to a female graduate who has distinguished herself by an active and constructive involvement in the life of the college. Recipients exemplify the Christian ideals of joyful engagement in life, openness to others, service to the community, and responsible leadership. 
This year's recipient of the Marina Santin Award is Sasha Hellwig.  
The Sir Bertram Windle Graduate Scholarship 
The Sir Bertram Windle C.A Graduate Scholarship is awarded to a student with an excellent academic record who will be entering a liberal arts graduate program at the University of Toronto in the September following graduation. 
This year's recipient of the Sir Bertram Windle Graduate Scholarship is Isabel Armiento.  
The W.B. Dunphy Medal  
The W.B. Dunphy Medal was created in 1991 to honour Professor William Dunphy, who served as College Principal from 1981-1991. 
 Principal Dunphy was particularly concerned that university life should not be separate from the life of the wider community. 
 The medal is awarded annually to a graduate who has been most successful in combining excellent academic achievement with sustained commitment to volunteer service in the wider community. 
This year's recipient of the W.B. Dunphy Medal is Zara Ahmad.  
The Fr. Henry Carr, CSB Award  
The Father Henry Carr, CSB Award, named in honour of a Basilian father who helped shape this institution and who served as president and superior at St. Michael's from 1915 to 1925 is presented to a graduate who has made an outstanding contribution to the University of Toronto in athletics, academics, leadership, or student life. 
The recipient of this year's Father Henry Carr, CSB Award is Hodan Mohamud.  
The Fr. Robert Madden, CSB Leadership Awards 
Father Robert Madden was a much admired professor, chaplain and rector at St Mike's who served as the director of alumni affairs in his retirement. The Father Robert Madden Leadership Awards are presented to students who have made significant contributions to the University of St. Michael's College community by demonstrating leadership, cooperation, and solidarity in student-run organizations or community endeavours. 
The recipients of this year's Fr. Robert Madden, CSB Leadership Awards are:  
Anna Zappone 
James Pettem 
Julia Orsini 
Luke Bannon 
Almeera Khalid 
Vicente Constantino Kripka 
Sabrina Daniele 
The University of St. Michael's College Young Alumni Award 
The recipient of this year's University of St. Michael's College Young Alumni Award is Samuel Gearing.  
Graduation Awards by Merit and Program
The Alberto and Caroline Morgan Di Giovanni – Centro Scuola Scholarships  
Alberto Di Giovanni, 7T1 and his wife Caroline Morgan Di Giovanni, 7T0 have a long and close association with the University of St. Michael's College. They met here as students and have stayed involved as alumni. Three of their children (Annamaria, Carlo and Franca) as well as nieces and nephews have followed in their footsteps and graduated from St Mike's. Alberto and Caroline have endowed scholarships and an annual Dante lecture to demonstrate their appreciation for their experiences here and to encourage St Mike's graduates to develop life-long connections with their alma mater. 
 Four Alberto and Caroline Morgan Di Giovanni Scholarships are awarded each year to St. Michael's College students. Earlier this spring Di Giovanni scholarships were awarded to students participating in the Gilson Seminar in Faith and Ideas. 
Today we are recognizing Alberto and Caroline Morgan Di Giovanni Scholarships for graduating students who have achieved the top marks in Italian Studies and have demonstrated leadership and community spirit on the St. Michael's College campus; and in the community at large. 
The recipients of this year's Alberto and Caroline Morgan Di Giovanni – Centro Scuola Scholarships are Julia Volpe and David Adamiszyn.  
The Tommaso Serrao Award 
This award was established by the Family and Friends of Mr. Tommaso Serrao, who had a great love and passion for Italian literature. 
The award is presented to an outstanding graduate who has excelled in the study of Italian. 
The recipient of this year's Tommaso Serrao Award is Janet Marta.  
The Mercier-Knowlton Prize for Philosophy in Christianity & Culture 
While studying at St Michael's College, William Leo Knowlton, class of 1927, developed a deep love of philosophy that never left him. 
In 1999, he made a generous donation to St Michael's to establish an endowed lectureship in Philosophy and Theology. 
This gift also enabled the College to re-institute the Mercier Prize, which had been established in 1924 in honour of Cardinal Mercier and his work relative to the philosophy of St Thomas Aquinas. 
This award is given to the student with the highest CGPA in Philosophy and Christianity & Culture. 
The recipient of this year's Mercier-Knowlton Prize for Philosophy in Christianity & Culture is Sasha Hellwig.  
The James O'Brien 5T0 Book Award 
The James O'Brien Book Award was inspired by the memory of James O'Brien, St. Mike's Class of 1950. 
After graduating he remained an active alumnus of the College, serving on the USMC Senate for a number of years and on the Library Committee. 
His family established this award to honour his love of literature and to celebrate their continuing association with St. Mike's. 
The recipient of this year's James O'Brien 5T0 Book Award is Danielle Nassr.  
College Gold Medals
The College Gold Medals are awarded to graduating students with the highest cumulative grade point average in Arts, Science, and Commerce. 
The recipients of this year's College Gold Medals are:  
| | | |
| --- | --- | --- |
| Arts | Science | Commerce |
| Nathaniel Crocker | Laurestine Bradford | Anthony Adair |
College Silver Medals
College Silver Medals are awarded to all other graduating students who have a cumulative grade point average of at least 3.7.  
The recipients of this year's College Silver Medals are: 
Vinit Nirav 

Jogani

 

 

Julian A Takagi-Stewart  

Yufang Liu  

Zara Ahmad  

Gianni Vincent Pescetto  

Jijun Xiao  

Xiaowen Zhang  

Erica Alexis Venturo  

Haorui Zhang  

Heng Kan  

Kate Rose Jaworski Friesen  

Lazar Joksimovic  

Xinqi Shen  

Yuling Chen  

Zhuoran LI  

Shiqi Feng  

Yibin Zhao  

Sunsiya Wang  

Yu Guo  

Zeyang Zhang  

Christian John Tramontin  

Julia Francesca Volpe  

Shuting Jiang  

David Jan Adamiszyn  

Musa Talluzi  

Nicolas James Cicci  

Xueqian Ma  

Constantine Dean Gregory Kanargelidis  

Michael Sisti  

Jamie Evers Stalcup  

Shyam Mehta  

Xing Gao  

Christy Melody 

Simangon

 

 

Jiayi Shi  

Michelle Antoinette De Pol  

Timothy Chee Cheng Lui  

Zhengkai Fu  

Chenglan Huang  

Christian Michael Rostankovski  

David Frank Rhodes  

Ke Er Zhang  

Amelia Lois Leung  

Joseph Matthew Massabki  

Xin Yue Gao  

Katherine Schmidt  

Ming Yuan Zhao  

Nicole Joan Turner  

Yu Jia Yin  

Yue Li  

Alex Lee  

Du Wang  

Julia Passarelli  

Anna Aksenovich  

Daniel Kim  

Kuorosh Rezaei  

Ian Michael Cappellani  

Quanzhou Li  

Rebecca Kwiatkowski  

Yuxi Lin  

Ge Sun  

Janet Adele Marta  

Ankur Shiwakoti  

Chelsea Ann Marie Amos  

Gregor Neil McEdwards  

Junsheng

 Luo 

 

Xinran Huang  

Marina Samantha Salis  

Robert Newman  

Yi Wai Kwok  

Angela Wang  

Oswa Shafei  

Tianna Alexandra Damario  

Sara Eslam Pour  

Lara-Melodie B V Patry  

Sayeda Fatima Zahidi  

Yara Haitham El Bardisi  

Hallam James Willis  

Isabel Marie Rose Armiento  

Jason Kei-On Ho  

Jong-Hwan Joseph Lee  

Min Jin  

Rishikant Sharma  

Jeremy Boon Chinsen  

Rhonda Michelle Rathburn  

Simon Alexander Craig-Wright  

Jiayi Lu  

John Alexander Muir  

Oriana Irene Maurach Theo  

Ziying Zhuo  

Andres Felipe Medina Pineda  

Tiancheng Shi  

Xiaoqi Gao  

Tianhao Wu  

Zihan Yi
June 24, 2020
The University of St. Michael's College and The University of Toronto Faculty of Arts & Science are pleased to announce that astrophysicist Dr. Adam Hincks, S.J., will be the inaugural holder of the Sutton Family Chair in Science, Christianity and Cultures. The position, jointly supported by Arts & Science and an endowment to St. Michael's from alumni members Dr. Marilyn and Thomas Sutton, will make a significant contribution to the body of scholarship on the intersection of these three key fields.
Alumni and generous donors to St. Michael's, the Suttons have long envisioned a position dedicated to examining how Christianity, science and cultures interact and intertwine.
"Marilyn and I are pleased to make this gift of gratitude in support of the distinctive partnership of USMC (St. Michael's) and U of T. Our education in the Humanities at USMC and Math and Physics at UofT gave us a strong foundation for further education and our professions," says Mr. Sutton.
The Suttons have found in their own studies that exciting knowledge is found in the spaces between disciplines. The Sutton Family Chair will offer a distinctive opportunity to advance such understanding.
"The inquiries of Science, Christianity and Cultures are informed by intersecting strands of scholarship. This Chair will provide a locus for focused study of those intersections and facilitate the development of new knowledge," Dr. Sutton says.
Dr. Hincks specializes in physical cosmology, which studies the evolution and overall structure of the universe. In 2004, he completed a B.Sc. in physics and astrophysics from U of T, while also earning the St. Michael's College Gold Medal for the highest cumulative GPA in sciences for a graduating student. In 2009 he earned a Ph.D. in physics from Princeton University and then entered the Jesuit novitiate in Montréal. After pronouncing vows in 2011, he pursued philosophical studies at Toronto's Regis College and later did a Bachelor of Sacred Theology at Rome's Pontifical Gregorian University. Between these studies, from 2013 to 2015, he was a postdoctoral research fellow at the University of British Columbia. Most recently he has been completing a Master of Theology and Licentiate in Sacred Theology at Regis College. He was ordained to the priesthood in 2019.
"As an alumnus of St. Mike's at the University of Toronto, where I did the undergraduate Astronomy and Physics specialist programme, I'm proud that my alma mater has created this creative position, and I'm delighted to be taking it up," he says.
Among his various academic affiliations he is an associate scholar of the Vatican Observatory, while his research includes work with the Atacama Cosmology Telescope and the upcoming Simons Observatory, both located in Northern Chile, that are designed to answer fundamental questions about the history and structure of the Universe. In the past, he has also worked on the Canadian Hydrogen Intensity Mapping Experiment in British Columbia's Okanagan Valley.
"I'm looking forward to continuing my scientific research in a context that also allows me to examine how it enters into conversation with Christianity and culture, both in the classroom and as a secondary research area," Dr. Hincks explains.
"Dr. Hincks is a stellar addition to a growing group of very fine core faculty at St. Michael's," says Dr. Sylvester. "He reflects the caliber of research and teaching excellence St. Michael's is providing to all University of Toronto students. Dr. Hincks's work—especially in studying the interrelationships of Science and Christianity and their relationships to a variety of cultures—disproves the frequent assumption that science and religion have nothing positive to gain from encountering each other. We are very glad to welcome him home to St. Michael's."
Dr. Melanie Woodin, Dean of U of T's Faculty of Arts & Science, agrees.
"The establishment of the Sutton Family Chair will advance research and teaching in multi-disciplinary ways that attest to the breadth and depth of the scholarship and learning that takes place in the Faculty of Arts and Science," Dr. Woodin says. "I am delighted to recognize the generosity of U of T alumni and longtime supporters Tom and Marilyn Sutton. Their investment in this co-located Chair affirms the importance of creative and meaningful collaborations between the Faculty and one of its valued federated colleges, St. Michael's."
Dr. Hincks will begin his four-year appointment on July 1, 2020. The David A. Dunlap Department of Astronomy and Astrophysics will host Adam's graduate appointment in the University of Toronto. In addition to teaching courses for the Department and also for the Christianity and Culture program sponsored by St. Michael's College for students in the Faculty of Arts and Science, Adam will develop a course to be offered jointly for students in both programs, related to religion and science, in the time ahead.
Marilyn and Tom Sutton are graduates from St. Michael's class of 1965. Marilyn graduated with a B.A. in English and French, completed a Phd at Claremont Graduate University and is Professor of English (Emerita) at California State University, Dominguez Hills. Tom graduated with a B.Sc. in Mathematics and Physics and is the retired chairman and CEO of Pacific Life Insurance Company.
Luis Filipe graduated in 2006 with an Honours BA in History and Linguistics, and then completed a Bachelor of Education degree at OISE in 2008. He has been teaching for 12 years in the Toronto District School Board, the last three at Bloor Collegiate Institute as Department Head of Social Science, where he teaches law and history, and coaches girls' soccer. He is also the president of the Toronto History, Humanities, and Social Science Subject Council.
---
A Father's Inspiration
Navigating life through the new normal of social isolation and distance from family and friends has been challenging. In many ways my relationship with the world is linked to my father. The places and people I know all circle back to him. No place better exemplifies this than the University of St. Michael's College.
My family is made up of a different kind of alumni. My father, Manuel Filipe, started working at St. Mike's in 1975, eight years before I was born, first as a night caretaker, and then later as Senior Supervisor of Facilities & Services. In those early days he worked alongside my great-uncles and aunts—the patriarchs and matriarchs of our family—who arrived in Canada with the first wave of Portuguese immigration in the 1950s. So while I was the first in my family to attend as a student, I was the third generation to be a part of the SMC community.
As a child, I would visit St. Mike's regularly with my father. Our weekends were bookended by trips to lock up Carr and Alumni Halls, shut off the lights in Brennan Lounge, and close the Elmsley and Alumni parking lots. Nights would end with a walk together to Dufferin station, where we awaited my mom's return from work at St. Mike's, or carrying me to bed after I inevitably fell asleep on the drive home when we picked her up directly. The college was where I watched my father play table tennis tournaments; where I spent March Break changing batteries and reprogramming electronic residence locks with him; accepting rosebud chocolates from the wonderful Mrs. Lee in Carr Hall when he wasn't looking; and organizing keys and envelopes before the start of each school year. Like any home, the college also bore witness to more painful memories, like when, on my first day as an SMC student, I approached my proud father on the third floor of Alumni Hall to share the news that his father, my grandfather, had died earlier that morning in Portugal. All these experiences are the landscape of my life.
So much of what I know about my father as a person is shaped by his relationship to his work at the college. My father doesn't have many friends outside of its buildings; he doesn't go out or really have any hobbies. His role at St. Mike's was an inextricable part of his identity. He is proud of the work he did each day and proud of the life it provided us. It gave him a chance to serve a community, and Catholic faith, he cared about deeply. As I grew older, and my father's academic expectations came into greater focus, the relationship I had with my father and the college helped to make me feel at home on campus, as a student carrying the weight of my entire family's academic expectations. It's easy to see yourself belonging in an institution when you have already been in its buildings.
My father has been retired from St. Mike's for 11 years now, but that relationship remains an influence in our lives, as father and son. Almost two years ago I also became a father, when my son Mateo was born. I have thought a lot about the relationships my son will forge through me, the way I did with my father. Before the pandemic, my son regularly visited me at Bloor Collegiate Institute, where I teach, interacting with staff and students alike. In those exchanges I caught myself thinking back to those early days at St. Mike's, where I was carried around campus by my father, meeting the Professor Ann Dooleys and Father Maddens of the world. I wonder whose names my son will remember, and what memories will linger for him.
So while there is some physical separation between us today, because of social distancing, our experiences and memories remain connected, and centred on the college. I'm looking forward to visiting St. Mike's some day again soon with my father, but this time with his grandson in tow, watching the two of them share spaces he and I did so many times before. And maybe after this is all over, our family's presence, and my father's connection to St. Mike's, will grow by another generation.
---
Read other InsightOut posts.
Educators and alumni members John B. Kostoff and Patricia Dal Ben are the authors of One Home at a Time: Realizing and Living Out Our Domestic Church, Novalis 2019. John, who is the Executive Director of the Ontario Catholic Supervisory Officers' Association, graduated with a Bachelor of Arts in 1977 and now serves as a member of the University of St. Michael's College Collegium. Patricia, who is Curriculum Consultant: Religious Education, Family Life and The Arts with the Halton Catholic District School Board, graduated with a Master of Theological Studies degree from the Faculty of Theology in 2017.
---
Building the Domestic Church
Since the beginning of this pandemic, home is where we have been called to "stay safe" and where we have been staying for weeks on end. Home has never meant so much to so many people. It is the place we have baked, binged, and worked. It is the place we have homeschooled and the place where we have celebrated virtual mass. It is also where we have wept and worried and then worried some more. So how has your notion of home changed during this time? Or has it?
Long before this pandemic, home was, in part, where mass was celebrated; not the way we celebrate it today or with hope in the near future, in our bricks and mortar churches, but celebrated nonetheless. The Apostles sat in the upper room after the crucifixion trying to reimagine what this "new" life was going to look like. Luke the Evangelist recounts in the Acts of the Apostles that "Day by day, as they spent much time together in the temple, they broke bread at home." (Acts 2.46a) The Catechism of the Catholic Church also reminds us that,
"In our own time, in a world often alien and even hostile to faith, believing families are of primary importance as centres of living, radiant faith. For this reason, the Second Vatican Council, using an ancient expression, calls the family the Ecclessia domestica." (1656).
The home church or domestic church has a long-standing tradition in our faith experience, and this notion was reignited by Bishop Fiordelli at the Second Vatican Council. St. John Paul II called the family "another invaluable expression of the apostolate of families" (Letter to Families, p. 16, 1994). The Church has continually valued and called on the faithful to create anew the reality of being home.
Article after article, post after post, people are reaching deep to look at what matters and realigning how we project into the world and how we deal with all that is happening and all that is still unknown. Missing our churches, the community, THE celebration is important, but never has there been such a time to reinvigorate our home churches. What we do now in our domestic church will have a profound effect on the future of our universal Church. We have a responsibility to develop the domestic church as authentic projections and expressions of our collective baptismal call.
As we celebrate Pentecost and the birthday of the Church, let us not forget how important that first house church was, and the responsibility we all have to nurture and support that growth and faith development in our own homes with the people we call family. The domestic church has been instrumental in laying the foundation of what is most important to this temporal life. From those early moments of gathering and now, thousands of years later, without a church building or the ability to gather in our places of worship—how then do we claim to be Catholic? How do we delineate in our homes that our faith tradition matters? The new evangelization has come to us in a bold and enticing way. How we understand what is happening in our world will forever change how we participate in Church. There has never been a better time to be taking stock of our domestic church so that when we unite once again to the source and summit we will have done our best to proclaim as good and faithful servants in our homes and beyond.
---
Read other InsightOut posts.
Grace McSorley (USMC Class of 1995) is a lawyer and Deputy Ombudsman at the Ombudsman for Banking Service and Investments. She is currently on the USMC Senate and previously served on the Collegium as a student and later as an alumni representative.
---
A Virtual Check-in with Classmates
Hello St. Mike's community!
Since we can't catch up in person at reunion this year—and by now most of us are "zoomed-out"—it is great we can use the St. Mike's blog to hear about what people are thinking and how they are doing. I thought I would share my experience as a work-from-home parent during the COVID-19 crisis.
My husband, Michael McCarthy (USMC Class of 1994), and I are fortunate in that we are both able to work from home. I work at OBSI, the Ombudsman for Banking Services and Investments, a not-for-profit that resolves disputes between banking and investment firms and their clients when they can't resolve them on their own. This is a busy time for us, and for our stakeholders. Fortunately, OBSI had practiced a scenario where we would have to work from home on short notice, so our transition was seamless and our work was not interrupted.
Things were not as seamless on the domestic front. The day the COVID-19 shutdown started, our laundry machine broke so, for the first three weeks of the shutdown, I did laundry in our bathtub with my feet, which can only be described as a joyless task. It is amazing how much laundry a family of four still generates when they are hardly leaving the house.
In the early pandemic days, I worried my family wasn't active enough. This was reinforced during a game of charades when one family member mistakenly acted out the song, "I've Been Sitting on the Railroad" instead of "I've Been Working on the Railroad." Shortly thereafter, family walks became mandatory and longer.
For the most part, I'm impressed with the way my family has adapted to new activities. Mike successfully joined the ranks of the sourdough bread bakers. He and the boys play Dungeons & Dragons with a neighbour via FaceTime. My youngest son dug a hole as deep as he is tall in our tiny backyard. He jokes that other kids will return to school telling stories of how they learned to play guitar and wrote "Coronavirus the Musical," but he's going to tell everyone he just dug a hole. He's actually done a lot more, including making me the beautiful Mother's Day necklace I'm wearing in the picture accompanying this piece using lapis lazuli from his rock collection.
Like many, we've had a lot of low points over the last few weeks—but I will spare you the details of our internecine quarrels. We know we are fortunate that we are healthy, employed and able to work from home. Still, it is hard not being able to do important things like be with my mother, or mourn with friends who've recently lost parents. My mother recently had to go into full quarantine because three personal support workers from her residence tested positive for the Coronavirus. It is my understanding that they are well and no one else has tested positive, but this is still upsetting for everyone.
We are happy to have backyard social distancing visits with my mother-in-law, during which my boys regale her with jokes they research ahead of time. She has now twice told us how much she misses hugs, and it breaks my heart that we can't give her one. On our last visit she said that as soon as this is over, she is going to run to the closest intersection and hug everyone she sees. This makes me imagine my mother-in-law in a photo like the iconic WW2 VJ day nurse and sailor image, only in this photo, she is the one dipping another reveller who is also out celebrating the end of COVID-19 times.
I hope everyone is well and I look forward to catching up in person!
---
The University of St. Michael's College is keeping the members of all our honoured classes in mind. We look forward to the day when we gather again!
---
Read other InsightOut posts.
Rev. Dr. Marc Doucet is an alumnus of the Faculty of Theology, graduating in 1980 with a Master of Divinity degree. He earned a Doctor of Ministry degree from St. Stephen's College in 2018. He is a Registered Psychotherapist with the College of Registered Psychotherapists of Ontario. He is also past Chair of the Education Standards Commission and past President of the Board of Directors of the Canadian Association for Spiritual Care. He currently serves as the manager and CASC Clinical Educator at Toronto's University Health Network.
---
Pastoral Care in the Midst of a Pandemic
I was sitting on the window ledge in the hallway of one of our ICUs checking in with one of my staff spiritual care practitioners to see how she was doing in the midst of COVID-19 and what support I could offer her and the rest of the team. As we talked she held a folded piece of white paper in her hand. After we chatted for a bit, she told me that she had an older male patient who had come in COVID+, was vented, and would probably die in the next few days. His adult son could not come to visit because he was quarantined. In checking in on his elderly parents who lived on their own, the son had found his father collapsed on the kitchen floor and his mother dead in bed from COVID. The piece of paper the spiritual care practitioner held was a letter written by the son: he had asked her whether, if he wrote a letter of goodbye to his dad, she would take it in and read it to him.
As I left her and walked down the hallway I was struck by the profoundness of the moment, and what it means, and calls for, to minister in the midst of a pandemic. I reflected on the strength and conviction she has to be able to walk into a patient's room and read such an intimate letter—a letter that will be the last contact a father has with his son—a letter that will have lasting impact on a son; to do this not once but to be called on again and again in the coming weeks. This has become a major role for us to play: to connect families with their loved ones because of "no visitor" policies. People are going to die without their loved ones there in their last moments of life, and this will make grieving more difficult and complicated for families and loved ones. But spiritual care practitioners will be there!
We often use images such as "being present with people"—"journeying with people"—when speaking about pastoral care. But the presence we're being asked to provide, the invitation to journey with patients during a pandemic, calls for something else from within. It's not so much about creating a therapeutic relationship, drawing upon psychotherapeutic modalities for interventions (as important as all of these are); but to read a letter to a dying patient from their loved one requires a deep personal spiritual well, out of which flows this desire and willingness to "show up" and journey with, not with theory and knowledge to support us, but with a sense of commitment and purpose in our own lives.
I hear echoed in our work the words of Paul in Philippians when he speaks about the Christ event: He "did not regard equality with God…but emptied himself…taking on human form." There is something incarnational about this work. It is literally giving "flesh"—not from some distant, safe place (phone, FaceTime, etc.)—to minimize the distance, the safety, and to enter, not only experiences, but literally into patient rooms, and nursing stations. In the midst of a pandemic spiritual care practitioners are leaving their security and walking into the devastating humanity of others.
---
Read other InsightOut posts.
Dr. Christopher E. De Bono is Vice President of Mission, People and Ethics for Providence Health Care (PHC) in Vancouver. A practical theologian, a Clinical and Organizational ethicist, and a certified Spiritual Care chaplain, Christopher earned his BA and PhD at St. Michael's.
---
A Novel Ritual for a Novel Virus
In the densely apartment-laden West End of Vancouver where I live, a ritual erupts every night at 7, when for between three and five minutes, people open their windows, go to their balconies, or congregate at a safe distance on the rooftops of their buildings. Why? To make a lot of noise.
Some clap, others shout. Many just bang kitchen pots and pans. Some even bring loudspeakers and drums and beat out a rhythm.
The result, which you might think should be cacophonous, is neither harsh nor discordant, but almost harmonious. I find it strangely comforting. And it has become something I prepare for every night.
But before I decided to become an active participant, I first heard this now-ritual noise-making on my walk home late in the evening. It was early in this crisis. After a long day working in health care to "flatten the curve" and to plan for those who would soon arrive at our hospitals with the novel corona virus, I wearily headed home for some much-needed rest.
As I left the hospital, I found myself surrounded by the noise of this novel ritual that has emerged as a reaction to a novel virus. Immediately I felt deeply happy, more resilient. I felt proud to hear the community acknowledge so many courageous frontline staff in acute and community care, so many researchers seeking solutions, and so many long-term care staff courageously limiting the spread among those individuals most at risk.
As a senior leader at Vancouver's Providence Health Care, a Catholic health system famously known for its downtown St. Paul's hospital and its long history of innovative work with marginalized groups, I already felt called to do my best. I also already knew the seriousness this novel virus posed and continues to pose.
So while we—and so many health care and essential care workers across the country—continue to work tirelessly to prepare for the surge, planning for the worst while hoping for the best, I take solace in this noisy and celebratory end-of-day ritual.
As a practical theologian, I am reminded of what I learned during my undergraduate and post-graduate student days at St. Michael's: Rituals bring comfort. Rituals help us find meaning. Rituals bring connection. Rituals also give us a sense of control, because they are predictable.
Right now, we need all four of these things. This new virus has disrupted our comfort and has destabilized our sense of who we are. It has interrupted our very ability even to be physically close to human beings. It has increased our feelings of helplessness. And so much more. And this is why I am grateful for the creativity, hope and affirmation this new ritual offers.
A novel virus needed a novel ritual.
---
Read other InsightOut posts.
Readers looking for a new book to pass the time during social distancing will find many options for expanding their minds and imaginations in the work of authors at St. Michael's. While the school has been a centre of excellence in teaching since its founding, USMC has also provided an institutional home to authors who have published in a wide variety of genres.
Advancing Research
Professors in St. Michael's sponsored programs and the graduate Faculty of Theology publish scholarly monographs and edit collections of academic essays to advance research in their fields.
Alison More, holder of the inaugural Comper Professorship in Medieval Studies, explores the story of pious medieval laywomen in Fictive Orders and Feminine Religious Identities, 1200-1600 (Oxford University Press, 2018). Her book continues a long tradition of excellence in medieval scholarship and publication at St. Michael's, which also includes the regular publication of books under the publications programme of the Pontifical Institute of Medieval Studies (PIMS).
Book and Media Studies is a natural fit for students interested in studying book history, but what about books themselves? St. Michael's Assistant Professor Felan Parker made use of his cutting-edge work in game studies while co-editing Beyond the Sea: Navigating Bioshock (McGill-Queen's University Press, 2018), a collection of critical essays on the beloved video game franchise. In the same department, professor Paolo Granata has written numerous books in Italian on media and media ecology, including the first guide to art resources on the web ever published in Italy.
Parker and Granata's BMS colleague Iris J. Gildea's book Toward a Poetics of Freedom: An interpretive analysis of Ricoeur and Dante (Lambert Publishing: 2014) argues the thought of philosopher Paul Ricoeur changed after an encounter with the poetry of Dante Alighieri—and the great Italian poet is himself the focus of a special collection of rare books and illustrations housed in the Kelly Library.
Religion adds a special dimension to the scholarship of several St. Michael's authors. Christianity and Culture professor Michael O'Connor's Cajetan's Biblical Commentaries: Motive and Method (Brill, 2017) has been described as "a very welcome addition to our knowledge of religious scholarship in the Renaissance." Fellow Christianity and Culture prof Reid Locklin is the co-editor of Teaching Civic Engagement (Oxford University Press, 2016) a book that explores the role of religious education in fostering a vibrant democratic order.
On the civic theme, Canadian historian and St. Michael's professor Mark McGowan is the author of historical studies such as The Imperial Irish: Canada's Irish Catholics Fight the Great War (McGill-Queen's University Press, 2017), which brings together Canadian religious and military history. His book It's Our Turn: Carrying on the Work of Pioneers of Catholic Education in Ontario (Novalis, 2017) tells the story of Catholic education in Ontario, and casts a vision for its future.
Professors in the St. Michael's Faculty of Theology advance scholarly conversations in fields ranging from Historical Theology to Interfaith Studies. Professor John McLaughlin, an Old Testament scholar recently appointed Interim Dean of the Faculty of Theology, has written numerous books including An Introduction to Israel's Wisdom Traditions (Eerdmans, 2018), currently available in an e-book format for under $3. Professor Callie Callon's Reading Bodies: Physiognomy as a Strategy of Persuasion in Early Christian Discourse (T&T Clark, 2019) explores the use of physiognomy in the rhetoric of early Christian theologians and writers.
Enriching Culture
Authors at St. Michael's have also written for audiences outside the confines of academic disciplines. Principal and Vice-President Randy Boyagoda has published several critically acclaimed literary novels and a widely-reviewed biography of an important American Catholic public intellectual. He is currently at work on a Dantean trilogy of novels. The first, Original Prin (Biblioasis, 2018), is an academic satire set on the downtown campus of a Catholic university.
Celtic Studies Assistant Professor Máirtín Coilféir's poem Cumhdach (Kelly Library Print Studio, 2019) was custom printed and bound at St. Michael's. He is currently working on a translation of The Adventures of Huckleberry Finn into Irish.
Professors Boyagoda and Coilféir belong to a long lineage of creative writers at St. Michael's. In the first half of the 20th century, Canadian novelist Morley Callaghan called St. Mike's home. After graduating, he would help build the Canadian literary tradition with numerous novels, and short fiction for outlets like the New Yorker. Midcentury novelist Hugh Hood called St. Michael's home as well, as have more recent creative writers such as poet Anne Carson, novelist Anthony De Sa, and Unbuilt Toronto author Mark Osbaldeston.
The literary legacy of St. Michael's continues, with dozens of faculty and staff publications made available for borrowing from the Kelly Library in a special section near the entrance. The building is closed for now, but the list—including many more books that could not be mentioned here—is available online, with some books available for electronic borrowing.
A Season of Transformation for St. Mike's CSR Program
Updated name, new award, enhanced value all signs of program's coming of age
No matter what stage of life you're at, icebreakers can help the first day of school seem a little less daunting. But when the school is St. Mike's, and the subject is corporate social responsibility, you can forget about standard tension diffusers like 'tell two truths and one lie about yourself' or pinning your birthplace on a giant map.
As participants in the 2019/2020 Graduate Diploma in Social Responsibility and Sustainability cohort met for the first time this past October, students were asked to chat with a seatmate and then present that person to the group by naming their core values. As the introductions circled Charbonnel Lounge, words like honesty, gratitude, compassion, respect, integrity and humour surfaced, indicators that this is not just any classroom.
For close to 20 years, University of St. Michael's College has been the go-to school in Canada to study Corporate Social Responsibility, an operational philosophy also known by a variety of other labels, including ESG (Environmental, Social, and Governance), Corporate Citizenship, or Social Purpose and Social Innovation.
The common thread is an institution's commitment to action that enhances the common good by adopting strategies such as environmentally friendly processes, fair labour practices, or corporate volunteer efforts. Proponents of CSR argue that a strong strategy can have multiple benefits, from answering shareholder concerns and aligning with a board's ethics through to self-preservation and furthering employees' sense of participation in something valuable, all factors that can contribute to a stronger bottom line.
"Corporate Social Responsibility is not just a set of [business] tools but a new outlook," Program Manager Kathryn Cooper explains. "CSR helps you look at people in a more human way and, as such, it is transformational.
"When we talk about Corporate Social Responsibility or Citizenship, we talk about social and environmental impact. Today investors, consumers and global citizens want to know that organizations are not causing social or environmental damage. In fact, there is an expectation that companies are making a positive contribution to society and the planet."
As an example, she cites athletics apparel giant Nike as a cautionary tale. When negative media reports on its international labour practices surfaced in 1996, stock value fell by 50% from $38 to $19 per share, while sales dropped almost 10%.
It is precisely the goal of positive change that makes St. Mike's a logical host for the program, says University President David Sylvester, because the program's goals and outcomes represent the long-standing values of St. Michael's. There is a clear correlation, for example, between the topics studied in the program and the tenets of Catholic Social Teaching, whether the issue is environmental stewardship, concern for the marginalized or a driving interest in the common good, he explains.
As it approaches its third decade of operation, the St. Mike's program is undergoing its own transformation, a sign of a coming of age not only of the program but also for the concept itself.
This past Fall, the program name of Corporate Social Responsibility was changed to the Graduate Diploma in Social Responsibility and Sustainability. Corporate no longer appears in the program name because the core concepts' appeal reaches far beyond the business world. While the idea began with financial institutions, it is now being embraced by a variety of sectors, including health care, education, NGOs, and not-for-profit organizations, notes Cooper. Recent graduates from the St. Michael's program have come from a diverse group of employers, including Toronto Hydro, Manulife Financial, the University of Calgary, and UNICEF.
"The idea of social responsibility used to be viewed as a public relations issue or the way to earn a 'social licence to operate', but it's got far wider applications," she says.
Sustainability has been added to the program's name "in response to a global trend toward embedding environmental, social and governance issues in business," Cooper adds. "To survive and thrive, organizations must focus beyond their bottom line, and create positive social impact.
"We make a lot of personal connections between values and ethics and urge people to take their whole selves to work."
The name change also signals the program's upgrade from a certificate to a diploma. Graduates of the 2018/2019 cohort were the first to receive diplomas at their November convocation, and are eligible to use the post-nominal letters G.Dipl.SR&S. The upgrade is a result of the increasingly academic nature of the program, says Dr. Sylvester, who notes that when the motion to change the program to a diploma was put before St. Michael's Senate, it was unanimously approved.
The changes to the CSR program come as St. Mike's engages in its own strategic visioning exercise, notes Dr. Sylvester. St. Mike's 180, Rooted in the Future seeks input from community members, asking how St. Mike's can create a dynamic and abundant future as the school looks to its 180th anniversary in 2032.
St. Mike's, like many other Canadian post-secondary institutions, is beginning to think more about the social impact of universities, and is looking to imbed related language and goals, examining everything from purchasing and infrastructure to examining a school's relevance and how it engages with the community, he adds.
"We want to turn research and teaching on the community as a vibrant force, because universities must be engaged in the community to have relevance," Dr. Sylvester says.
The Social Responsibility and Sustainability program at St. Mike's runs over 13 months, and consists of three sets of in-class sessions throughout that period, for a total of 11 days on campus. In between the three on-campus sessions, participants engage in reading assignments, participate in webinars, post reflections, meet with mentors who provide advice and guidance on a capstone project, and stay in touch as a cohort through a special web portal. As each cohort is capped at 30 students, both participants and instructors get to know each other well, with plenty of time for discussion.
On-campus sessions include workshops on everything from making the business case for social and environmental responsibility to how to apply CSR and sustainability strategies in the workplace through the development and implementation of diversity and inclusion, community investment, ethics and reporting and communication policies and procedures.
The program draws three types of participants, Cooper notes. Some are tapped on the shoulder by employers wanting participants to develop their company's CSR or Sustainability Strategy. Others are looking for a purpose-focused mid-career transition, while a third group consists of younger people who have graduated with theoretical knowledge about sustainability and CSR but are looking to learn from mentors and program participants with practical experience.
Participants have two major assignments, as well as a capstone project where they work with a seasoned CSR and sustainability mentor to undertake a practical social responsibility and sustainability project. Students identify their project's outcomes and methodology, as well as how to socialize the plan with key stakeholders, she explains.
Past projects have included Community Investment Strategies, Volunteer Programs, Environmental Sustainability Initiatives, Indigenous Impact and Sustainability Reports and CSR/Sustainability Strategies.
The ability to connect with experts, as well as to meet others in similar fields grappling with similar questions, is one of the big draws for the program, graduates note.
"It's a top-notch program, the only one of its kind in Canada connecting like-minded people with similar passions in Corporate Social Responsibility," says Alexandra Biron, who is Assistant Manager, Corporate Responsibility at professional services firm Deloitte in Toronto. She looked at online offerings from other schools but was drawn to St. Mike's both because of the in-person sessions, as well as what she heard from former students.
"You can find a lot of information online but the network of professors and speakers is what's most valuable. You are a cohort with a diverse group in terms of age, sector, experience, background, and even with those who might not come from a CSR background but are looking to change fields," Biron explains. "These people share their struggles and high points, especially as so much can happen in 13 months. These are people with similar values and passions in a variety of jobs."
Biron was one of the two winners of the inaugural President's Capstone Award this past Fall for her project, entitled Deloitte Canada 2019 Indigenous Impact Report, which examined the impact [Deloitte has] made with Indigenous communities through pro bono work, volunteering, donations, sponsorships or serving as directors on boards.
"This report was the first of its kind for the firm. We publish an annual CR report but this was the first time we looked at the impact we were having with Indigenous communities. It's led to an even bigger project, which is the firm's Reconciliation Action Plan, which is set to launch in 2020 and will set the stage for how Deloitte will move forward on implementing TRC recommendations into its corporate life."
Like Biron, Sarah Thirnbeck credits the program with offering her the skills to lead change in her workplace. Thirnbeck, who is Associate Director of Strategic Impact for the Canadian Real Estate Association in Ottawa, says of the program, "It changed my life."
When moved from handling social media into her current duties this past Fall, Thirnbeck sought a program to help her create a vision for her new role.
While seeking resources online, she found mention of the St. Mike's program "and it fulfilled all my expectations. I arrived on Day 1 knowing I wanted to develop a CSR strategy for my organization but I became like a sponge, soaking up information."
Thirnbeck was the other winner of 2019 President's Capstone award. Her project was titled "A CSR Strategy for the Canadian Real Estate Association." It has already had an impact, as the Board of Directors of CREA agreed to include ethics, sustainability and social impact as a new priority in its strategic plan, based on her recommendation.
Now, she will begin implementing ideas from her project, including a green strategy, in her own office, with an eye to rolling them out to various local boards and offices across the country.
Program graduate Robert Waite now serves as a CSR mentor, working with and inspiring other students. Waite found himself in the program in 2008 while working at Canada Post, after he was asked to lead the effort of Crown Corporations in the area of environmental stewardship. Deciding he wanted an academic understanding of the program, he chose St. Mike's because "I liked the structure. …It was more humanistic and less technical, with more emphasis on the soft skills. The program gave me the tools I needed," says Waite, who went on to produce the first CSR report of any Crown Corporation, and hosted a meeting of various Crown Corporations to share best practices.
Waite, who now teaches at Seneca College and does consulting, says he decided on the St. Mike's program for several reasons, including the fact that the small program, on a small campus within the enormous University of Toronto campus, had an intimacy to it.
The very nature of a liberal arts college is another, he adds.
"Climate change, for example, can be positioned as a moral issue, a philosophical one," he says.
A few years after graduating, he was invited by a United Nations official to lecture on CSR to a group of postal agencies from 10 Caribbean countries.
"The materials I used were materials I gathered from St. Mike's. It was a great feeling, as many participants' countries were small and didn't have the resources to take on issues like environmental stewardship. My ability to say yes can be tracked to my participation in the program. I have nothing but praise for the people who run the program."
One of the influences he cites is Dr. Mimi Marrocco, who started the program in 2002, when she ran St. Mike's continuing education program. In chatting with various stakeholders, it became clear to Dr. Marrocco that "the liberal arts had something to contribute to business, including creating the time to think," she recalls. "Liberal arts allows for reflection.
"Sometimes, work environments can become siloed, but this program creates a forum to talk to like-minded people, and it presents the opportunity to make connections inside and outside."
One of Dr. Marrocco's first ideas for the program was to introduce a novel study to allow people to use their right brain, the hemisphere associated with creativity and innovation.
The first year, participants read E.M. Forster's Howards End, which bears the epigraph Only Connect, a message she says underlines the program.
"We need slow knowledge, slow movements. We are busy people in business and
sometimes we fall into busyness, which doesn't allow us to use the whole person."
New grad Alexandra Biron agrees.
The program "provided me with a platform to combine my professional life and one of my passions…. My career may not have progressed the way it did so quickly without this experience."
---
By Catherine Mulroney
From St. Michael's Magazine: Winter 2020
Note: This article was written before the COVID-19 pandemic. While athletics are central to St. Michael's, current social distancing measures have put this part of campus life on hold.
---
Central to St. Michael's since its founding, athletics continues to reflect our commitment to educating the whole person
A new skating rink in the quad is the latest reminder that athletics matter to the University of St. Michael's College. Walk through campus and you'll see a pick-up game of basketball or a quick toss of a Frisbee outside the COOP. Intra-mural teams are thriving, and we currently are home to 98 varsity athletes, competing in 21 different sports.
It's no accident that St. Mike's has a storied history of athletics. One of our guiding principles has always been that supporting athletics reflects a commitment to the formation of the whole person, with the physical rigours of the playing field complementing the intellectual rigours of the classroom.
Athletics also serve as a major source of community and school spirit, whether students are involved primarily with an intramural team or with a nationally ranked Varsity Blues squad. Participation offers a way to develop gifts shared in community, an expression of our calling to service.
St. Michael's has long been a sports powerhouse. As noted in Edward J. Monahan's (USMC Class of 1949) Teach Me Goodness, Truth and Knowledge: A History of St. Michael's College, for example, in the first half of the 20th century, St. Mike's rose to become a regional centre of collegiate athletics. We even had Basilians competing for St. Mike's: one notable example is Father David Bauer, who helped a 1945 SMC team win the Memorial Cup, and who gave up a career in the NHL to join the priesthood. He later coached Canada's Olympic hockey team, and was admitted to the Hockey Hall of Fame posthumously in 1988.
Today, a whopping 33 members of this year's Varsity Blues Football team call St. Mike's home, attracted by our reputation for being a supportive community aware of the importance of athletics. We can say with confidence that St. Mike's is the college of choice for athletically minded students.
My introduction to St. Mike's athletics came when I moved into residence here as a student in 1995. In May of that year I flew to the Big Smoke from Victoria B.C. to find a place to live for the Fall. I knew only one person in Toronto, a former high school classmate named Laura. She nixed my idea of searching off-campus, telling me to look for a dorm. When I asked for a recommendation, she said: "St. Mike's. It's Catholic, it's a big sports college and it's right across the street." The prospect of living close to my only Toronto friend became even more appealing after meeting her roommate, a beautiful Victoria College student to whom I've now been married for the past 18 years, but I digress.
I soon discovered why Laura referred to St. Mike's as a "big sports college." The residence houses all competed for the coveted Dean's Cup sports trophy, the College's teams were perennial contenders in U of T's intramural leagues, and St. Mike's was the only college to have its own fully stocked weight room.
One day, as I chatted with housemates in the Canada Room, one of the dons dropped by to say he'd been asked to recruit players for the annual 'alumni vs students' football game. Our group didn't ask many follow-up questions because it sounded like the perfect way to spend a Fall afternoon.
But it wasn't until I played in that Boozer Brown game in mid-October that I realized how deep the sports roots ran at St. Mike's. U of T's football program had run from 1895 to 1994, for example, and during that 100-year span, St. Mike's had won the Mulock Cup 12 times, including 'back-to-back-to-back' victories the final three years. No wonder former players were so eager to relive their glory days.
The alumni team was composed of players from a now-defunct intra-mural league that used to play tackle football. Due to liability issues the tackle program had folded a couple years prior, but the alumni weren't about to let their annual tradition die with the league. These guys were premier athletes in their day and this game was an excuse to return to their alma mater and prove they hadn't lost a step.
As our respective squads began running drills, I sized up the competition. Some looked older than my father while others appeared younger than my then-25-year-old self. St. Mike's jerseys of uncertain vintage were worn proudly but loosely due to the absence of pads, and a few of the old-timers brought their families along, lending a homecoming-type feel. Led by the larger-than-life booster Phil Giroday (USMC Class of 1977), our teams huddled up to go over the rules, flip the ceremonial coin and then the 27th installment of the Boozer Brown got under way.
It was obvious the alumni had come to play. I was stunned to hear their quarter-back calling plays – actual football plays like, "red dog five hook left" and "blue right 30 pull trap." The ragtag group our dons had assembled possessed lots of talent but the coordinated approach of the alumni, coupled with the 'creative officiating' of former coach Lex Byrd, made it clear the alumni would be leaving with bragging rights. When the final whistle blew, the alumni had six touchdowns and the students four; you would have thought they'd won the lottery. (Lex, by the way, had coached the St. Mike's team from 1978 to1993 and had led the team to an astonishing eight Mulock Cup championships.)
While reliving highlights at a post-game BBQ with the victors, I learned that the alumni-student game had been taking place since 1968. It was named after Bud "Boozer" Brown, a student instrumental in St. Mike's winning its first football championship in 1930, the coveted Mulock Cup. I remember thinking how fortunate I was to have ended up at a college tailor-made for sports-minded students like me.
I attended the Boozer Brown again the following year as a student and then in 1998, St. Mike's hired me as their new Dean of Men, involving me in the game in a new way. By this point, the intramural football program had folded, and some wondered how we'd be able to keep the alumni game going. But U of T began awarding the Mulock Cup to the winner of its intramural rugby program and by the mid-2000's, SMC's team was a powerhouse, regularly competing for the championship. I was very involved with the team back then and would always explain the historic connection between the football and rugby programs — and would inform our players it was their duty to participate in the annual Boozer Brown game!
Eventually, the intramural rugby league was discontinued, and it was once again time to re-imagine how best to keep the spirit of the Boozer Brown game alive. It was alumni athletes who came up with a great way to create a new athletics tradition. In the summer of 2019, a group of alumni approached USMC's Advancement Office wanting to create two scholarships, male and female, to honour Lex, their former coach.
We decided to morph our annual alumni-versus-student game into an annual alumni-plus-student reception for the new award. The event would still give our football heroes the chance to connect with their teammates, but a more inclusive event would mean their ranks could be joined by all the great athletes, women and men, who'd competed for St. Mike's over the years.
On November 30, 2019, SMC hosted the inaugural Boozer Brown Athletics Reception in Charbonnel Lounge. In addition to our esteemed alumni, we had a great turnout from our current crop of varsity athletes, all of whom were introduced by name in President Sylvester's remarks. The women's recipient of the initial Lex Byrd scholarship was Varsity Blues hockey forward Melissa Bieman, who is currently studying History and Philosophy. She came to the reception directly from Varsity Arena, where the Blues had just defeated Waterloo to move into first place in the OUA standings. Varsity Blues wide receiver Liam Cousineau, a 1st-year student whose goal is a double major in Political Science and International Relations, was the men's recipient.
Attendees had an opportunity to reminisce about the past as well as stoke excitement for the future. While there may no longer be an alumni-student football game happening on the northeast corner of the campus, rest assured that sports are alive and well—and thriving!—at St. Mike's.
---
By Duane Rendle, Dean of Students
From St. Michael's Magazine: Winter 2020
Photos courtesy of the University of St. Michael's College Archive. Check out more photos of athletics at St. Mike's here:
President David Sylvester is pleased to announce the establishment of the Comper Professorship in Medieval Studies at the University of St. Michael's College in the University of Toronto. This newly endowed position has been made possible by a foundational investment by St. Michael's alumnus, Dr. Tony Comper, C.M., L.LD. (Hon). Dr. Sylvester is also delighted to announce that Dr. Alison More is appointed the inaugural holder of the Comper Professorship. Dr. More is a highly regarded Latinist whose research investigates the intersections of social and religious culture in late-medieval Northern Europe.
The donation reflects Dr. Comper's firm belief that studying the humanities offers invaluable benefits both personally and professionally – and that St. Michael's is on the right path with its renewal as a vibrant centre of undergraduate education at U of T. "Studying liberal arts, in particular literature, provides significant insight into human nature; (it offers) essential knowledge in interpersonal skills, the most important skill for success in business and indeed in life," says Dr. Comper, who is the retired President and CEO of BMO Financial Group.
Dr. Comper recently returned to campus to take courses in Medieval Studies, a Faculty of Arts and Science undergraduate program sponsored by the University of St. Michael's College that is available to all students in Arts and Science at the University of Toronto. This has given the philanthropist a front-row seat for the revitalization of Arts and Science undergraduate programs sponsored by St. Michael's. Pleased with what he has seen, he has offered the university a unique hybrid investment in teaching by funding this position. The gift is comprised of a multi-million dollar bequest, and the promise of annual funding, effective immediately, in the intervening years to cover salary and benefits. This faculty position is one of six that St. Michael's implemented in 2017 as part of its focus on teaching excellence in the four undergraduate programs it sponsors: Book and Media Studies, Christianity and Culture, Celtic Studies, and Medieval Studies.
Dr. Alison More came to the College from the Centre for Medieval and Early Modern Studies at the University of Kent where she designed and taught core courses on Latin and palaeography. She and the other assistant professors who joined the St. Michael's community and broader University of Toronto three years ago have become a vital part of social and academic renewal. They have enhanced students' learning experience through their own engaged and creative teaching and research interests and have contributed a great deal to the culture and community of the College beyond the classroom by supporting student-run initiatives and presenting public lectures for alumni. The Comper gift is creating great excitement on campus, as it represents the first step in the campaign to ensure the professorships remain permanent.
"This generous gift is an extraordinary demonstration of the confidence in the renaissance under way at St. Michael's," says Dr. David Sylvester, President and Vice-Chancellor. "It's also a model of funding for other professorships, and an ideal example of how St. Mike's continues to renew itself through endowed legacy positions. We're thrilled that an outstanding philanthropist like Dr. Comper has demonstrated his dedication to his alma mater in this way."
"St. Michael's and the wider U of T share a long tradition of international excellence in the field of Medieval Studies," says Professor Meric Gertler, President of the University of Toronto. "Dr. Tony Comper's wonderful gift will help to strengthen that tradition for future generations, and to accelerate the renewal of undergraduate education at the College. His generosity also builds on his long record of leadership in the University community, including his previous service as Chair of U of T's Governing Council, as well as his and his late wife Elizabeth's support for the Anne Tanenbaum Centre for Jewish Studies. We applaud this latest contribution to our collective success."
About Medieval Studies at The University of St. Michael's College
With its strong combination of intensive Latin study alongside explorations of theology, literature, history, culture, and manuscripts, Medieval Studies invites students not just to study the Middle Ages, but instead to join a great tradition of inquiry and discovery enlivened by the world-renowned professors who have taught Medieval Studies at St. Michael's over the years, including Étienne Gilson, Jacques Maritain, Msgr. Edward Synan, Sr. Frances Nims, IBVM, Sr. Mary Arthur Knowlton, CSJ, and Colin Chase.
The University of St. Michael's College has a long tradition of teaching and research in medieval disciplines and its library has rich resources in the field. The PIMS library, which is housed in the John M. Kelly Library, includes rare, non-circulating books and draws scholars from around the world. The University of St. Michael's College recently signed a five-year Memorandum of Understanding with PIMS and the University of Toronto recommitting to collaborative work in research, teaching and publication.
For more information, please contact:
usmc.communications@utoronto.ca
(416) 926-2267
From shared hobbies and interests to causes and activism, the more than 20 clubs at St. Michael's bring together students from across campus, neighbourhoods, and divisions to enrich the larger community. The annual SMCSU clubs fair and BBQ helps new students get a sense for just how many ways they can get involved in life at St. Michael's, both supporting and being supported by their university home. Clubs are also a place many students form the friendships that they carry with them after graduation, and develop skills and experience that are directly applicable to their future careers.
"Clubs at St. Michael's are an essential part of student life, and one of many ways students find opportunities to grow in their talents and passions outside the classroom at St. Mike's," says Student Life Associate Emma Graham. "They're also a bedrock of community life here for both residential and commuter students."
One of the newest St. Mike's clubs is Clean SMC, an organization that strives to "educate and empower students to take action against environmental issues through the support of green initiatives and sustainability," says club president and SMC student Juliano Baggieri. "[We] collaborate with St. Michael's College and students to make environmentally friendly projects come to life."
One of the recent collaborations between Clean SMC and St. Michael's resulted in the installation of a "bee box" on campus next to Carr Hall. Donated by Clean SMC and coordinated and installed by the St. Michael's Facilities team, the unit will provide a home to friendly, non-stinging pollinators that will help to brighten the many species of flowering plants that thrive on 11-acre St. Michael's campus.
Baggieri believes that the growing interest in sustainability and the environment will attract even more new members and help the club achieve its three primary goals of "building awareness, increasing community involvement in sustainable activities and developing environmentally friendly projects."
Other organizations directly support the work of the University's four sponsored academic programs: Christianity and Culture, Mediaeval Studies, Celtic Studies, and Book and Media Studies.
Christianity and Culture Social Club co-presidents Maryrose Doucette and Lara Connell work to create deeper connections between students and professors in the program by hosting regular social events where students and professors mingle over refreshments and coffee.
"These clubs exist so that students can make the most of their university experience and genuinely enjoy a community of like-minded people outside of the classroom," Doucette says.
Other student clubs support the larger St. Michael's community by offering real-life experience that encourages students to share their gifts beyond the classroom.
"Reporting fresh, relevant stories that are both for students and by students" is the mandate of student paper The Mike, where generations of St. Michael's students have developed their journalistic chops since the founding of the paper in 1947. Fourth-year SMC student Isabel Armiento oversees The Mike as this year's Editor-in-Chief. This fall, she hopes to "bring together a larger network of St. Mike's students and emphasize all facets of the newspaper," noting that there are major opportunities for artistic and creative students to contribute their talents at every stage of the editorial process.
Many clubs also foster the development of creative gifts. Co-Executive Producers of SMC Troubadours Kaitlyn Wang and Simran Dhir are soliciting suggestions for musicals and student-written plays to showcase student talent at St. Mike's.
"Students don't need to have any previous experiences of the dramatic arts," Wang and Dhir say. All levels are welcome in auditions for shows the club is putting on as part of the 2019–2020 season. This year's diverse lineup includes "a student-written play, an alumni-written play, a musical, [and] a stand-up comedy show."
Clubs at St. Michael's are funded by the St. Michael's College Student Union, which puts on the annual clubs fair and BBQ. Cianna Choo, SMCSU's VP of Academics and the organizer of this year's fair, says "clubs provide a creative outlet for students to explore interests outside of their programs." She notes that in addition to helping the St. Michael's community to flourish, club involvement helps students develop essential skills for the workplace in a context of collaboration.
The St. Michael's community is richer for the variety of student organizations that create community, put on events, and further the extracurricular education of students at the college. More information on ways to get involved on campus is available on the St. Mike's website.
The University of St. Michael's College commemorates the life of Sister Margaret Myatt, CSJ, who passed away Thursday, August 1 after 65 years of religious life with the Sisters of St. Joseph of Toronto. Friends and colleagues remember Sr. Margaret for her important contributions in the Toronto Catholic health care community, for her religious leadership and service, and for her longstanding and essential support for St. Michael's.
Former president of St. Michael's Dr. Anne Anderson, CSJ said Sr. Margaret "was known locally, provincially and internationally for her commitment to Catholic Health Care." In her leadership roles, "she shaped and re-envisioned institutional care to reflect changed needs in the light of a new reality shaped by ever changing technology."
Sr. Margaret graduated from St. Michael's in 1973 with a degree in Religious Studies. She received a diploma in Hospital Administration from the U of T in 1975, the year she became the administrator of St. Joseph's Hospital in Toronto. In that position, Sr. Margaret was responsible for a difficult task: the merger of St. Joseph's and Our Lady of Mercy Hospital. The two organizations became St. Joseph's Health Centre in 1980 after a smooth transition, and Sr. Margaret stayed on in the role until 1990, at which point she became CEO of St. Joseph's Hospital and Home in Guelph, Ontario.
Sr. Anne discussed these leadership roles in her remarks while presenting Sr. Margaret for a Doctorate of Sacred Letters at a Faculty of Theology convocation in 2005. With jobs and livelihoods on the line, the hospital merger was a "delicate" task that Sr. Margaret facilitated with aplomb. She also "brought about reconciliation to a 'fractured and fractious community" at St. Joseph's Health Centre in Guelph through "communication and dialogue," Sr. Anne said, as reported in a story on the Sisters of St. Joseph website.
In an email, Sr. Anne noted that Sr. Margaret's "wise counsel benefited the many Boards and Committees which sought her expertise." Over her 35-year career in health administration, these boards and committees included the Metro Toronto District Health Council, the Catholic Health Association of Ontario, the Catholic Health Association of Canada and the Catholic Health Corporation of Ontario.
After retiring from her work in health care, Sr. Margaret was elected General Superior of the Sisters of St. Joseph. Sr. Anne wrote, "During this period, she fostered and encouraged her Congregation to develop new ministries. Today, Fontbonne Ministries focuses on nurturing community through housing and outreach programs." Sr. Margaret also "partnered with other religious congregations in a 'joint ministry' called Becoming Neighbours which focuses on refugees and newcomers to Canada."
Former St. Michael's president Dr. Richard Alway said Sr. Margaret was elected "at a time when the congregation needed a healing presence as well as someone with a clear vision and communication skills." She proved so effective in the role that she served an unprecedented three four-year terms. Her last election to the role required the congregation to petition Rome for special permission for her to serve a third term, "showing how effective and popular she was."
In the fall of 2007, Sr. Margaret presented Dr. Alway, then president of St. Michael's, a donation of $2.5 million on behalf of the order to endow a chair in the Faculty of Theology. The Sisters of St. Joseph of Toronto Chair in Theology is currently occupied by the faculty's dean, Dr. James Ginther.
In her letter to Dr. Alway accompanying the gift, Sr. Margaret wrote that the Sisters hoped the chair "will serve as a legacy for our Sisters who ministered on campus for over ninety-five years."
Current St. Michael's president Dr. David Sylvester joins Dr. Alway and Sr. Anne in acknowledging Sr. Margaret's contributions to the life of the school.
At the honorary degree conferral for Sr. Margaret in 2005, Sr. Anne discussed the meaning of an honorary degree as "a very public statement of a university's values." The then-dean of the Theology faculty continued, "in her life of Service to the Church, her Congregation and the 'dear neighbour,' Sr. Margaret exemplifies in every way the deeply cherished values that give life and meaning to the ministry of graduate education, here at the University of St. Michael's College."
In an email, Sr. Anne offered further thoughts on Sr. Margaret's life and work, writing, "As a Sister of St. Joseph, Sister Margaret's life of faith exemplified in every way the particular charism of the Sisters – care and concern for the 'dear neighbor'!" She concluded with a passage of scripture: "Those who are wise will shine like the brightness of the heavens, and those who lead many to righteousness, like the stars for ever and ever." (Daniel 12:3)
St. Mike's alumni returned to campus for Alumni Reunion 2019 from May 29 to June 2, where they had the opportunity to catch up with classmates, make new friends, and reacquaint themselves with the college that remains an important part of their lives.
The Alumni Affairs team organized 18 different events scheduled around reunion celebrations hosted by the University of Toronto, and in the final count, more than 600 people attended St. Michael's special events. This year, the honoured classes ending in '4 and '9 came back to campus to celebrate their milestone anniversaries, including alumni returning from as far back as the class of 1949.
Some alumni traveled from as far away as New Zealand, England and Houston to participate, while others found themselves returning from a short distance away as they settled back into residence at Elmsley Place or Loretto College for the weekend.
The reunion kicked off with a SHAKER gathering at Ripley's Aquarium with St. Mike's young alumni in attendance, and concluded with a full house for Sunday's Mediaeval Symposium by Dr. Alison More. A selection of photos from these and other events can be found at the bottom of this post.
Highlights from Alumni Reunion include:
Lectures and presentations from St. Mike's faculty, including Assistant Professor Felan Parker's engaging Stress-Free Degree lecture on Fortnite and video game culture and a standing-room-only presentation by Assistant Professor Alison More, who had just returned from conducting an international learning experience in Ireland with Boyle Seminar students.
Anniversary Masses, one celebrated by Fr. Morgan Rice, CSB (2009 graduate of the Faculty of Theology) in the Loretto College Chapel, and another at St. Basil's celebrated by Archbishop Michael Miller, CSB, (USMC 1969) who travelled from Vancouver to enjoy his 50th anniversary of graduating from St. Michael's. Alumni toured the John M. Kelly Library, which is celebrating its 50th anniversary since opening in 1969, and Chester Gryski's (USMC 1969) spoke about the Canadian Fine Press Exhibition, which featured items printed by the late Glenn Goluska (USMC 1969). If you missed your chance to share memories or photos of the library during reunion, you can still do so—just send an email to usmc.archives@utoronto.ca.
A revival of the st. mike's pub. The Class of 1994, in conjunction with the Class of 2009, marked their 25th and 10th anniversary, respectively by turning the Firkin on Bay into the st. mike's pub, a former campus hangout space.
A capacity-crowd All Alumni Double Blue Party in the newly renovated Brennan Hall Lounge and The Dodig Family COOP. Alumni had the opportunity to travel down memory lane with a display of photos and flip through yearbooks from the honoured years.
"Canadian Writing Now," a panel discussion hosted by Principal and Vice-President Randy Boyagoda and English Chair Professor Paul Stevens. One of the authors, Anthony De Sa (USMC 1989), dedicated his reading to Fr. Robert Madden, CSB, and shared a story of Fr. Madden going out of his way to offer kindness and support after Anthony's father passed away.
The Honoured Years' Dinner and Medal Ceremony where alumni who graduated 55, 60, 65, and 70 years ago, with a standing ovation for Vicky Houghton (USMC 1949), the first ever Female Athlete of the Year at St. Michael's, who recently donated her Varsity jacket to the USMC Archives.
Dr. Mimi Marrocco (USMC 1969) was recognized for her work in adult education, corporate social responsibility and ethics as the recipient of the 2019 Alway Award, named in honour of former President and Vice-Chancellor Dr. Richard Alway (USMC 1962).
President David Sylvester expressed his appreciation to the campus community following the weekend, writing:
"Many thanks to the staff, faculty and students who contributed to the success of Alumni Reunion It was a wonderful opportunity to connect with generations of St Mike's graduates. Our alumni felt warmly welcomed, thoroughly enjoyed the gatherings, lectures and tours and commented on how lovely the grounds and facilities looked. The weekend was a tremendous community effort, which showcased St. Mike's at its best."
See you next year! If you'd like to see more photos from the weekend, please email smc.alumniaffairs@utoronto.ca.
Gifted Educator and Founder of the first program providing executive education in the field of Corporate Social Responsibility recognized by University of St. Michael's College alumni
Dr. Mimi Marrocco (Class of 1969) has received the 2019 Alway Award, an honour in recognition of her decades of service and important contributions to the life and reputation of the College. As her former students and colleagues attest, her work—especially in the area of Continuing Education—has influenced the lives of thousands of people.
Former University of St. Michael's College President Sr. Anne Anderson, CSJ said Dr. Marrocco "gifted USMC with her passion for Continuing Education." That passion, Sr. Anne said, yielded "innovative, cutting-edge programs across a broad spectrum of interests," including "our internationally known Certificate in Corporate Social Responsibility."
Over 300 participants from across Canada and over 20 countries have gone through the CSR program, and over 250 alumni from the program hold positions as VP, Director, or Manager in CSR and Sustainability capacities.
"Mimi is the heart and soul of the CSR Certificate Program," CSR Program Manager Kathryn Cooper said. She described Dr. Marrocco's contribution to the field in Canada as decisive: "Dr. Marrocco developed an innovative collaboration with the Conference Board of Canada to launch in 2002 the first program providing executive education in the field of Corporate Social Responsibility. This program created the platform for the very first developments of the body of knowledge, best practices, mentorship and action learning projects in business for Corporate Social Responsibility."
As the first recognized, professional University Credential in Canada related to CSR, the St. Michael's program Dr. Marrocco founded has also created a network of alumni and mentors in the field. Program participants receive mentorship support for 13 months, which helps them achieve first-time success in implementing the CSR/Sustainability projects they undertake during the program. To date, participants have implemented over 200 action-learning projects at their companies and organizations, including numerous CSR, Sustainability and Community Investment strategies.
Dr. Marrocco's former students describe her as a dynamic leader whose talent for teaching is matched by her care for them. "Mimi is so lovely and insightful," said one, while another said that Dr. Marrocco "has been instrumental in helping me to open my mind to different perspectives."
After earning a BA from St. Mike's, Dr. Marrocco received an MA in 1970 and a PhD in 1978, both from the U of T, where she later taught as a member of the English Department. Dr. Marrocco worked for over a quarter century as Director of Continuing Education at St. Michael's, and served as faculty leader for the CSR Certificate program.
An industry leader as well as an educator, Dr. Marrocco has served on academic and community boards, including stints as president of both the Ontario Council for Lifelong Learning and the Canadian Association of University Continuing Education.
She has served in many roles for Catholic educational and charitable institutions, and she continues to serve in board and/or committee member roles with organizations such as the Arts and Letters Club or Toronto, the Toronto Hunt Club, and the Advisory Committee of the Canadian Business Ethics Research Network at York University.
Named for past St. Michael's President Dr. Richard Alway, a member of the USMC Class of 1962 and our first lay president, the Alway Award is given in recognition of alumni whose significant contributions to society bring esteem to them and to the College.
For her pioneering work in the field of Continuing Education in Canada, for her support of the mission of the University of St. Michael's College, for the way she has helped shape the lives of her students, and for her many other achievements, St. Michael's is proud to call Dr. Mimi Marrocco one of its own. The Alway Award is a small token of the College's gratitude for her life and work.
On Friday, June 1, hundreds of alumni and friends of the University of St. Michael's College came to campus for one of the largest Spring Reunions ever hosted at St. Mike's. The USMC Advancement and Alumni Affairs teams organized 14 different events scheduled around additional reunion celebrations at the University of Toronto, and in the final count, 675 people attended St. Michael's special events. This year, honoured classes included those falling on 5-year anniversaries moving back from 2018, and some returning alumni graduated as far back as 1948.
In his remarks at Friday evening's champagne reception and alumni association AGM, outgoing St. Michael's President David Mulroney, 7T8 thanked alumni for their continuing loyalty and support. "As we continue to build on the traditions that make St. Mike's special we are informed and inspired by your memories – of exceptional teachers and our welcoming community within the larger U of T," he said.
These memories gave the weekend its primary theme. Attendees reminisced and shared stories at each event, and during periods of downtime, many of them browsed a collection of memorabilia displayed in the library. Campus tours reacquainted guests with Elmsley Hall, Sorbara Hall and the Quad, and included a stop at a re-creation of Marshall McLuhan's office. Book & Media Studies professor Paolo Granata developed the McLuhan office display for Doors Open Toronto the weekend before, and made a number of authentic McLuhan artifacts available for inspection.
Professor Granata also delivered one of three St. Michael's lectures over the weekend. The McLuhan expert offered guests a "Guide to Surviving the Internet Age" on Saturday morning, while during the afternoon, USMC Principal Randy Boyagoda read excerpts from his latest novel as part of a "Stress-Free Degree" session titled "Writers on Writing." Christianity and Culture professor Stephen Tardif, 0T6 concluded the academic proceedings for the weekend with a Sunday afternoon lecture on Jane Austen's Pride and Prejudice that centered on the mischievous question of whether Austen actually desired to be married herself. Each professor spoke to a packed audience with standing room only. A memorial gathering for beloved English professor and noted Austen fan Fred Flahiff followed professor Tardif's presentation.
In addition to the lectures, tours and special events that fill up the weekend, Spring Reunion is also the time of year for presenting the Alway Award. Established in 2007, the Alway Award is intended to honour a graduate of St. Michael's who has demonstrated the highest character and made a significant contribution to society through spiritual, professional and personal excellence. This year's award went to Dr. Peggy R. Williams, 6T8 in recognition of a remarkable career that includes serving as president of both Lyndon State College in Vermont and Ithaca College in New York. At the latter institution, she was the first woman to serve as president.
One other regular St. Michael's event entered the weekend's itinerary, as Mass was celebrated twice on campus during the reunion. Professor emeritus Father Dan Donovan, 5T8 presided over a special Mass for the class of 6T8 on Friday morning, and Father Norman Tanck, CSB celebrated the 10:30 a.m. Sunday Mass in St. Basil's Church in the presence of an overflow crowd of visiting alumni—some of whom had not been to campus or the church since their undergraduate days.
Standing room only, overflow crowds, packed audiences—the sheer number of guests to campus gave each event a special air of excitement and interest. The class of 6T8 celebrated the 50th anniversary of their graduation with record numbers of attendees, some of whom traveled from as far away as California and the UK. In their student days, Father Robert Madden, CSB dubbed them "the class with brass." After raising more than $125,000 to support the Brennan Hall renewal project—nearly twice their original goal for the anniversary milestone—it was easy for all to see the spirit and camaraderie that earned them the title.
The class of 5T8 came together to celebrate their own anniversary at a Friday afternoon reception graciously hosted by Ann Marie Sweeney with the support of fellow year reps Frank and Mary Pat Kielty. Cheers went up for the class at the dinner on Saturday. The presence of these alumni on campus was reason enough to celebrate, but their gifts of over $122,000 to the Brennan Hall renovation (a project their class had also chosen to support) provided a second reason for cheering: the investment in the lives and experiences of future St. Michael's students.
The largest ovation at the Saturday dinner, however, was reserved for a small but important group. Four members of the class of 4T8 made the trip to St. Michael's this year to celebrate the 70th anniversary of their graduation, a truly remarkable milestone and wonderful point of connection with a vaunted era in the history of the College.
That history continues, as outgoing President Mulroney said on Friday evening: In a new era at St. Michael's, "we are informed and inspired by your memories." This year provided an occasion for many new and joyous memories to be made.
Special thanks go out to St. Michael's staff Leslie Belzak, Melanie Waring-Chapman, Matt Doyle and their student assistants, whose work in organizing and carrying out this year's Reunion testified in its own way to the spirit and character of the College—a place that will always welcome its alumni home.