With a new name, award, and enhanced value, St. Michael's longstanding program in Corporate Social Responsibility entered a new phase last fall. The changes came not long before COVID-19 would create a context in which working for the common good — a signature emphasis of the program — would take on a new meaning.
"The Corporate Social Responsibility program is a vital offering at the University of St. Michael's College, helping business and institutions focus on ways to become better — and more effective — global citizens, whether environmentally, socially, or economically," says St. Michael's President David Sylvester.
While today's global citizens uphold the common good by practising social distancing to slow the spread of COVID-19, the changes wrought by the virus will create new context and opportunities for creating social impact in a post-pandemic world. Graduates of the St. Michael's diploma program will be among the first to imagine new possibilities for our life together when social distancing is no longer required.
The CSR program is featured in the latest issue of St. Michael's Alumni magazine, and reproduced below.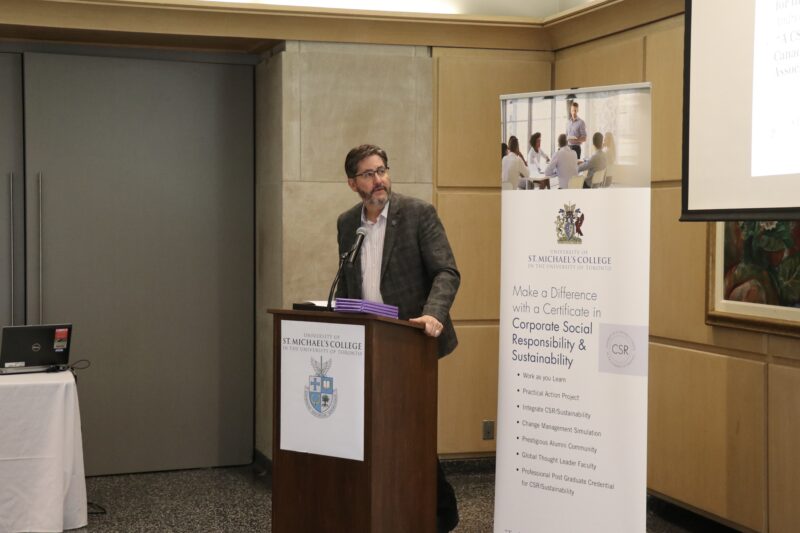 A Season of Transformation for St. Mike's CSR Program
Updated name, new award, enhanced value all signs of program's coming of age
No matter what stage of life you're at, icebreakers can help the first day of school seem a little less daunting. But when the school is St. Mike's, and the subject is corporate social responsibility, you can forget about standard tension diffusers like 'tell two truths and one lie about yourself' or pinning your birthplace on a giant map.
As participants in the 2019/2020 Graduate Diploma in Social Responsibility and Sustainability cohort met for the first time this past October, students were asked to chat with a seatmate and then present that person to the group by naming their core values. As the introductions circled Charbonnel Lounge, words like honesty, gratitude, compassion, respect, integrity and humour surfaced, indicators that this is not just any classroom.
For close to 20 years, University of St. Michael's College has been the go-to school in Canada to study Corporate Social Responsibility, an operational philosophy also known by a variety of other labels, including ESG (Environmental, Social, and Governance), Corporate Citizenship, or Social Purpose and Social Innovation.
The common thread is an institution's commitment to action that enhances the common good by adopting strategies such as environmentally friendly processes, fair labour practices, or corporate volunteer efforts. Proponents of CSR argue that a strong strategy can have multiple benefits, from answering shareholder concerns and aligning with a board's ethics through to self-preservation and furthering employees' sense of participation in something valuable, all factors that can contribute to a stronger bottom line.
"Corporate Social Responsibility is not just a set of [business] tools but a new outlook," Program Manager Kathryn Cooper explains. "CSR helps you look at people in a more human way and, as such, it is transformational.
"When we talk about Corporate Social Responsibility or Citizenship, we talk about social and environmental impact. Today investors, consumers and global citizens want to know that organizations are not causing social or environmental damage. In fact, there is an expectation that companies are making a positive contribution to society and the planet."
As an example, she cites athletics apparel giant Nike as a cautionary tale. When negative media reports on its international labour practices surfaced in 1996, stock value fell by 50% from $38 to $19 per share, while sales dropped almost 10%.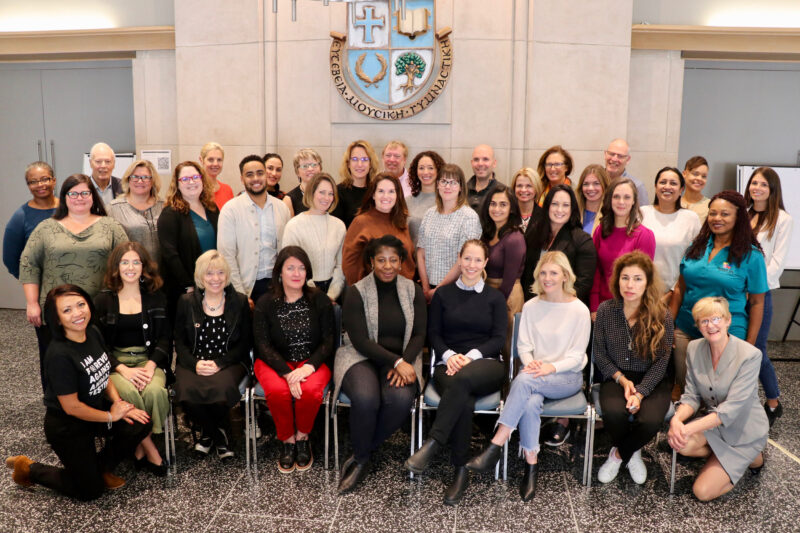 It is precisely the goal of positive change that makes St. Mike's a logical host for the program, says University President David Sylvester, because the program's goals and outcomes represent the long-standing values of St. Michael's. There is a clear correlation, for example, between the topics studied in the program and the tenets of Catholic Social Teaching, whether the issue is environmental stewardship, concern for the marginalized or a driving interest in the common good, he explains.
As it approaches its third decade of operation, the St. Mike's program is undergoing its own transformation, a sign of a coming of age not only of the program but also for the concept itself.
This past Fall, the program name of Corporate Social Responsibility was changed to the Graduate Diploma in Social Responsibility and Sustainability. Corporate no longer appears in the program name because the core concepts' appeal reaches far beyond the business world. While the idea began with financial institutions, it is now being embraced by a variety of sectors, including health care, education, NGOs, and not-for-profit organizations, notes Cooper. Recent graduates from the St. Michael's program have come from a diverse group of employers, including Toronto Hydro, Manulife Financial, the University of Calgary, and UNICEF.
"The idea of social responsibility used to be viewed as a public relations issue or the way to earn a 'social licence to operate', but it's got far wider applications," she says.
Sustainability has been added to the program's name "in response to a global trend toward embedding environmental, social and governance issues in business," Cooper adds. "To survive and thrive, organizations must focus beyond their bottom line, and create positive social impact.
"We make a lot of personal connections between values and ethics and urge people to take their whole selves to work."
The name change also signals the program's upgrade from a certificate to a diploma. Graduates of the 2018/2019 cohort were the first to receive diplomas at their November convocation, and are eligible to use the post-nominal letters G.Dipl.SR&S. The upgrade is a result of the increasingly academic nature of the program, says Dr. Sylvester, who notes that when the motion to change the program to a diploma was put before St. Michael's Senate, it was unanimously approved.
The changes to the CSR program come as St. Mike's engages in its own strategic visioning exercise, notes Dr. Sylvester. St. Mike's 180, Rooted in the Future seeks input from community members, asking how St. Mike's can create a dynamic and abundant future as the school looks to its 180th anniversary in 2032.
St. Mike's, like many other Canadian post-secondary institutions, is beginning to think more about the social impact of universities, and is looking to imbed related language and goals, examining everything from purchasing and infrastructure to examining a school's relevance and how it engages with the community, he adds.
"We want to turn research and teaching on the community as a vibrant force, because universities must be engaged in the community to have relevance," Dr. Sylvester says.
The Social Responsibility and Sustainability program at St. Mike's runs over 13 months, and consists of three sets of in-class sessions throughout that period, for a total of 11 days on campus. In between the three on-campus sessions, participants engage in reading assignments, participate in webinars, post reflections, meet with mentors who provide advice and guidance on a capstone project, and stay in touch as a cohort through a special web portal. As each cohort is capped at 30 students, both participants and instructors get to know each other well, with plenty of time for discussion.
On-campus sessions include workshops on everything from making the business case for social and environmental responsibility to how to apply CSR and sustainability strategies in the workplace through the development and implementation of diversity and inclusion, community investment, ethics and reporting and communication policies and procedures.
The program draws three types of participants, Cooper notes. Some are tapped on the shoulder by employers wanting participants to develop their company's CSR or Sustainability Strategy. Others are looking for a purpose-focused mid-career transition, while a third group consists of younger people who have graduated with theoretical knowledge about sustainability and CSR but are looking to learn from mentors and program participants with practical experience.
Participants have two major assignments, as well as a capstone project where they work with a seasoned CSR and sustainability mentor to undertake a practical social responsibility and sustainability project. Students identify their project's outcomes and methodology, as well as how to socialize the plan with key stakeholders, she explains.
Past projects have included Community Investment Strategies, Volunteer Programs, Environmental Sustainability Initiatives, Indigenous Impact and Sustainability Reports and CSR/Sustainability Strategies.
The ability to connect with experts, as well as to meet others in similar fields grappling with similar questions, is one of the big draws for the program, graduates note.
"It's a top-notch program, the only one of its kind in Canada connecting like-minded people with similar passions in Corporate Social Responsibility," says Alexandra Biron, who is Assistant Manager, Corporate Responsibility at professional services firm Deloitte in Toronto. She looked at online offerings from other schools but was drawn to St. Mike's both because of the in-person sessions, as well as what she heard from former students.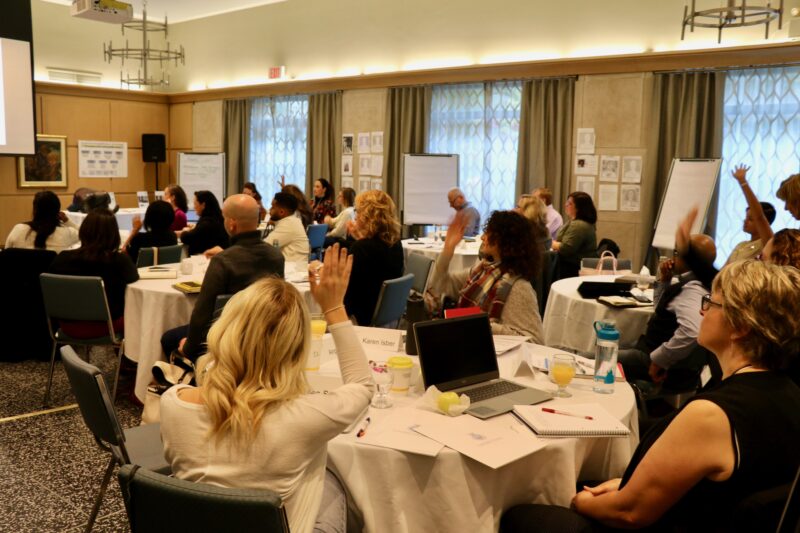 "You can find a lot of information online but the network of professors and speakers is what's most valuable. You are a cohort with a diverse group in terms of age, sector, experience, background, and even with those who might not come from a CSR background but are looking to change fields," Biron explains. "These people share their struggles and high points, especially as so much can happen in 13 months. These are people with similar values and passions in a variety of jobs."
Biron was one of the two winners of the inaugural President's Capstone Award this past Fall for her project, entitled Deloitte Canada 2019 Indigenous Impact Report, which examined the impact [Deloitte has] made with Indigenous communities through pro bono work, volunteering, donations, sponsorships or serving as directors on boards.
"This report was the first of its kind for the firm. We publish an annual CR report but this was the first time we looked at the impact we were having with Indigenous communities. It's led to an even bigger project, which is the firm's Reconciliation Action Plan, which is set to launch in 2020 and will set the stage for how Deloitte will move forward on implementing TRC recommendations into its corporate life."
Like Biron, Sarah Thirnbeck credits the program with offering her the skills to lead change in her workplace. Thirnbeck, who is Associate Director of Strategic Impact for the Canadian Real Estate Association in Ottawa, says of the program, "It changed my life."
When moved from handling social media into her current duties this past Fall, Thirnbeck sought a program to help her create a vision for her new role.
While seeking resources online, she found mention of the St. Mike's program "and it fulfilled all my expectations. I arrived on Day 1 knowing I wanted to develop a CSR strategy for my organization but I became like a sponge, soaking up information."
Thirnbeck was the other winner of 2019 President's Capstone award. Her project was titled "A CSR Strategy for the Canadian Real Estate Association." It has already had an impact, as the Board of Directors of CREA agreed to include ethics, sustainability and social impact as a new priority in its strategic plan, based on her recommendation.
Now, she will begin implementing ideas from her project, including a green strategy, in her own office, with an eye to rolling them out to various local boards and offices across the country.
Program graduate Robert Waite now serves as a CSR mentor, working with and inspiring other students. Waite found himself in the program in 2008 while working at Canada Post, after he was asked to lead the effort of Crown Corporations in the area of environmental stewardship. Deciding he wanted an academic understanding of the program, he chose St. Mike's because "I liked the structure. …It was more humanistic and less technical, with more emphasis on the soft skills. The program gave me the tools I needed," says Waite, who went on to produce the first CSR report of any Crown Corporation, and hosted a meeting of various Crown Corporations to share best practices.
Waite, who now teaches at Seneca College and does consulting, says he decided on the St. Mike's program for several reasons, including the fact that the small program, on a small campus within the enormous University of Toronto campus, had an intimacy to it.
The very nature of a liberal arts college is another, he adds.
"Climate change, for example, can be positioned as a moral issue, a philosophical one," he says.
A few years after graduating, he was invited by a United Nations official to lecture on CSR to a group of postal agencies from 10 Caribbean countries.
"The materials I used were materials I gathered from St. Mike's. It was a great feeling, as many participants' countries were small and didn't have the resources to take on issues like environmental stewardship. My ability to say yes can be tracked to my participation in the program. I have nothing but praise for the people who run the program."
One of the influences he cites is Dr. Mimi Marrocco, who started the program in 2002, when she ran St. Mike's continuing education program. In chatting with various stakeholders, it became clear to Dr. Marrocco that "the liberal arts had something to contribute to business, including creating the time to think," she recalls. "Liberal arts allows for reflection.
"Sometimes, work environments can become siloed, but this program creates a forum to talk to like-minded people, and it presents the opportunity to make connections inside and outside."
One of Dr. Marrocco's first ideas for the program was to introduce a novel study to allow people to use their right brain, the hemisphere associated with creativity and innovation.
The first year, participants read E.M. Forster's Howards End, which bears the epigraph Only Connect, a message she says underlines the program.
"We need slow knowledge, slow movements. We are busy people in business and
sometimes we fall into busyness, which doesn't allow us to use the whole person."
New grad Alexandra Biron agrees.
The program "provided me with a platform to combine my professional life and one of my passions…. My career may not have progressed the way it did so quickly without this experience."
---
By Catherine Mulroney
From St. Michael's Magazine: Winter 2020
Note: This article was written before the COVID-19 pandemic. While athletics are central to St. Michael's, current social distancing measures have put this part of campus life on hold.
---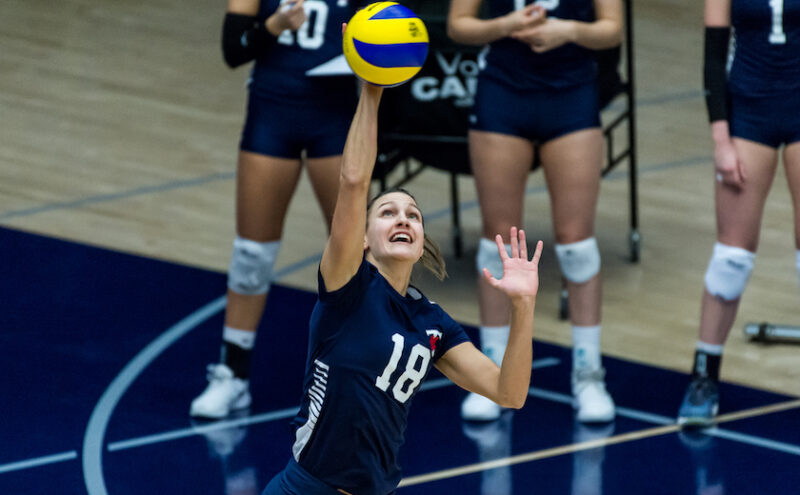 Central to St. Michael's since its founding, athletics continues to reflect our commitment to educating the whole person
A new skating rink in the quad is the latest reminder that athletics matter to the University of St. Michael's College. Walk through campus and you'll see a pick-up game of basketball or a quick toss of a Frisbee outside the COOP. Intra-mural teams are thriving, and we currently are home to 98 varsity athletes, competing in 21 different sports.
It's no accident that St. Mike's has a storied history of athletics. One of our guiding principles has always been that supporting athletics reflects a commitment to the formation of the whole person, with the physical rigours of the playing field complementing the intellectual rigours of the classroom.
Athletics also serve as a major source of community and school spirit, whether students are involved primarily with an intramural team or with a nationally ranked Varsity Blues squad. Participation offers a way to develop gifts shared in community, an expression of our calling to service.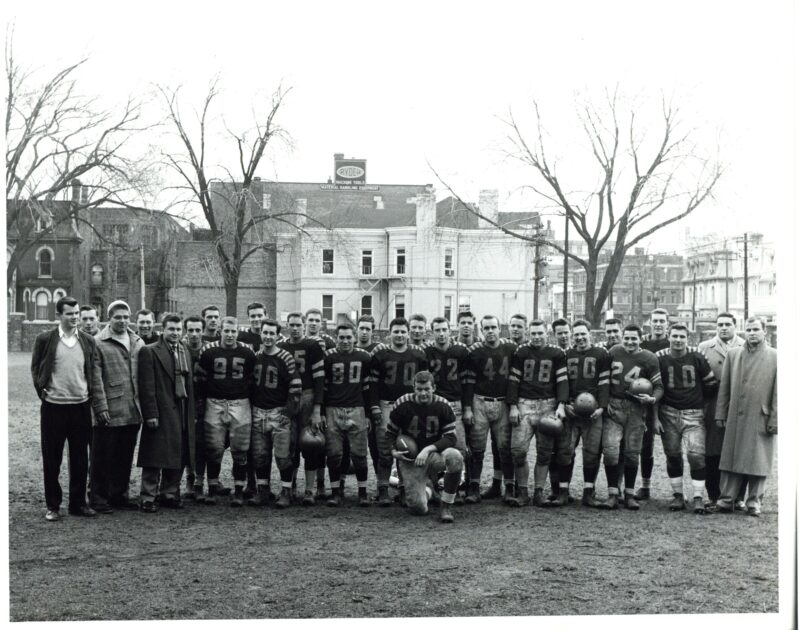 St. Michael's has long been a sports powerhouse. As noted in Edward J. Monahan's (USMC Class of 1949) Teach Me Goodness, Truth and Knowledge: A History of St. Michael's College, for example, in the first half of the 20th century, St. Mike's rose to become a regional centre of collegiate athletics. We even had Basilians competing for St. Mike's: one notable example is Father David Bauer, who helped a 1945 SMC team win the Memorial Cup, and who gave up a career in the NHL to join the priesthood. He later coached Canada's Olympic hockey team, and was admitted to the Hockey Hall of Fame posthumously in 1988.
Today, a whopping 33 members of this year's Varsity Blues Football team call St. Mike's home, attracted by our reputation for being a supportive community aware of the importance of athletics. We can say with confidence that St. Mike's is the college of choice for athletically minded students.
My introduction to St. Mike's athletics came when I moved into residence here as a student in 1995. In May of that year I flew to the Big Smoke from Victoria B.C. to find a place to live for the Fall. I knew only one person in Toronto, a former high school classmate named Laura. She nixed my idea of searching off-campus, telling me to look for a dorm. When I asked for a recommendation, she said: "St. Mike's. It's Catholic, it's a big sports college and it's right across the street." The prospect of living close to my only Toronto friend became even more appealing after meeting her roommate, a beautiful Victoria College student to whom I've now been married for the past 18 years, but I digress.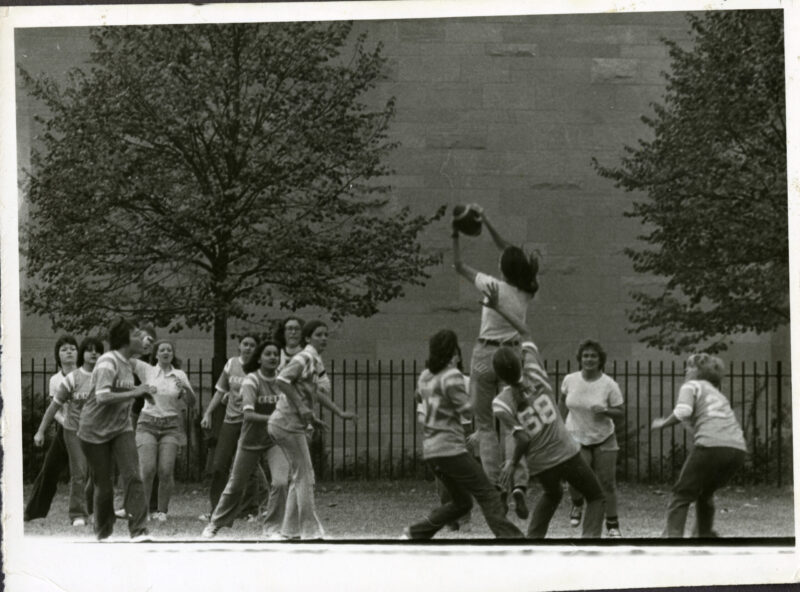 I soon discovered why Laura referred to St. Mike's as a "big sports college." The residence houses all competed for the coveted Dean's Cup sports trophy, the College's teams were perennial contenders in U of T's intramural leagues, and St. Mike's was the only college to have its own fully stocked weight room.
One day, as I chatted with housemates in the Canada Room, one of the dons dropped by to say he'd been asked to recruit players for the annual 'alumni vs students' football game. Our group didn't ask many follow-up questions because it sounded like the perfect way to spend a Fall afternoon.
But it wasn't until I played in that Boozer Brown game in mid-October that I realized how deep the sports roots ran at St. Mike's. U of T's football program had run from 1895 to 1994, for example, and during that 100-year span, St. Mike's had won the Mulock Cup 12 times, including 'back-to-back-to-back' victories the final three years. No wonder former players were so eager to relive their glory days.
The alumni team was composed of players from a now-defunct intra-mural league that used to play tackle football. Due to liability issues the tackle program had folded a couple years prior, but the alumni weren't about to let their annual tradition die with the league. These guys were premier athletes in their day and this game was an excuse to return to their alma mater and prove they hadn't lost a step.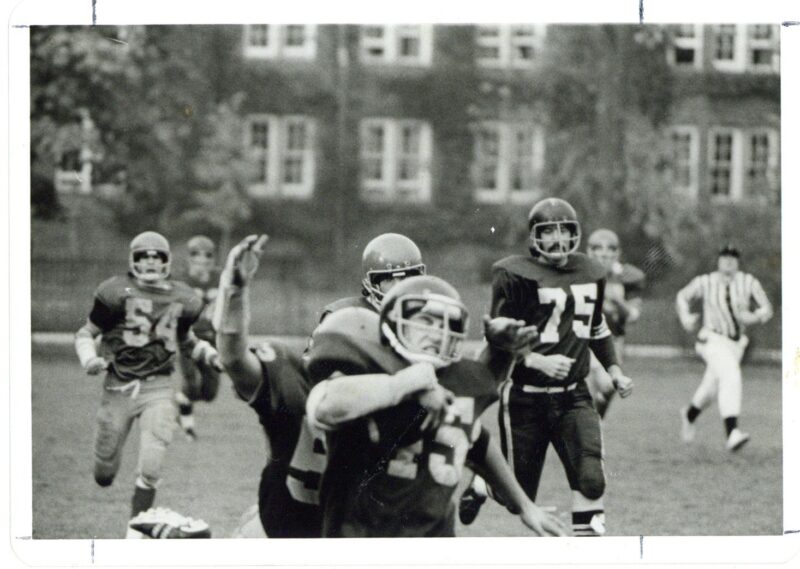 As our respective squads began running drills, I sized up the competition. Some looked older than my father while others appeared younger than my then-25-year-old self. St. Mike's jerseys of uncertain vintage were worn proudly but loosely due to the absence of pads, and a few of the old-timers brought their families along, lending a homecoming-type feel. Led by the larger-than-life booster Phil Giroday (USMC Class of 1977), our teams huddled up to go over the rules, flip the ceremonial coin and then the 27th installment of the Boozer Brown got under way.
It was obvious the alumni had come to play. I was stunned to hear their quarter-back calling plays – actual football plays like, "red dog five hook left" and "blue right 30 pull trap." The ragtag group our dons had assembled possessed lots of talent but the coordinated approach of the alumni, coupled with the 'creative officiating' of former coach Lex Byrd, made it clear the alumni would be leaving with bragging rights. When the final whistle blew, the alumni had six touchdowns and the students four; you would have thought they'd won the lottery. (Lex, by the way, had coached the St. Mike's team from 1978 to1993 and had led the team to an astonishing eight Mulock Cup championships.)
While reliving highlights at a post-game BBQ with the victors, I learned that the alumni-student game had been taking place since 1968. It was named after Bud "Boozer" Brown, a student instrumental in St. Mike's winning its first football championship in 1930, the coveted Mulock Cup. I remember thinking how fortunate I was to have ended up at a college tailor-made for sports-minded students like me.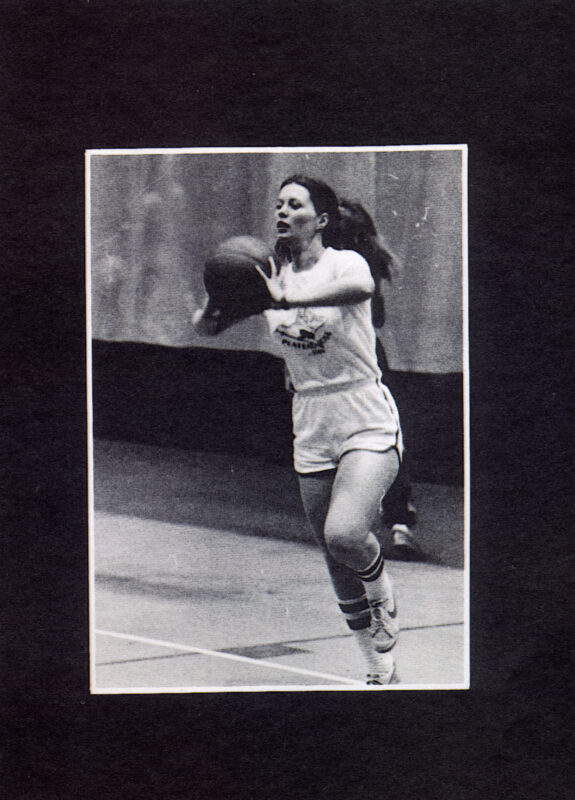 I attended the Boozer Brown again the following year as a student and then in 1998, St. Mike's hired me as their new Dean of Men, involving me in the game in a new way. By this point, the intramural football program had folded, and some wondered how we'd be able to keep the alumni game going. But U of T began awarding the Mulock Cup to the winner of its intramural rugby program and by the mid-2000's, SMC's team was a powerhouse, regularly competing for the championship. I was very involved with the team back then and would always explain the historic connection between the football and rugby programs — and would inform our players it was their duty to participate in the annual Boozer Brown game!
Eventually, the intramural rugby league was discontinued, and it was once again time to re-imagine how best to keep the spirit of the Boozer Brown game alive. It was alumni athletes who came up with a great way to create a new athletics tradition. In the summer of 2019, a group of alumni approached USMC's Advancement Office wanting to create two scholarships, male and female, to honour Lex, their former coach.
We decided to morph our annual alumni-versus-student game into an annual alumni-plus-student reception for the new award. The event would still give our football heroes the chance to connect with their teammates, but a more inclusive event would mean their ranks could be joined by all the great athletes, women and men, who'd competed for St. Mike's over the years.
On November 30, 2019, SMC hosted the inaugural Boozer Brown Athletics Reception in Charbonnel Lounge. In addition to our esteemed alumni, we had a great turnout from our current crop of varsity athletes, all of whom were introduced by name in President Sylvester's remarks. The women's recipient of the initial Lex Byrd scholarship was Varsity Blues hockey forward Melissa Bieman, who is currently studying History and Philosophy. She came to the reception directly from Varsity Arena, where the Blues had just defeated Waterloo to move into first place in the OUA standings. Varsity Blues wide receiver Liam Cousineau, a 1st-year student whose goal is a double major in Political Science and International Relations, was the men's recipient.
Attendees had an opportunity to reminisce about the past as well as stoke excitement for the future. While there may no longer be an alumni-student football game happening on the northeast corner of the campus, rest assured that sports are alive and well—and thriving!—at St. Mike's.
---
By Duane Rendle, Dean of Students
From St. Michael's Magazine: Winter 2020
Photos courtesy of the University of St. Michael's College Archive. Check out more photos of athletics at St. Mike's here: