Living off-campus? Welcome to the Commuter Community at SMC!
Commuter Lounge
The Commuter Lounge is a vibrant hub for student life aiming to bring some of the luxuries of home on campus for our commuter students.
Commuter Coordinators
Commuter Coordinators aim to build a commuter community on campus through their lounge hours, events, initiatives, and more.
Commuter Orientation
Join us for Commuter Orientation, an opportunity to connect with fellow commuters and learn information about transportation, parking, and valuable tips for making the most of your commute. Register now for Commuter Orientation!
Commuter Lounge
The Commuter Lounge is a vibrant hub for student life activities for students.
Located in room 115A in Brennan Hall and is open Monday-Friday 9 am-5 pm.
Located on the first floor of Brennan Hall, the Lounge provides space for students to socialize and study. The Lounge offers various amenities and services for community building and peer-to-peer support. The Commuter Coordinators oversee the Lounge and are available during their office hours to welcome students to the space.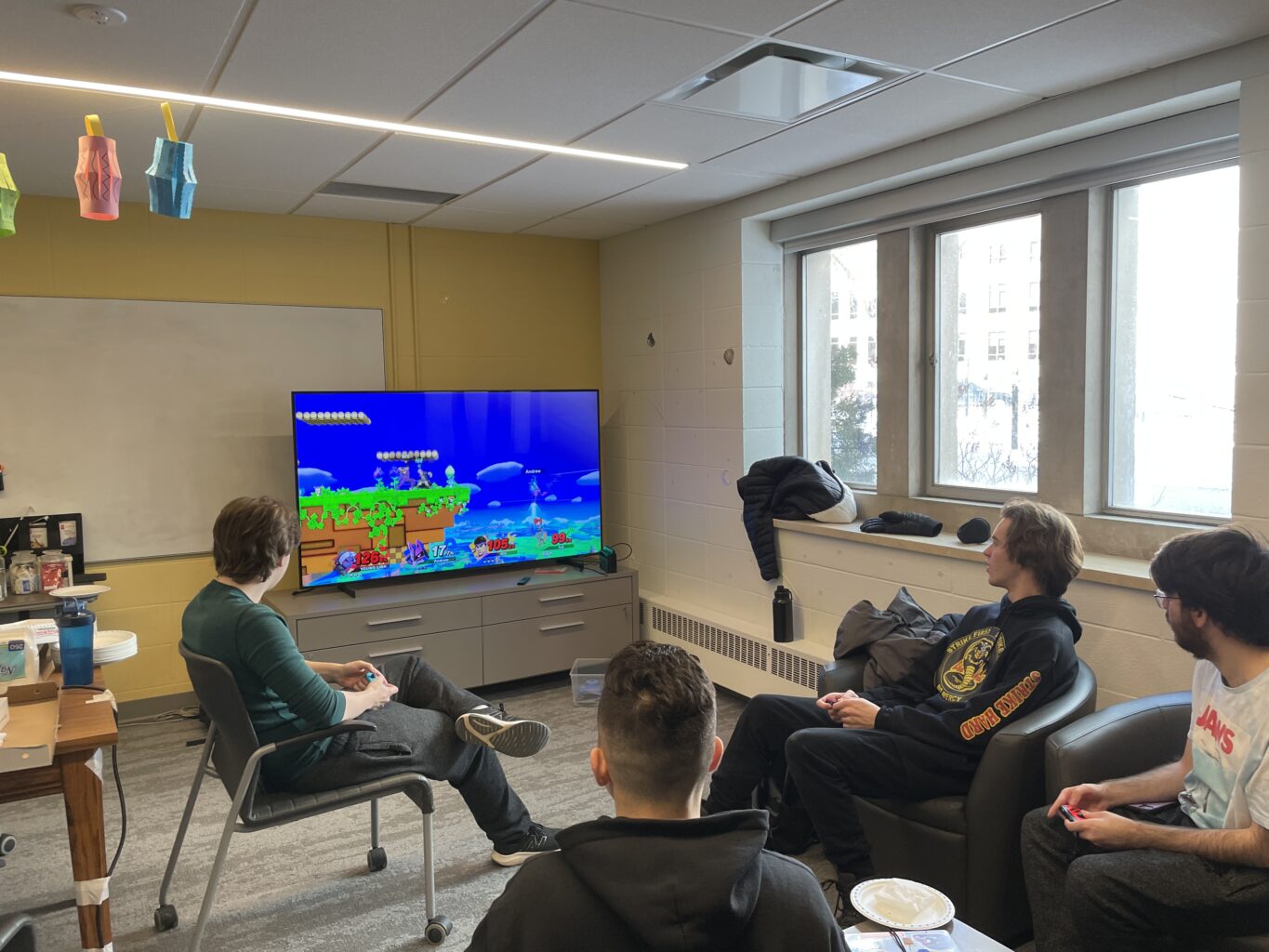 Commuter Coordinator Team 2023-2024
Visit the Commuter Coordinators during their Lounge hours, posted on their Instagram each term!
Hello, my name is Helia (she/her) and I am a current 4th year student double majoring in Political Science and Global Health with a minor in Immunology. In the rare instances in which I'm not sleeping nor studying you'll likely find me reading. I'm a coffee and bubble tea addict, which is possibly the worst combination of addiction to exist. I look forward to serving as a Commuter Don in the 23/24 school year and help commuter students to establish a community at St. Mikes which they can always rely on!
Hello! My name is Aiden and I'm a 3rd year student in the Rotman Commerce program. Some of my favourite things to do are reading and walking with my dog. It was lots of being a Commuter Don this year so I am excited to be part of building the SMC community again through the rebranded Commuter Coordinator title next year! I really enjoy meeting and talking with new people so please feel free to pop into the Commuter Lounge and say hi to me!
Hi everyone! My name is Dakota and I am currently a 2nd year life sciences student 🙂 A little bit about me is that I love the arts, plants and animals! My interests range from drawing and painting to playing music, my main instrument is alto sax. Although I have to head home at the end of the day I've been an active part of campus life, exploring the different buildings and helping with commuter events! I am looking forward to working with my fellow Coordinators to bring you all fun events next year and I can't wait to meet you all!
Hello everyone! My name is Cameron and I am a 2nd year student studying political science. Even though I have lived near Toronto my whole life, there is always something new to find and enjoy with friends. I am also an avid espresso enthusiast. Commuting is a cornerstone of my university life. A fact about me is that I commute roughly three hours a day, so I would think that I know a little about commuting. Though I travel a lot, I always aim to be an active part of the SMC community. I am very excited to join the commuter coordinator team and provide you with many fun events & activities!
Hi everyone! My name is Ayanna, I'm in my 4th year studying Health & Disease and Environmental Science. Some fun facts about me: I really love music and have over 300 playlists on Spotify! In my free time, I enjoy watching TV shows (especially How I Met Your Mother – I usually have this playing when I'm in our office!) and I like taking walks and visiting new places in Toronto. Fun fact: I've tried every possible way of commuting into Toronto possible! Currently, I commute from Etobicoke to campus. I am so excited to be returning as a Commuter Coordinator this year, and cannot wait to see what the team does together!
Stay Connected by Following the Commuter Coordinator's Instagram!