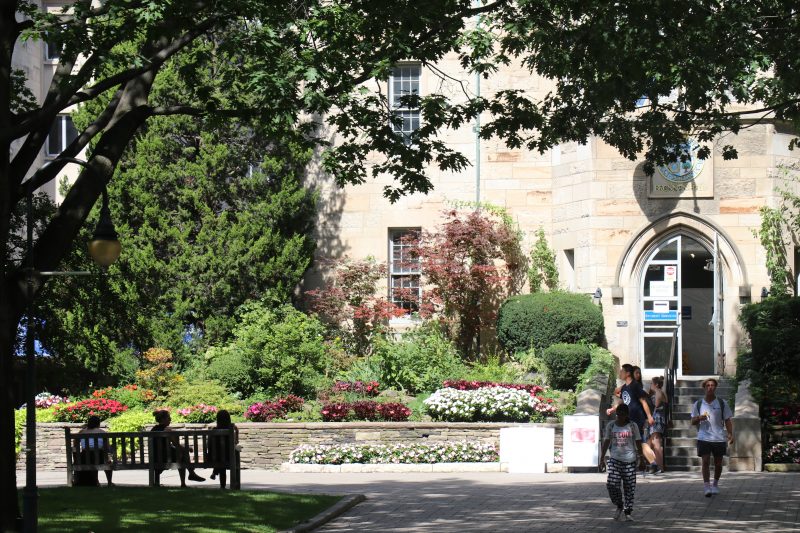 Summer Residence bookings are managed by two separate departments, depending on the client:
SMC Residence handles all student bookings.
Conference Services handles all external bookings, including school groups, language camps, and conferences.
If you are an external group looking to book space for the summer, please contact our Conference Services Office by emailing usmc.bookings@utoronto.ca.
Students during the Summer
SMC Residence is delighted to accommodate students through the summer months with the flexibility to suit your needs. To be eligible for summer housing, you must be willing to stay for either:
Half summer term only (May 7-June 26, or July 2-August 25)
Full summer term (May 7-August 25)
Unfortunately, we are not able to accommodate short-term or custom-length stays in summer residence.
Summer Residence Spaces
Summer residents are typically hosted in Sorbara Hall or Historic Houses. Sorbara Hall rooms feature newly installed flooring in all rooms, double beds, a desk, a chair, a built-in closet, a 3-drawer dresser, and a sink in the room.
Shared Facilities include:
A common room on each floor with a 65″ 4K smart TV, a microwave and fridge, couches, and a table for meals or studying
Two sets of shared washrooms, and a single-person accessible washroom on each floor
Laundry facilities
An exercise room
A music room where you can play the piano or bring your own instruments
Elevator access
The Historic Houses feature a mix of single and double rooms, twin beds, a desk and chair, and a dresser and closet/wardrobe.
Shared Facilities include:
A common room on the lower level with a 65″ 4k smart TV, a microwave and fridge, couches, a table for meals or studying, a filtered water station
Laundry facilities
Unfortunately, we do not rent rooms on a nightly/weekly basis.
Summer Residence Rates for 2023:

| Length of Stay | Standard Single | Deluxe Single | Standard Double |
| --- | --- | --- | --- |
| Half Term (May-June, or July-August) |  $1,750 | N/A | $1,600 |
| Full Term | $3,450 | $ 3,875 | $3,200 |
Standard Single – rooms used as singles during the academic year
Deluxe Single – rooms used as doubles during the academic year
Double Room – rooms shared between two residents during the academic year. For Summer Residence, students must notify the Dean's Office if they want a double room, and indicate their requested roommate. The Dean's Office does not facilitate roommate matching for the summer term.
Please note: Meal plans are not mandatory during the summer term sessions. The rates listed above do not include meal plans or flex dollars. Priority for Deluxe Single and Standard Double rooms will be given to residents staying for the full term.
How to Apply
The Summer Residence application will open on February 15, 2023 at 12:00pm. Students can visit residence.utoronto.ca and follow the links to the SMC Summer Residence Application. The application is open to University of Toronto students, and those registered at a recognized post-secondary institution for either the Winter 2023 or the upcoming Fall 2023 semester. Please note that priority will be given to current residents.
Voluntary Summer Meal Plans
There are no cooking facilities in the residences and the Canada Room remains open through the summer. Residents are encouraged to purchase a meal plan directly for the dining hall. Students can purchase a declining balance meal plan (either 10 or 50 meals at a time) using this form: https://form.jotform.com/231214844983258.