The 2023 Student Leadership Award Nomination Period is now open! Apply by Sunday January 29th 2023! Click "Leadership Awards below to view the nomination package.
Leadership Positions
Check back here throughout the academic year & summer for new leadership positions available at St. Mikes!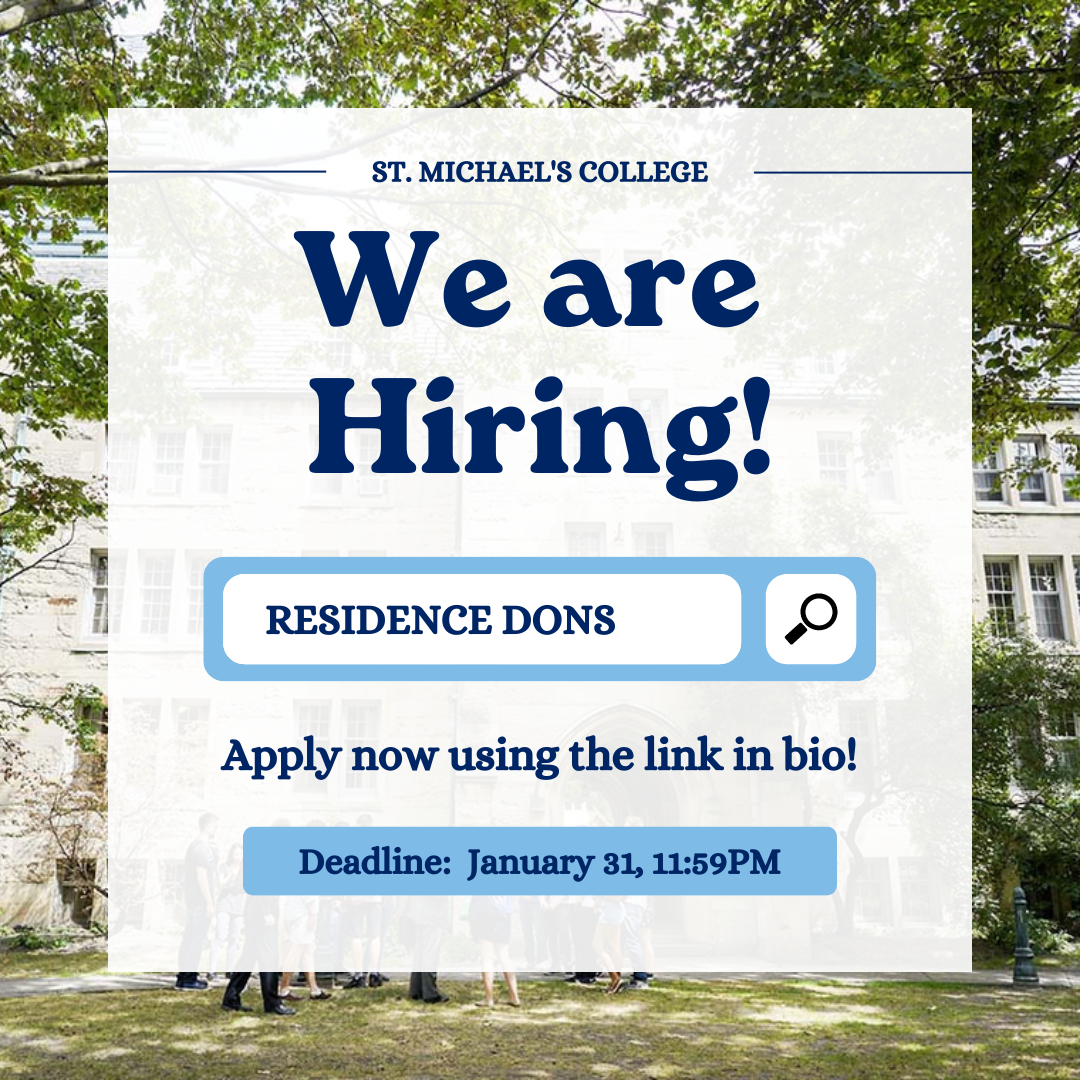 Residence Don
Residence Dons live in community at St. Michael's College and help serve our over 500 student residence population!
Apply here, applications close January 31 2023, and 11:59pm EST.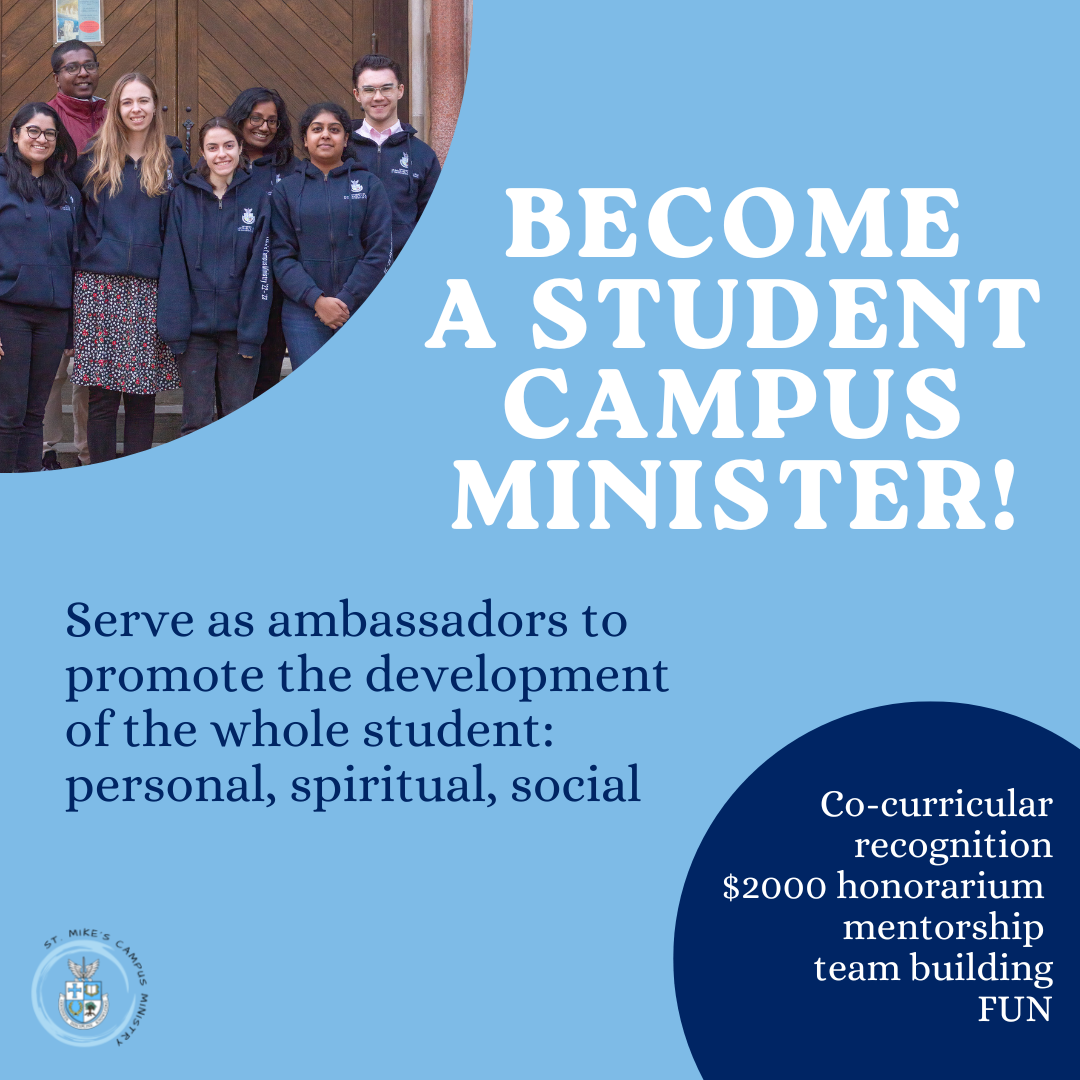 Student Campus Minister
The Student Campus Ministry (SCM) team seeks to engage all undergraduate and graduate students by connecting them to the St. Michael's community and providing them with opportunities for spiritual and personal growth that take place outside of the classroom.
Apply here, applications close on January 29th 2023 at 11:59pm EST
Leadership Opportunity Fair
We have many upcoming leadership opportunities upcoming, to learn more watch the recording of our March 8th Leadership Opportunity Fair here. You can also view the slides and notes from this presentation here.
Resources for Student Leaders
The resources below are aimed to support student leaders with their leadership endeavors:
If you are planning team development or training, check out the Icebreakers and Leadership Resources Repository for examples of activities to include. The Leadership Resource Repository is open for student additions!
The SMC Resource Hub is aimed to be a convenient first stop for students looking for contact information of supports on campus to refer their peers to.
If you would like to see more leadership resources here, please email karina.stellato@utoronto.ca with your ideas and feedback.
St. Michael's College Student Leadership Awards
The St. Michael's College Student Leadership Awards are co-offered by the Office of the Dean of Students, and the St. Michael's College Student Union (SMCSU) annually. These awards recognize students, not in their graduating year, for outstanding contributions to college life.
The 2023 Student Leadership Award Nomination Period is now open! Apply by Sunday January 29th 2023!
The Nomination period for the Student Leadership Awards will take place annually in the Winter Semester. There are awards for student leadership and excellence in various branches of student life including mentorship, inclusivity, wellness, athletics, arts and more. Download the Nomination package for full details, or email Assistant Dean of Campus Life, Emma Oliver for more details.
Fr. Madden Leadership Awards
The purpose of the Fr. Robert Madden Leadership Awards is to recognize students who have made significant contributions to the SMC community by demonstrating leadership, cooperation, and solidarity in student-run organizations or community endeavors. The number of activities in which the applicant has participated is not necessarily relevant; instead, the applicant must demonstrate that his/her efforts have contributed positively and significantly to student life. Note: When the Selection Committee is assessing a student's application, the value of the student's contribution, rather than the office held, will be the major criterion considered. Students are recognized for volunteer service, not paid positions.
Find the application here
University of Toronto Student Leadership Awards
The University of Toronto Student Leadership Award continues U of T's long-standing tradition of recognizing outstanding student leadership, service, and commitment to the university. This tradition began with the Gordon Cressy Student Leadership Award, which was established in 1994 by the UTAA in honour of Mr. Gordon Cressy, former Vice-President, Development and University Relations. In naming the award in his honour, the University of Toronto Alumni Association (UTAA) recognized his leadership and service across various spheres, as well as his term at the university. During the award's 25-year history, it celebrated the exemplary contributions of more than 4,000 students whose commitment and service had a lasting impact on their peers and the university.
The University of Toronto Student Leadership Award (UTSLA) continues the Cressy Award legacy. Recipients of the UTSLA will join the distinguished community of past Cressy Award recipients in being honoured for their exemplary leadership and service to U of T.
Applications for the UTSLA's open in the fall annually, application information will be posted here when available. You can learn more about the awards here.
Nominations for the 2022-2023 University of Toronto Student Leadership Award are now Open!
All completed nomination packages should be sent to Emma Oliver, Assistant Dean of Campus Life, Nomination Coordinator for St. Michael's College, by the due date November 18th 2022.