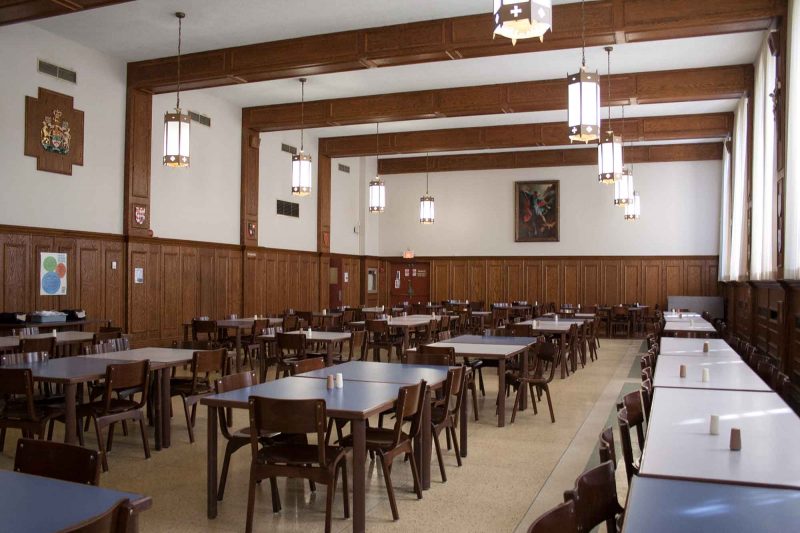 One of the best things about living on campus is not having to worry about grocery shopping, food preparation, cooking your meals or cleaning up afterwards—leave all those time-consuming duties to us! At SMC, all residents—without exception—are required to have a meal plan because there are no cooking facilities in any of the dorms. The oak-paneled Canada Room provides a stately setting in which to enjoy your meals, and our newly renovated servery offers a variety of different food stations:
The Kitchen – Hearty entrees including vegetarian & halal
Trattoria – Brick fire oven pizzas, pasta and flatbreads
The Grill – Grilled favourites, beef burgers, jerk chicken, BBQ ribs and more
Salad Bar – Stocked daily with a wide variety of seasonal ingredients
Deli Station – Create your own subs and sandwiches
Dessert Station – Delectable cakes, squares, brownies pies and pastries
My Pantry – Here you can cook your own meals in our kitchen cooking station
Note: Self-serve options, such as "My Pantry" or the "Deli Station" will be modified to full-service for the foreseeable future due to Covid-19.
Meal Plan Options
St. Mike's residents have two meal plan options:
5 day provides breakfast, lunch, and dinner Monday to Friday
7 day provides breakfast, lunch, and dinner Monday to Friday, as well as brunch and dinner on the weekends
Hours of Operation*
Monday–Thursday: 7:30 a.m.–9 p.m.
Friday: 7:30 a.m.–7 p.m.
Weekends and Holidays: 10 a.m.–7 p.m.
*NB: Although the Canada Room is open all day, the main entrees are served during traditional meal times.
2021-2022 Canada Room Covid-19 Related FAQs:
1. What will the hours of operation be for the Canada Room next year?
As in year's past, the Canada Room will be open from 7:30 am to 9:00 pm, with hot breakfast items served from 7:30 am – 9:30 am, hot lunch from 11:30 am 3:00 pm and hot dinner from 5:00 pm –7:30 pm.
2. Will food options be available between the main meal periods?
Yes, soup, salad, cereal, sandwiches, fruit, yogurt, snacks & beverages will be available all times throughout the day.
3. Will students be able to eat their meals in the Dining Hall?
The College will continue to defer to Public Health guidelines for Canada Room operations. If Public Health permits, the Canada Room will offer dine-in seating based on local regulations.
4. Will I be able to take my meal out of the Canada Room?
Yes, you will be able to take your meal out of the dining hall and eat it elsewhere on campus.
5. Will there be self-serve stations in the Canada Room?
For safety reasons, our food service associates will serve all the food from our stations, including beverages; prepackaged options will also be available for those who want to 'grab and go'. To maintain social distancing, the Grill station will be closed but similar menu offerings will be available at one of our other stations.
6. Will the meal plan still be considered "All You Care to Eat"?
In year's past, our meal plans allowed students to have unlimited servings but only while they were in the dining hall; this meant students were not permitted to take any food items out of the Canada Room. This year, however, all students will have the option of taking their meals out of the Canada Room which will provide significant flexibility. Students who are dining out are encouraged to take enough food to see them through to the next meal period rather than returning to the Canada Room for seconds to try and reduce wait times. The same is recommended for students who are dining in.
7. Will I be required to wear a mask in the Canada Room?
You will need to wear a mask when entering the building and collecting your food in the service areas but can remove them when dining in to eat your meals. Once you are finished eating, you should reaffix your mask while bussing your tray and exiting the building.
8. How will social distancing measures in the dining hall areas be maintained?
Starting at the base of the stairs leading up to the Canada Room, directional flow and social distancing decals will be placed on the floor to help guide you through the process of entering the dining hall, swiping your meal card, getting your food in the servery, and then being seated in the dining hall or exiting the facility. Furniture in the dining hall will also be arranged to ensure adequate distancing between those who are dining in.
9. How do I gain access to the Canada Room?
As in year's past, your T-card will also serve as your meal card. To make entry to the Canada Room as 'touchless' as possible, this year we will be asking students to swipe their own meal card when entering. An associate will be available to oversee the swiping process and assist when necessary.
10. Will the Kelly Café in the Library be open in September?
Unfortunately, the Kelly Café will be closed until further notice however, the Canada Room will offer a small retail kiosk for students who want to purchase confectionary and beverage items.
11. Will the "My Pantry" station that allows students to cook their own meals be open?
No. For safety reasons, the My Pantry station will be closed until further notice; instead, this area will be merchandised with pre-packaged menu offerings such as whole fruit, salads, condiments, snacks, yogurt, pastries, muffins, etc. A handwashing station will also be located there.
12. Where will hand-sanitizing stations be placed?
There will be a hand sanitizing station located upon entry, a hand-washing station available at My Pantry, and another sanitizing station at the exit.
Contact: Food Service Manager