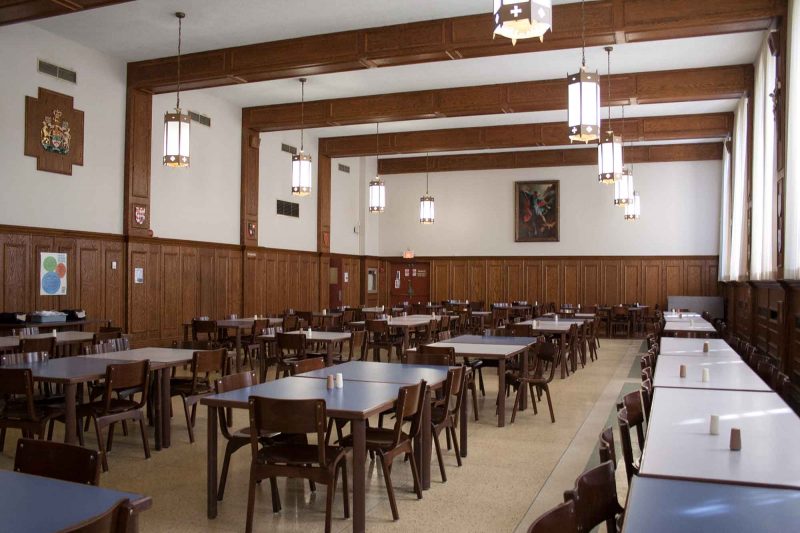 One of the best things about living on campus is not having to worry about grocery shopping, food preparation, cooking your meals, or cleaning up afterward — leave all those time-consuming duties to us! At SMC, all residents — without exception — are required to have a meal plan because there are no cooking facilities in any of the dorms. The oak-paneled Canada Room provides a stately setting in which to enjoy your meals, and our newly renovated servery offers a variety of different food stations:
The Kitchen – Hearty entrees including vegetarian & halal
Trattoria – Brick fire oven pizzas, pasta, and flatbreads
The Grill – Grilled favourites, beef burgers, jerk chicken, BBQ ribs, and more
Salad Bar – Stocked daily with a wide variety of seasonal ingredients
Deli Station – Create your own subs and sandwiches
Dessert Station – Delectable cakes, squares, brownies pies, and pastries
My Pantry – Here you can cook your own meals in our kitchen cooking station, complete with two cooking stations
Meal Plan Options
St. Mike's residents have two "All You Care to Eat" meal plan options:
5 day provides breakfast, lunch, and dinner Monday to Friday
7 day provides breakfast, lunch, and dinner Monday to Friday, as well as brunch and dinner on the weekends
Note: Meal Plans can be upgraded or downgraded until September 30. Beginning October 1, meal plans can be upgraded from 5-Day to 7-Day. To request a change, contact smc.residence@utoronto.ca with your request and student number.
Hours of Operation
Canada Room:
Monday–Thursday: 7:30 a.m.–10:00 p.m.
Friday: 7:30 a.m.–9:00 p.m.
Weekends and Holidays: 10:00 a.m.–9:00 p.m.
Loretto Dining Hall:
Monday–Thursday: 7:00 a.m.–8:00 p.m.
Friday: 7:00 a.m.–7:00 p.m.
Weekends and Holidays: 10:00 a.m.–7:00 p.m.
Note: While there are food options available all day, the main entrees are served during traditional meal times.
Dana Hospitality
St. Michael's College is thrilled to welcome Dana Hospitality as the new food service provider for the Canada Room, the Faculty Dining Room, and Loretto Residence's dining hall. Dana Hospitality will bring new management and a new Director of Culinary, Stacey MacPherson. We welcome students to stay up to date via their Instagram, @USMCeats or @LorettoEats contact Chef Stacey directly at Stacey.MacPherson@dexterra.com.
Allergies, Intolerances, and Dietary Restrictions
Students will be asked to indicate any allergies, intolerances, or dietary restrictions in their application to SMC or Loretto. Concerns will be shared with the Dana Hospitality team to ensure their team does whatever they can to accommodate students' needs.