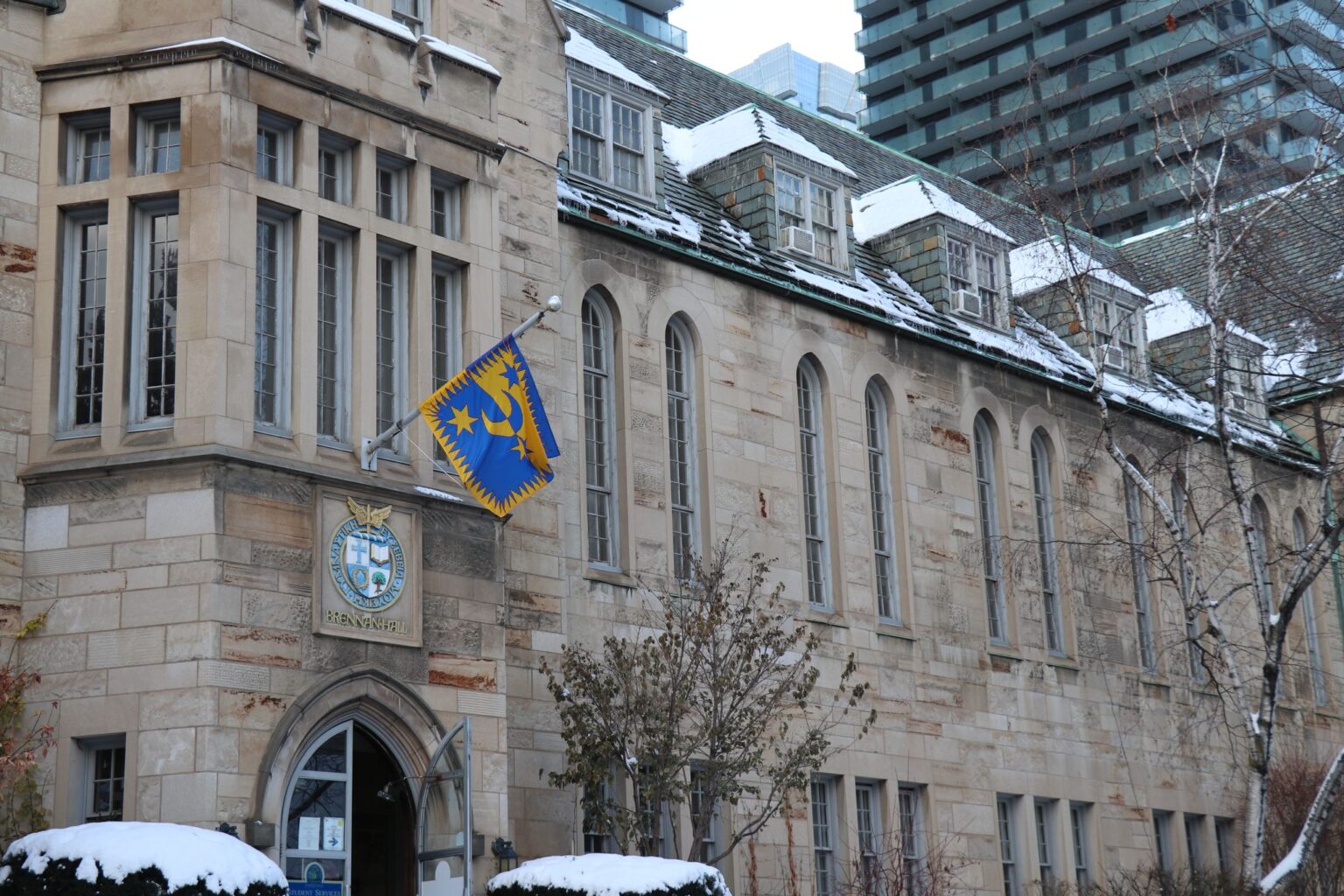 In a shifting academic year, St. Mike's community and creativity keep students engaged
A strong reputation among students, creative, empathetic responses to the pandemic, and hosting some of the most popular undergraduate classes and programs at the University of Toronto have all helped St. Michael's weather the challenges posed by COVID-19.
"This is a surprising story," says Interim Principal Dr. Mark McGowan. "We planned for the worst, hoped for the best and were pleasantly surprised. We were dealt an unusual hand and staff, professors, and students responded admirably to the challenges we have been dealt."
The result, says McGowan, is that enrolment at St. Michael's has remained healthy, with increases in enrolment in all college courses. This, he says, is due to a number of factors. One is the ongoing popularity of St. Mike's Book & Media Studies program, which takes an interdisciplinary approach, offering an historical investigation of the role of printing, books, reading, and electronic and digital media in cultures past and present. The program remains one of the most popular at U of T.
Another decision that has kept enrolment numbers strong was St. Mike's rapid move to online classes, assuring students — and especially international students — that they could continue their education safely from home. At times, this has driven students to discover new interests, as demonstrated by an increase in the number of international students, for example, in Mediaeval Studies courses.
And if students can't engage in the international travel that is a key component of programs, St. Mike's has decided to bring the world to our classrooms. In response to the cancellation of the trips that are a key aspect of the popular first-year One seminars, St. Mike's is creating what is being called a global classroom, allowing students in Toronto to engage virtually with research and data from around the world. Funded in part by a grant from Universities Canada, the global classroom will have dedicated space on campus, complete with cutting-edge technology, to engage with students, professors, and researchers around the world.
The Boyle Seminar in Scripts and Stories, which offers students an interdisciplinary approach to examining the Celtic influences in the mediaeval world, with particular focus on early books and historical artifacts, will be the first to use the concept, partnering with Maynooth University in Ireland. Students here and in Ireland will engage with their peers, accessing digital resources from both universities. With the plan that student travel will resume once travel bans are lifted, the virtual classroom lends itself to any number of courses and programs, as well as a hybrid model of virtual and in-person classes.
Along with the university's outstanding faculty members, a roster of strong sessional instructors has drawn students to enrol at St. Mike's courses. In Book & Media Studies, for example, award-winning journalist Michael Valpy has returned to St. Michael's to teach media ethics while journalist, scholar and activist Emilie Nicolas is teaching a new #BlackLives and the Media course. In Celtic Studies, meanwhile, Shane Lynn is teaching modern Irish History, a course whose numbers have been growing steadily.
But one of the biggest strengths that allows St. Michael's to remain vibrant is a strong reputation for a student-driven approach, McGowan says.
"Student word of mouth focusses on things like how well the students are treated at St. Mike's, or small class sizes," he says.
This academic year has highlighted the care faculty and staff have for students, he says, noting, for example, how impressed he was when he sat in on a regularly scheduled Zoom session, organized by librarian James Roussain, Dr. Iris Gildea and Dr. Felan Parker, for professors to talk about student issues and how best to offer support.
"It is edifying to listen to compassionate professors focussed on being merciful, especially during COVID," he says.
Underpinning classes and communication is a strong commitment to IT, the interim principal says. To help ensure smooth delivery of classes, the Principal's Office offered faculty members funding to upgrade equipment to better serve students online. McGowan also credits St. Mike's IT Supervisor Pio Sebastiampillai , working with the team at the Faculty of Arts & Science, with enabling professors and students to make the best of online learning.
And while in-person events are still not happening, enhanced student experiences continue to happen. This year, for the example, the annual USMC Research Symposium will still take place, online, on Saturday, March 13, on the topic of "Community, Citizenship, and Belonging."
St. Mike's also continues to engage with the important matters of the day. For example, the popular Truth and Reconciliation Commission Reading Group, started by Dr. Reid Locklin in 2019, moved online this year so that the university community can learn how it can better engage in the recommend, holding its meeting recently and welcoming everyone to future sessions when they resume in the next academic year.
"St. Mike's responded well," McGowan says. "We didn't panic but worked as a team."
St. Michael's Profs Use Creativity to Remotely Engage Students
Dr. Paolo Granata is no stranger to the beguiling magic of digital media, and the transition to remote learning this year has brought out his own penchant for magic tricks, including one found in a video he created for students to give them a sense of what they'll experience this semester. (Spoiler alert – keep your eye on the apple at the end of the video!)
St. Mike's Book & Media Studies professors have a reputation for keeping students engaged, and their subject matter expertise gives them a deep understanding of the pedagogical advantages of teaching online.
Granata, a scholar of legendary St. Michael's media theorist Marshall McLuhan, refers to McLuhan's famous dictum when discussing the possibilities: "As the medium is the message, we do approach online course delivery as a medium, and try to find the uniqueness of that medium, to experiment with that medium, and eventually understand how it works, what are its intended and/or unintended implications," he says. These formal dimensions of online learning and remote teaching are things he explores with students in his classes, as well.
For Granata, accessibility is another area where remote teaching provides unexpected and unique benefits.
"Recorded lectures can be more accessible and, to some extent, more inclusive," he says, mentioning the benefit of closed captions and variable playback speeds. "Accessibility means also engaging students using different means such as the class chat," he says, and because he's also better able to customize the experience for individual students, "nobody is left behind."
Granata's remote teaching toolkit includes the ability to swap out the video source, making it possible to move from a standard lecture to a close view of a special text or physical artifact students might not have access to under normal conditions. This and other approaches open up a number of possibilities for St. Mike's courses he is teaching this year, including Media in Culture and Society, the McLuhan Seminar in Creativity and Technology and the Media Ethics Lab.
One question remains. How did prof Granata do his apple trick?
His reply: "The magic is in the eye of the beholder."
---
Consult Fall 2020 for current updates on St. Michael's plans for the fall semester. 
Dr. Felan Parker is an Assistant Professor in the Book & Media Studies program specializing in digital media, video games, and media industries. His current research explores the production, distribution, and reception of independent or "indie" games.
The profile picture you see is Dr. Parker's self-representation in the game Animal Crossing: New Horizons.
---
Comfort Games
Given the requirements of social distancing, it's not surprising that people are turning to art and media of all kinds for much-needed escape. Video games are no exception: the industry is experiencing a not-insignificant sales bump, and game scholars and health experts are highlighting games as a way to stay connected and ease loneliness.
When we think about video games and escapism, most likely what comes to mind are action-oriented games of spectacle and hyper-masculine violence, and indeed those kinds of games loom large in the industry and culture of games. When I teach my first-year and fourth-year game studies seminars, part of the goal is to challenge this narrow mainstream conception of games as a cultural form. In that spirit, here are some reflections on three games in which I've found comfort and escape.
Animal Crossing: New Horizons, the latest entry in Nintendo's popular franchise, was serendipitously released just as social distancing measures came into effect. New Horizons has resonated widely thanks to its gentle, colourful simulation of small town life (with anthropomorphic animal neighbours), its local and online multiplayer mode, and its "invest and express" customizability. I've been playing with my partner and six-year-old, and dressing up our cute little avatars and homes, sending in-game messages and gifts, and running around collaborating on projects together has been a joy. Part of what makes Animal Crossing so compelling is that it never ends, reliably changing in real time with the seasons; an ideal virtual getaway for an uncertain world (albeit premised on a peculiar utopian fantasy of resource extraction and consumerism).
A Short Hike, by Toronto game developer Adam Robinson-Yu, is a delightful pocket-sized world that takes significant inspiration from Animal Crossing but can be played in just an hour or two. The player takes the role of a young bird-person searching for cell phone reception in a provincial park. Along the way, there are numerous quirky characters to chat with, errands to run, and secrets to discover. The game shines in its ability to cultivate curiosity and encourage exploration, reinforced by the relaxing musical score and wonderfully pixelated natural environment. The hiking and climbing is complemented by a flying/gliding system, and I found the feeling of soaring across the landscape below deeply satisfying in this period of confinement, in particular during the game's unexpectedly poignant climax.
The free browser-based tobogganing game Sanki is one of the purest distillations of that same feeling of speed and movement I've found in video games. Polish indie developer Krystian Majewski strips away all extrinsic goals and story until all that's left is the hill, the snow, and the sled. The game is tiny, but has tremendous clarity of purpose in its muted palette of ultra-minimalist pixels and limited controls, perfectly capturing the serene sense of velocity I strongly associate with childhood winters in the Gatineau hills. The music is a bit giddy, so I turn it off and imagine the stillness interrupted only by gasping laughter. Each Sanki run is over in seconds, but I keep coming back to it for just one more.
Although quite different in form, content, and mode of production, each of these games offers an accessible, easy-to-play escape into gentle, comforting imaginary worlds. This is not to dismiss more fantastical and spectacular forms of escapism, but in this strange, liminal moment in time there's something special about video games that playfully defy cultural expectations and embrace the simple pleasures of nature, movement, and everyday life.
Animal Crossing: New Horizons can be purchased digitally or physically for Nintendo Switch.
A Short Hike can be purchased digitally for Windows, Mac or Linux.
Sanki is playable for free in an ordinary web browser.
---
Read other InsightOut posts.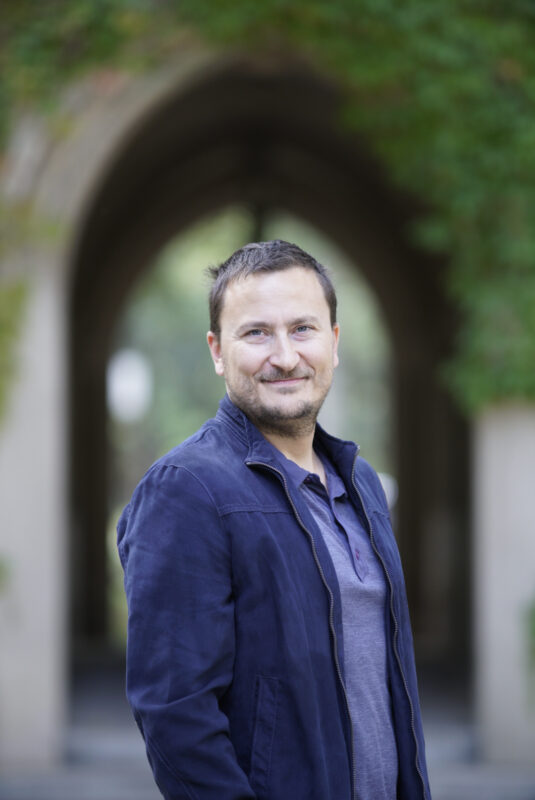 For the students in Dr. Paolo Granata's Media Ethics class at the University of St. Michael's College, the theoretical suddenly — and urgently — became reality with the introduction of the COVID-19 social distancing guidelines.
"We were just discussing digital inclusion when self-isolation guidelines arose and students suddenly had a real-life experience of seeing how important digital inclusion really is," explains Dr. Granata.
Digital inclusion, and its companion term, digital inequality, refer to the importance of fair access to both the tools and the data needed to participate in the digital world. In 2011, the United Nations' Human Rights Council declared the Internet to be integral to human rights, and recommended that Internet access should be a priority for all.
The effects of the current pandemic bear this out, Dr. Granata says, with people needing access to the Internet not only to telecommute and take e-classes but also to do things like pay bills, order groceries and stay in touch with others to reduce isolation.
"Nobody should be left behind," the professor says.
But everything from income levels to location can have an impact on how people are able to connect. Low-income families, for example, may not have a computer at home for children to do e-learning from home while people living outside of urban centres may have limited access to high-speed Internet, if they have access at all. In turn, working and learning from home can result in soaring data charges.
The closure of institutions due to coronavirus limits access to tools like loaner laptops from schools or banks of computers at libraries, Dr. Granata notes, while shuttered coffee shops and institutional sites means fewer Wi-fi hotspots, where users can find access without having to pay.
Even for those with technology at home, the various platforms now being called on for online learning and e-meetings requires updated software, and that can sideline even those with relatively new computers.
This new reality prompted Dr. Granata to work with his Media Ethics students, research assistants Simon Digby and Alexandra Katz, and the Media Ethics Lab at the University of Toronto to create a call to action on the topic of digital inequality. Titled #DigitalCloseness, the statement spells out how the private sector, various civic organizations, and private citizens all have a role to play both today as well as in the long term to ensure Internet access is available to all.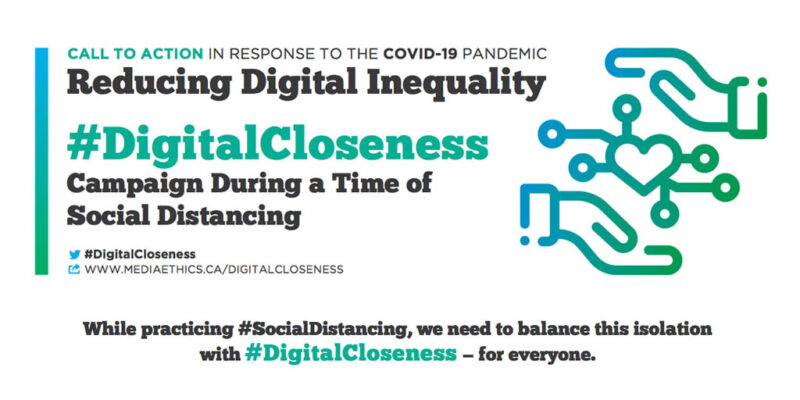 #DigitalCloseness suggests telecom companies, for example, forgive late payments and keep customers connected at this time, while it suggests community organizations and not-for-profit groups can offer access to free courses and virtual tours of exhibits.
In turn, private citizens with unlimited data are urged to share with a neighbour, to lend an extra device to someone who has no access, or to begin to build a virtual community to check in on others.
Going forward, Dr. Granata says, the conversation must continue with a variety of stakeholders to ensure there are ethical standards in the digital world to protect and further the common good.
There are conversations to be had, for example, in the subject of media literacy so that people do not fall prey to false or misleading information on social media, he says.
"We also need to urge legacy media to choose their words carefully for example, so that they avoid sensationalism by falling back on terms like 'the battle' or 'the war' on coronavirus," he says.
Conversations about connectivity must also be mindful of who the most vulnerable are in our communities and work to include them.
For the students of the Winter 2020 session of Media Ethics, COVID-19 taught an invaluable lesson, Dr. Granata says.
"People often think that online and real life are two different things. They're not, and this crisis has demonstrated it," says, adding that it's time for the broader population to become familiar with a term coined by Oxford Professor Luciano Floridi: "onlife."
Dr. Iris J. Gildea is an Associate Professor at the University of St. Michael's College and teaches in the Book & Media Studies Program. Dr. Gildea's areas of interest include Comparative Literature, Media Studies, Community Education and Expressive Arts.
---
A Collective Witness to our Interconnectivity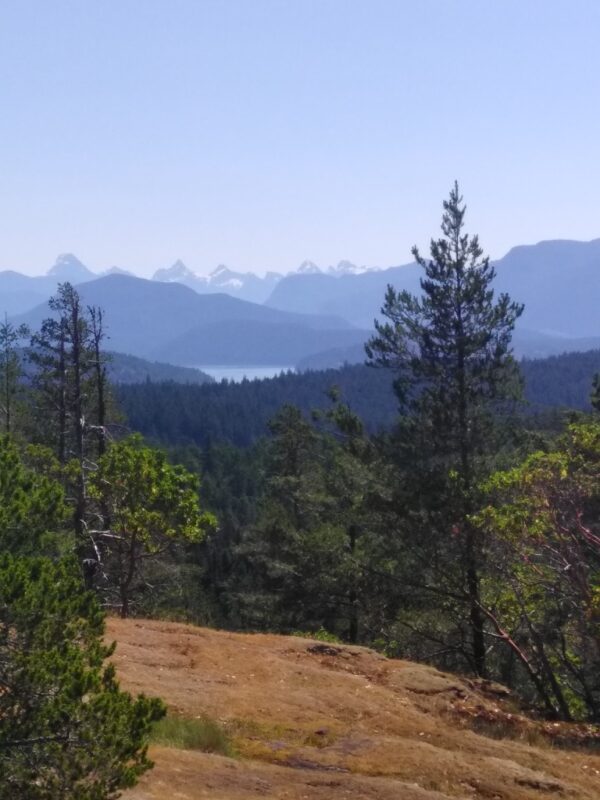 The week before our classes went online, my 4th-year seminar in the Book & Media Studies Program explored the topic of interconnectivity. We read a piece on the interconnection between humans and the environment by the American Buddhist and Deep Ecologist Joanna Macy. We went on a land walk in Queen's Park and spent time alone in silence. Disconnected from technology and the need "to be somewhere," we worked experientially with Macy's theory.
Afterwards, back in the classroom for discussion, I quickly became aware that interconnectivity as a concept would take far more than the two hours I had scheduled for it! We'd spent the better part of the semester looking at art as a means of interrupting cycles of cultural violence. My students rightly pointed out that oppressions such as racism, colonialism and sexism are very solid impediments to the idea of connection that I was trying to invite through the Macy reading. I became aware that I needed to be more intentional about how I introduced her claim that despite such real oppression there is an inherent fabric of life woven together by the spirit of all that is. That this fabric is a connective tissue more primal than all the socially rooted injuries we create for each other and for this earth. To see why compassion is, for Macy, our route into becoming aware of such interconnection. Awareness, she claims, allows us to heal the world's collective wound, a wound of which we are all a part. I was left feeling that I needed another route into opening up these topics.
Then our global crisis erupted.
Suddenly, we were thrust into a very clear example of how the actions of one person affect another person, of how people affect other people, of how changes in one system implement changes in another system. Our global community began to collectively witness and feel the impact of interconnectivity on so many levels.
Speaking of the world's woundedness, Macy says that "Until we can see the world and touch the world, we cannot be part of its self-healing."
"What does she mean?" I had asked my class.
It is a big question, and that day, in response, my students and I shared in a deep contemplative silence. A few days later, I could not help but feel that the very fabric of connection that deep ecology speaks of was answering us quite loudly as we began to witness the reality of pandemic and the collective suffering it manifests. "Is a deep wound asking us to help heal it?," I wondered alone at home, reflecting on the class I had just taught in the face of what was happening in the world.
Joanna Macy also says, "If the world is to be healed through human efforts, I am convinced it will be by ordinary people, people whose love for this life is even greater than their fear." As we re-emerge from this isolation, be it in weeks or months, healing, individual and collective, seems inevitable to me. I work in trauma theory and sometimes new and present traumas open older wounds buried beneath the surface, hidden and ignored but not forgotten. Sometimes doing the work to heal the present is how we heal the past. I cannot help but think this current crisis is also allowing us to access a deeper sense of interconnectivity, one whose roots take us beyond this present moment into the very fabric of relational life. Macy teaches that choosing love over fear cultivates the compassion that bridges the physical and emotional isolation that so many of us feel right now. I am sure it will be the bridge the heals us as we emerge changed, but not lost.
---
Read other InsightOut posts.
With the city as its classroom, a new Media Ethics Lab at the University of St. Michael's College will help students respond to the ethical issues being raised by rapidly emerging technologies and new communications practices.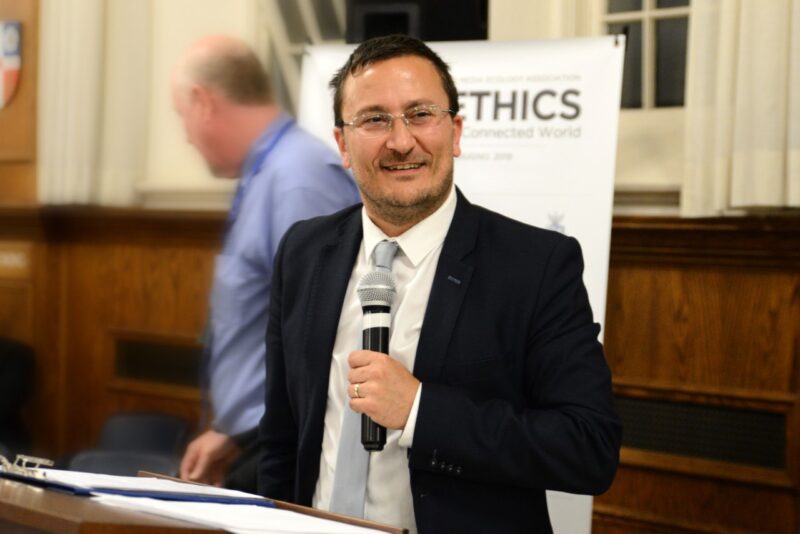 The project is spearheaded by Dr. Paolo Granata, an assistant professor in St. Michael's Book and Media Studies program. The lab springs naturally from an international conference Dr. Granata chaired earlier this year on the University of Toronto campus in his capacity as the vice-president of the Media Ecology Association (MEA). The conference, Media Ethics: Human Ecology in a Connected World, had a goal of exploring new ethical perspectives and frameworks to help build a digital ecosystem that will serve society in healthy and productive ways.
Popularized by Neil Postman, the phrase media ecology is based on the work of Marshall McLuhan. For those unfamiliar with the term, the MEA's website defines it as "the idea that technology and techniques, modes of information and codes of communication play a leading role in human affairs."
The Media Ethics Lab, explains Dr. Granata, is built upon open research, allowing a diverse, collaborative body of stakeholders, from students to media activists and organizations, to freely share information on academic programs and research initiatives to foster ethical thinking in research, learning, and civic engagement.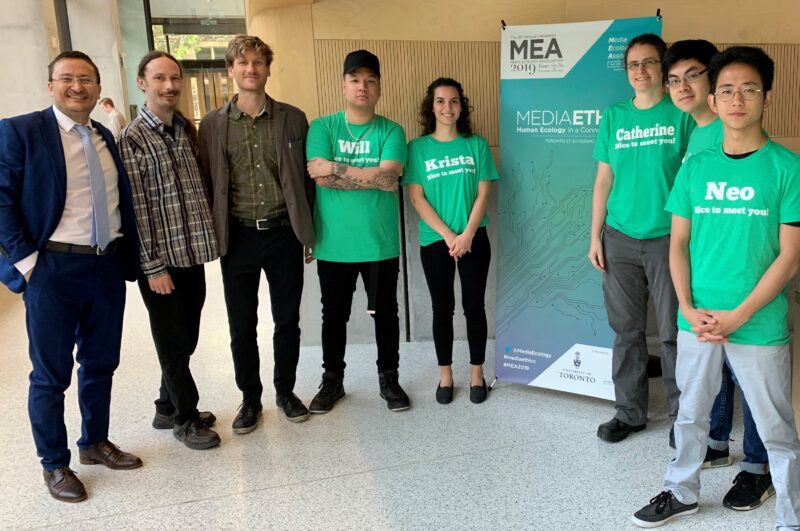 He views the virtual Media Ethics Lab as both an intellectual and social space where interested parties can gather to study and discuss the ways in which digital culture impacts today's society. He sees it as a sort of clearinghouse to help society stay ahead of the curve of emerging technologies and the ethical issues that can come with them.
For now, the lab will focus on three core areas: Digital Equity, or creating equitable, inclusive communities for all; the Digital City, focussed on designing people-centered information systems; and Digital Literacy, looking at helping communities develop skills to carry them forward into the 21st century.
"Private companies rule our digital world," says Dr. Granata. "If public policy is too slow, then the market will come first," regardless of the impact new technologies have on ethical issues relating to matters such as privacy or artificial intelligence.
"The Media Ethics Lab is being started not only as a research project but also as an opportunity for experiential learning," he adds, noting that some of the lab's funding comes from the Advancing Teaching & Learning in Arts and Science (ATLAS) program at the University of Toronto.
And this is where the "city as classroom" idea, another McLuhan concept, will come into play. Experiential learning, explains Dr. Granata, means stepping outside of the confines of the university and into the community.
"Everything we do must be able to support, foster and advance and open an inclusive society, as we must not only work towards a healthier digital world, but a more equitable planet" and that requires students getting involved in civic engagement to listening to what a broad range of people think.
He cites as an example a recent workshop students participated in at Mozilla Foundation in Toronto, a global non-profit dedicated to keeping the Internet a global public resource that is open and accessible to all. Students were invited to provide suggestions and proposals, an empowering experience that allowed them to test-drive their ideas, giving the theoretical a practical turn.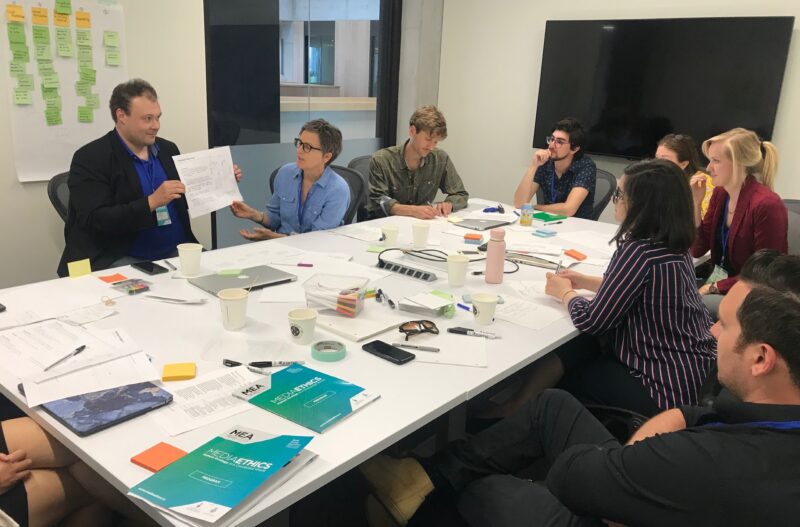 Another form of engagement via the Media Ethics Lab will be periodic charrette sessions, a type of intensive brainstorming meetings where various stakeholders gather for respectful discussion identifying both the benefits and challenges of the current digital media landscape, all with an eye to making improvements.
"We want to foster and support positive change. All of the Media Ethics Lab's efforts are also are done in support of the UN's sustainable development goals." Dr. Granata says.
Several students have already been involved, either in the conference end of this project, or now by on establishing the lab, including Kelsey Mcgillis, Alexandra Katz, and David Lee, all Book & Media Studies students at St. Mike's as well as Robert Bertuzzi, PhD candidate at Western University, and Simon Digby, recently graduated at British Columbia's Quest University.
Going forward, the lab will provide both training and mentorship to the students, encouraging them to participate in academic discussion and debate, necessary skills to carry forward if they are to help shape future policy or plan to teach.
Training and mentoring will be provided by Dr. Granata as amplification of his Media Ethics course. Some Book & Media students will serve as research assistants, conducting background reading in the field and participating in periodic discussions to come up with research questions and creating dossiers on their findings.
Working with Dr. Granata, they will post to the www.mediaethics.ca site, selecting both scholarly and non-scholarly publications, as well as a range of commentary to further the discussion. Students will engage in discovering funding opportunities and learn to draft grant proposals.
"The information environment is very much like the natural environment, and we need to take care of the information environment in much the same way we tend to ecological consciousness ," says Dr. Granata. "The Internet is polluted but it should be a place where people can go and grow. Discussions on media ethics can help restore health."
That care will require new thinking on how to stop corporate behaviour that is detrimental to society, he adds. Fines in response to privacy breaches, for example, simply don't work because they aren't large enough and, more importantly, don't change behaviour, he says.
"To move forward, we need a humanistic approach to redefine the interface of humans and technology. It's time to apply ethical thinking in the process of designing new technology."
The Media Ethics Lab is a step in the right direction.
In 2017, major media exposés of predatory sexual behaviour by powerful figures unleashed #MeToo, a hashtag now tweeted and shared more than 20 million times. Using the hashtag, people all over the world began to share stories of their own experiences of abuse at the hands of people whose wealth and power had protected them from justice, and this public reckoning led to a major – and ongoing – cultural shift.
Now, two years after the publication of the reporting that launched #MeToo, two journalists who continue to advance and shape the public conversation around the issue in Canada are bringing their expertise into the St. Michael's classroom.
Beginning September 5, Jessica Johnson, Executive Editor and Creative Director of The Walrus, and Anne Kingston, Senior Writer and Columnist for Maclean's, will be co-teaching "#MeToo and the Media," a course designed to help students develop an analytic understanding of the social movement as it continues to evolve.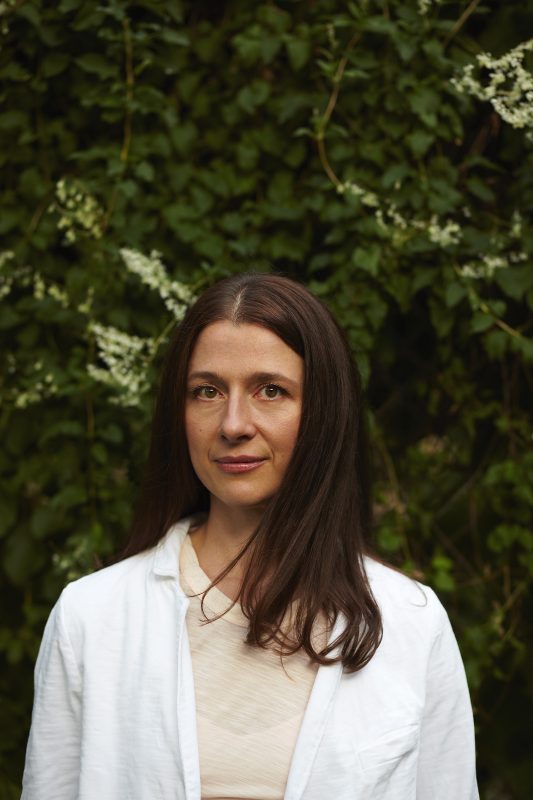 As the course title implies, Kingston and Johnson plan to contextualize #MeToo in a larger media ecosystem. "This will be a class that looks at the way #MeToo informed the media, and also, about the way the media coverage of the movement has fuelled broader conversation in society," says Johnson.
"This is a new class — new at St. Michael's College, but also, we aren't aware of any other one exactly like it anywhere," she continued. "Some of the themes of the public conversation surrounding #MeToo – privilege, the nature of consent, the workplace, dating, contemporary constructions of gender – are matters of ongoing concern to U of T students, which creates an opportunity for a special kind of dialogue in the classroom."
Over the course of the semester, lectures, readings, social-media investigation, videos, and guest speakers will examine #MeToo's far-reaching consequences (and controversies), including the cultural biases, systemic inequities, and endemic violence that #MeToo coverage exposed.
Kingston, who covered the trials of Jian Ghomeshi and Bill Cosby and has done extensive reporting on #MeToo, acknowledges that the ongoing, dynamic nature of #MeToo creates unique challenges for the course, but sees the Book and Media Studies program – one of the most popular areas of study in the humanities at the University of Toronto – as an ideal framework.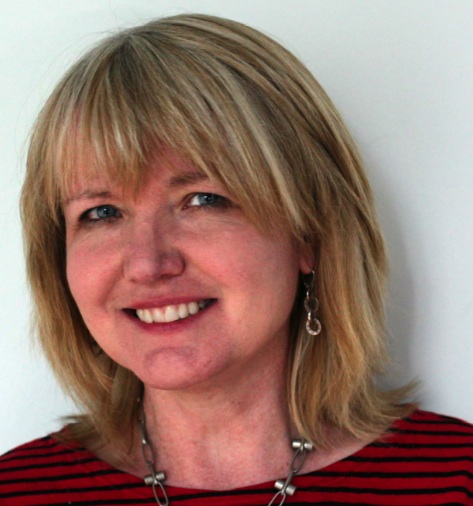 "St. Michael's well-received 'Trump and the Media' course led the way in showing how an academic institution can instruct while interacting with real-time news," says Kingston. And as former New York Times editor Sam Tanenhaus did with his class on Trump last fall, Kingston and Johnson will regularly incorporate breaking news into their curriculum. Kingston points to the upcoming trial of Hedley's Jacob Hoggard as one possible example.
"Book and Media Studies is a program that allows students to engage with some of the most pressing and complex situations created by our intensely mediated moment, and place them in contexts beyond 140 characters," St. Michael's Principal and Vice-President Randy Boyagoda said in an email. He added that "A course like #MeToo and the Media, taught by two distinguished visiting professors, each a leading figure in contemporary Canadian media, makes it possible for students to explore one of the most vexed, active, and important situations in contemporary media, politics, and culture."
More information about "#MeToo and the Media" is available online.