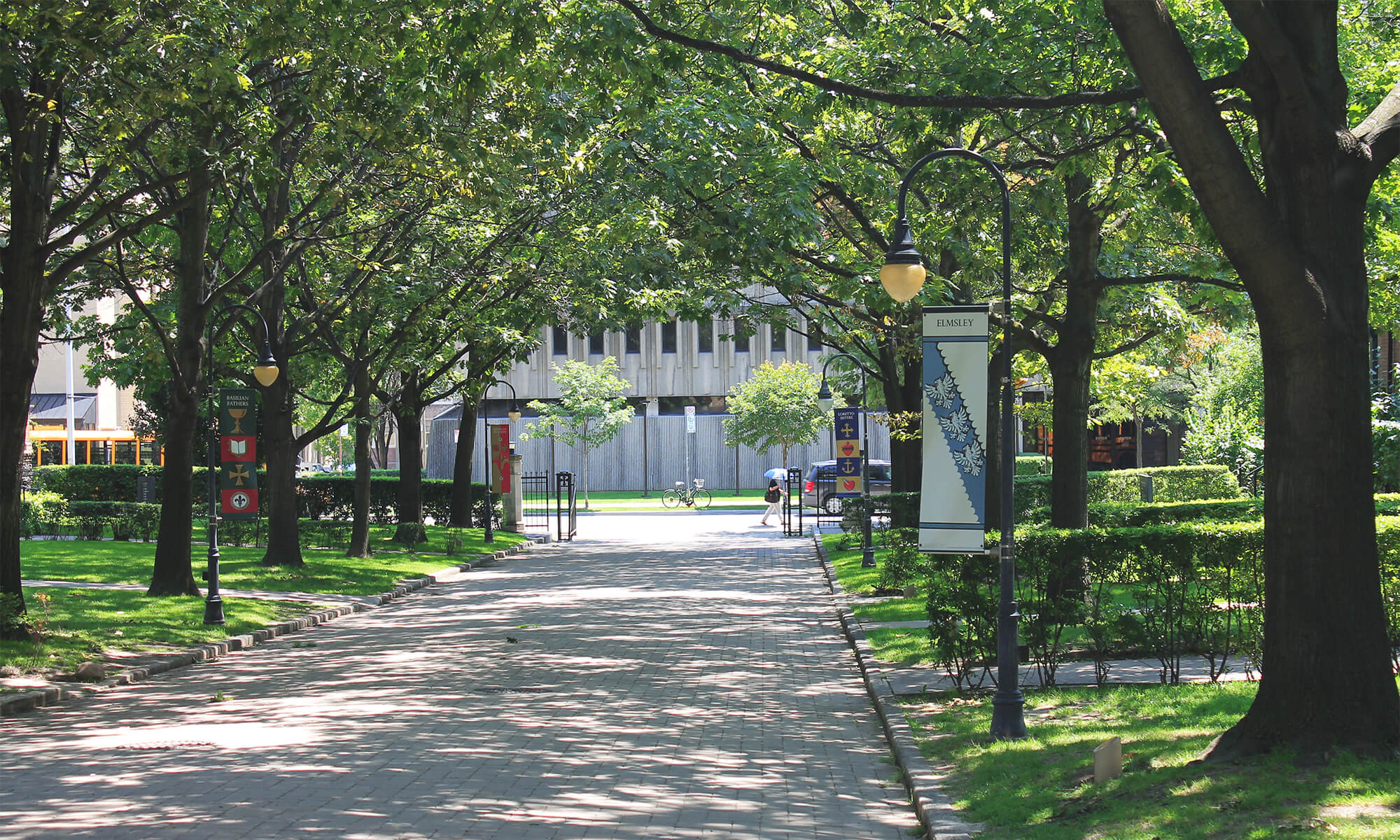 The best way to see our campus is to come down for a tour. Our friendly guides will provide you with a brief history of our College and then take you into Elmsley Hall residence building, the dining hall, our student center and the Kelly Café. Tours begin just outside the Registrar's Office in Brennan Hall and last about 45 minutes. If you need directions to Brennan Hall, simply arrive at 81 St. Mary Street and our Porter's Desk will point you in the right direction.
Covid Update: At this time, our campus tours are suspended until further notice. We are sorry for any inconvenience this may cause. Thank you for your patience and understanding during this time.
Virtual Tours
See below for a virtual campus tour, provided by Cianna and the St. Michael's College Orientation Team!
Interested in seeing a residence room?
Take a look at a room in the Historic Houses on a tour guided by Simran, an upper-year SMC student!
Move In Information
While the details of Move In Day vary slightly each year, here is some basic information that will get you started in your preparation to arrive on campus. More details will be emailed directly to students. Be sure to keep an eye on your uToronto email address for information!
What to Bring to Residence?
Below is a video created by Simran, an upper-year SMC student, which details important things to bring to residence, including what was helpful to have, and what could have been left at home!
For a comprehensive list of items for you to bring (and some items that are not permitted) see here.
Decoration and Bedding for your Residence Room
St. Michael's College Residence is proud to partner with two local companies to make dorm-room furnishing easier for students!
My Dorm Store is a one-stop-shop for everything you need to move into residence. Get inspired and shop for bedding, towels, decor, and more! Visit their website for more information.
Residence Linens works with colleges and universities across Canada to provide comfortable and affordable bedding and washroom products to students. Check out their bundle options and see if they're the right option for you!