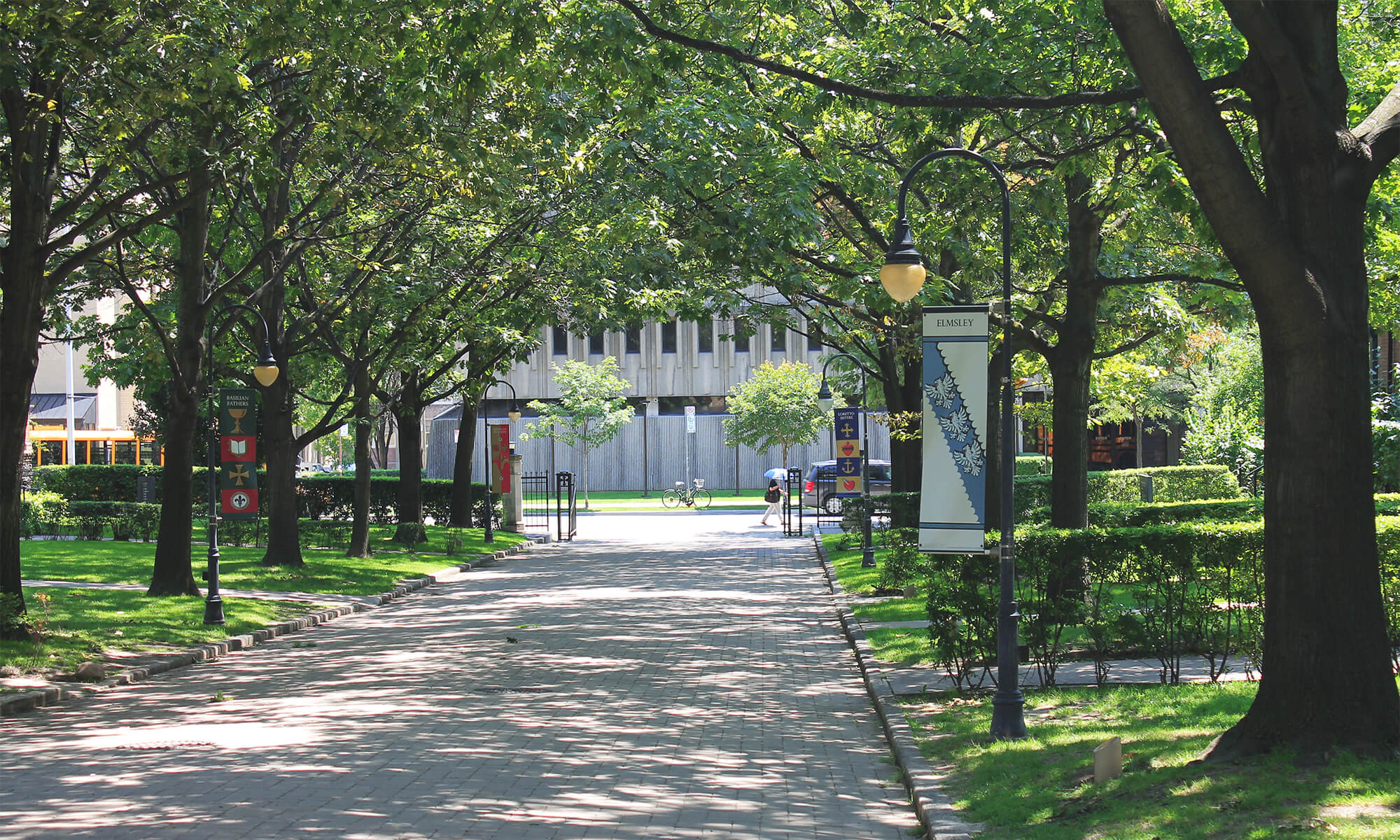 The best way to see our campus is to come down for a tour. Our friendly guides will provide you with a brief history of our College and then take you to some of our residence buildings, the dining hall, our student center and the Kelly Café. Tours begin just outside the Registrar's Office in Brennan Hall and last about 45 minutes. If you need directions to Brennan Hall, simply arrive at 81 St. Mary Street and our Porter's Desk will point you in the right direction.
With the exception of holidays, our tours run weekly on Mondays at 9:30am, and Fridays at 1:00pm from October 2 to December 8, 2023 and January 8 to April 5, 2024. If you would like to sign up for a tour, click here to fill out our registration form and we will send you an email confirmation of your booking! If you have any questions about our tours or about campus, please email Joseph Sebastian at j.sebastian@mail.utoronto.ca for more information.
If you would like to book a U of T campus tour, please visit their website here.
Virtual Tours
For an interactive virtual tour, please visit the University of Toronto's website here.
There are many options for prospective (and current) students to explore campus! Join Cameron and Rohma, students at the University of St. Michael's College in the University of Toronto for a tour of our beautiful campus spaces, and special tips for Commuter Students navigating their way to campus.
Residence Spaces and Residence Life
Join Cameron and Rohma, students at the University of St. Michael's College in the University of Toronto for a tour of our beautiful campus spaces, and a sneak peak at our residence spaces on campus!
Move In Information
While the details of Move In Day vary slightly each year, here is some basic information that will get you started in your preparation to arrive on campus. Move in Day take place on the Saturday before the Labour Day weekend, between 9:00am to 3:00pm. We invite parents to drop off their students and their belongings, join the Dean's Office in a Parent Session, then say goodbye to their son or daughter. New residents can expect a day of meeting new floormates, roommates, their residence Don and a mandatory House Meeting on the evening of Move in Day. More details will be emailed directly to students. Be sure to keep an eye on your uToronto email address for information!
Move in Day for 2023-2024 is September 2 between 9:00am and 3:00pm. Incoming residents who have accepted an offer should review information in Manage my Housing for more information.
What to Bring to Residence?
For a comprehensive list of items for you to bring (and some items that are not permitted) see here.
Decoration and Bedding for your Residence Room
St. Michael's College Residence is proud to partner with two local companies to make dorm-room furnishing easier for students!
My Dorm Store is a one-stop shop for everything you need to move into residence. Get inspired and shop for bedding, towels, decor, and more! Visit their website for more information.
Residence Linens works with colleges and universities across Canada to provide comfortable and affordable bedding and washroom products to students. Check out their bundle options and see if they're the right option for you!