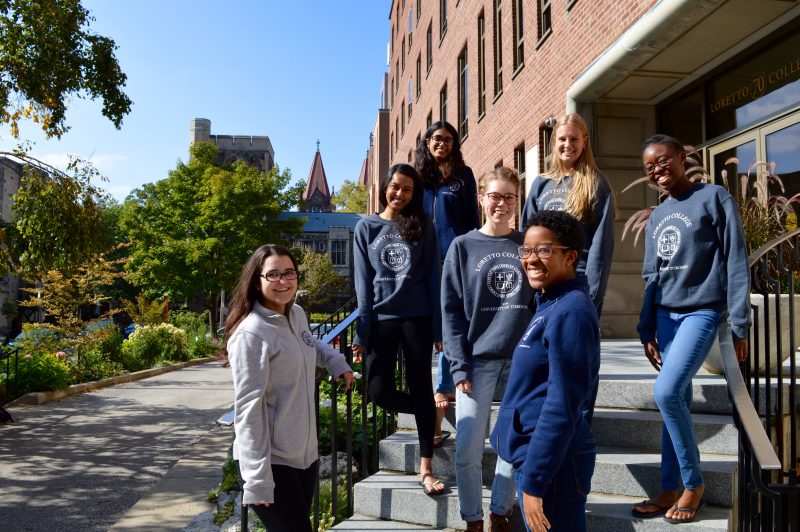 Loretto College is an all-women's student residence owned by the Institute of the Blessed Virgin Mary (commonly known as the Loretto Sisters) and fully affiliated with The University of St. Michael's College and the University of Toronto. Located on the "upper east side" of the St. Michael's College campus in the heart of downtown Toronto, Loretto College is a community that reflects the vibrant, multicultural nature of its diverse residence population.
Our goal is to create a comfortable and welcoming environment by facilitating interactions that support the development of positive relationships, and that foster mutual respect among our residents. This focus on positive community makes Loretto College a comfortable place in which to study, socialize, and relax.
Preference is given to St. Michael's College undergraduates who are studying in the Faculty of Arts and Science. However, students from professional faculties such as Engineering, Music and Kinesiology — as well as graduate students — are welcome to apply. Since many of Loretto College's residents live here for the duration of their degree at the University of Toronto, returning students who meet the eligibility requirements receive first priority when reassigning rooms for the next academic year.
---
Amenities
Loretto College residents have access to many amenities, which include three lounges equipped with electronics, a study hall, laundry room, fitness room and a self-serve (all-you-care-to-eat) dining hall. Our Food Services staff caters to various dietary needs and accommodates varying schedules by offering bagged lunches and late dinners. Additionally, a weekly in-room cleaning service is provided.
---
Safety and Security
Security is provided by security patrols and a porter, who is on duty at the front desk 24 hours a day, seven days a week. A team of residence dons provides additional support and supervision on the residential floors.
---
Double & Single Rooms
First year students are assigned double rooms with en-suite washrooms. Single rooms are available to upper year residents. Single rooms have individual sinks with shared washrooms.
---
Community Life
Loretto College's House Council, a group of students elected by the residents, plays an important role in creating the social environment of the residence. Over the course of the school year, the Council organizes events such as Orientation for new residents, trivia/board game nights, and formal dinners.
---
Learn More
Apply today or visit Loretto College for a tour! Please contact loretto.college@utoronto.ca for more information.